Matt Snyman heads into Peru's Sacred Valley to explore an area previously inaccessible to Western tourists…
Over a dangerously hot curry, in the old stony Inca capital of Cusco, five dirty riders decided to head through a previously off-limits part of the Peruvian Amazon. Completely out of bounds to tourists, overrun with drug smugglers and the Shining Path terrorist organisation, it was considered a very dangerous, and unusual place to visit. To this day, it is virtually untouched by outsiders. It sounded like a win and so the 'Rumble in the Jungle' was born.
The five of us would try and ride to Machu Picchu through the fabled 'back door' before tackling the jungle. There were no previous ride reports, no GPX tracks from fellow riders, no iOverlander check-ins, no TripAdvisor, nothing. We would be getting into some real down and dirty adventure.
In the morning we packed up shop and set out with Ed to meet the other boys and as luck would have it, my bike wouldn't start. But after unscrewing 500 Torx keys, playing finger-twister and reinventing the wheel I had managed to get to my F800GS's battery and get the mummy frightener on track again. Just when we were ready to go, Ed's bike wouldn't start either, but luckily this was solved by Ed damaging another pair of headphones in a rage of fury followed by a quick push-start.
We had a big day ahead of us. There are more ruins around Cusco than makes any sense, and we wanted to see as many of them as possible. We saw one: Saksaywaman. It's an amazing site, with fantastic masonry of epic proportions. The massive stones fit together with astonishing precision and the site itself is huge, so it is quite a walk. But as there are only so many ruins I can handle in 24 hours, that number being one, we decided to spend the rest of the day on the bikes, racing each other up the windy tarmacked roads, into the mountains surrounding the Sacred Valley.
The mist soon turned to rain and the rain to a ferocious downpour so heavy that we had no choice but to stop the bikes. Luckily enough the Gods blessed us with a small corrugated iron shelter along the lonely, dark road. With lightning all around us, and thunder clapping in the pitch black, we started to hear landslides.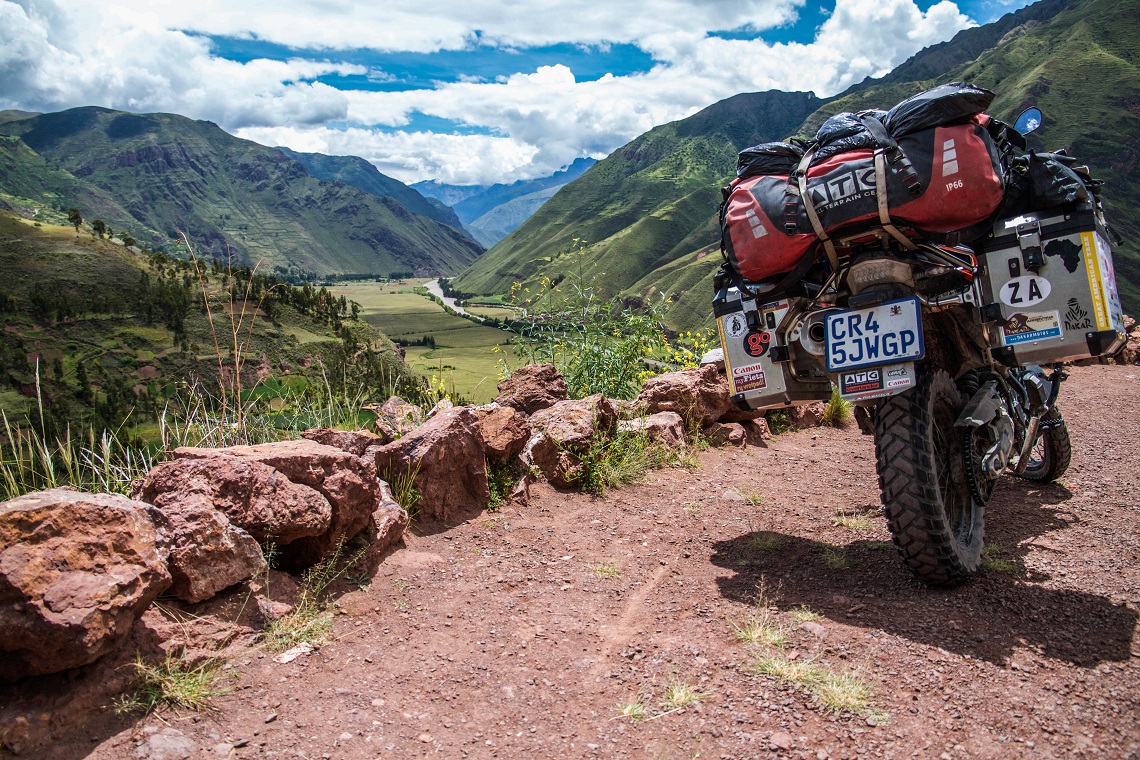 It looked like we would be sleeping under the small iron roof, with absolutely no walls! It was too small for a tent, we all faced the terrifying prospect of cuddling up together very early in the trip. It was about this time that we saw a local on a small bike whiz past through the bucketing raining in nothing more than a thin plastic disposable parka.
Sufficiently mortified after being shown up by a local yet again, we packed up and headed out. Rocks, wood, tree-stumps, and leaves had all collected in the water crossings, which now presented themselves every few hundred metres. Through the darkness and the debris, we made our way into Santa Maria, where a friendly family rented us a room in their house.
For Machu Picchu, we planned to leave the bikes at Hidroelectrica, whilst we headed out to see the ruins. Unfortunately, we started hearing stories of the road being impassable, apparently, the bridge had been destroyed. In true adventure bike rider fashion, we believed none of it. A bridge is not washed away until I actually see it myself. As it turns out, the bridge was washed away…
Much to our disgust, we had to walk like the rest of the riff-raff. It was a great hike though, and thoroughly worth it. We even managed to find great, cheap accommodation that night in Aguas Calientes, which is unicorn-rare.
Machu Picchu is a very special place, even with all the hype, all the tourists, and all the crazy prices, it's an essential stop. The stonework is amazing, the views are incredible and the vibe is just unbeatable.
We even saw one tour guide (in all honesty) give his group a mystic little speech, and then when everyone was sitting in silence he proceeded to play the theme song to The Hobbit on a recorder. I really struggled to keep it together at this point. This was followed by another member of our group, who shall remain nameless, having gastro issues right at the top, forcing him to sneak off into bushes as an emergency measure, where he then proceed to relieve himself on the sacred Inca site, pure class.
The Team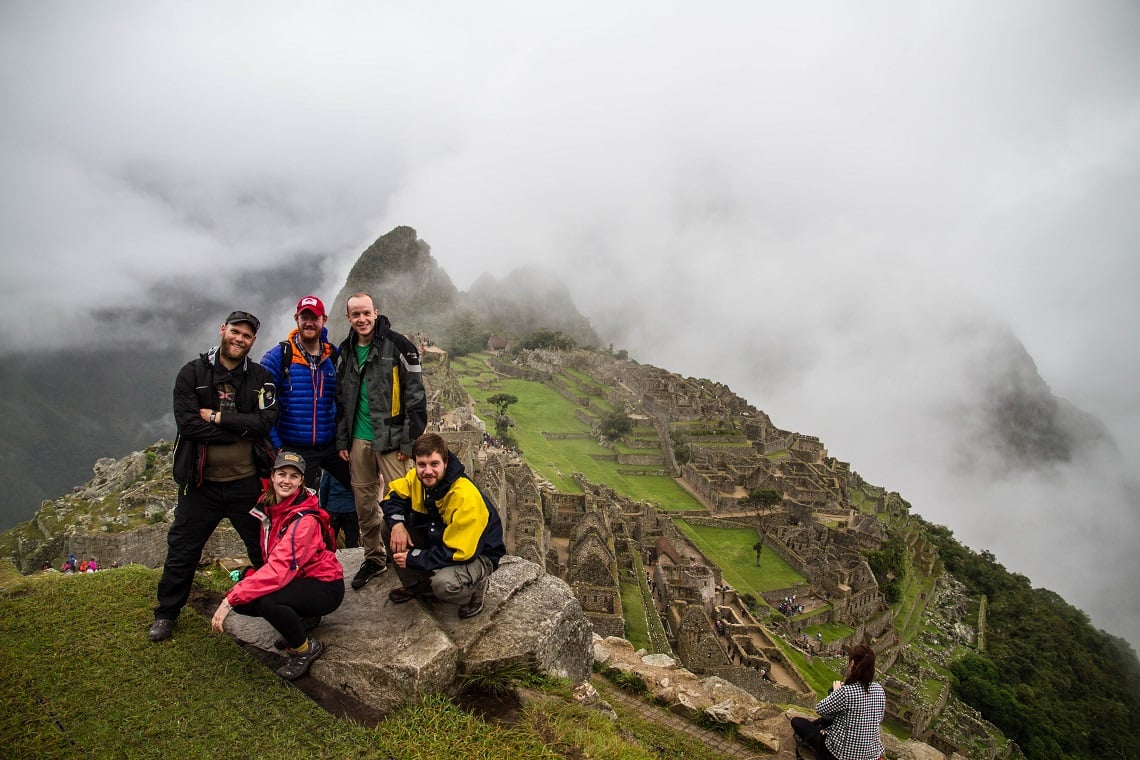 So after desecrating a tourist attraction and taking more photos than is healthy, we thought it was time to leave the hordes behind. It was jungle time!
After reuniting with our machines and hitting the road, we were quickly met with muddy tracks, rocky washouts, regular water crossings, and best of all, the tourists disappeared. This is why we travel by motorcycle. The only downside being that the sharp, rocky off-road sections had destroyed the Triumph's oil filter, and Barney was now haemorrhaging oil at an ever-increasing rate.
That evening, as night approached we started to look for a place to sleep. The area is still inherently dangerous, so we wanted a place that could offer a little more security than an all-out wild camp. The solution came in the form of a small little 'town' also called Aguas Calientes, which consisted of nothing more than four houses on the roadside.
We found out that the town had an abandoned school down an overgrown little path that we could stay at. The best thing about it was that no one else would be able to ride the massive bikes out again after we had struggled to get them in. With safety in numbers and a roof over the tents, we set up camp.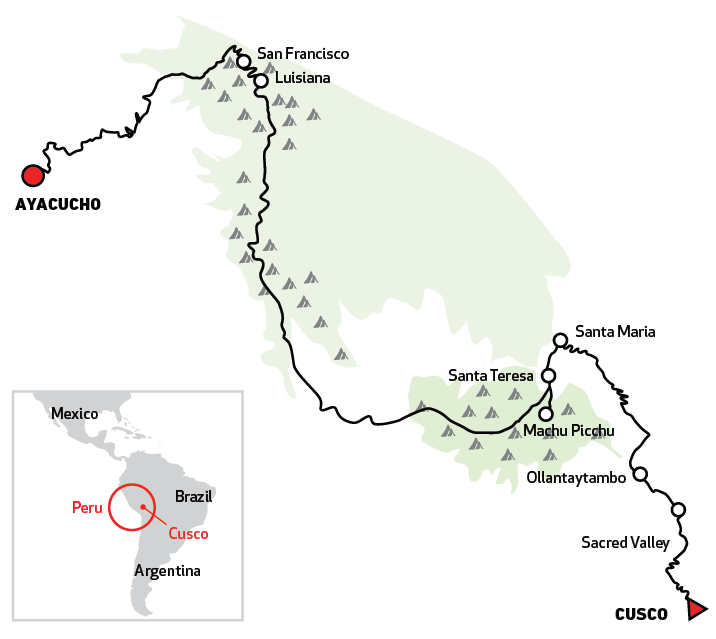 After the hard ride through the jungle, the pong was strong with us, we were sweaty and stinky and there was no running water in sight. The boys had resigned to just being revolting again, but Megan, powered by a strong female drive for cleanliness, had a brainwave. The town was called Aguas Calientes, so that meant that there should be a thermal spring somewhere.
Meg bounded off to find a local, returning to make a very excited announcement that there was, indeed, a hot spring and that a very kind local man was going to show us the way. We were ecstatic. We pulled our swimming costumes on, grabbed our towels and followed our guide as he descended into the forest. He was very happy that we had asked about the spring and was bursting at the seams with excitement that he got to show it to us.
Down into the forest we went, the mud got thicker, the path got worse, and the night got blacker. Before long our flip-flops were getting stuck in the mud, and we were even more filthy and sweaty than when we had set out, and then we arrived. What lay before us, proudly presented by our kind guide, was a small plastic pipe dribbling warm water from the side of a muddy slope into a dirty, mossy mud puddle that reeked of sulphur and was clouded by swarms of mosquitoes so thick that using a headlamp was out of the question.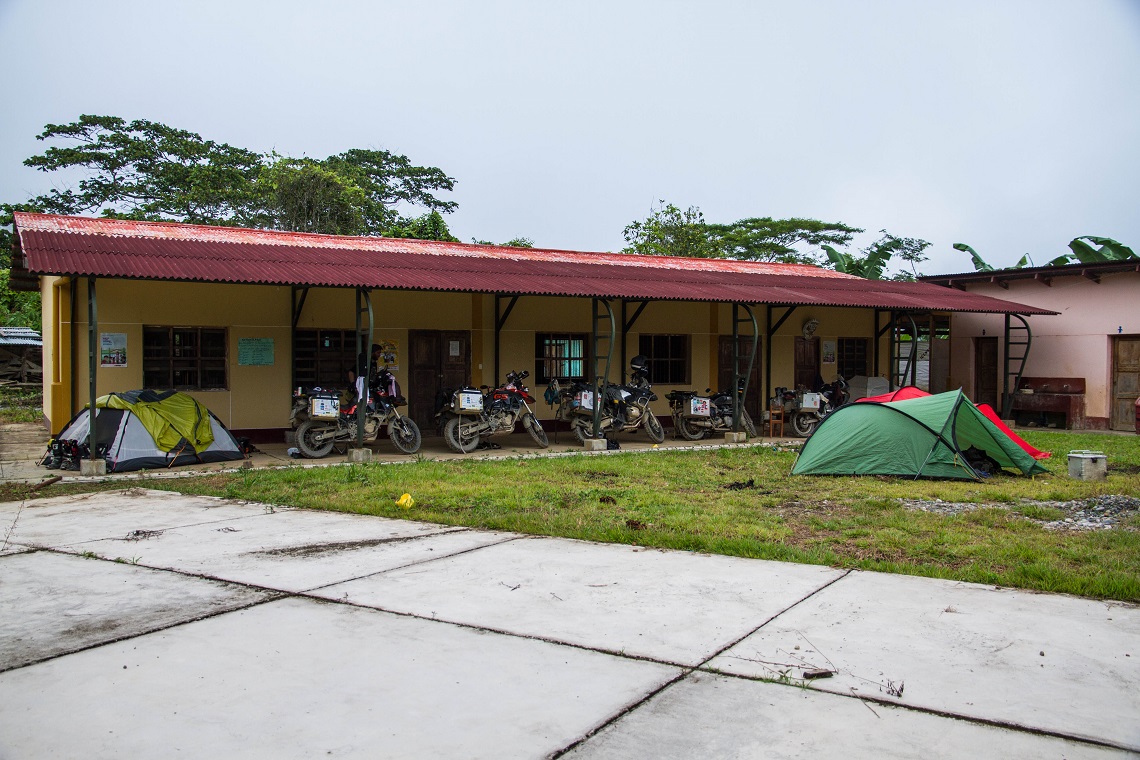 After thanking our guide and politely waiting for him to leave, we high-tailed it out of there, now much dirtier than before. Luckily, on the way up Mich found a small stream so we immediately stripped down and washed ourselves as best we could in the cold trickle of water.
The next day, after another day of mud, rain, rocks and water crossings, we arrived in a small town by the name of San Francisco. It was in this town that it really hit us as to where we were. Due to fourteen years of tourism bans and war, the children had never seen a foreign face. We received a tremendous welcome and before we knew it we were in the middle of a sea of kids and locals. We signed autographs, we posed for photos and we gave interviews.
Meg was even asked to transcribe the Lord's Prayer into English, we were horrifically and immediately famous. Mich was the first to start taking kids around the plaza on his bike, starting a frenzy, whereby all of us were systematically assaulted by small children for a bike ride.
A tuk-tuk driver even pulled up and insisted we take his motor for a spin. Displaying my poorest judgement I got in the back seat with Mich at the wheel, he went through busy intersections at speed without stopping, nearly rolled more than once and kissed many a curb. I witnessed my life flash before my eyes and I think I even saw Martin try to hold my hand as we both tried not to soil ourselves. That is the last time I ever subjected myself to any craft piloted by the mad German.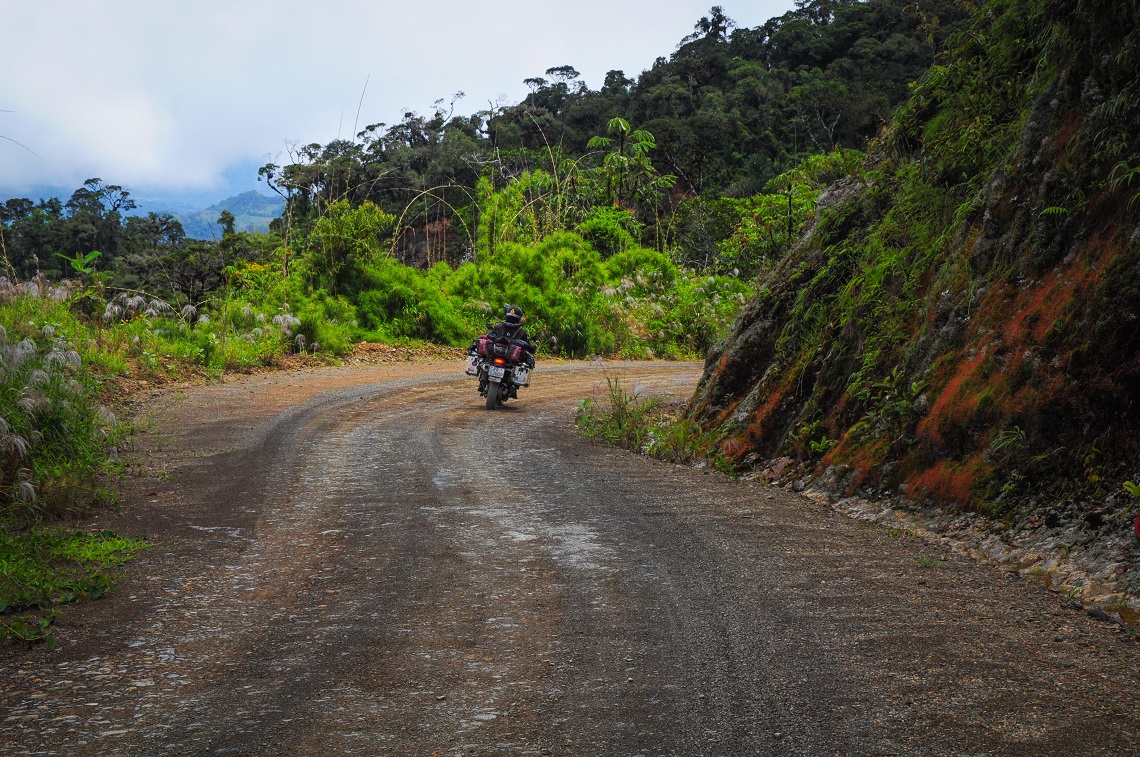 While all of this was happening, and completely unbeknown to us, one of the locals had called 'Guillermo' to tell him who had arrived in town. Guillermo turned up shortly, with nothing but smiles and welcomes. Guillermo was educated in the USA and spoke impeccable English. He insisted that we stay on his finca outside of town. We immediately obliged and set out behind his 4×4, travelling up the unnaturally slippery mud roads through the dark rainy night to an undisclosed location deep in narco territory – being irresponsible 101.
The ride was brilliant. There were more water crossings in the dirt than I could count, all flowing over steep drop-offs into the darkness below, but we were riding together. It was one of the most potent feelings of adventure and excitement that I can remember. I was grinning ear to ear.
After riding through the farm gate, and down a lonely road through long grass, we came into a clearing. With a dark private airstrip to our left and a sandbag bunker to our right, we were suddenly surrounded by military uniforms screaming angrily with rifles pointed straight at us. I had finally done it. I had finally bitten off more than I could chew and I was now going to be sold into slavery or be pushed over the border with half my weight of cocaine shoved up my nether regions.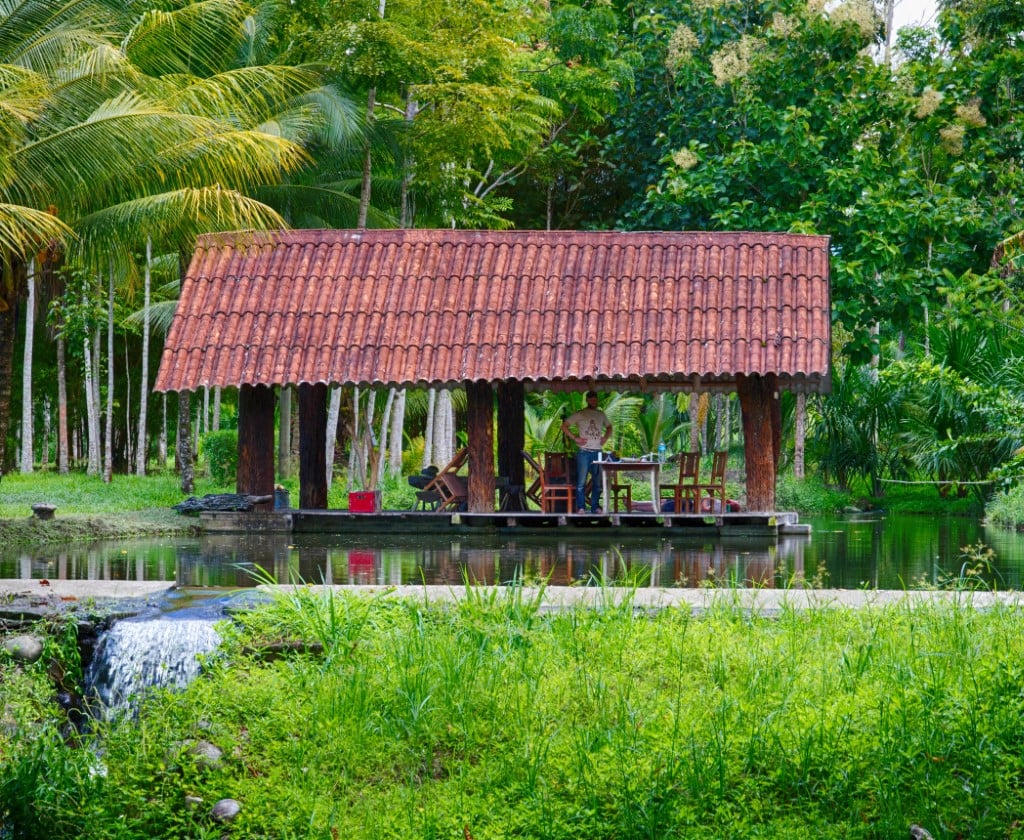 Luckily it was a gentle warning as to the teeth that adventure has, always at the ready to be sunk into your arse when you least expect it. Whilst staring around at torches and gun barrels, we heard Guillermo shouting that we were with him. The atmosphere immediately lifted and we were allowed to continue down to the Finca.
The Finca was fantastic, run by Guillermo and a small bunch of employees; we were treated like family, always with a smile and with the warmest hospitality. All meals were homemade and delicious. We even got to feast on a generous portion of homemade guinea pig, or 'cuy', the national dish. In fact, the Finca was so nice that it became known as 'Hotel California' amongst our team, also for the reason that we really hoped that we would be allowed to leave…
Thankfully our suspicions about Guillermo's career choice were wrong. The Finca used to be the family farm but was taken by the Shining Path terrorist group when the area was at its worst and the family was kicked out and had to flee to safety in the United States.
Only recently had Guillermo returned to try and restore the farm to its former glory, making an income with coffee, coco and various other fruit. So, a lesson was learnt that things are not always as sinister as they seem, but often can be and you should probably watch your arse anyway.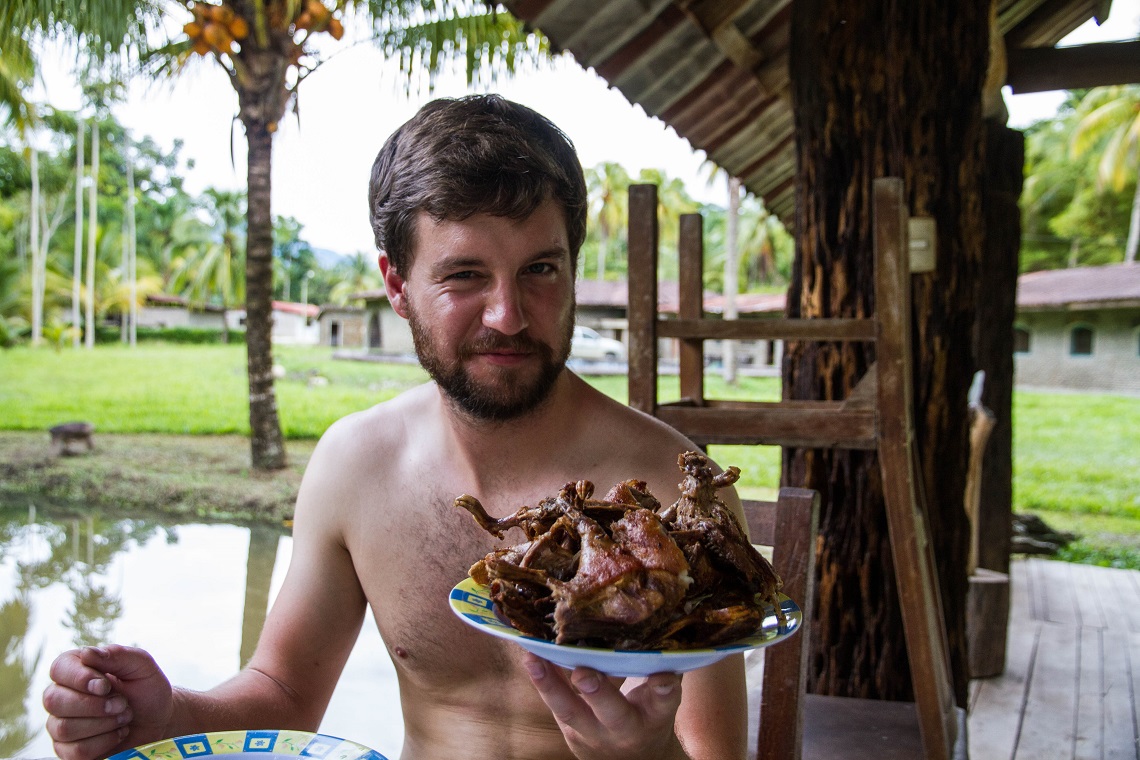 After spending some great downtime at the farm for a few days, it was time to head out. Mich, however, decided to stay. Life at Hotel California was just too good for the German and he decided he needs more time to soak in the atmosphere.
The next stop was Ayacucho, one of Peru's famous old colonial towns. But first, we had to get there. The road out was a nightmare. Martin set the tone after a rather spectacular fall: landing on his bare hands after blasting through a rocky water crossing at the speed of sound. As the saying goes, 'when in doubt, speed up', it might not always work but it will definitely end the suspense. Martin now wears gloves.
From here on the road was a combination of water crossings, rock-slides, horrendous dirt tracks and disgusting traffic, with the usual murderous Peru driving style, and Barney constantly spewing oil all over the road. But we put the heads down and sweated all the way to Ayacucho, where we were met with a warm shower and some hot Chinese food courtesy of Ed's rather specific diet. The jungle was done. I will always remember The Rumble, we made some great friends and forged some strong bonds that will no doubt last a lifetime, a testament to the brotherhood of motorcycle travellers and riding into the unknown.
Our group would ride together again on many occasions, and find another two Hotel Californias, but that's a story for another day.
---
Our route
Starting in Cusco, Peru's old Inca Capital, we rode through Ollantaytambo and into the Sacred Valley. We spent a night at Santa Maria during the storm, and the next night we rode to Santa Teresa, where we left the bikes to hike over the washed-out bridge to Aguas Calientes, the town at the base of Machu Picchu.
From here we went into the jungle or 'Selvas', on the edge of Peru's Amazon rainforest. Our first night of the beaten track was spent at another Aguas Calientes, this time a collection of about four or five ramshackle houses where we slept in an abandoned school. The following day we rode to the small town of San Francisco, where we meet Guillermo and spent a few night on his farm. After the finca in Luisiana, we rode to the old, colonial town of Ayacucho, the final point of the Rumble in the Jungle.
---
Who are the Shining Path?
Also known as the Communist Party of Peru, they set out to replace Peru's government and start a cultural revolution. Gaining momentum onwards of 1980, their presence has declined to near negligible levels since the capture of their leader in 1992. During their active period, they were responsible for the loss of hundreds of lives.
---
The Bikes
Megan and I rode on two BMW F800GSs, 2011 models customised with aftermarket Touratech suspension. The bikes have held up fantastically so far, niggles we have experienced include a failed fuel pump, a blown fork seal, and blown suspensions: one stock, and one aftermarket. Other problems are the buttery-soft rims and high-priced parts. The pros are great power, good handling in the dirt, and comfortable speeds on the highway. Most aspects of the bike are easily serviced by yourself with a good connection to YouTube, some courage and a few beers. I love this bike and would do the trip on the same machine again.
---
Want to ride Peru? Here's how you can…
How to get there
Flights from London City airport to Lima are available in May for as little as £445 return with one stop in Amsterdam and a flight time of around 15 hours. From Lima you can catch local flights to Cusco for as little as £118 return or you can make the journey overland which can take roughly 16 hours.
How long to take off work
Matt and Megan spent a week riding from Cusco to Ayacucho taking in the Inca Trail along the way. To allow for flights, recovery from jetlag and various sightseeing excursions we recommend allowing two weeks for the trip.
Accommodation
If you don't mind staying in budget digs then you can comfortably get by on around £15 a night for accommodation. Finer options are available for as little as £25 per night and if you really like your luxuries then you can expect to double that figure.
Where can I hire a bike?
Peru Moto Tours is conveniently based in Cusco and offers a wide range of options which include the Honda XR650L, Yamaha XT660Z Ténéré and KTM 990 Adventure among others. Prices start at around £40 for smaller models and go all the way up to £120 for larger models such as the KTM, including hard side cases and basic insurance. Riding kit is also available to hire.
How to get your own Motorcycle over to Peru?
To ride your own motorcycle in Peru, it is recommended that you obtain a Carnet De Passage. James Cargo Services can expedite a BMW R1200GS size motorcycle for arrival into Lima for £1,395 by airfreight or £925 by ocean. For more information head to www.jamescargo.com or contact [email protected].
When to go?
June through to August is the dry season making it a good time to head to the highlands. However, it is also the busiest time to go due to European and North American holidays. A month either side of the high season is a great option as there are less people and the weather is still good.