Bryn Davies strips down and tests 11 base layers to help you beat the winter chill this winter
In terms of riding gear, the base layer is usually the unsung hero. Your jacket gets all the plaudits for keeping you protected, your mid-layer or heated coat takes the prize for providing warmth and all the while your base layer is working quietly in the background to make sure you stay warm, dry and comfortable (if it's a good one). With this in mind, it's often the case that base layers are a bit of an afterthought, hours are spent researching your next riding jacket, but when it comes to that bottom layer you'll either throw on an old t-shirt or buy the first one you see.
If there's ever a case for paying a bit more attention to what you're buying, then it's with a base layer. A good base layer will wick sweat away from your skin, keeping you dry, provide insulation to keep you warm, resist odour build-ups from sweaty armpits and, as a result of these, provide comfort while riding. A not-so-good base layer, or a standard t-shirt, will usually absorb sweat, get cold and make your time in the saddle a miserable marathon of shivers and discomfort.
How good a base layer will be is mostly down to what it's made from. You'll usually find that it'll be made using wool (usually Merino), synthetic (man-made) fibres or a mixture of the two. Each type of material offers certain advantages over the other (as you can see in the box-out), and base layers with a mix tend to find a good compromise between the two. Other factors like flat seams and a good fit will determine how comfortable your base layer is to wear.
In terms of the material that a base layer is made of, one of the last things you want to see on that swing tag is cotton. Cotton will absorb moisture (rather than disperse it), making it heavy and cold and when it does get wet it'll take a long old time to dry. Oh, and it'll also start to pong a lot quicker, and no one wants to sit next to the smelly biker at the bar.
What to look for
If you're after a base layer that'll predominantly be used to keep you warm then look for a thicker, heavier product. If it has a brushed fleece inner then all the better as that will help insulate you in cold weather. If you sweat a lot look for a garment that will wick moisture away from the body, you'll also want a closer fitting shirt for it to be more effective. Make sure you pay attention to the seams on the inside of the garment as well, flat stitched seams are ideal as they prevent irritation.
It doesn't matter if you're sat in the saddle on an autobahn in Germany or climbing a rock face in Scotland, a base layer will need to do the same things and work in the same way. For this reason, in this review, we've brought together 11 base layers from both the motorcycling and the outdoor industries and tested them with their suitability for riding in mind.
How we're testing
We subjected each base layer to a number of different tests to assess how well they faired in four crucial areas; drying time, moisture-wicking properties, thermal qualities and odour resistance. For our drying time test, each base layer was submerged in water until the material became saturated. It was the rung out as much as possible and hung to dry in a still atmosphere with no direct heat added. The base layers were timed until they were dry enough to wear comfortably. For moisture wicking we measured how dry the inside of the base layer was in relation to the outside, it was eye-opening to see how well some of the garments forced water from the inside out. Odour resistance was tested by having a third party sniff our pits after a few days of use while thermal qualities were assessed on the recent cold days we've been having.
Wool Vs. Synthetic
When it comes to base layers you're usually faced with the choice of a garment made from wool or from man-made fibres like polyester, spandex or elastane. There's no definite answer as to which one is better than the other, but the benefits of each type are:
Synthetic:
Generally faster drying
Wicks sweat better
Merino wool:
Superior odour control
Retains more warmth when wet
Drapes better and has a nicer handle
You'll also notice that there are some products in this review that blend synthetic and wool together, by doing this they're able to offer a good compromise between the two fabrics, offering the benefits of both but not to the same extent as if they were using one type entirely.
Karrimor LS Zip TecT
£23.99 – Material: 100% Polyester
While the price of the Karrimor LS Zip TecT is given as £23.99, at the time of writing it can be picked up for as little as £11.99 in Sports Direct, for that price it'd be hard to pick fault with this fully synthetic base layer, but when it comes up against the others in this review it lacks in quality and performance. Most notably with its drying times. In our test it was by far the slowest to dry, still feeling sodden when most others had dried completely. While this won't be so much a problem when riding in dry conditions, if you're a big sweater then you'll find yourself getting wet from the inside out.
With that said, where the LS Zip TecT does perform well is in the comfort it provides and the casual styling. It has a slightly baggy fit and this makes it ideal for use when not on the bike, i.e. in the pub for lunch or sitting in the hotel bar after a long day's riding. While there are certainly better all-round base layers out there, the Karrimor LS Zip TecT has a cracking price, and if you don't have a big budget it's worth a try.
ABR Rating – 6/10
Oxford Warm Dry Long Sleeve Top
£29.99 – Material: 93% Polyester, 7% Spandex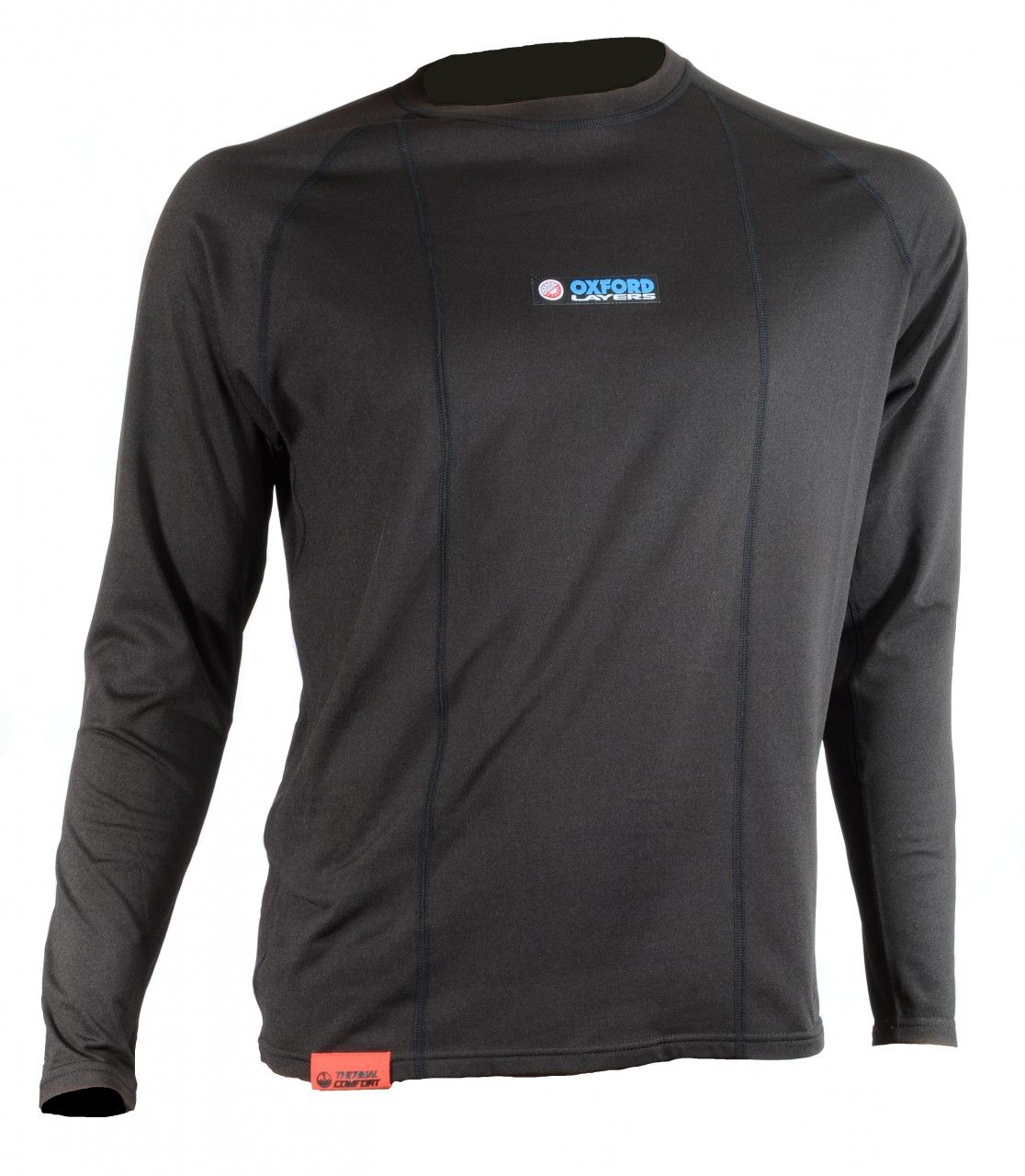 Warm Dry by name, warm and dry by nature! This baselayer from Oxford offers brilliant value for money if you're looking for a base layer this winter. Made from 93% polyester and 7% spandex the top has a smooth, stretchy feel to it that fits well on most body shapes and it's long enough to be comfortably tucked away with minimal riding up when reaching for the handlebars. The base layer has supposedly been treated with an antibacterial that kills bad odours, however, it only took a single wear for the Warm Dry to start to smell pretty offensive.
That being said, if you're going to have regular access to washing facilities the base layer performs very well in other areas. The thick material offers a generous amount of insulation and the moisture-wicking properties are very good for a garment of this price. In terms of drying time, it was up there with the best, coming in joint third at about three hours to be wearable again.
ABR Rating – 8/10
Rev'it Glacier Long Sleeve
£44.99 – Material: 93% Polyamide, 7% Elastane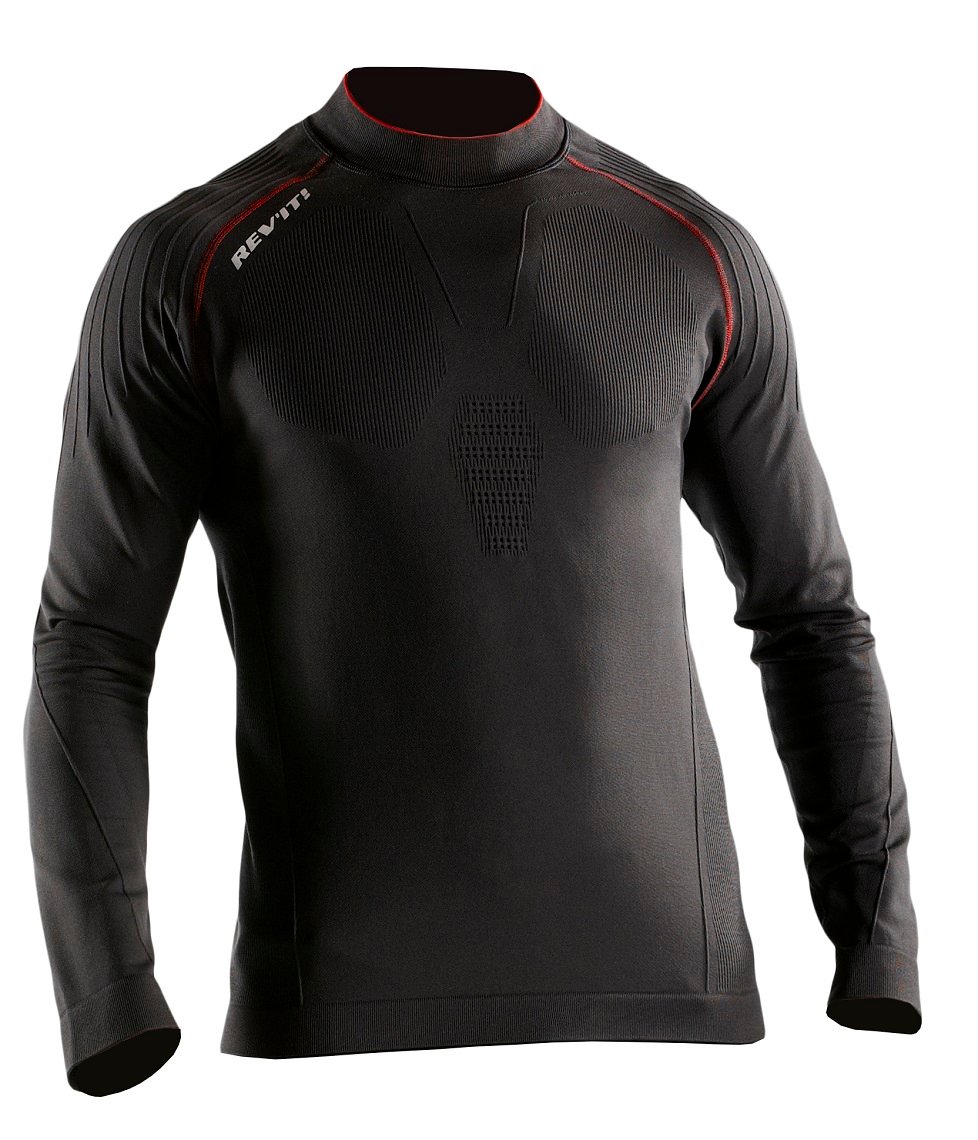 The Rev'it Glacier Long Sleeve has been around for a good few years now and it consistently impresses with its technical design, zonal insulation and great fit. Throughout the top, there are varying thicknesses of material to help provide warmth where it's needed and more moisture-wicking in areas that are likely to see more sweat. The base layer is well put together and in use, it's very comfortable to wear, with the seams being flat stitched and the torso being long enough to tuck in and prevent riding up when in the saddle.
The one area where the Glacier is let down is by its drying time. Along with the Alpinestars Thermal Tech Top, it had a drying time of well over five hours. With that being said, it was interesting to note that the inside of the garment remained fairly dry, the fabric wicking moisture to the outside – great if you're a heavy sweater.
ABR Rating – 7/10
Jack Wolfskin Dry 'N Cosy Longsleeve
£45 – Material: 84% Polyester, 16% Elastane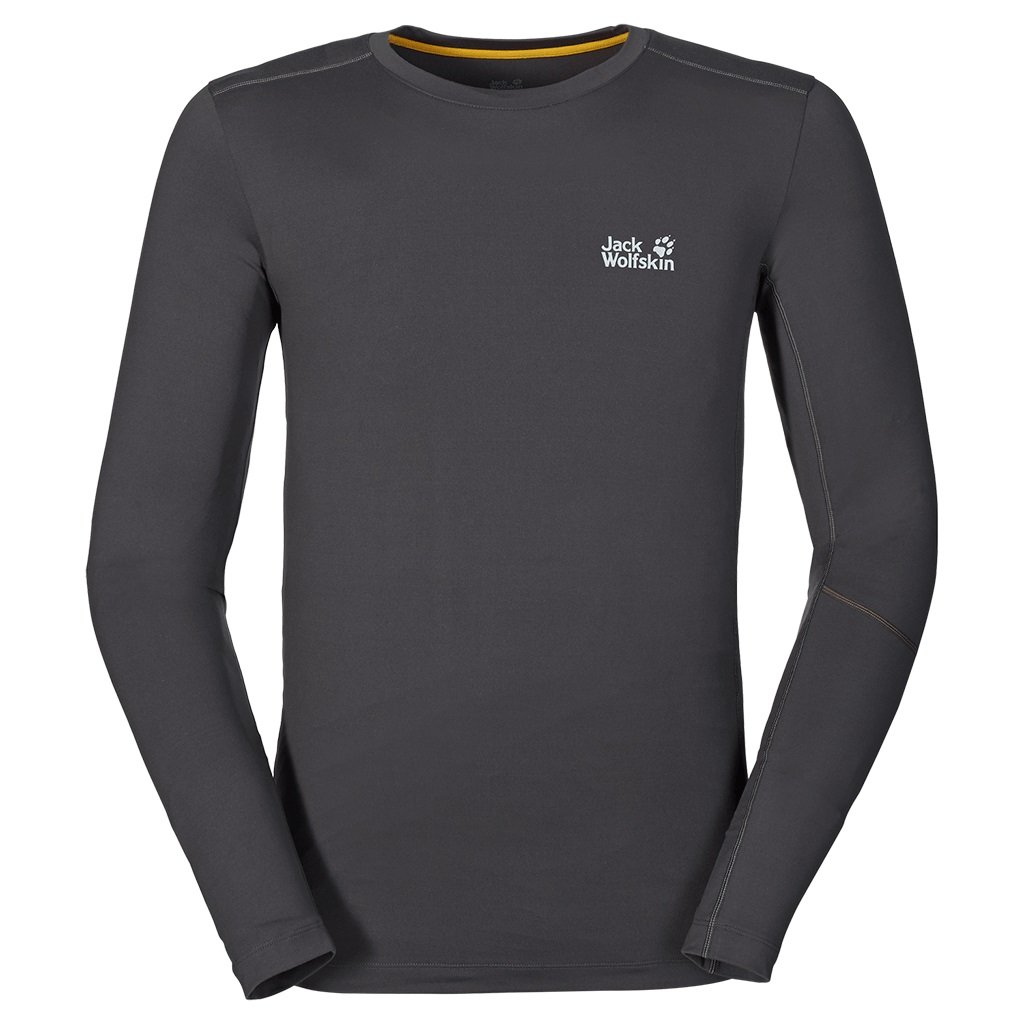 Jack Wolfskin has a great reputation for their outdoor kit and, as the name suggests, the Dry 'N Cosy base layer is a technical garment that's designed to wick moisture away from the skin and keep you warm. With a synthetic mix of 84% polyester and 16% elastane, the garment has a lovely, soft feel to it that conforms nicely to the shape of your body. It's a fairly thick material as well and, when worn underneath a mid-layer and a motorcycle jacket on a cold evening, I was kept happily warm. The seams throughout the base layer are all flat stitched so there's minimal irritation from them and the long fit allows you to tuck it into your trousers easily and comfortably.
In terms of odour resistance, while synthetics are notorious for absorbing smells, the Dry 'N Cosy performed fairly well, only starting to smell after two days. In our drying tests, it came out fourth-best, being wearable again after just over three hours.
ABR Rating – 7/10
Forcefield Base Layer Shirt
£54.99 – Material: 95% Polyamide, 5% Elastane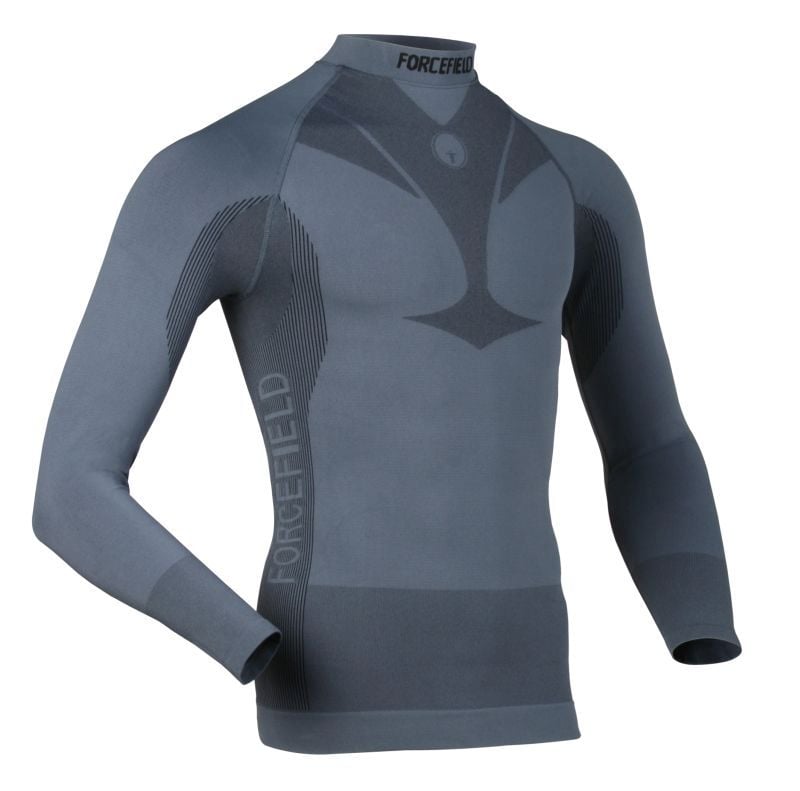 Forcefield pride themselves on the body armour that the company makes, but they also offer a great range of technical base layers, some even with armour built-in (like the excellent Pro Shirt). For this review, we have the Base Layer Shirt, a long sleeve technical shirt that's composed of 95% polyamide and 5% elastane. This mix of materials gives the base layer a stretchy feel to it which conforms to the shape of the body and allows it to be tucked in easily.
While the garment has brilliant moisture-wicking properties, it's somewhat lacking in terms of how fast-drying it is, taking over four hours in our test. The material is nice and thick and offers a good amount of warmth but when it came to odour resistance the Base Layer Shirt started to pong after a single day of use. At £54.99 it's starting to get a bit pricey, but there are worse things you could do than buy the Forcefield Base Layer Shirt.
ABR Rating – 7/10
EDZ Merino Base Layer Zip Neck
£54.99 – Material: 100% Merino Wool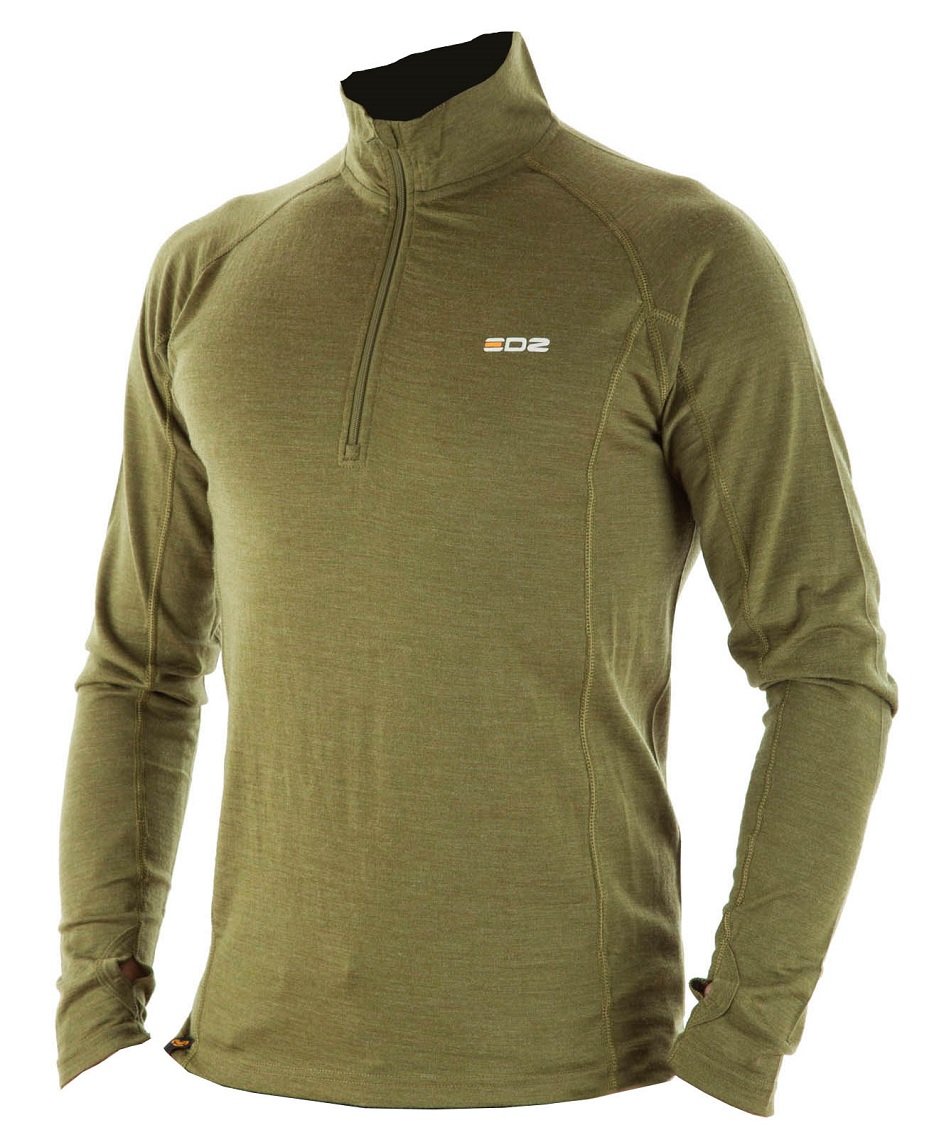 EDZ has a great range of base and mid-layers on offer and their submission for this review is the Merino Base Layer Zip Neck. The garment is 100% Merino wool so it offers all of the benefits that are associated with the natural fibres; it hangs nicely when worn, it's soft against the skin and the odour resisting properties are top-notch. When zipped up fully the high collar helps to protect the neck, perfect if you're wearing it in conjunction with a heated jacket that has a collar which gets too warm to be next to the skin!
As it's Merino wool it was never going to have the fastest drying time in the test, but the base layer did hold its own pretty well, coming in joint fourth with a time of roughly three hours. Another benefit of the material is that if it does get wet then it retains some of its insulating properties, but we wouldn't be too happy getting it wet in sub-zero conditions!
ABR Rating – 8/10
Halvarssons Wintur
£59 – Material: 51% Acrylic Outlast, 49% Merino Wool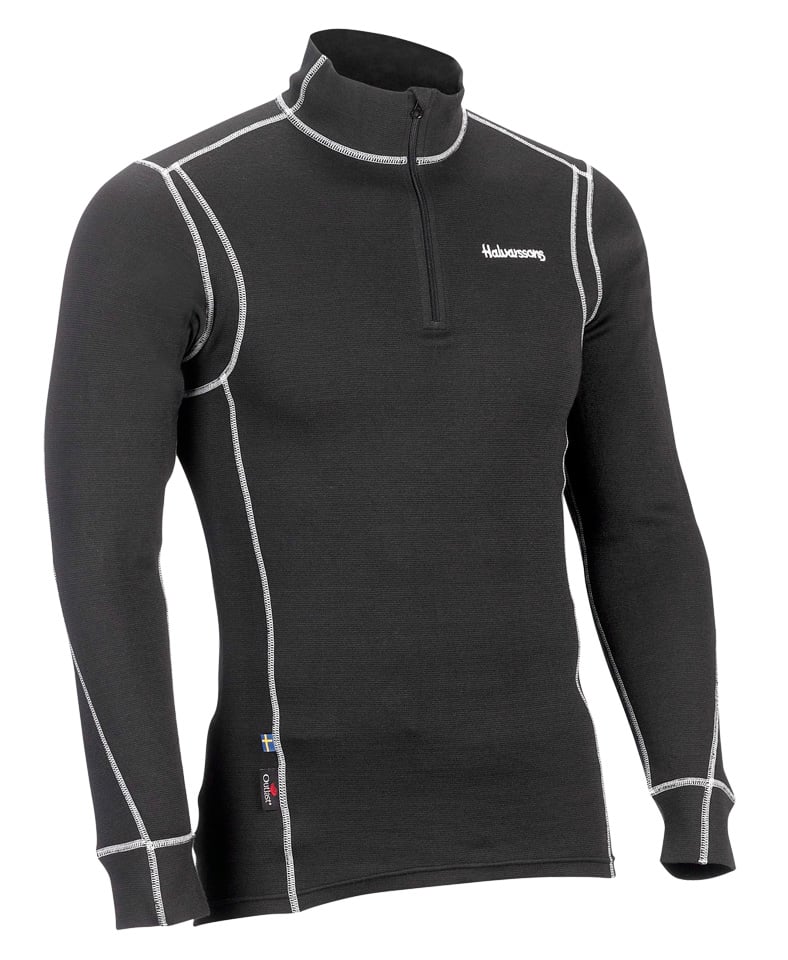 If it's cold weather kit you're after then Halvarssons is likely to have just what you need. Based in Sweden the company is no stranger to sub-zero temperatures and their entry into this review is the excellent Wintur base layer. The garment uses a mix of 51% Acrylic Outlast and 49% Merino wool to make a top that looks great, feels soft, drapes well and is comfortable when worn, but also one that has technical functions like a fast drying time (actually coming out joint first with the Montane Primino) and excellent thermal properties thanks to the combination of Merino wool and Outlast, a material that NASA uses to protect its astronauts from fluctuating temperatures.
The Merino wool also helps in terms of odour control and the Wintur stayed fresh for a good few days before the armpits started to offend people. When it came to wicking moisture away from the body the Wintur wasn't exactly the best, but the Merino wool will retain some of its insulating properties if the garment gets wet.
ABR Rating – 9/10
Alpinestars Thermal Tech Top
£59.99 – Material: 62% Polyamide, 25% Polyester, 13% Spandex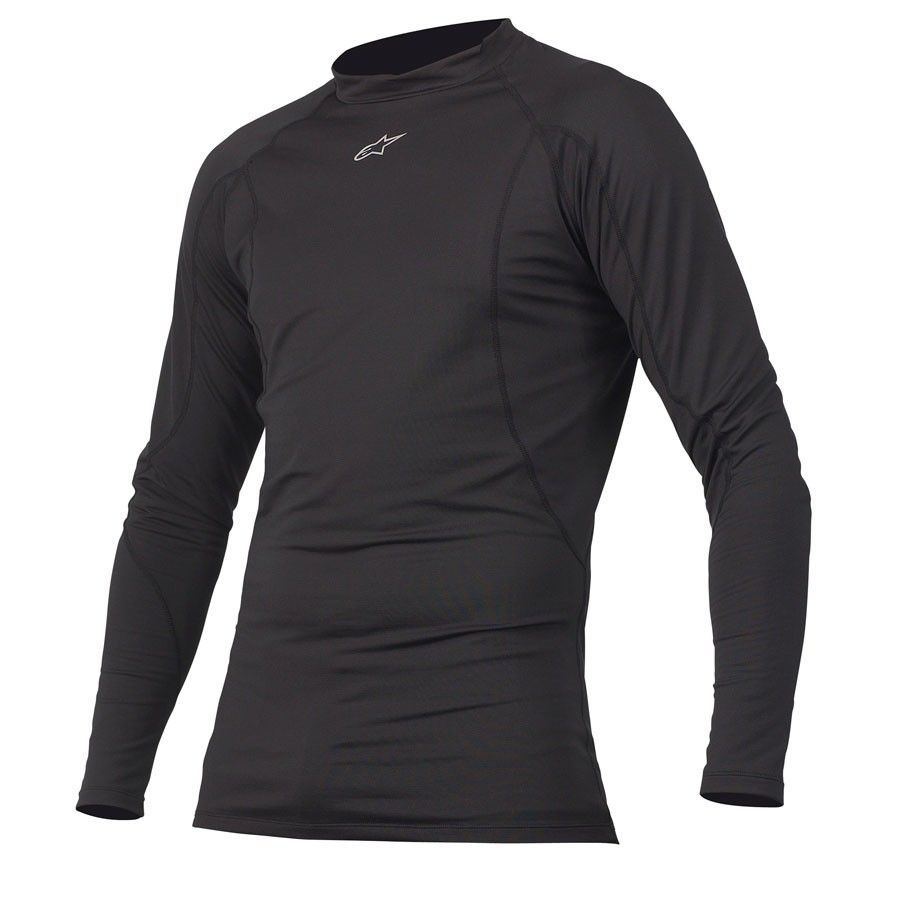 The Alpinestars Thermal Tech Top is perhaps the warmest base layer in this review, the material being a thick and cosy mix of polyamide, polyester and spandex. Where the Thermal Tech Top excelled was in the warmth provided, its odour resistance and its moisture-wicking properties, the inside of the top feeling bone-dry while the moisture had been forced to the outside, ready for a technical mid-layer to further take it away from the body. That being said, if you're caught in a downpour and you get wet from the outside-in, the Thermal Tech Top had one of the longest drying times of all the base layers we tested – exceeding five hours.
And once the top gets wet it tends to lose much of its thermal properties, getting cold quickly. In terms of comfort, the top is so‑  against the skin and the seams causing little to no irritation.
ABR Rating – 8/10
Montane Primino 140g Zip Neck
£60 – Material: 50% Merino, 25% Primaloft, 25% Polyester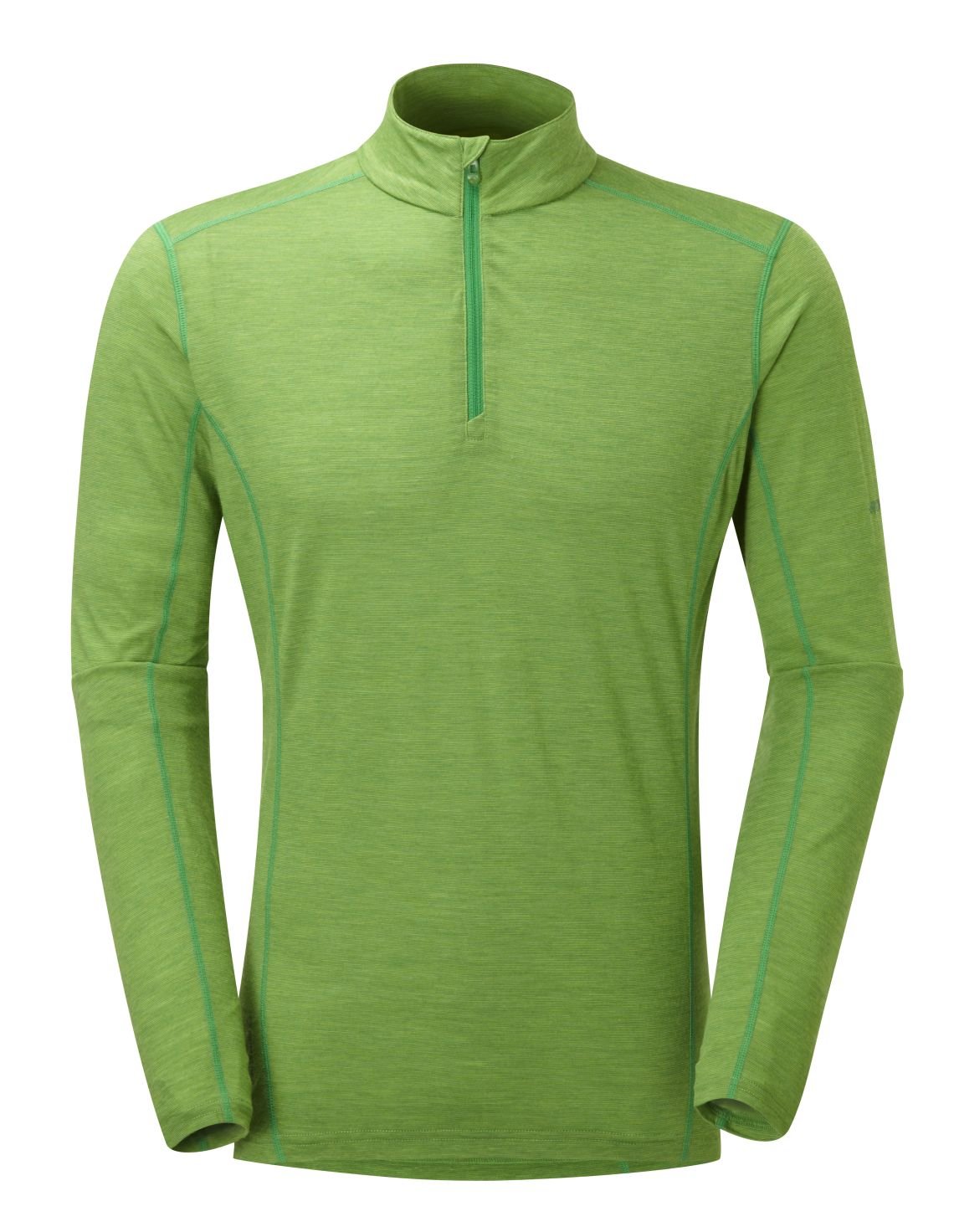 The Montane Primino Zip Neck is an exciting bit of kit. Not only does it feature a blend of merino wool and synthetic fibres, it's also constructed with Primalo‑fibres. If you've not heard of Primalo-fibres before, it's an insulating fill that has proven its worth throughout the world of outdoor clothing, being one of the best insulation options around. The Primalo‑fibres are woven into the merino wool and polyester to offer the insulating properties associated with the material. As such, the Primino base layer is a great cold-weather base layer when paired with a mid-layer.
The merino wool presence offers added warmth and the soft feel associated with the natural fibres while the polyester helps wick sweat away. Out of all the base layers we have in this review the Primino offered the fastest drying times (along with the Wintur) by a considerable amount. £60 is a good price for a base layer of this quality and the high collar will help protect your neck when riding in cold weather.
ABR Rating – 9/10
Helly Hansen Warm Flow High Neck ½ Zip
£70 – Material: 68% Merino Wool, 32% Polypropelene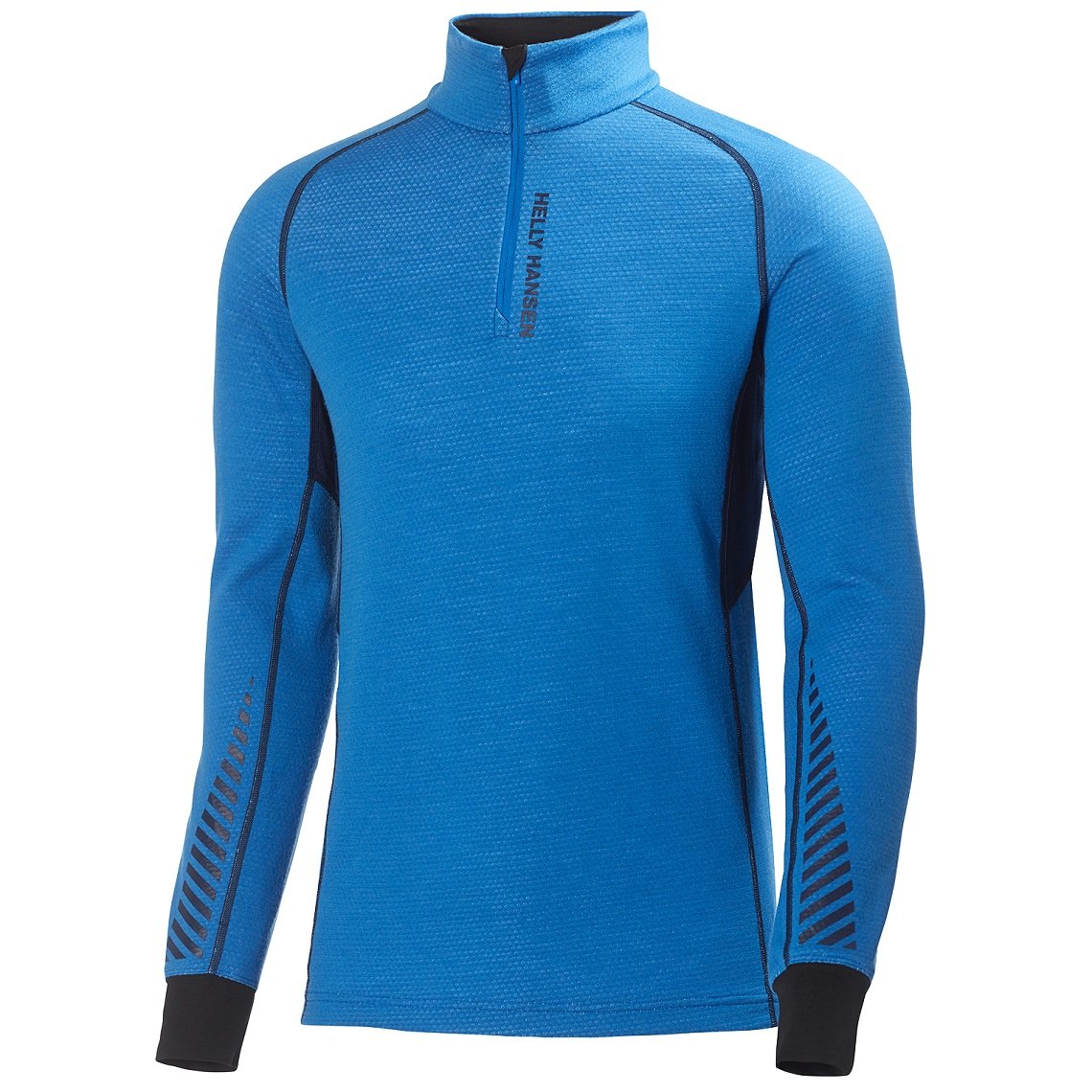 I've been using Helly Hansen base layers for as long as I can remember now, taking them with me whenever I've been skiing and I'll probably be packing them on my next bike trip. With a blend of 68% Merino wool and 32% polypropylene the Warm Flow is able to offer warmth, a very comfortable fit and great odour resisting qualities. The high zip neck is a welcome addition as when it's fully done up the collar protects the neck nicely.
The armpits of the Warm Flow are made from a mesh material and this aids with moisture wicking in this, particularly sweaty area. Where this garment impresses is in its looks, the way the material drapes and hangs is aesthetically pleasing and I'd be happy to wear this when relaxing out of the saddle. At £70 it's an expensive piece of kit though and this will put a lot of buyers off. If you've got the money though, it's an excellent base layer.
ABR Rating – 8/10
Rab MeCo 165 Hoodie
£80 – Material: 65% Merino Wool, 35% Cocona Polyester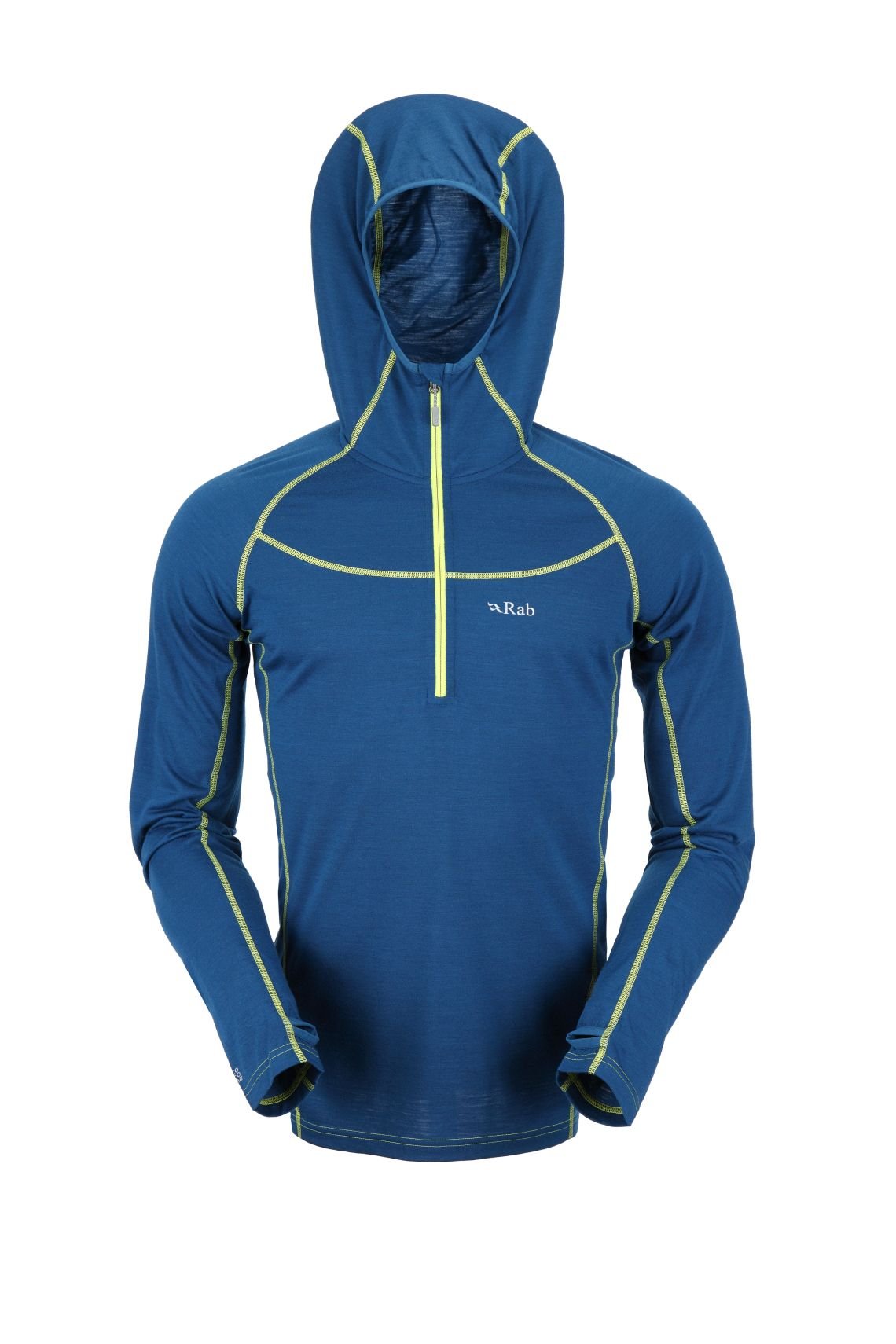 Rab, a company that has a rich heritage in the outdoor industry, rarely puts out a bad product and the MeCo 165 Hoodie lives up to my high expectation of the brand. The MeCo is a fairly exciting garment in the fact that it's composed of a blend of Merino wool and Cocona Polyester. The Cocona Polyester features something that Rab terms 'Active Carbon technology' and this is said to improve the drying time of the fabric and also further aid odour control.
In our drying time test, the MeCo came fifth, becoming wearable again after roughly three and a half hours. While it wasn't the fastest drying time, it's still fairly impressive considering these garments were saturated with water. For me, where the MeCo excels is in the comfort it provides, it's very soft against the skin and the attached hood helps provide warmth for the head and neck, perfect for winter riding. In terms of odour control, the MeCo is brilliant, the Merino wool and the carbon technology working together to make a base layer that stays fresh and needs little washing.
ABR Rating – 8/10
Odlo Shirt Revolution Warm
£85 – Material: 55% Polyester, 45% Virgin Merino Wool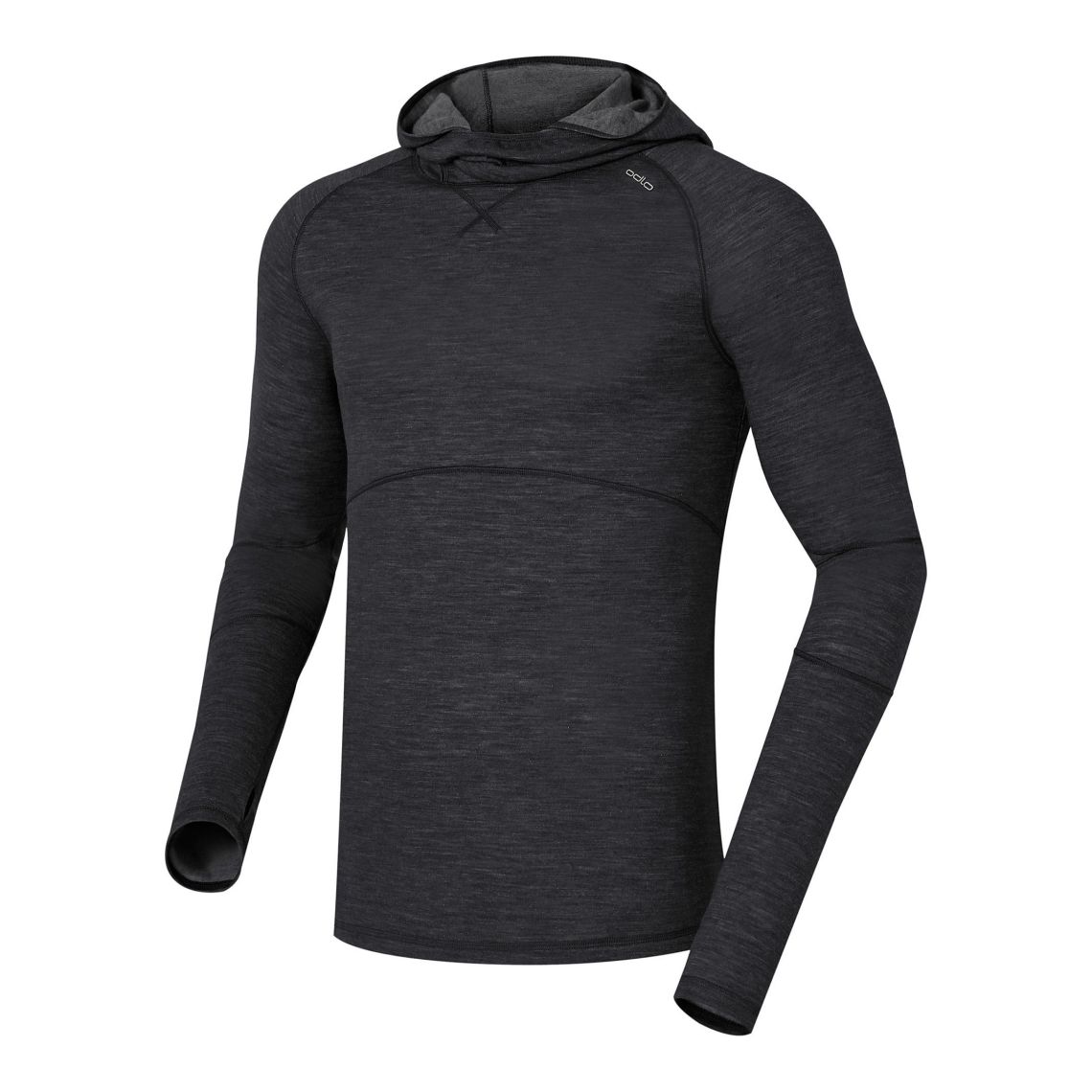 With a price that's £15 shy of £100, the Odlo Shirt Revolution Warm has to offer something special to even begin to justify that price tag. And boy does it do that. There are two outstanding features of this base layer that take it a step up from the others in this test; the excellent built-in balaclava that can be worn as a neck warmer or a full face balaclava, and the exceptionally soft inner that provides warmth and incredible next-to-skin comfort. The Revolution Warm also came in second in our drying test, the polyester and merino wool mix working well together to offer quick drying times.
In terms of moisture-wicking abilities, the garment excelled once again, dispersing water well. The merino wool also helps this top fend off nasty odours for a longer amount of time than if it were fully synthetic. Perhaps the only gripe I have with this shirt is the fit. If you're a big guy you'll find it tight around the back and a little short in the torso.
ABR Rating – 9/10