UP THE AMERICAS, PART ONE
Riding the length of the Americas is a dream many ABRs share; Pat McCarthy is living it. He's attempting a solo run from Tierra del Fuego to Alaska covering 20,097 miles in 19 weeks. We join him at World's End and the beginning of his adventure…
There are lots of realistic barriers that prevent ABRS from taking the Big Trip, such as family and work ties, but barriers are also created in the mind. Thoughts and fears of 'what if…' are just as debilitating as real-life commitments, and these are the barriers that I'm striving to lift.
I started my Big Trip in Tierra del Fuego, Ushuaia, which is perched at the bottom of Argentina, the seventh largest country in the world. As the world's most southerly city, Tierra del Fuego is often referred to as 'the end of the world'. It's also pretty cold – no, I mean really cold! You see, I left things a little late in the season for my ride to Alaska aboard a 2009 Yamaha XT660Z Tenere and began my trip north with the Antarctic winter snapping at my heels.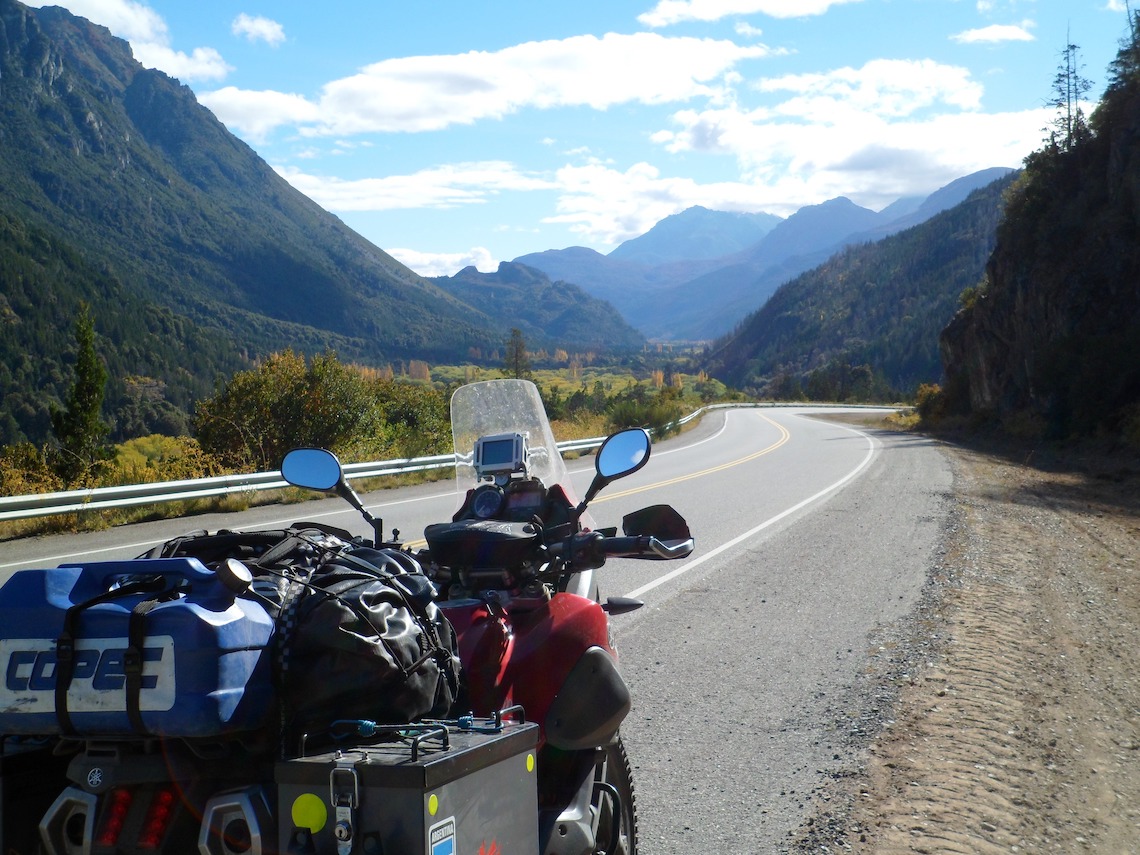 Starting at the End
My decision to do the trip on my XT 'Idris' was based on the 6,000-plus miles we'd already racked up together. It took some 2,000 miles of painful negotiation and the intervention of a sheepskin before my seat and Idris finally resolved their differences, but by the time I arrived in Ushuaia, harmony was achieved.

My wife tells me I'm a lucky guy, and that luck has been holding out to date. I reached the end of the world in glorious sunshine the day after the previous week's snow had been washed away by rain. Deciding not to chance my luck, I headed off north the very next day, to tackle the Garibaldi Pass while the sun was still shining. The island of Tierra del Fuego is split between Argentina and Chile. To reach the mainland, you have to cross from one country into the other, to access the ferries. The infamous Patagonian winds were mercifully absent this day and it wasn't long before I found myself arriving at the Chilean border.
Unless you're carrying fresh food products these border posts are generally hassle free. After a 20-minute paper chase, I was on the gravel roads or ripio of southern Chile. I decided that rather than repeating the ferry crossing made on the way down to Tierra del Fuego after my flight in to Chile, I'd ride across the island and take the one from Porvenir to Punta Arenas, which leaves only once a day. Idris and I were having so much fun riding the ripio and taking in the scenery that I made my first big mistake of the trip: losing track of time. Before I knew it I found myself riding a difficult ripio coastal road at sunset, with closed-in verges and no obvious exits for a spot to wild camp.
Of course, once the sun had rapidly set I had even less chance of finding a suitable campsite, so I carried on for a further two hours in the dark. When I finally arrived in Porvenir, my eyes must have been popping out on stalks. I felt more wired on adrenalin than any amount of coffee could match. Note to self: never ride ripio in the dark – ever!
The plus side of my over exuberance the night before was that I had time to enjoy a glorious morning off the bike in this sleepy coastal town before catching the afternoon ferry some three miles up the road. This turned out to be the worst sea crossing I have ever encountered. Indeed, there were moments when I started thinking about the end, where the life-vests were, and how I would get to the boats?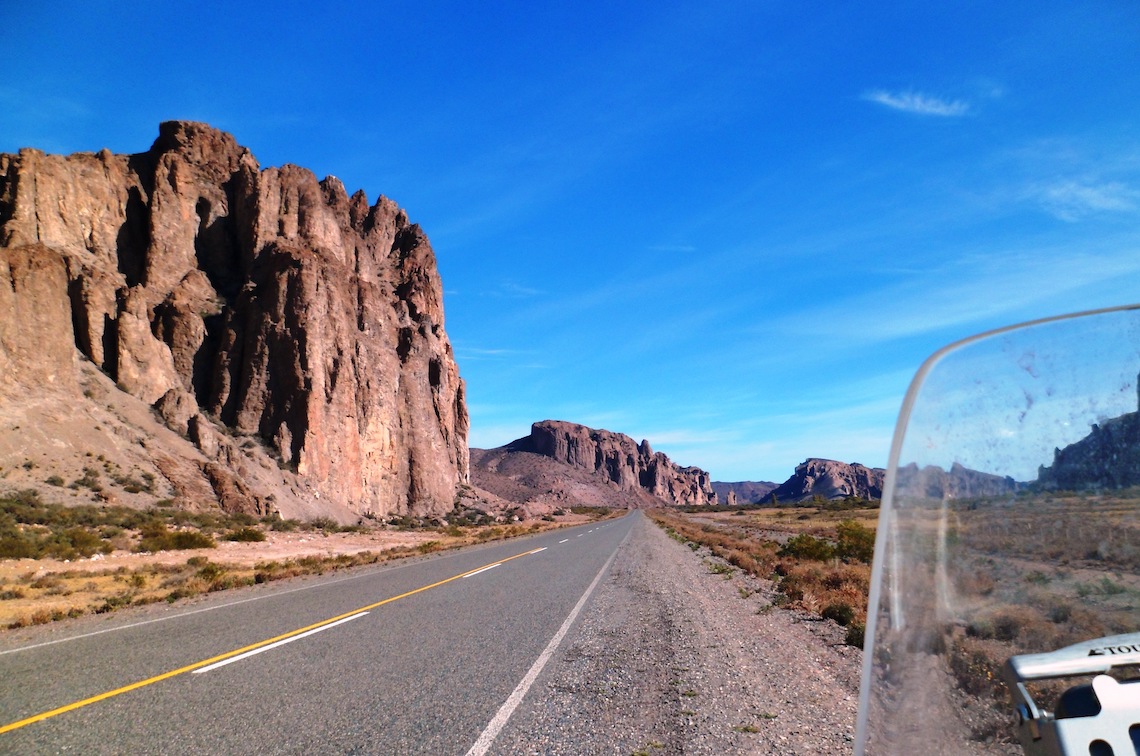 The channel was so violent I could see the boat visibly flexing as it struggled against the waters, which were slamming it about, and poor Idris was getting a right soaking up on deck from the angry and confused swell. Just then, part of the ceiling in the passenger cabin collapsed! I asked one of the crew if this weather was normal, and he replied, "Oh, I've seen worse – but this is pretty bad!" Due to the headwind the two-and-a-half-hour crossing became three-and-a-half as we finally arrived at our cold, windy and wet destination. At least the rain washed the salt water from Idris' bits.
On arrival, it was clear that Punta Arenas suffers not only from the remoteness of its location, but a month before had been hit by terrible flooding that had left the town centre waist-high in mud. The aftermath was still being managed as the locals struggle to return to some sense of normality. So, with my sympathy, but keen to escape the wind, rain, and threat of snow, I left early for Puerto Natales and the Torres del Paine National Park.
Well, blow me!
The theory to beating the immense winds in the south is to rise before dawn and be packed and on the road by sunrise as the wind is often at its worst by midday. This usually works well, but some days it's just plain windy from the off and I'd yet to learn that on these occasions it's simply better to stay put. The first half of the 180 mile run was a struggle but as I pushed beyond the flatter landscape and in to hill country, leaving the rain behind, I started to enjoy the ride through some forestry, which if not for some strange, spooky trees would have reminded me of Mid Wales.
After a quick refuel in Puerto Natales, I made straight for Torres del Paine National Park into an increasing headwind and some aggressive-looking clouds. While the landscape around the area is breathtaking, and I'm pleased I took the ride out to the park, the poor weather conditions meant that I was unable to see the famous towers that seem to comb the sky. With the day getting on and the weather worsening, I decide to make the run back down to town, which was a breeze. With the wind directly behind, I rode in a kind of eerie bubble with just the throb of the thumper to keep the beat; if the silence was any kind of measure the tailwind must have been around 70mph.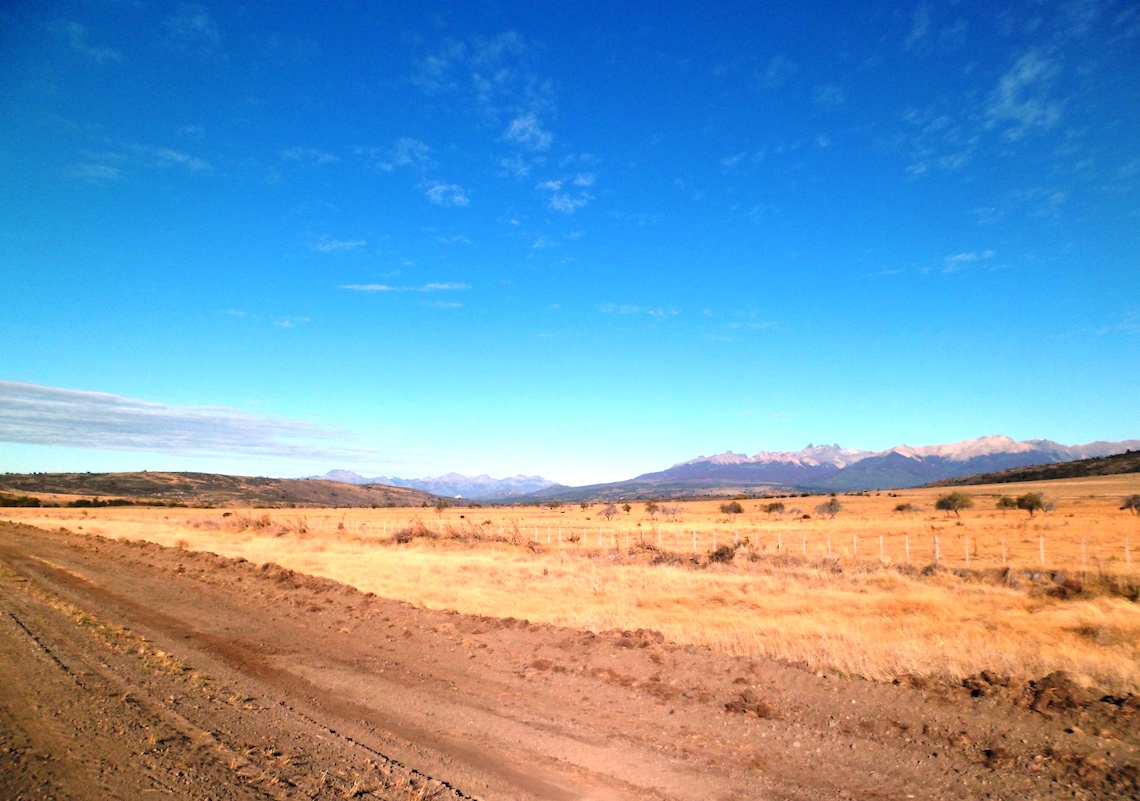 I liked Puerto Natales with its abundance of mountain shops, good restaurants and accommodation, so I ducked into the Southwind Hostal for the night as there was a KLR 650 parked in the secure driveway. As I was travelling towards the end of the season I always asked for a discount on my accommodation, and most often I got one, too. I spent the evening swapping stories with the hostel owner, Miquel, and the KLR owner, Archie, who was from the States. A 72-year-old former paratrooper, Archie had sailed around the world solo, and was now trying his hand at solo adventure bike riding – what a star! Chatting to the guys over breakfast made me late for my date with the border to get back in to Argentina and the Ruta 40 (La Cuarenta), that most iconic and infamous of Argentinean roads. As I headed to the mountain pass at Doretea, the wind returned with a vengeance.
I pushed on to the border post at the top of the pass and signed out of Chile. A mile or so further on, however, I was to encounter my first border issue trying to get back in to Argentina. Immigration was no problem, but when I tried to gain a temporary import for my bike, the system kept throwing up that I was from Afghanistan! Needless to say this rang some alarm bells at first, but the officials quickly realised that it was a system error – and a persistent one at that. It took almost an hour for the very kind ladies to correct the computer's mistake, which gave me time to chat about my trip, the bike, and life in the south. I even got a free coffee!
Freeze time
Riding down in to Rio Turbio, a struggling mining town, I was reminded of the South Wales valleys of old with its buildings nestled in the damp, grey hillside. The wind was now pushing rain my way. Ruta 40 was by now fully paved and generally a pretty good riding surface, which is just as well as the weather conspired to make life as slippery as possible. After some 50 miles through the low hills, I managed to pull ahead of the rain, turning onto some 40-odd miles of ripio with a full-on afternoon side wind.
Getting back on asphalt for the last 50 miles or so in to El Calefate, I was down to 20mph at times as I struggled to keep a line in to the freezing headwind. And then the plains that I'd been crossing simply stopped.
At some stage in the long and distant past, the land before me had been part of the bed of Lake Argentino, but it had receded. Idris and I wobbled down the steep descent, getting battered by the winds, before making it to the bottom of the lake bed. A slow, exhausted ride in to town followed and it was dark when I arrived.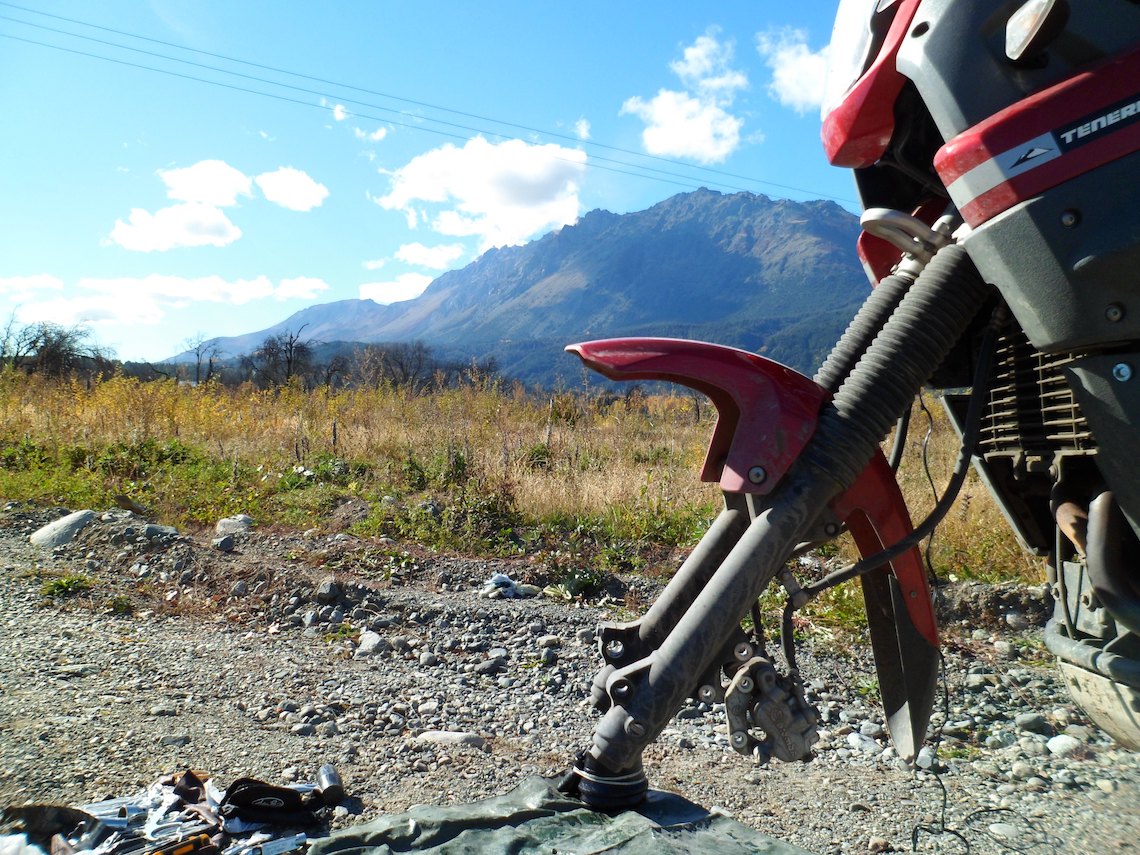 When planning this trip, I set out a series of 'must-dos'. One was making it to Tierra del Fuego, and another was seeing the Perito Moreno glacier. El Calefate was the starting point for the 50-mile run out to the glacier, around half of which is through Los Glaciares National Park.
The ride through the park to the glacier was spectacular and I'd highly recommend it to any ABR who hits town. The glacier itself didn't disappoint either; I was there for over three hours – the ice is just mesmerizing! The glacier hits Lake Argentina at the point where a headland juts into the water, so you can get right up close and hear the gunshot-like 'crack' of the ice, and the slow rumble as huge chunks of bright-blue ice fall in to the water. I'll never forget that day.
Up and off early the next morning, I was out of the still-dark El Calefate and crossing the lake bed heading north by the time the sun was up. I had a good run up to Tres Lagos where the asphalt ran out and the ripio returned. By mid-afternoon I was riding difficult gravel with a sidewind that kept me down to around 25mph. It was around this time that I decided the Ruta 40 is so called because 40kmph is the average speed you do when travelling on it. It was also about the time the wind took a sideswipe at me and threw me down on to the gravel.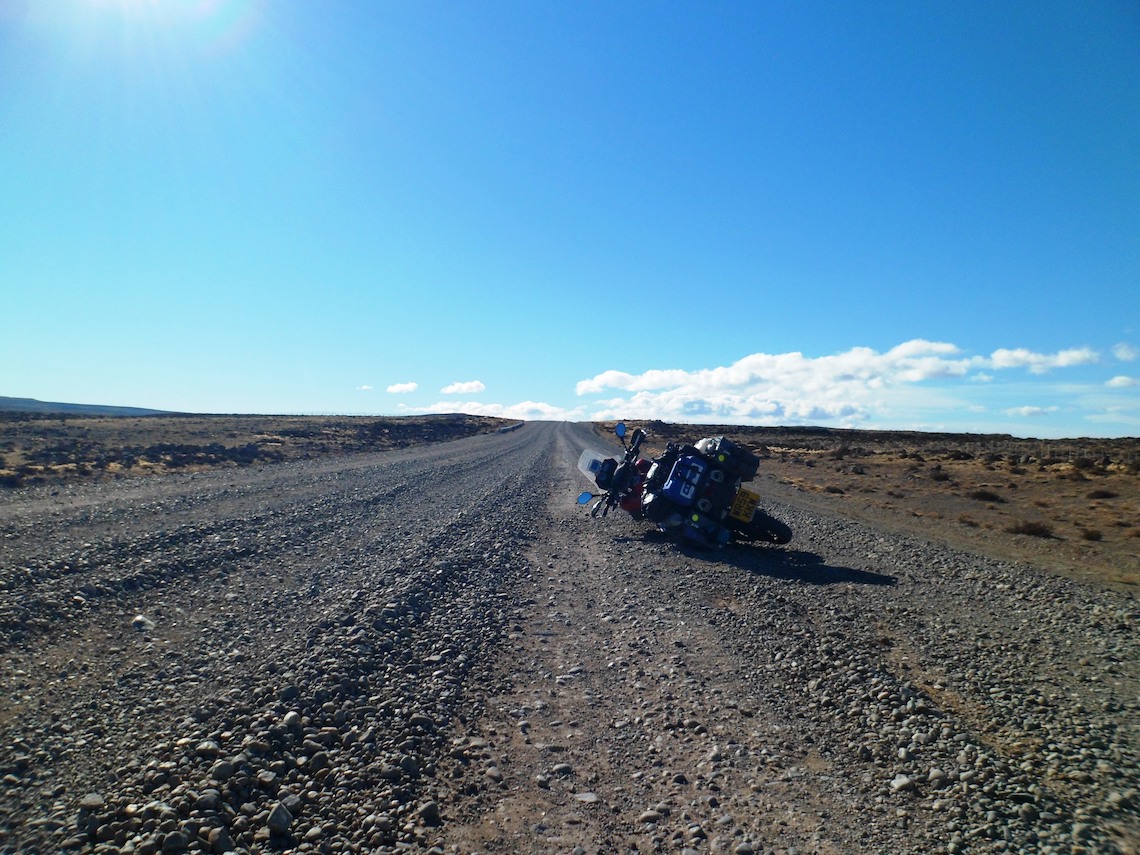 My gear and the bike's guards did their job, and besides some bruises and a jarred back, we were both okay. Picking up the bike, however, was another matter. I knew I could do it – I'd already done so with the bike fully loaded – but there was no purchase from the wheels on the gravel, and on one attempt another gust of wind blew me over the bike. Twenty minutes later I managed to flag down a passing truck, and with it acting as a windbreak and with the aid of the driver, we were up and on our way again. I didn't make it to my planned destination that day, and ended up making a somewhat chilly wild camp behind some of the road workings. I'd rather have been tucked up in a hostel, but the stars that night were so bright, numerous and appeared so close that I experienced a touch of anxiety when looking up – weird, but amazing!
Local hospitality
As I woke the next day, I thought the tent was going to fly off. I just about managed to break camp without losing any gear before wobbling the remaining 40 miles to the next town where I stopped for the day. Taking advice from the weather forecast and the local police, I was faced with my first big decision of the trip: I could either stay put for a couple of days and wait out the weather, or I could head east on an easier road and make some progress north on the Atlantic side. I chose the latter. The easier riding would give my bones a chance to recover, I reasoned, and also the opportunity to ride back across Argentina through the Chubut Valley (Ruta 25), the route the original Welsh settlers took some 150 years ago.
A couple of days riding later, sun still shining, wind still blowing, cold still freezing, I was back heading west along the Ruta 25. Here I was to encounter two things that will stay with me for some time. The first was the ride through the Chubut Valley river canyon; it looked so much like scenes from old cowboy movies that I started humming the theme to Bonanza. The second memorable event was my meeting Hugo and Maria from Esquel, my planned destination for the day. Cruising past me with a wave on their BMW R 1200 GT, I caught up with them some 10 minutes later at a fuel stop – where there was no fuel.
This wasn't much of a problem for me as Idris had over 100 miles left in her, but poor Hugo was fretting as he was already running on vapors. Of course, I handed over my spare can full of fuel, and in return Hugo insisted I stay at his hotel that night as a thank you. And what a hotel! Brand new, with secure parking, a great breakfast and some wonderful linen – and at my age, you start to appreciate things like that. Hugo and Maria are great bike riders and great hosts. It was a privilege to meet them, and in many ways, what the trip was all about for me.
Such wonderful hospitality was to be repeated just down the road when we rolled in to Trevelin, a town originally settled by the Welsh and which still retains its frontier feel; it is, after all, just a stone's throw from Chile. Idris and I were shown around town and treated to some wonderful home cooking by the local Argentinean-Welsh community. There's nothing like fresh home-baked bread for lunch to make this ABR feel whole again! That evening I was invited to dine at the home of a Welsh teacher and her partner, a guide in the local National Parks. Victor was a great cook and an engaging conversationalist as he talked about the local area. This is the Argentinean 'Lake District', he explained, with green hillsides, fertile land and outstanding beauty. I could see immediately why the Welsh settlers chose to stay put – I was tempted to do so myself! But I had plans and a schedule to stick to. Mendoza, the Argentinian wine capital, was calling, which is where I'll be picking up this story next issue.
Who's Riding?
Pat McCarthy (aka Barcelona Pat) is a lifelong bike rider who has travelled the European continent extensively. A former engineer and Welsh resident, he now works in the field of international education policy development, and lives, you guessed it, in Barcelona, Spain.
Pat's cause
Pat Around the Americas is a solo adventure bike ride project linked to raising money for UNICEF's work with disadvantaged children in each of the countries through which Pat travelled. He hopes to match his expenditure on the trip with the same figure in donations. The full story of pat's trip can be found at www.patonabike.blogspot.com. To make an online donation to Pat's cause, see thttp://www. justgiving.com/patrickmccarthy.
The bike
Idris – the 2009 XT660Z Tenere – has appeared in earlier editions of this magazine at various ABR rallies, and in various stages of farkling. A full list of Idris' bolt-on and home-made mods can be viewed here, www.patonabike.blogspot.com, and Pat will be providing independent reviews on each of them on the ABR website in the coming months. Keep an eye on www.adaventurebikerider.com for more.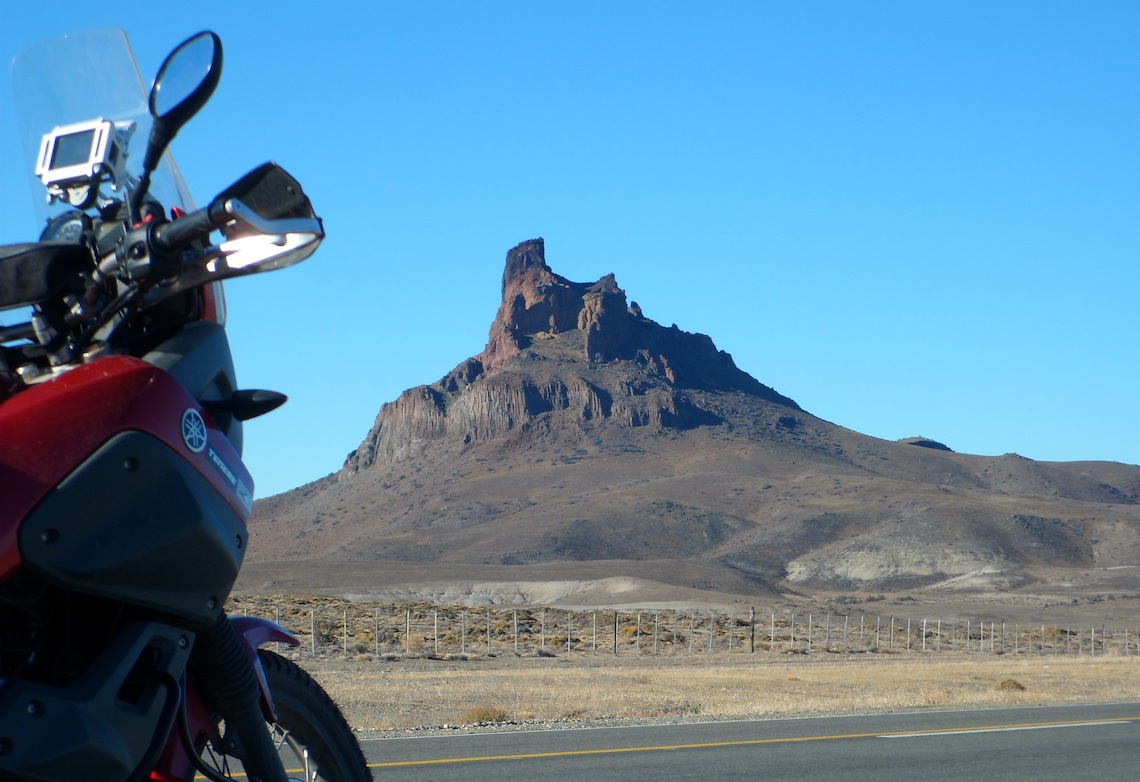 How long does it take? Pat's trip up the Americas was 20,097 miles over 131 days; the run from Tierra del Fuego to the north of Peru covered here was 7,450 miles over 38 days at an average speed of just under 200 miles a day.
When to go? Northern Argentina, northern Chile and a lot of Peru can be tackled at pretty much any time of the year, though many of the roads and high passes in the Andes are closed due to snow in the mid-winter months (UK summertime) and wetter in our early spring. The lowlands of southern Chile, Patagonia and Tierra del Fuego are also inhospitable during the winter.
Get there: Two popular starting points for these countries are Buenos Aires in Argentina and Santiago in Chile. To ride your own motorcycle in this area, the majority of motorcycle travellers choose to ship/airfreight into Buenos Aires, Argentina, as the local procedures are currently said to be far easier and cheaper than in Chile. James Cargo Services Ltd, can transport a BMW R 1200 GS motorcycle for arrival into Buenos Aires for £795 by ocean or £1,695 by airfreight. For more, see www.jamescargo.com.
Fly or hire? Pat used his own bike to ride the length cheap, but it is just around the corner from the Norton Rats biker bar!
Paperwork for you: A valid driving licence is a must, and an international one is also recommended. Visas are available at the point of entry for all the countries Pat travelled in South, Central and North America on presentation of a UK passport (with more than six months left to run). You'll also need to check out your immunisation requirements, as you may need a Yellow Fever certificate depending on which countries you plan travel through. Good travel insurance with heaps of medical cover, including air ambulance repatriation, is also advisable. Check the policy covers riding bikes over 50cc, a lot don't. Pat used Navigator Travel's Gold policy at a premium of £270 for 20 weeks (www.navigatortravel.co.uk)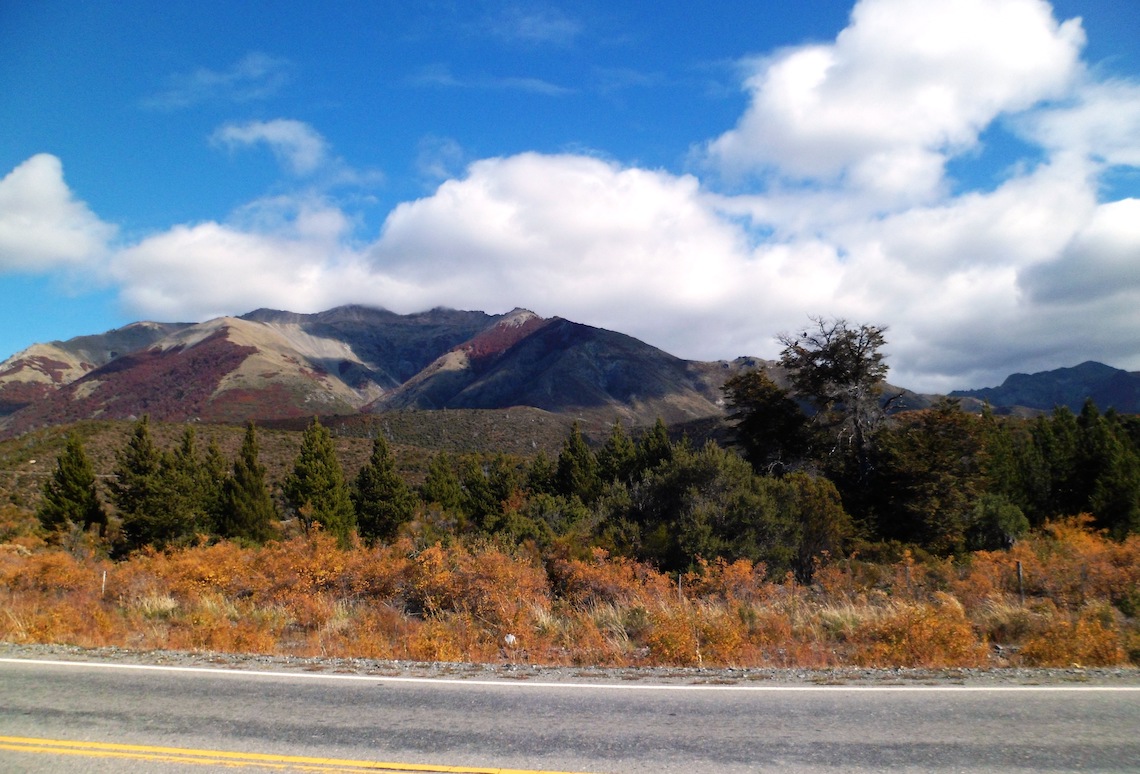 Paperwork for your bike: Your UK bike insurance won't be valid for Argentina, Chile or Peru, so you'll need to source this locally. Buenos Aires-based insurance companies, such as ATM, offer a single policy which covers all Mercasur countries (Argentina, Chile, Peru, Paraguay, Bolivia, Uruguay, and Brazil), expect to pay around £10 per month. You don't need a carnet in any country in South, Central or North America, but presentation of your V5C of the Americas, but there are a number of good-quality hire companies operating in these countries, such as Adventure Peru Motorcycling (www.perumotorcycling.com), which are a better option for short-stay rides.
Accommodation: Sleeping out in the Patagonian winter is for extreme survival enthusiast only! But camping is a viable option spring-autumn and there's an abundance of campsites and safe places to wild camp. Built accommodation in South America can be pricier than you'd imagine, but there are still some places where ABRs tend to congregate.
La Posta Hostel in Ushuaia, Tierra del Fuego (www.laposta-ush.com). Run by ABR Hector at around £5 per night for a dorm bunk; it's a top-quality establishment. Sunny Days Hostel in Arica, Chile (www.sunny-days-arica.cl). Run by Kiwi Ross who is very ABR-friendly. A fiver a night will get you a bed and his famed breaky.
Casa Grande in Cuzco, Peru (www.casagrandelodging.com.pe.) Set in the heart of the old city, this ABR-safe and friendly base costs around £22 for a private room. Not at borders for temporary import of the vehicle is a must. Carry good photocopies of all your paperwork, and keep scanned versions on a pen drive and online in a hotmail account, for example.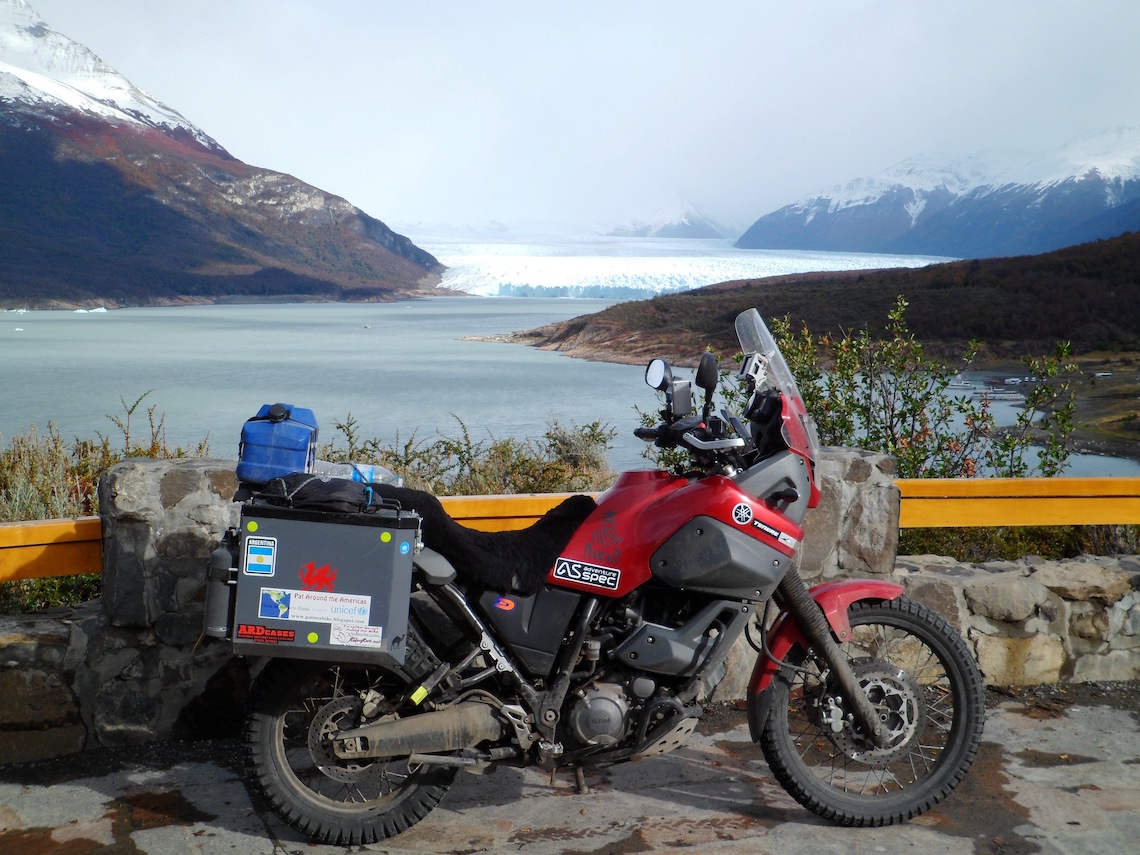 Photo: Pat McCarthy
Is it for you? Pat's an experienced, competent road rider, and an off-road novice. "If I can rides these lands, most riders will be able to take them on," he says. There will be a degree of challenge for all skill levels depending on the chosen route. Argentina, Chile and Peru are an ABR's veritable sweet shop, offering a vast selection of all types of riding. It's possible to tour all three countries without leaving asphalt roads – some of which are among the top riding roads in the world, while others barely rank as 'sealed'. Equally, you can spend almost 100 percent of your time on gravel, dirt and sand. "The choice is yours, just pick your route and go! South America is on the other side of the world, so getting there even for a short break is costly, but once there living expenses are less than in Europe and North America, particularly if you camp," says Pat.
Los Glaciares National Park
The park is a UNESCO World Heritage Site located in the south west of Santa Cruz, Argentina, on the border with Chile in an area known as Austral Andes. It boasts majestic mountains, glacial lakes – including the great Lake Argentina (Largo Argentino) – and the Patagonian ice field, which occupies about half of the park's incredible 8,700 square miles. Los Glaciares has a total of 47 glaciers and another 200 smaller ones which are not part of the main ice field. It's is the best place in South America to see glaciers in action as the ice flow dumps its massive blue icebergs into the glacial lakes. In the summer months, the glaciers retreat and a wall of water roars down the valley.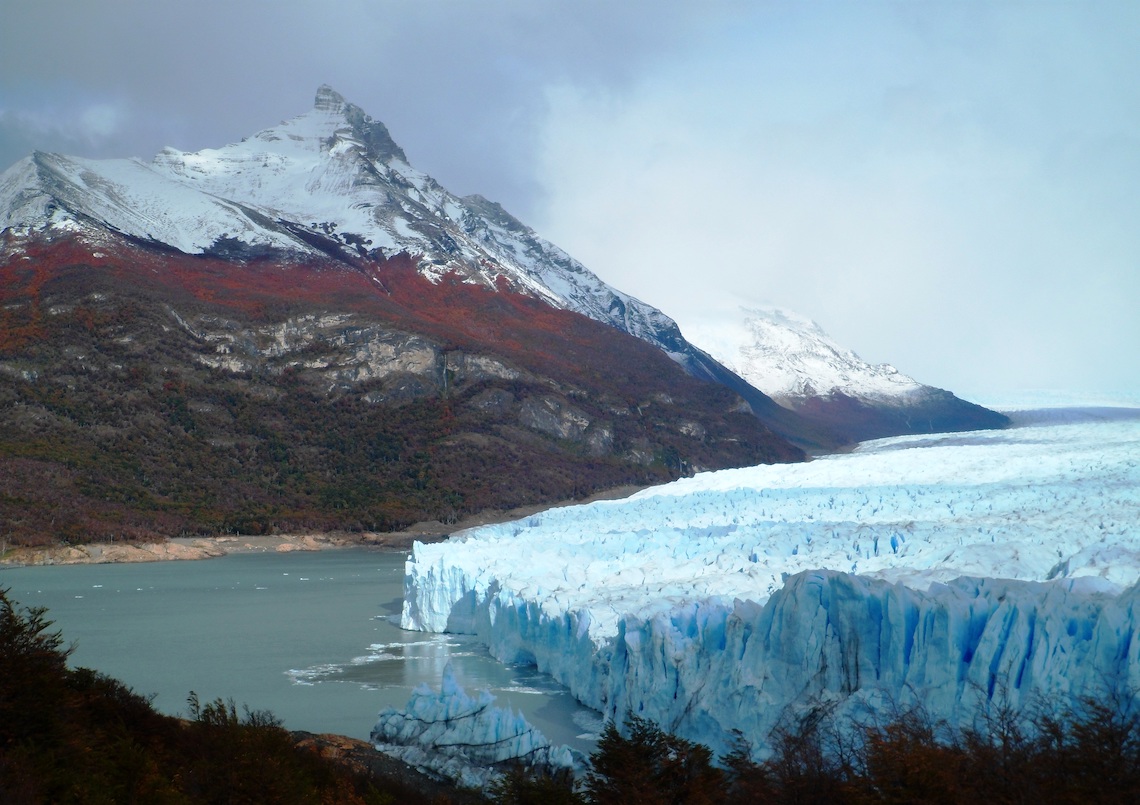 Pat's top tips
The Patagonian winds are infamous and at their worst in the summer (UK winter) months. Rise before the sun and do your riding in the morning as the winds just increase as the day goes on. If you get up and it's already really windy, go back to bed and stay where you are!
Argentina and Chile are vast and often have long distances between fuel and food stops. Plan your daily rides well and allow for the shorter distances and increased fuel consumption that high winds and poor roads demand.
Learn some Spanish in advance. Outside of major tourist areas, local people are unlikely to speak much English. The locals are incredibly hospitable and if you can start a conversation your journey will be enriched.
Take local advice on the state of roads and availability of the right type of fuel. Just because there is a petrol station on the GPS, doesn't mean they will be able to supply your go-go-juice. Don't be fearful of approaching the local police – they're very helpful.
Ask for a cash discount in hotels, particularly in Argentina. It worked for me around 50 percent of the time.
Take it easy riding up into the Andes and allow yourself time to acclimatise. You'll be riding passes around 4,500m high – that's twice the height of the Pyrenees. In Peru, do as the locals do and drink coca tea, which is often free in hostels, and eat boiled coca sweets, to help ease the effects of altitude.