If your world of adventure and touring is strictly tarmac-only then triumph may just have launched the perfect companion for you. Alun Davies heads to the Highlands to check out the all-new Triumph Trophy 1200 SE
In a line: Comfort, performance and enough protection to whisk a bride to the alter in a typhoon
Triumph Trophy 1200 – first blood
I have a vision and it looks like this: somewhere, in a remote, hidden corner of Southwest Leicestershire there is a network of ancient, damp catacombs dripping in slime and populated by evil, wart-ridden troglodytes whose sole purpose is to make the life of a Triumph owner a bitter experience.
They do this by impersonating Triumph test engineers and infiltrating the design labs where upon they inflict new bikes with the most brutal screens known to man. So punishing is life behind these screens that folklore has it that traumatised riders would self-amputate with plastic spoons at sandwich stops (après bacon butty, of course) rather than continue on a journey fraught with monumental buffeting and catastrophic wind noise.
Mind you, I have to caution the reader that this highly vivid imagery is open to psychiatric scrutiny, which could lead to physical restraint – at least that's the considered verdict of my shrink. What there is no doubt about, however, is that the four Triumphs (two Sprints, plus an 885 and a 955 Tiger) I've bought over the past 10 years have all come with standard screens capable of kicking up a maelstrom of skull-numbing ferocity.
Anyway, I needed to tell you this because my historic relationship with Triumph screens was at the forefront of my mind as I walked across the reception of the St Andrews hotel to confront the huge front end of the Trophy 1200. The Trophy is the company's new (or resurrected, take your pick) touring machine, and in my book, the first and most crucial job that needs to be nailed on a bike that's being marketed as a long-distance mile-muncher is on-board comfort and protection. Past experience prevented me from holding my breath, as did the fact that I was busy smoking.
The intimidating bulk of all that fairing, nose and screen had me thinking that if the Leicestershire Triumph trolls had re-surfaced (they've been otherwise employed of late as evidenced by the relative tranquillity of the Triumph Explorer) then this was their chance to create the mother of all wind blasts. Plus, the test route was heading north through the Cairngorms, a high mountainous area of semi-tundra with the highest recorded UK wind speed (170mph) and where gusts of over 100mph are a common occurrence. All in all, this test ride had the potential of making a hike through the eye of Hurricane Katrina appear like a scented blow-dry in an upmarket hair boutique.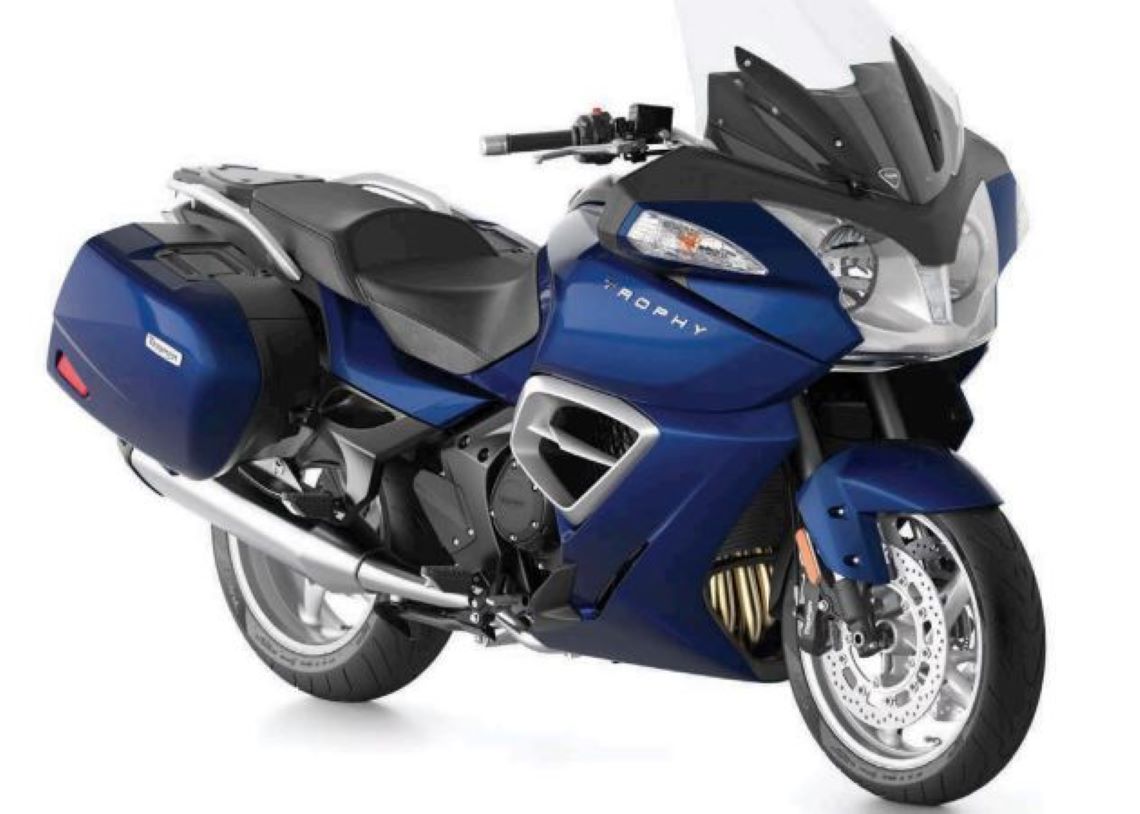 Gimmie shelter
As it happens, life on the saddle of the Triumph Trophy proved to be an exceptionally serene and peaceful affair – in fact, it was touring-bike Nirvana. This was best evidenced during a 60mph blast through a rain storm on the A9 where I cranked up the huge electronically adjusted screen to around eye level (it goes higher, high enough for a tinted version to cast a shadow over the whole of Scotland) and remained totally dry. Even more extraordinary was the calm and lack of wind noise. If I'd had a mind to, I could probably have rolled a cigarette in mid deluge and, if I'd been wearing a flip-top lid and my lighter was to hand, then I probably would have. And the only valid reason I could find for wearing earplugs was to block out the desperate music selection provided by Triumph to promote the built-in sound system. East 17 are not, and never were, remotely connected with music.
In addition to the above front end protection, Triumph has added deflectors at boot level, a feature that went in and out of the Davies' ear at the pre-ride briefing but had me seriously impressed with the results out on the road. Even after a 200-mile blast through dirty weather and along mud-splattered tarmac, my new boots looked as if I'd packed along an OCD shoe-shine boy as pillion. In conclusion, if you want better protection when touring, take the car and keep the windows wound up.
All day long
So, protection nailed, what about the ergonomics and comfort? On first sight it looked as if Triumph had dispensed with traditional handlebars and installed a set of Olympic-sized oars on the Trophy. Closer inspection revealed a huge set of swept back cast alloy bars though their shape and position still had me wondering if we were going out for a ride or row. That said, they are perfectly positioned for a comfortable up-right riding stance and little effort needs to be applied to have the trophy flowing through corners at speed – more about the handling later.
The seat proved comfortable enough on the two-day 600-odd-mile test ride and it's narrow where it needs to be, which means both feet flat on the floor is a feature almost all riders will benefit from. However, and I can only speak personally here as no other test rider felt it an issue, I found the seat just a little short and the pressure from the pillion edge did cause discomfort in the proverbial over time, though sliding forward a touch sorted the problem instantly.
This I found a touch ironic as Triumph has provided class-leading space between the fuel tank and top box with presumably the pillion taking the benefit from the gain. The seat is also height adjustable between 800mm and 820mm, plus there's a low seat option which comes in at 760mm-780mm.
The footpegs felt as if they could be a little lower, but I'm splitting hairs here, and over the two days' riding there was little need to engage in foot-off-the-peg leg extensions. At 6ft 2in tall and the seat set at its highest setting (820mm) I guess I could sum up by saying that, at the end of a 400-mile day in the saddle, I felt fresh enough to do it all again, and wanted to, which is good enough for me.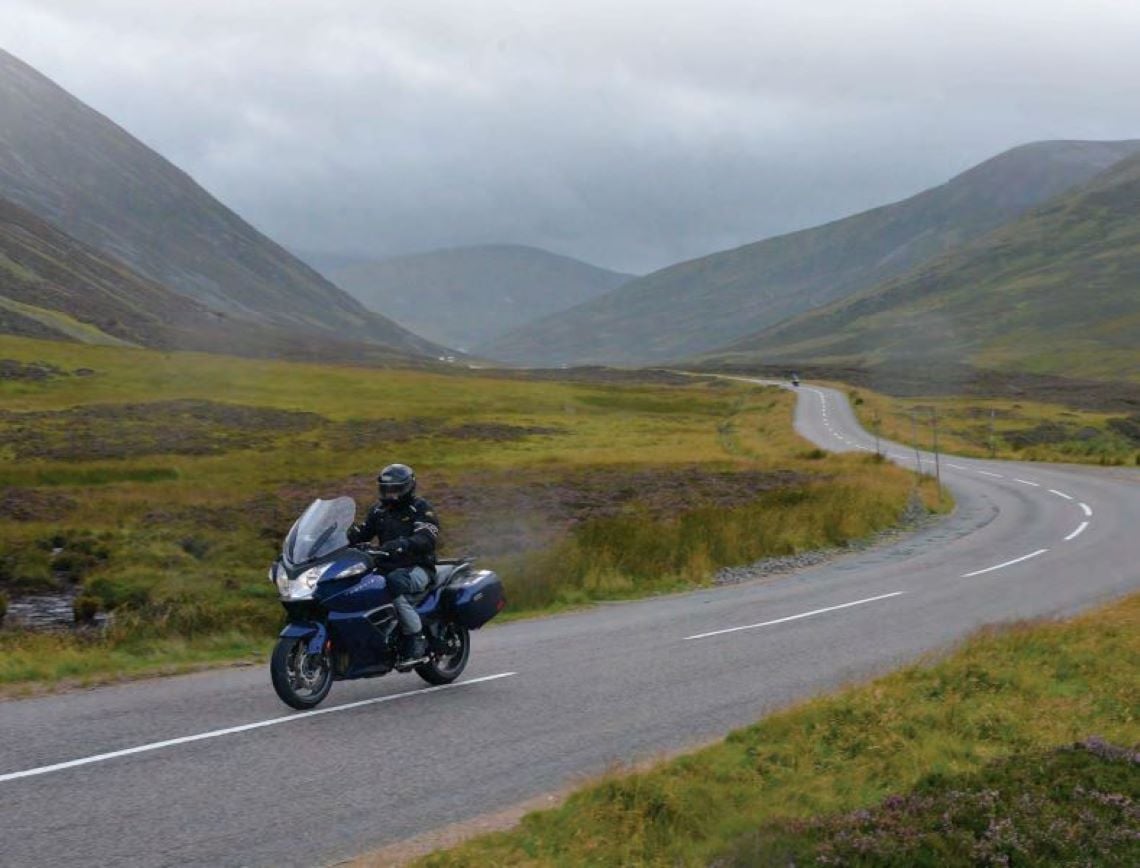 Gizmos
The Trophy comes in two versions – the 'Standard' and the 'SE'. The 'SE' is the all-singing all-dancing version and the one which I spent a couple of days aboard trying to figure out just what the hell all the buttons, switches and symbols meant. I kid you not, if you're the sort of person who has problems operating TV handsets and tends to leave digital cameras in automatic mode then prepare for a dose of information anxiety when up close with the SE.
The company has gone to town with stuffing the Trophy with gizmos and features ranging from heated seats to bluetooth audio systems and electronically adjustable suspension to remote tyre-pressure monitoring. Apparently, the Triumph boffins are currently working on integrating a launderette and George Foreman grill into future upgrades.
The problem with having all this stuff – full list below – is where to place all the switches for ease of access and how to let the rider know what he's doing without having to get out the handbook or phoning the kids. Again, Triumph has put a lot of thought into the operational set-up and ease of use, but when you've included more options, modes and features than the average space shuttle it can start to overwhelm. Maybe now is the time that the motorcycle industry needs to approach the likes of Apple with a view to solving this conundrum and making the gizmos and feature operation as intuitive and user friendly as an iPod or iPad?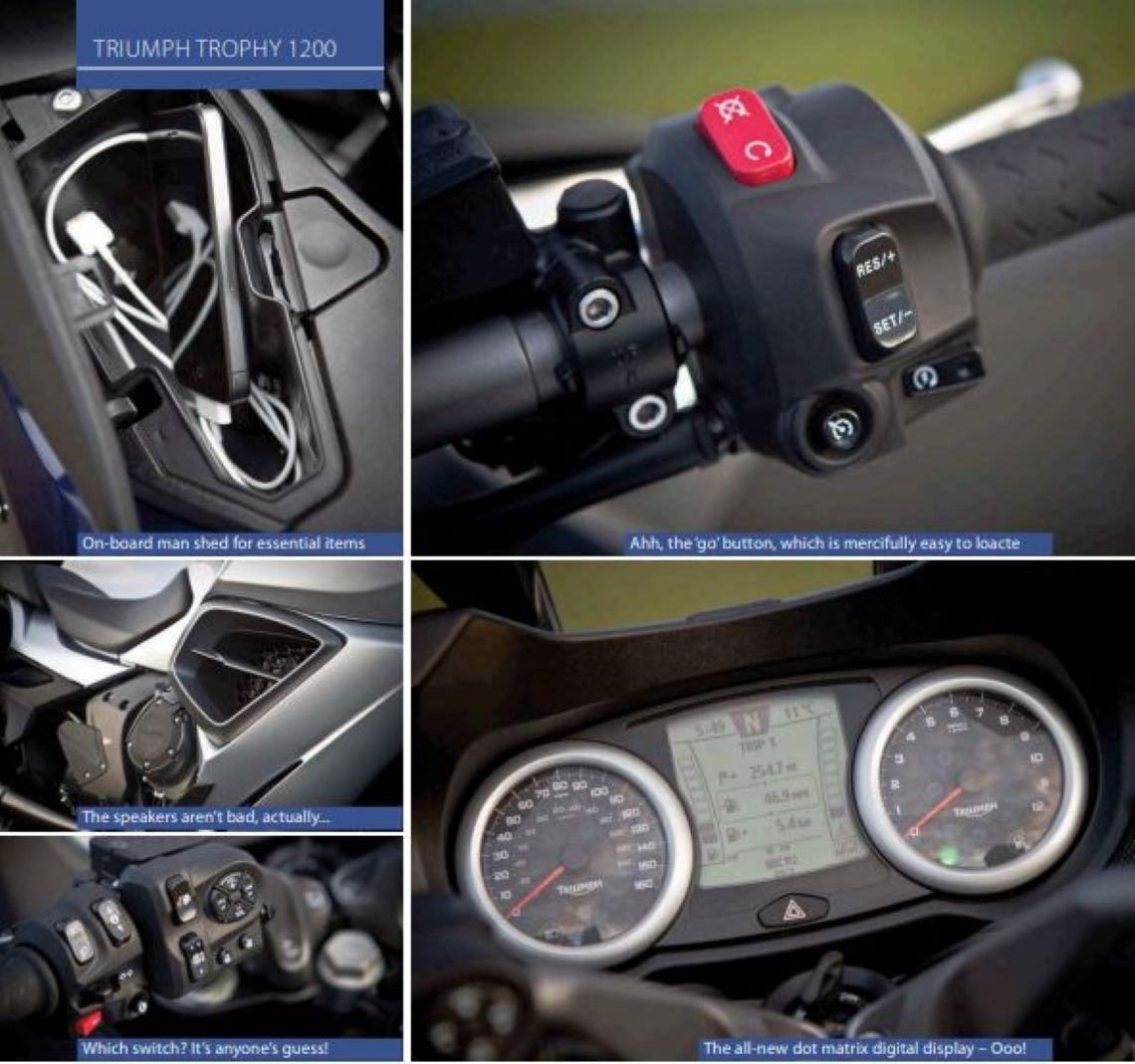 Anyway, if it's cold and raining and you don't fancy a ride out there's more than enough features on this bike to keep you enthralled and entertained flicking through the handbook in the garage for a year or two, including:
Triumph Electronic Suspension (TES), which allows you to switch between sports, normal and comfort modes and then further fine tune with solo, solo plus luggage and pillion settings.
Ride-by-wire throttle control: 'Nuff said.
Dynamic Luggage System: With a name like that I was expecting the panniers to self-detach and check into the hotel before I'd dismounted. Slightly disappointingly it means that the panniers are free to move through a 5-degree arc, which is said to improve handling by removing any destructive resonance that can build up and affect bike stability. More importantly, the panniers are a cut above what I'm used to from Triumph and are big enough to take a lid, and then some.
ABS and linked brakes: Again, self explanatory.
Integrated audio/Bluetooth system, which means adventure tourers will no longer be able to use the excuse 'sorry mate can't come to France the Archers is on' as there's an FM/MW/LW radio on board. Plus the MP3 player is compatible with iPods, or you can just load up with a memory stick or you can connect via bluetooth to the tunes on your phone – it'll also connect with up to two headsets. The speakers sit in the front fairing and while they won't have music buffs ohh-ing and ahh-ing over the sound quality they're not that bad.
On the move, volume adjusts automatically as speed increases, a very nice touch. The main problem with the system was working out how to use the thing. It took me two days to find the radio and the thought of connecting up the phone made me want to lie down. That said, I'm from the school of thought that collapses in a fit of anxiety if a gizmo comes with an instruction leaflet of more than a couple of sentences; I'm sure the average three-year-old would have it sussed in no time.
Cockpit Storage: Every man needs a shed and Triumph has thoughtfully included the on-board equivalent with a water-proof storage compartment built in to the left side of the fairing. It locks automatically when the ignition is off or the bike goes above 5mph, it contains a 12v charging point, a USB link to the audio system (just plug in a stick full of tunes) and there's a credit card retention clip for easy access to your dosh when wearing gloves, which is handy at motorway tolls, and more importantly, drive-through McDonald.
Instrument Display: Smack-bang between the speedo and the rev counter is the all-new Triumph dot matrix display, which provides the rider with so much information you'll need to go on at least two RTW adventures to take it all in. You get data on or options to change and select: the audio system; clock; fuel level; cruise control settings; warning displays; heated grip status; gear indicator; temperature display; frost warning; water temperature; heated seats status; dual trip displays, which include distance, time, average speed, fuel economy, average fuel economy, fuel used, fuel range, tyre pressure, odometer. Phew!
Other features: Take a deep breath… you get the ability to: configure and select rider profiles for the suspension, traction control and headlight alignment; preset the automatic volume control to low, medium or high; choose a 12h or 24h clock; select language, adjust instrument brightness, adjust headlight angle, select indicators to manual or auto cancellation; auto re-set trip two when the bike is stopped between one and eight hours; switch off traction control. In truth, there are so many features on this bike that I'd not even discovered some of them by the end of the two-day test ride and only became aware of the options when reading the technical spec – I'm sure I'll find out how to order a Tesco home delivery from Siberia via an embedded satellite comms unit in the next few pages.
The ride
During your ownership of the Trophy there will come a day when the pressing of buttons, flicking through options and reading of manuals will come to an end and you'll find yourself at a loss until you realise that you can also press a button to fire up the engine and go for a ride.
The Trophy is a big bruiser of a machine that looks as if it has been built more for taking down hedges rather than avoiding them by swooping effortlessly around bends. But in true Triumph style the company has managed to inject a level of performance and handling which defies all visual expectations.
For something that looks as if it's going to handle like an out-of-shape South African prop forward the Trophy has a fleetness of foot more reminiscent of a fully fit Welsh outside half. The 301kg mass vaporises when on the move and while it's no sports bike the handling is exceptional. Let's put it this way: there were more than a few test riders with racing backgrounds who were amazed with the way the Trophy handled twisty Scottish mountain roads at speeds that would normally have a touring bike ploughing a furrow through the heather.
Our test route on day one was a reasonably relaxed affair heading north through the Cairngorms National Park on the sort of roads you dream about riding. Great scenery, fantastic twists and turns and a huge range of options for a spirited lunch stop. With the weather bordering on nasty – showers, wind and low level cloud cover – and the road conditions mixed, the Trophy performed at a level that ticked every box a potential touring bike buyer might have, and then some.
The 1200cc triple engine is the same as found in the Triumph Tiger Explorer, with a bit of tweaking here and there to achieve better fuel economy and more torque. The company has also changed the gear ratios providing a 'long' sixth gear which lets you cruise at 120kmh (74mph) and just over 4000rpm. What's more, with a torque curve that's closer to a level playing field than a hill, there's enough power to pull away in sixth gear from under 2000rpm.
I'd better lay my cards on the table here and disclose that I've been a big fan of the Triumph Triple engine for a long time and the Trophy has done nothing to diminish my enthusiasm for the big three-potted lump. In short, and in layman's terms, it's as fast and powerful as any law-abiding rider is ever going to want, and if you've a mind to spend a few months dining out at Her Majesty's pleasure, then it'll get you to the front of that food queue, too.
After a day of bonding with the big Trophy in the Highlands, the test ride on day two was perhaps a far better reflection of the bike's all-round ability and a mighty clever cost-saving exercise by Triumph to boot. The order of the day was an early morning start from St Andrews through the rush-hour traffic of Edinburgh followed by a mad dash down the A708 to Moffat and a long drag down the M6 to deliver the bikes back to the Triumph factory at Hinckley.
From the hotel to the point where we turned off the Edinburgh ring road, the best word to describe events is 'grim'. Rain and lots of traffic are never the highlight of a bike ride, but the A708 was ample reward. A glorious, undulating stretch of tarmac swooping through hill-and-mountain country with fast, sweeping bends and hardly any other traffic to concern us. It was at this point that I experienced one of those man and machine in total harmony moments as we pushed on at a rapid rate of knots and made best use of the mighty torque of the Triumph Triple. It was also on the A708 where the superb handling of the Trophy came to the fore; I've mentioned it before, but it's one of those features that needs to be repeated. The handling on this bike, even with East 17 blasting out of the sound system, is exceptional for a touring machine. I'll eat my heated seat if you can point me in the direction of a better one.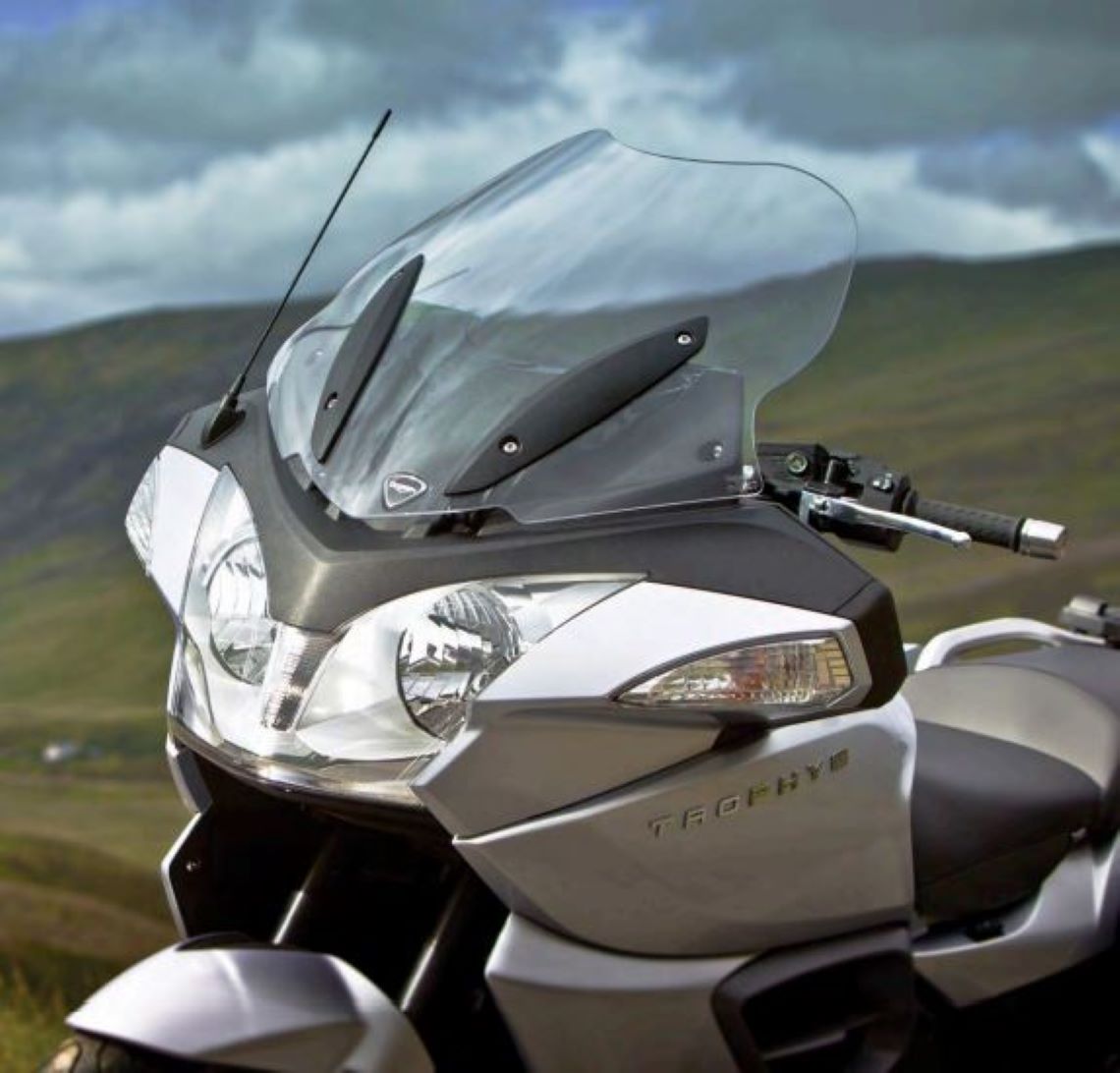 Add to the above features such as non-intrusive traction control, an effective breaking system that includes ABS with a front and rear linked system and you really can stop and go with the best of them. It's also worth pointing out that the shaft drive has no noticeable dive or lift and we managed to achieve just over 50mpg, which means you can go north of 250 miles between fuel stops.
The long ride down the M6 was as effortless as a long ride down the M6 is ever going to be, but it's at this juncture where I'd better point out the one area where I felt the Trophy didn't match up to the BMW RT– which is going to be its number one competitor in the touring stakes. The suspension set-up on the BM has what I like to call a 'magic carpet' setting where you glide over road imperfections and the ride is luxurious. No matter what suspension setting I chose on the Trophy I found the ride to be firm, not uncomfortably firm, but not as impressive as the BMW.
Anyway, by now you might be coming to the conclusion that there's something big brewing between the Trophy and I. Well you'd be right. If I had no off-road aspirations and could set aside that part of my adventure bike riding ego which wants everyone to think I'm en route to a bog in the Congo while riding through Stratford upon Avon on the Sunday morning paper run, then right now I could think of no other machine I'd rather go touring on. Fantastic protection, great comfort and a level of performance that'll make for a thoroughly fulfilling track day. Oh, and have I mentioned the 10,000-mile minor service intervals and 20,000 major service intervals…? Thought not.
I might, I said might, even end up buying the full East 17 back catalogue, too.
Quick Spec
MODEL: Triumph Trophy 1200
PRICE: SE version £14,299: Standard version £12,949
MPG: 50mpg (approx)
RANGE: 280 miles (approx)
POWER: 132bhp at 8,900rpm
TORQUE: 89ftlb at 6450rpm
TRANSMISSION: Six gears, shaft drive
SEAT HIGHT: 800-820mm
WEIGHT: 301kg wet weight
WHEELS: 17-in front; 17-in rear
BRAKES: 2 x 320mm disks, 4 piston caliper front; 282mm disc, 2 piston caliper back. Brakes are linked and come with ABS
How versatile is the Triumph Trophy 1200
AS A COMMUTER?
It's big, bulky and heavy and there are better commuter machines by far. That said, if your run to the office avoids built-up areas, or you live in Grimsby and the office happens to be in the South of France, then the Trophy would be bliss.
AS A WEEKEND TOURER?
The word 'perfect' comes to mind when I think of the Trophy, a long weekend and the west coast of Scotland.
AS AN OFF-ROADER?
Ha, ha! The Trophy would be in the same league as a Harley cruiser or Honda Pan Euro when it comes to off-road prowess, which means you need to stop where the tarmac ends. That said, I've read reports of a Harley crossing the Sahara and taking on the Road of Bones in Siberia, but personally, I can't see the point in two-wheeled masochism when there are bikes built for the purpose. In summary: stay on the black stuff.
AS A CONTINENTAL ROAD TOURER?
If your adventure and touring aspirations don't include any off-tarmac jaunts then you need to book a test ride on the Trophy, now! This machine has been designed and built for long-distance road touring.
AS AN RTW OVERLANDER?
I can't think of a reason why you shouldn't take the Trophy on a round-the-world adventure, though I can think of many reasons why I would. The obvious qualification is you'll need to stick to the tarmac.
AS A PILLION CARRIER?
Triumph has built the Trophy with pillion comfort and fully-loaded performance as a priority. I've not had the opportunity to ride the bike with a pillion on board, so I'll have to reserve judgement, but if I were a gambling man I'd say they'll be thanking you for buying a Trophy.