PUT A SOCK IN IT
A good pair of motorcycle boots is unbeatable for comfort, but add a pair of technical performance socks to the mix and you're in winter footwear heaven, says gear editor Paul Jennison
If you're anything like me, wearing a pair of socks that stops just short of the top of your motorcycle boots is one of the most irritating, uncomfortable experiences there is. It brings back dreaded memories of my child hood, when I was forced to wear wellies in the wet weather with socks that were shorter than the rubber boots. I'd get chaffed calves where they used to cut into my legs something terrible – and yes, I am talking about the '60s when my mum still made me wear short trousers to school!
To avoid reliving this experience, I've taken to wearing socks much longer than my motorcycle boots, no matter the weather. Even in summer, I'll happily don a pair of thick, woolly ones to spare myself the wretched chafe. In winter, however, thick socks come in to their own, and coupled with a good pair of waterproof boots, you can't go far wrong for cold-weather riding.
I know a lot of ABRs who opt for ski socks during the winter as they're made for use in freezing temperatures and with inflexible footwear. They also tend to have a thicker knit around the foot, ankle and shin area, so that the boots don't dig in.
A good pair of motorcycle socks should have the same properties as ski ones, and a lot do. Then there's the added problem that, unlike ski boots, not all motorcycle boots are 100 percent waterproof. So what will help keep your piggies dry as well as snug?
We've rooted out a selection of socks which have been designed and made specifically for the ABR and should keep feet warm and dry – and more importantly, save delicate calves from the dreaded boot rash.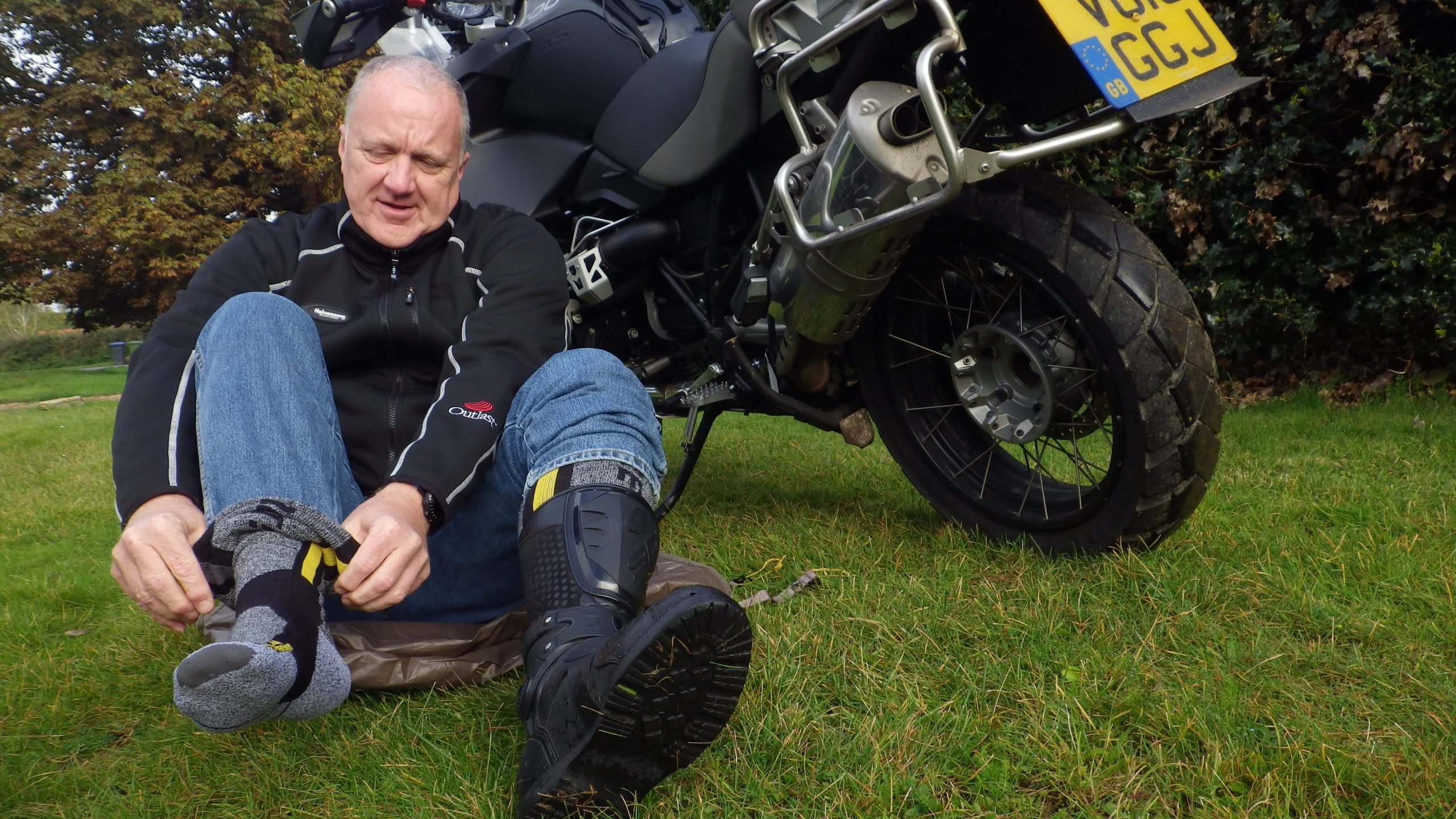 EDZ Cold Climate Socks SRP £10

EDZ is a company that specialise in under-layer garments specifically for the motorcyclist from thermals to glove and helmet liners. We know that the best way to keep warm is to use the layering system, which will wick body moisture away from the skin and trap warm air between the garments to produce a thermal effect.
It should come as no surprise, then, that EDZ produces a thermal sock to keep your feet comfortable on those cold rides.
A mix of polyamide, wool and acrylic, which is in a knitted-loop design (a bit like terry towelling) is used throughout the sock, which means they are the same thickness all over, with the wool acting as a moisture and temperature regulator.
There are no additional stretch panels to give a secure fit on the foot or around the ankle, but they do have a ribbed cuff at the top that sits just below the knee to stop them sliding down.
Given their thickness, the EDZs do have a comfortable and warm feel to them and will cushion your feet and other areas where stiff, protective boot armour can rub.
There is only one seam in the sock which is around the top of the toe box and this is quite thinly stitched to alleviate any discomfort should your boots be tight in this area.
The Cold Climate Sock is a straightforward no-frills thermal foot warmer which will do the job.
In a line: A snug, comfortable sock for year-round use
ABR Rating 6/10
Halvarssons Whistler Socks SRP £13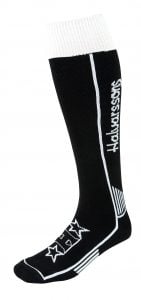 Swedish company Jofama produces clothing for snowmobiling, fashion, and of course, motorcycling. Its other well-known brand names are Lindstrands and Halvarssons, and its Whistler socks, under the Halvarssons banner, are the company's offering into this winter sock test.
Unlike some socks, these aren't anatomically shaped so will fit either foot. The fabric mix is 70 percent wool and 27 percent Coolmax, which is an acrylic-based material. The Whistler also incorporates Lycra for a stretchy, snug fit.
Although the Whistler is a winter sock, the use of Coolmax and wool means that they can be worn all year round. This clever mix of fabrics will wick moisture away from the skin to keep your feet comfortable in warmer conditions while providing good thermal properties when it turns cooler.
The foot bed has a knitted loop design, which gives extra padding and comfort, and the instep and ankle areas have extra elastic to ensure the sock stays in place, because let's face it, there's nothing worse than a sock slipping down and you ending up with a load of surplus fabric in the end of your boot!
Length-wise the Whistlers come to just beneath the knee and each has a slim elasticated top, to help them stay up. They don't have the feel and appearance of a substantial winter sock, but take it from me; they work well whatever the temperature.
In a line: A snug, comfortable sock for year-round use
ABR Rating 8/10
Oxford OxSocks Long SRP £19.00 (twin pack)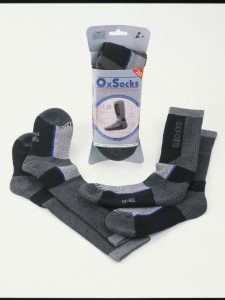 Most if not all UK-based ABRs will have heard of Oxford products. This company has a huge clothing and accessories range that covers pretty much everything a biker could want or need. And, yes, that includes socks.
The OxSocks Long are a real bargain as you get two pairs for your 19 quid, which means that, come Christmas, when you've finally got round to putting the first pair in the wash, you'll still have a spare pair clean.
Made from 75 percent cotton, polyester, nylon and Lycra, the socks are woven to ensure that they offer warmth and moisture resistance, coupled with a snug, comfortable fit.
The foot bed has thicker knitted loop padding across the sole, toes and heel for extra comfort and there are moisture-wicking panels on top of the foot and ankle, which help stop your feet getting too sweaty. There's also extra padding in the Achilles and shin areas, which helps minimise any digging in and rubbing from your boots.
Oxford has had these socks made to a high level of specification so that they fit snuggly and comfortably with the right amount of padding and support. It stands to reason, then, that the OxSocks Long are just that; they come up to just below the knee and have a small contrasting elasticated cuff to keep them in place.
In a line: A good sock that comes in a twin pack, great value!
ABR Rating 7/10
Klim Klim Sock SRP £19.50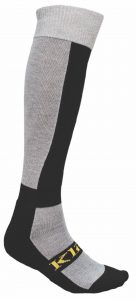 When it comes to technical riding gear, very few companies compare with Klim. This American company designs, develops and manufactures the most advanced apparel for motorcyclists. I know we're only talking about socks here, but Klim has put the same degree of thought into this area as it does with all its products. Simply named, the Klim Sock is made from 35 percent wool; 35 percent Coolmax; 28 percent polyamide and 2 percent Lycra. This winning combination gives the socks year-round versatility. The Coolmax helps regulate foot temperatures in warm conditions by effectively wicking away moisture while the wool's thermal properties keep feet warm when the chill sets in.
The first thing I noticed when these socks arrived in the office was the length of them; they're like stockings. They're so long in fact that they can be pulled up well over my knees with ease, which not only helps to give that extra bit of warmth but also cushions uncomfortable knee armour.
There's knitted loop padding for extra comfort in the foot bed and this extends around the toes to the heel and then up and around the ankle. There's also extra padding in the shin panel. All this means that, if you wear those stiffer armoured boots, they should feel more comfortable where the armour is sited.
On top of the foot and up the back of the leg there are thinner, moisture-managing panels to help keep your feet and legs from getting too sweaty. The Klims have everything you'd want in a pair of winter socks and they perform brilliantly making them the daddy of inclement ABR-ing footwear.
In a line: No less than you'd expect from Klim but without the hefty price tag
ABR Rating 10/10
Rev'it Tour Winter Socks SRP £29.99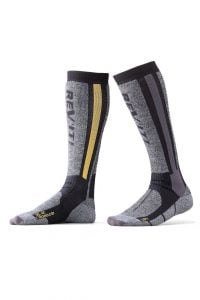 Dutch company Rev'it is well known for its excellent motorcycle clothing; it's developed products to cover most aspects of riding and attention to detail is evident across the range.
The Tour Winter Socks are anatomically shaped, which means they're designed to fit the left and right feet individually – don't worry, though, they're clearly marked which is which!
Although the socks are made from nylon, acrylic and polypropylene fabrics which in themselves aren't particularly thermal, Rev'it has also added Merino wool to the mix which gives warmth and aids in moisture transference. The added bonuses of Merino is that it will retain some heat even if it gets wet and can also be worn for longer without getting smelly, so you can remove your boots in safety!
The Tours also feature an air-conditioning panel on the inside of each foot and this runs up the entire length of the leg allowing excess heat and moisture to escape and keeping your feet well ventilated.
These socks fit well and reach up to the knee. The foot bed has thicker knitted material around the toes, instep and heel, to keep them warm, and the ankle and Achilles areas have protective stretch panels which support these zones while giving them good freedom of movement. The shin and calves feature the thicker knit too, so stiff boots won't dig in or rub these areas.
In a line: A comfortable, warm, long sock with good support and padding
ABR Rating 8/10
Seal Skinz Mid-Weight Knee-Length Sock SRP £34.95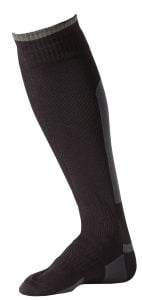 No winter sock review would be complete without Seal Skinz. Used by many for a variety of outdoor activities, this British company needs little introduction. The Mid-Weight Knee-Length Sock is just one example from its ABR range.
As the name suggests, these are indeed knee-length and anatomically shaped for a better fit. They are stiffer than a traditional sock, because they incorporate a three-layer technology. The inner is made up from 41 percent Merino wool and 44 percent acrylic, nylon and elastane. The middle layer is a breathable, waterproof membrane and the outer is nylon and elastane. So, these socks are breathable and waterproof with the Merino wool acting as an insulator with good moisture-wicking properties.
The knitted construction, with the help of the elastane, makes these socks close fitting and, surprisingly, they don't feel too bulky. In the foot bed there's 'Poodle Padding' around the toes, sole and heel for added comfort, and because they're seamless, none of these joins in the fabric dig in. Around the instep and ankle there's elasticated panelling, which provides support and ensures a snug fit.
These socks felt unusual when I first put them on, but when I put my boots on and rode the bike, I couldn't tell the difference from a traditional boot sock. They're comfortable and warm, and if your boots leak your tootsies will remain dry and snug.
In a line: Great all-round socks for cold, wet weather conditions
ABR Rating 9/10
Klim Covert GTX Liner SRP £89.95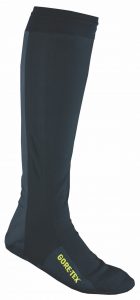 We've already given Klim an introduction in this review with its Klim Sock and, naturally, it lived up to the company's outstanding reputation. I've never heard anyone moan about the quality of Klim's kit… the price, maybe, but never the quality!
Klims' Covert GTX is basically a Gore-Tex boot liner with a thin inner liner sock included with it. So, if you know it's going to be a long, cold, wet ride or you like to wear boots that aren't the most water repellent then these could be right up your street.
The inner sock isn't anything special other than it features Coolmax which will wick moisture from the skin. In fact, you could replace it with a sock of your own choice if the Covert inners are in the wash.
It's the Gore-Tex over sock that's the business end of the outfit. Made from two different types of Gore-Tex and anatomically shaped to fit each foot, they are a good-fitting waterproof and breathable boot liner.
Stretch Gore-Tex features in the upper foot all the way to the top of these knee-length liners, which gives them a snug fit. The sole of the foot and back of the leg has a non-stretch Gore-Tex, which is firm and hard wearing where you need it to be. The seams are taped, so no weak areas here either. The top of the liners also feature an elasticated cuff, to stop the liner from slipping.
A lifetime warranty comes with these, so if they fail, they get replaced. That's worth paying the extra for, isn't it?
In a line: Not cheap, but warm dry feet may be worth the investment
ABR Rating 9/10