Julian challis finishes his mission to complete the entire length of the UK Trans euro trail on a stunning ride through south-west England
It's not quite the triumphant end to the ride I'd planned. Arriving outside my house on a cold Monday afternoon, drenched to the skin and alone was hardly a fitting end to finally completing the whole UK Trans Euro Trail (TET). Yet I couldn't care less. I'm feeling on top of the world.
Accompanied on every section by my mates Chris and Matt, a variable cast of other riders with suitable and patently unsuitable bikes, we've ridden the TET in sections over the past four years. We've travelled from Dover to Chepstow, Chepstow to Crewe, Crewe to Kendal, Kendal to Newcastle, and Bristol to Land's End together. And now, finally, we've completed the final leg from the very tip of Cornwall back to our base in Bristol. And it's been bloody fantastic.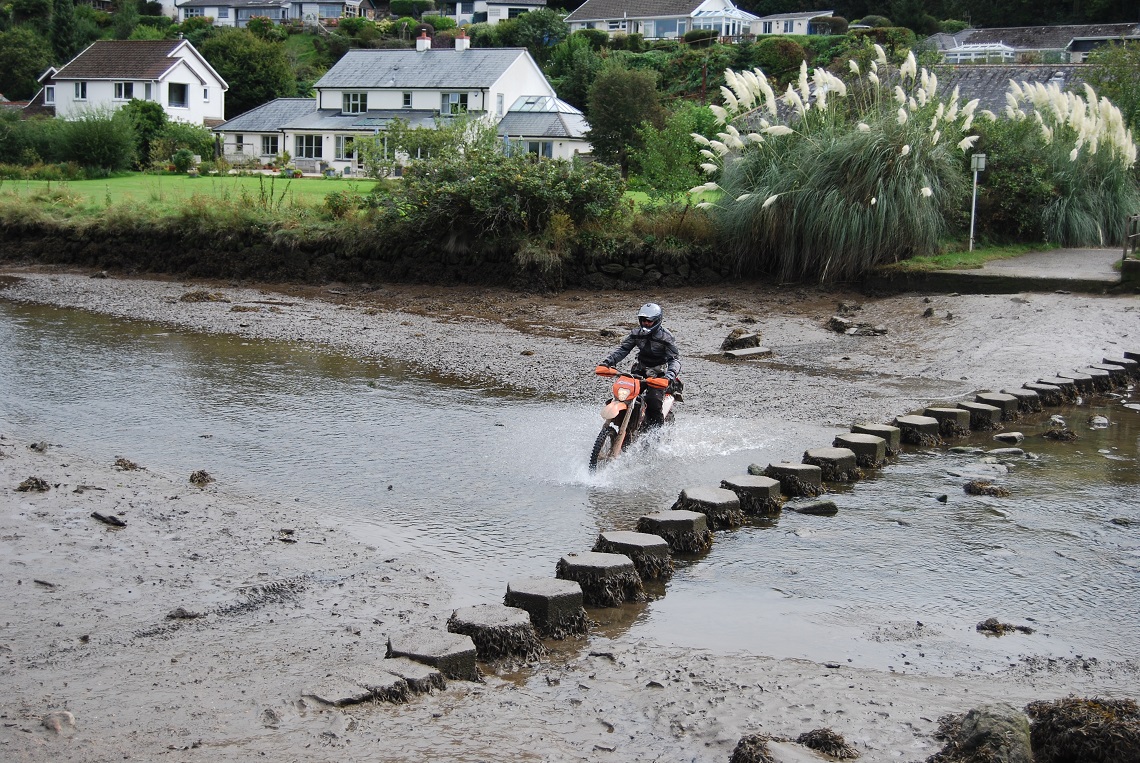 Our final push to complete the route would see us travelling along the Great Western Trail, a diversion that takes you off the main TET route in Somerset and travels a meandering path through Wiltshire, Dorset, and Devon, to Land's End in Cornwall. It then loops back on itself to re-join the main TET in Somerset.
We had actually ridden the first half of the route to Land's End before, a journey you can read about in Issue 60 of ABR. However, faithful readers of our epic journey will recall that Matt's bike had died on the second day of the last trip, so to ensure he'd also completed the full route, we'd bravely agreed to another two days of glorious trail riding to repeat the Bridport to Land's End section.
The beginning of the end
So, it's bright and early on a Thursday morning that we meet at the Washingpool Farm Shop and Café for breakfast. Steve and I have ridden down, me on ABR's Honda CRF300L long-term review bike, and he on a big-tanked Honda CRF250L. Matt, Chris, and Paul have arrived by van, bringing their SWM RS300 RR, Honda CRF250X, and KTM EXC250 with them. With the van stowed in the shop's car park, as they've helpfully agreed to, we tuck into bacon butties while Chris, ever the bargain spotter, goes for the half-price children's full breakfast.
Now, as I've covered this bit of the Great Western Trail before in ABR, I'll skip most of the two days riding between Dorset and Cornwall save to note that, while it's mostly the same, the TET linesman do constantly update the route so there are quite a few lanes that are new or different, and quite a few that I just simply do not remember.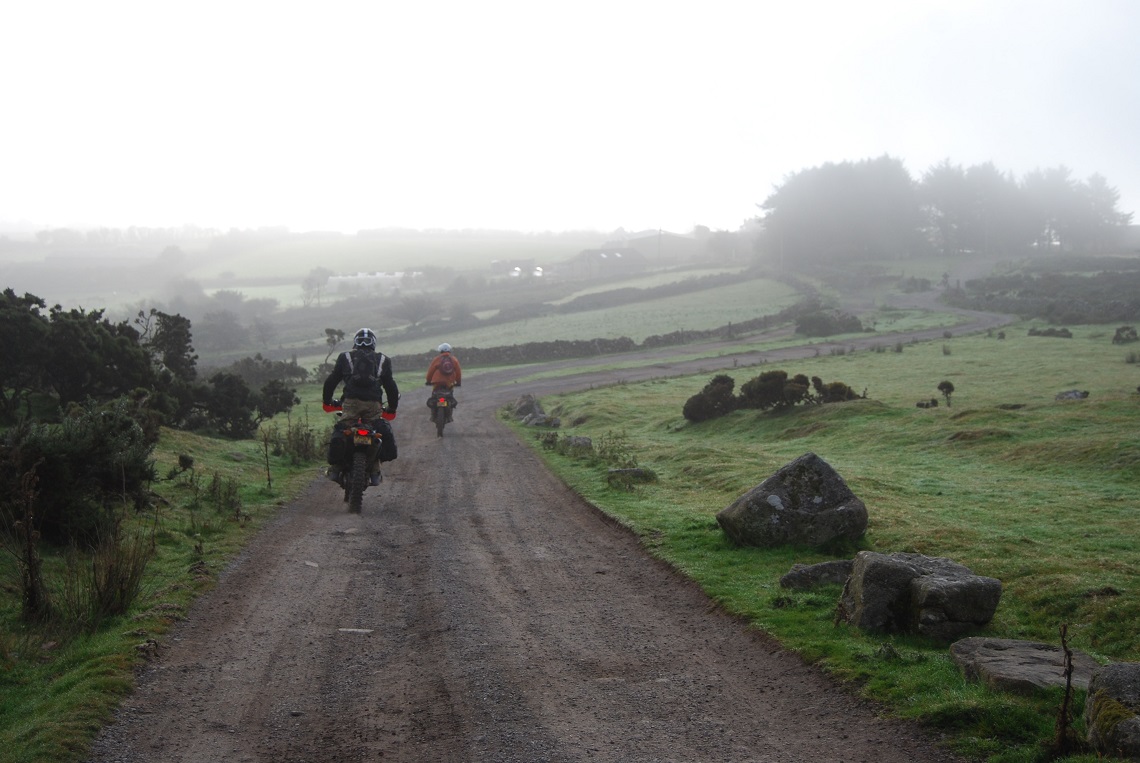 One stand-out little section takes us along the foreshore at Topsham, a feat only possible at low tide and a pretty slippery detour at that. We enjoy a sumptuous lunch by the water at Shaldon and, although the latter part of the day is accompanied by an hour or so of soft drizzle, we reach Ivybridge in plenty of time for beers and a curry. Day two sees us tracking the south coast through Devon and on into Cornwall, finishing up in Mousehole before travelling to our start point for the trip proper in Hayle.
Land's End to Wheal Tor
The morning is not the most promising for the start of our return leg, with thick fog enveloping the Cornish town like an overprotective mother. We take the A-road for the short 17-mile schlep to Land's End, darting through the morning traffic on slippery roads. The fuel shortages that started to take effect the day before are now showing, with every petrol station we pass being clogged with anxious drivers.
We press on to reach Land's End just before 9 am, and thankfully the fog has lifted for the obligatory photos at our start point. Images in the can, we saddle up away and blast from the tourist site to follow the trail north.
Just a few miles later, we hang a left through St Just and ride down to the coast again where we are rewarded with views far more atmospheric than at Land's End. The trail takes us to the top of craggy cliffs towering above crashing waves, the landscape interrupted with the tall towers of the tin mines looking like vast stone darts thrown from the clouds.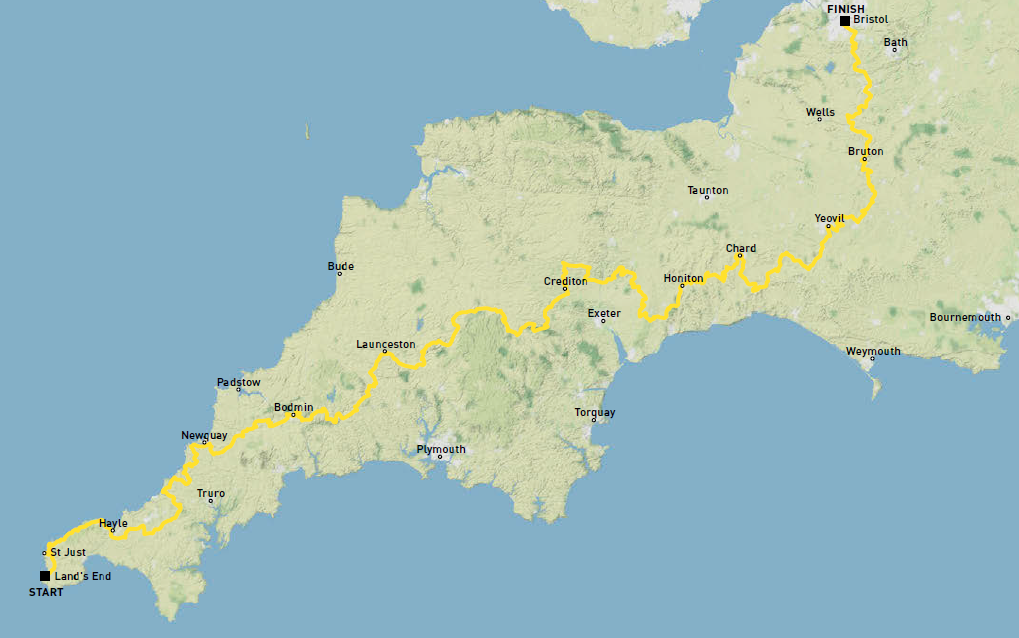 We continue to follow the Great Western Trail north along the coast through the tiny villages of Botallack, Trewellard, Bojewyan and Morvah, but what should be a truly spectacular route with stunning views of the distant Atlantic Ocean is totally obscured by the returning fog that surrounds us once more.
An hour or so later, we reach St Ives, but thanks to new traffic restrictions, we are directed high over the town with only a fleeting view of the iconic harbour that has inspired so many artists over the centuries. We press on past Hayle once more, heading inland for a while before reaching Lanner for an early lunch of coffee and Cornish pasties.
At this point, our party goes from five to four as Paul, thanks to a complete disaster of both diary and family planning has to return to Bristol for childcare duties. The trip has been on the calendar for nine months and now he's riding the 180 miles back home in one hit on a 250cc enduro bike on knobblies. I'm so pleased my daughters are all grown up.
In a somewhat bitter irony for Paul, the paucity of trails in the morning is replaced by far more off-road action as we press on back towards the coast, and with the weather improving all the time, we can actually appreciate the stunning landscape as we track on north, dropping right to the cliff's edge at Porthtowan Beach to watch the surfers below.
Pressing on, we meander up the coastline to queue for fuel in the bustling tourist resort of Perranporth, then ride up to the outskirts of the even busier Newquay, before the trail arcs right inland. The green lanes are coming far more regularly now with a mix of sandy tracks, woodland trails, and moorland tracks, but with the four of us riding a swift and spirited pace, we're making good time.
The bikes are all pretty well matched with two 250s and two 300s, and all on proper rubber so none of the lanes are providing any issues.
We reach Bodmin by around 4 pm and stop for a livener, where the barman insists we use an app rather than actually just tell him what we want. The subsequent drinks then take 15 minutes to arrive rather than him just giving them to us at the bar. But it's a good job we're feeling fortified because outside the town there are some complete snotter lanes including one slab filled descent that on a big adventure bike would be a complete nightmare. I nurse the CRF300L down to the bottom, relieved that the Dunlop Geomax tyres are finding grip where my feet can't.
With the team all safe, we press on for another hour or so to our overnight stay just outside the village of Minions at the Wheal Tor Hotel. We've got woodland cabins to stay in but, faced with an outside shower block and no towels packed, three of us abandon the end of day ablutions in favour of Doom Bar. Matt joins us once he's streaked through the trees in his travel towel. The steaks are both delicious and welcome.
Wheal Tor to Kilmington
The morning brings more fog and the realisation that I'd dropped my safety glasses in the car park, and while they are still there, being run over hasn't improved them. We cross the River Tamar at Bradstone to re-enter Devon and gradually head north through increasingly wonderful lanes to reach Oakhampton for a much-needed coffee, and an unfeasibly large cookie dough and white chocolate cake.
We have to queue briefly for fuel just outside the town, but with the four bikes needing less than £20 between all of them, we're comfortably below the £30 per person limit. We cross the A386 and head south again towards Chagford, and we are rewarded with some of the best trails so far. Ancient roads and deep lanes cut into the landscapes, walled tracks dropping into and out of picture-postcard villages and open trails through the rolling Devon hills. It's a stunning part of the journey and we're all loving it.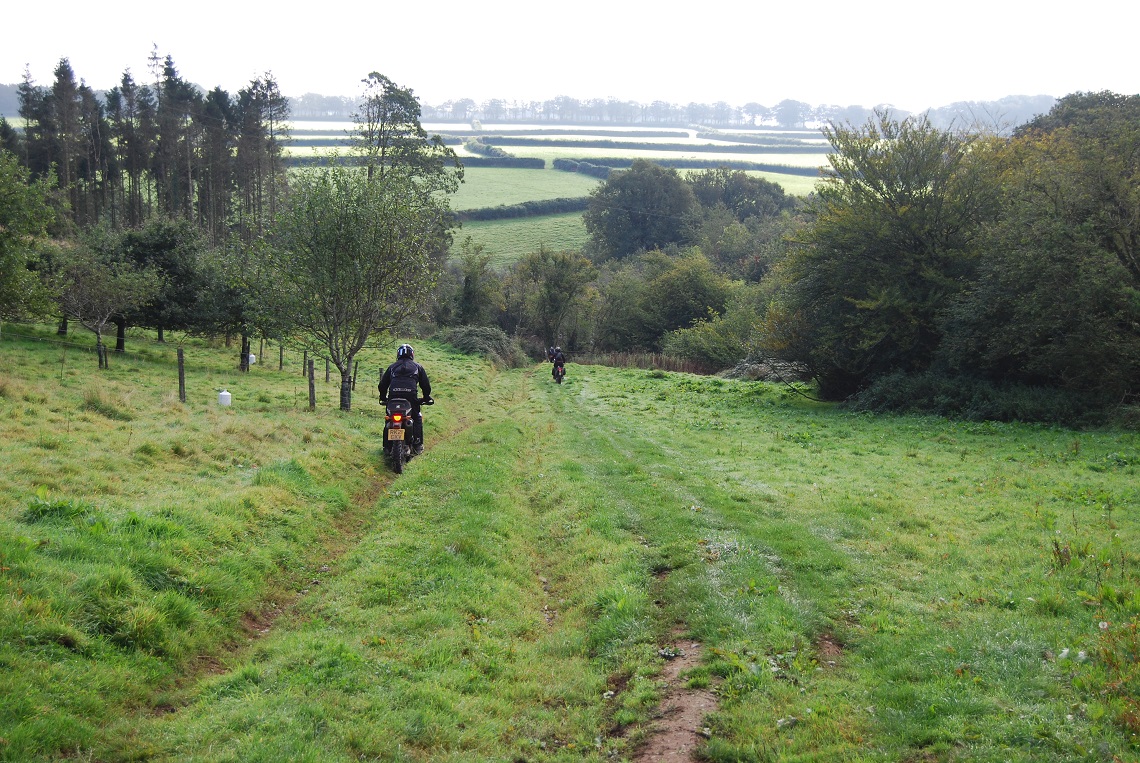 An hour or so later, we loop back up over the top of Exeter, deciding against a full lunch and opt for a drink and dash in a lovely little pub in Thorverton, where there's lots of banter and chat with a group of locals who are interested in our trip.
Wishing we could stay for an afternoon of beers in the sunshine, we reluctantly leave and head south towards Ottery St Mary, the route coming within just a few miles of the outgoing route to Land's End.
You might think that the Great Western Trail would track the south coast on the way down and the north coast on the return, but it stays well clear of the North Devon and North Somerset coastline. There are plenty of lanes to the north, you'll just have to find them yourself.
One advantage of the close proximity of both legs of the Great Western Trail is that you can easily make up one day, two day, or three-day loops if you don't want to tackle everything in one go, and many riders are using the trail in this way. It means that you can park up vehicles, ride for as long as you like, and then loop back on the trail, perfect.
And this is exactly what is evident an hour or so later as, on a particularly tricky trail through a riverbed, we meet another group of riders coming in the opposite direction, many of them on CRF250Ls, and most of them struggling on the bike's stock IRC tyres.
We stop to chat before leaving them behind for a couple more hours of fast trails and fun up towards Tipton St John and a series of really gnarly and technical rocky trails.
Once we reach the main road again, it's clear that the terrain has got the better of Matt's rear Motoz Extreme Hybrid tyre which, despite looking fine, has zero pressure inside. Steve breaks out the Tyre Weld and pump which is good enough to allow Matt to limp onto our overnight accommodation at the somewhat unprepossessing A35 Pitstop.
I don't think I've ever stayed in a motel before, but as the place has a petrol station, an off-licence, and a quiet backyard for us to sort Matt's bike, it's pretty much perfect. Between the four of us and eight bottles of beer, we wrestle the SWM's axle reluctantly out of the swingarm, as well as the knackered tube out of the rock-hard Motoz tyre.
We then refit one of my spare tubes, before replacing everything with a regular supply of swearing and bleeding knuckles. My role is largely managerial in the process, providing tools, spares and advice rather than volunteering to break my fingers fighting with Australian rubber.
With the job finished and riders showered, it's off to the Old Inn next door, but as they don't serve food on Sunday, we dine on service station sandwiches, crisps, spicy meatballs, and kabanos washed down with local ale. It's a hugely enjoyable night filled with laughs and smiles and a fitting last supper for our trip.
Kilmington to Bristol
The final day dawns and, after a full English in a café, it's back on the bikes. The sun is out but as it hammered down last night the roads and trails are covered with lots of standing water and soaked vegetation. We have to retrace our steps back to Honiton to re-join the Great Western Trail, but Matt has found a great trail that runs parallel to the road and we bounce and splash through it at a cracking pace for so early in the day.
And the great lanes continue, with tight single tracks where we are fighting through the brambles, to muddy lanes through farmland. There are sunken tracks beneath the arches of ancient trees and rocky descents, to river and swollen ford crossings where the water is churning from the overnight rain. In just one hour of riding, we tackle more lanes than in a whole day in South Cornwall, and the four of us are grinning from ear to ear every time we stop.
We cross from Devon into Somerset as we travel north up to Chard. At the moderately busy petrol station, I'm delighted to find a pair of safety glasses by the airline. A suitable if slightly better replacement for the pair cruelly squashed at Wheal Tor.
Pressing on, we drop down toward Fishpond Bottom in Dorset, again within miles of the southern leg of the Great Western Trail, before meandering back up north to re-enter Somerset at Crewkerne. Unable to resist either the wonderful pun or the neighbouring antique market, we stop at Planet of the Crepes for suitable refreshments and, for me, a browse round the dusty treasures next door.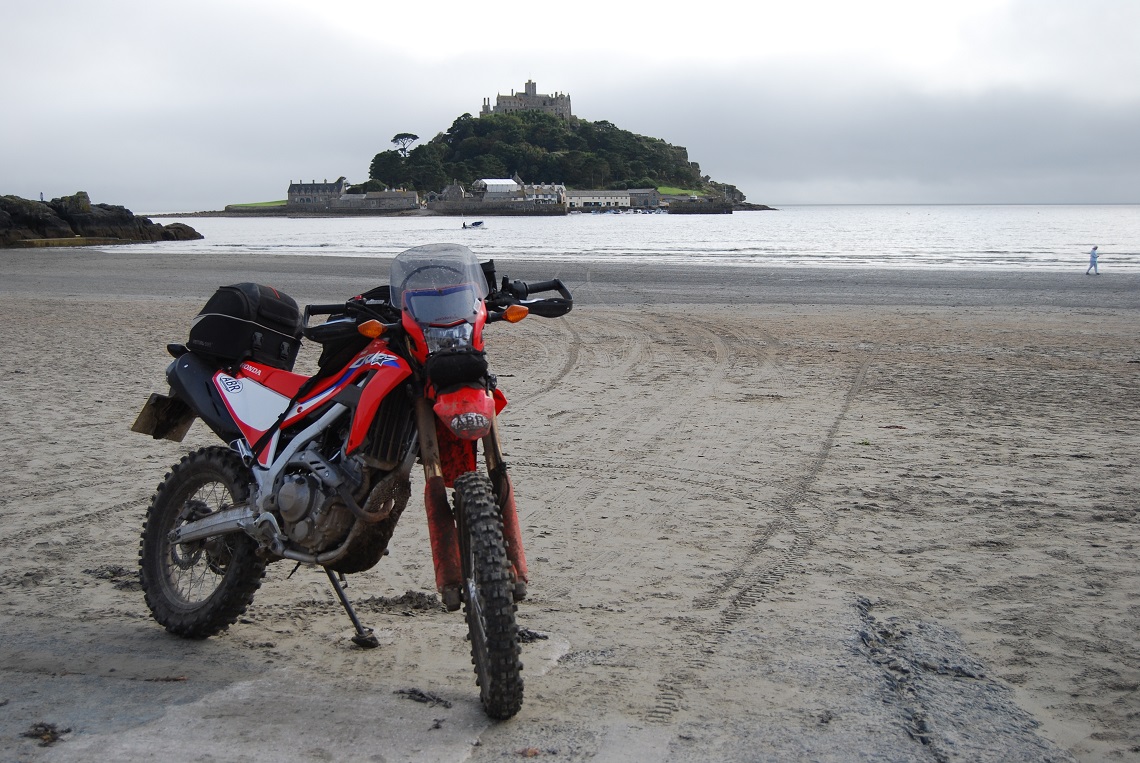 As the day continues, we are treated to some of the wonderful sunken lanes around Beaminster, our route being temporarily diverted by fallen power lines and tree cutting activity, before eventually reconnecting and heading up towards Yeovil for more of the same around Sherbourne and Bradford Abbas. We're well into South Somerset now and within a normal day's ride from home. The lanes are becoming familiar and welcome.
Less welcome is the deserted petrol station in Bruton, in fact, the whole town is like a ghost town thanks to the lack of fuel. We down pasties and coffee as Matt breaks out the emergency litre for his slightly thirsty and small tanked SWM, which is enough to get us up to Shepton Mallet and the E10 oasis that is Tesco.
We have to queue for 15 minutes but this last top-up will be enough to see us to Journey's end, which is perhaps more than can be said for the group of six or seven lads from Newcastle we meet who are on a motley selection on CRF250Ls, Honda Groms, and Cubs who were on their way south on the TET. And so, the last push to finish the trip. Steve peels off home at Midsomer Norton, and for Matt, Chris and me, the Three Musketeers of the TET adventure, it's a gentle last leg to reach the outskirts of Bristol.
Even having to stop to hastily to put on waterproofs as the heavens open does not dampen our spirits. The TET has taken us all over England and Wales, with mile after mile of stunning roads, wonderful lanes and epic landscapes.
From crossing rivers in Powys and estuaries in Cornwall to blasting along dirt roads on Salisbury Plain and green roads across the Lancashire moors, it's been an incredible experience that I wouldn't have missed for the world. To everyone involved, but most importantly to the linesman who created it, thank you. The UK TET is done, now it's time for France.