James Oxley discovers that bigger may well be better as he Spends some quality time riding KTM's flagship adventure bike
I've become something of a convert to middleweight bikes over the past couple of years. Whereas in the past I used to daydream about riding a big BMW GS Adventure or an Africa Twin Adventure Sports around the world, these days I find myself musing about blasting along mountain roads and remote landscapes on the likes of a Triumph Tiger 900 or the Moto Guzzi V85 TT.
I can trace this conversion back to an exact point in time. It was 5 September 2019, and I was stood on top of the Grossglockner High Alpine Road in Austria soaking up a view of the Pasterze Glacier. I'd arrived there on a KTM 790 Adventure, a bike I'd spent the previous two days riding on a mix of mountain passes, country roads, motorways, and a smattering of trails.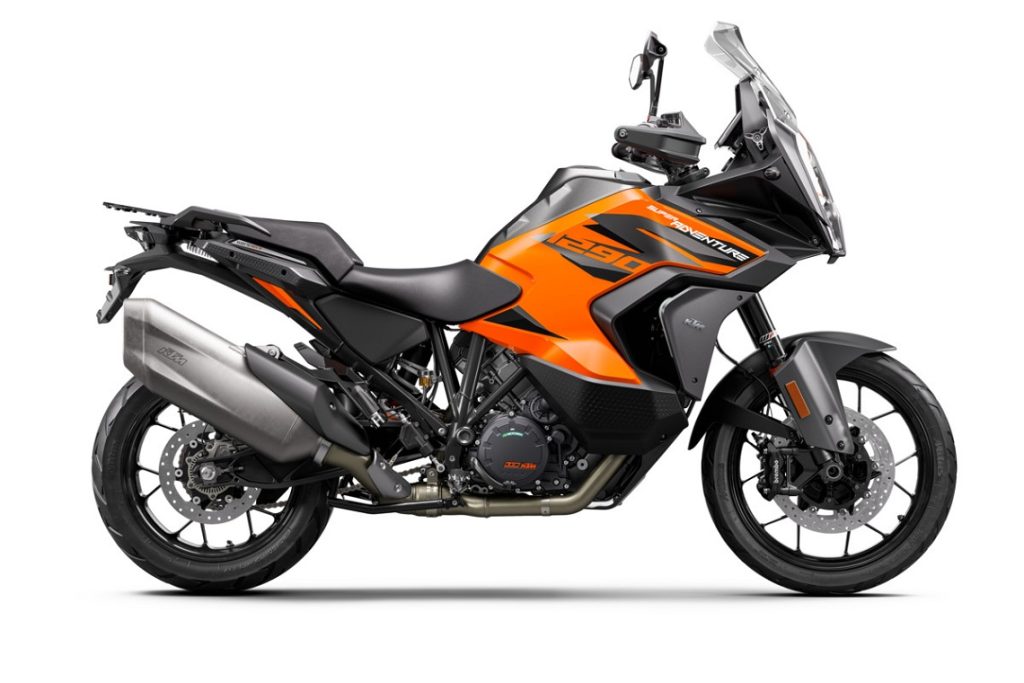 The KTM had performed sensationally in sunshine, rain, and snow, proving light enough to inspire confidence in tricky conditions, powerful enough to cruise at motorways speeds in comfort, and agile enough to blast through turn after glorious turn on those sublime Alpine roads, holding a line like a warm toffee stuck to its wrapper.
The experience meant that, once back home, I found myself instinctively jumping on the middleweight bikes in the ABR longtermer fleet whenever I could, particularly when I was on photography and filming duties. I found the likes of the 790 Adventure and the Yamaha Ténéré 700 ideal for bumping up curbs and embankments, turning around in tight spots, and for generally getting in and out of tricky places on and off-road that, as luck would have it, also happened to be the best spots to take photographs.
And while I still enjoyed riding big adventure bikes like the Ducati Multistrada 1260 Enduro and the Triumph Tiger 1200, I tended to reserve them for long-distance journeys that involved plenty of motorway and A-roads rather than single-lane B-roads and trails, where the extra bulk and top-heavy tendencies of bigger adventure bikes aren't an asset.
Then, one day in September, everything changed. I was again on filming duties, shooting a video about replacing the stock suspension on a Ténéré 700 with Öhlins units, which involved spending a large part of the day chasing down a superbly sprung Yamaha on and off-road. It was no easy task.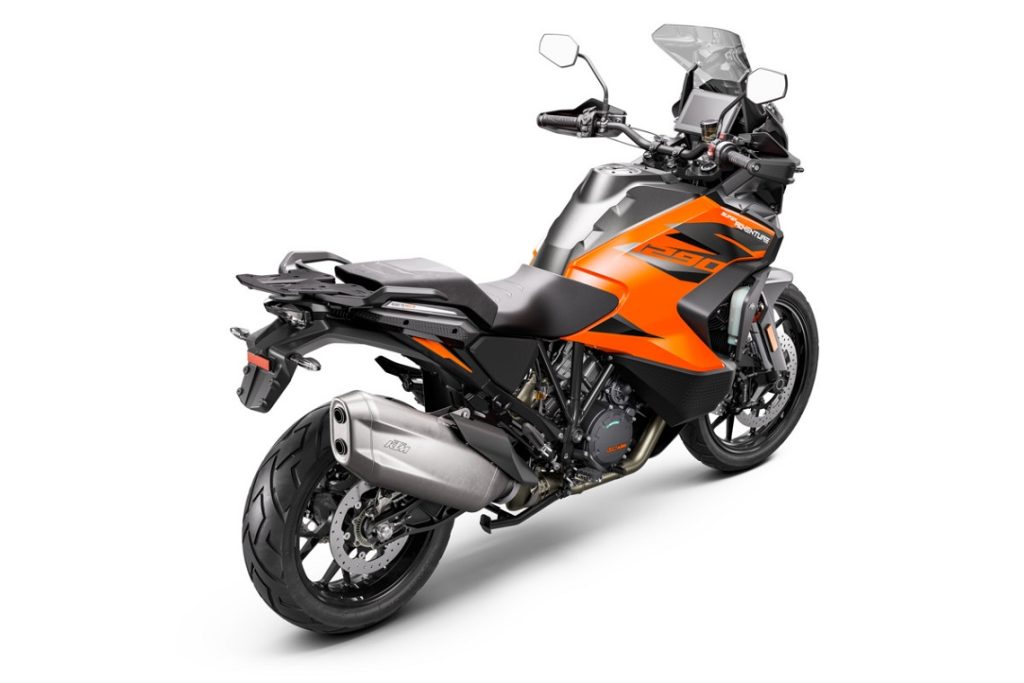 With no middleweight bike available in the ABR garage, I found myself undertaking this task on the latest addition to the long-termer fleet, the KTM 1290 Super Adventure S. I'd spent the previous couple of weeks commuting on the bike and it had proved to be enormous fun, In fact, it's exactly the sort of big bike that I'd jump at the chance of riding during a summer tour through Europe and beyond.
However, I admit the thought of spending 12 hours navigating nadgery lanes and trails, turning around in countless tight locations, and generally manhandling 240kg of metal, while also leaping around with a backpack full of camera gear, left me with a sense of foreboding. To be honest, I didn't think I had the right motorcycle for the job.
I couldn't have been more wrong. The big bike proved a delight to ride all day. Just like its little brother, the 890 Adventure, KTM has given the 1290 Super Adventure saddlebag-style fuel tanks that hang down either side of the bike. The resulting lower centre of gravity makes it feel superbly balanced, particularly at slow speeds, and there's nothing top-heavy about it, even if you find yourself off balance.
Shunting it around on the trails and bumping up curbs and embankments to find awkward places to park was a doddle thanks to that superb balance and an ability to flat foot the floor from the 849mm seat (I'm 6ft tall and I had no issues there).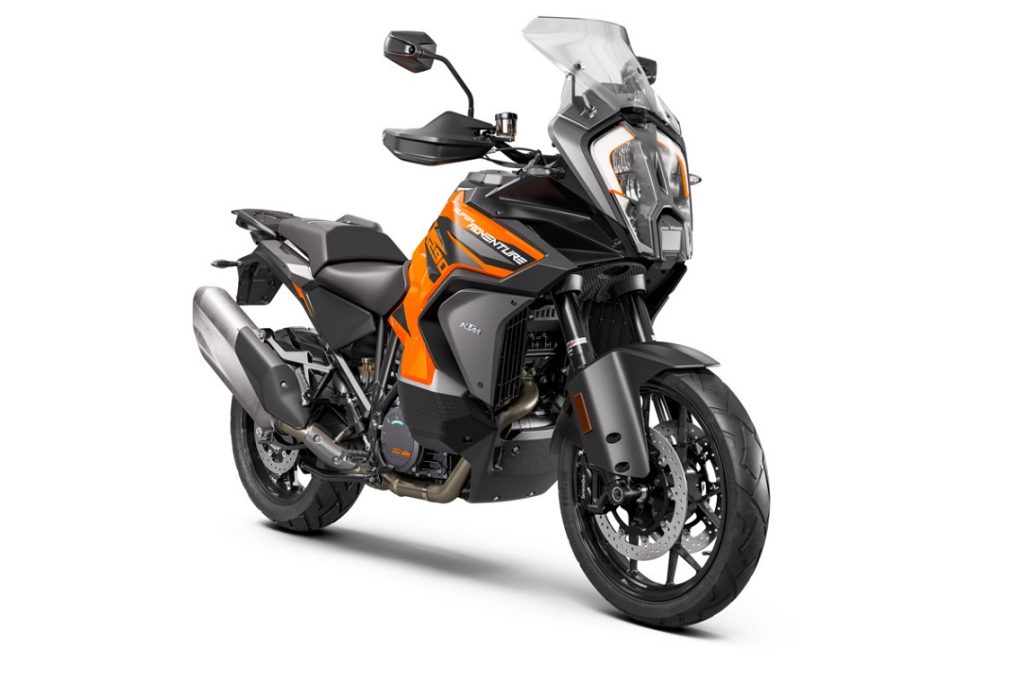 In reality, the big KTM felt just as manageable as the middleweight Yamaha, and I had no problems keeping up on a series of green lanes while filming from behind with a GoPro attached to my head. This was despite the fact I was sporting road-biased Mitas Terra Force-R tyres, compared to the Ténéré's Michelin Anakee Wild 50/50 rubber.
On the road, it was a similar story as we negotiated miles of tight and twisty country lanes through countless blind turns, our vision blocked by high hedgerows. The big KTM skipped along joyfully begging to be flicked between turns and never once did it feel like all that weight and momentum would catch me out and deposit me in said hedgerows.
In short, the 1290 Super Adventure is a big bike that hides its weight and size well, which is an impressive feat of engineering and one I was very grateful for at the end of a fun but very long and tiring day.
But, why would you want a big bike that feels like a smaller one in the first place? Why not simply buy a middleweight motorcycle instead? The answer to this question came as I joined the motorway the following day on a cold, misty morning. Cruising at speed, the big bike felt wonderfully planted and stable as only large, powerful motorcycles do. And the KTM's 160bhp engine purred along with oodles of power in reserve ready to be called upon.
The adjustable screen and wide front end provided plenty of weather protection from the chilly morning mist, and the ample seat had me sat back and relaxing while the bike's semi-active suspension smoothed out the lumps and bumps of the road below.
So, while it's true that riding a bike of this size and power can be exhilarating, that morning was a far more relaxing affair as I sat cosseted from the world around me, the engine barely straining as I opened the throttle for high-speed overtakes. This is why I love taking big adventure bikes away on tours that involve covering hundreds of motorway miles a day to get to the likes of the Alps or the Pyrenees.
When time is short and large distances need to be covered, they make the experience so much more pleasurable than a smaller machine, especially if you pile on luggage and a pillion rider.
I arrived back at the office marvelling at my day out with 1290 Super Adventure. And as I sit here now writing these words, I'm periodically breaking off to tell anyone who will listen that, not only is the KTM a supremely capable bike, it's also a hell of a lot of fun to ride too. I can't think of anything I'd prefer to do right now than fill up those 23l fuel tanks and head off on tour. Hell, I might just be a big adventure bike guy after all.