James Oxley and Bryn Davies put a selection of the best winter riding gloves on the market to the test to help you stay warm in the saddle
With dark evenings drawing in and summer feeling like a distant memory, it can be tempting to park up your bike in the garage and take a two-wheeled hiatus until the green shoots of spring begin to emerge. After all, who enjoys being cold, wet, and thoroughly miserable on two wheels? Certainly not me.
However, winter riding doesn't need to be a chore. In fact, some of my most memorable rides involved meeting up with a couple of mates on a clear, crisp winter's day and going for a bracing Sunday blast to the seaside, making sure we stop at a café or two for coffee, cake, and a bacon roll along the way.
But key to enjoying cold-weather riding like this is wearing suitable gear, and a good pair of insulated and waterproof winter gloves is a top priority. Remember, your hands are on the front line against the elements so they are often the first part of your body to get cold.
If you try and get away with wearing lightweight gloves during the depths of winter, you'll soon find that chilly hands become uncomfortably cold and then numb. This will make operating your brake and clutch levers a struggle, reducing your reaction times and the overall control you have over your motorcycle.
The four fundamentals
By investing in a good-quality pair of winter gloves you can avoid this. But with so many different brands and designs on the market, what features should you keep in mind before making your choice? The good news is there are just four things a good pair of winter gloves needs to do, but these four things are vitally important. They should keep your hands warm, dry, comfortable, and protected.
While glove manufacturers will take varying approaches to achieving these four fundamentals, the key features that should be common to all of them are an insulated inner layer to keep your hands warm, a waterproof liner to ensure they stay dry, a soft inner for comfort, and the use of armour and abrasion-resistant materials for impact and slide protection.
Once you've reassured yourself you've found a pair of gloves that ticks all these boxes, you may be tempted to hand over your cash straight away.
But, before you make a final choice, it's worth giving some thought to the type of riding you'll be doing. For example, if like me you find yourself slogging up and down motorways for hours at a time in the winter months, you'll need a thick pair of gloves with plenty of insulation and top-notch waterproofing, to battle against high-speed wind chill. But while gloves like these will keep you warm, all that extra insulation will make them feel thicker, stiffer, and less flexible to wear at your bike's controls.
This loss of dexterity is something I'm willing to live with, in return for warm hands-on long-distance journey, but if your daily ride simply involves a short 15-minute commute across town, a thinner, more flexible, and most likely less expensive pair of gloves will provide more freedom of movement and will better suit your needs.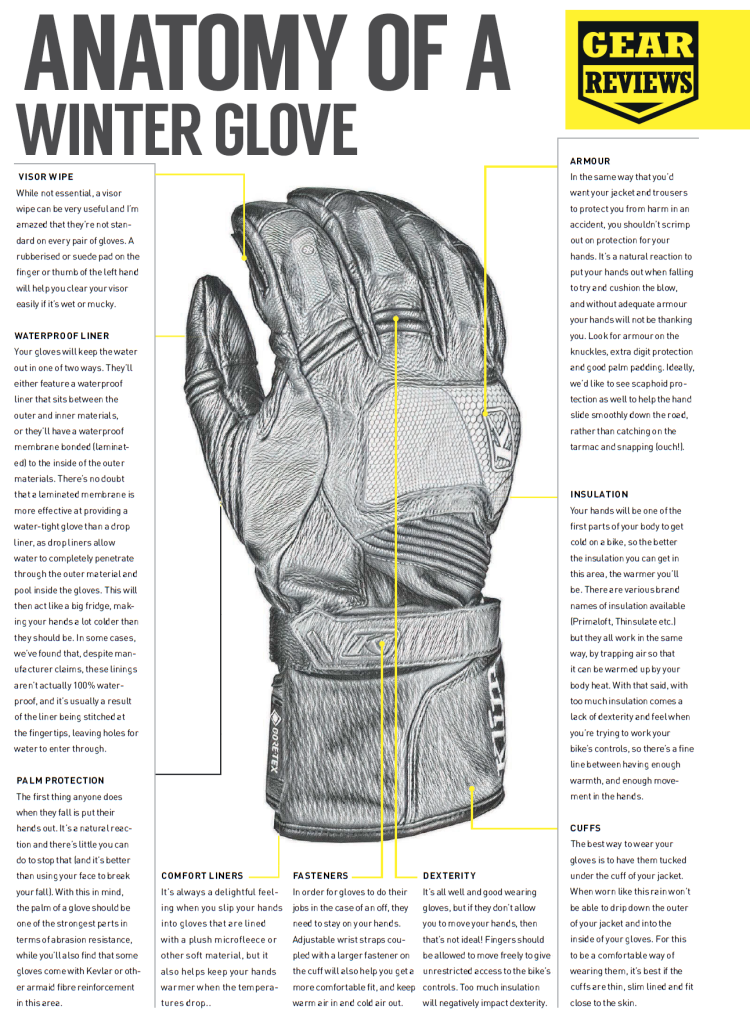 If the glove fits
Just as people's hands come in all different sizes, so do riding gloves which is why I would highly recommend trying plenty on before you buy. I've come across gloves that are too tight at the wrist but also too long in the fingers, and vice-versa, so just because you're a size large, doesn't mean those large size gloves you've found online will fit you.
While you're making your choice, it's also worth taking a look at what materials gloves are made from. For example, the inclusion of a well-known and respected waterproof membrane, like Gore-Tex, may prove more expensive than lesser-known alternatives, but you can be almost certain it will be genuinely waterproof (not all products that claim to be waterproof actually are).
Similarly, a high-quality insulating fill like Primaloft will provide excellent warmth at a relatively low bulk compared to cheaper alternatives.
Although if you want a seriously warm glove you're going to have to put up with some extra bulk and loss of feeling at your bike's controls.
Before we jump into the glove reviews over the page, there are two more features I'd highly recommend any winter glove possesses. The first is a visor wipe which is usually attached to the forefinger or outside of the thumb on your left-hand glove. This simple feature is often made from rubber and allows you to clear dirt and water from your visor with a simple wipe of your hand.
The second feature I ensure all my riding gloves possess is touchscreen sensitivity. If you navigate using a SatNav or phone mounted to your handlebars, or if your bike has a touchscreen sensitive TFT display like that found on the Africa Twin, being able to control these devices without going through the faff of taking off your thick winter gloves is a convenience I don't want to do without.
So, without further ado, let's take a look at some winter gloves…
---
TUCANO URBANO WRK GLOVES
£59.83 | www.tucanourbano.com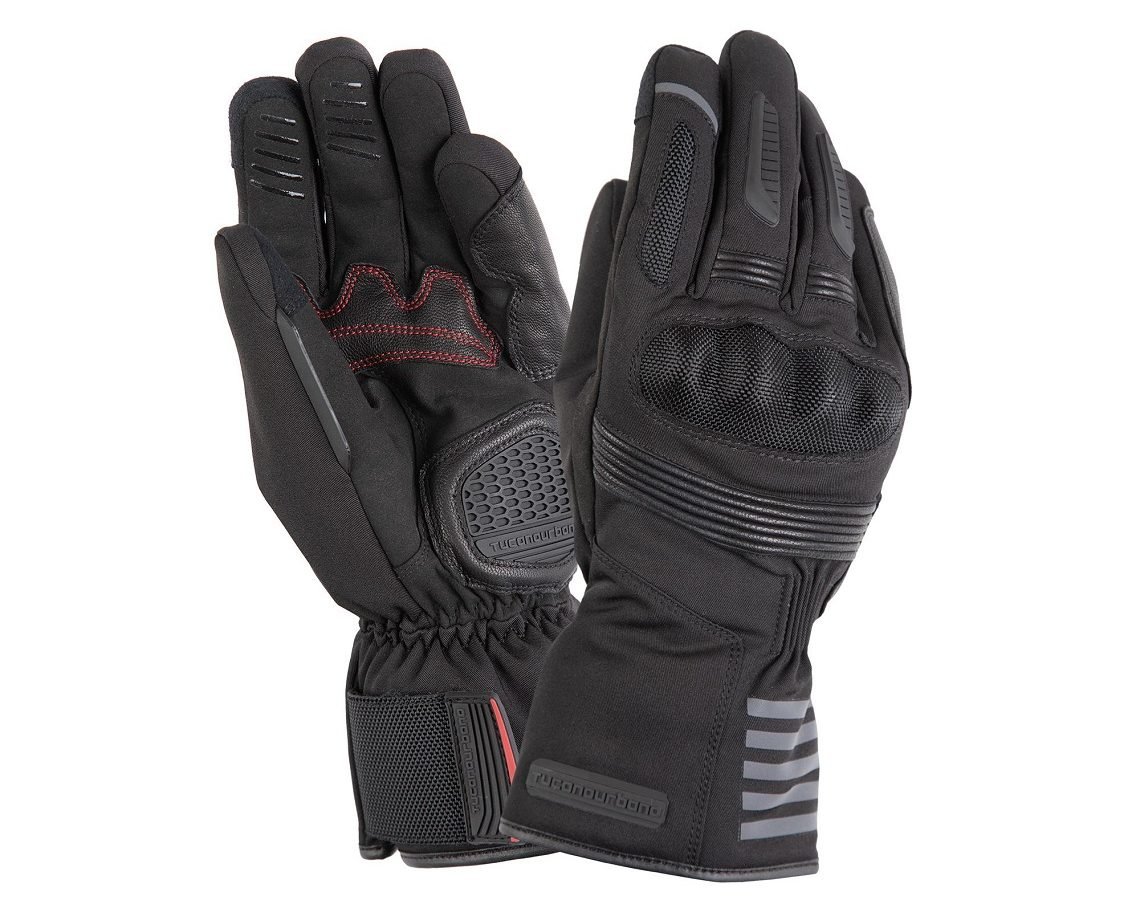 As motorcyclists, we sometimes get a bit carried away when buying bike gear. I admit to researching how a piece kit might perform on a journey to Nordkapp when, in reality, it's going to spend far more of its life being used in the Cotswolds. In reality, there are times when we simply need a piece of clothing to do a job, like my short daily commute across town to the ABR office. This is where an inexpensive pair of gloves like the Tucano Urbano WRK comes in.
At under £60, we know it's not going to perform as well in the depths of winter as the likes of the Alpinestars gloves on test, but then it's almost a third of the price. But if you're looking for an inexpensive piece of kit for shorter jaunts in the colder months, or perhaps a second pair of gloves as a backup, the WRK is worth a closer look. The predominantly textile glove features goatskin leather panels on the palm and little finger, while impact protection comes in the form of plastic armour on the knuckles. This is accompanied by rubber protectors on the two middle fingers and a rubber palm slider.
The WRK's elasticated cuff slipped over my hand easily and the single Velcro fastener provided a secure fit. The cuff is on the tight side, however, and I struggled to get my jacket's cuff under it.
Despite this, the overall fit was excellent, with very little material left unfilled by my fingertips, and the gloves felt comfortable and flexible to wear. The WRK did a pretty good job of keeping my hands warm too on a chilly October day, although I'd want something better insulated if I was to ride any distances in the winter.
I'd also want a glove that offered better protection if I was to be doing journeys on motorways and fast A-roads, where high-speed crashes are a possibility. However, if you're looking for an inexpensive glove for urban riding where speeds are slower and wind chill isn't as severe as it is on faster roads, the WRK would do a decent job.
In a line: An inexpensive pair of gloves for urban commutes
ABR Verdict: 6/10
---
MERLIN RANGER D30 WATERPROOF GLOVE
£79.99 | www.merlinbikegear.com
British brand Merlin is best known for its line of heritage clothing which includes some very stylish wax jackets that we're big fans of here at ABR. But the company also produces what it calls its Riderwear collection which is better suited to the demands of adventure biking.
One such piece of kit is the new Ranger glove which, as you might expect from Merlin, is by far and away the most stylish on test, thanks to the use of a Halley Stevensons waxed cotton upper and an abrasion-resistant cowhide leather palm. Now, as I mentioned on the introduction pages of this group test, not all winter gloves need to be thickly insulated behemoths designed to see you through a Siberian winter. Often a lighter-weight pair are better suited to a Sunday ride or commute to work, and this is where the Ranger positions itself.
Slip them on and you'll feel the insulation isn't quite as thick as the heavier duty gloves on test like the Halvarssons Splitz, but the resulting freedom of movement was very welcome as I revelled at the tactile feel of my bike's controls. In fact, they are the most comfortable gloves on test.
But that's not to say the Ranger isn't warm. It managed to keep the cold away on the crisp autumn day I tested them on, and in the event it had rained, there was a Sympatex waterproof membrane to keep them dry too. With all this in mind, I'd say the Ranger is best suited to autumn and spring use, as well as shorter journeys in winter.
Impact protection comes in the form of D30 flexible knuckle protectors, although it would have been nice to see some armour further down the fingers and on the thumb. A visor wipe would also have been a nice addition, but Merlin has made the gloves touchscreen sensitive.
In a line: A stylish and comfortable lighter weight glove for rides on chilly autumn or spring days
ABR Verdict: 7/10
---
OXFORD PRODUCTS MONDIAL LONG MS GLOVE
£99.99 | www.oxfordproducts.com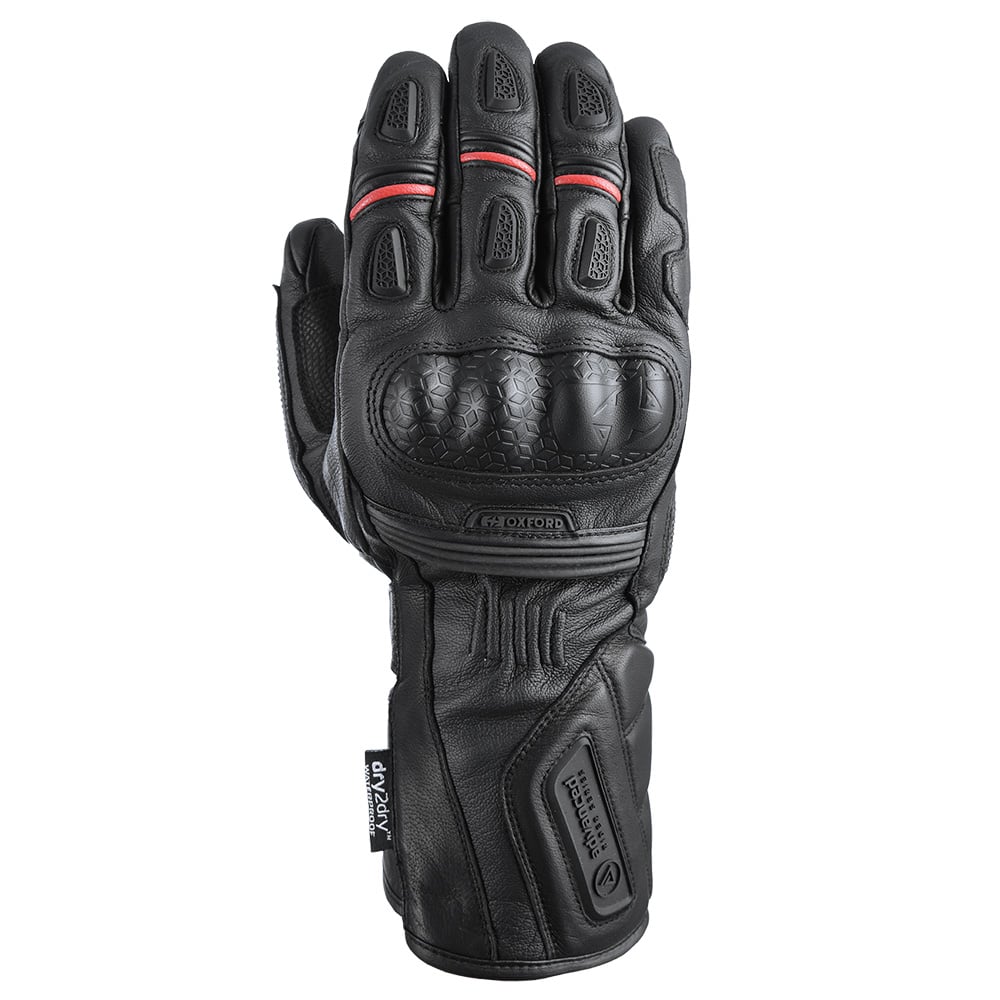 Oxford Products turned plenty of heads when it released a laminated textile jacket called the Mondial a few years ago at the bargain price of £249.99. Up until then, laminated motorcycle clothing (which utilises a waterproof membrane bonded to an outer material) had been seen as something of a premium product because of the high costs involved in making it.
But then Oxford has a habit of producing reliable bike gear at very reasonable prices. So, it should come as no surprise that its entry into this group test, the Mondial glove, is among the least expensive at £99.99. This is despite the fact it features the same laminate construction used in the jacket of the same name.
The Mondial is a gauntlet-style full leather glove that feels comfortable and flexible to wear as soon as you put it on. It slipped easily over my jacket's cuffs and provided a tactile feel of my bike's controls.
However, the Mondial doesn't feel as insulated as some of the thicker gloves on test, which makes it better suited to autumn and spring rides as well as during shorter jaunts in the winter. Alternatively, their flexibility and comfort would work well paired with a set of heated grips on your bike or a pair of liner gloves.
Impact protection comes in the form of extensive armour on the knuckles and fingers, as well as reinforced areas on the palm and thumb. The double Velcro fastening system was easy to use while I wore the gloves, and it provided a secure fit. The Mondial is also touchscreen compatible and features a substantial visor wipe on the left forefinger to clear away bugs, crud, and rain. All in all, if you're looking for a genuinely waterproof pair of riding gloves that'll keep your hands dry throughout autumn and spring, check these out. For serious warmth, you'll want to look elsewhere.
In a line: An excellent value pair of gloves for autumn and spring riding
ABR Rating: 7/10
---
HALVARSSONS SPLITZ

(ABR Best Budget Buy)
£104 | www.halvarssonsmc.com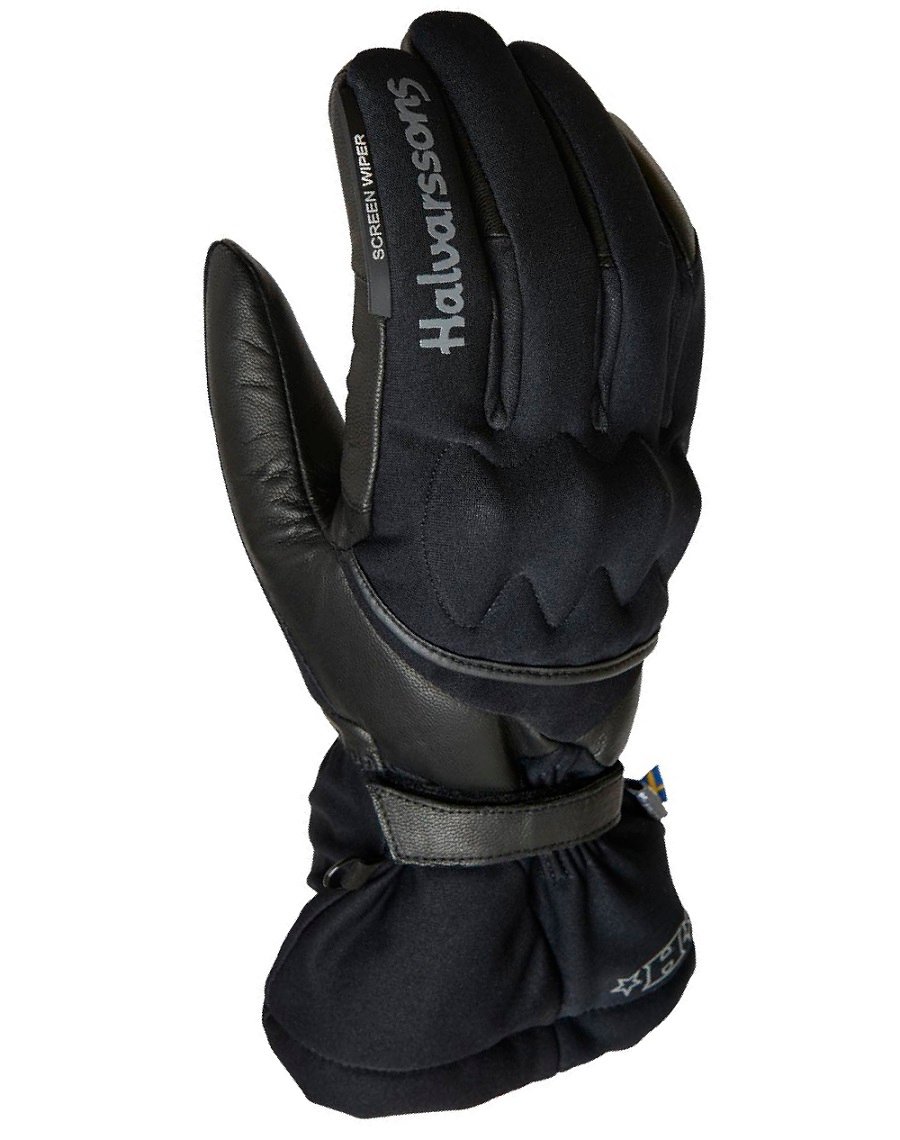 Swedish brand Halvarssons has more experience than most in designing motorcycle gear that can withstand the extreme temperatures of Scandinavia. Its entry into this test is the Spitz, which is also a type of dog that originated in the Arctic region and whose thick coats are well suited to harsh northern climates.
The name is certainly apt because the Spitz is a piece of kit I'd be happy to wear while riding to Nordkapp this winter. They are made from a mix of 40% polyester, 5% nylon, and 55% goat leather, resembling a cross between a motorcycling glove and a heavy-duty ski glove, and it's immediately clear they've been designed for colder temperatures.
Slip them on and the ample Innoborne insulation soon starts to warm your hands and I had no problems with the cold on the chilly autumn days I tested them on. In fact, they are among the warmest on test. You'll find a Dryway membrane inside for waterproofing which did a good job of keeping the rain out.
A downside of a warm winter glove can be a loss of dexterity, but this isn't the case with the Spitz which proved flexible and very comfortable to wear from the off. The single Velcro fastener provided a snug fit and was easy to use while wearing both gloves. I also liked the extra-wide cuffs that easily slipped over the sleeves of my motorcycle jacket.
Protections comes in the form of armour on the knuckles only, and the use of an abrasion-resistant material called Hi-Art on the palms which Halvarssons says makes it five times stronger than its regular textile.
In terms of features, the Spitz comes with visor wipes on both left and right forefingers, and the glove is touchscreen sensitive.
In a line: Quality and warmth combined from a premium brand at a very reasonable price
ABR Verdict: 8/10
---
T.UR G-FOUR
£114.99 | www.t-ur.com
While Italian company Tucano Urbano is known for producing stylish and very reasonably priced motorcycle gear, its more premium sister brand T.ur aims to attract a more discerning customer.
But how do you tempt motorcyclists who are already well served by a raft of established names to try something new? Well, you create a stylish, quality product and pack it full of features. And that is exactly what T.ur has done with the G-Four.
The winter glove is made from a combination of goat leather, synthetic suede, and nylon, with Thermore insulation found on the inside. This includes a thermal booster which T.ur says makes your hands feel warmer the colder it gets outside. I can't say I noticed the extra heating effect on a chilly autumn ride, but the gloves did keep my hands warm, although not quite as toasty as the likes of the Halvarssons gloves on test.
The opening of the gloves is tighter than most, so a little force was needed to put them on, but once I'd done so, they provide a reassuringly snug and comfortable fit which was further enhanced by a cosy fleece inner lining. The G-Four did feel quite stiff straight out of the box but give them time and they will loosen up.
Protection is provided by rubber armour on the back of the hand and knuckles, with a rubber insert on the palm. You'll also find soft armour on the lower knuckles and along the side of the thumb where T.ur has also placed a handy visor wipe.
The elasticated Velcro fastener is easy to operate using gloves, and you'll find two reflective stripes next to it. The G-Four is also touchscreen compatible so you can tap away at your SatNav while you ride.
In a line: A strong performing pair of winter gloves at a competitive price
ABR Verdict: 7/10
---
RICHA COLD PROTECT GTX GLOVE
£119.99 | www.nevis.uk.com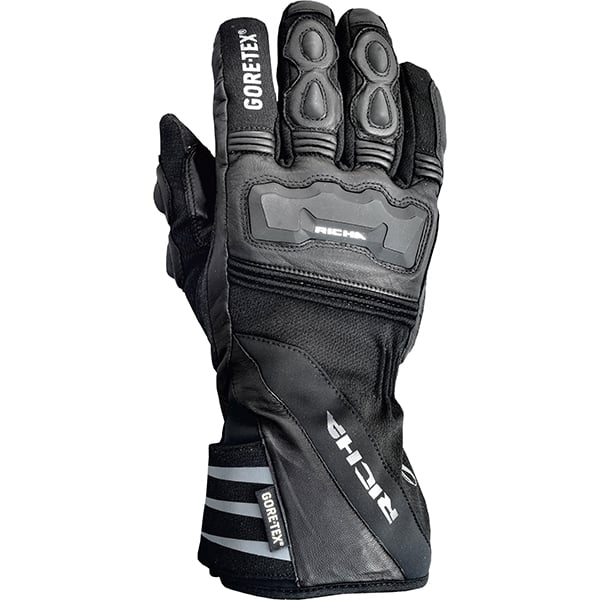 Belgian company Richa consistently manufactures quality biking gear, and for this group test, they submitted the Cold Protect GTX Gloves. The brand describes the Cold Protect GTX as the 'ultimate pair of motorcycle gloves for the winter', so there was a lot for them to live up to!
While they're not perfect, they certainly are a very good piece of riding kit that I'd be happy to wear throughout the colder months thanks to a number of reasons.
As a rule of thumb, the warmer a glove feels (and the thicker the insulation inside is), the less flexible and comfortable it will be to wear while riding. Transversely, a glove with thinner insulation will provide plenty of dexterity but will sacrifice some warmth.
The thing I like most about the Cold Protect GTX is that it is an excellent compromise between the two, proving both warm and flexible to wear. Overall, it's is a very good all-rounder.
The fit was also excellent and the inner fleece lining was also very comfortable. The double Velcro strap closure system provided a secure fit, which was easy to use while wearing both gloves.
The Cold Protect GTX is made from a mix of goatskin leather and nylon and features a Gore-Tex lining to keep your hands dry. You'll find rubber armour on the knuckles and fingers outside of the thumbs, as well as slide protection on palms and on your little finger.
Overall, Richa has produced an excellent winter glove at an affordable price. There are warmer gloves around, and there are more flexible ones, but for a compromise between the two, it's hard to beat.
In a line: A great allrounder in terms of warmth and dexterity
ABR Verdict: 8/10
---
BELSTAFF CANON MOTORCYCLE GLOVES
£135 | www.belstaff.com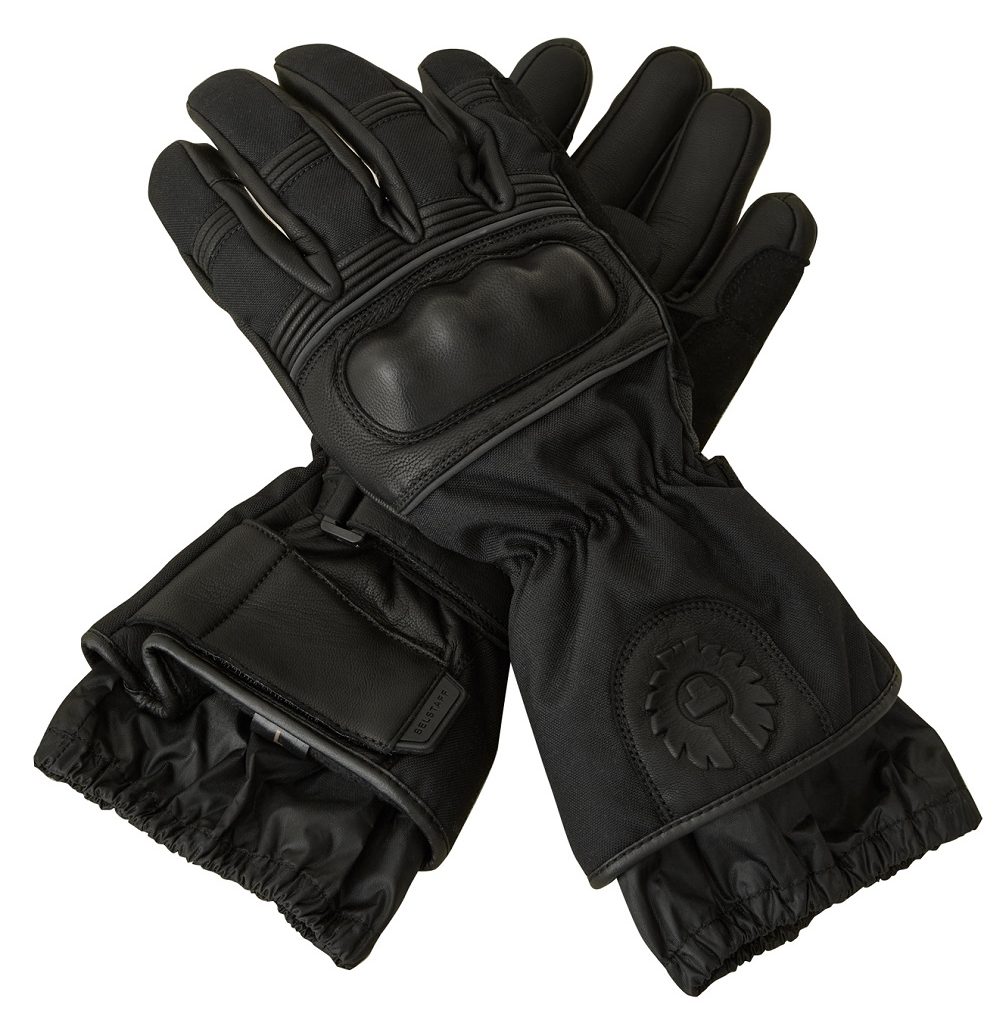 Belstaff was formed in 1924 near Stoke-on-Trent from humble beginnings and has grown to become one of the world's most iconic clothing brands, favoured by rock stars, Hollywood actors, and motorcyclists including Ewan McGregor and Charley Boorman. And, even for someone like myself, whose last fashion-conscious thoughts came sometime in the '90s, putting on a piece of Belstaff clothing can't help but feel special.
This extends to the Canon Motorcycle Gloves, which evoke the same timeless quality of the company's famous waxed jackets. And at £135, you're getting a premium brand's clothing at a very reasonable price.
But labels aside, this is a well-crafted pair of motorcycle gloves made from a mix of goatskin leather, polyester, and nylon. Putting the gloves on involves slipping your hand through an inner elasticated nylon cuff which is designed to stop rainwater and cold air from finding their way inside the glove itself. It's a useful feature, as is the extra-long rubber visor wipe on the left thumb.
The insulation inside the Canon gloves did a great job of keeping my hands warm on the crisp autumn days I tested them on, although I would want something thicker (like the Held gloves on test) for long motorway journeys in the depths of winter.
That being said, the Canon's waterproof membrane will keep your hands dry, while a good-sized, leather-covered knuckle protector on the back of the gloves provides impact protection. I would have liked to have seen more armour on the fingers along with a palm slider for greater protection, although their omission does aid the Canon's classic styling.
Belstaff has added suede panels on the palm to provide extra grip, which is a nice touch, along with the inclusion of reflective piping around the knuckle protectors for increased visibility.
In a line: A stylish and comfortable glove from an iconic brand
ABR Verdict: 7/10
---
ALPINESTARS JET ROAD V2 GLOVES
£169.99 | www.alpinestars.com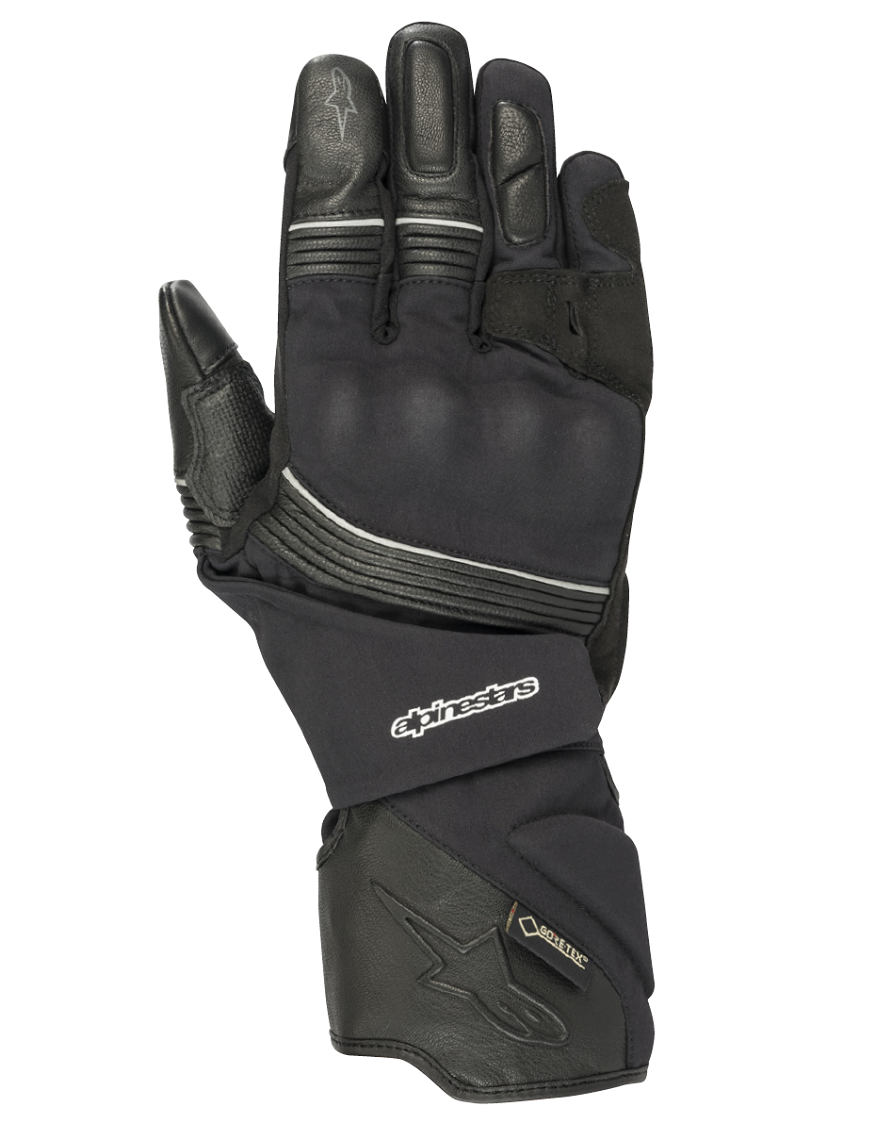 In designing the Jet Road V2, Alpinestars has recruited two of the biggest names in the world of motorcycle and outdoor gear to tempt you to part with your cash: Gore-Tex and Primaloft. A little like how a movie starring Brad Pitt or Angelina Jolie is guaranteed to draw cinema audiences, the presence of these two big guns of the biking world can't help but garner attention.
And for good reason. Gore-Tex sets the benchmark for waterproofing, due in part to the fact the company is notoriously picky about who it allows to use its brand, so its presence is usually a good indication you're looking at a quality product.
And Primaloft, a synthetic insulation, is one of the very best around, combining excellent thermal properties with less bulk than much of the competition.
So, the goatskin and textile Jet Road V2 will keep you warm and dry, and also protected thanks to plastic armour on the knuckles and soft slide protection on the fingers, palm, and wrist. It's also a stylish glove that's comfortable and flexible to wear thanks to a soft inner liner.
However, I was disappointed to find there was not a visor wipe, which is a must-have for a pair of winter gloves in my book, although I was pleased to see the gloves are touchscreen sensitive. But, while there's no doubting Alpinestars has made a very good pair of winter gloves, I would strongly advise you to try them on before you buy.
The reason being, the fit is simply not suited to my hand shape. The palm felt too tight while the ends of the fingers flopped around due to the amount of excess material. However, when ABR's managing editor Bryn tried them, they fitted him pretty much perfectly. My loss is definitely his gain.
In a line: A high-quality stylish glove but try before you buy to make sure they fit your hand shape
ABR Verdict: 8/10
---
HELD TWIN II
£175.99 | www.held-uk.co.uk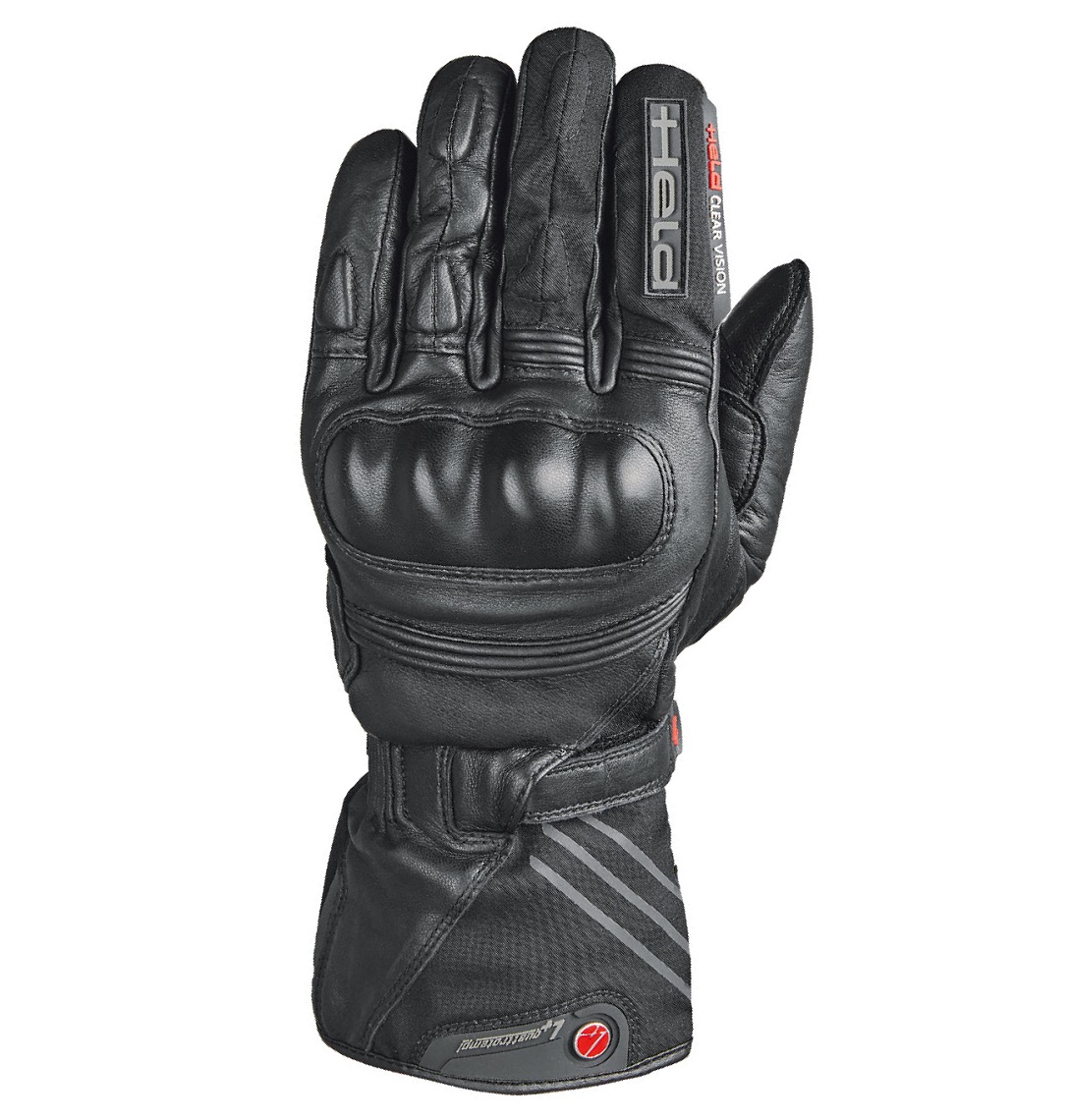 The Held Twin Gloves are expensive, there's no two ways about that, but there's no denying that they're a quality pair of gloves. Waterproofing is provided by a Gore-Tex membrane, while Gore 2in1 technology makes an appearance, splitting the inner glove into two chambers, one dry and one warm (though both are fully waterproof).
For keeping your hands intact, the Twin Gloves come well equipped, with hard knuckle and finger armour, plus reinforcements in high-abrasion areas.
In terms of warmth, the Twin Gloves are some of, if not the, best I've tried. Slip your hands into the 'warm' chamber and you'll be dipping into a luxuriously high-loft fleece-lined glove that's exceptionally comfortable.
I've ridden for days in torrential rain (where I was pleased to make use of the handy and effective visor wipe) and even temperatures barely above freezing in these, and on all occasions, my hands have remained warm and bone dry for the duration of my rides.
So warm are the Twin Gloves, that I've even found myself not using my heated grips on a lot of my winter rides, and that's impressive There is a slight downside to this incredible amount of warmth though, and that's how chunky the gloves are. For the first 600-or-so miles of wearing them, operating switchgear and even pulling in the clutch was a tricky task.
My hands felt clumsy and, truth be told, I was ready to give up with them as things were just uncomfortable. That would have been a huge mistake though.
Persist with them, give them time to break in and they'll loosen to the point where they're no bother, providing more feel of your bike's controls. If you're someone who suffers from cold hands when riding, I can confidently recommend these. Once you get past the initial stiffness, they'll be one of the best winter riding investments you'll have made.
In a line: Exceptional warmth and comfort, if you get cold hands while riding, these are the gloves you want
ABR Verdict: 9/10
---
KLIM BADLANDS GTX LONG GLOVES

(ABR Recommended)
£250 | www.klim.com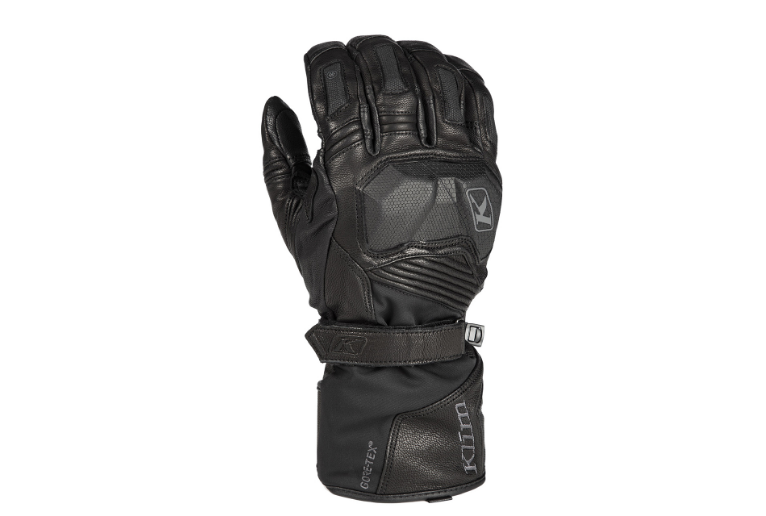 Klim began life making rugged clothing for intrepid folk striking out into the USA's Rocky Mountains in the depths of winter on snowmobiles and the like, so it's safe to say the company knows a thing or two about keeping people warm in freezing temperatures.
These days, Klim is also known around the world as a manufacturer of premium quality motorcycle gear. Its entry into this group test is the Badlands GTX Long Glove. If the name sounds familiar, it's because the Badlands Pro is one of the company's most popular jackets. It's a tough, versatile piece of kit that Klim has nicknamed the 'World Conqueror'.
So, the Badlands GTX glove has a lot to live up to, and it does just that. Slip them on and it's immediately clear this is a beautifully crafted piece of kit with flawlessly neat double-stitched seams, although at an eye-watering £250, they have a premium price to match.
Setting the price aside for a moment, the Badlands GTX is an excellent winter gauntlet glove featuring a Gore-Tex waterproof liner and Thinsulate synthetic insulation that did a good job of keeping my hands warm and dry. A neoprene gasket around the wrist, and two easily-operated Velcro closures ensure the rain and wind is kept out.
Despite boasting plenty of insulation, the gloves feel flexible straight out of the box, providing plenty of dexterity and feel of my bike's controls. And, combined with a soft fleece inner liner, they proved one of the most comfortable gloves on test. This is enhanced by accordion stretch panels on the back of the hand, fingers, and thumbs.
In terms of protection. There is armour on the knuckles, palm, and cuff. And, it's good to see Klim including a double visor wipe but I was disappointed to discover the gloves weren't touchscreen sensitive.
In a line: High levels of comfort and protection combine for an excellent winter glove, if you can swallow the price.
ABR Verdict: 9/10