Ollie Rooke puts Mitas' Adventure Touring Tyre, The Terra Force-R Tyre, to the test
When it comes to buying new tyres for an adventure bike, there's a world of choice out there. Take a look at any dealer's website and you'll find row upon row of black hoops sporting varying tread patterns, compounds, and styles.
All are unique in their own ways and yet so many look similar. This can make choosing a new tyre a challenging and sometimes baffling experience. Well, I found myself with such a choice to make recently on my long-term test bike, the Honda Africa Twin. A summer of tours and big miles had left its tyres with the profile of Lego, and cornering on the squared-off rubber had become about as much fun as stepping on one of those little bricks.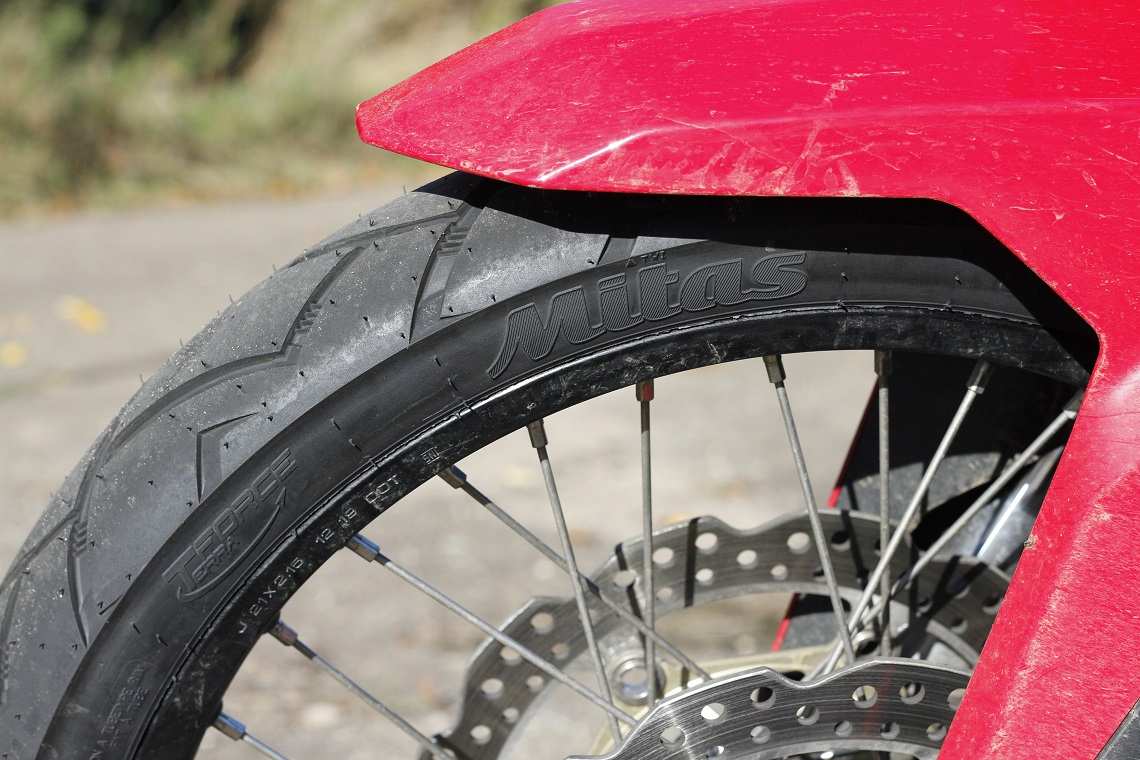 With winter on the horizon, I knew that there was no point opting for an aggressive adventure tyre. I love greenlaning on the Africa Twin, but a quarter of a ton of bike and sloppy mud don't play well together, so winter trail riding is out. Instead, I'll be putting in big miles riding routes for ABR, commuting, and occasionally enjoying a brisk Sunday morning blast.
Inspiration struck me as ABR editor James took delivery of his new long-term review bike, a KTM 1290 Super Adventure S. Its cast wheels were clad in the Mitas Terra Force-R tyre, a touring hoop designed to fit big, powerful adventure bikes. With KTM clearly drawing a distinction between the road-going Super Adventure S model and the off-road focussed R model (which sports chunkier rubber), the Terra Force-Rs seemed like the natural go-to for my winter riding needs.
Mitas describes them as a 90/10 trail-adventure tyre which is designed for road-based trips on big adventure bikes. But, most importantly, the Czech manufacturer claimed they provide excellent grip on wet roads and in cold temperatures. On paper at least, they sounded like the perfect fit for my riding and touring over the coming months.
Superb grip
From the off, one of the things that has stood out is just how much grip the Terra Force-R provides, even first thing on a chilly morning commute. As soon as I roll off my driveway each morning, I'm confident in leaning the bike over, even on cold rubber, as I navigate the roundabouts of Leamington Spa safe in the knowledge that there'll be no unnerving slips or slides from the front or rear.
Mitas says this is due to the grippy blend of polymers it has enlisted to build the tyre and, although my scientific experience begins and ends with setting a desk alight with a Bunsen burner at school, my real-world experience makes me inclined to agree.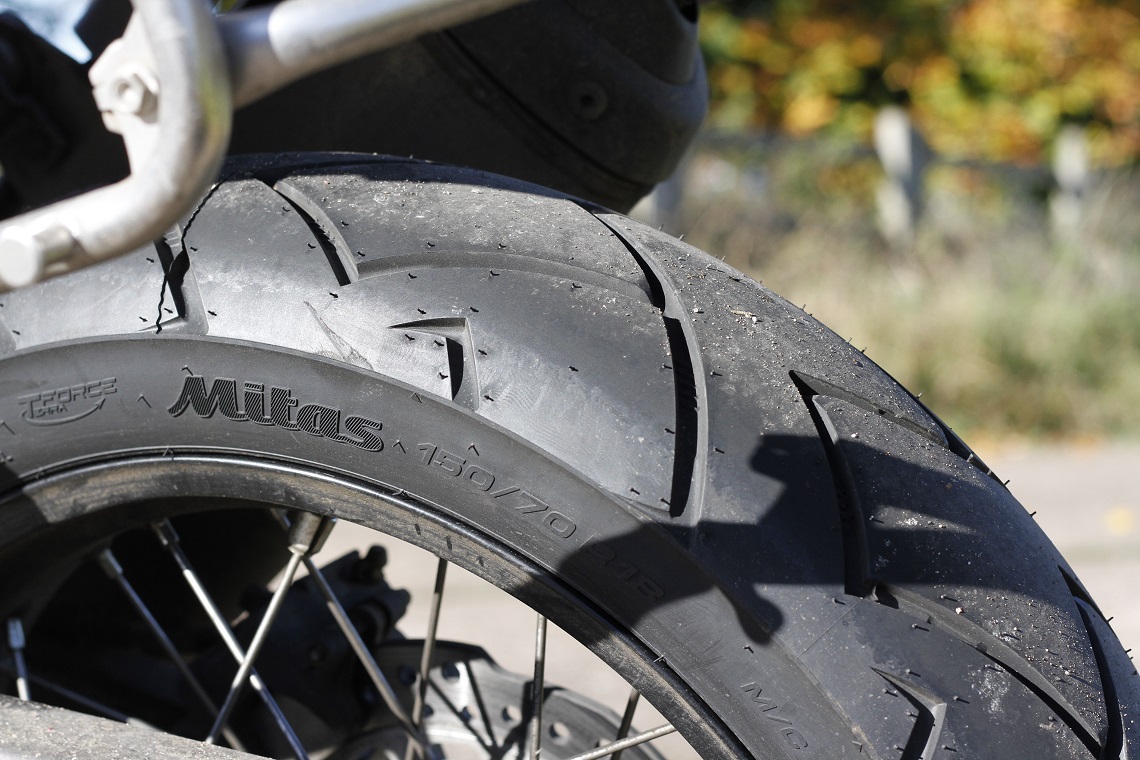 However, making your rubber as grippy as possible can compromise on the life of a tyre. That's not ideal if you cover long distances with any regularity, which is why Mitas has used two different compounds in the construction of the Terra Force-R.
Stickier rubber is found on the shoulders (the edges you use when cornering) to provide that gum under the table grip when you're leaned over, while the central strip is formed of a more durable compound. The result is to keep the tyres from squaring off, ensuring a long life. So far, wear is looking even, and a trawl of adventure biking forums suggests that an impressive 10,000 miles on the rear is par for the course.
Fun in the twisties
While adds to the Mitas' touring credentials, I'm also pleased to report that they're bags of fun during a Sunday blast. With my Africa Twin rocking the new boots, I've noticed just how responsive and nimble the handling is compared to the old OEM tyres in the twisties. Simply put, they inspire more confidence and I've been able to be more aggressive with my riding, when the mood takes me.
As far as off-roading goes, although the Czech manufacturer suggests the Terra Force-Rs are 10% focussed on riding in the rough stuff, the reality is that I wouldn't want to take them on anything more technical than a dry gravel trail. This is because the grooves aren't quite deep enough to provide serious traction on trickier surfaces like mud or sand.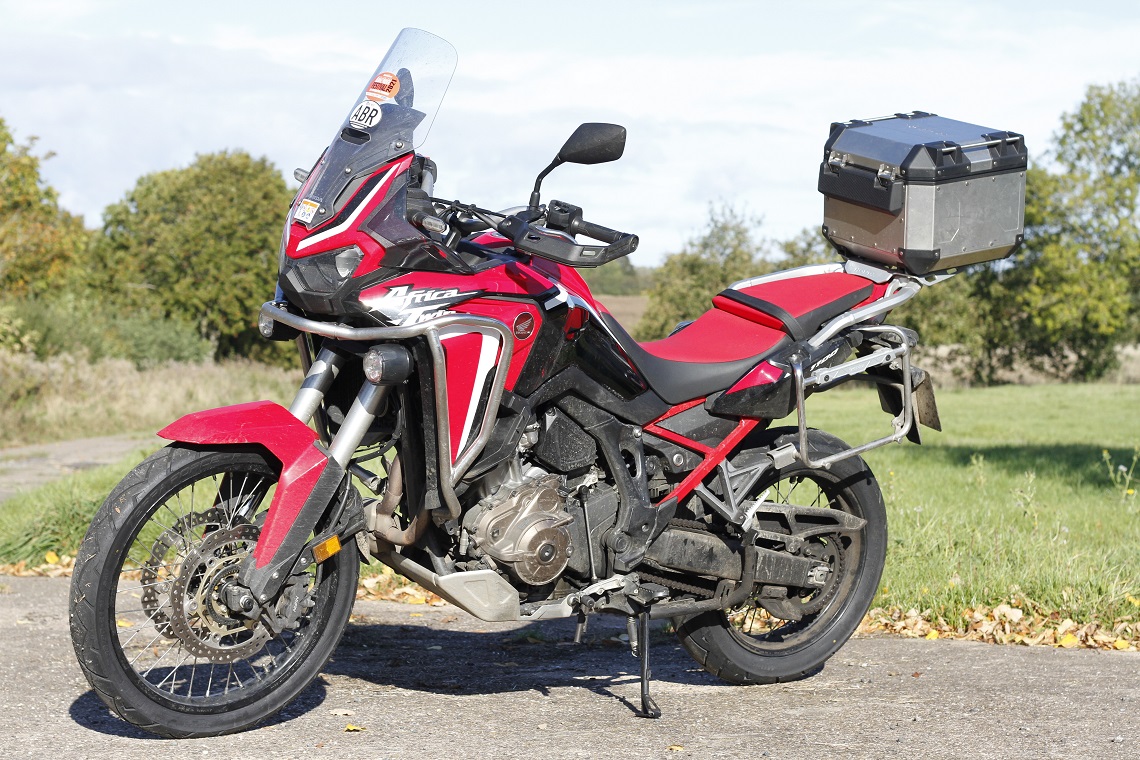 Having said that, those grooves do an excellent job of funnelling water away from the tyre's contact patch with the pavement. While I'm always one to take it easy when I'm riding in the rain, I've been impressed with how confidence-inspiring the Mitas' are on wet roads.
Overall, the Mitas Terra Force-R is an impressive road-biased tyre, designed to provide many happy miles of riding on a big adventure bike.
With winter rapidly approaching, its performance on wet roads has been particularly impressive. I'm looking forward to seeing just how close I can take them to the 10,000-mile mark.