In the driest place on earth, you will find a valley of sand and stone formations so otherworldly that it is called the Valley of the Moon. 
Valle de la Luna, or the Valley of the Moon if you prefer, is set in the Atacama Desert in Northern Chile close to the border with Bolivia and Argentina. The stone and sand formations, dry lakes and saline outcrops will have you believing you are on the moon.
The only thing missing is a mouse nibbling at a piece of cheese, or an abandoned double-decker London bus. Is it really that reminiscent of another world? Don't take my word of it – NASA used it to test the Mars Rover. 

Before you leave make sure you have your camera, a spare battery and an empty memory card – you will need it. Oh, and some water. Follow the 23 north-west from San Pedro de Atacama and after nine miles there is a non-descript dirt road on your left with an easy-to-miss small stone pillar – Valle de la Luna. It is a national park and so there are opening times and a small entrance fee to pay. 
Follow the main track and in a dozen gravelly and occasionally sandy miles you will arrive back at San Pedro. However, there are several side tracks to dead ends and back. Try them all – this ride is not about the challenge or the great corners, it is all about the scenery.
The 12-plus miles will take you hours. Especially if you stay for lunar sunset shots. If you do stay 'til night, getting out of the park can involve nipping round a barrier as the park will be officially closed. And when you are done with the Valley of the Moon you are still in the Atacama Desert…
---
Want to ride this?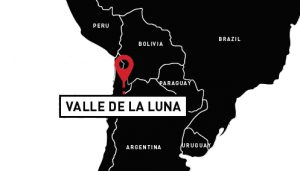 The Valle de la Luna is just one of the Greatest Roads you can ride with Motorrad Tours. Motorrad Tours is an independent tour operator, which specialises in taking the hassle out of the planning and logistics of riding the world's greatest motorcycle routes, without taking away your freedom to ride and explore.
You can ride the Valle de la Luna on their three week Ultimate Incas: Chile, Peru and Bolivia Adventure Tour.
To find out more visit www.motorrad-tours.com