Inspired by last year's Adventure Bike Rider Festival, ABR's ad sales guy, Will Sandilands, heads to the Isle of Wight to pass his bike test.
I don't know how anyone could work at Adventure Bike Rider and not want to ride bikes. Yet, somehow, after two years, I realised I still didn't even know how to start one. It's not like there was a good reason I hadn't bothered to learn.
I managed to find time for the pub every weekend and though only a few things rank higher up my priority list than a few pints, I believed adventure riding could be one of them. 
This realisation hit me at the 2018 Adventure Bike Rider Festival. In three days, I didn't see a single biker pull off his helmet without a big grin across his face.
The whole ABR team had an amazing time, including me, and that was despite missing out on the best part of the whole thing – riding.
So, that was it, I wasn't going to attend another ABR festival on foot and, after passing my CBT and Motorcycle Theory Test, I found myself on my way to Lymington to catch a Wightlink ferry (www.wightlink.co.uk) to the Isle of Wight.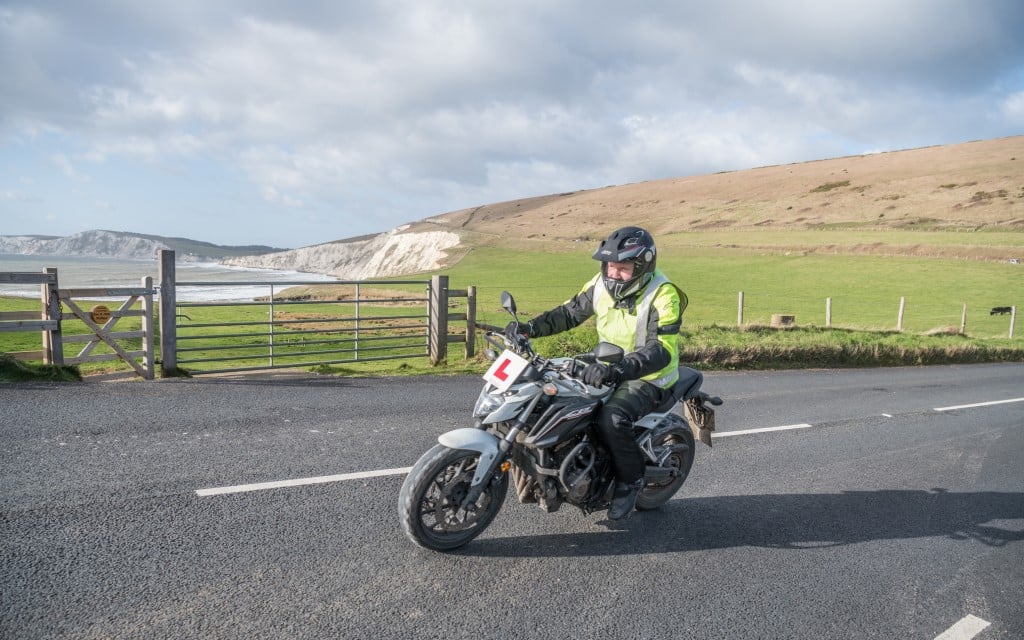 Perhaps not an obvious destination for this, particularly to those of you who know that the ABR office is in the Midlands and correctly assume I live close by, but in recent years it's been claimed the Isle of Wight has the highest pass rate in the country for Module 2 tests, and I needed to make sure I didn't walk back into the office without a certificate.
On top of this, ABR has also worked with Paul Spreadbury of Pit-Stop Training before, taking two of our team through their test last year – both passing first time. This, combined with the fact I had lived on the island before, knowing it to have some amazing roads, scenery and some of the best weather in the UK, meant I was excited to get down there! 
The first day was all about bike control and with my test booked for five day's time it was clear there was a lot of work to do. I struggled massively riding the bike slowly, my balance and clutch control was appalling, and I found it hard just riding around the car park of Newport Football Club, we didn't even try to get out on the road.
Despite everything, I loved that first day. The power and stability of a 'big' 600cc bike compared to the 125s I had been riding made the whole experience even more thrilling. 
I turned up on the second day excited to get out on the road, though a little nervous as I was still learning the basics. Paul was inspirationally calm and couldn't have helped more, and by the third day I was off. 
There was still plenty to learn, but now I had the basics I was riding without worrying, loving every minute and, for the first time, really appreciated what an amazing place I was riding around.
As you can imagine, when practising for a test on unknown roads, it was important to stick to those test routes, but Paul let me venture out a little further and it was really starting to feel like an adventure. 
We rode around a lot of the island and some of the roads were stunning. It was on the Military Road, between Freshwater and Chale, that I realised something that all of you reading this already know. Motorbikes are amazing! 
It was a bitterly cold day, but I had Alpinestars gear keeping me warm, the sky was blue and the scenery was stunning. Riding along the road on smooth, recently laid tarmac and admiring the awe-inspiring view felt incredible and I was most disappointed when we reached Chale and turned inland. 
After a few days riding around the island I was ready for my test. I knew the routes and was I feeling confident, but on the morning of my Module 1, we got some bad news. The only examiner on the island was unwell and I wouldn't be able to take my test. That wasn't going to stop Paul.
He arranged for me to do my Module 1 and 2 on the same day in Lee-on-Solent, back on the mainland on roads I had never ridden. I still aced them both though! So, ask around for me at the festival and I'll have a beer with you in the evening, but you won't find me during the day. I will be out riding.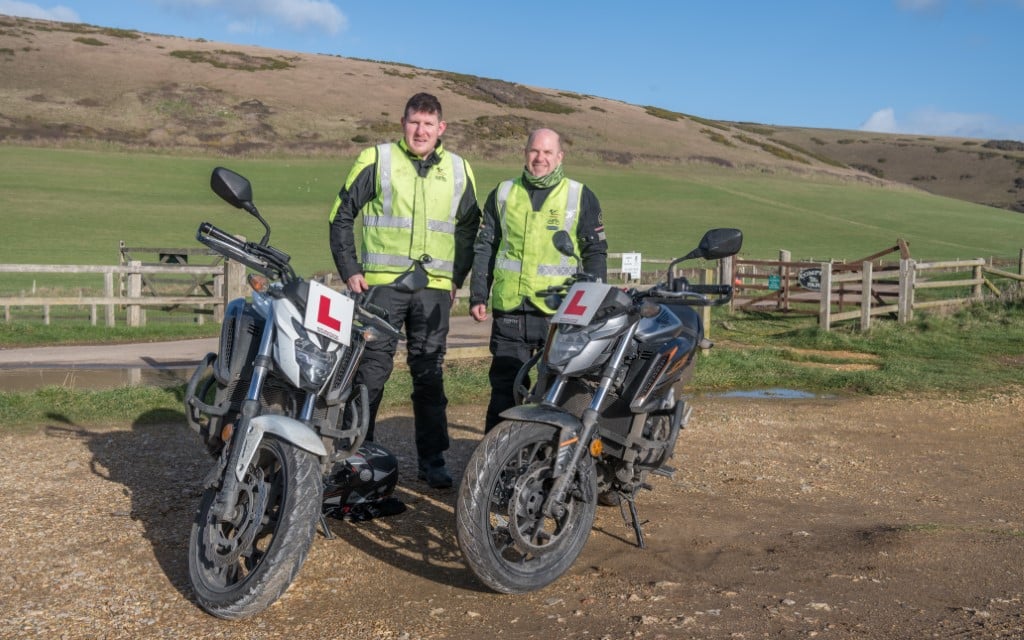 ---
How to do it?
The School 
Paul Spreadbury and his team at Pit-Stop Training are an Approved Honda School of Motoring and offer an incredible amount of support and understand that motorcycling should first and foremost be fun!
If you or someone you know is thinking of taking a test and would like to combine it with a thoroughly enjoyable week, pop down to the island and take it with Paul (www.pit-stoptraining.co.uk).
Make sure you drop by Church Street Motorcycles in Ventnor if you need anything while your there (www.churchstreetmotorcycles.co.uk). 
Where to stay 
I spent a few nights in the beautiful Godshill Park Farm (www.godshillparkfarm.net).
The breakfast was amazing, and my stay was faultless, plus it's just down the road from Pit-Stop's base.
I then moved to the Bay and Boutique in Freshwater (www.stayfreshwaterbay.co.uk) which is beautifully set and you will not get a warmer reception anywhere in the world! 
The Gear 
I spent the week wearing the Givi X.01 Tourer helmet and Alpinestars Drystar range of gear. I used the Volcano jacket, Streetwise trousers, Primer gloves and Corozal boots.
Not only did I get a lot of compliments on the gear, but I stayed warm and dry for the whole week (quite a feat considering I was riding in the middle of January).