Name: James Oxley | Age: 38 | Occupation: Staff Writer at Adventure Bike Rider Magazine
ABR's newest staff member bears all. 
First bike? 
Honda CB500X.
Current bike? 
Triumph Tiger 800 XCx and a Triumph Bonneville. 
Dream bike? 
It changes a lot. Currently, I'm loving the look of the Moto Guzzi V85 TT. I'll be going on the launch of that in March.
Ferry or Tunnel?
Ferry. Riding up the ramp and setting sail for Europe fills me with excitement every time I do it.
Tent or hotel? 
Tent. I love the time spent cooking, chatting and drinking a cold beer in camp after a long day's ride.
Lifelong ambition? 
To go for a ride with my Dad and Ted Simon (preferably along the length of the Pan American Highway!).
Ideal Travel Partner?
My wife, of course, but if she's not available, then my best mate and long-time travel buddy Pierre. We've travelled throughout the world together, got into a few scrapes along the way, and he's always had my back.
Tarmac Roads or Gravel Roads?
I've got to say gravel, haven't I? I mean, I work for Adventure Bike Rider magazine! That said, I do love the thrill of a good twisty road as well.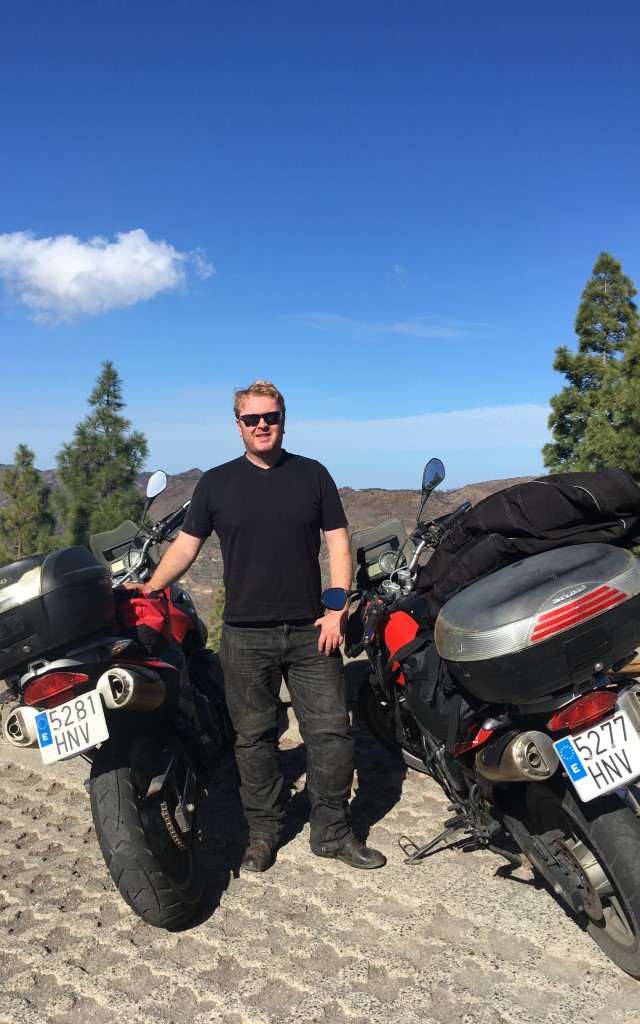 Most Dangerous moment? 
I crashed my Honda Africa Twin Adventure Sports last year. It was three weeks old, had 800 miles on the clock and it looked pristine, until I took a spill, twisted the frame and wrote the bike off. I'm still gutted.
Most memorable moment? 
Cruising through the vineyards of Tuscany at sunset on a Triumph Bonneville, with my beautiful wife riding pillion during our honeymoon. We turned off the road onto a dirt track that led to a hilltop winery. It was our hotel for the next few days. 
What do you miss most when travelling? 
My wife, if she's not riding with me, and the rest of my family.
Person you would most like to meet and what would you ask them? 
Jack Kerouac. Where shall we go next?
Favourite crap joke? 
What does a fish say when it hits its head against a wall? Dam.
If you want to be a reader exposed in a future issue of Adventure Bike Rider, email [email protected] and if we feature you you'll get a free year's subscription to the mag. You can't say fairer than that, eh?