Can you have a big adventure on a small-capacity machine? Of course you can! Alun Davies of Adventure Bike Rider reviews the Kawasaki Versys-X 300.
I once lost a mule at a blackjack table in Marrakech. Not literally, of course, as far as I know four-legged pack animals have never been allowed to enter Le Grand Casino de la Mamounia.
La Mamounia is arguably the finest hotel in Marrakech, but what is not in dispute is that it was a favourite holiday spot for Winston Churchill who visited the hotel before and after the war to spend time painting the city he deemed to be 'The Paris of the Sahara'.
Our ill-fated visit took place some 25 years ago as part of a fool proof plan to double our money and, by doing so, extend our climbing trip of the Djebel Saghro to include a week discovering new routes in the High Atlas. Naturally, we lost, and the cash we'd put aside for hiring a second pack animal was now a crumpled pile in the croupier's safe.
I found myself thinking back to those halcyon days where tinned Moroccan sardines were breakfast, lunch and dinner as we crested the P1504 trail that goes up and over the 2,283m Tizi n'Tazazert pass. The P1504 is a spectacular and challenging dirt track dissecting the arid Djebel Saghro region of Morocco, a mountain range that sits to the south and east of the mighty High Atlas, and is now a favourite for adventure motorcyclists.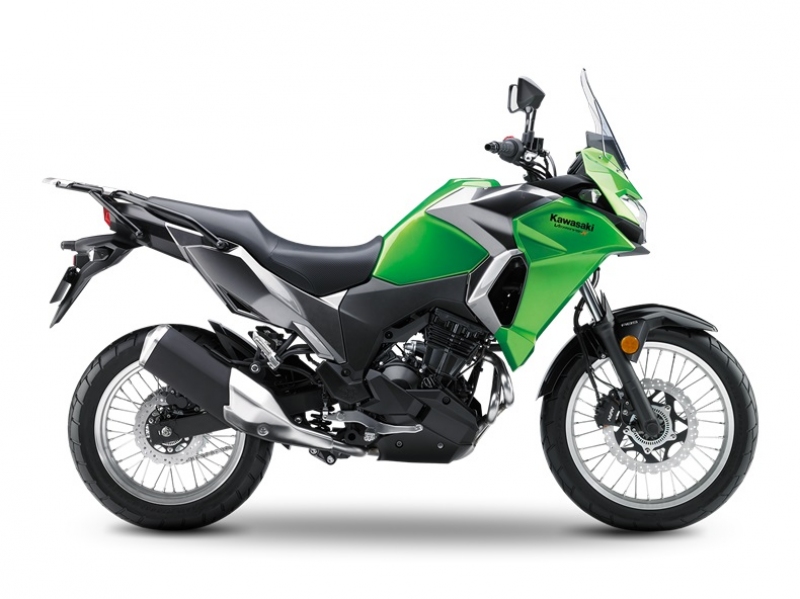 Twenty-five years ago, I'd been there on foot, with a couple of climbing mates and a mule packing a 14-day supply of tinned fish. Rather than overwhelming our four-legged companion our penance for the failed sting had been to carry our excess climbing equipment and overdose on fish preserved in brine. We spent two weeks in the Saghro climbing superb rock and hiking new trails at a time when the region wasn't on the adventure map.
Over the intervening years I'd travelled the P1504 a couple of times on a motorcycle but now I was here on a family holiday. We'd bundled the two lads in the back of a Toyota Land Cruiser in Casablanca on a promise of being able to play in the biggest sandpit in the world and here we were en-route to the dunes of the Sahara at the summit of the remote Tizi n'Tazazert pass.
I mention all this as, in the distance, I could see a motorcycle making its way up the steep, rocky trail of the southern flank of the mountain. What's more, it appeared that whoever was riding the bike was carrying a pillion, and this, on a trail where I've witnessed a few solo riders on KTM 400s breaking into a sweat.
As the bike came closer I could make out the familiar blue Berber headscarfs of both the rider and pillion. These were not Western adventure riders on holiday, but locals going about their day to day business on an old, battered Chinese 125 motorcycle that was built for street use rather than a high mountain trail littered with rock steps and ruts.
The next time I recalled those Berber headscarfs, rock steps and ruts was just the other day as I found myself paddling through a rocky, muddy section of a green lane in Gloucestershire sat astride the new Kawasaki Versys-X 300.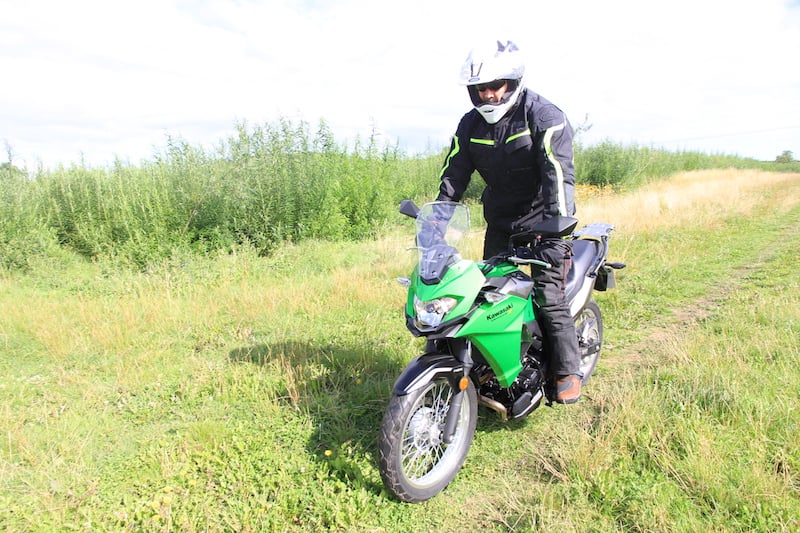 The Versys is not what I'd call an off-road or trail bike in the conventional sense, and in its standard form, with no crash bars, sump guard or knobby tires, it's far too exposed and unsuited for a trip down a gnarly green lane. But here I was, paddling happily away through a section I'd have thought twice about if I'd been on a tall and heavy large capacity adventure bike.
When the going gets tough, and your riding ability is below that of a Dakar contender, the best bike to be riding is the lightest and most manageable, and by that, I mean one where you can easily place two feet on the floor for stability and help things along, whilst at the same time not feel traumatised by the weight and the thought of having to pick it back up should the worst happen. Given the choice between a lightweight 300cc or monster 1200cc, I know which those mountain Berbers of Morocco would choose… A Chinese 125.
Anyway, what I'm getting at here is that the biggest selling point of a Kawasaki Versys-X 300 is probably the fact that it is not a monster sized adventure bike where you need a step ladder to mount and the inside leg measurement of Cyd Charisse (younger readers you've been missing out) to touch the floor.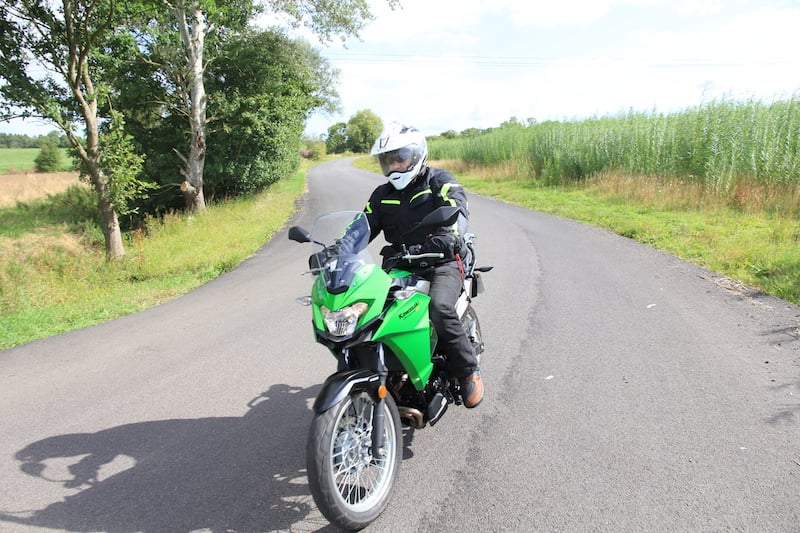 Having attended the UK press launch of the 300, I was pleased that Kawasaki had decided to loan us a bike for long term testing. Launch events tend to be taken at a pace where cognitive capacity is fully laden with trying to stay rubber side up with little to spare for pondering the characteristics and features of the machine.
What I can tell you from the launch is that it's a fun bike to ride, the pegs can be scraped and it tops out at around 93mph with a fat old guy at the controls. None of which strike me as clear-cut reasons for buying a Versys-X 300 unless you're old, overweight, enjoy scraping the footrests and consider 93mph the ultimate in terminal velocity. Maybe there's a small niche there I've failed to spot.
>> Related: Kawasaki Versys 650 Review
So, first impressions of the new baby Versys; well it's small but not overly so, it's well designed and put together and doesn't feel as flimsy as some new bikes I've been testing of late, and it comes with more of a 'top lip' rather than an adventure 'beak'. All in all, I quite like the look of the new Kawasaki.
I can swing a leg over the seat without splitting seams or pulling a hamstring which is something older, less flexible riders will appreciate as will those of a shorter stature. Once aboard the Versys I'm able to plant both feet flat on the ground with some knee bend in reserve, something of an exception in the adventure world where tip-toeing close to Armageddon is the anointed stance.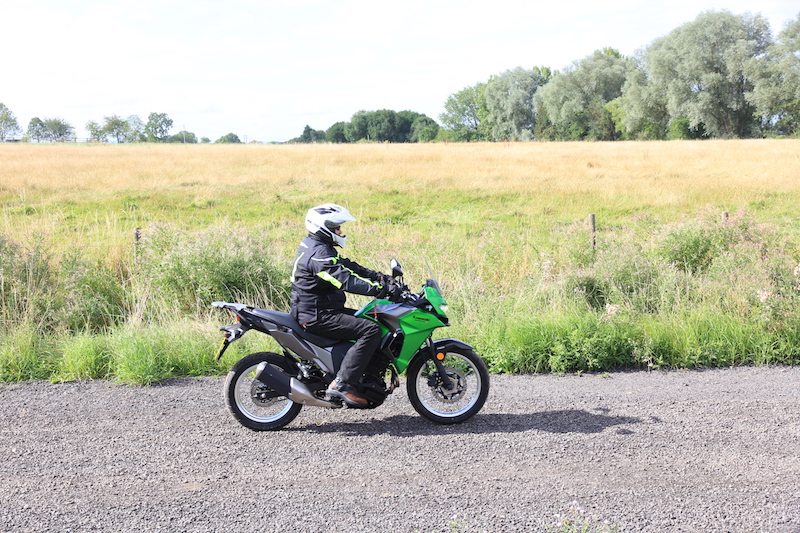 Other than the skinny handlebars, the 300 has a solid look and feel about it up front with all the essential controls in the right place, and the dash a nice and simple affair which doesn't need a 200-page instruction book to navigate. You get a big, clock style rev counter, a digital mph display, plus various nice to know indicators such as Trip A and B, plus MPG displays.
Probably the most striking feature of the new Kawasaki which you get to experience from the off is the firmness of the seat. You just know it's going to be a case of wearing you in rather than the other way around. Quite why the company have gone for such a firm saddle was not obvious at the start, nor when I started squirming around a few hours later. Aftermarket seat makers take note, there are some sales to be had here.
I found the ergonomics a little on the small side with the holy trinity of hands, feet and backside just a little too sharp for my 6ft 2in frame. Not uncomfortably so, I hasten to add, just a touch on the closed rather than open side. But then this is a smaller bike than I'm used to, and I'm sure I'd get used to the fit in short order.
Before starting up the Versys I had a little paddle and push around a sloping gravel car park and I have to say, this bike is highly manoeuvrable when compared to most I ride these days, another factor that's going to appeal to those who have problems man handling the bigger beasts in slow, tight situations.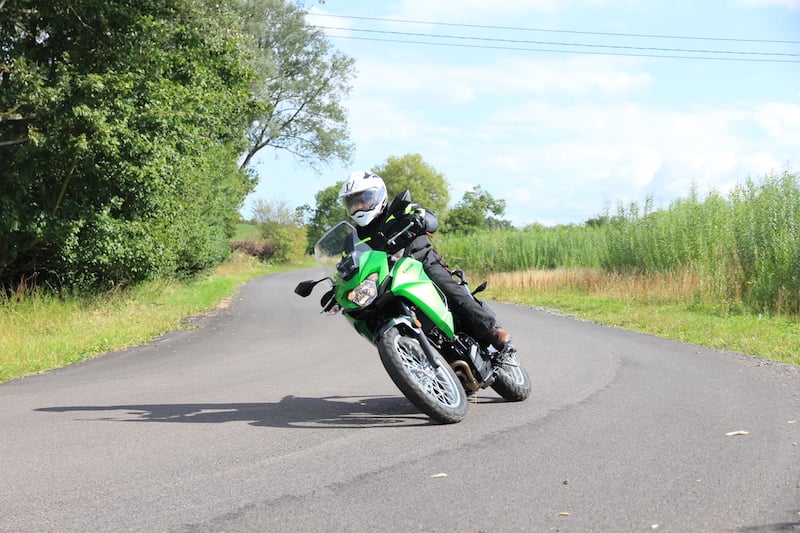 Starting up the 300 you just know that it's not going to bite you on the arse, the smooth sounding engine is more acoustic Enya than full pump Led Zep. Pulling in the clutch is another revelation; the Versys comes with the lightest clutch known to (this) man, forget about a two or even one finger operation, a deep breath is all that's needed to suck in this lever.
Related: Kawasaki reveals plans for AI motorcycle
As noted on the previous page, a feature of press launches is that the assembled riders (including the guides) are likely to be ex BSB, MotoGP, Dakar or TT riders with the rest aspiring to be so. There are very few slow riders and as such the events tend to be taken at a pace where essential characteristics and features of a bike can be overlooked in favour of taking the next bend flat out. And so it was with the Versys 300.
It was a few weeks later during a slow-paced tootle through the Cotswolds on a bright sunny day, where this was put into perspective and the bike's character and purpose shone through.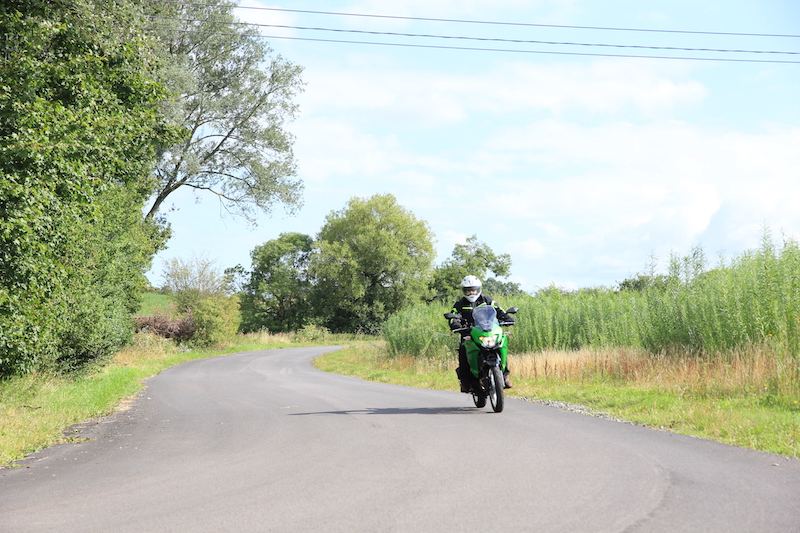 Try riding this bike fast and after a while you'll reach the conclusion; why the hell did I buy it? Sure, it'll nip along if you rip through the gears and wrap your right wrist to the point of near dislocation, and it will top out well above legal speeds but that is just so far away from what this bike is.
I found Versys-X 300 nirvana when I settled into A road touring speeds of between 30 and 50mph, the sort of speeds where the scenery you're riding through becomes more important than the roads you're riding on, and you arrive home with a clean licence. Make no mistake here, I like riding fast, but I like riding at touring speeds even more, it's just that when I've 1000cc on hand, I find it the offer I can't refuse.
The Versys is a slow tourer, a relaxed and stress-free bike and ride, and when taken in this way the world becomes a whole lot safer, calmer and, well, just a far more pleasant place to be. I started noticing duck ponds and churches that I'd passed many times before without noticing, I started enjoying the narrow lanes rather than taking them on. A form of sanity filled the space I'd previously reserved for red mist and had one of the best days of riding for a long time. Peace be with you, brother.
But the excellent bedside manners of the Versys are not faultless; the seat, over time, confirms the first impression that it would not have been out of place during the Spanish Inquision. And the gearing, there may be six of them but four would have done the job just as well. The spacing is so short that first gear is redundant and if they'd missed out third I'd not have noticed that either.
What I did like was that, when riding in touring mode, sixth gear had enough legs to take you from just below 30mph to 70mph, plus there was enough oompf to take me up the alpine twists of Fish Hill near Broadway without having to change down. Top marks here, just the way I like it.
A blast back from Oxford up the M40 confirmed that whilst the 300 is well capable of travelling at, or in excess of 70mph, it's not a particularly comfortable place to be for a long-distance run. At 70mph the bike revs at just over 8,000rpm, twist that up to 75mph and it's at 9,000rpm.
The stability and handling at 70mph are good but it starts getting vibey over 60mph, plus the otherwise excellent screen starts producing turbulence. The result is a buzzing through the hands, feet and hard seat and a stiff buffeting at head height. Close the throttle back down to 50mph and the world returns to peace. In short, if you're planning on doing long distance touring at anything above 50mph, it's going to be tiring and uncomfortable.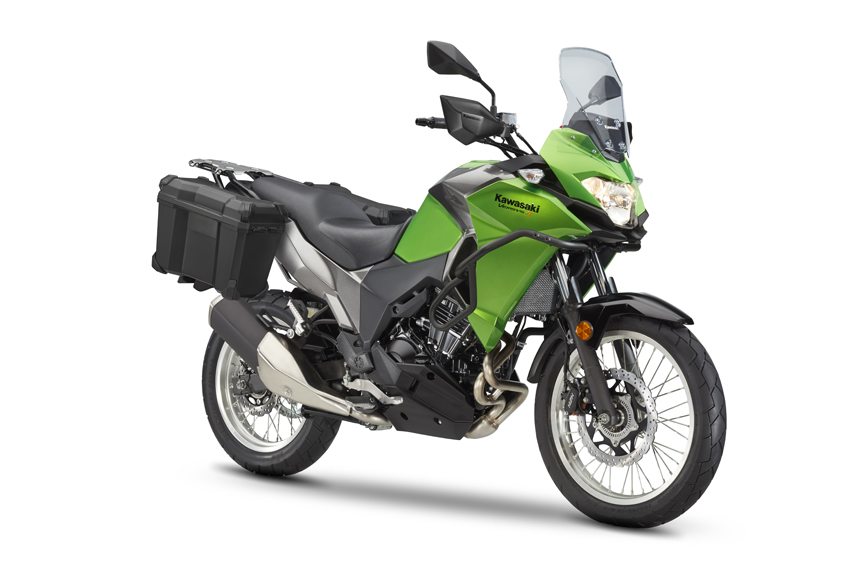 Kawasaki Versys-X 300 conclusion
I've thought long and hard about the new generation of adventure bikes appearing on the market and just who is going to buy them. There are going to be those with A2 licences who 'have to buy them' to stay within the law, but the more difficult question is who is going to 'want' to buy them.
In some ways it's easier to describe who they are not suited for; if you're looking for a bike that's fast, powerful, pillion friendly, possesses high speed touring comfort and a prestigious image then a Versys-X 300 is not going to be on your short list.
However, if you're looking for a good value commuter, or just can't be doing with the weight, height, size, intimidation and expense of a larger adventure bike then the Kawasaki is going to be worth a test ride.
This is a very manageable bike. It's also a lot more versatile than most would have you believe when it comes to slow speed, real world off-road riding rather than the balls out Dakar fantasies into which adventure bikes are sold. I guarantee the average rider would go further down a gnarly lane on a Versys-X 300 than on a large-capacity adventure bike.
Most of all, this bike is going to appeal to the rider where speed and power are not a requirement for enjoying the ride.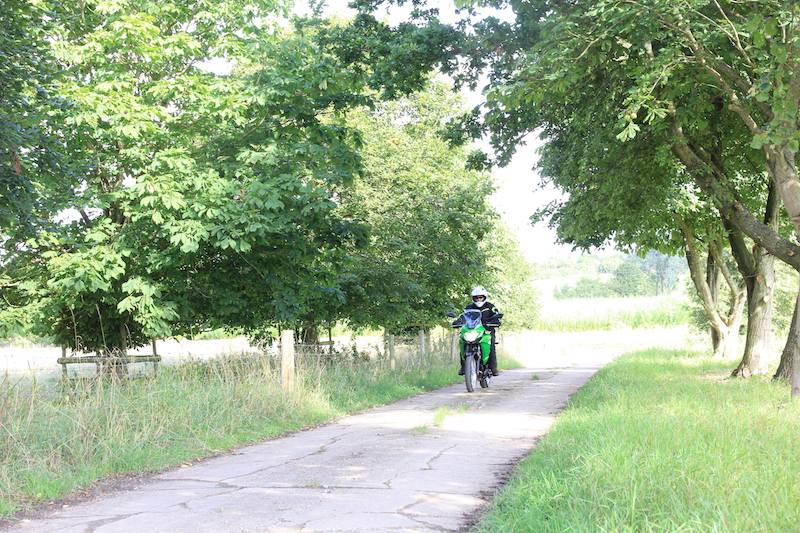 The ABR Kawasaki Versys-X 300 Verdict
As a commuter
The Kawasaki Versys-X 300 makes for a great agile commuter with the tall upright stance offering great visibility. It's also nimble and economical with up to 70mpg achievable.
As a weekend tourer 
If your idea of touring is tootling in the 30 to 50mph range then this is a bike that'll suit you down to the ground.
As an off-roader 
This is no enduro bike, but it is just as capable of slow speed soft off-roading as any other adventure bike, and a lot more user friendly than the larger and heavier machines. It needs a bit of beefing up with engine bars, sump guard and suitable tyres.
As a continental road tourer 
When I think of continental road touring, I generally think of a fast-paced cross-country dash to somewhere more interesting i.e. bombing through France to the Alps. There are far more suitable machines for that. That said, if time is not an issue… Why not?
As a RTW overlander 
Subject to longer term reliability – of which we've little doubt – this 300cc Kawasaki has the potential for becoming a cult RTW slowlander. It'll be a lot more manageable than heavier bikes should you take the harder way around.
As a pillion carrier 
If a pillion is a regular fixture and you'd like to keep it that way, look elsewhere.
Kawasaki Versys-X 300 specs at a glance:
Base: £5,149: Urban; £5,549: Adventure; £5,849
Engine:  Four-stroke parallel twin
Power:  39hp@11,500rpm
Torque:  18.9lbft@10,000rpm
Gearbox:  Six-speed
Suspension 
Front: 41mm fork 130mm travel
Rear: gas shock, 147mm travel and adjustable pre-load
Brakes:  Front – single 2900mm disc dual caliper. Rear – single 220mm disc with single caliper
Tyres:  Front 100/90 – 19; Rear 130/80 – 17
Range:  250 miles (approximately)
Seat height:  845mm (815mm optional)
Weight:  173kg (kerb)
Fuel capacity:  17-litres