While Keanu Reeves is best known as a star of the silver screen, in reality, he's just a guy with a love of motorcycles. We spoke to the Matrix star to find out about his life on two wheels…
Words: Karen Anne Overton
What do Keanu Reeves, Brad Pitt and Bradley Cooper have in common? Aside from being world-famous, multi-millionaire movie stars, they all share a mutual interest with the rest of us mere mortals: a passion for motorcycles.
Throw David Beckham, Tom Cruise and George Clooney into the mix, and there's definitely a trend for Los Angeles' finest to own a set of two wheels.
However, for Keanu, this is no passing fad. He's a biker for life, to the extent where he is now a partner in a custom motorcycle company – but more on that later.
It was the early Kawasaki adventure bike, the KLR600 that he rode, aged 22 while working on a film in Germany, which first hooked him on the "incredible freedom" he feels out on the road.
In what sounds like a scene from one of his soppier movies, the Speed star remembers how a chance encounter sparked an enduring love: "Motorcycles have been a part of my life since I met this girl in Munich, we were working on a film together and she had this beautiful Kawasaki Enduro. I asked her if she could teach me to ride.
"During breaks on the set I would drive it around and that got me started. I've been hooked ever since. As soon as I got back to LA I bought a Norton Interceptor, which I actually still have in my garage."
As we all know, one bike is never enough, and Keanu has put those Hollywood paychecks to good use. While he owns a few Porsche Turbos, when he's at home in LA he can usually be found filtering through the gridlocked cars on Sunset Boulevard or touring around the Californian roads.
"I love everything about motorcycles," says Keanu.
"I love how riding clears your mind and the feeling of freedom it gives you. I'm probably happiest when I'm out on the road going as fast as possible. I can't explain to you how beautiful it feels to be able to ride through the canyons or be able to take the Pacific Coast freeway and feel the ocean breeze. I love the feeling."
And it's not just in the US where Keanu enjoys touring, he's known to be a big fan of the Route Napoleon in France, and one day hopes to ride through Patagonia.
Of course, the world of movie-making has long enjoyed a romantic relationship with bikes. Dust off a VHS tape of any '80s movie for a cheesy shot of someone riding off into the California sunset having 'got the girl' or left the bad guy in a trail of dust; but for Keanu, this is real life.
He doesn't often get to indulge his love on screen, being better known for his mind-bending Matrix kung fu than riding, but you can spot him on two wheels playing a fugitive researcher on the run, in the 1996 action flick Chain Reaction.
Most of the action features Keanu tearing around the Windy City on a 1976 Kawasaki KZ1000, a bike that the actor specifically requested. While he might have had fun making that movie, let's just say it's not exactly his finest work…
The main scene – in which his character barely escapes with his life – was filmed using blue screen, but normally Keanu jumps at the chance to do his own stunts. 20th Century Fox actually bought five of the bikes for different scenes, all painted matt black so as not to reflect the spotlights.
Both on-screen and off, Keanu is easily pleased and definitely has a touch of that California zen.
"I believe it's always nice to open my eyes every morning and see the world," he smiles.
"It all seems so simple. That's why I rely on a saying that I like a lot and gives me tranquillity: 'I'm glad to be here.' I just have this huge sense of gratitude. I don't need to surround myself with many objects."
Despite the fact that he achieved mega-success with Speed, Point Break and the billion-dollar Matrix franchise, Keanu has never been impressed by the Hollywood hype machine and it was widely reported that he generously gave $80million (nearly £55million) of his Matrix earnings to the special effects and make-up staff.
In recent years Keanu, unfortunately, hasn't managed to match his previous success at the box office, starring in financial flops 47 Ronin and Man of Tai Chi. Last year, however, he had a relative win with John Wick: the tale of an ex-hitman loner who seeks revenge on a gang of Russian mobsters who murdered his dog.
As any rational man would do. Critics called it a return to form, but Keanu swiftly shut that idea down, with a touch of his inimitable dry wit: "A lot of people keep saying that I'm making a comeback but I don't feel it's a comeback. I've been working on a lot of different projects the last few years and it feels like I've been pretty busy."
Among his 'other projects' is the Arch Motorcycle company, which he founded in 2011 with custom bike builder Gard Hollinger.
Together, they produce arguably the most elite custom motorcycle line on Earth – the Arch KRGT-1. The pair met when Keanu commissioned Hollinger to build a bespoke bike to his own precise specifications but was left disappointed because financial limitations prevented the designer from taking the actor's vision to its maximum potential. Keanu's solution? To invest some of his own money into the company and become partners with Hollinger.
That investment was far from just financial. Although giving Hollinger free reign to create, Reeves made sure plenty of his own ideas were thrown into the mix.
"I had a lot of ideas that I sketched out and worked on with Gard," he says.
"Then it was a question of building the thing, getting the right parts made, and watching it take shape."
The finished product is a thing of beauty; the difference between the Arch KRGT-1 and your average bike is that the Arch is a complex work of art in comparison – a combination of retro and modern elements.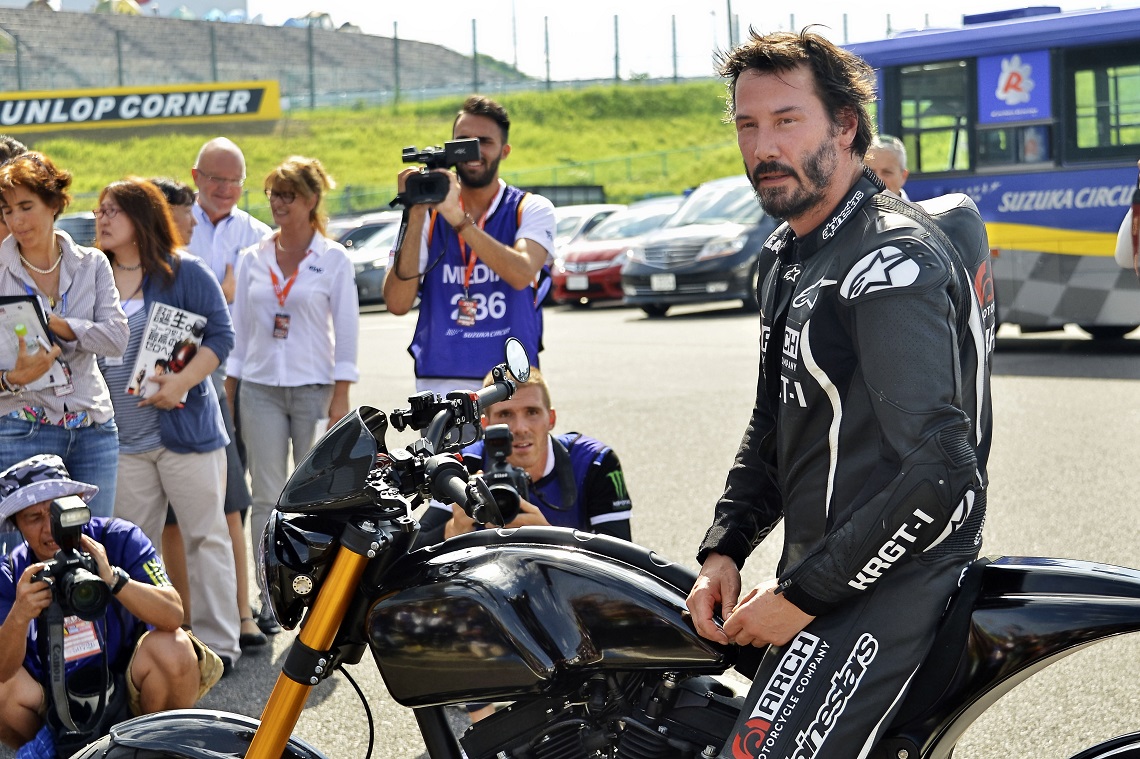 Motorcycles like this don't come cheap, clocking in at around $78,000 (approximately £53,000), but customers can rest assured that the model has been personally checked by Keanu, with Hollinger remarking that he "is the ultimate test rider." He may have the means to create his dream bike from scratch, but that doesn't stop him from being sentimental; while they might not compare technically to the Arch, Reeves still has a soft spot for Nortons.
"I still love my 1973 Norton Commando," he nods. "I love riding that thing and I still go out on the road with it in LA. I also love the 750 Norton which I bought while I was working on The Matrix in Australia."
It was on his beloved Norton Commando that Reeves had a nasty smash, resulting in a ruptured spleen. "Usually it's just been slide-outs although I've broken my arm, broken a few teeth, a lot of lost skin and road rash on my knees," he says, tallying up his various injuries.
Not a terrible record for someone who has been riding for 30 years. "I've tried to slow down and become a little safer over the years," he admits. "Whenever I would get angry or upset about something I would just take the bike out and go as fast as I could but that's not always the best mood to be in if you're riding at 100mph or faster. I don't do that anymore!"
At 51, Keanu has assembled an impressive personal collection including several Nortons, MotoGuzzis, Suzukis and Harleys.
While his hectic filming schedule prevents him from being able to disappear on multi-week tours, for every major film he has starred in, he has picked up a specific bike for exploring the roads of his location.
"Over the years I would buy used bikes whenever I worked," he says. "In Chicago, I had a Kawasaki KZ900. In Portland, I had a Suzuki GS1100E. When I went to Australia for The Matrix I got the 750 Norton, and then for the second Matrix, I got a Sportster.
I also had an old BMW 750 and an '88 Suzuki GSX-R750." Now Keanu is currently working on Neon Demon, an American-Danish horror thriller by director Nicolas Winding Refn, the man responsible for Drive and Only God Forgives.
The film is currently in post-production and co-stars Elle Fanning as an aspiring model whose youth is devoured by a group of beauty-obsessed women.
Very little else is known about the film except that Reeves plays the main male lead among a sea of beautiful ladies, including Mad Men siren Christina Hendricks.
The film promises to be a feast of action and neon lights, but the best shot of all surely comes at the end of every filming day: the silhouette of Keanu as he climbs onto his custom ride and heads off into the California sunset, no doubt checking in at the Arch workshop on his way home.
It's a hard life, but somebody's got to do it…
---
Keanu's first bike
The Kawasaki KLR 600 was the first motorcycle that Keanu Reeves rode when he was taught to ride by a woman he was working with while filming in Munich, Germany. After riding Kawasaki's early adventure bike, the seed was sowed and his love of motorcycles blossomed.