Dave Reynolds gets to grips with Triumph's updated Explorer
Our long term test Explorer has arrived, and what a handsome beast it is. On first inspection, it seems Triumph haven't spared any expense with this one, it's a top-end machine no doubt.
The Explorer is one of the most technically advanced bikes on the market and there's no shortage of electrical details and gadgets, so I was a bit disappointed to find that it didn't include a rider's handbook. Never mind, a .pdf copy can be found on the internet. It's a bit of a hassle to use but all the info is there.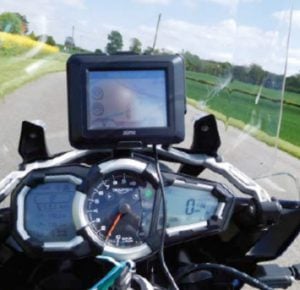 Amongst the many functions available to a rider are five engine power settings, Road, Sport, Rain, Off-road and Rider (this is a way to put your own personal preferences in). Within these settings, you can change the suspension, ABS etc. and there's a lot to play around with and keep you busy.
But do we really need all these different modes?
Changing from Sport to Rain makes quite a difference to the feeling and attitude of the bike, isn't that the rider's job, aided by the 'feel' of the throttle and brake?
I'll be exploring these settings over the next few miles and give my views, and I'm by no means a dinosaur… I have a smartphone! Moving the beast around certainly highlights the weight, it's a heavy bike, as are most big ADV bikes. The Explorer seems to carry its weight a bit higher than some, but out on the road, it feels steady and planted until you have to stop on an incline!
The first time the hill-hold function activated it took me a little by surprise. It kicks in when stopped on an incline, and the brakes hold you there until you're ready to pull away. I like it, it works seamlessly and highlights that not all tech is a bad thing.
Of course, the heart of a Triumph is that triple engine, and this one does not disappoint. Tuned for torque, it's simply brilliant and leaves you questioning why aren't all bikes fitted with a triple?
In the next few days, I'm off on a tour of Spain and Portugal so I'll have plenty of time to get everything where it's needed. The top quality Expedition panniers will swallow everything I need to take, plus all of those things we take and don't need.
Triumph have sent us the official tank bag to try, and it's very nice indeed.
I would be lost without one, it's where all the day to day kit is stored, a bit of a man's handbag I suppose.
Now when I get to Spain I'll need to find my way around, so where to fit the satnav?
Triumph have thought of this and come up with a brilliant piece of engineering. A CNC machined mount that fits to the dash and puts the GPS above the clocks exactly where it needs to be, easily fitted with the two bolts supplied and the GPS bolts directly to it, top marks to Triumph for this one, well designed and manufactured.
Well, I'm off out to the shed to do some packing, see you all next issue when I'll be all tanned and full of the trip highlights.