Opening up a world of possibilities
A quick scan of new bike sales over the past few months confirms that the new Honda Africa Twin is the current big beast of adventure bikes, even outselling the almighty BMW GS.
No doubt the huge marketing fanfare surrounding the new bike launch and the undoubted build-up of demand from an Africa Twin community, who've been waiting since 2003 for the company to resurrect their chosen one, have contributed to the commercial success.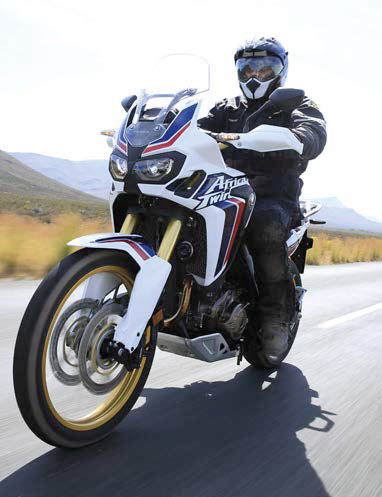 The big question is, will Honda maintain pole position after the initial euphoria has subsided or will the GS regain pole position? That's something I've found myself contemplating more frequently, now that I don't have to target any brainpower to gear changes on the ABR long term DCT version.
The Africa Twin has the headline lower price but with PCP deals becoming the driving force behind new bike sales the visible benefit of a lower cash price is somewhat eroded when presented in monthly payment terms.
And, if price was the biggest deciding factor for potential buyers then the V-Strom 1000 would be roosting sand all over the competition.
There are many factors which will come into play over the long term with 'desirability' and 'status' playing a hugely important role as will the longer-term performance and dependability as reported by owners and the motorcycle press.
I'm going to confine my reports to the later two and with that in mind I've lined up a few long-distance trips on the Africa Twin both over to Europe and around the UK and Ireland. Right now my impression of the Honda hasn't changed since returning from the press launch in South Africa and I have to say I'm still very much impressed.
It's not the fastest adventure bike but with 95bhp and 68.6ftlb torque, it is fast enough and has plenty of power for legal riding.
For a 1000cc bike, its off-road performance is stunning and for the average rider, there's little to compete with it as a big bore dual-purpose machine – though long-legged KTM 1190 Adventure fans may disagree with me here.
On the other hand, if a pillion is going to be a regular feature on your travels then maybe you'd be better off looking elsewhere.
One thing I can tell you is the Africa Twin has made planning my upcoming trip to the Alps a lot more engaging than usual as I'm confidently plotting to include the sort of trails I'd probably avoid on most all 1000cc motorcycles. I'll let you know how I get on in the next issue of ABR.