ABR readers get in touch to tell us all about their latest adventures…
A world-class ride in Catalonia
I am back from French Catalonia and enjoyed a world-class twisty road from the French resort of Collioure (a Picasso haunt) to the Spanish resort of Cadaques (a Salvador Dali haunt).
This 60-mile road was designed for motorcyclists by an engineer who believes that a straight line is a sin and that tarmac should be injected with Botox to keep it smooth and wrinkleless.
Other than one exception this itinerary offers two kinds of roads: the first kind you have the Med on one side and olive groves, vines and pine trees on the other; the second you have pine trees on both sides.
The one exception from Cadaques to Cap de Creus where you have the Med on both sides. Essentially, take the coastal D914 south from Port Vendres (from where you take a small detour to the Cap Bear lighthouse) to Banyuls and Cerbere from where you cross into Spain at Port Bou and the road becomes the N260 through Colera.
Leave the N260 at Llansa and aim for Cadaques. At the entrance of Cadaques take a side road to the natural reserve of Cap de Creus for lunch at a restaurant by the lighthouse (speciality is… curry!).
From Cadaques aim west towards Rosas which you leave on your left and continue on the C260 to Figueras, the only straight road of the itinerary.
From Figueras, you can ride back north into France on the motorway or continue west on the N260 on a then straight line to Ripoll from where you turn northeast on the C151, once again a twisty road up to Col d'Ares at 1,500m altitude and then down into France on the D115 to Ceret.
The D115 is another great twisty road and my personal project is to buy it and move it to southern England where we deserve to have one of those.
Lemy Gresh
---
Irish Photo Rally
Every year I set out with my two touring buddies, Dale Farm Dez and Jonny Loudpedal to take on the Irish Photo Rally.
This involves travelling to a number of locations around Ireland to take a photo of the bike next to whatever you find at that place.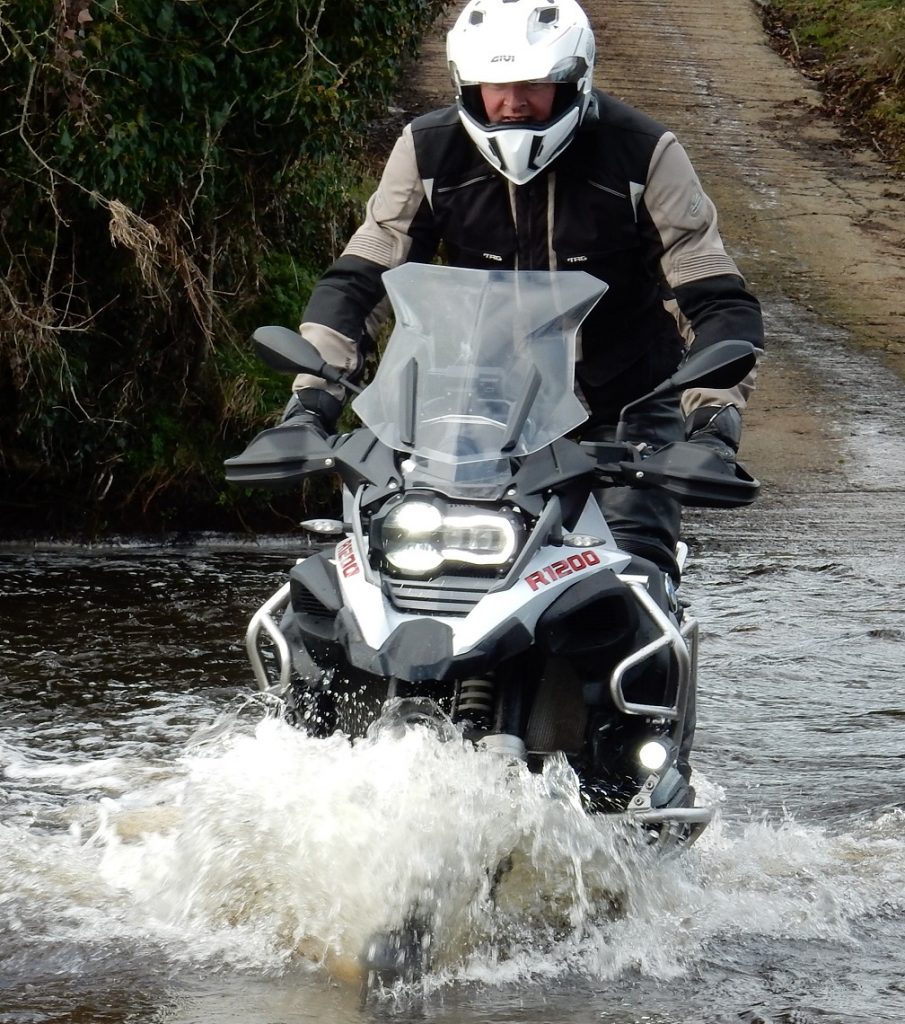 Unlike Jonny, Dez and I are yet to complete the task, however not far from the dark hedges in the midst of Game of Thrones territory was the first location.
Out with the jet ski and first one ticked off.
This will be my year 'Oh yes' this will be the year… I think!
Michael Price
---
Highway 686 – BMW GT morphs into a GS!
When we looked on the map, highway 686 looked like a normal road. Smooth tarmac soon turned into gravel which then turned into a dusty dirt road.
We were heading for a cabin deep in the Virginia hills which would be the base for the ride along the Blue Ridge Parkway, 430 miles of paved mountainous switchbacks running the length of the Blue Ridge Mountains.
After five days riding and over 1,000 miles later, this is the trip that my brother and I took for his 50th birthday adventure.
We were riding a BMW 1200GT and a Suzuki Bandit 600, both coped with everything from twisting tarmac roads to rock-strewn dirt roads, proving that you can truly have an adventure on any bike!
Ray Smith
---
From Our Social Media
| | | |
| --- | --- | --- |
| Facebook: Steve Buck – Enduroland | Facebook: Alan Buck – Rockies | Facebook: Craig Marshall – Galloway Forest |