Bryn Davies gives us a heads up on which adventure helmet under £200 you should choose for your next adventure
When riding in the UK there is only one item that you're required to wear by law, and that's a helmet. While we recommend wearing all the gear all the time, even if just riding down the road, but if you're going to ditch one piece of kit, don't make it your lid.
Your brain is, allegedly, your most important internal organ, so it makes sense to buy the best protection you can afford. All legal helmets on sale in the UK and Europe will meet approved safety standards. This means that even your £60 lid will offer a level of protection that meets a certain set of criteria, and if you walk into any bike shop you'll likely develop a crippling case of purchase anxiety as you see just how many helmets there are on the market.
To make your choice easier, in this review we're focussing exclusively on a style of lid that's boomed in recent years as sales of adventure motorcycles have rocketed: the adventure-styled helmet. It'd be unfair of us to compare a sub-£100 lid with a £400 Arai or Shoei, so for this reason we have split this adventure-styled helmet review into two, looking at those under £200 in this issue, and those that sail north of the price tag in the next.
There seems to be a definite divide in the helmet market at £200, with the main difference being the quality of construction and the shell materials that are used. Budget helmets will more often than not make use of plastics, which won't provide as much protection as their more expensive brethren (which use fibreglass, carbon glass etc.) That said, these 'budget' helmets still pass the relevant safety standards.
Adventure helmets have the look and character of motocross and enduro lids, they come with extended chin bars to provide additional ventilation when you're working hard off-road, and in keeping with all things adventure, they come with a peak. A well-positioned peak is more than just a fashion statement though, being effective at keeping the sun off your face and stray twigs and branches from scratching your visor.
Features such as all-day comfort, weight, a good field of vision, effective ventilation, styling and price all come into the equation, but there's no definitive answer to the question "what's the best helmet for me?" as one feature trumps all: fit, and there's no one-size-fits-all option.
Much like ill-fitting boots, a helmet that isn't right for your head shape can make your time in the saddle a miserable one. Pressure points can become uncomfortable and lead to headaches and lapses in concentration, and a helmet that is slightly too big will be compromised in how much protection it can offer you.
With that in mind, our advice is this. Read our reviews, see which helmets match your buying criteria and then go and try them on. Only then should you make the decision to buy.
---
!A word on safety standards!
All helmets sold within the UK must comply with British Standard BS 6658:1985 and carry the BSI Kitemark.
Those that don't must comply with the UNECE Regulation 22.05 or comply with any standard accepted by a member of the European Economic Area.
For added peace of mind look for a lid that also bears an ACU (Auto Cycle Union) gold sticker.
This means the helmet has been subject to rigorous testing and has been certified as good enough for racing on matalled surfaces.
---
The history of helmet laws
It was back in the 1930s that research began into just how many lives could be saved by wearing a lid while riding, when an Australian neurosurgeon, Hugh Cairns, performed a postmortem on the body of TE Lawrence, more famously known as Lawrence of Arabia.
Cairn's findings concluded that of the 1,884 bikers who had been killed on British roads in the two years leading up to World War Two, two-thirds had suffered from head injuries.
Based on Cairn's findings the army made it compulsory for all despatch riders to wear motorcycle helmets, and fatalities from accidents consequently fell from over 200 to just 50, and that was back when helmet technologies weren't as advanced as they are today.
---
Ask the Experts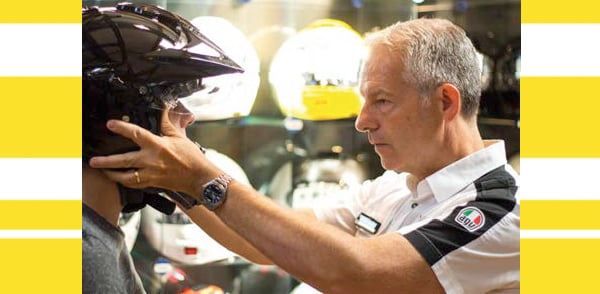 Martin Brown, Director at motorcycle clothing and accessories store Bike Stop, answers your questions about helmets.
Q What's the difference between helmets of a different price? Why should I spend £400 when I can get a helmet that passes the same safety testing for £100?
MB Your head is the most important part of your body so we suggest that a helmet is the first piece of kit you should allocate budget for and not try to save money on. The first key difference is the shell materials: fibreglass and other composites versus plastic/thermoplastics and the price point for the better fibreglass helmets is now around £200.
More expensive helmets like Shoei and Arai also include features such as quick release removable cheek pads that make them much easier to remove in the event of an accident. They also include free servicing for up to five years. Weight tends to reduce with the more expensive lids and this is achieved without any loss in strength.
Q What's the point, other than in style, of wearing an adventure-styled helmet? What benefits do they offer?
MB Adventure-styled helmets with their larger eye openings give the best peripheral vision and normally allow the use of goggles to replace the visor. The peak not only offers styling but is a useful sunshade.
Q What makes a good adventure-styled helmet?
MB First thing is the shell construction and we would always recommend fibreglass/composites over thermoplastics/ plastics.
Other than that, comfort (with the ability to change crown and cheek pads where necessary), ventilation, extra-large opening for vision, a removable peak, plus maybe a drop-down sun-visor should all be considered.
Q How can I prevent my visor from fogging up?
MB For sure the best route is a Pinlock anti-fog insert and by far the majority of good helmets come with these as standard. There are other inserts also available but as a final option, you can buy a spray on, wipe on anti-fog liquid.
Q How should I care for my helmet over the years of ownership?
MB As a Technical Pro Dealer (the highest level of Arai dealer) we offer free regular servicing for five years with every Arai purchase and we do the same for Shoei. As a general rule, you should keep the helmet in a dry and warm place (moisture can cause early interior deterioration) and never drop it.
To clean the shell you'll ideally remove the visor and linings and use water and soap (neutral pH). For the visor, it's best not to use any chemicals, just warm soapy water. When it comes to the interior you can usually remove the padding and wash them in a low temp. If you can't remove the linings then just sponge the interior with warm neutral soapy water.
Last but not least, from the moment you start to wear a helmet the EPS lining starts to degrade with the oils and sweat from the head. The rate of deterioration is between 2 and 4% a year, so after five years that could be 20%. That is why the general rule is to replace after five years from the start of use.
Q Is it true that if I drop my helmet I should replace it?
MB Yes. If you drop it even if you can't see any damage the golden rule is to simply replace it and take no chances. Other best practice rules are to never leave your helmet on the seat, tank or over the bike mirror as any sharp edge can really damage the interior fabric or even the EPS lining!
Q What does the ACU accreditation mean?
MB The minimum requirement for a UK rider to take part in an ACU event is for the helmet to have a Silver or Gold ACU sticker for off-road events and a Gold ACU Sticker for events on tarmac or other hard surfaces.
Helmets are independently tested prior to receiving the appropriate sticker approval, in addition to any statutory approval required (CE22.05).
Q How do I measure my head properly?
MB Use a tape measure around the head over the forehead and around the back ensuring it's not twisted. The measurements in CMs can then be aligned with the sizing on the helmets but this is always an approximation and more of a starting point as there really is no substitute for trying helmets on. Like clothing, the sizing can vary between helmets and companies.
Q How do I ensure that my new helmet fits properly?
MB With a new helmet the correct fit will feel tight as it beds in. As already mentioned, as the EPS lining deteriorates this also makes a helmet feel bigger so the correct fit for a new one is snug but not uncomfortable. In the shop, we always check for just how much the head can move side to side and up and down.
Some movement is OK as the skin moves but the cheeks should be visibly held by the cheek pads. Once you are getting close to what feels snug but comfortable it's important to leave the helmet on for at least five to 10 minutes to ensure it's not too snug which can lead to discomfort or headaches.
---
Need more info?
Bike Stop has over 30 years worth of experience in the world of motorcycle clothing and accessories. With a wide range of helmets in stock and regularly trained and knowledgeable staff on standby, it's an excellent place to visit if you're looking to buy a new lid.
For more information visit www.bikestop.co.uk/ask.
---
Spada Intrepid
£89.99 www.feridax.com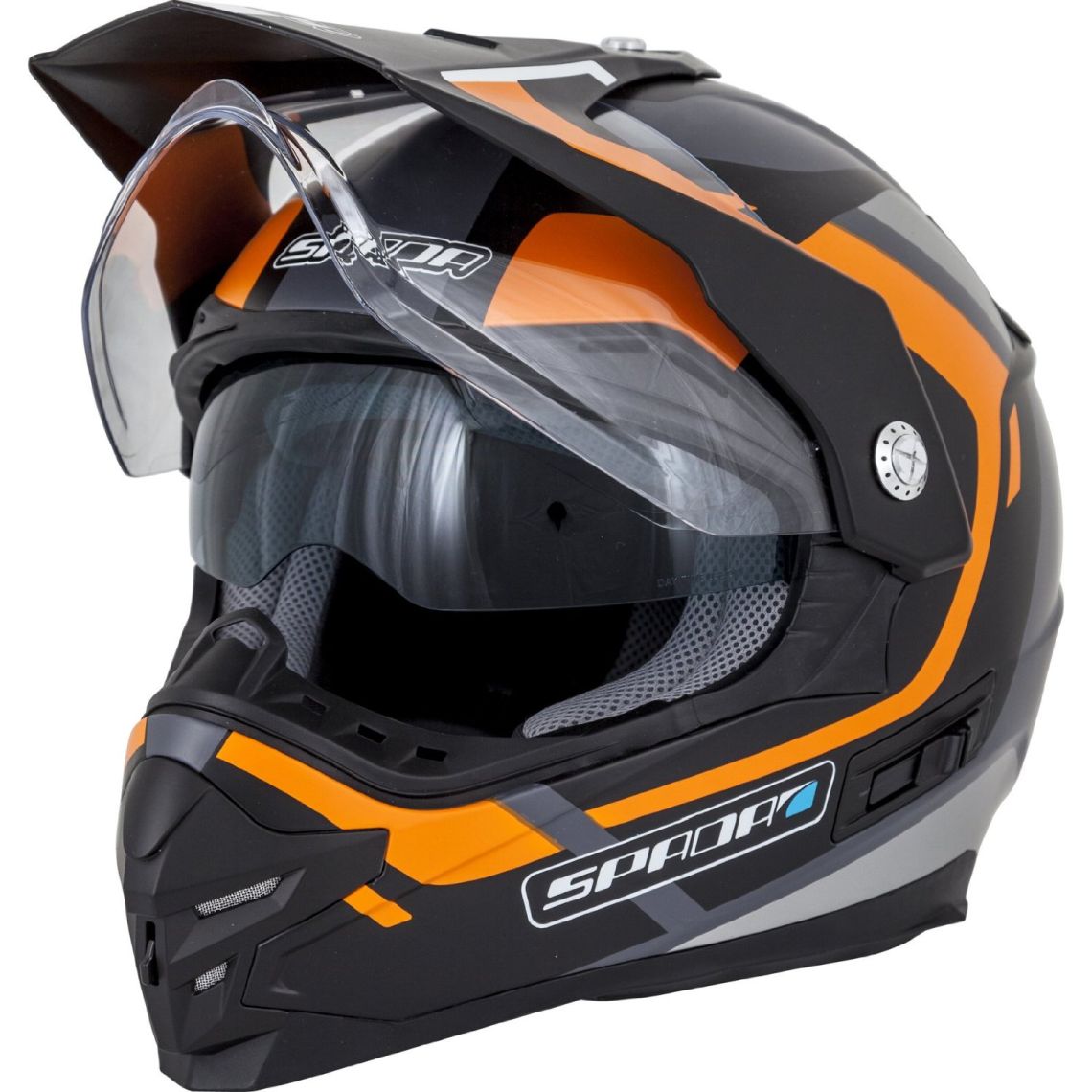 Over the last few years, the Spada Intrepid has established itself as a popular choice for those adventure bikers who are seeking a decent budget helmet. At just £89.99 it's impressively featured, and the great styling makes it that bit more attractive to potential buyers.
Starting off with the Intrepid's construction, the helmet has a thermoplastic moulded shell that's bonded to an EPS inner and, as is legally required, it's passed the relevant European safety standards.
The inner lining and cheek pads are removable and washable and the soft material is pleasant against the skin, making the Intrepid comfortable to wear. The fastening strap is of the ratchet variety and it's nicely made, with there being no harsh edges that can cause abrasion on the neck.
It feels as though the peak on the Intrepid was a bit of an afterthought, and it's not particularly well designed. It's adjustable and removable, but regardless of how it's set, it offers very little protection from overhead sunlight (thankfully the helmet comes with a built-in sun visor).
The peak also gets caught in the wind all too easily, something that can become tiresome on long motorway rides. It's also disappointing to note the poor quality of the screws that are used to attach the peak.
The metal is far too soft for purpose, and the thread easily gets chewed up when used. If there's a saving grace for the Intrepid it's the fantastic field of vision that the huge visor offers and Pinlock mounts come installed (though no Pinlock is included).
There's ventilation aplenty on the Intrepid, and the large chin bar will also aid with getting the air circulating on those stuffy summer rides.
IN A LINE: A budget helmet, but if you can't afford more you won't be disappointed.
Pros
Large field of vision
Great styling
Pinlock ready
Ventilation options
Cons
Ineffective peak
Some poor-quality components

| | | |
| --- | --- | --- |
| Soft Metal | The Peak | Large Chin Vent |
Uber Baja Dual Sports Helmet
£99.99 www.demon-tweeks.co.uk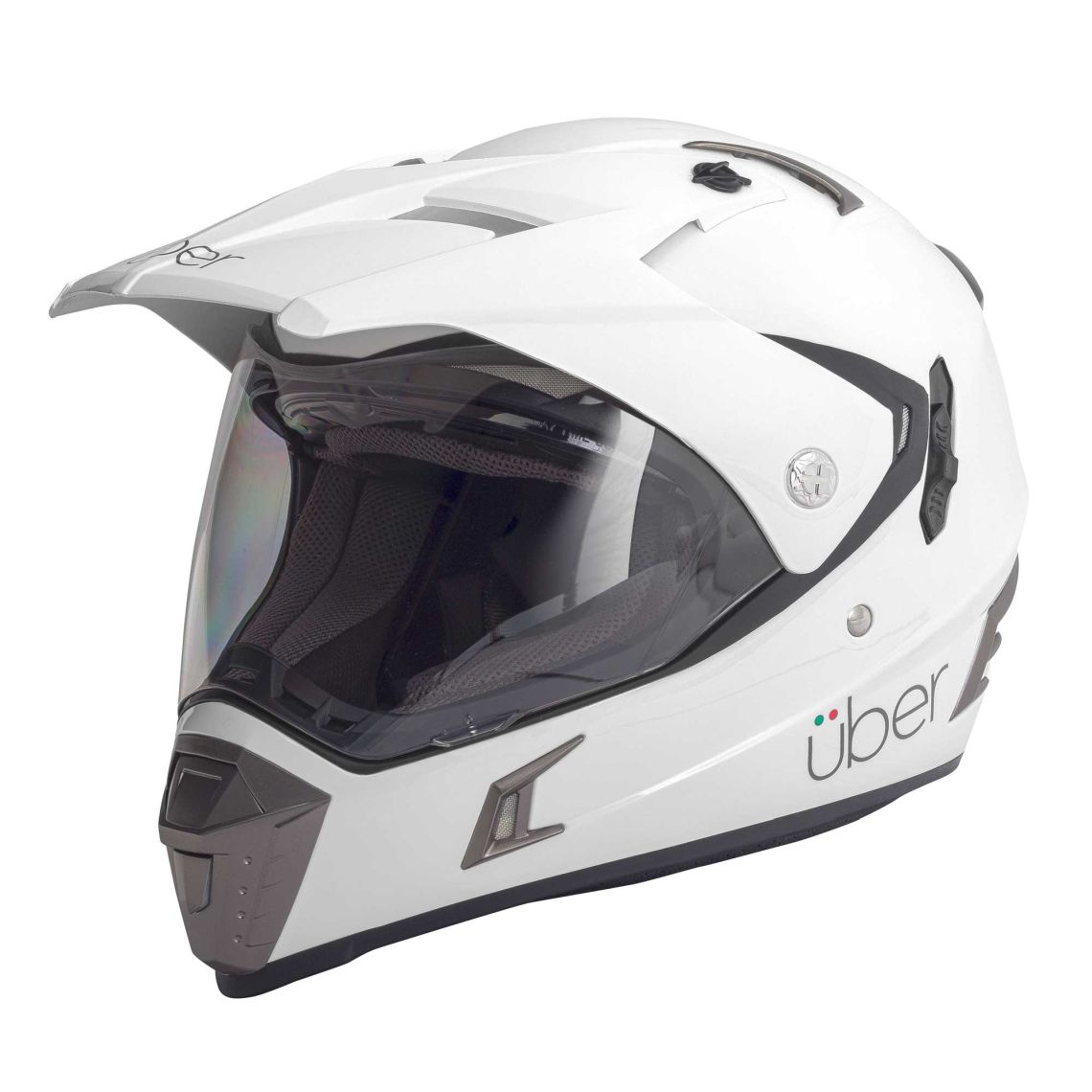 It's interesting to note that when we last reviewed the Uber Baja, three years ago, it was retailing at £51, rather than the £99.99 we are seeing today.
Is this price hike justified? Well, not really when you consider nothing has changed with the helmet. But if you look on the Demon Tweeks website it can still be bagged for £51.
As you'd expect, the Baja bears an ECE22.05 safety mark and, if you're that way inclined, it has an ACU gold recommendation, clearing it for track use.
The cheek padding and inner liner are both removable so that you can wash them and the fastening strap is a double D ring style. The metal components used here feel of adequate quality and, unlike three years ago, the strap is nice and so­ft against the skin.
The visor has a nice, smooth opening and closing movement, though there are no detents so you can't set it in a half-open position. It's also worth noting that the visor doesn't go up as far as I would like either, so it ends up sitting distractingly in your peripheral vision.
An integral sun visor is included and this works well, with the operating mechanism being well placed for easy operation. Unfortunately, there are no Pinlock mounting points on the visor, and this does tend to steam up easily.
The inner lining of the Baja is nice and so­ft against the skin, and the cheek pads are removable and washable.
In terms of ventilation, you get a large closable vent on the end of the chin, two vents on either side of the chin bar, two brow vents, a further two vents on the sides and four exhaust vents – a surprisingly well thought out ventilation system for such a budget helmet.
IN A LINE: It's cheap, it's cheerful and it might be the one for you.
Pros
ACU Gold
Integral sun visor
Comfortable liner
Well thought out ventilation
Cons
No pinlock mounting points
Can't wear visor half open
Poor quality metal
| | | |
| --- | --- | --- |
| Large field of view | Comfortable Strap | Soft metal |
LS2 MX436 Pioneer
£99.99 www.ls2helmets.com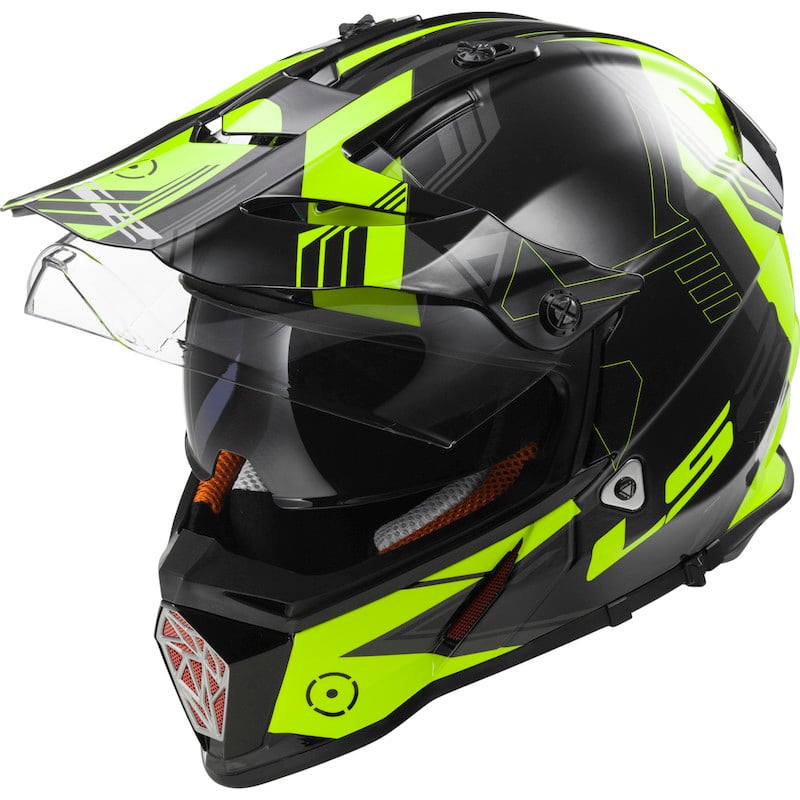 If other companies want an example of how to make a budget helmet they should look no further than LS2's Pioneer.
There has been quite a buzz around this lid since it was displayed at November's Motorcycle Live, and a­fter trying it out for the past few months we've been impressed.
For under £100 you get a lot of helmet, and the whole package is bundled into an extremely attractive shell made from a proprietary blend of polycarbonate, thermoplastics and LS2's own specially developed Kinetic Polymer Alloy.
These three materials come together to offer a light, yet strong shell, meeting both ECE 22.05 and DOT requirements.
While you get the impression that the peak on most budget helmets is a mere afterthought, on the Pioneer it actually looks like it's been designed to fit with the overall aesthetic of the lid.
And not only does it look good, but it performs well with a large amount of adjustment allowing you to get the best positioning for your needs.
The cheek pads and inner linings are removable and they're delightfully soft and smooth, making for a very pleasant wearing experience. Overall the helmet impresses, but if there's an area that could be improved, it's the visor.
It offers a large field of vision and allows for the use of goggles, but it lacks Pinlock mounting points and the anti-fog coating that's been applied isn't quite up to the job.
You get a very good internal sun visor that's easy to operate and when it comes to ventilation, the Pioneer is well equipped, with a total of five front-facing vents and a large exhaust vent that allows for a great cross flow of air.
The quick-release ratchet strap is comfortable against the skin and simple to use.
IN A LINE: Great quality at a budget price.
Pros
Fantastic looks
Great peak
Good ventilation
Superb value for money
Cons

| | | |
| --- | --- | --- |
| Great adjustable peak | Effective ventilation | Low opening point |
MT Synchrony Dual Sport SV
£99.99 www.tri-motive.com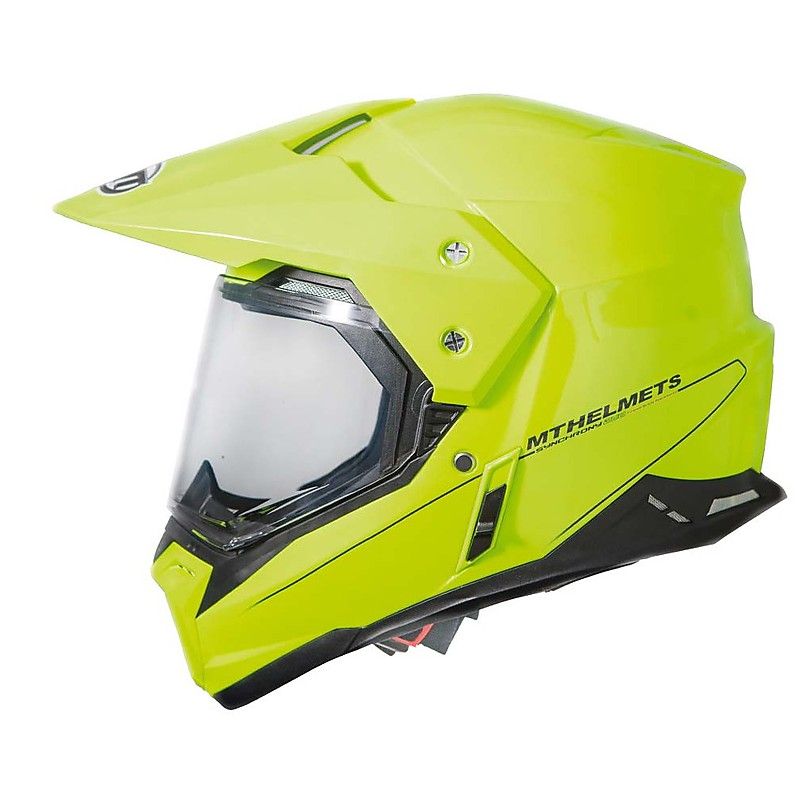 The MT Synchrony Dual Sport is based on the shell of the MT Synchrony, the company's MX style helmet, and as such it's geared more towards off-road riding, though it still has a visor and performs competently on the road.
It meets both ECE 22.05 and DOT standards, and the shell is made from polycarbonate plastic, as you might expect from a helmet of this price.
As the helmet is more geared towards off-road use you'll find that the extended chin bar works well when it comes to providing extra ventilation, and the peak does a great job of blocking sunlight and brushing off stray twigs that may drape across the trail.
The peak isn't adjustable though it is removable, which is just as well as it tends to catch the wind at motorway speeds.
The Synchrony Dual Sport offers a superb field of vision, though there are no provisions for attaching a Pinlock insert, and the lid can be used in conjunction with goggles should you be that way inclined.
While the helmet features an integral sun visor as standard, I found that it tended to come down too far, digging into the bridge of my nose and causing discomfort.
In terms of ventilation, aside from the extended chin bar, you get a closable chin vent, a single (oddly) side vent, two brow vents and two exhaust vents on the rear.
These work well at keeping the air flowing while you're riding.
All in all, for just under £100 (and I've seen it a lot cheaper online) the Synchrony Dual Sport is a decent helmet if you're looking for a second lid to take green laning with you.
IN A LINE: Off-road heritage shines through at a bargain price.
Pros
Good ventilation
Great deals to be had online
Large field of vision
Cons
Internal sun visor hits the nose
Non-adjustable peak

| | | |
| --- | --- | --- |
| Chin ventilation | Internal visor comes down too low | Large field of vision |
Caberg Xtrace
£149.99 www.feridax.com
When you're writing a group test such as this one it's very hard not to pick your favourites and stick with them. Despite having access to some of the best helmets on the market, I found myself looking to the Caberg Xtrace on many occasions.
Not only is it one of the best looking adventure-styled helmets out there, but it performs well in the saddle.
The peak, while non-adjustable, is well designed and offers a good amount of protection from sunlight while also causing minimal turbulence. It will catch the occasional breeze at motorway speeds, but you'll soon figure out which head positions are responsible for the drag.
An integral sun visor is also present, though it takes a while to accustom yourself to the position of the operating mechanism.
Ventilation is provided by a simple but effective chin vent and two closable brow vents and you also get a large exhaust on the rear.
One of the main reasons I liked the Xtrace was just how light and unrestricted it feels when on the head.
If there's one thing that's going to put you off buying the Xtrace, it's that it suffers from something that seems to be common in the Caberg helmets that I've tested over the years, and that's a very short chin bar.
If you consider yourself a bit of a Bruce Forsyth then you'll find that your chin touches the helmet, making it more uncomfortable to wear.
At £149.99 the Xtrace represents excellent value for money.
While it passes the relevant safety standards with its polycarbonate shell it won't compete with the premium helmets in terms of quality, but it's got everything you'd desire an adventure-styled lid to have.
It looks damn awesome in matt black as well.
IN A LINE: A fantastic helmet if it fits your head.
Pros
Brilliant looks
Lightweight
Good peak
Value for money
Cons

| | | |
| --- | --- | --- |
| Good Ventilation | Non-Adjustable peak | Integral sun visor |
Givi X.01 Tourer Helmet
£169.90 www.givi.it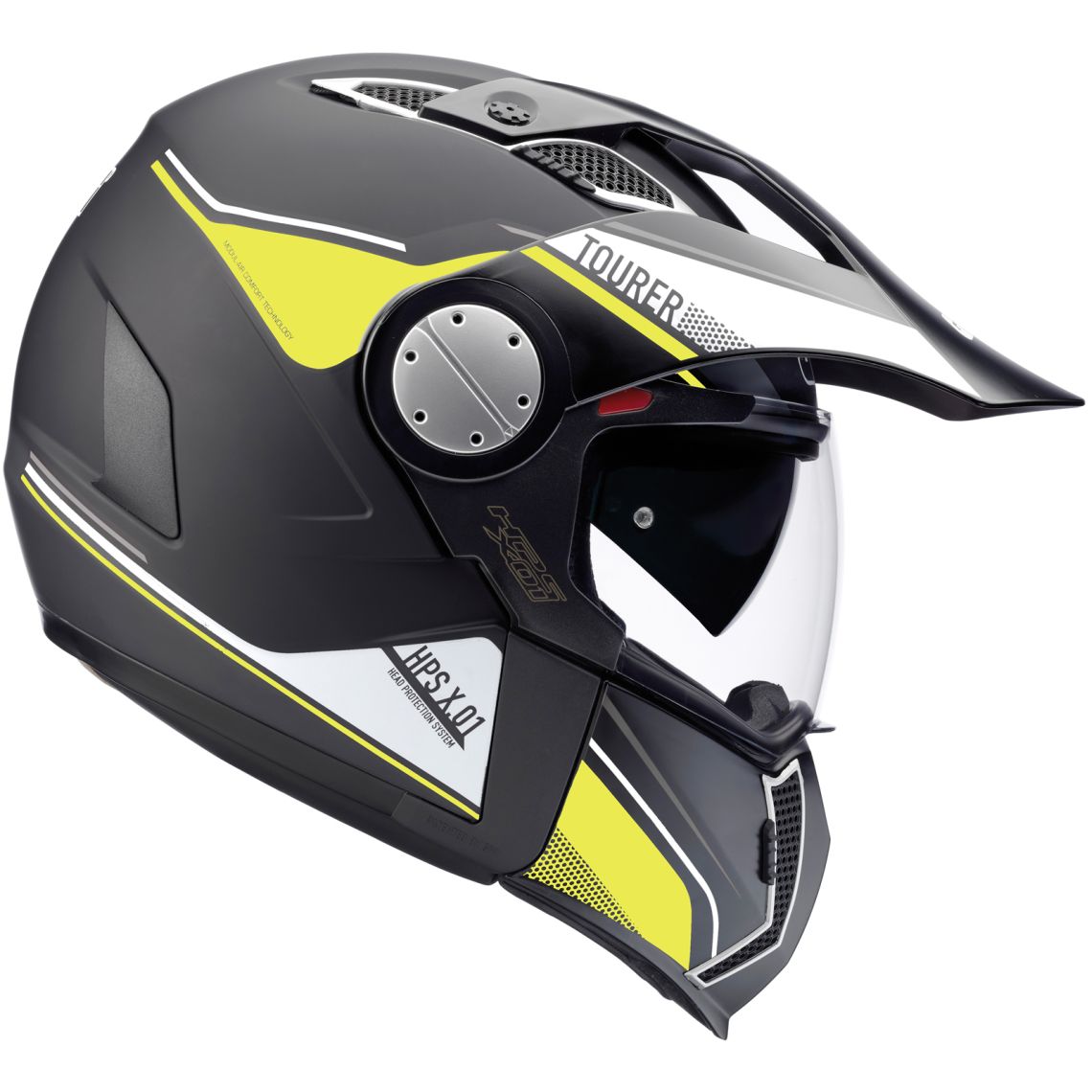 The Givi X.01 Tourer is a bit different from the other helmets in this review in that the chin bar is removable, allowing you to convert the helmet into an open-faced jet style if you're riding in warm conditions.
The concept is interesting, though I'd liken it to Marmite, you'll either love it or hate it.
The X.01 has a polycarbonate shell and while the inner is comfortable against the skin it feels as though it's lacking any substantial cushioning to make it that bit more pleasant to wear.
Though the padding that is offered is plush and nice against the skin. I took the X.01 on a weeklong tour of the Alps and comfort was maintained for the most part of the day, with the helmet never really feeling like a burden on the head.
While the X.01 passes EU safety standard in both full-face and open-face configurations, I am dubious as to how much protection the chin bar would provide in the event of an off.
I accidentally dropped the helmet and the chin bar popped out of its housings and separated from the helmet. I also found the field of vision on offer to be small, with the peak and chin bar restricting the view.
Admittedly it wasn't too noticeable on motorway rides, but when the scenery opens up and you want to take it all in, it becomes an issue. On the plus side, it's coated with anti-fog and anti-scratch treatments that work well.
In all, if you're looking for a helmet that offers the versatility of being either full or open-faced then the X.01 is worth checking out.
It's light, it's comfortable and if you're going to be riding in warm weather it takes some beating.
IN A LINE: The Marmite of adventure styled helmets.
Pros
Wear as open or full face
Tons of ventilation
Lightweight
Cons
Chin bar pops out
Not as well padded as others
Small field of vision

| | | |
| --- | --- | --- |
| Chin Bar Detaches | Soft Padding | Small field of vison |
O'Neal Sierra Adventure
£179.99 www.oneal.eu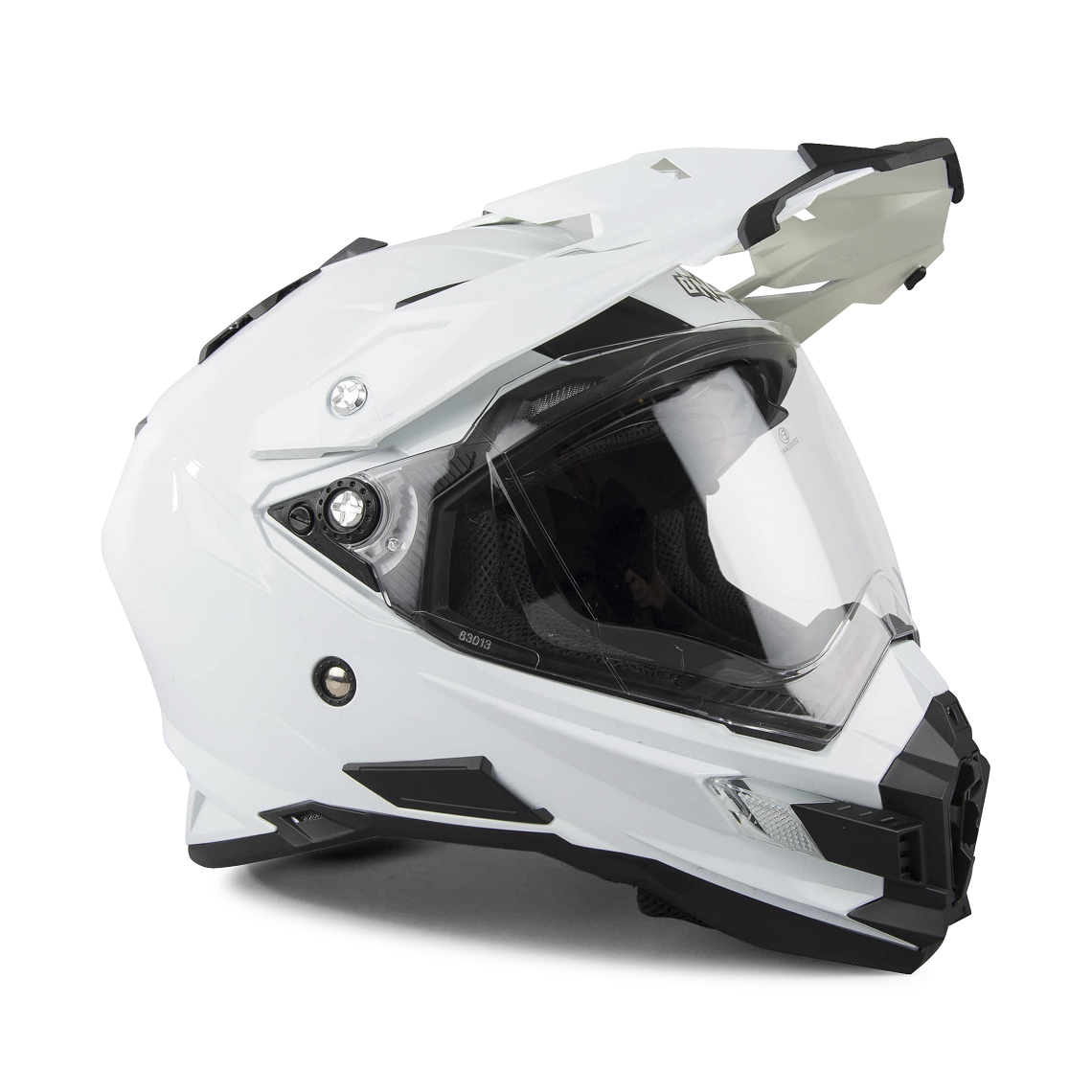 O'Neal has a rich heritage in manufacturing motocross clothing and equipment and was born when the founder, Jim O'Neal, decided to start manufacturing gear that would help him achieve more on a motorcycle.
While the brand's range of helmets is almost exclusively targeted at the off-road audience, the Sierra Adventure fits all the criteria when it comes to adventure-styled helmets.
If you want a helmet that gives you a mean, stormtrooper look then the Sierra Adventure is for you. O'Neal has, in my eyes, got the styling spot on. It's rough, it's rugged and it looks like it's ready for adventure.
The shell is constructed with ABS (acrylonitrile butadiene styrene) plastic, which has a great reputation of being both strong and durable, offering great protection for your head.
The peak on the Sierra Adventure has a great range of adjustment and the design is great, having effective venting to prevent it from catching the wind so easily. If you're planning on riding a lot of motorway miles then you'll be pleased to know that the peak is also easily removable.
The visor impresses in the field of vision it offers, though it's a shame that there's no provision for adding a Pinlock insert, something that would benefit the helmet.
The padding is nice and soft against the skin and it can be removed if need be. In terms of ventilation, the Sierra Adventure performs well. You get a huge inlet on the chin, two on the brow, two on the sides and three on the crown.
To top this off, a large, closable exhaust vent is well positioned on the rear, though the plastic used on the vents feels cheap and of poor quality.
IN A LINE: Superb field of vision.
Pros
Rugged styling
Adjustable peak
Great amount of ventilation
Good field of vision
Cons
Poor quality plastic on vents
No pinlock provision

| | | |
| --- | --- | --- |
| Great peak | Lots of Ventilation | Effective exhaust vent |
Held Makan
£189.99 www.held-uk.co.uk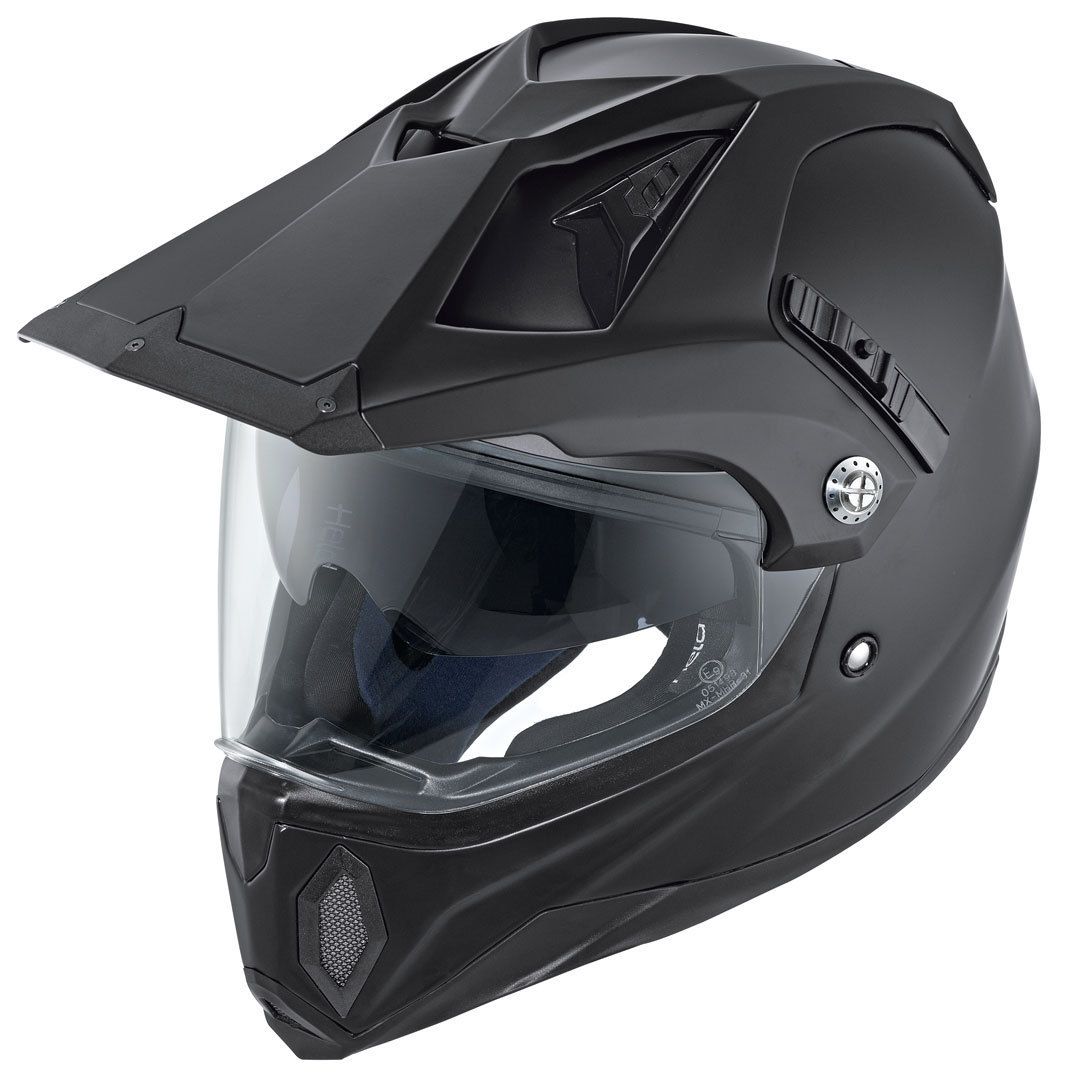 Held is a family run business that's been manufacturing motorcycle kit for the last 70 years and the company's kit has a strong fan base throughout Europe.
For this test, we've been using the Makan, the more expensive of Held's two adventure helmets. The Makan is the most expensive lid in this test, but it's also the only one with a fibreglass shell, and it's well-featured.
A unique inclusion on the Makan is the integral pump system. This can be used to inflate the cheek pads to provide a snugger, more comfortable fit. In use it works well, being easy to inflate and deflate.
When this is coupled with the nice and soft interior lining, the Makan becomes one of the most comfortable helmets in this test.
The peak on the Makan isn't adjustable, which is a feature you'd expect on a helmet of this price, though it is well designed and well-positioned.
In terms of ventilation, you get a single chin vent and two closable brow vents, complemented by a large exhaust outlet on the rear. I'd have preferred some more venting options to make it more suitable for those really hot days though.
An integral sun shield works well and the operating mechanism is easy to locate and use. In terms of the visor, it comes with Pinlock mounting points as standard, and the field of vision on offer is good.
As the helmet is, there's no opening tab on the visor, though it bulges out slightly to make it easier to push up. Be that as it may, when my hands are gloved up I'd always prefer a substantial opening tab to make it as effortless as possible.
All in all, at £189.99 (or £209.99 if you want the graphic version) the Held Makan is a good buy. It's a step up from the rest in this review in terms of quality and features, and the fibreglass construction is a plus.
IN A LINE: Fully featured fibreglass helmet
Pros
Unique pump-up padding
Fibreglass shell
Good field of vision
Comfortable
Cons
No visor opening tab
Non-adjustable peak
Could use more venting

| | | |
| --- | --- | --- |
| Non-Adjustable peak | No opening tap on visor | The Pump System |