BIKER TIDY "THE BIG ONE" 
£115 | www.bikertidy.com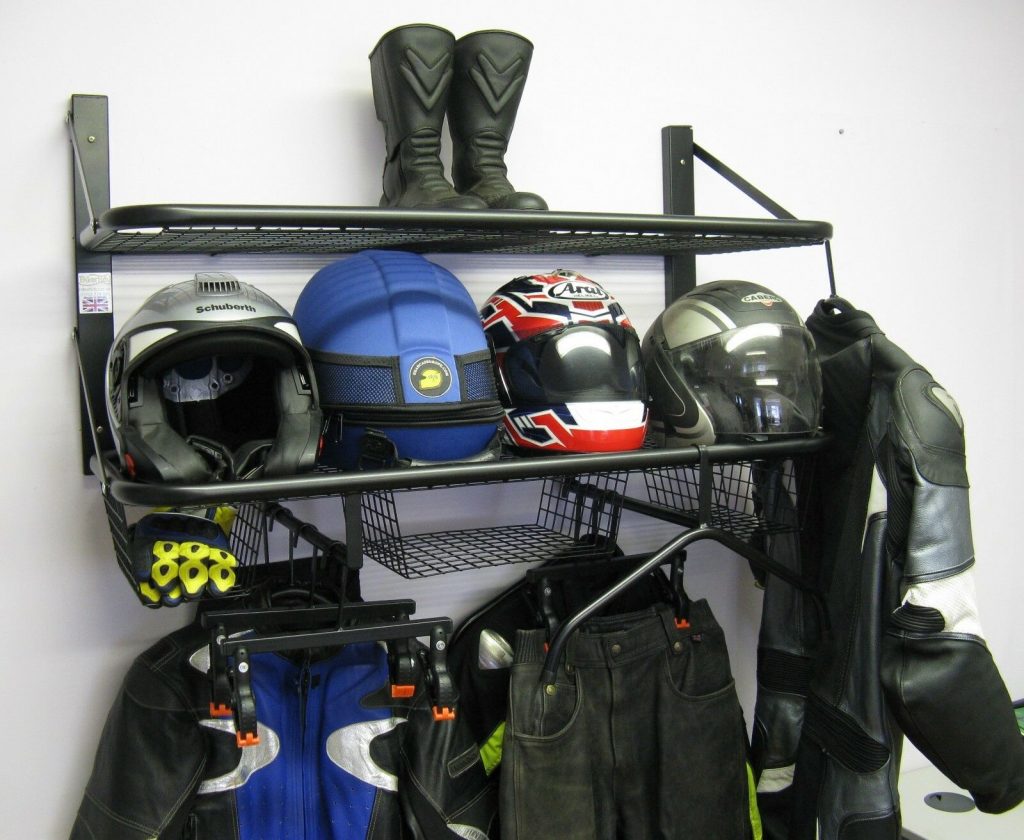 What is it? A wall-mounted motorcycle gear storage solution that'll neatly hold your kit. 
Working for a motorcycle magazine, I'm in the very fortunate position where I have a fair amount of bike kit. My girlfriend, however, is in the unfortunate position where I've taken over the spare room with said bike kit. Apparently, dumping my jackets, boots and helmets on the spare bed isn't an option anymore, and I need to find some way of storing my gear neatly.
I doubt I'm alone in this quandary either – of all of the bikers I know, I can think of two who only own one jacket. 
So, in my quest to appease the Mrs and to reclaim the spare room, I've managed to get my hands on a Biker Tidy storage rack. Like the size of my obsession with gear, it's called "The Big One", and it comes complete with two shelves, one of which has two hanging rails, three glove baskets, four jacket hangers, four trouser hangers, two full suit hangers, two 'handy hooks', and all the wall fixings you'll need to get it set up and ready to rock. 
Easy to install and assemble, the rack is sturdy enough to hold the weight of all of my gear, and there's no more faffing around with puny plastic hangers that bend at the sight of a textile jacket. Mounted to the wall in the garage, it's a fantastic solution to storage problems, or if you just want to keep all of your bike gear neat and easy to find. At £115 it's a bargain, too. BD
MICHELIN TPMS 
£79.95 www.fit2gotpms.com
What is it? A plug and play tyre pressure monitoring system that gives you precise pressure readings at a glance. 
Running your motorcycle tyres at low pressure on road is a risky game. Not only will you wear out your rubber far quicker than if they were correctly inflated, your bike's handling can be seriously affected and, in worst case scenarios, the tyre can be pulled off the rim – not something you want happening while you're in the saddle.
With this in mind, it's always recommended that you check your bike's tyre pressures regularly, especially before long rides, but it can be a bit of a faff and a hassle. 
Of course, the newer bikes on the market are starting to come with tyre pressure monitoring systems built-in, but if you haven't got that luxury you're in luck. The Michelin TPMS is a super easy to-use wireless solution that actively monitors your tyres' pressures and warns you when they're getting a bit low. 
Fitting the unit is an incredibly simple affair. The sensors replace your original valve caps, screwing easily into position, while the magnetic display mount has an adhesive patch on its back so that you can position it securely anywhere you want on your bike. From start to finish, you can be up and running in no more than three minutes. Impressive. 
The sensors are waterproof down to 1m, and they have a battery life of between three and five years, depending on how much you ride. Replacements can be bought, so if you do manage to bust them, then there's no need to panic.
The nifty display unit also has a long battery life, running for up to three months on a single charge – once that's dead you can simply plug it into the included USB charging device. 
At £79.95 it may seem like an expensive accessory that's not entirely necessary when you can get alternative tyre pressure checking devices for cheaper, but the simplicity, ease of use, and the accuracy of the readings that this provides make it well worth considering. BD
SCHUBERTH C4 PRO 
£529.99 | www.tranam.co.uk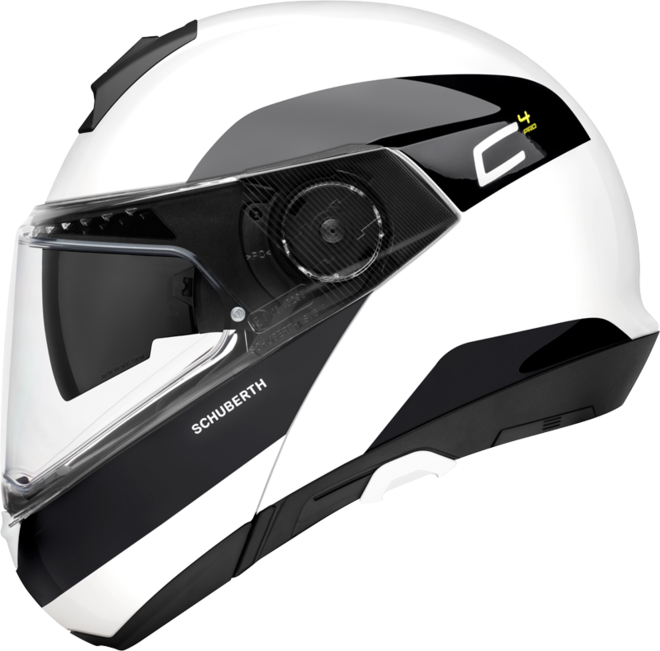 What is it? A premium flip front touring helmet. 
There are some things in this world that you just look at and say 'wow', and the Schuberth C4 Pro is one of those. At £529.99, this is one of the most expensive flip front helmets on the market, and boy does it have a premium air about it. Designed to offer exceptional levels of comfort and quiet, the C4 Pro is the ideal touring helmet for those that have the cash. 
Picking the C4 Pro up, it's clear to see that this is a well-designed and well-made lid, and the first thing that caught my eye was the Coolmax lining.
Removable, anti-bacterial, and quick-drying, this material looks and feels as though it's been cut straight from the finest, softest wears of the land, and sliding your head into it is a delight.
Once on, providing the shape of the helmet is agreeable with the shape of your noggin, the C4 Pro is quite simply a pleasure to wear. 
Looking through the visor, and you get a large, unrestricted field of vision. As you would expect for the price, you also get a Pinlock 120 anti-fog insert as standard, and the integrated sun visor will have you covered on sunny days, dropping down just the right amount. 
The flip-front feature is easy and hassle-free to use with a single gloved-up hand, and the same can be said about the internal drop-down sun visor, which is operable via a nicely-placed slider on the left-hand side. Ventilation is also well thought of, with large, closable inlets on the chin bar and brow. 
If you're looking for a new touring helmet, it's well worth considering the Schuberth C4 Pro. It's a luxury product, and I'm looking forward to covering some miles in it over the next few months. BD
EXOTOGG LIGHTWEIGHT INFLATABLE BODY WARMER 
£99 | www.exotogg.com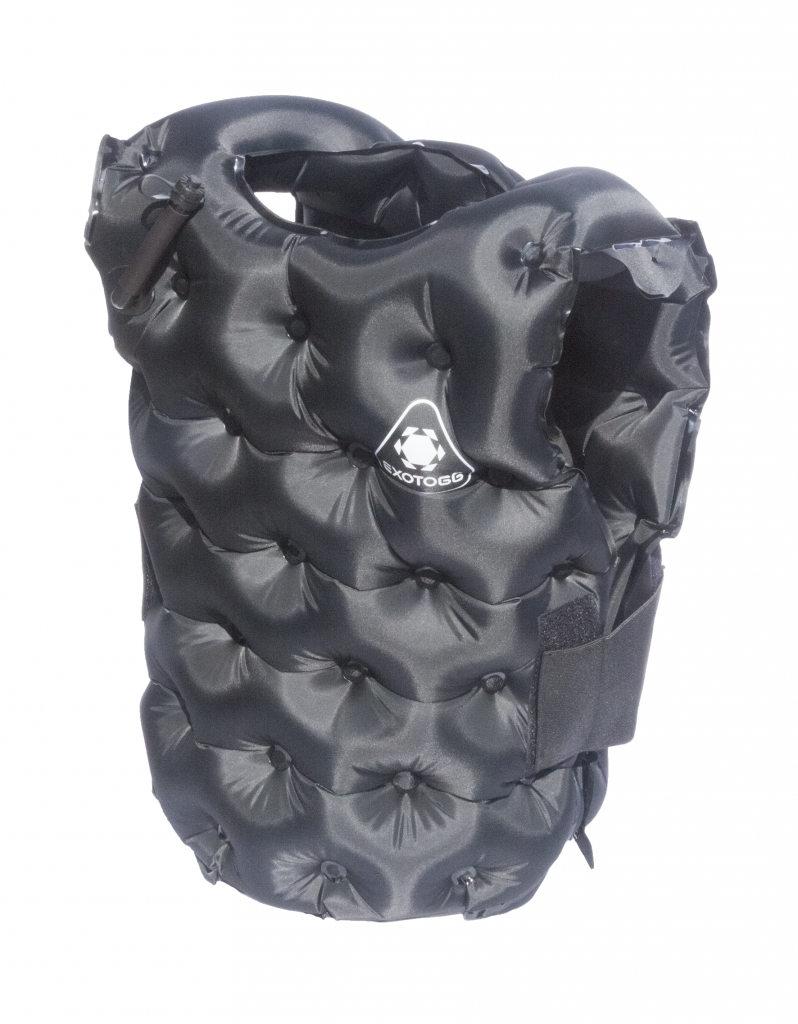 What is it? An inflatable mid-layer designed to offer exceptional warmth at a low weight. 
Sometimes the simplest solution is the best one. At a time when you can buy heated vests, trousers, gloves and even socks powered by battery, UK company Exotogg has decided to utilise good old-fashioned air to help keep bikers warm. You see, air is a brilliant insulator of heat and trapping it close to your body is how products like down jackets and sleeping bags help you to stay toasty. 
The Exotogg inflatable bodywarmer takes this principal and packages it into a lightweight vest designed to be worn under a motorcycle jacket. Just slip it on over your head, connect the adjustable Velcro side fasteners, and blow into the handily placed valve on your chest to inflate with a few short breaths. 
Wearing it for the first time does feel a little unusual, but as soon as I started riding, I couldn't feel I had it on, which is testament to its comfort levels. Handily, the puncture-resistant material doesn't get waterlogged, so it will stay warm and light when wet. I took the Exotogg out for spin on a cold winter's day at the seaside and it did a great job of keeping me warm. I was also pleasantly surprised at how fast it heated up. 
The Exotogg weighs just 260g and packs down to the size of a paperback book, making it a great piece of kit to stuff into a nook in a pannier or tank bag. As well as wearing it on the bike, the Exotogg also makes for a decent pillow, trail seat, and even a sleeping pad at a push. And, conveniently, you'll never have to worry about charging a battery, as long as you have breath in your body, it'll keep you warm. JO
ATL AS THROTTLE LOCK 
$135 (approximately £104) | www.atlasthrottlelock.com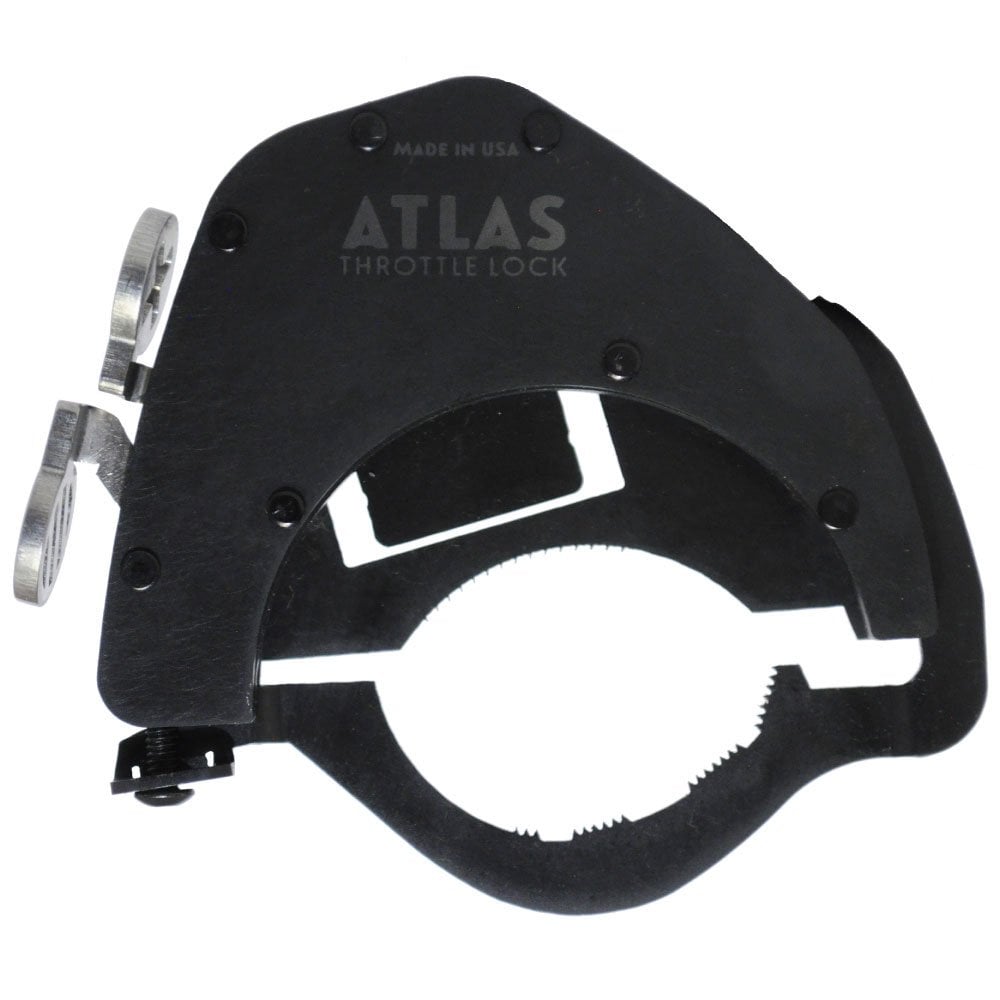 What is it? An easy-to-install cruise control solution. 
As someone who has experienced the demoralising pain of a strain injury in their arm due to countless hours twisting and gripping a motorbike throttle, I'm a strong advocate of cruise control, and would always choose it as option on a new bike. 
However, there are a lot of motorcycles out there not equipped with this creature comfort. This is where the Atlas Throttle Lock comes in. The innovative device is a mechanical cruise control. It holds your throttle in any position you leave it, fixing your speed at the touch of a button. 
Whereas other devices will disengage as soon as you roll the throttle forward, the Atlas Throttle Lock allows you to make adjustments while it is still engaged. This enables you to keep a constant speed in circumstances when you need more or less throttle to do so, while riding up and downhill for example. A simple push of a button then disengages the Atlas Throttle Lock. 
We tried it during eight hours of motorway travel and it worked very well. In my experience, it is the closest a mechanical device has ever got to the function of an electronic cruise control. 
The Atlas Throttle Lock was created by biker David Winters, and his wife Heidi, during a 15-month round-the-world motorcycle journey. The result is an effective and simple to use device made of stainless steel that feels like a quality piece of kit. If you're longing for cruise control on you bike, this is an elegant and affordable solution. JO
MOOSE RACING XC1 BODY ARMOR 
£91.93 | www.partseurope.eu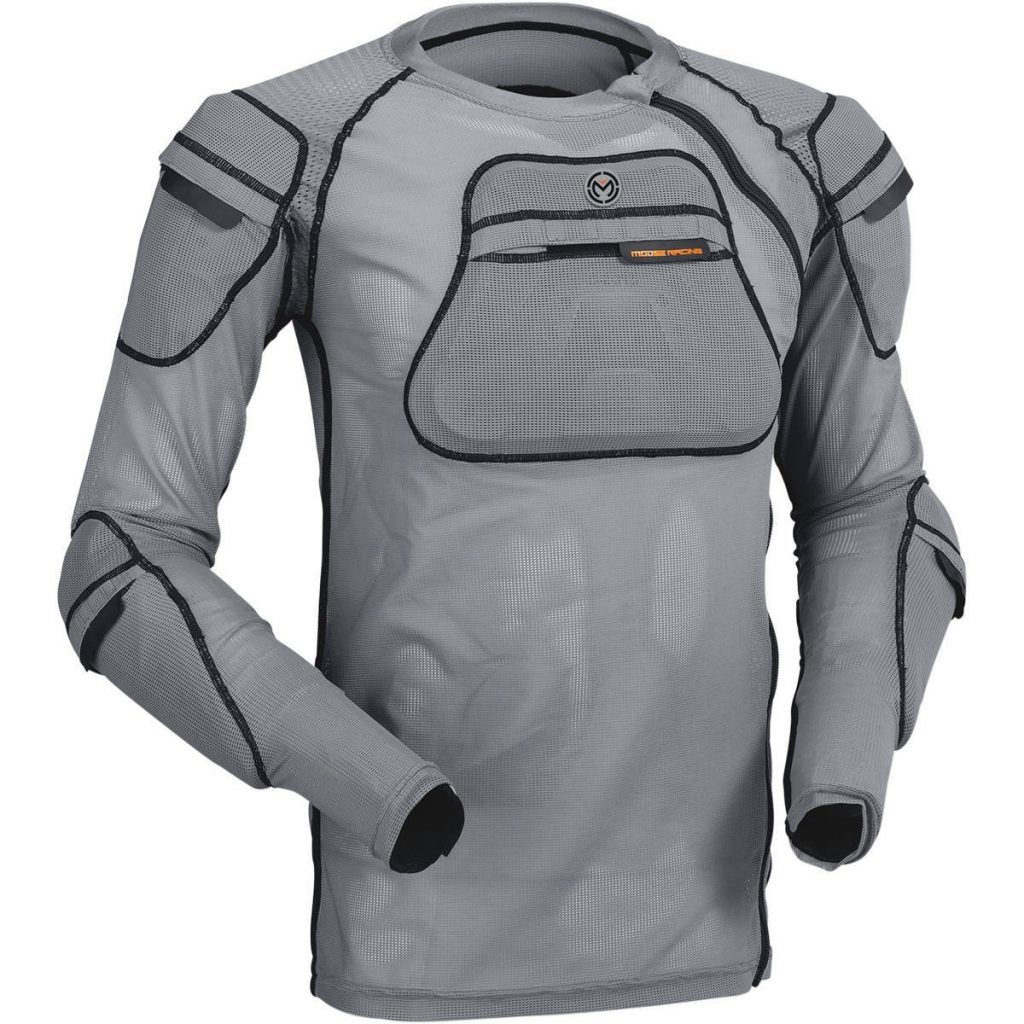 What is it? An armoured undershirt that's ideal for off-road riding in warm weather conditions. 
For this issue of ABR I was dispatched to northern Thailand on an eight-day ride in temperatures pushing 36C. It was clear I needed to pack lightweight gear that would perform in the heat, so I reached for the Moose Racing XC1 Body Armour. 
Its mesh construction acts as a base layer that provides excellent breathability, keeping you cool when the mercury rises. Incorporated in that layer is level one back, chest, elbow, and shoulder armour, leaving you protected if the worst happens. 
The base layer is a stretchy material which is easy to slip on and off thanks to a zip that runs the length of one side. It's comfortable to wear, so much so that I forgot I had it on, and none of the armour rubbed in awkward places when I was on or off the bike. The protective pads are removable and easy to pop in and out so you can wash the base layer after a sweaty day on the trails. 
I was tempted to wear nothing but the XC1 Body Armor in the scorching Thai midday sun, but fear of my skin rubbing against the road if I was to crash prompted me to throw on a lightweight bike jacket over the top. As long as your jacket has good venting, the air will flow through the base layer keeping you refreshingly cool. JO