John Hax explores remote trails, desolate landscapes, and a vanishing lake as he Embarks on a journey through the heart of the American southwest
Where to start? I mean this both literally and figuratively. Where do I ride in an area the size of Scotland with a population of just 130,000 people? How do I start writing about an area of such immense desolation and poverty that is also home to some of the most iconic images in the motorcycling world.
Monument Valley, the Moki Dugway, and Antelope Canyon are among the most amazing sights on Earth. They say that 95% of all people will never go more than 100m from a road in a national park in the USA. If you are ever fortunate enough to travel through American Southwest, I implore you to explore further.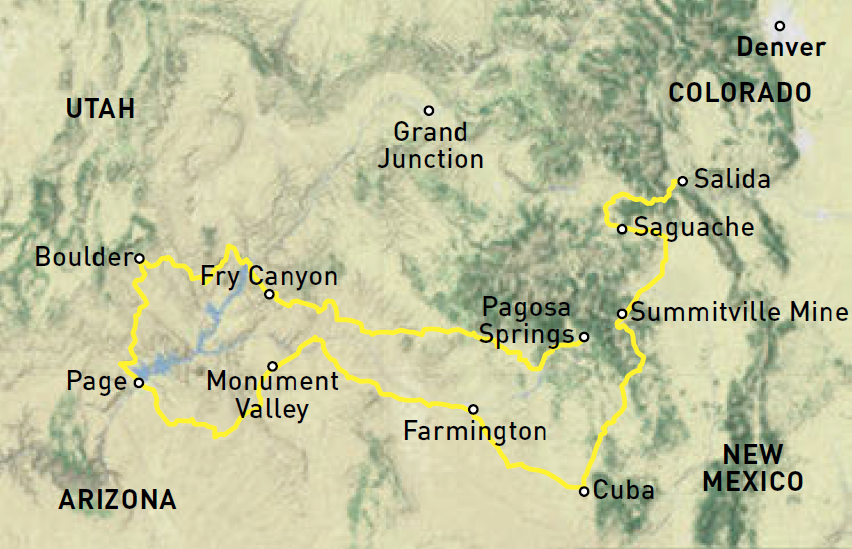 My rough plan is to ride for eight days, doing a loop down to Page, Arizona via the Apache, Ute, and Navajo reservations. Loaded with atlases for Colorado, New Mexico, and Arizona, and a rough route, I set out from my home in Denver via back roads to Salida, Colorado, to meet up with my buddy Brad for at least the first half of the trip.
Brad rides a Yamaha Ténéré 700 and he's pretty relaxed about his riding. Thankfully, he doesn't mind a loose itinerary. Dinner at Brad's consists of a small burger and an ear of corn served with plenty of household tension, and I gain a clear understanding of why he's eager to go riding.
We leave the next morning and pick up the Colorado Backcountry Discovery Route over Marshall Pass and into southern Colorado. After some hard, rocky riding, I suggest to Brad his tyre may be losing air. Faced with the ignominious possibility of a wife rescue, we put a can of flat repair in his tyre and ride out to Del Norte where we camp in the town's park. That night I take a swim in the Rio Grande, check Brad's tyre pressure, and decide losing two psi is not a sufficient reason for him to jettison the trip.
Above the treeline
We head off the next morning and climb into the San Juan Mountains where the Great Divide Trail takes us above the timberline and sees us herding sheep with our bikes. We're then pursued by a number of sheepdogs who didn't approve of the job we were doing.
Crossing into New Mexico, we're almost hit by a huge mining truck barrelling down a narrow dirt road, all of us seemingly surprised by the sight of the other. It turns out the trucks are hauling gravel in for maintenance to the historic Cumbres and Toltec Scenic Railroad, which we cross before descending 1,000ft of loose rock on the New Mexico Backcountry Discovery Route.
Northern New Mexico is cut with canyons in the midst of old volcanic calderas and it provides some beautiful riding. Winding canyons, aspen glades, and panoramic views on narrow but maintained dirt roads characterise the region. Elk, mule deer, and pronghorn populate the region and occasionally burst in front of me, with one especially impressive bull elk giving me a good scare.
After eight solid hours of trail riding, we finally hit Highway 64. It's only 4.30 pm and Brad wants to camp, so I leave him to relax for the evening to ride 64 and explore Tierra Amarilla, hoping to find a decent hotel and fun pub.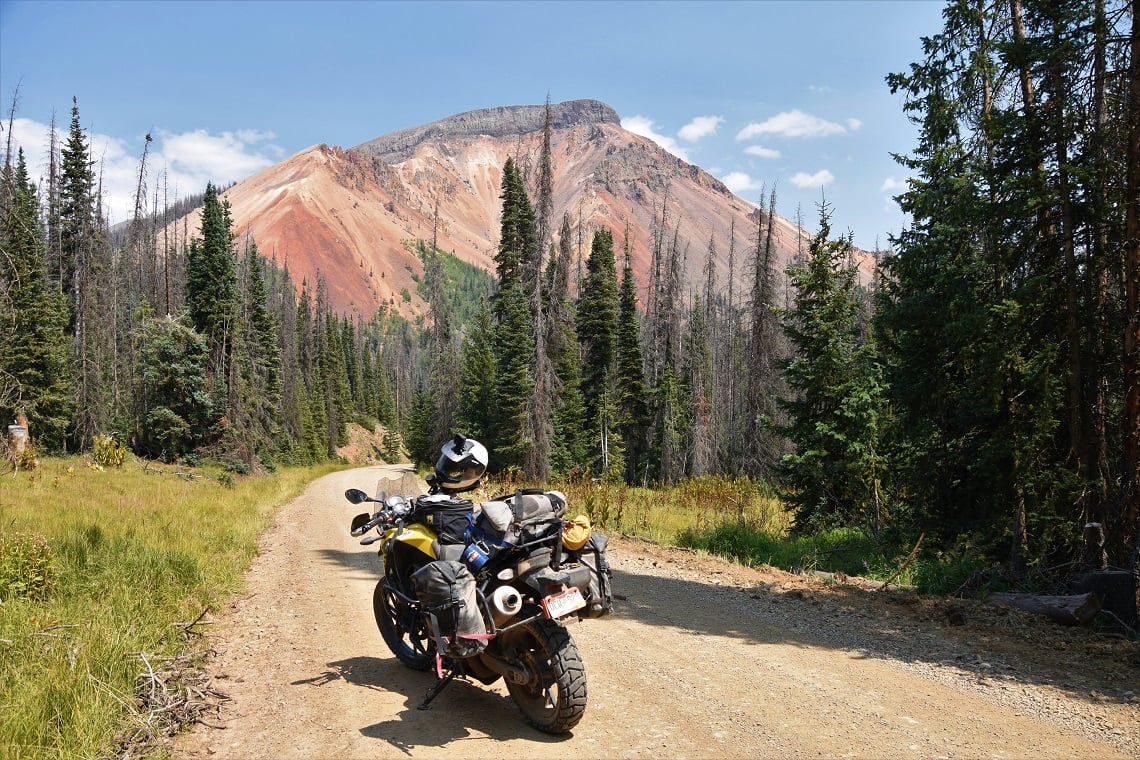 Tierra Amarilla sits right on the edge of the Apache reservation and, contrary to the misleadingly large font on my atlas, has neither a hotel nor a restaurant. I ride further up the road to Chama and end up at the Foster Hotel in the small downtown. It's only 7 pm but when I walk into the restaurant lobby there is a sign saying 'kitchen closed'.
I poke my head into the restaurant and enquire as to whether I can get any food, to which the waitress says in a cheerful, gravelly voice: "Of course, why are you standing out in the lobby?" I decide to not mention the sign and order myself a beer from Chama River Brewing Co. to go, with some out of this world enchiladas. Several other people come into the restaurant asking for dinner and are sent down the road to a Subway sandwich shop. I wonder if I had not been in my riding gear whether I would have been sent to the Subway also?
Spanish settlers
At this point, you may have noticed the distinctly Spanish names of all the towns and geographic features I visited. Here's a brief history quiz: Who were the first permanent European settlers in North America? Answer: the Spanish. Where were the first two permanent North American settlements? Answer: St. Augustine, Florida and San Juan, New Mexico. Learning American history at a public school in New Mexico must be like learning about the London Blitz from the German perspective.
In any case, the Spanish soon realised there was no gold in the desert and neglected the region. It's still neglected today and I am reminded of the poor villages of eastern Europe as I ride with the low concrete walls surrounding small gardens and cows in the streets of quiet villages at the end of dilapidated paved roads in desolate valleys.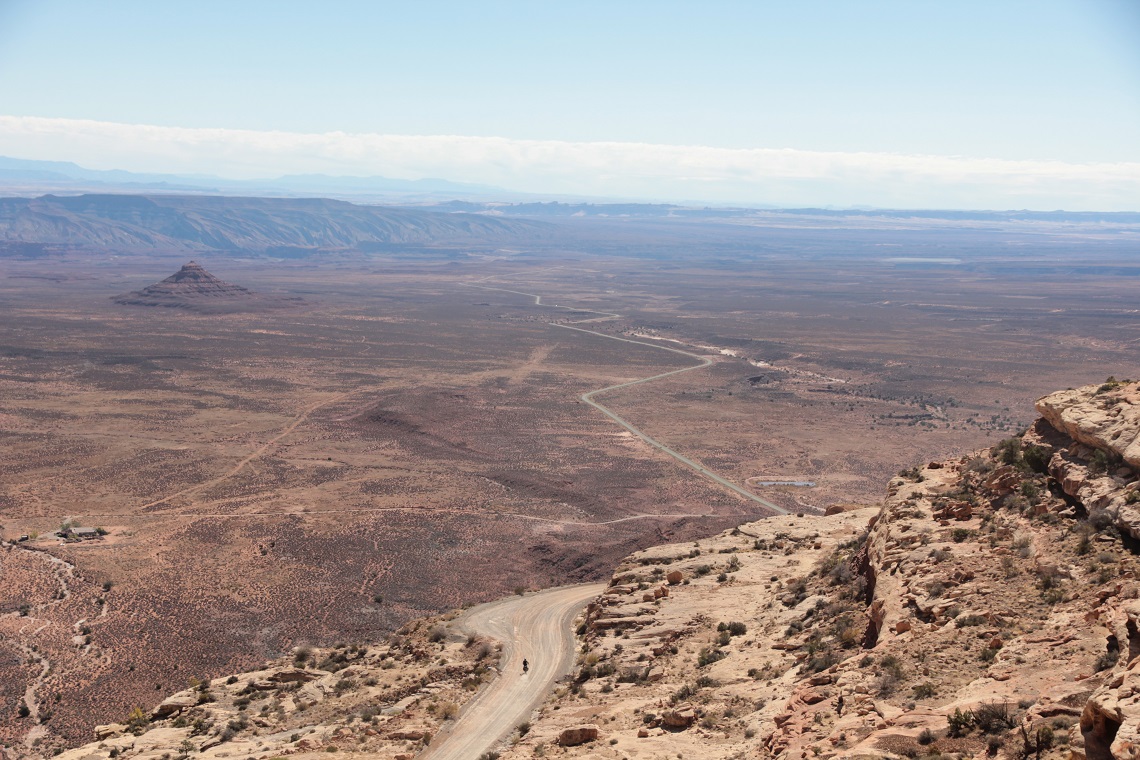 The riding is a bit sad but also beautiful as Brad and I roll further south into New Mexico. It's the tail end of the monsoon season and afternoon thunderstorms make for poor visibility, but the roads hold up well and it is clear at our campsite that evening. Camping outdoors in the high desert is a combination of sleep, dozing, deciding whether some noise is a bear. In other words, not restful but always enjoyable.
The next morning Brad and I part ways. He wants no part of the desert heat and I head west onto the Navajo reservation. With almost 12,000 miles of dirt roads, there is a lot to choose from, but I pick a route that takes me northwest up to the Old Spanish Trail and Ship Rock, New Mexico.
The Old Spanish Trail
The Old Spanish Trail ran from the city of Santa Fe to Los Angeles and was used to transport woollen goods from the northern Mexican territories, for mules and horses in California. The United States took control of the territory in 1848 following the Mexican-American War and use of the trail sharply declined.
The Old Spanish Trail was renowned for being arduous and muddy and, like many things in the region, this has not changed. The roads are hardpacked clay and I barrel across the reservation in fifth gear. Roads strewn with beer cans are unmarked and often lead to remote houses or hogans. These are traditional Navajo roundhouses that are also used for spiritual ceremonies.
Low mesas, shallow valleys, and scattered homes with yards full of broken-down cars lend a somewhat depressing feel to the ride. Occasionally there is a larger cluster of houses standing out like a homing beacon with a water tower in the middle.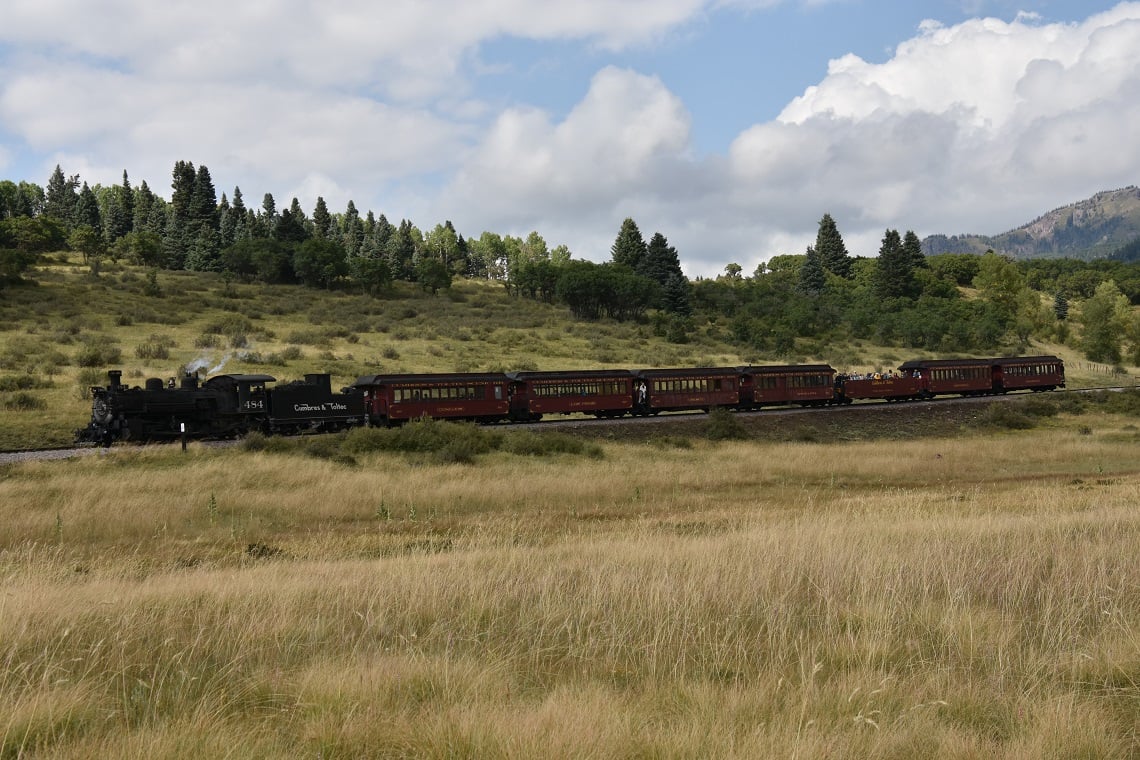 These towns are all made of small, sand-coloured, prefabricated homes and typically have a government-run school. There seems to be a general feeling of distrust and only a few people wave as I ride through town. The lack of power lines, dirt roads, and the obvious poverty all make the reservation appear more desolate than even the most remote parts of Nevada.
And yet New Mexico is the second-largest producer of natural gas in the US and it seems this entire northern part of the reservation is covered with wells and pipeline. The juxtaposition of poverty with mineral wealth is jarring and I ride along pondering the relationship between natural resources, corruption, and poverty?
I finally head north with the intention of riding for about 100 miles into Farmington. The Old Spanish Trail follows the shallow valley bottoms in and out of sandy wash but it is well maintained by the oil companies. I gaze in trepidation at the low clouds and ponder the words of some fellow motorcyclists who spoke of hurricanes that would bring rain to the desert.
Worst fears
An hour later, my worst fears come true and the skies open up. I slow down due to the poor visibility and my front tyre immediately clogs with mud against the fork bracket and the bike slides out from under me. I love my BMW F 650 GS twin, but not for the first time I curse the engineers who decided that three-quarters of an inch was a sufficient gap between tyre and bracket to shed mud.
Snot like mud keeps me from gaining the traction I need to pick my bike up so I take refuge under an old railroad bridge. Cars from the '50s era trashed by long-ago floods decorate each side of the bridge abutments and I keep a wary eye on the water levels as I wait for the rain to stop.
I wait another 30 minutes for things to dry out and I'm able to get my bike back upright.
As I stand there contemplating my options, an oil field worker comes skidding along in his pick-up truck and tells me the road is under 3ft of water behind me and the forecast is for heavy rain all night.
We both half-joke that we might be spending the night out here together and lament that fact that neither one of us has any beer.
I decide to take a side road which will take me to Highway 550 and, despite a sticky throttle cable, emerge six hours later triumphantly onto tarmac. A further 90 minutes down the highway, I pull into a dingy hotel on the outskirts of Farmington. The city has a reputation as the crystal meth capital of the region and sure enough, the hotel does not disappoint.
Bulletproof glass
From behind bulletproof glass, a front desk attendant slides me my key. I enter my room just as a woman hastily exits the room beside mine, a man running out and banging his fists on her car as she drives off. Little did I realise that I would be helping the same man charge his phone four hours later to help bail his "old lady" out of jail.
The next morning, while fixing my throttle, I am accosted by several people wanting me to sell them drugs. Perhaps the local dealer travels around by motorcycle in off-road riding kit? Once I'm back on the road, I stop for coffee and pastries at Artifacts 302, a super cool art and coffee shop in downtown Farmington.
The cafe owner tells me a lot of the roads were washed out by last night's rain so I decided to take the tarmac to Shiprock. This natural wonder is visible for 50 miles and looks exactly like its name implies. Needing to make up time, I take paved roads and enter the Ute reservation close to the Utah border.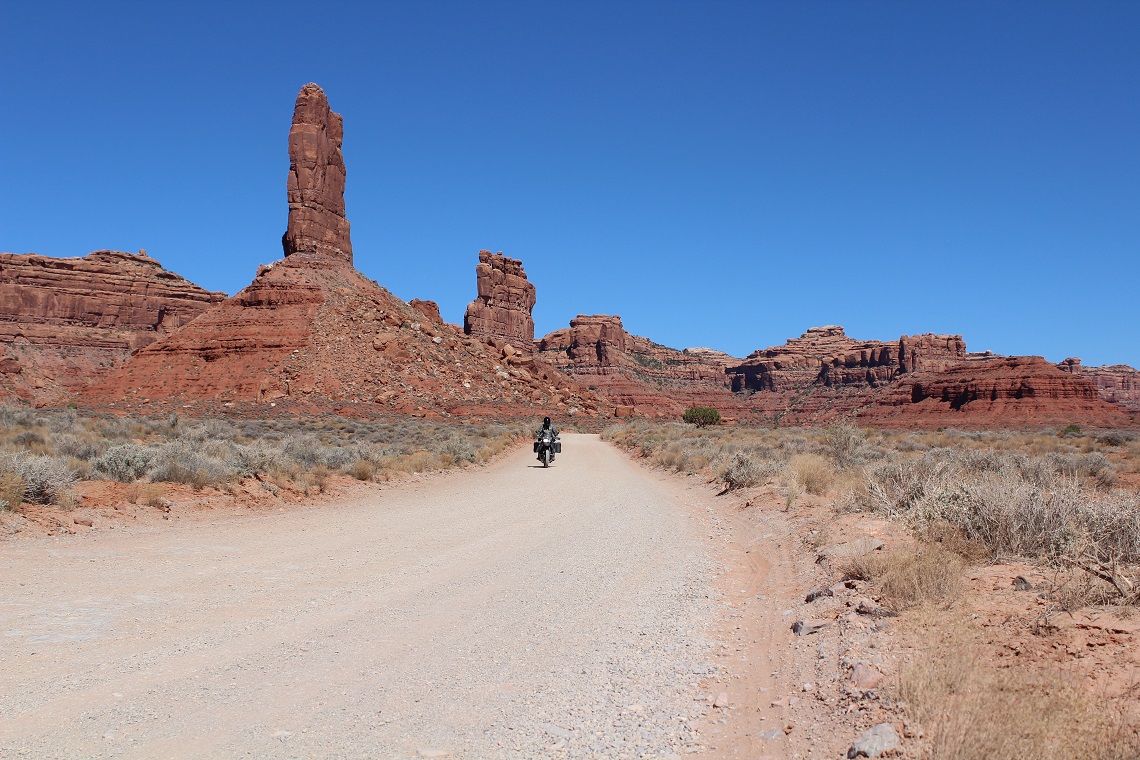 It is slightly less poor and definitely more scenic than the Navajo reservation I'd been travelling through. I pass through the overhyped Monument Valley and through the under-hyped Valley of the Gods. I ride up the Moki Dugway, a twisting unpaved road with switchbacks carved into the cliffside, and then continue onto Bears Ears National Monument and see the famous pair of buttes looking like, well… like bears ears, as they rise around 2,700m above the horizon.
I ride on to Lake Powell which is shrinking to oblivion due to a long-running drought. As a result, the ferry is closed due to low water but it's not an issue for me as Highway 95, rated one of the top 10 best rides in the USA, is always amazing. It takes me up the Burr Trail, a 68-mile backcountry route that through a remote and spectacular landscape that's an absolute joy to ride. Some 300 miles later, I arrive in Boulder, Utah for a well-earned dinner and hotel.
Antelope Canyon
There are very few tourist attractions in this world that are worth $50 in my opinion, but I have to say Antelope Canyon, on the Navajo reservation just outside of Page, AZ is worth it. The following day I explore the smooth, narrow, bending, slot canyon walls which give me the feeling of standing in a cathedral. Antelope Canyon is a reservation-only tour and the other members of the 12-person group speak in hushed tones without being asked to. The place has that effect on you.
The federal government owns huge portions of the western USA which native Americans consider illegitimate but as I ride through Grand Staircase-Escalante National Monument, made up of one million acres of rugged and spectacular public land, I am glad it is owned by the Feds. Otherwise, I fear it would be dotted with gas wells or cattle.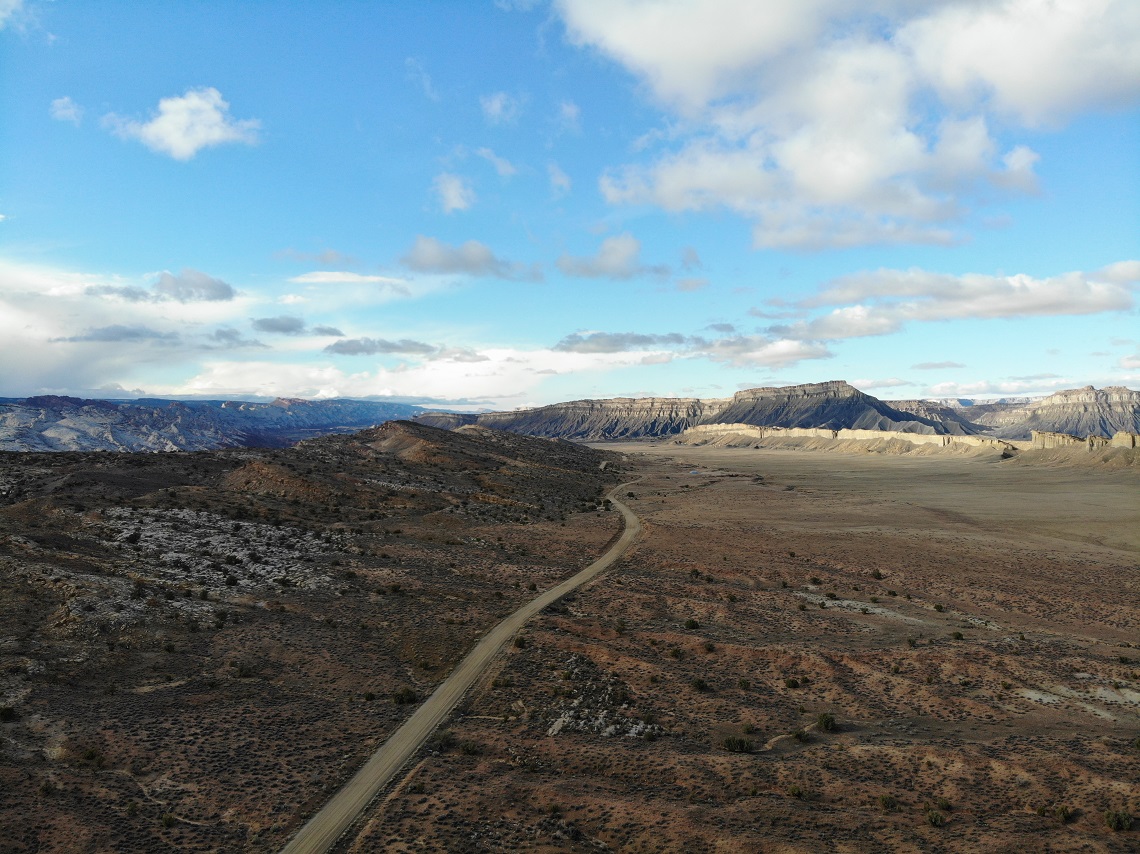 Highway 12, also known as Hell's Backbone, is another top 10 rated ride through Grand Staircase, but it is the trails connecting Highway 12 to Page, Arizona, that are devoid of tourists and full of amazing views. The area is worth visiting for days as it is full of slot canyons, amazing rock formations, and arches, but I limit myself to one side hike as I aim for a campsite at the northern end of Lake Powell in Hite, Utah, at the old marina.
Hite used to be the primary marina for northern Lake Powell but the government has now built a permanent campground at what used to be the boat ramp. Floating docks and buoys lie scattered about and the shrinking lake is now miles downstream from the campground. However, the marina store is well stocked and is the only place to get petrol within 100 miles.
I sit in my camping chair watching the stars when to my amazement I see a string of 30 bright lights in a line crossing the sky, UFO? Then I remember hearing reports about billionaire Elon Musk and his Starlink internet satellite system, and at some primeval level, I am deeply disturbed.
The western deserts of the USA had always been a place of solitude and escapism. Who gave Elon Musk the right to clutter the night sky for everyone else so that he can bring the internet to remote, often poor communities?
If nothing else, my trip across the reservations has taught me that people in these sorts of areas need more than the internet. They need proper infrastructure coupled with strong drug interdiction programs. Meanwhile, Elon Musk wants to bring the internet to people who have impassable roads half the year.
The next morning, I enjoy the solitude of an empty campground before starting the long ride home. I take the seldom travelled Wooden Shoe road up to a high mesa that overlooks the entire region with views to Navajo Mountain to the south-west and Sleeping Ute Mountain in the south-east.
The beautiful vista takes in a region of 750 square miles, and reluctantly, I eventually turn my back on the view and head up a series of dirt roads between the twin peaks of the Bears Ears, and into the Abajo Mountains. I then pick up a paved highway and begin the seven hours of riding back home to Denver and the end of yet another ride through one of the most rugged, remote, fascinating, and stunningly beautiful areas of the USA.