Alun Davies reports back from the world launch of the new off-road-focused Ducati
Since its launch back in 2010 the missing link between a Ducati 1200 Multistrada and the top of a steep, rutted and rocky off-road climb has been a large helicopter fitted with a winch.
The Multistrada 1200 is a superb motorcycle, but it has never been the four bikes in one that the Italian manufacturer would have us believe. A tourer? That's a very comfortable yes. Urban? It holds its own. Adventure styled sports? Hang onto your hat. Enduro? Ha ha ha.
What's more, if you live by the adage of 'watch what they do not what they say' then it's pretty obvious that Ducati held the same view. This was amply demonstrated at the launch of the updated Multistrada in Lanzarote during 2015 when the off-road 'enduro' section consisted of 100m of photogenic gravel path between two car parks on the northern headlands of the island.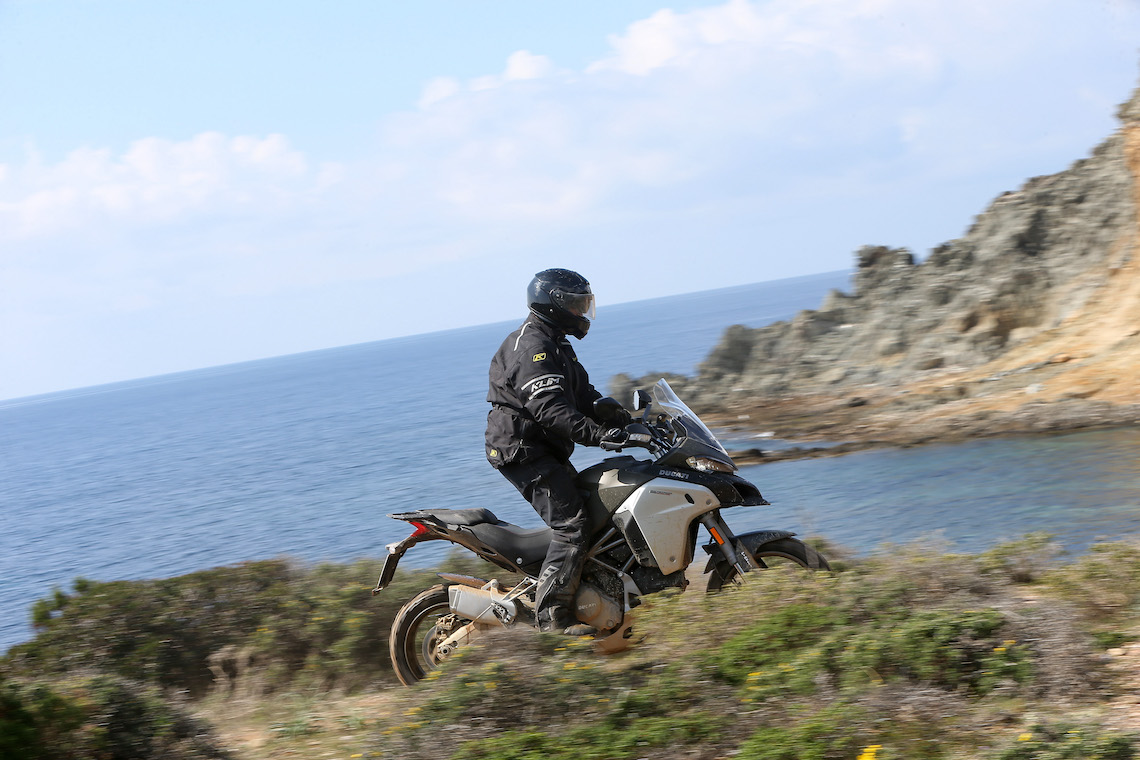 Now then, if anyone had said to me whilst waiting in that hot and dusty Lanzarote catwalk queue that within a year I'd be sitting atop a gnarly ridge having ascended it aboard a Multistrada, I'd have drawn the conclusion that Ducati was moving into rebranding bikes manufactured by the opposition. But it hasn't.
The press launch of the Ducati Multistrada 1200 Enduro on the south coast of Sardinia was nothing short of an extraordinary event. For a company whose marketing department would previously reach for oxygen if a journalist even mentioned riding on anything less stable than freshly laid tarmac, the first order of the day was '50 miles of Sardinian off-road mountain trails' delivered with no supplementary O2 on hand.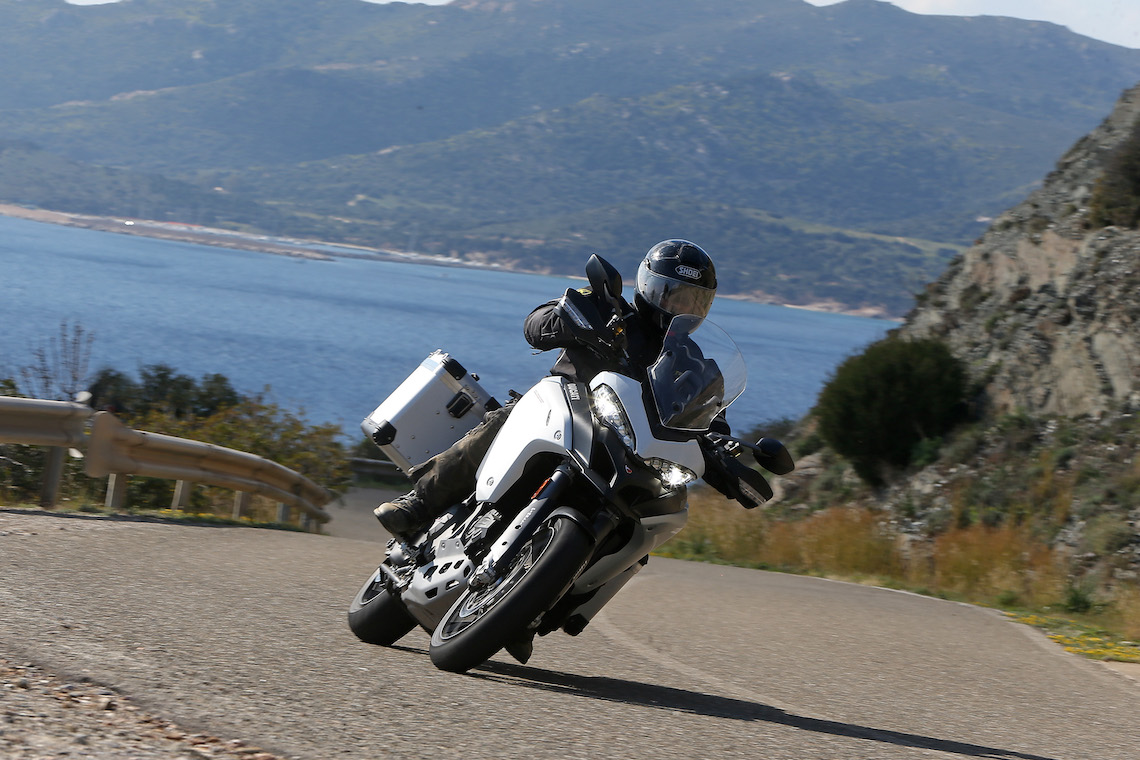 What Ducati has arrived at with the 1200 Enduro is the ultimate Chelsea tractor, the Range Rover of the adventure bike world. And whilst there is little doubt in my mind that very few prospective purchasers, having spent the thick end of £19k (when all the options and associated paraphernalia are bolted on) are going to buy an Enduro and then thrash it along trails, the fact is, this bike can do it.
Just like the Range Rover is built to handle tough off-road conditions, so too is the Multistrada 1200 Enduro, and more to the point, you don't need to be a Dakar veteran to venture there either. Take it from me, a 56-year-old guy who enjoys off-road riding but who's far from being an 'expert', this bike is the real deal.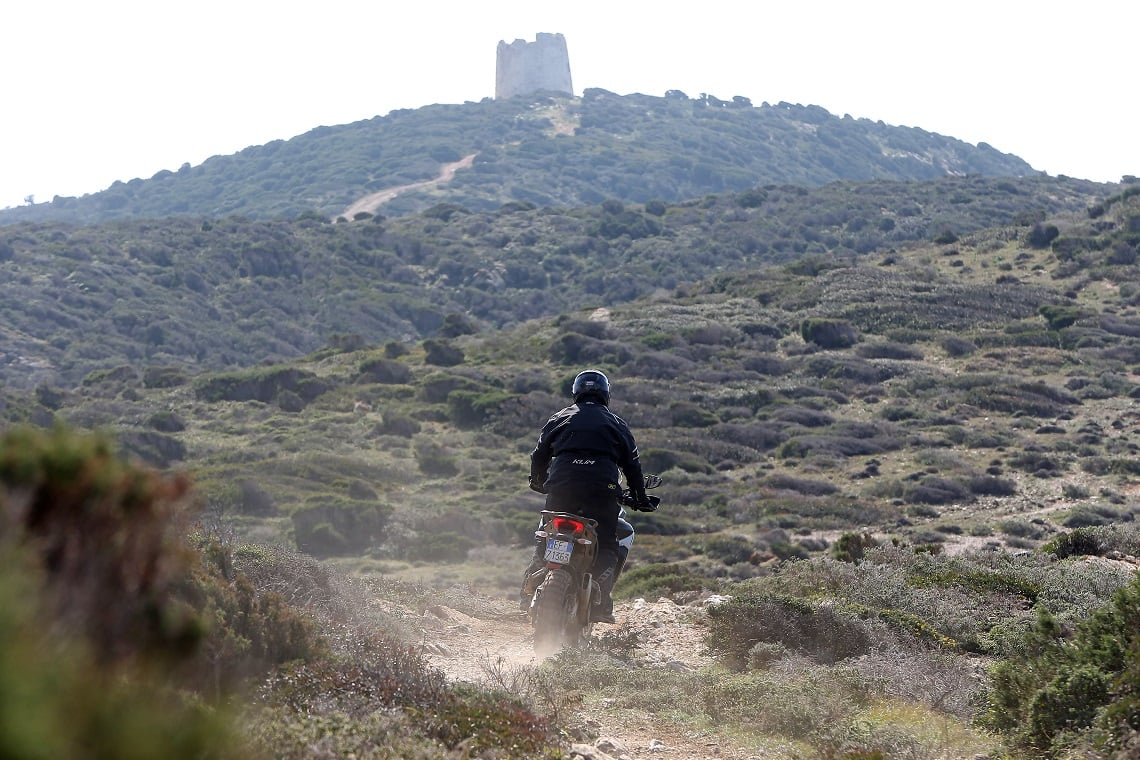 Sure it's no nippy, lightweight mud plugger, but in exactly the same way a luxurious Range Rover Sport is equipped for and capable of being taken over an ungraded Alpine pass by an inner-city commuter on the school run, so too is the 1200 Enduro.
From my high vantage point on that Sardinian ridge I looked around at all the other motorcycle journalists on the launch and what I sensed up was a chorus of approval for what the Italian company had produced. But it went even deeper than that.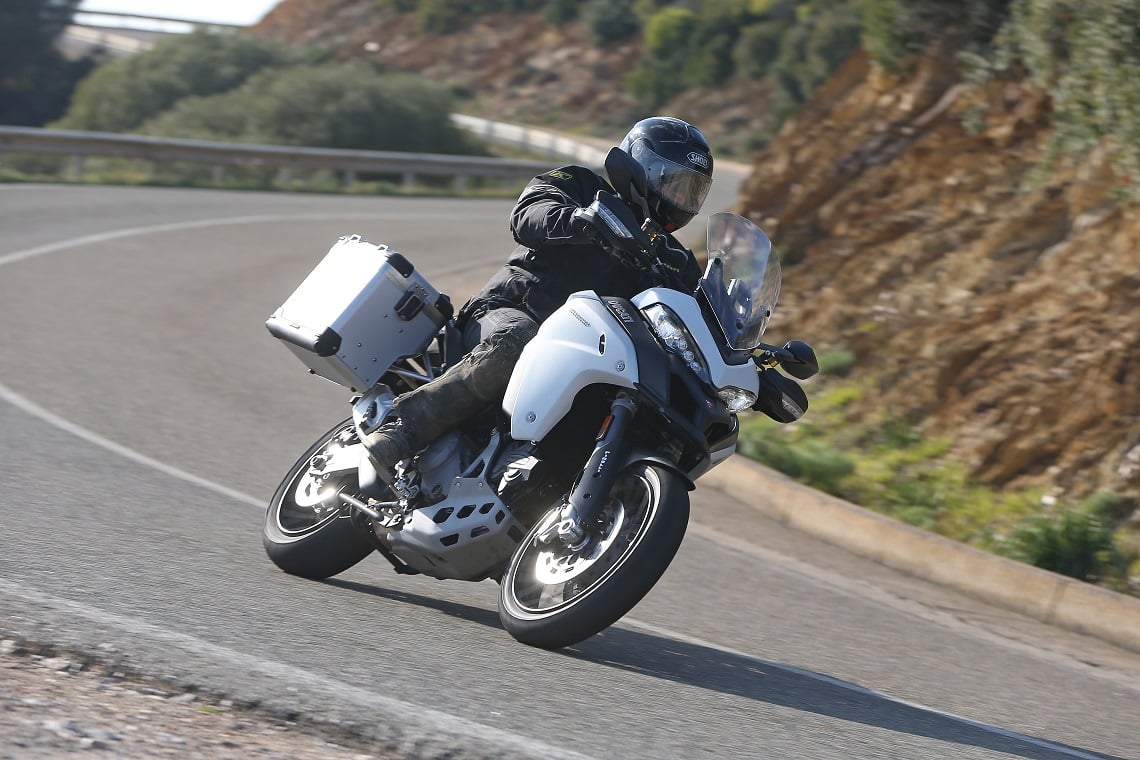 There was a genuine warmth, admiration and passion for the Enduro. Ducati had hit the fun spot with off-road experts and regular green laners alike and that's not something I regularly witness on new bike launches.
In lots of ways, make that 260 ways, Ducati may be guilty of spreading a little confusion by associating the Enduro with the Multistrada name. The fact is, 30% of the components of this motorcycle have been upgraded or changed to better accommodate off-road riding. And we're not talking minor nuts and washer swaps either.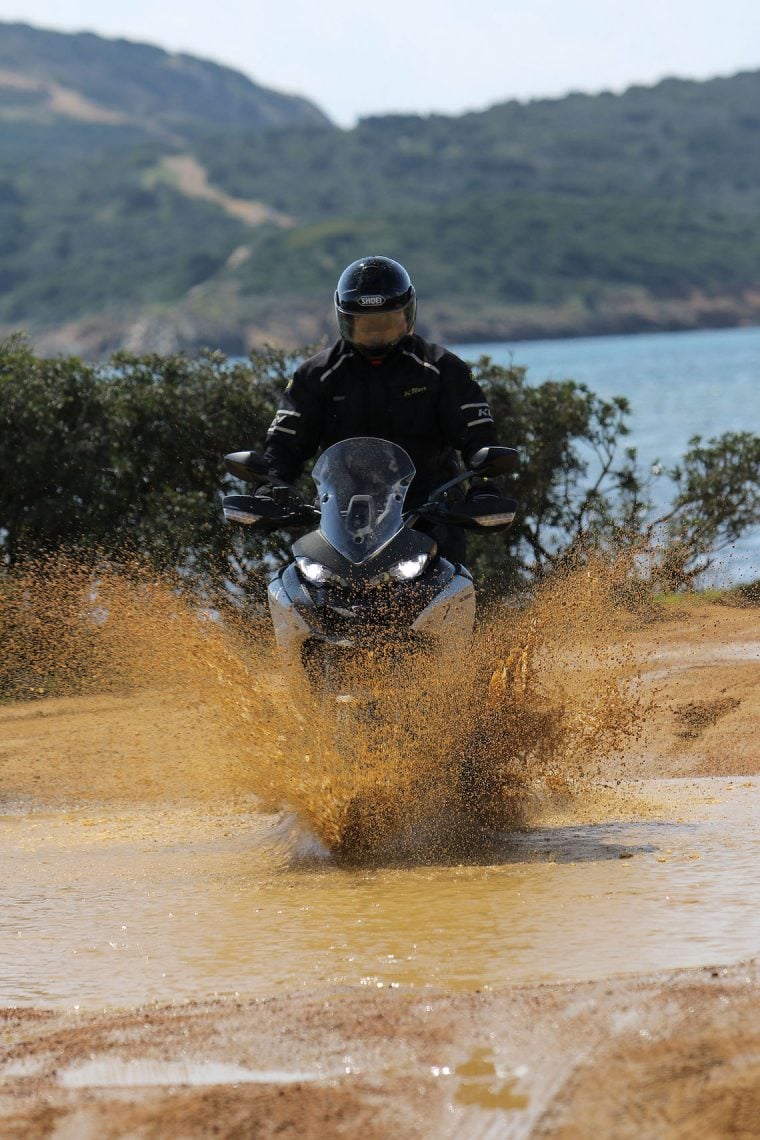 In my opinion, the Enduro carries the basic elements of the Multistrada DNA with looks and nuances that hint that they share heritage, but on close inspection, it's no son or brother, more like a second cousin removed who lives alone in a shack up in the hills. If you can bear with me for a few paragraphs of data I'll list the most obvious to substantiate the case.
The suspension comes with 30mm more travel and the 'Skyhook' algorithm has been altered to better suit the dirt. The front wheel is now 19in and, along with the 17in rear, is spoked. The ground clearance is up 35mm, the wading depth is up 77mm, the new style exhaust has been raised, the bash plate is larger and more robust, the gearing ratio has been changed to 43/15 (as opposed to 40/15) to offer a more user-friendly shorter first gear.
The handlebars are new and raised and far more suited to off-road standing, as are the mirror stalks which now don't interfere with forearms when the going gets tough. The footpegs have been upgraded, the foot levers are bendable steel rather than brittle aluminium, there's a new steering damper, new dual-rate front forks, the geometry has been altered all-round for off-road stability, there's a new robust dual-sided swingarm and the wheelbase has been extended by 65mm.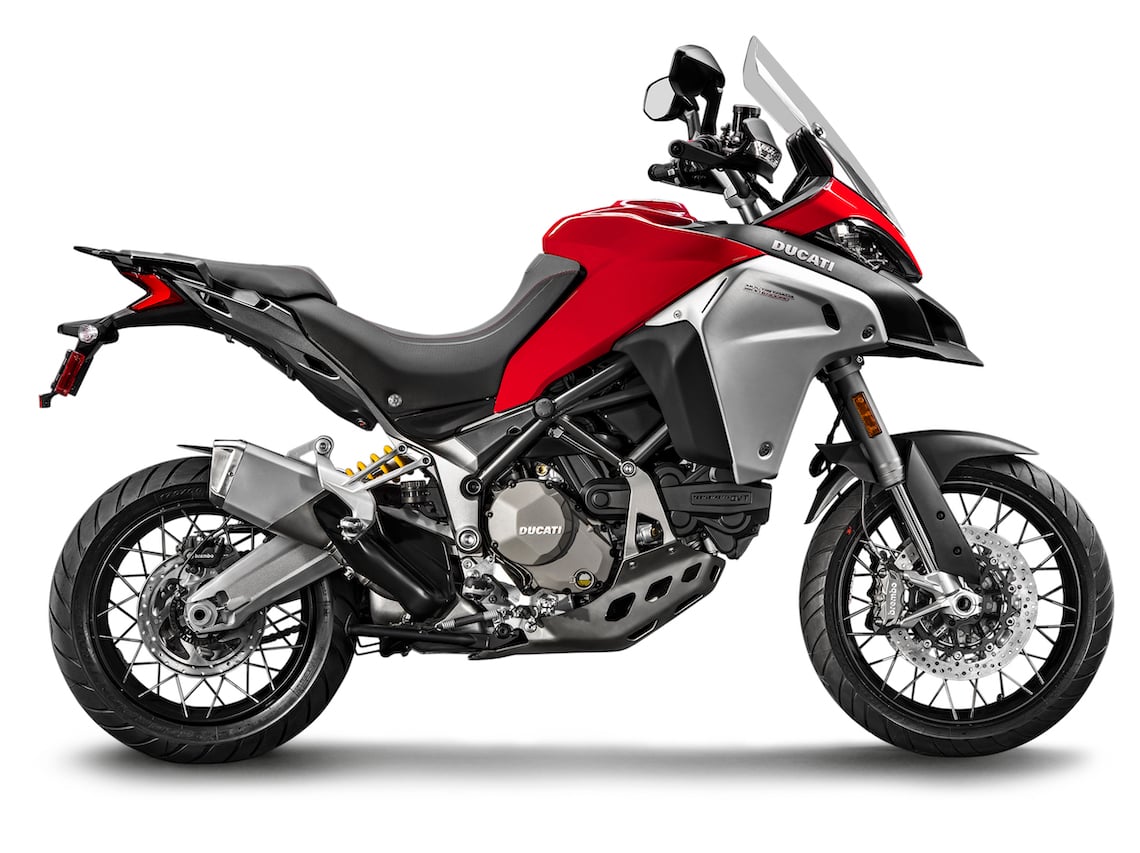 I could go on listing another 200 or so upgrades but I'm sure you'll have picked up the vibe by now, this is a different machine from the Multistrada 1200. As far as I can tell it's only the blistering engine and reliable frame that are shared components – and even then the engine has been remapped.
With the prospect of a morning of Sardinian trails to drool over, followed by an afternoon on fast-paced spectacular coastal roads, it was time to be introduced to the Enduro. And what an impressive beast of a bike it is.
Call it small man syndrome, many do, but I've a personal preference for motorcycles that come with impact and presence, and the Ducati possesses both in abundance. It is a big, tall, wide and imposing machine that's large enough to have its own gravitational pull, or it certainly felt like it to this little man.
The all-new 30-litre fuel tank is the most obvious bulk extender when compared to the Multistrada 1200. It endows the Enduro with a far wider profile which on the road translates into more wind protection and 280 miles of riding before you need to fill up again.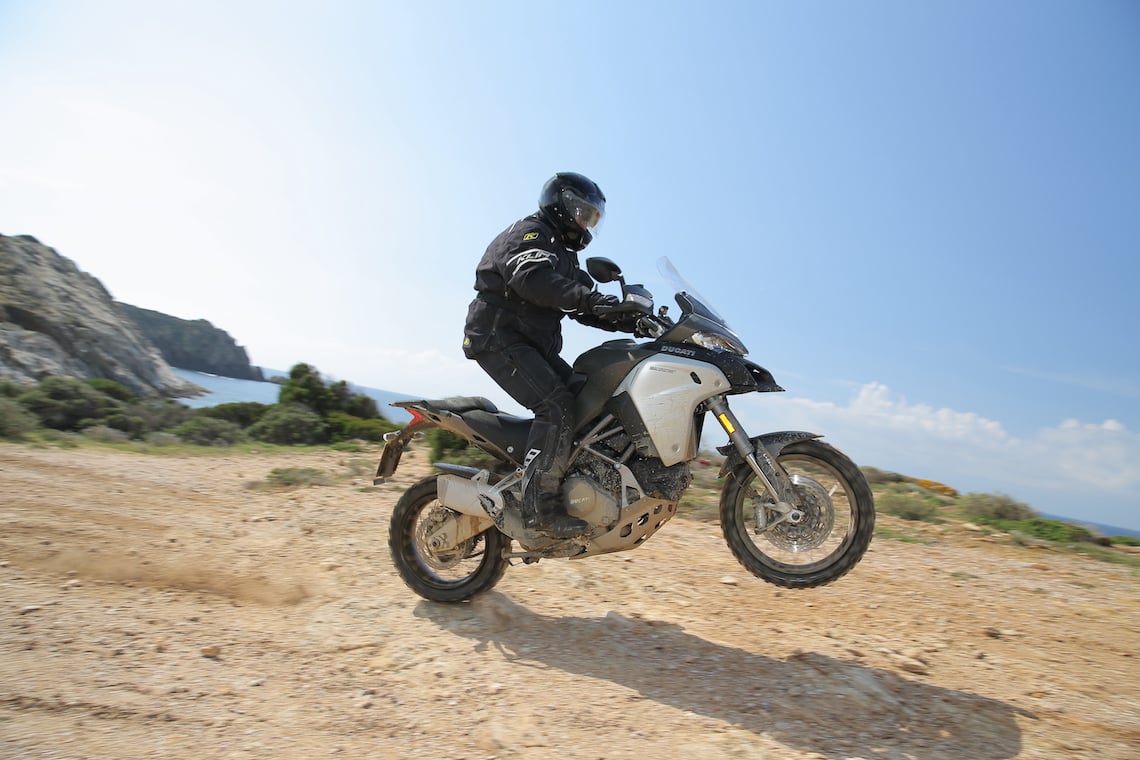 Although wider at the front, the all-new saddle has been constructed to be more comfortable and narrower at the fore. In practical terms, this means the seat height of 870mm is more foot down friendly than you'd think. Plus, when standing on the pegs the narrow profile stance is better suited for off-road control and manoeuvrability.
Throwing a leg over the Enduro my 6ft 2in frame felt instantly at home. The stance is most definitely 'king of the road' with a far more upright and forceful angle than with the road-going Multi and given the weight of the Enduro, I was happy to say that I could plant both feet on the floor.
The controls, layout and screen will be familiar to anyone who's mounted a Multistrada and sifting through the multitude of riding, ABS, traction and suspension modes is a reasonably simple process. With a little time spent getting yourself acquainted and accustomed, it'll all become second nature, but we didn't have time for that as there was a mountain waiting to be climbed.
And what an ascent it was. Loose rocks, ruts, ultra-tight hairpins, damp, wet and greasy sections of mud and slime and all underpinned by unstable Sardinian dirt. And here's the thing, the Ducati was in its element. Let me just type that again to make sure I mean it, 'the Ducati was in its element'. Yes, it's true, and so was I.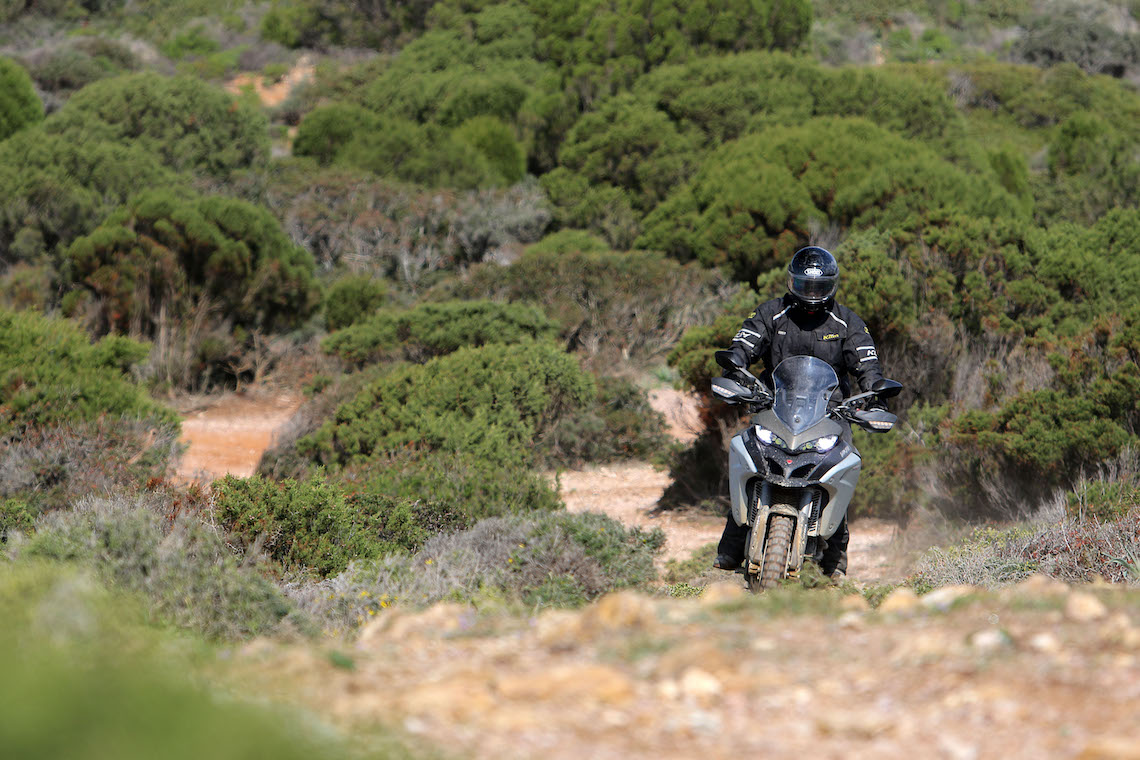 The Enduro is a formidable machine in an off-road environment and here's why. When you see these huge, heavy adventure bikes being ridden by sponsored athletes at the top of their game in manufacturer promotional videos it all looks too easy. But these guys are the elite. What they can do with these machines has about as much relevance to my performance and enjoyment as watching Usain Bolt win gold before I set out on a ramble across a field with a torn hamstring.
But then, and I say this with a huge dose of retrospect, the Enduro had me riding more confidently and assuredly than any other big 1200cc adventure bike to date. Man, this is a 225kg-plus motorcycle and yet I was pulling wheelies at pace on the trail, taking on deep ruts in style and with aplomb, drifting the rear in and out of bends (I just love electronic traction control and ABS) and just generally riding with a level of confidence and control that both surprised and delighted.
As I've stated above, this has to be taken in the context that I'm no off-road expert, far from it, and I'm at a time of my life when I want to have gentle fun rather than go balls out ballistic. So, we've established that the Enduro is the real big bike deal in the dirt for the non-expert rider, but the all-important question is "would I attempt to do any of this if it was my own hard-won cash on the line? Would I take my new £17,000 plus best Ducati friend up a gnarly green lane?" No. But I'd take yours.
The off-road fun continued as the trails became wetter and muddier with the remnants of an overnight storm. The Enduro continued to impress right up until the time I was forced to hand over the keys in exchange for a clean model equipped for the afternoon road ride.
Southern Sardinian roads are a motorcyclists dream. Smooth, grippy tarmac meandering through spectacular mountains and serpentine coastal huggers where you don't know if the next bend is going to be tight or open.
The only thing you do know is that there will be a bend in the next 200m.
Having spent extended time on the 2015 Multistrada 1200 I could think of few other adventure sports bikes better suited for taking on such roads, but how would the new Enduro compare with its reprogrammed engine maps, altered geometry and longer suspension?
The short answer is as you'd expect.
It could not be ridden as fast, nor could you corner as assuredly as with the road going Multi, but then we're talking about extremes here and margins that most buyers are never going to put to the test.
I've said it before and I'll say it again, press launches are generally taken at the sort of pace the adventure buying public are not going to ride at.
In the real world, the Enduro is a magnificent bike on road. It's comfortable over distance, there's enough power to satisfy just about anyone with a sane riding mode and the handling is more than adequate when judged by anything remotely legal. Everything else is just puff and best kept for a track day.
Conclusion
So, I guess the bottom line is would I buy a Ducati Multistrada 1200 Enduro? Let's answer that based on the assumption that I could afford to dip into the wallet and reel out the cash or that the more affordable PCP deal is within my monthly budget.
There's no doubting the strong competition in the market with the BMW GS Adventure, KTM Super Adventure and Triumph Explorer XCa all being very capable machines. Having ridden all of those bikes there really isn't a bad buy out there.
I suppose when it comes down to it, I'm not the big bike buyer who's going to take his expensive machine off-road – I have a DRZ 400 and a Yamaha 660 Ténéré for that.
In practical terms I'd be looking for a comfortable adventure styled bike that's suited to touring, possesses the oompf and handling for when the red mist (occasionally) appears, makes for a happy pillion carrier and comes with an extended range and a low maintenance shaft drive.
On the emotional side I want a motorcycle I could envisage taking on any road or trail in the world and a bike that looks, performs and feels exactly like the Ducati Multistrada 1200 Enduro.
Head or heart? You're a biker, you instinctively know the answer.
---
The Rivals
In our view the Ducati Multistrada 1200 Enduro is at the top of the adventure bike food (and price) chain, competing with machines such as the BMW GS Adventure (From 13,050), KTM 1290 Super Adventure (From £15,800) and the Triumph Explorer XCa (£15,800). What's best for you? You can't make a bad choice with any of these motorcycles but we'd advise you to have a test ride and decide which suits you best.
---
ABR Verdict
As a Commuter
It's a big old boy for full-time city commuting, but no more so than a BMW GSA and there's plenty of them doing the work run. The high, upright stance makes for great visibility and is imposing enough to have white van men mounting curbs to avoid you. You'll also find yourself craving a Greenlane route to the office.
As a Weekend Tourer
The Multistrada 1200 made for a great weekend tourer and the Enduro, in my opinion, is even better. You can still whack off motorway sections at blistering speeds and you can do so in extra comfort. A and B roads ditto. Plus you've always the option of exploring off-road trails but you'll need deep pockets and a lifting team on hand should you drop it.
As an Off-Roader
The Enduro is a remarkably capable big bike which is not going to reveal its true potential until in the hands of the 3rd or 4th owner who's invested a lot less cash in the purchase. The bike is built for off-road conditions and the technology is a further aid. Don't forget to eat added spinach, it's big, heavy and lifting is going to be a problem.
As a Continental Road Tourer
Exceptionally comfortable and equipped for continental touring. When you hit the Alps there's bags of blistering power and speed to make those twisties a blast and should you want to follow in the footsteps of Hannibal you've off-road prowess as well. Should handle a pillion and luggage with ease. Just the job.
As an RTW Overlander
If you're looking for a big adventure bike to circumnavigate the globe on and are dreaming of taking on the Road of Bones then the Enduro is up there with the best. The 30-litre tank and extended range will be welcomed.
As a Pillion Carrier
We've not yet checked out the long term view from the pillion but if the Multistrada 1200 is any benchmark then the Enduro is going to make for a happy passenger. The Skyhook suspension will auto adjust for the extra weight, the blistering 1198cc V-Twin has more than enough power and the seat is exceptionally comfy.