Issue 34: Masham moor, Yorkshire and Stonehenge, Wiltshire
Masham Moor, North Yorkshire
6.71 Miles – Wow Factor ✪✪✪✪✪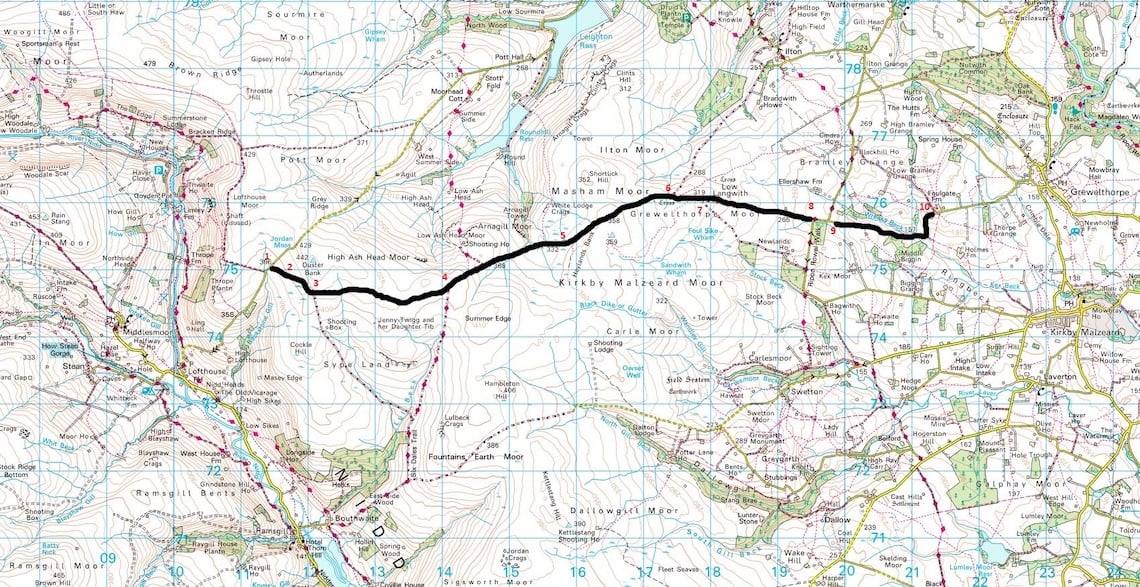 This trail offers a fantastic, fast route across moorland and in places it's possible to really motor along in relatively safely as you can see for miles ahead. It's very bleak on top of the moors and with an altitude of 400m at the highest point it can bear the brunt of any bad weather that's passing through.
That said, on a clear day the views are fantastic. While you can open the throttle in places please take care as the numerous loose rocks and occasionally sandy bits can have you off in an instant.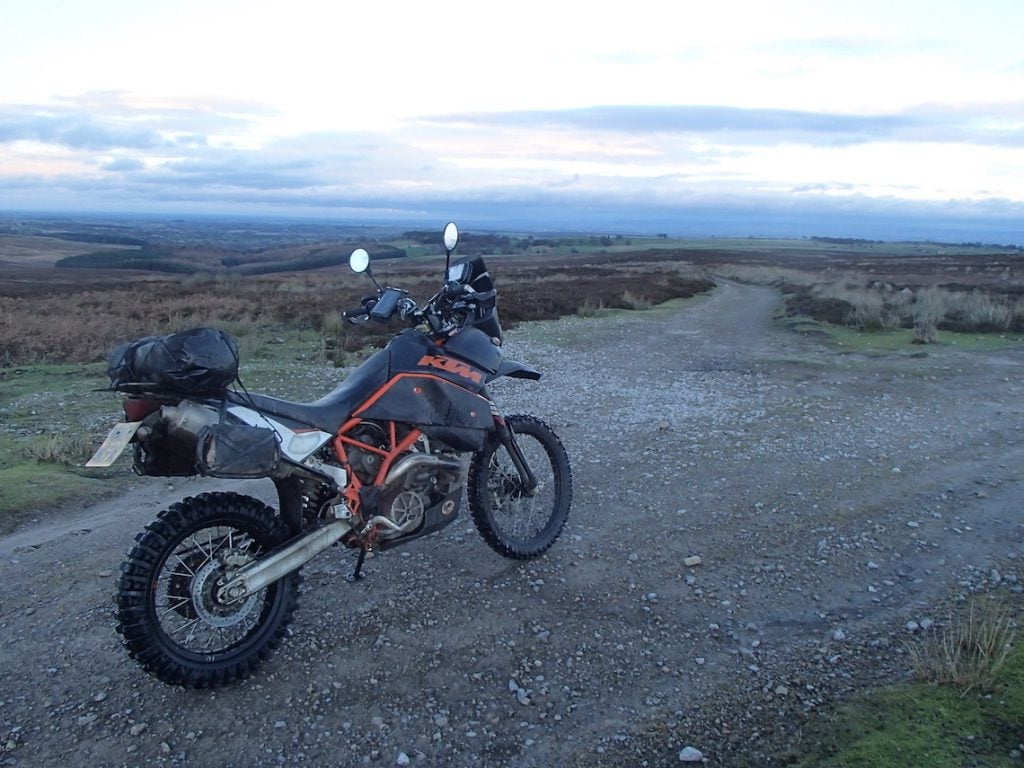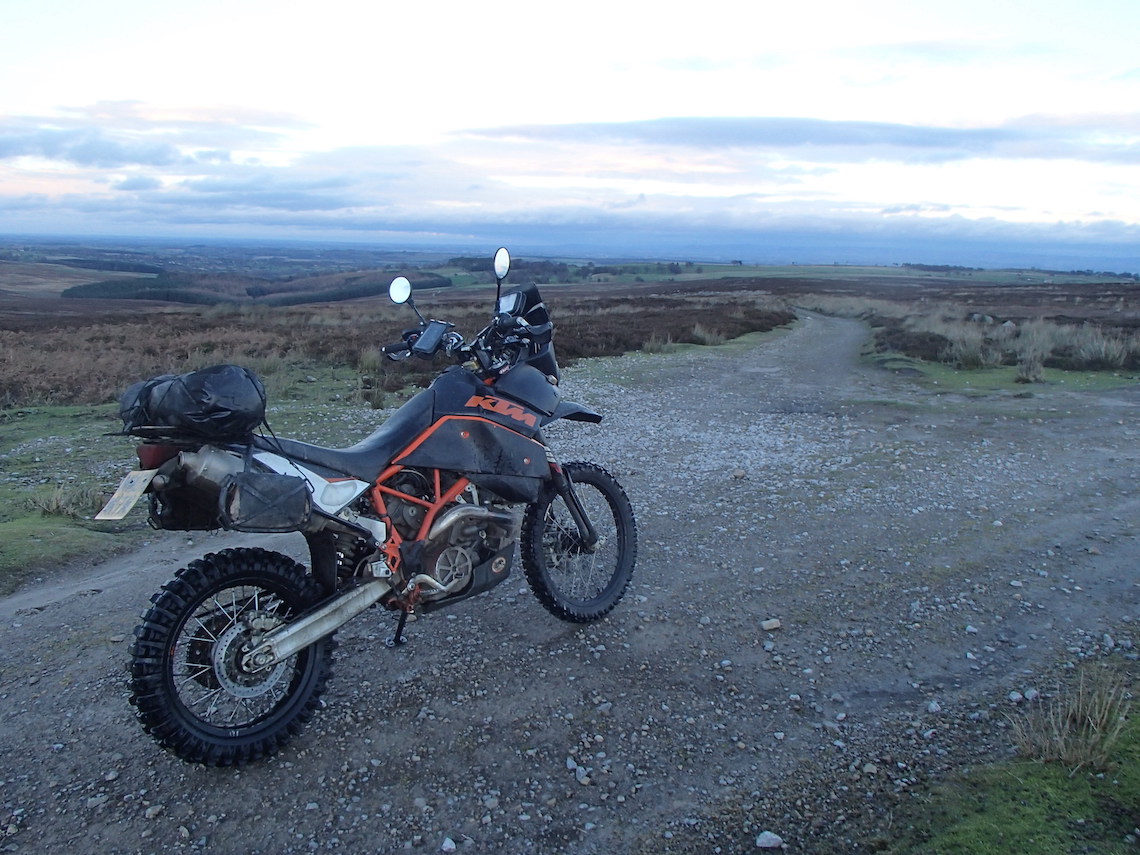 The easiest way to access this trail from the west is heading north from the village of Pately Bridge. After passing Gouthwaite Reservoir I had planned to veer right at Ramsgill and onto the trail. But restricted byway signs on the ground prevented me from proceeding. Luckily there's a second start point further north, and this is where I've started this lane from.
It used to be possible to link Masham Moor with the trail heading over to Scar House Reservoir to the west, and from here take Deadman's Hill into the Yorkshire Dales. Unfortunately, Deadman's Hill now has an 18 month TRO which effectively puts a stop to this which is a real shame.
The Route
1-2
Leaving the main road you proceed past an 'Unsuitable for motor vehicles' sign along a deteriorating tarmac track. The trail quickly goes to gravel at the sides and grass appears in the middle. Proceed about 400m to a gate. Head through the gate onto Longside Moor.
2-3 
Continue along more of same kind of track, hard compact, a few loose stones and grass growing in the middle. Proceed slightly up-hill where there is less grass and more loose stone. When I was there there was Grouse everywhere. Proceed to the junction. Heading right leads towards the restricted byway (but it isn't signed as such so may be worth exploring if you have time and you can loop back up to point four). Proceed left.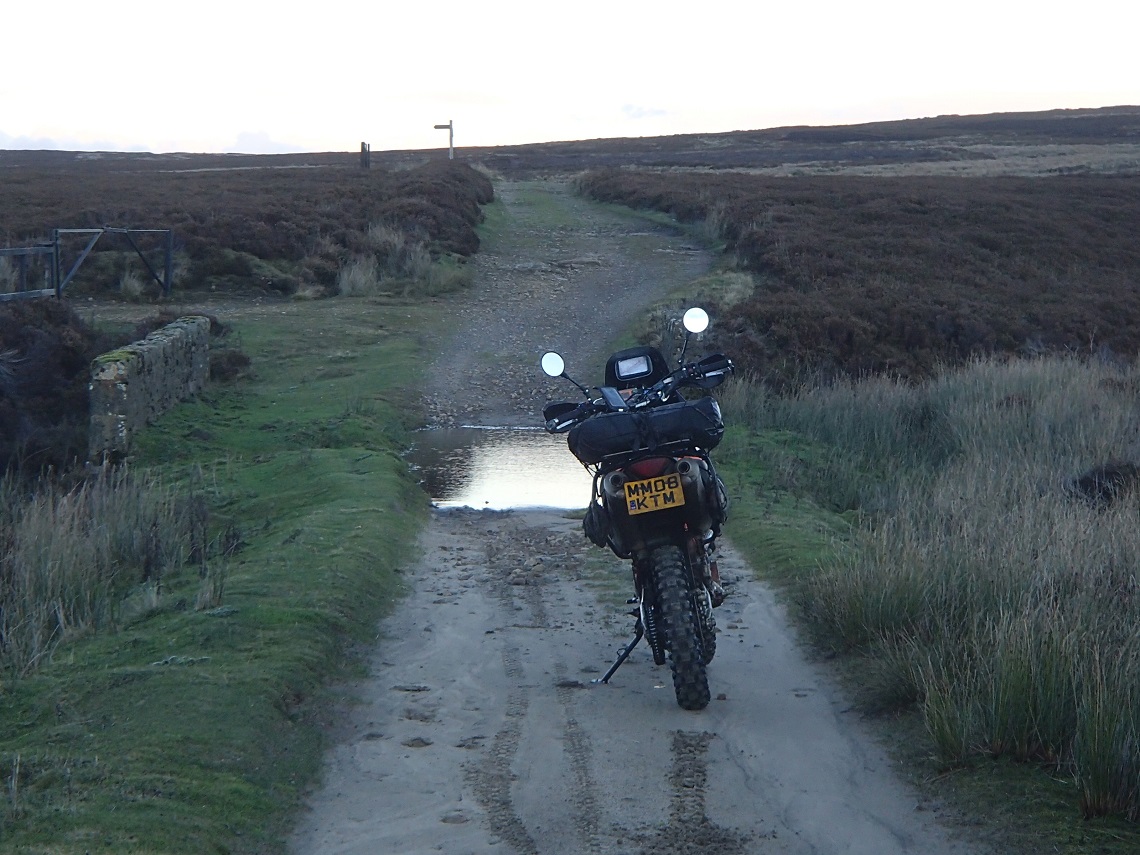 3-4 
Continue about 300 metres and head through the gate. You are now passing over open moorland and it can be very bleak in bad weather. There are two 4×4 ruts which can contain puddles up to a foot deep and some dips to get air from if you wish.
4-5
Another junction and a trail signposted 'Six dales trail' heads off to the right. Again, it may be worth exploring if you have time. Continue straight on. You pass a public footpath on left and there are some great view here looking east.
Heading downhill now you can see the trail winding its way into the distance. Take care on this section as it's all too easy to pick up speed, and you can encounter soft sand in one particular part of this section.
5-6
Head over a small bridge, there's a footpath off to the left. Continue straight on. There are more puddles up to a foot deep. Stop and take a look back and you can see the trail winding its way down to where you are. There are still great views looking east as you continue downhill.
Keep to the right as you pass the next fork in the track. I noticed a footpath sign off to the right but could see no trace of a footpath. Just white markers heading over the open moorland. The track forks again, this time keep to the left.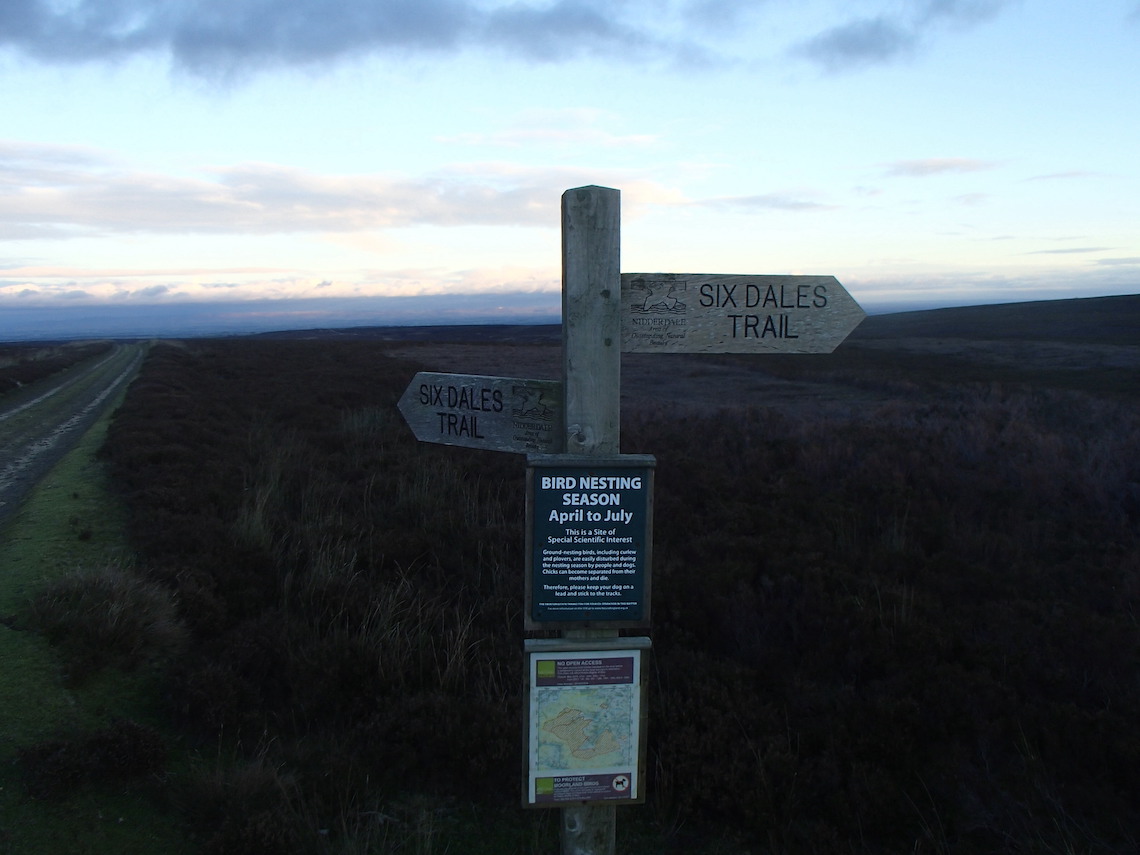 6-7
The going gets slightly more difficult, but still nothing too serious. There are a few bigger rocks on the steeper section. Continue to a gate where the moors end.
7-8
Continue down a farm track to the road at the end.
8-9
Short tarmac section which leads to the next short trail. At the left turn, continue straight on signposted 'Biggin Wood'. A fairly easy farm lane which passes through a small ford.
---
Stonehenge, Wiltshire
3.23 Miles – Wow Factor ✪✪✪✪✪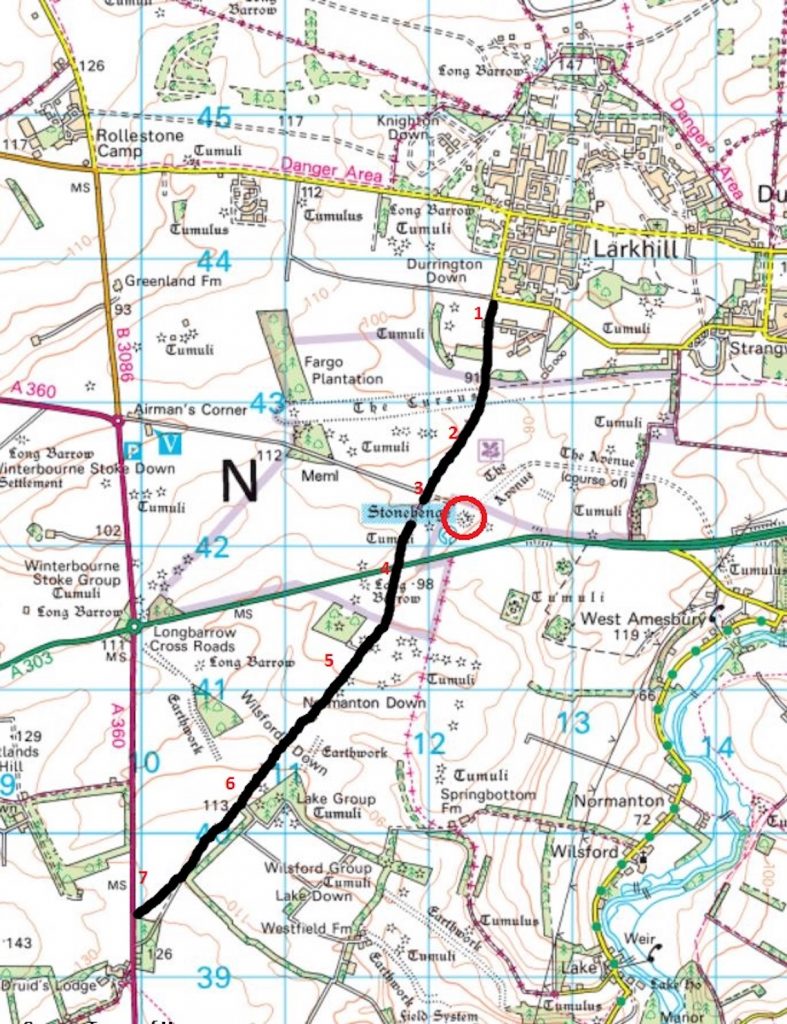 This trail takes you very close to one of the most famous monuments on Earth, Stonehenge, and is located eight miles north of Salisbury in Wiltshire. At the closest point, you will be riding a mere 0.2 miles from the ancient monument so this trail offers fantastic views as you pass. The first section of the trail is very easy and well suited for beginners, once you cross the A303 the going gets a bit trickier but nothing too difficult so if you're a beginner and feeling adventurous feel free to give it a go. There's plenty of space to turn around if it gets too tough.
North of this trail is the vast Salisbury Plain. The plain is a chalk plateau and covers 200 square miles mainly in Wiltshire, but a little in Hampshire as well. The plain is sparsely populated as a result of military activity and is the largest remaining area of calcareous grasslands in northwest Europe.
The military training area covers roughly half of the plain making it the largest military training area in the UK. Of this around 39 square miles are permanently closed to the public, and access is restricted in other areas. However, the network of legal byways crossing the plain is fantastic.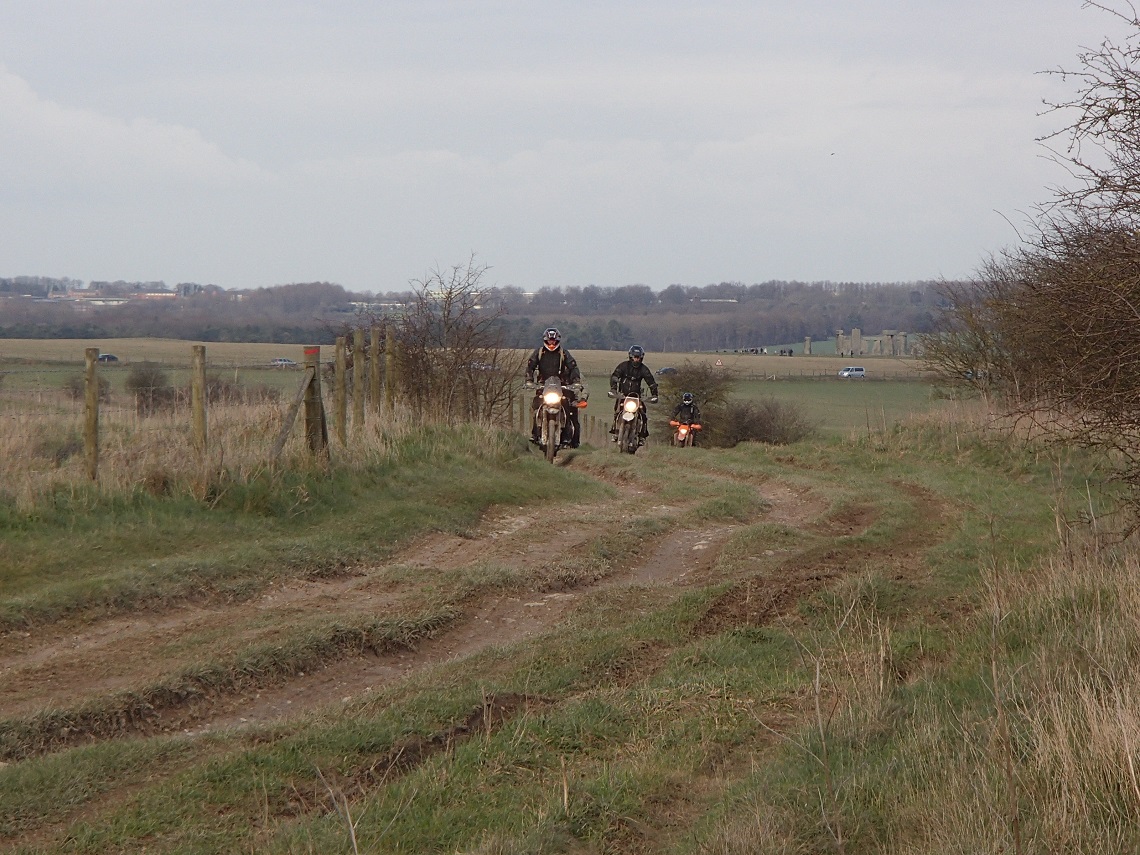 They are everywhere and something you have to see to believe if you are not local to the area. They are all extremely well signposted and as a result, off-piste activity is severely dealt with. I've been informed that there are 4×4 and motorbike patrols and fines are not uncommon for those venturing off the tracks. Be wary of red flags flying and legal byways that may be closed due to military activity.
As well as Stonehenge and the fantastic network of byways the local area offers a lot more in the way of cultural delights, there's the white horses carved out of the chalk hillsides, Silbury Hill, Avebury Ring (that I personally think is more spectacular than Stonehenge) and the West Kennet Long Barrow to name a few. Definitely worth an extended stay in the area if you are travelling from afar.
The Route
1-2 
Start at Larkhill heading south. The trail begins as a tarmac road and turns to dirt heading round a slight right-hand bend.
2-3 
Continue along the straight road with a hard compact graded base. There are a few potholes but the going is very easy in any weather and probably ridable on any bike with any tyres if care is taken. You can see Stonehenge coming into view on the left. It's worth stopping to take in the views and a few photos.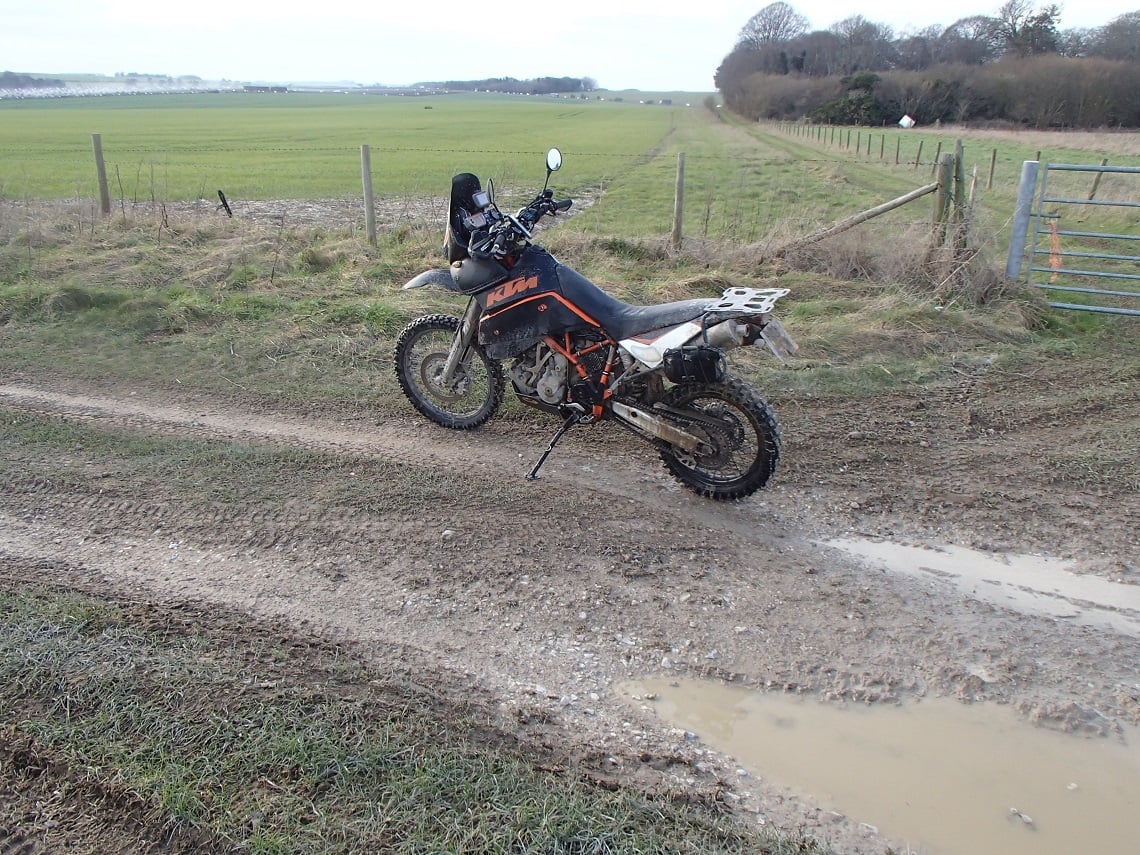 3-4 
Continue over the crossroads, take care here. The old visitor centre has closed down and this road is used by buses from the new visitor centre ferrying people to view Stonehenge from 1.5 miles away. There's not much of a view of Stonehenge now as its obstructed by the hillside.
Continue straight on and the best viewing area is a couple of hundred metres up this section. The going is still the same, very straightforward. Continue to the A303. Take extreme care now. This road gets very busy and most people are concentrating on looking at Stonehenge as they pass.
4-5 
The next section is slightly harder, probably a grade 2-3, so beginners have the opportunity to end the trail here. Continue straight on and the trail becomes a lot more muddy and slippery with fields on either side. There are several ruts to navigate and you can see the trail heading off into the distance.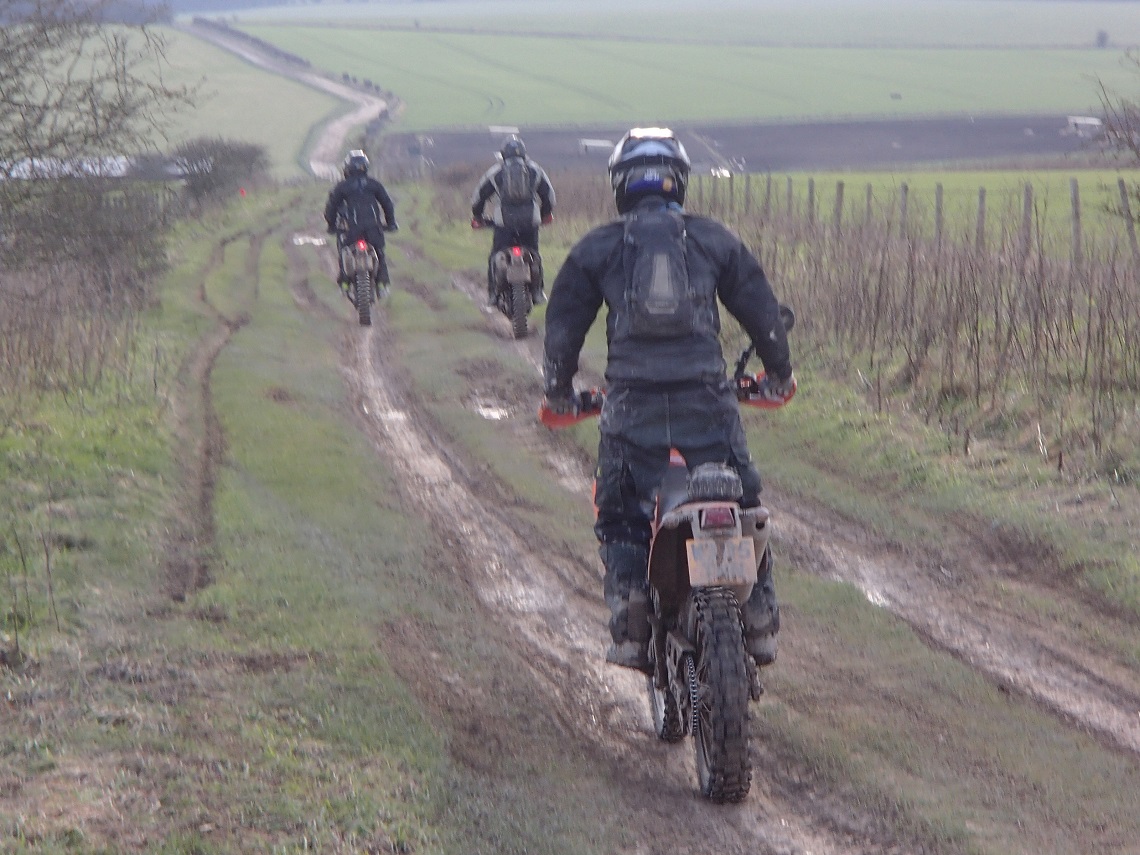 It's worth stopping after a couple of hundred meters and looking back towards Stonehenge. While the first section of trail is great for viewing I personally prefer the view from the A303 but there is no ideal place to stop there (though checking the map there is another byway to the east that starts at the A303 opposite Stonehenge that may be worth checking out).
5-6 
After a couple hundred metres the trail becomes hard-packed again and the going becomes easier as you ride a well-graded farm access track.
As you reach the bottom there is likely to be standing water (but this isn't too troublesome) and then head uphill slightly. Same kind of hard compact going.
6-7 
As you reach the trees the going becomes more difficult again and there is plenty of mud, including a nice long muddy puddle that's just over a foot deep (after rain!). Continue to the end.
---
Did you know…
Stonehenge is a ring of standing stones that have fascinated archaeologists, historians and the public for many years. It is unclear as to when it was built, but most agree it was between 2000 – 3000 BC (slightly wide timescale if you ask me!). It is currently one of the seven wonders of the medieval world and the land around Stonehenge is owned by the National Trust.
Those who built Stonehenge had to have been extremely sophisticated in mathematics and geometry as it was aligned with the midwinter sunset and the midsummer sunset. It was also aligned with the most northerly setting and most southerly rising of the moon. It is estimated to have taken at least 30 million hours of labour to build and some say it took approximately 1,500 years.
Opinions differ on whether Stonehenge was built for ritual activities or whether it was built as an astronomical observatory. Some people even believe that aliens built Stonehenge but there has been no proof of this theory. One thing's for sure, it's a fantastic feat of engineering and some of the stones were obtained from 240 miles away, and weighing up to 20 tonnes it was no easy task to get them to where they are today.