Throughout 2016, with the help of TomTom, we've set out to map a series of weekend rides around the coast of England and Wales that can be linked up to form one epic, week-long circumnavigation of our home countries.
Our first instalment, in issue 32 of Adventure Bike Rider, took us from Cardiff to Snowdonia, while our second route saw us exploring the incredible scenery and landscapes of the South West Coast. Following on from where we left off, we've ridden the south coast of England, from Exmouth all the way around to Faversham on the north coast of Kent.
The emphasis of these routes is to explore this beautiful island that we call our home by taking the roads less travelled and focusing on discovering the history, culture, and natural beauty of the locations we ride through. As such, we've plotted out the route, which you can see on the map on the next page, and provided you with six suggested locations to See, Discover, and Ride.
We pick up this weekend route on the Jurassic Coast and it's not long before we're enjoying what must be one of Britain's most exciting roads, The Jurassic Coast Road. The tarmac rises and falls relentlessly as you tackle turn after turn, all the while admiring the eye-catching scenery of the prehistoric coastline.
Upon reaching Weymouth it's a short ride along more heavily trafficked roads to Bournemouth, where we enter the fantastic New Forest. It's worth exploring this area for an hour or so and stopping off in the excellent Sammy Miller Motorcycle Museum.
After the tranquillity of the forest, the coast becomes more built up between Southampton and Brighton, grit your teeth and bear the ride along the motorways and dual carriageways, getting it done as fast as is possible. Shortly after Brighton, we follow the coastal roads once again and get to see the magnificent chalk cliffs, of The Seven Sisters and Beachyhead. Our first evening stopover is in Eastbourne, a few minutes away from these monolithic sea walls.
After relaxing in a fine hotel by the sea, it's time to rise early, as there are big distances to cover. We follow the coast to Dover, somewhere that ABRs will probably only see as the gateway to their European tours. If you enter the historic town from Folkestone Road rather than the A20 you begin to see it in an entirely different light. The surrounding rolling hills of the countryside are as beautiful as you'll find anywhere in the UK, and as you pass through the port town and up the other side you're afforded magnificent views of Dover Castle, sitting ominously on the hilltop behind.
The road between Dover and Manston, where we stop to see the Spitfire and Hurricane Memorial Museum, is fantastic, and I'd recommend taking a few moments to dive down into Saint Margaret's at Cliffe to see the wonderful, hidden gem and watch the ferry loads of people be taken across the Channel.
Through Sandwich, we ride before reaching the fascinating museum at RAF Manston. Our ride is all but over now as we follow the roads to Faversham, at which point we head home via England's favourite ring road, the M25.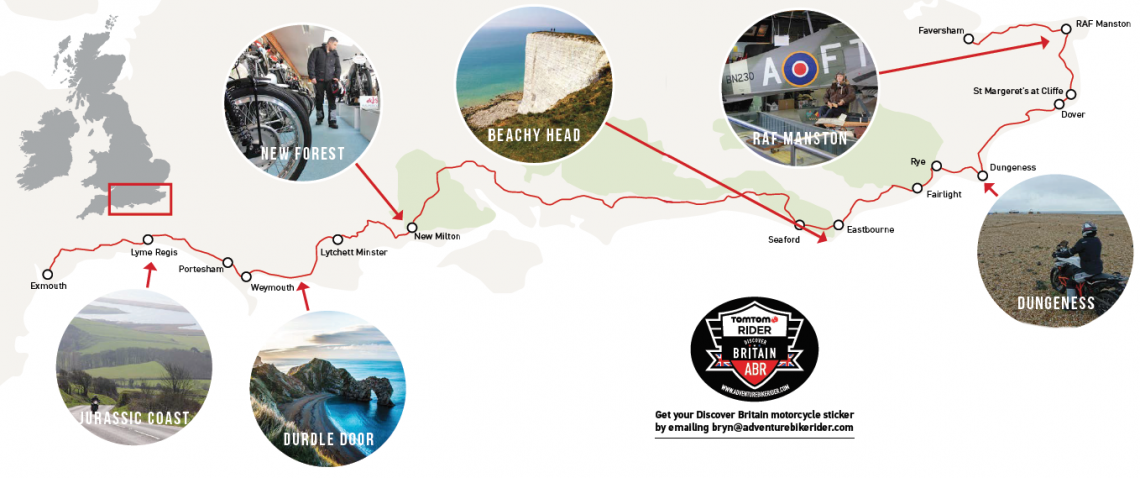 Stay Here
1. Exmouth
While we were able to reach Exmouth for an early start on day one of our weekend ride, if you're going to be travelling from the north of the country, or if you'd rather have a more leisurely start to the weekend, Exmouth is the ideal place to spend your first night.
There are plenty of hotels and restaurants and it allows for you to roll out of bed at a reasonable time in the morning, get some breakfast and head out for a full day of fantastic riding.
2. Eastbourne
Your first day of this weekend tour will take you from Exmouth to Eastbourne, covering a distance of roughly 230 miles. Eastbourne is a grand seaside resort and has a plethora of hotels and B&Bs to stay in.
We rolled into town at 8 pm and fired up www.laterooms.com and found ourselves a wonderful kingsize room in the four-star View Hotel for just £64 per person per room.
As with Exmouth, Eastbourne is the perfect staging point for the next day's assault on the coast of South-East Britain.
Ride
1. The Jurassic Coast Road
Fortunately, our tour kicks off with a bang and just a few miles out of Exmouth we roll into West Bay, a beautiful seaside town that also marks the beginning of the Jurassic Coast Road. For roughly 20 miles this stretch of tarmac takes you along the stunning World Heritage coastline, rising and falling and twisting and turning with the land.
For sheer riding enjoyment, this road must be up there with the best in Britain, though it's not just the thrill of the ride that makes it such a fantastic experience. To your right, you have the dramatic coastline which, on a clear day, provides mesmerising views across the crystal blue sea, and to the left you have beautifully lush and green farmland rolling away into the distance.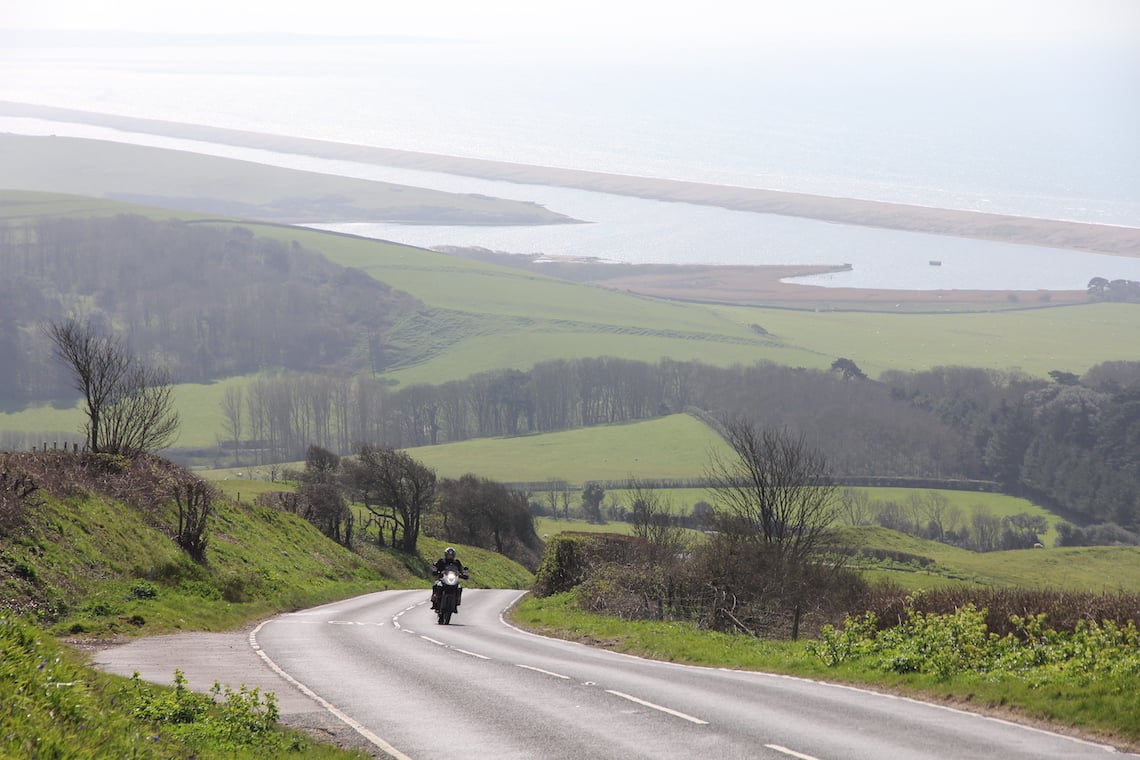 2. Hastings to Dungeness
Like day one, our second day sets the bar high for the remainder of the ride. After re-energising in Eastbourne you begin your ride to Dover, but not before you follow the coast to Britain's only desert, Dungeness. From Hastings, the riding is fantastic if you stick to the less travelled B-roads.
As you enter the High Weald Area of Outstanding Natural Beauty the tarmac climbs Battery Hill before dropping you on Pett Level Road, a bizarrely flat area of farmland that has been reclaimed from the sea.
As you ride into Lydd turn towards Camber and Dungeness and you'll be rewarded with a fantastic road that wriggles its way past an eerily secret Ministry of Defence site and onto Dungeness, where an alien landscape awaits.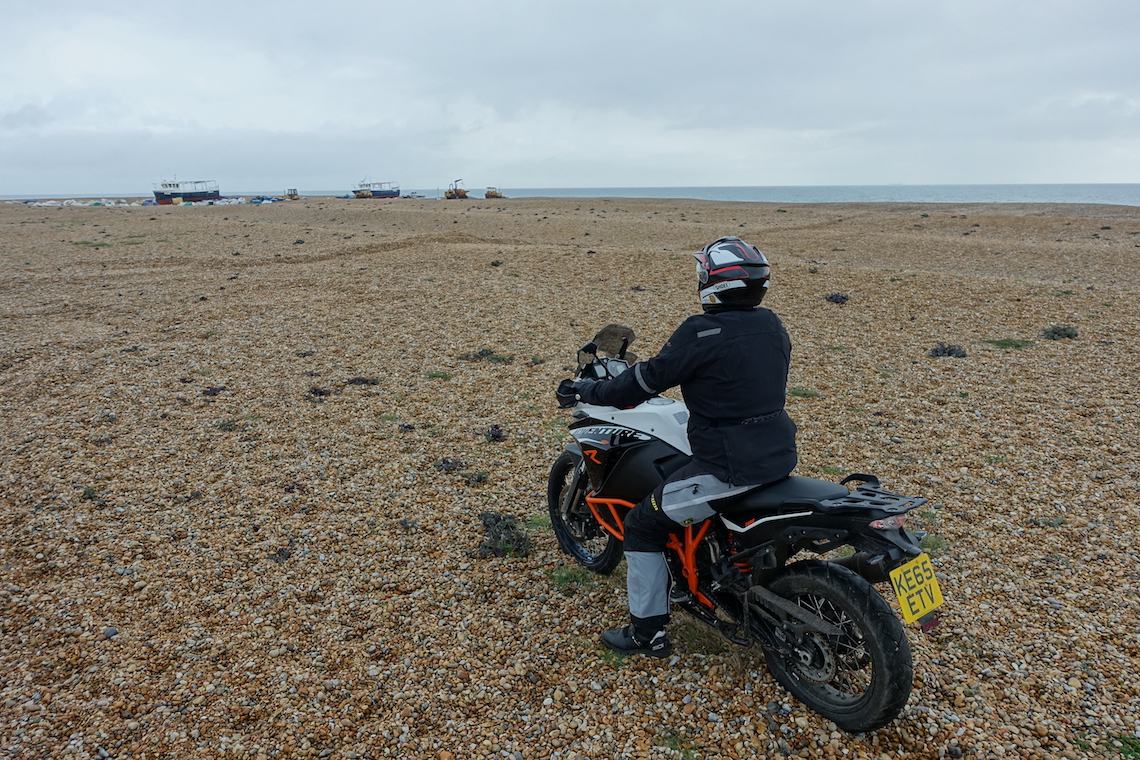 Discover
1. Sammy Miller Motorcycle Museum
Shortly after navigating your way through the busy streets of Bournemouth, you enter the quieter and more peaceful New Forest. There are numerous great roads to enjoy around here, but if you're only going to allow time for one stop make it at the Sammy Miller Motorcycle Museum.
Located just to the north of New Milton, the incredible museum is home to one of the most complete and well-kept collections of fully restored motorcycles in Europe. Inside the walls, you'll find over 300 machines from varying eras of motorcycling, including those used during World War II and even Sammy Miller's own trials bikes.
There's a brilliant cafe on site, so this is the perfect lunchtime stop on your first day.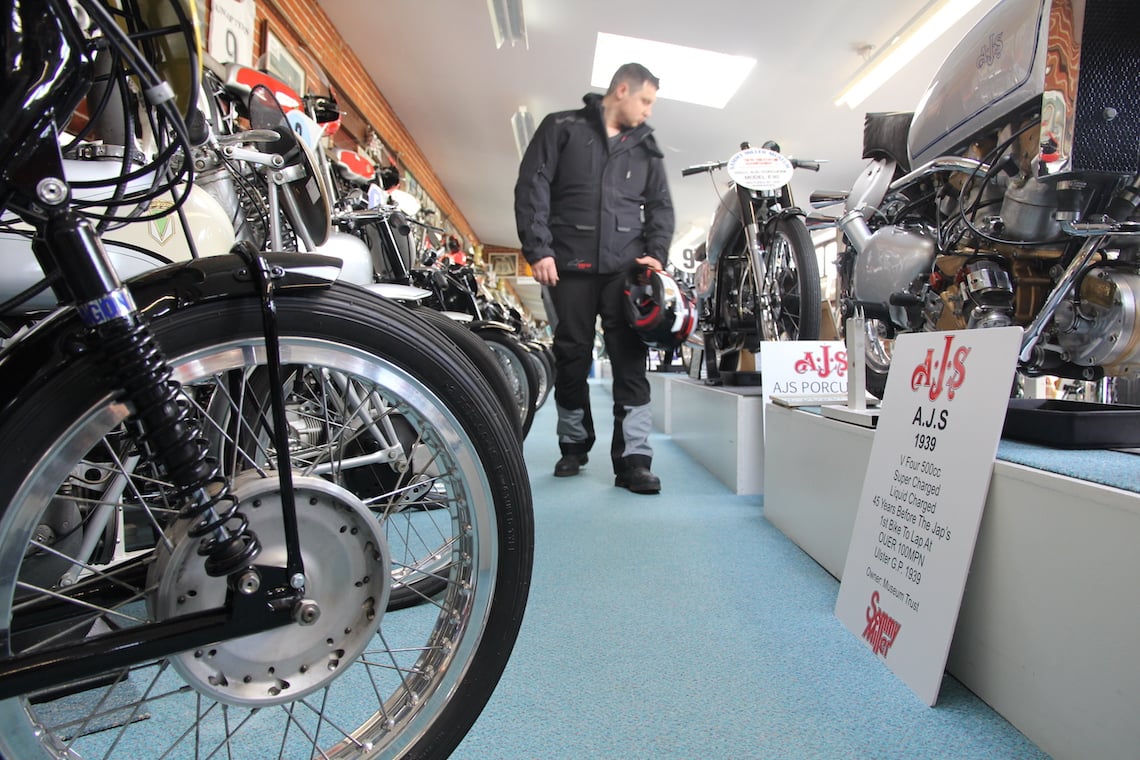 2. Spitfire and Hurricane Museum
As you ride along the South East Coast of England it's impossible to ignore the impact that the Second World War had on the area. At Capel-le-Ferne you pass by the Battle of Britain memorial, and as you pass Manston towards the end of the ride, you have the opportunity to visit the fascinating RAF Manston Spitfire and Hurricane Memorial Museum.
Open between 10 am and 5 pm the museum provides a glimpse into life during WWII and the opportunity to stand side by side with a fully restored Spitfire and Hurricane. There's no charge to enter the museum, though donations are, of course, welcome and there's a cafe on-site for a quick cuppa before you blast off home.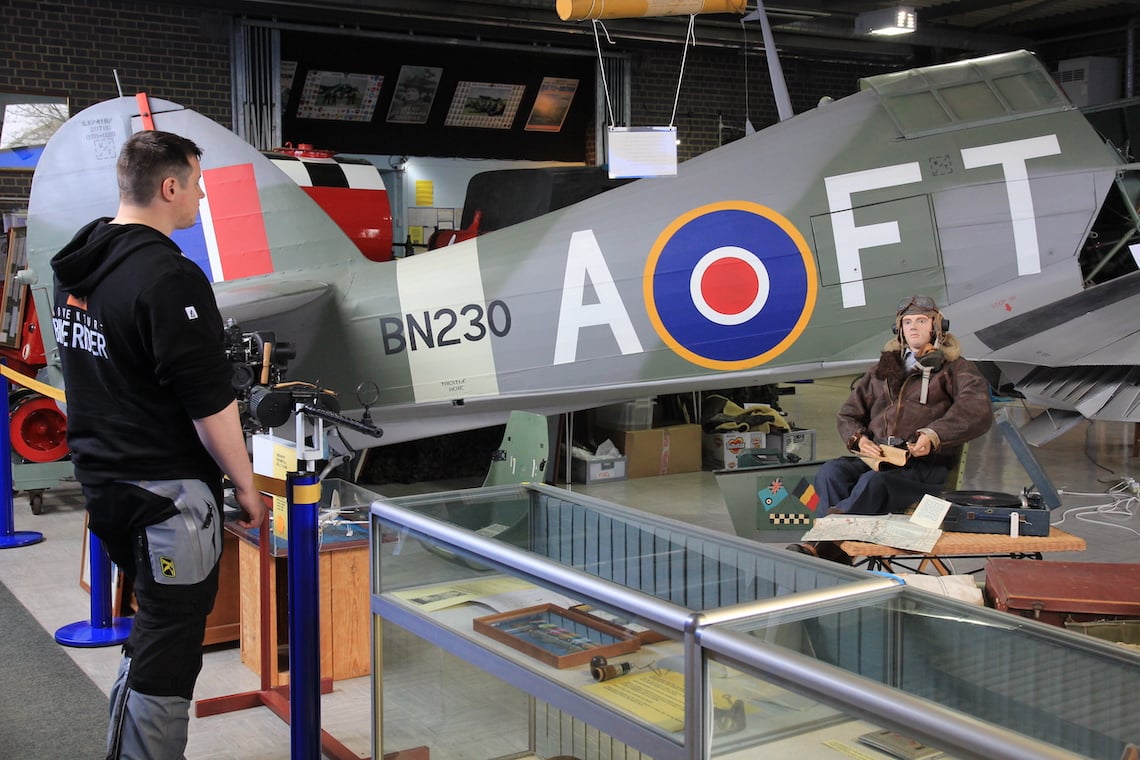 See
1. Beachy Head
Just before our first day draws to a conclusion we ride out of Brighton and towards the dramatic chalk cliffs of The Seven Sisters and Beachy Head.
Rising 162m out of the water, Beachy Head is Britain's highest chalk sea cliff, and it makes for remarkable viewing as you approach it from the west before riding along it and dropping into Eastbourne. Along the route, there are numerous viewing points where you can park up and walk out to the very edge of the cliffs.
It goes without saying that you should be careful here. These chalk sea cliffs are a perfect example of just how beautiful Britain really can be, and no matter what the weather is you'll be in for an experience, with low clouds providing an eery and haunting atmosphere.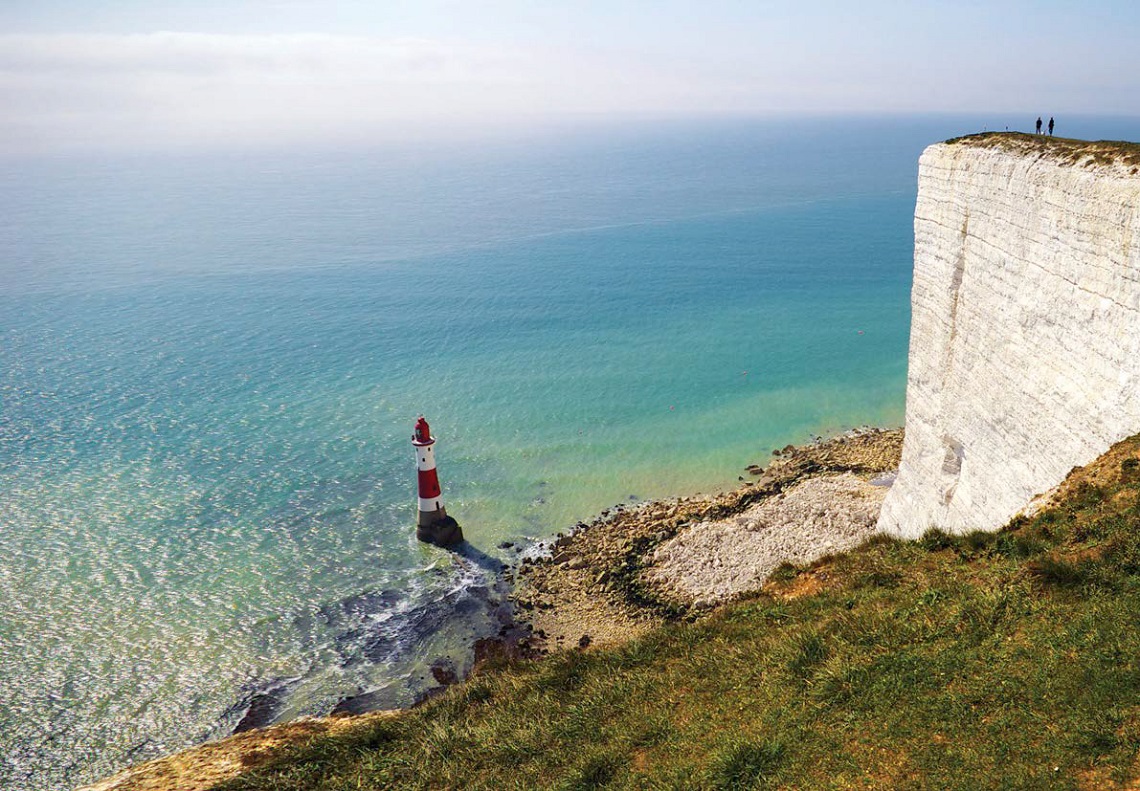 2. Lulworth Cove and Durdle Door
It's hard to single out any specific place along the Jurassic Coast to see as it is riddled with dramatic and beautiful scenery. Chesil Beach is one such place that's impressive to see, and our ride offers a commanding view of it as we traverse the Jurassic Coast, but it is Lulworth Cove and Durdle Door that must be seen.
While you can ride to the beach at Lulworth Cove, it is best viewed from a higher vantage point, which can be reached via a short walk. Park the bikes up and put the effort in and you'll be rewarded with stunning views of this uniquely shaped cove that has been formed by over 10,000 years of erosion.
Be wary that the area around Lulworth is a very popular tourist destination in the months of July and August.