There was a point on my ride of the 2018 BMW R1200GS Adventure when the thought struck me that retro motorcycles will soon be those that don't come with an inbuilt subscription to Netflix. Maybe the future definition of 'retro' will be a motorcycle that doesn't allow you to call up season three of House of Cards from an onboard speech recognition system whilst (in the case of adventure bikes) sipping Latte with your hologram pillion in a Starbucks car park.
These days I've no clear idea of what retro means, and isn't it a generational thing anyway? What would be retro to a centenarian would appear Paleozoic to a 20-something. Even so, whatever retro is and whatever it means, there are still many riders out there with a retro ideology that kicks in whenever new technology replaces or supplements the current state of affairs.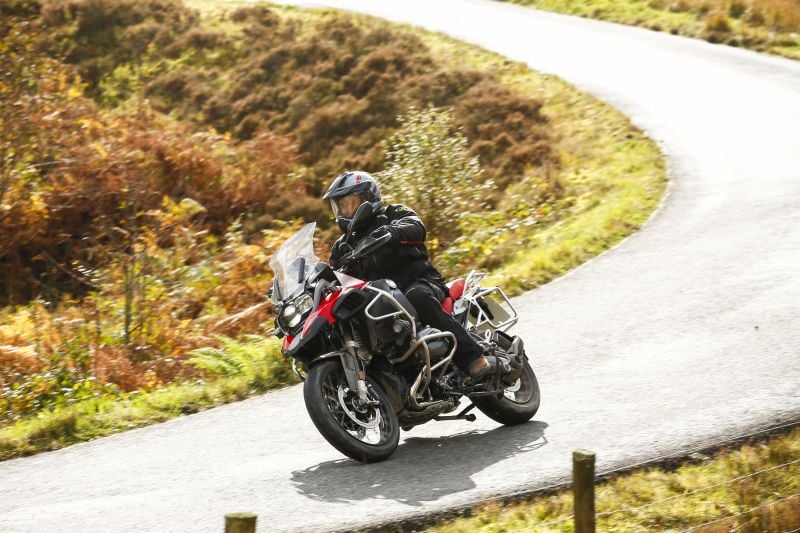 For example, I reckon that ABS and, more recently, lean-sensitive ABS are both huge advancements in rider aids and safety. And yet there are still some who'd rather throw an anchor off the rear as a way of cutting speed on a motorcycle. As it happens, I've been harbouring a few corking dogmas myself.
Up until this year if someone had told me listening to music whilst riding a motorcycle was the way to go I'd have cut all further communication with them. That all changed when I test rode a Harley Ultra with surround sound speakers whilst riding the highways in Washington State, USA. Cruising with music is the way to go.
On a similar note, I've resisted helmet based comms for philosophical arguments that were never really convincing, and have now totally fallen apart having tested a system at the launch of the 2018 BMW R1200GS Adventure.
Mind you, it wasn't all groovy sweetness and communication love. Having my tribute to Tom Petty interrupted at the apex of a fast-paced right-hander near Builth Wells by a colleague phoning from the office asking if I wanted to order any stationary, was an imposition too far.
Essentially, the 2018 BMW R1200GS Adventure is the same as the old GSA with a few colour and styling enhancements. The big story concerns the ever-growing rack of optional upgrades which are now available to threaten the thickness of your wallet. The undoubted highlight of which is a new TFT full-colour multimedia dash which includes phone and helmet Bluetooth connections (Netflix will be a 2019 option), all operated by the bar-mounted buttons and the control wheel.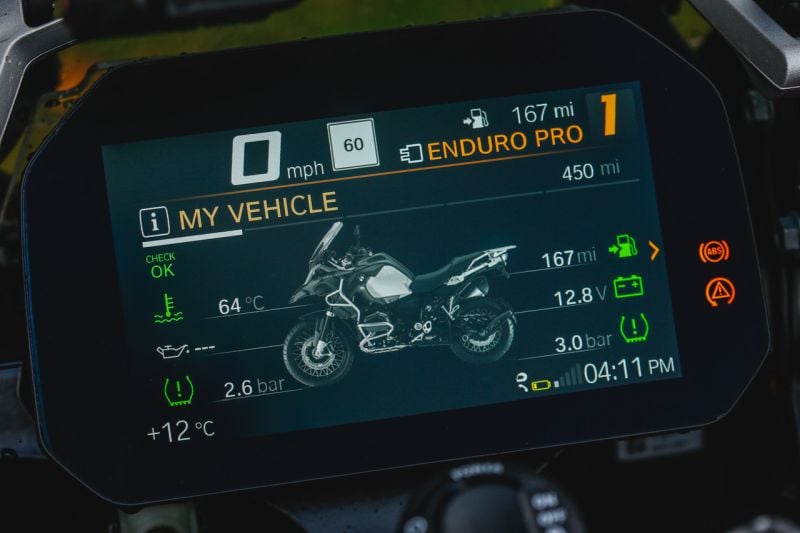 The control wheel, in case you've not come across it, is simply an excellent piece of equipment. It sits flush with the left-hand grip, and through an intuitive combination of turns and tilts allows a rider to control features, such as the GPS, without moving their hand from the bars. A superbly integrated feature rather than a bolted-on afterthought.
More about the upgrades later, let's just stay with the BMW R1200GS Adventure for a second. Whatever your views are on BMW and the GS range, there can be no argument about their continued popularity.
In a year where every sector, with the notable exception of adventure bikes, has seen a drop in sales, the two best-selling bikes in the UK, the R1200GS at number one and the R1200GS Adventure at number two, have experienced increased sales. A phenomenal achievement by any measure.
There is a very valid reason for this, and as we ride into 2018 I reckon we're way past the Long Way Round or Long Way Down effect. They are, quite simply, excellent motorcycles, and that was only reinforced during the press launch riding the mountains and valleys of Mid Wales on the day storm Aileen hit land.
There are faster bikes, there are better off-road bikes, there are more comfortable pillion carriers and there are more precise handling bikes, but when it comes to a motorcycle that can do it all with a high level of competency, there are few, if any, that can match the GS or GSA.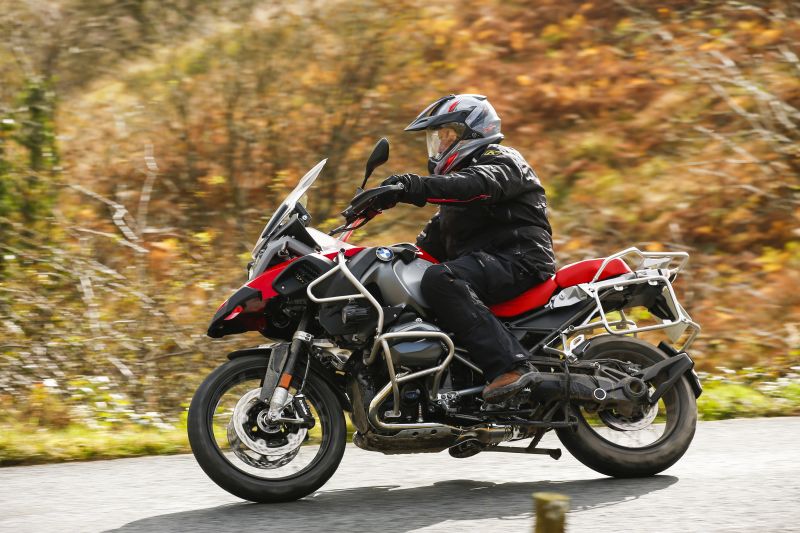 With an all-new GSA surely under development in a hidden chamber deep in the Bavarian Alps, the current GSA is in what I suppose we could call the mid-model upgrade phase. For 2018 the prospective buyer will have the choice of an immense range of optional extras, which include dynamic suspension, an 'Emergency Call' feature, hill start control, quick shift gear change, keyless ignition and the new integrated TFT colour screen.
Our test ride was aboard the top-spec TE model which came with just about anything and everything you can integrate and bolt on to a BMW R1200GS Adventure. It included all the above and then some.
One of the main things I'm forever raving about when it comes to the BMW R1200GS Adventure is the quality of the electronically adjustable suspension (ESA) which provides an almost magic carpet-like smoothness.
The fact that I could also adjust the settings by pressing a button, rather than pissing about (and I'm choosing my words both carefully and emotionally here) with tools, is reason enough to lobby Parliament for the declaration of a national holiday to celebrate ESA.
The TE came fitted with the new Dynamic ESA, which now means the bike keeps an eye out for the conditions and weight load, and adjusts automatically on the fly. Life, without a hint of hyperbole, doesn't get any better than this.
The new 'Emergency Call' feature is essentially an intelligent, integrated communication tool connected to sensors programmed to detect a crash and then alert the emergency services with your location. It's not quite that simple, as there is a system and a protocol to follow to eliminate non-emergencies, but I'm sure you get the drift. Perhaps the most useful advancement has been in the previously mentioned connectivity and the new multi-media TFT screen.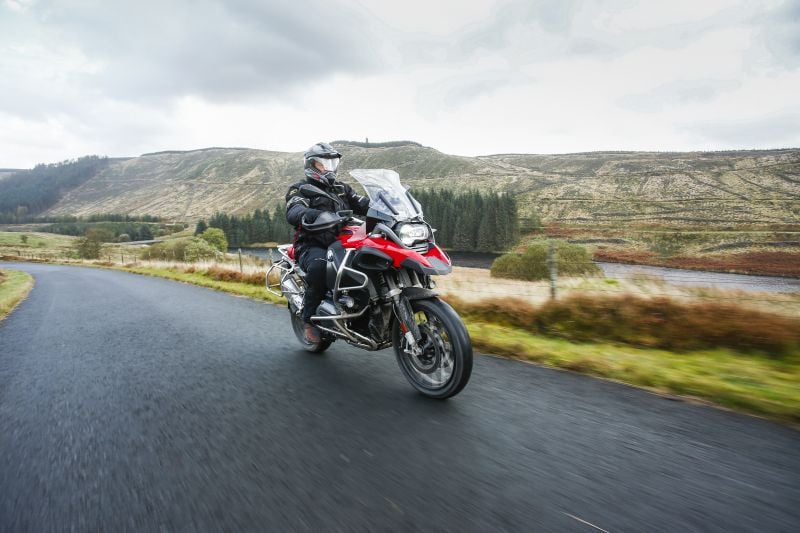 Thankfully, it now appears that the days of motorcycle manufacturers scouring bins for discarded Nintendo Game Boy LCD's to fashion into motorcycle dashboards are over. The new screens, such as that found on the 2018 GSA, are light years ahead of what has been the norm up until this year. The look, clarity and colours are now more reminiscent of a modern tablet rather than a pixilated, monochrome relic of the past. Press the key-less ignition and the screen goes through a short boot-up sequence of graphics, before displaying the stuff you need to know to ride a motorcycle. From there it's a full-on mission control unit which contains a whole raft of useful features, including a nifty adaptive red-line indicator based on engine temperature during the warm up phase.
Possessing a luddite gene when it comes to connecting wireless devices, it was, by my reckoning, a very simple process to connect via Bluetooth to my phone and helmet. Within a couple of minutes, I'd downloaded the BMW app, was tapping along to Tom Petty and thinking of calling someone just to ask where do you think I am?
The app also provides for a fairly basic navigation system, which is sure to improve as time goes by and undoubtedly replace the need for a separate GPS. Right now, it is not as user-friendly or functional as the GPS system already fitted on the BMW R1200GS Adventure.
The information available on the TFT is legion, and scrolling through the various screens and settings is simple and intuitive. I've little doubt that even the most resolute of anchor throwers will be converts by the time they've left the showroom. The new TFT costs £595 but in my opinion, is one of those features you'll regret not buying, especially so when it comes to re-sale value of the GSA.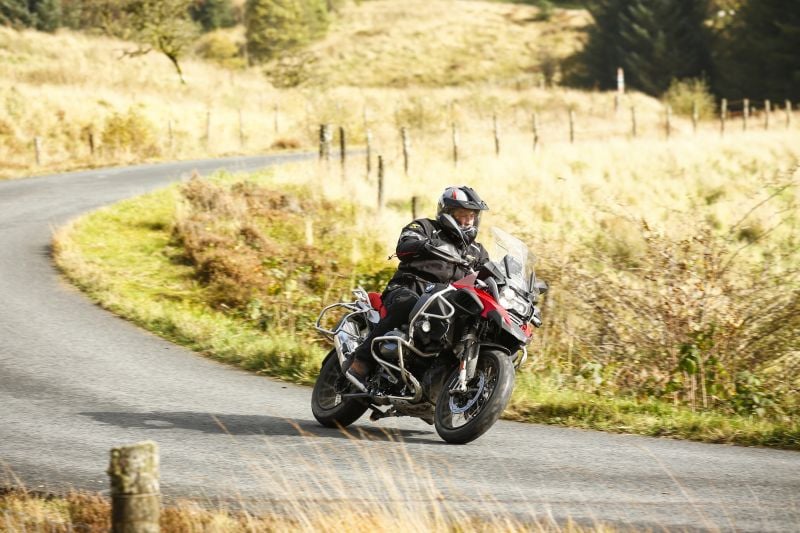 It's been at least a couple of years since I've spent any meaningful time aboard a BMW R1200GS Adventure, and in some ways, I'd forgotten what a superb all round package the bike is. Given the addition of the new features, it's an even more tempting proposition and I can't think of a reason why it'll not be pushing at the top of the sales charts once again in 2018.
Which one?
Base BMW R1200GS Adventure: £13,400
BMW R1200GS Rallye: £13,860
BMW R1200GS TE: £17,129
BMW R1200GS Triple Black: £17,535
BMW R1200GS Rallye TE: £17,670
BMW R1200GS Adventure specs at a glance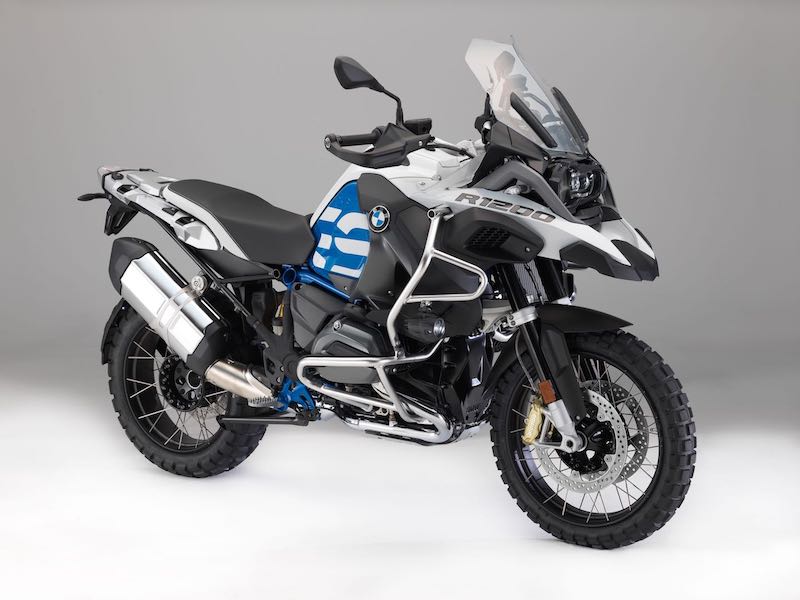 Model Tested: BMW R1200GS Adventure TE 2018 Model
Price: TE model on test £18,010 including Emergency Call and TFT Screen and Connectivity. Base model £13,400
Engine: 1170cc boxer twin
Torque: [email protected],500rpm
Power: [email protected],750rpm
Suspension: Front; Telelever, 37mm fork, non-adj monoshock. Rear; Paralever, monoshock with rebound/preload adj
Brakes: Front; 305mm disc, 4-piston Brembo calipers. Rear; 276mm disc, 2-piston Brembo calipers
Weight: 263kg (kerb)
Tank: 30 litres
Seat Height: 890-910mm with two optional lower seats at 840-860mm and 820-840mm
Colours Racing Red / Black / Rallye blue and white