BMW has revealed the full 2017 updated version of the R1200GS at EICMA this morning, with two new models to chose from named Rallye and Exclusive.
The firm's flagship adventure bike now has an options package that includes 'Hill-Start Control' to stop the bike from rolling on an incline and extra off-road-specific riding modes in addition to the standard 'Road' and 'Rain'.
The package is named 'Riding Modes Pro' and now includes BMW's cornering ABS for 'greater safety when braking, even in banking position' along with a 'dynamic brake light' which flashes and automatically activates the hazard lights in an emergency stop.
The new Rallye has in mind those who want the stock GS combined with the more off-road cues from the GS Adventure. Off-road enthusiasts will enjoy the tight sports suspension courtesy of an increased spring rate and longer travel.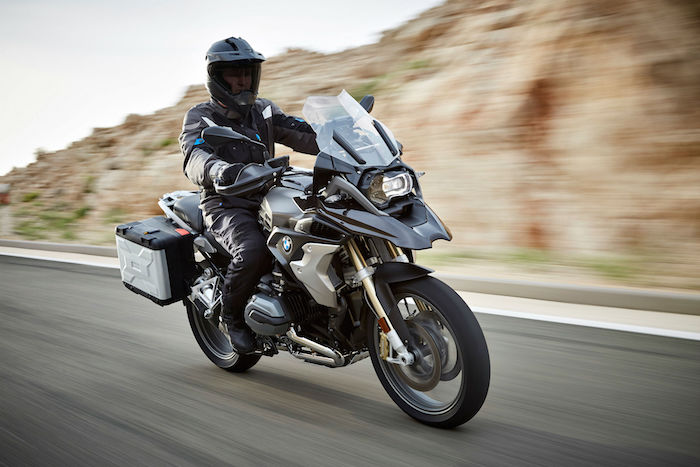 Meanwhile, the Exclusive model is the road-focused version of the duo. This edition features styling changes, including a newly designed air-intake and tweaked fuel tank panels and a radiator trim finished in stainless steel.
The R1200GS Exclusive comes in a sophisticated 'Iced Chocolate metallic' (that's a less poetic grey and brown to you and I). The fuel tank side trim panels are finished in 'Monolith metallic matt' and also feature bold R1200GS decals on each side. The frame is grey while the drive-shaft is black with stand out gold-coloured brake calipers.
The 1170cc boxer-twin engine still makes 125hp but has now been made Euro4 compliant with the help of a catalytic converter.
The price of the R1200GS is still to be confirmed.