When BMW's K 1600 range was first released in 2011, the Bavarian manufacturer used its flagship tourers to showcase its latest and greatest technological innovations for touring bikers.
From central locking panniers and electronically adjustable windscreens, through to onboard speakers, the K 1600 was at the cutting edge. It offered mile upon mile of relaxed cruising in ultimate comfort.
But, 10 years on, the K 1600 was starting to show its age. When we tested it at the end of 2020 we felt that the entire ensemble was looking a tad dated compared to some of the competition. That's about to change.
BMW has revealed a new range of K 1600 models are on their way for 2022, which we'll be testing in Spain in a few weeks time.
In the meantime, and ahead of our full review, here are five rider aids and pieces of tech that suggest that the German manufacturer has caught up and maybe even surpassed the competition.
The widescreen TFT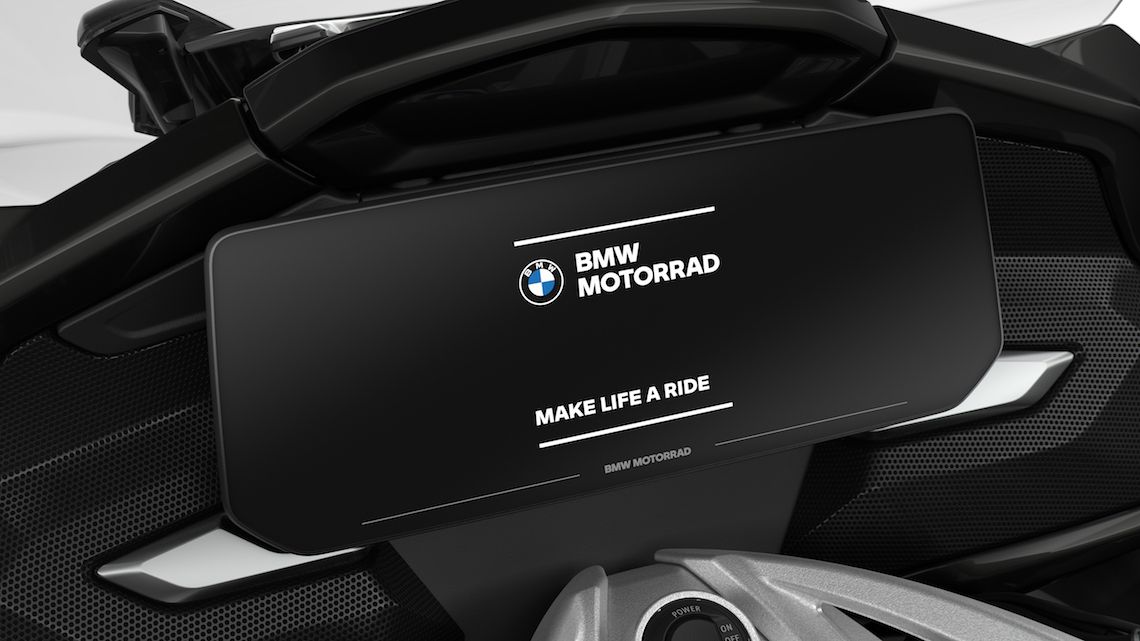 The previous K 1600 range came with a rather dated display that featured analogue dials and a small LCD display. However for 2022 BMW has scrapped that in favour of a whopping 10.25″ colour TFT screen, and it looks awesome.
It can be navigated with BMW's tried and tested wunderwheel, and can display everything from turn-by-turn navigation instructions to information on what song you're blasting out of the onboard speakers.
Most interesting of all though is the new split-screen option, which allows you to use that widescreen to project two displays at once. So, you can keep an eye on your SatNav while also monitoring your tyre pressure. Pretty nifty.
BMW audio system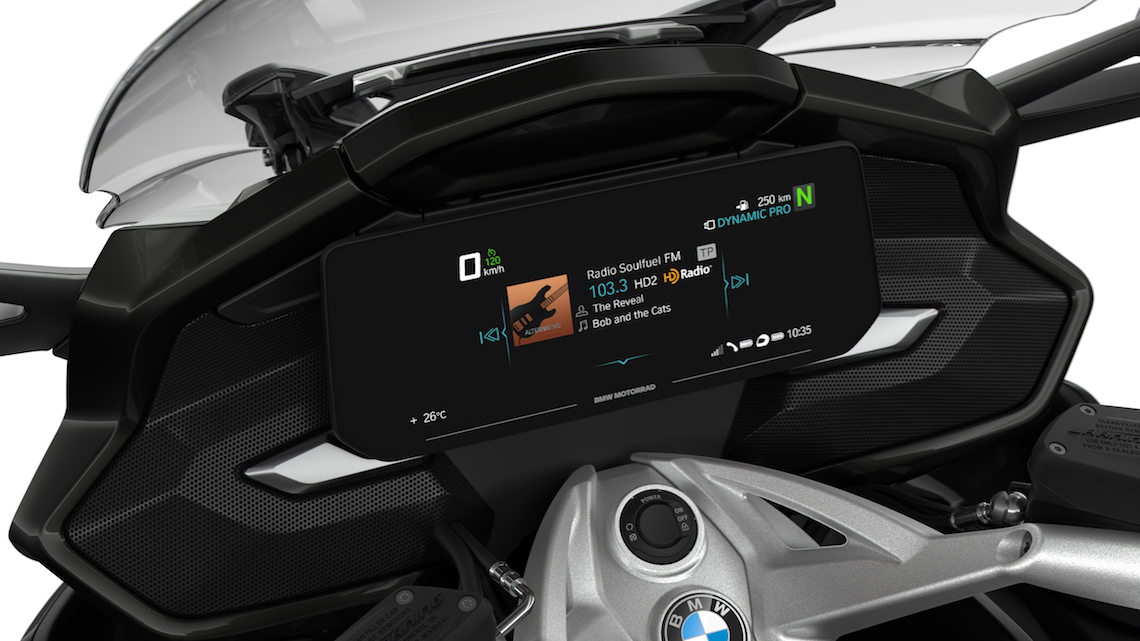 If cruising down to the Alps with your favourite road trip playlist pumping out of your bike sounds like your touring dream, then BMW has your back with its Audio System 2.0.
It comes as standard on the K 1600 GTL and Grand America models, while it's also an optional extra on the lower spec GT and B bikes.
BMW has updated its sound system for 2022 with new speakers for better sound quality, and a refreshed interface to make it easier to control while you're in the saddle.
Dynamic Electronic Suspension Adjustment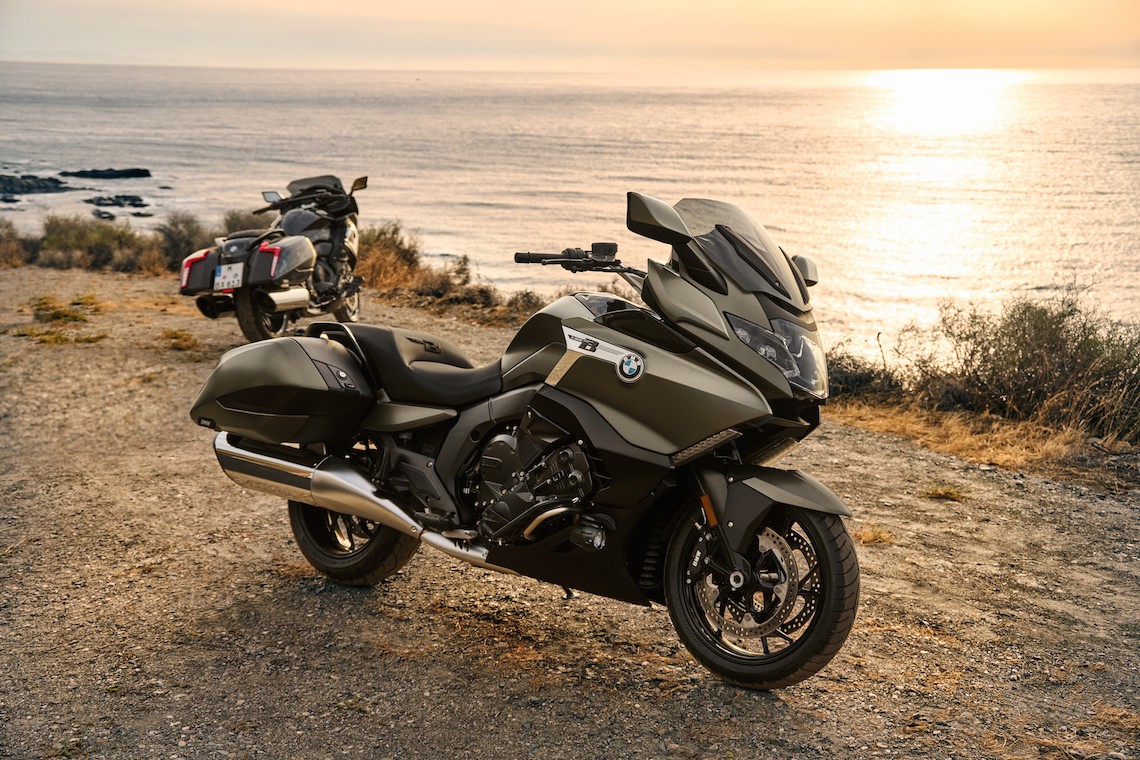 Away from music, and BMW's next bit of riding tech is pretty darn useful when it comes to touring.
The Dynamic Electronic Suspension Adjustment, which comes as standard across the entire K 1600 range, allows you to choose from a range of preset suspension settings to match the style of riding you're planning on, from comfortable cruising to peg-scraping spirited riding.
Alongside these presets, sensors constantly monitor the state of the bike during a ride, including lean angle, rate of acceleration and deceleration, and adjusts the suspension accordingly. There's also automatic compensation for load, meaning you can add luggage, a pillion, or both, and your suspension will adapt to cope with the extra weight.
While this type technology is common on premium bikes these days, it's particularly welcome on touring machines like the K 1600, especially when they're weighed down by a passenger and luggage.
The adaptive headlight on the BMW K 1600 range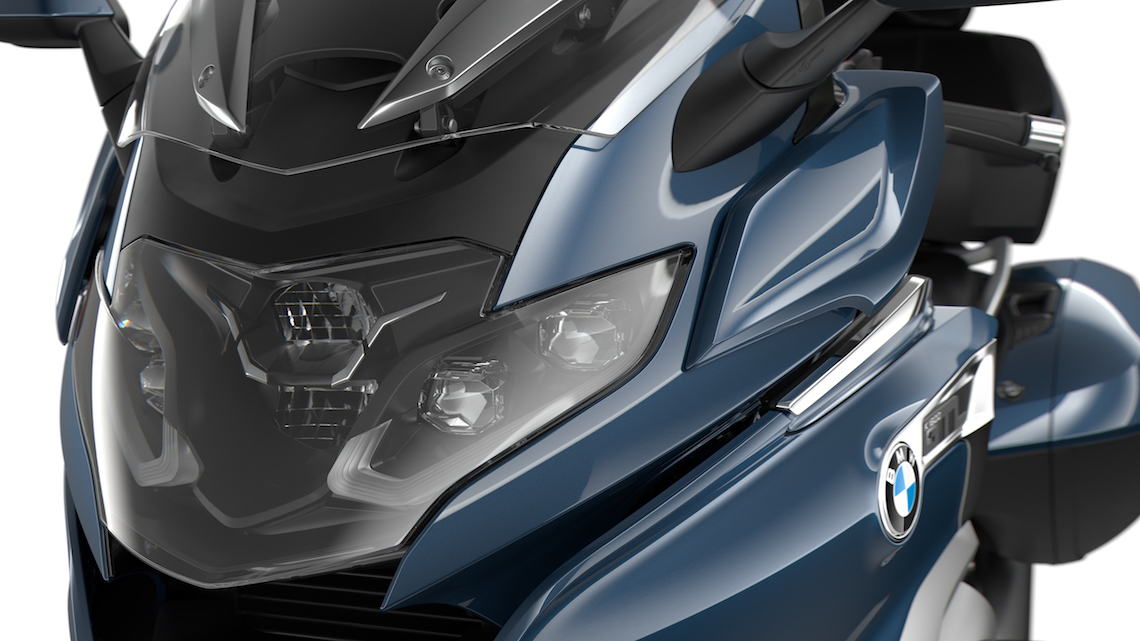 Cornering lights are nothing new in the motorcycling world, but BMW's adaptive headlight takes the concept to another level.
The K 1600 turns its headlight as you angle into a turn through a range of 35 degrees to ensure wherever you're heading is fully lit. It even adjusts up and down during acceleration and braking to counteract any squatting or diving when riding hard.
When it comes to riding dark country lanes or unlit roads at night, I think it's one heck of a valuable rider aid that should help keep you safer in the saddle.
Snazzy LED lighting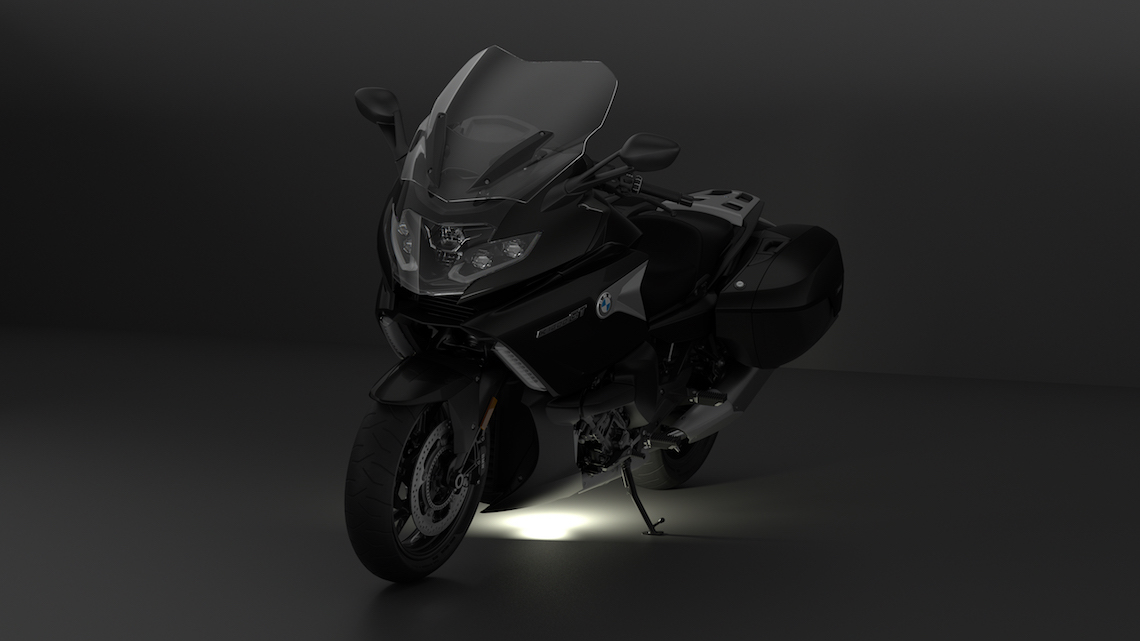 This one particularly caught my eye, and I think the reason is one that I'm sure plenty of other bikers can sympathise with.
You see, I've just moved into a new place with an unlit garage and driveway. That's all well and good when I pull up in the dark, but as soon as I turn the engine off and wheel the bike in I'm left to rely purely on memory to navigate the various hazards that my garage contains.
BMW's new fancy LED lighting would spell the end of my Crystal Maze-style evening routine. It features what BMW calls 'welcome', 'good-bye', and 'follow me home' functions.
The 'welcome' and 'goodbye' functions keep the front and rear lights on for a period of time after switching off the ignition, while the 'follow me home' function means I could just hit the high-beam button with the ignition off to illuminate the world around me.
Plus, couple it with the LED floor lighting, pictured above, which is an optional extra, and you'll never need to splash out on a motion-operated Amazon porch light again.
BMW K 1600 tourers
So, there we have it, five rider aids and pieces of tech that are welcome additions to the 2022 range of K 1600 tourers.
On the road pricing starts at £20,215 for the K 1600 B model, climbing to £24,410 for the top spec K 1600 Grand America model. The bikes will be in showrooms in March 2022.
Find out more on the BMW website.