We firmly believe you can have an adventure on any motorcycle so we're always keen to swing our legs over the latest and greatest touring bikes. To put it simply, if it has two wheels and moves body and mind on a ride-out, it's up our street.
That's why, early in September, we found ourselves cruising around the German countryside on BMW's R 18 B, the all-new, bagger-styled cruiser from the Bavarian manufacturer.
Now, if the copious amount of chrome detailing and retro-American styling wasn't enough of a giveaway, the R 18 B clearly isn't a traditional ABR bike. But don't let that fool you into thinking a spin on it is any less of an adventure.
On the ride, we discovered that BMW has produced a soul-stirring motorcycle and packed plenty of swagger and character out of every gleaming crevice. In fact, we enjoyed it so much that it took every ounce of our self-restraint to avoid turning that vast batwing fairing south and heading to the Alps when our day on it came to an end.
Instead, to give you a little taster ahead of a full review in the upcoming November/December issue of ABR, written by Chief Bike Tester Julian Challis, we've put together a list of five things we loved about riding the BMW R 18 B.
That monstrous boxer engine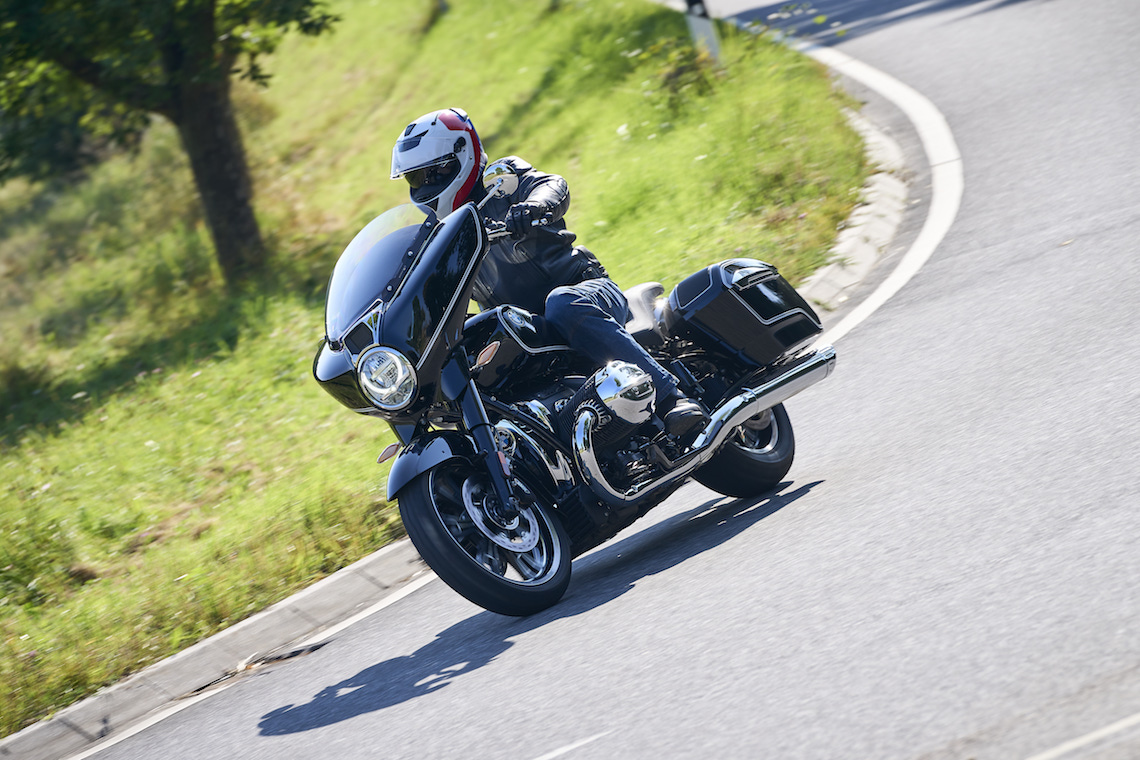 At the heart of the R 18 B is BMW's iconic boxer engine, which many adventure bikers will already be familiar with. However, it's been beefed up considerably compared to the horizontal cylinders of the R 1250 GS.
At 1802cc, the air and oil-cooled engine is BMW's largest boxer ever, producing 91bhp. And, more impressively (and importantly for a cruiser), it makes a whopping 158Nm of torque at just 3,000rpm, with 150 of them coming at just 2,000rpm.
This is a bike made for comfortable cruising and it duly delivers. It's more than capable of pulling along you, your better half, and all of your luggage along the tarmac with ease.
Couple all of that with the typical boxer low-down stability and sumptuous growl from the exhaust and it's safe to say that, if you're a fan of BMW's flagship engine, you're onto a winner with the R 18 B.
Classic good looks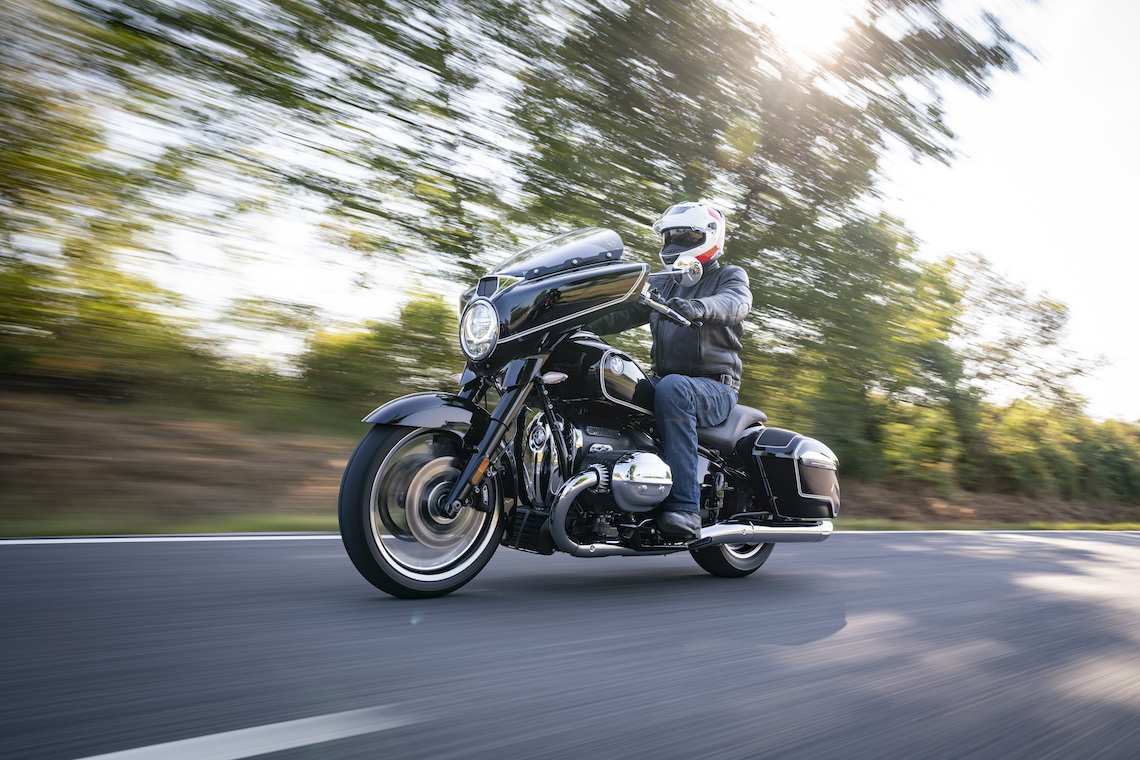 Looks are subjective, but there's something about sitting astride a retro-styled motorcycle that speaks to the soul.
Ask 100 non-bikers to sketch out a motorcycle and I guarantee at least 90 of them would draw something resembling the R 18 B. It's a definite head-turner when you're out on a cruise and, let's face it, there's something inside us all that enjoys the attention.
With four colours available, including two blue and matt green options, there's plenty of choice on offer too. Mine's the Manhattan Metallic Matte, but we spent our test ride on the black model with white detailing, as you can see pictured above.
Seamless technology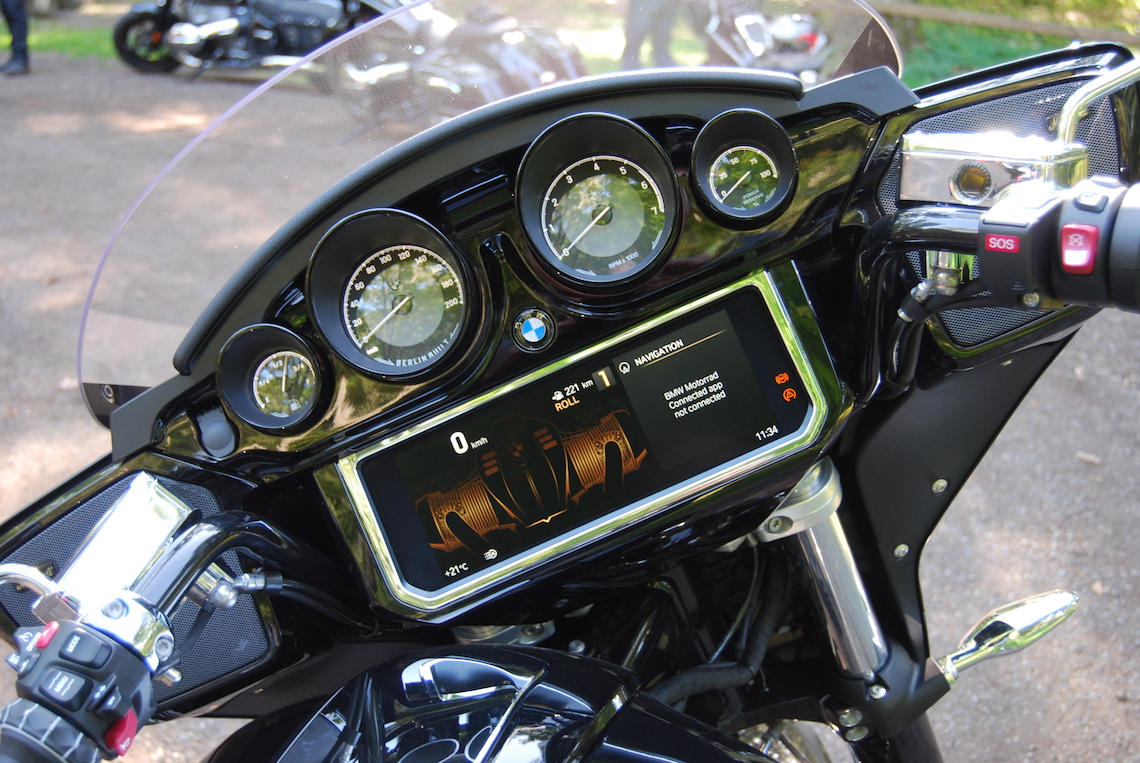 While the R 18 B has the look of a bike designed to fit in amid the rustic towns of Route 66, beneath the skin it's anything but old fashioned.
The electronic suspension is extremely comfortable and comes with Travel Dependent Damping and Automatic Load Compensation. This automatically sets up the bike for however you're riding, whether you're solo, two up, or fully loaded for a week on the road.
Alongside that, we love the vast 10.5 inch TFT screen, which can be navigated through using BMW's wunderwheel on the left-hand grip. The inclusion of four analogue clocks over the vivid screen is a nice nod to the heritage of cruisers, particularly when we synced up our phone (which we stored in a fan-cooled pocket located in the centre of the tank) and used that TFT as a SatNav.
Finally, we're fans of the three riding modes, which do a great job of reining in that big boxer engine and managing the power delivery when conditions are far from ideal.
The names of the modes too, Rock, Roll, and Rain, also bring another dash of cruiser swagger to the new release from the German manufacturer.
Relaxed comfort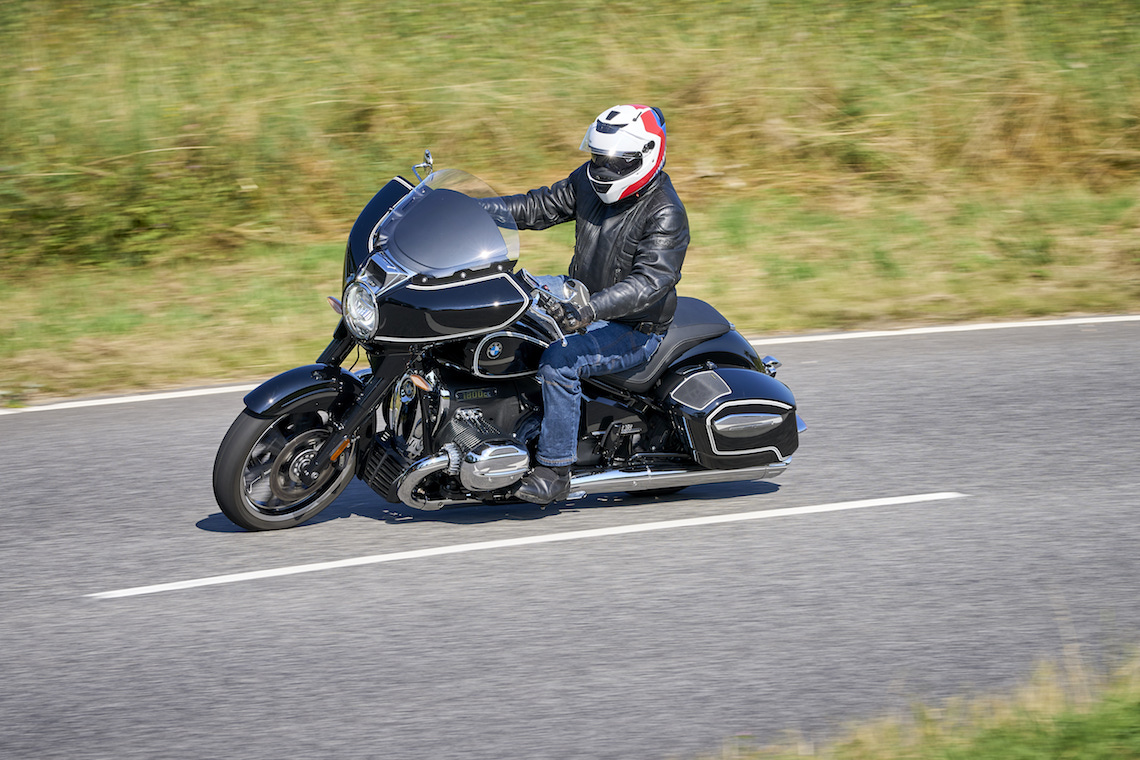 If we were planning a cross-country road trip in the States there's no doubt that the new bagger would be high up the list when choosing which bike to take.
It's simply all-day comfortable. The seat is soft, the body position relaxed and natural, and the front fairing offers plenty of wind protection to hunker down behind on the highway.
The conventionally-positioned footpegs, rather than forward sets found on other cruisers, also mean it's easy to get used to the seating position, especially when making the move from our usual adventure bikes.
Armed with a big, torquey machine, it was simply a joy to hook the R 18 B into a tall gear, relax into the saddle, and enjoy the cruise.
Riding to a soundtrack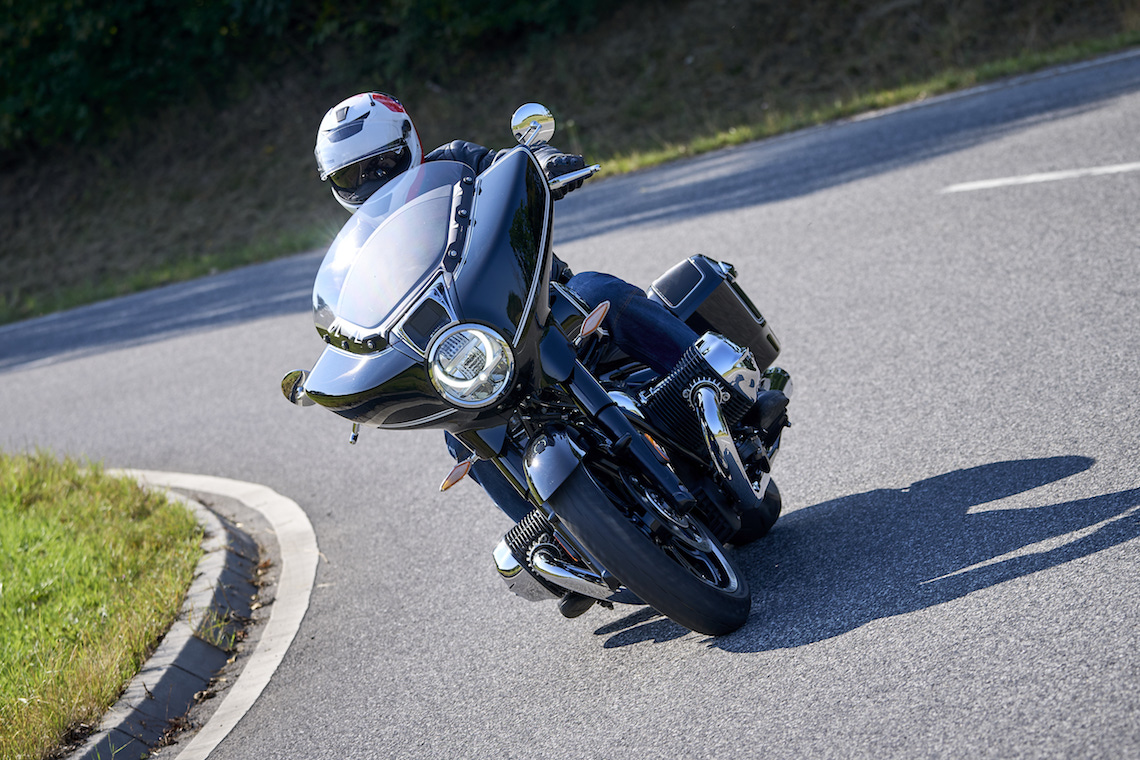 And we're not talking about the throaty exhaust.
BMW has teamed up with iconic British speaker manufacturer Marshall to fit the R 18 B with a full-on sound system for the ultimate cruiser experience. On the launch, each bike was equipped with a carefully-curated playlist with everything from Deep Purple to Metallica blaring out of the bikes, and we loved it.
The exact number of speakers you'll have depends on which spec you choose; two are included as standard in the fairing while more can be fitted in the panniers as optional extras.
So fire up Spotify and prepare to sing your heart out. With the speakers on, no one will be able to tell.
BMW R 18 B
We thoroughly enjoyed our time riding BMW's bagger in Germany. While it's undoubtedly a far cry from the usual boxer-engined bikes we ride from the brand, there was something soul-stirring about the cruising on the big, thumping cruiser through the countryside, a true adventure in every sense of the word.
Whether you'll feel the same is up to you, so we'd recommend finding out more about the R 18 B on BMW's website or heading to your local dealership pronto to put it to the test. Rock on.