Spectacular off-road trails, some of the best tarmac in the world, warm weather, blue skies, great food… I could go on. Join Alun Davies on a long fly-ride holiday weekend in Spain.
It's been 15 years since I found myself on a plane when the empty seat behind exploded in flames. I suspect that most of you reading this have spent at least some time on a flight thinking about what you'd do if the aircraft developed a fault at 35,000ft, and the next few minutes of your life were to be the last of it.
I do this quite often, not because I'm a closet self-disaster fan, more like I envisage myself as this impressively cool passenger who quietly accepts a plunging date with mortality. As panic breaks out all around, I sit there nonchalantly checking out what's on the in-flight movies whilst sipping my single malt and rolling one final cigarette. The End.
I'll not mention the airline involved, but I was thinking about that hot flight out of Oman all those years ago, whilst waiting in the departure lounge at Birmingham airport for a trip over to Toro Adventures based near Malaga, Spain.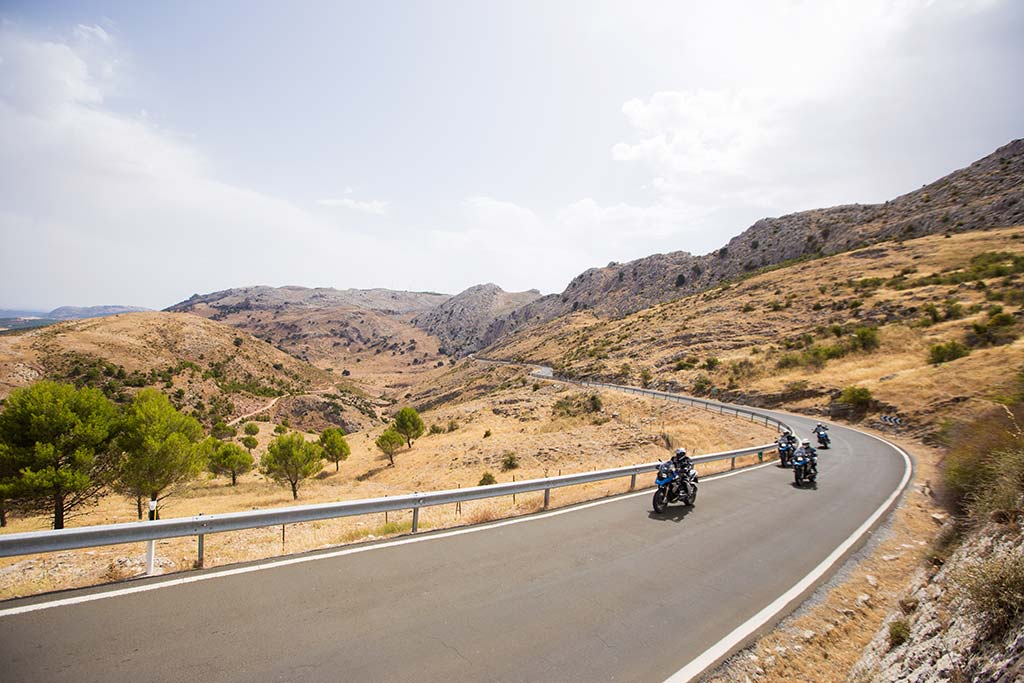 The good people who run Birmingham airport have, remarkably, decided to offer smokers a final puff after checking through security. It's not one of those glass pods you get over in Europe where it feels like you're sitting inside an old vacuum cleaner bag, but an outdoor balcony attached to a restaurant and bar.
It's a very popular hangout for us, nicotine addicts. Anyway, I was standing shoulder to shoulder with a rather happy couple on the crowded balcony who were discussing how many ways their plane could end up dropping from the sky when one of them said 'what will we do if it catches fire?'. At which point I slowly raised my head, made eye contact and said, 'actually…'
It's a long story that involves Hollywood style drama, heroism (on my part, of course), a fire extinguisher, a forced landing, a layover in Abu Dhabi, a fine bottle of single malt and a massive hangover, in roughly that order. And, if you're reading this, then it's not that big a step into the unknown to assume that I survived.
As it happened, the flight over to Malaga was inferno free but just as spine chilling as I sat behind a hen party from Wolverhampton warming up their vocal cords for a weekend of whatever goes on at pre-wedding festivities dressed in pink tutus.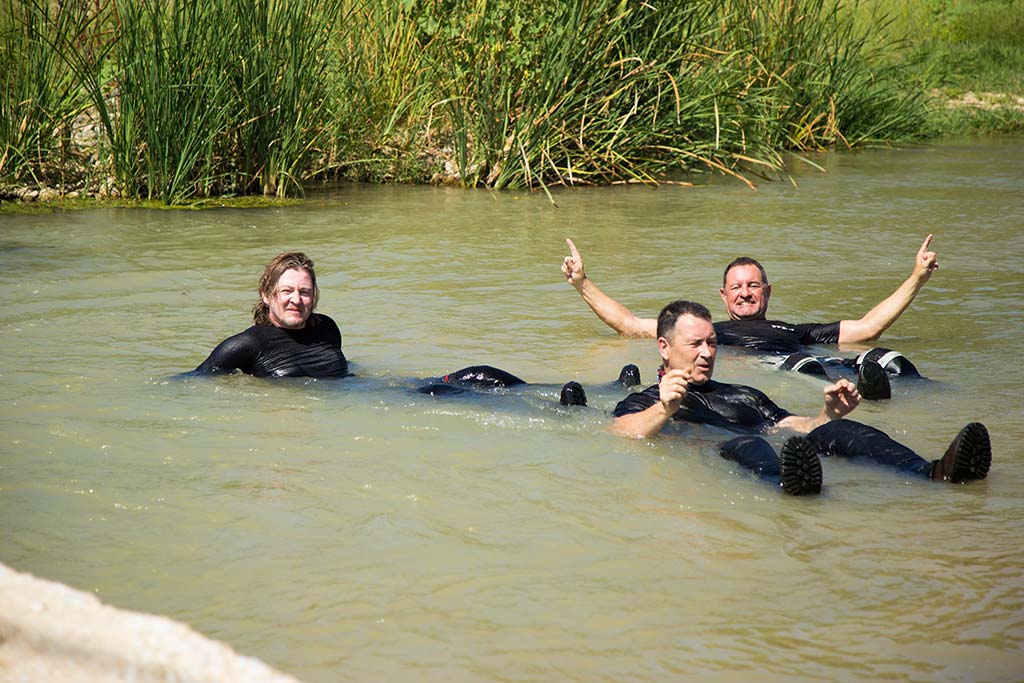 Having breezed through an efficient Spanish passport control and customs it was straight out onto the concourse for a nicotine fix and coffee, and bang into the furnace of Southern Spain which was scorching under a relentless 40C-plus heatwave.
Toro Adventures is a relatively new business venture launched as an offshoot of Toro Trails, a long-established trail riding operation in these parts which is run by a friendly Brit who goes by the name of Lyndon. Within moments Lyndon had found me out, introduced himself and very quickly established I had both a smoking and coffee addiction which he didn't seem to mind in the slightest.
Lyndon is one of those guys where you just know from the outset that you're going to get on with him and if he were not enjoying running a motorcycle operation in Spain, I could imagine him being a maître d'hôtel at some fancy establishment – though I'm sure he'd not agree. Open, friendly, and possessing a sharp sense of humour he has the mannerisms and personality that put you at ease in no time. Just what you need for a host and guide.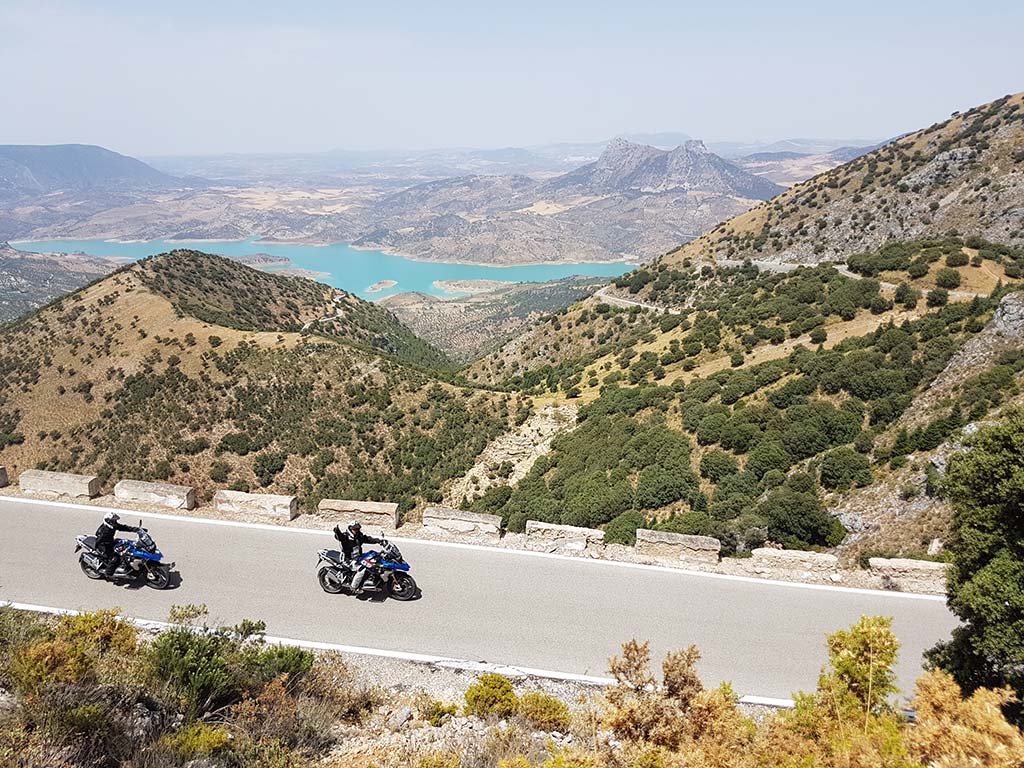 On the drive back to base camp, Lyndon was quick to tell me all about the new operation and how he'd chosen to go with the new BMW R1200GS Rallye as his weapons of choice for Toro Adventures. Comfort, performance and the best of both on and off-road worlds would be a fair summary.
Plus, he is absolutely convinced that there are adventure bike riders living in the UK who don't have the luxury of time to ride to Andalucia and back and therefore wouldn't mind flying over to Spain for a long weekend (or longer) of riding some of the finest roads and trails in the world on the best bikes available. He has a point…
The purpose of the trip was twofold; Lyndon needed a couple of test mules to check out the routes and facilities and I'm always up for a free trip that involves riding motorcycles in spectacular overseas locations in warm weather. I've mentioned the word 'free' here so that you can be under no illusion that I'm easily bought.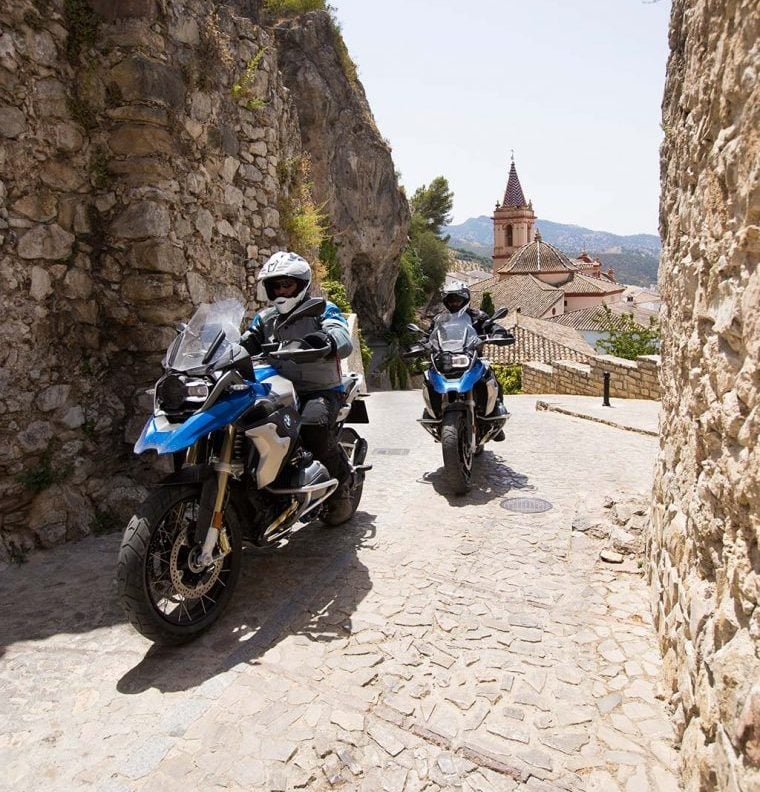 Toro Adventure base camp is a rather large house on what is best described as a small estate in the foothills of the Andalusian mountains near the town of Coin. It's about a 30-minute drive inland from Malaga Airport, and a perfect launchpad for discovering the surrounding countryside.
Day one was a road ride over to the historic city of Ronda and the Sierra de Grazolerna Natural Park beyond. This was familiar territory for me as I'd say about 50% of the new motorcycle launches I attend on behalf of ABR take place in the region, and there's good reason. The scenery is spectacular, you're almost guaranteed good weather and the magnificent serpentine mountain roads are almost devoid of traffic.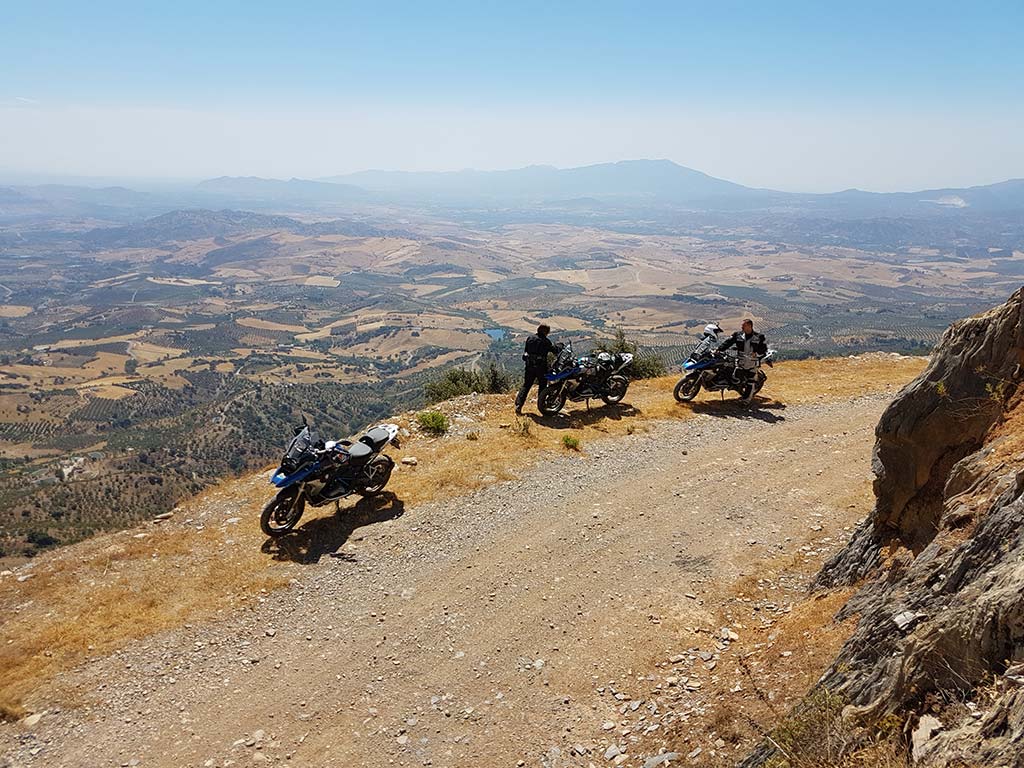 Better still, the route contains what I reckon to be the best road in Spain, the little-used mountain pass that leads from spectacular hill village of Grazalema up and over to the fortified and picturesque white village of Zahara, so described as the majority of the buildings are, er, whitewashed.
Both of these villages have their own charm and historic appeal, but for motorcyclists it's the thin strip of twisty, vertiginous tarmac that links them which is the undoubted highlight. I can't stress enough the quality of the roads in this region and the effect they will have on UK motorcyclists.
They are nothing short of superb in the line they take, the smoothness of tarmac and, best of all, they are as good as empty. The riding is some of the finest you will experience anywhere, of that, I can guarantee.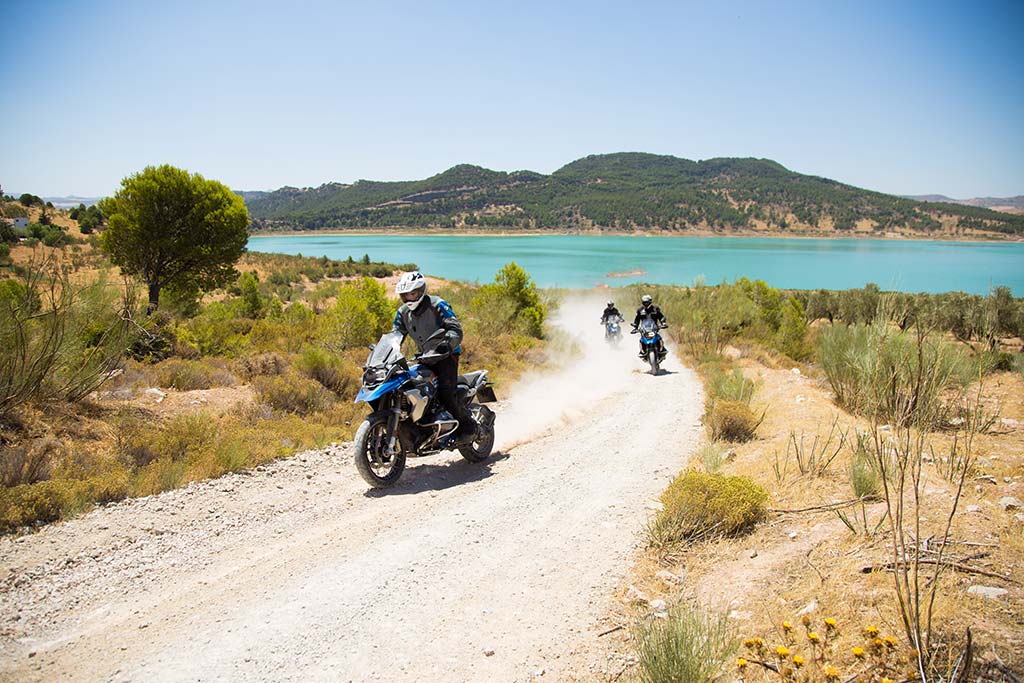 There are plenty of roads in Spain to challenge the 'best' claim of the route between Grazalema and Zahara, and one of those pushing for top spot would be the A397 connecting the mountain city of Ronda with the coastal playground of Marbella.
As luck would have it, the A397 was on our return route It's far and away busier than the aforementioned Grazalema Pass, but there's a very good reason why it's the most favoured of all roads for both new motorcycle and car launches.
Whether you take this road at peg scraping speed or just tootle and admire the scenery, this is as near to a race track as you can ride without checking into a purpose-built circuit. It is a phenomenal road with so many fast-paced curves and bends carved out of the mountainside and cliff face you'll not be able to count them.
It's also a favoured tourist road up from the coastal fleshpots to Ronda and a mecca for local bikers who ride it just as they would the nearby Jerez race circuit. If you have an ounce of red mist in your motorcycle DNA, then this is the road that will tantalize, titillate and torment your right hand until it snaps back with venom. You've been warned.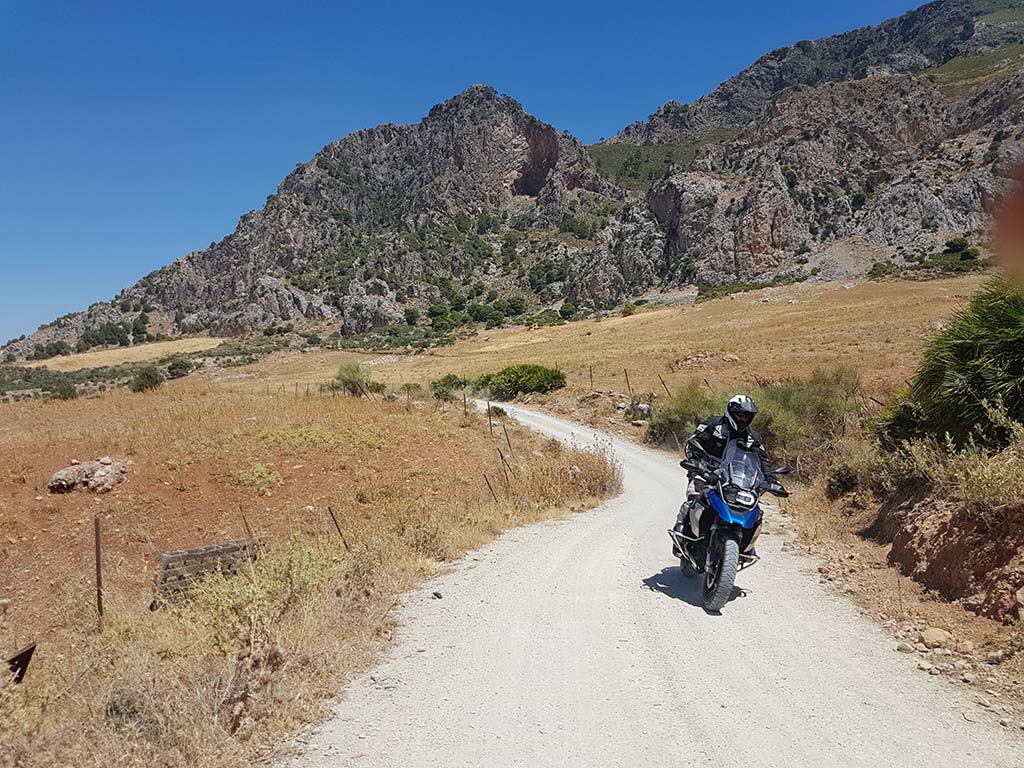 If day one was an overdose of dreamy tarmac, then day two was a full-on orgy of spectacular off-road trails. Lyndon's local knowledge has been built up from years of running his off-road business Toro Trails, and the selection of gravel routes he's put together for the larger BMWs are simply breathtaking.
If you're a Brit who loves seeking out our ever-decreasing green lanes, you are going to drool at the quantity and quality of the trails in these parts. Within a few miles of basecamp, we were turning off the tarmac and ascending a trail cut out of the side of a steep hill. The route was never difficult, but the setting was immense. Mile after mile of dirt track burrowed into the steep, south face of a mountain range with near vertical ground to the left and huge drop-offs to the right. I can remember as clear as day thinking 'this is what adventure riding is all about'. Superb stuff.
And on it goes, crossing the odd strip of tarmac to pick up the next mountain trail through woodland and forestry where the going is never too technical to get jittery, and undulating enough to be just great fun. Eventually, we arrived at our lunch stop overlooking the surreal blue-green lakes of the Embalse del Guadalhorce, just to the north of El Chorro.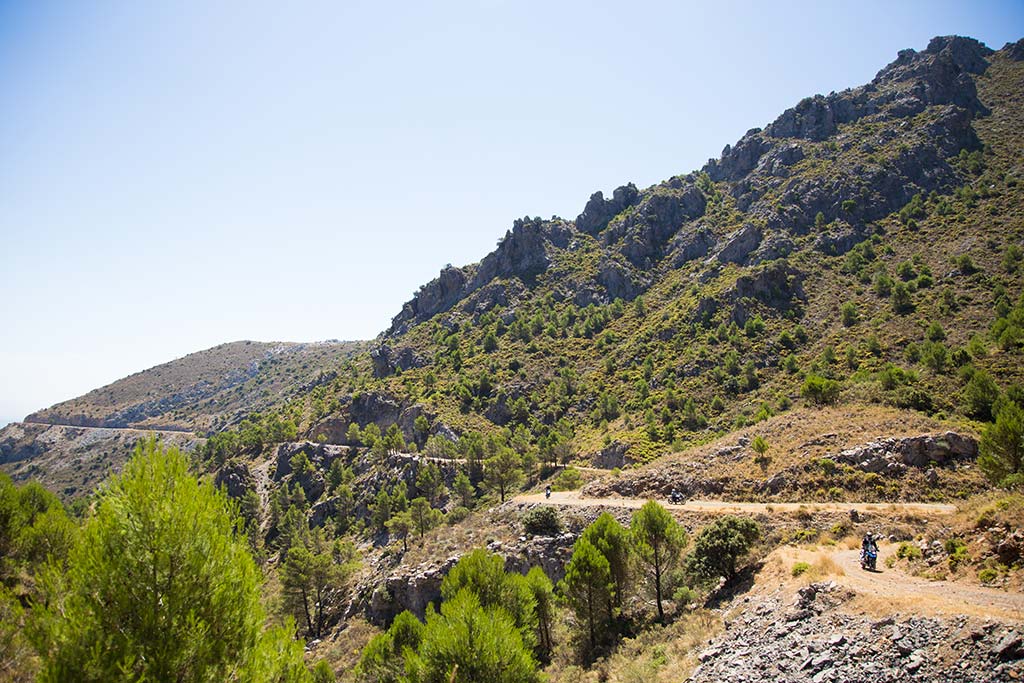 After lunch is was more dream tarmac over to the huge, vertical limestone cliffs of the El Chorro gorge, where you can pick out intrepid hikers on the suspended walkway bolted a hundred metres up the sheer cliff face. It's impossible not to stop here, take in the scenery and snap a few pics.
From El Chorro it was a well-chosen route heading back to the ranch with one final trail and an optional surprise at the end. Speak nice to Lyndon and I'm sure he'll let you take on the deep, rocky river crossing which offers a cool and refreshing end to the day.
All in all, the riding and services provided by Lyndon and Toro Adventures was as good as it gets and I'd have no qualms in recommending the company's services. What's not to like about adventure riding on fantastic motorcycles in good weather along some of the finest tarmac and trails in the world. I'd even be prepared to pay next time.
---
Toro Adventures – The Details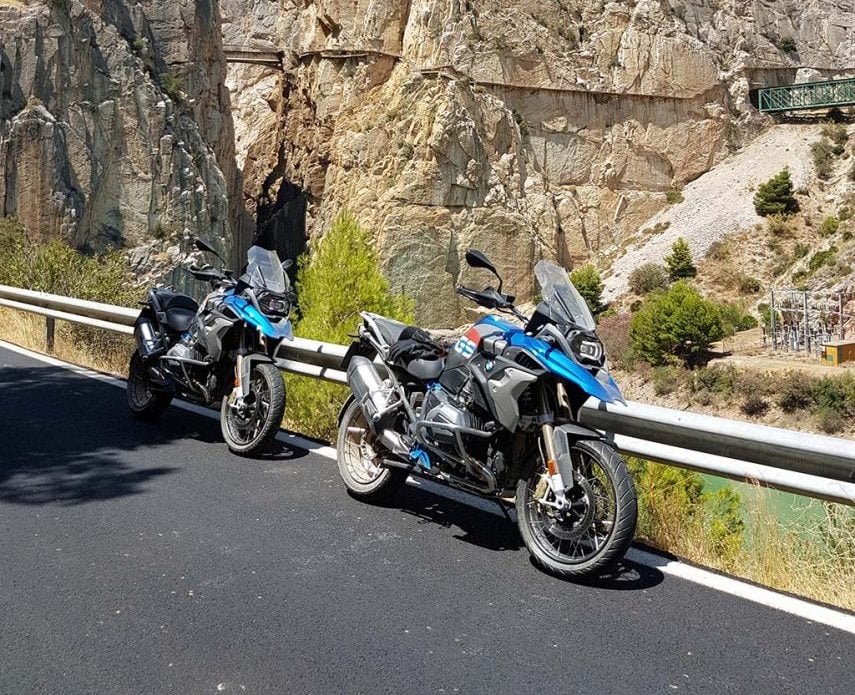 Toro Adventures offers bike rental and guided tours in Andalusia, Spain, Portugal and Morocco using a fleet of 2017 BMW R1200GS Rallye motorcycles. You can bring your own gear, but if you want to travel light the company has a full range of riding kit for hire.
Two day, three-night packages start from €550 (roughly £485) including transfers from Malaga airport. Flights are not included in the price, though a number of low-cost airlines fly from UK airports here, and can pick up returns for less than £100 if you shop around.
For more information contact:
(T) 08009754020