Currently in the UK, there's only one thing you're required to wear by law when riding a motorcycle. That is, of course, a helmet. It's certainly advisable to wear other protective gear every time you throw your leg over the saddle, but if you're going to ditch one piece of kit, don't make it your lid (even if you're riding abroad where it's not a requirement).
In fact, according to studies undertaken in the US, traumatic brain injuries are the most common type of injury for motorcyclists, so it pays to make sure you've got some protection for your noggin, and the best you can afford.
There are numerous styles of helmets on the market, but here we're going to be looking at a type of lid that's become synonymous with the rugged, world-traveller look, and that's the adventure helmet.
Check out the top six adventure helmets you can buy in 2020 here, but for now let's take a look at what you should consider when searching for the perfect lid for you.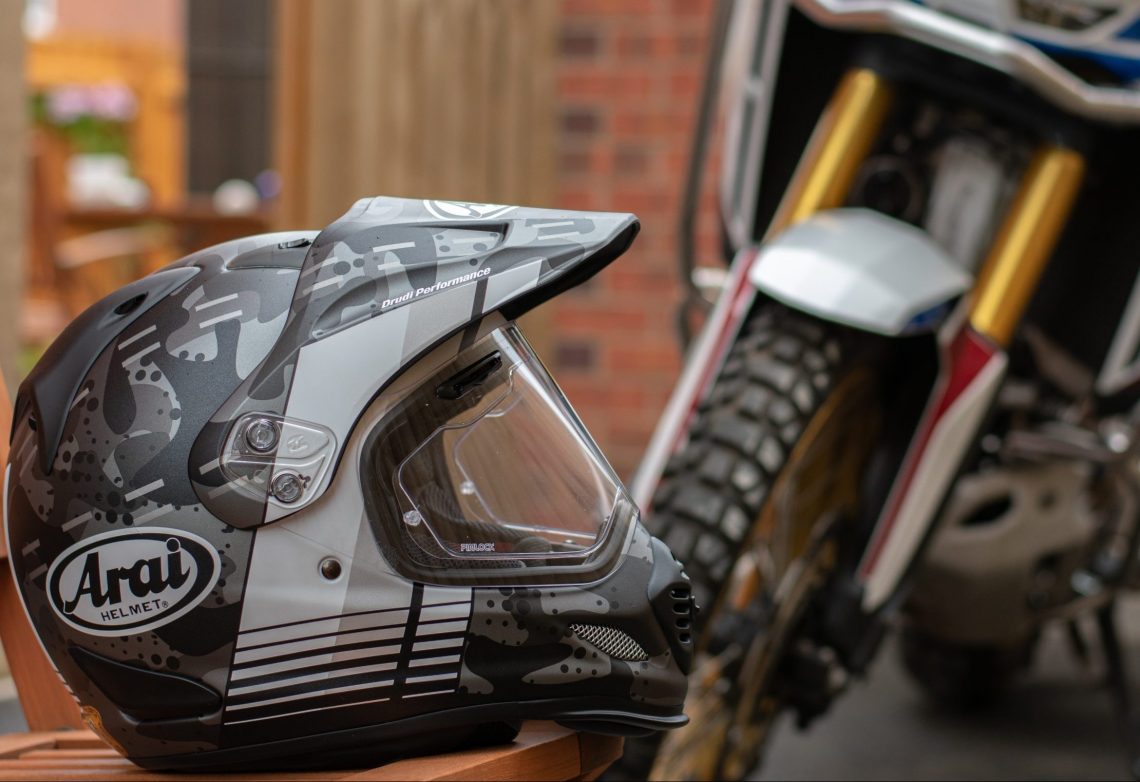 Arai Tour-X 4 – You can read our full review online here.
How to buy an adventure helmet
Characterised by a peak on the top, ample ventilation throughout, and an extended chin bar (much like a motocross helmet), the adventure helmet is aggressive-looking and, to be honest, downright badass.
The thing with adventure helmets, though, is that they're often not the most practical. The peak, unless excellently designed (which is something you only tend to see on helmets £200 and above), catch the wind at motorway speeds. The extended chin bar, too, isn't so welcome during winter months, when cold air is allowed to freely enter the lid.
For their drawbacks, they do have their uses, though. While the peak can be an annoyance, they're excellent at keeping foliage away from your vision when riding off-road on nadgery green lanes.
They're also far superior to internal sun visors when it comes to preventing sun glare – something that's essential when riding into a sunrise or sunset. The extended chin bar offers a more comfortable environment during the warm summer months, and if the temperature drops then a good helmet will come with a skirt that you can fit to keep the cold air out.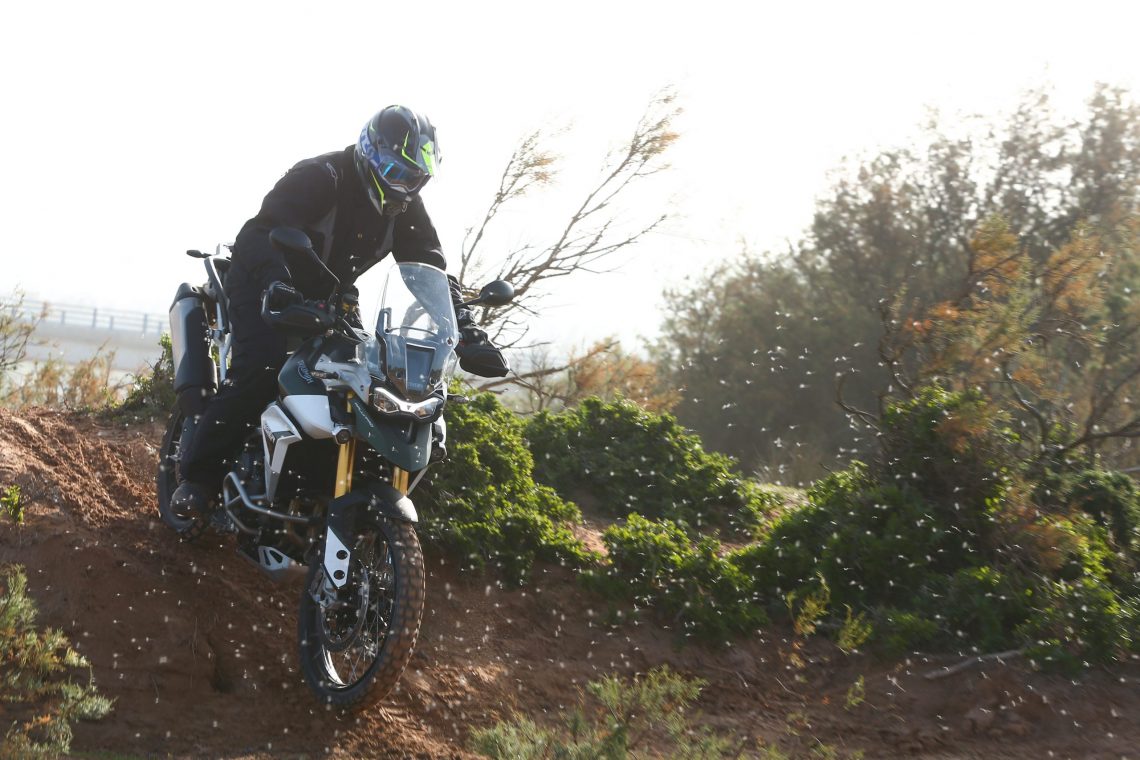 Protection
So, what should you look for when buying a new adventure helmet? First and foremost is that it's a genuine lid and has passed relevant safety standard (see the box out for more information on this).
There's very useful information online about how to spot a fake helmet, and it'd be worth brushing up on this before you consider buying a 'genuine' Shoei for under £100.
This said, all legal helmets on sale in the UK and Europe will meet approved safety standards. This means that even the cheapest helmet in this group test will offer a level of protection that meets a certain set of criteria.
As you move up the price scale, the introduction of better quality components and shell materials tends to mean more protection, though this isn't always the case.
The UK government-funded SHARP testing scheme (www.sharp.dft.gov.uk) proves this, with some cheaper helmets performing better than more expensive counterparts in their independent tests.
Unfortunately, SHARP will not test adventure-styled helmets at this point in time, but their website is a great source of information to get a feel for a certain brand and how well they are rated in that aspect.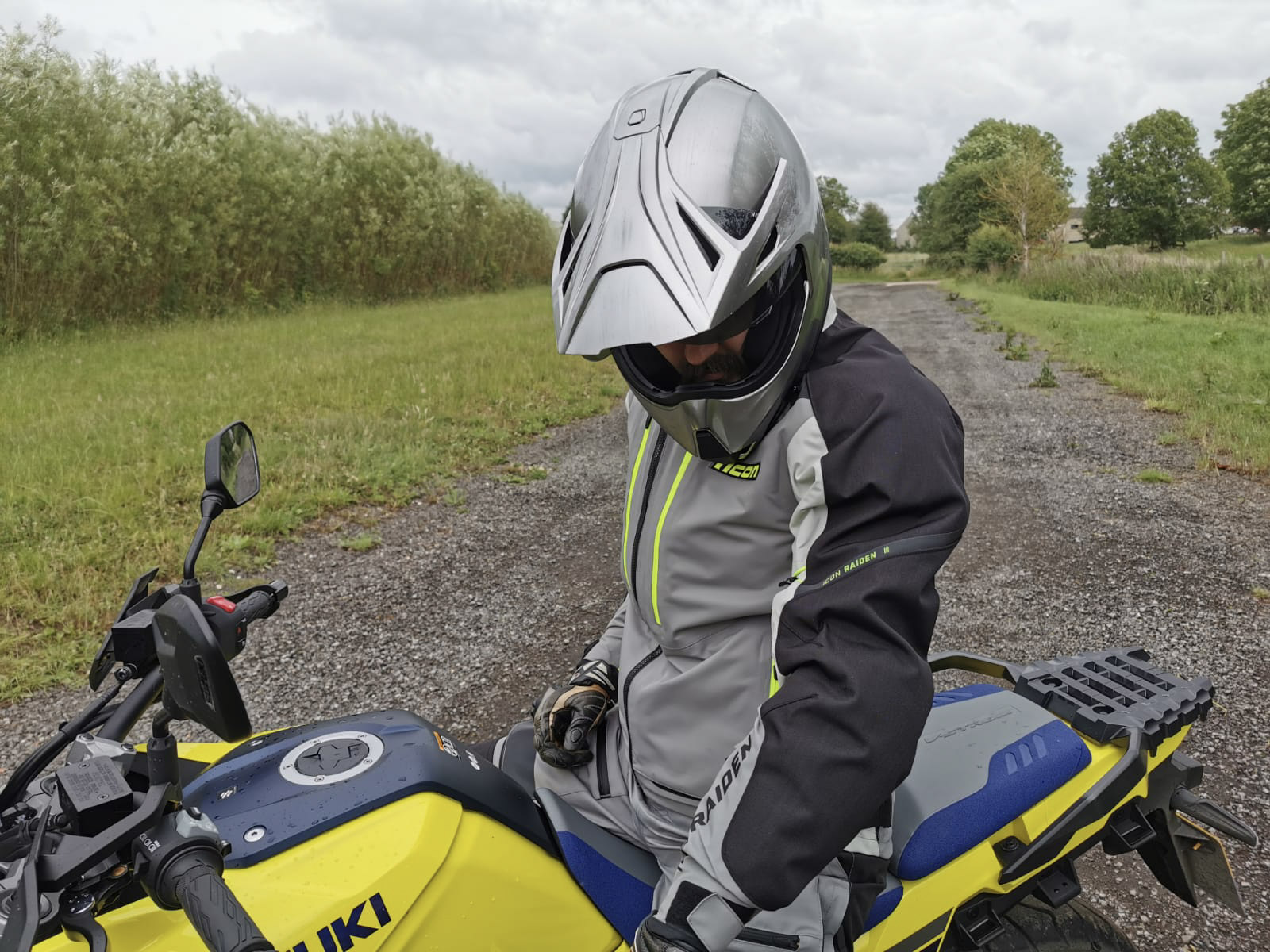 A word on safety standards
All helmets sold within the UK must comply with British Standard BS 6658:1985 and carry the BSI Kitemark. Those that don't must comply with the UNECE Regulation 22.05 or comply with any standard accepted by a member of the European Economic Area. For those of you reading from the US, you'll want to make sure your helmet complies to either SNELL or DOT standards.
For added peace of mind, look for a lid that also bears an ACU (Auto Cycle Union) gold sticker. This means the helmet has been subject to rigorous testing and has been certified as good enough for racing on metalled surfaces.
Finding the right fit
Safety aside, perhaps the most important thing you should consider when buying a new helmet is the fit of it. Much like poorly fitting boots, a helmet that isn't right for your head shape can make your time in the saddle a miserable one. 
Pressure points can become uncomfortable at best and distracting, leading to headaches and lapses in concentration at worst. On the flip side, a helmet that's too big for you will compromise how much protection it can offer you.
Other features such as all-day comfort, weight, a good field of vision, effective ventilation (which you'll need if you're planning on wearing the helmet off road), styling, the design of the peak, and the price all come into the equation, but there's no definitive answer to the question 'what's the best helmet for me?' as fit is a feature that trumps all and there's no one-size-fits-all option. A helmet that fits your friend a dream may be a nightmare for you, and vice versa.
With all of this in mind, read our reviews first, make a list of the helmets that appeal to you and then head off to somewhere where you can try them on. Only after you've squeezed your head between the cheek pads should you make the decision to buy.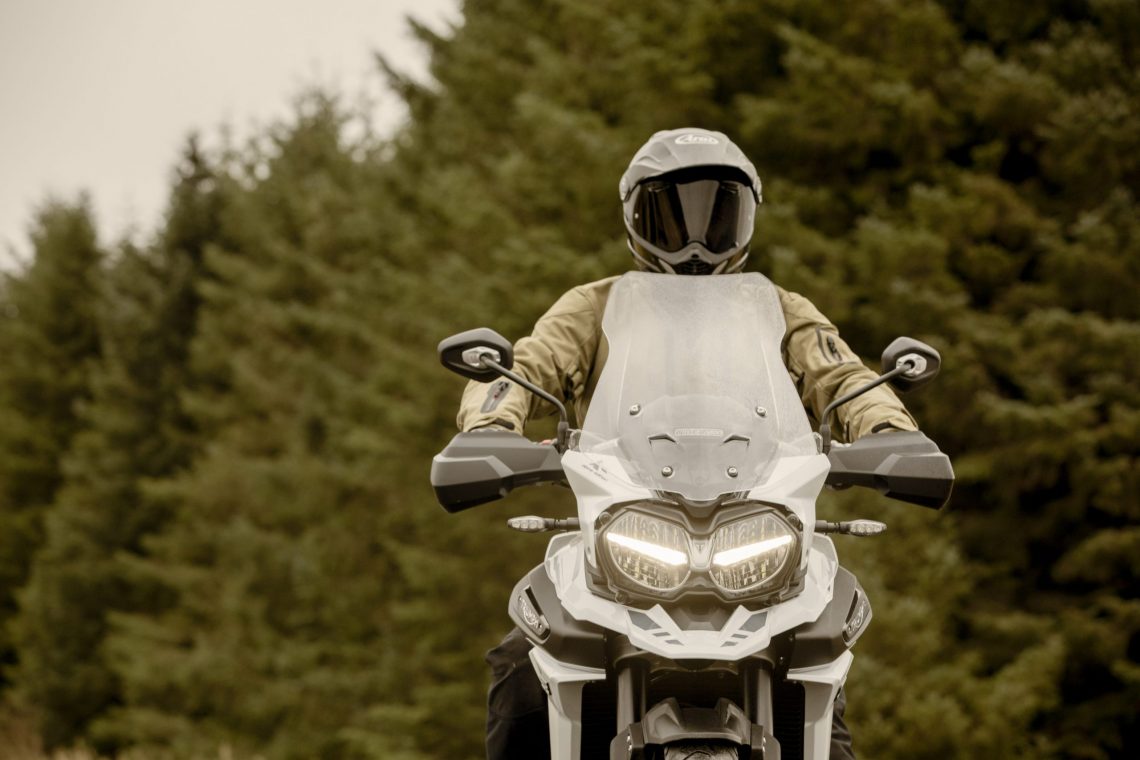 The history of helmet laws
It was back in the 1930s that research began into just how many lives could be saved by wearing a crash helmet while riding a motorcycle.
An Australian neurosurgeon by the name of Hugh Cairns had performed a post-mortem on the body of TE Lawrence (more famously known as Lawrence of Arabia), who had died as the result of a motorcycle accident. Cairns' findings concluded that, of the 1,884 bikers who had been killed on British roads in the two years leading up to World War Two, two-thirds had suffered from head injuries.
Based on Cairns' findings, the army made it compulsory for all despatch riders to wear motorcycle helmets, and fatalities from accidents consequently fell from over 200 to just 50, and that was back when helmet technologies weren't as advanced as they are today.
Features of an adventure helmet