Before we take a look at what the best adventure helmet money can buy is in 2022, let's first take a look at what is meant by that term, adventure helmet.
Adventure helmets are characterised by their extended chin bars and peaks. If you're planning a world-crossing voyage on two wheels where you'll be working hard off road, or you're heading greenlaning, then the benefits of a peak and an extended chin bar are obvious.
Increased ventilation will be required when working up a sweat, and the protection from the sun/dust/foliage dangling across trails provided by the peak is desirable.
But what about if you're mostly a road rider? What's the point of an adventure helmet if the peak is going to be a nuisance on motorway rides, and you don't really need the benefits associated with an extended chin bar?
In reality, a peak is just as useful on-road as it is off road if you're riding with the sun overhead, especially so if you're riding into the sunset. Internal tinted visors will do a job, but they never block out the type of glare that has you squinting all day.
In a similar fashion, when out riding in the summer, it's so easy to overheat, and so any and all ventilation on a helmet is welcome. Plus, there's the small and insignificant fact that adventure helmets look damn cool, especially when worn on an aggressively-styled adventure bike!
We've previously taken a look at what you need to consider when buying an adventure helmet, and here we've put together a list of the six helmets that each scored 9/10 in a recent group test in Adventure Bike Rider magazine.
Icon Variant – £257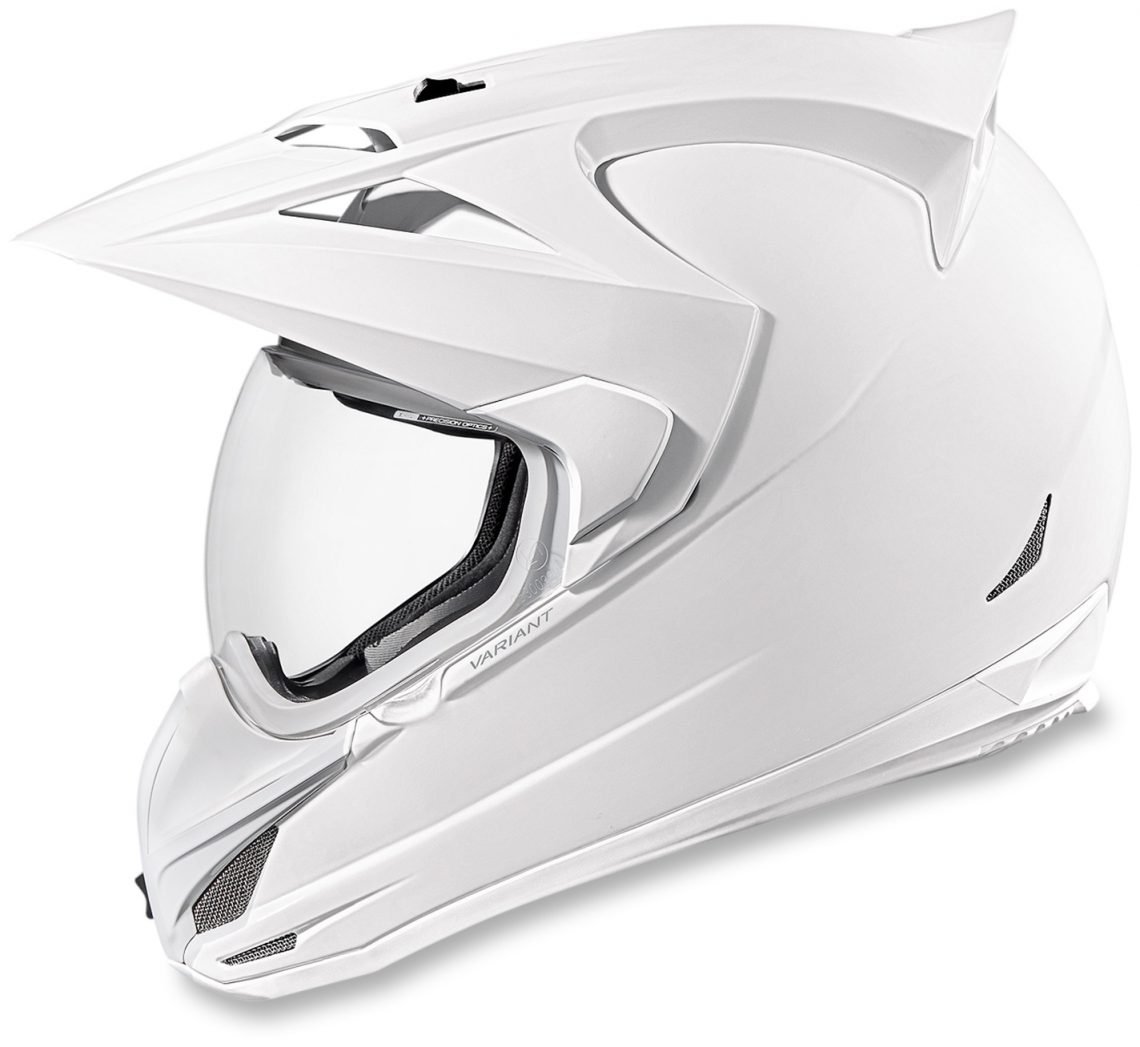 In a line: An excellent adventure-styled helmet with very good road manners.
While I've not seen an Icon Variant on UK roads, the American-based firm's kit is popular over the pond, and for good reason. Reasonably priced and highly specced, Icon kit seems to always turn heads with its unique and stylish designs – the Variant, for instance, looks more street fighter than MX hero, and it comes in a wonderful array of colours and graphic options. 
Let's get right to it and say the Variant is a great adventure-styled helmet. It has all the hallmarks of a quality lid and, as it's been in Icon's range for the best part of 10 years, the company must be confident in its design. Wind tunnel tested for aerodynamics and quietness, it will come as no surprise that the peak on the Variant is one of the best at this price point. It catches minimal wind and is positioned near perfectly to provide shielding to the eyes. Noise-wise, it's good, but not great, on par with similarly-priced lids.
The Variant excels in ventilation, with a large venting system on the chin that can be switched between closed, to barely open, to wide open, allowing a great flow of air. Just above the visor there are two more closable vents, while a further two closable vents have been incorporated into the peak, and air is scooped into these incredibly effectively. Two small exhaust vents complete the system.
If there's one disappointment, it's that the visor doesn't come with Pinlock mounting points (though the visor does afford a very good field of vision). Instead, it's coated with Icon's fog-free performance coating.
This seems to work well in most circumstances, but experience has told me that in the worst of weather, a Pinlock is desirable. The lid can also be a bit hard to get on and off due to the stiffness of the shell, and some may be wishing the Variant had an included sun visor (it doesn't).
NEXX
X.Wed 2 – From £329.99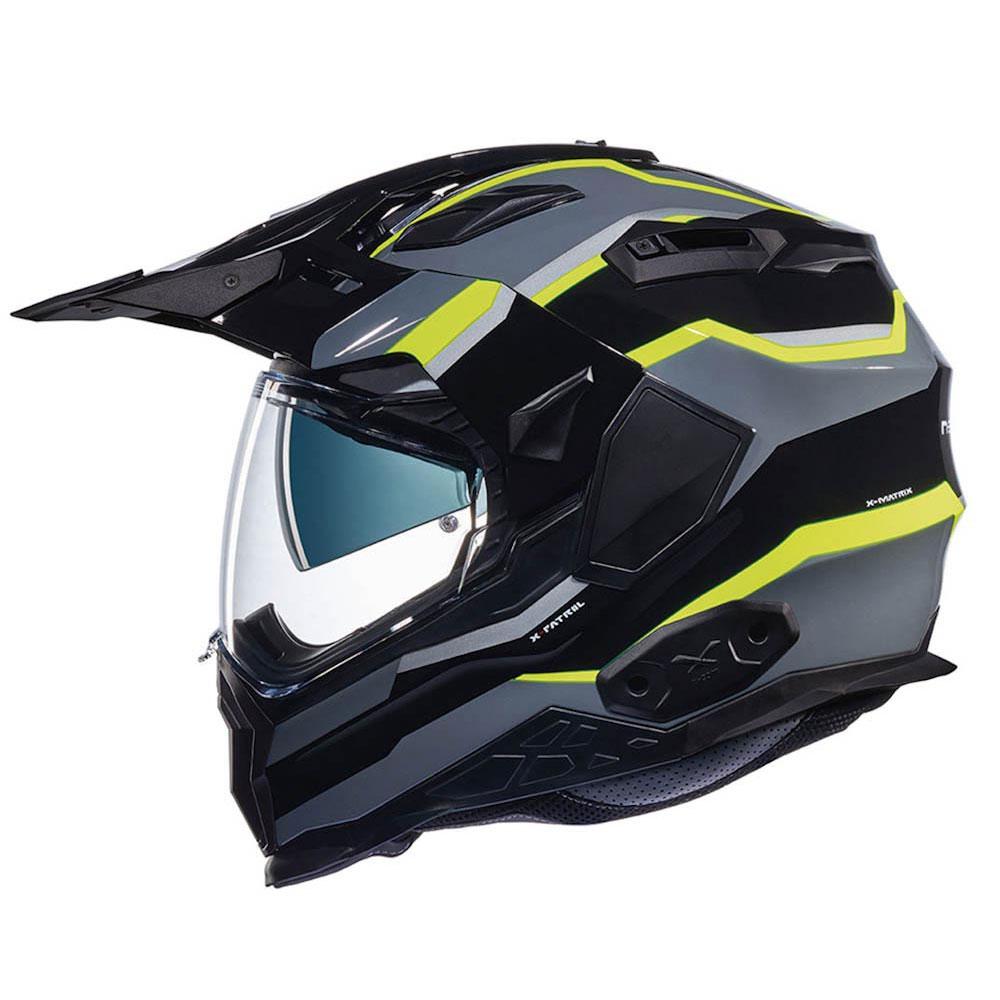 In a line: The X.WED 2 takes the good from NEXX's X.D1 and adds to it
The X.WED 2 is the successor to the popular X.D1 adventure helmet, which we reviewed in issue 36 of Adventure Bike Rider magazine. Back then, we praised the X.D1 for its versatility and lightweight nature. The peak on that old model was like a sail, though, and the ventilation wasn't particularly effective. It's fortunate, then, that NEXX decided to look at the X.D1 and improve it in almost every way. 
The peak is the first feature of the X.WED 2 that's noticeably better. Redesigned for better aerodynamics and a lighter weight, it performs well, even up to motorway speeds, though it does start to catch sidewinds when doing shoulder checks at that speed. The peak is adjustable and well placed, and like the old model, it also comes with a handy peak extender if you want more coverage, though I'd have preferred a more hassle-free method of attaching and detaching it (you have to fiddle around with two tiny screws).
The ventilation on the X.WED 2 has also been rethought, with the two, closable head vents being repositioned to allow for better air intake, and a new three-position vent under the peak. The chin vent also has a new design (and comes with a nifty mesh attachment for really warm days), and the EPS liner now features more channels in which air can circulate. The changes are welcome, and the X.WED 2 performs well here, but the vent under the peak is a bit tricky to operate with thick gloves, as you have to squeeze under the peak to use it.
The X.WED 2 comes with an internal sun visor, which is easy to use, though I would have preferred it to drop down half a centimeter more, while the main visor offers an excellent field of vision. The helmet also comes with a Pinlock insert.
AGV
AX9
– £399.99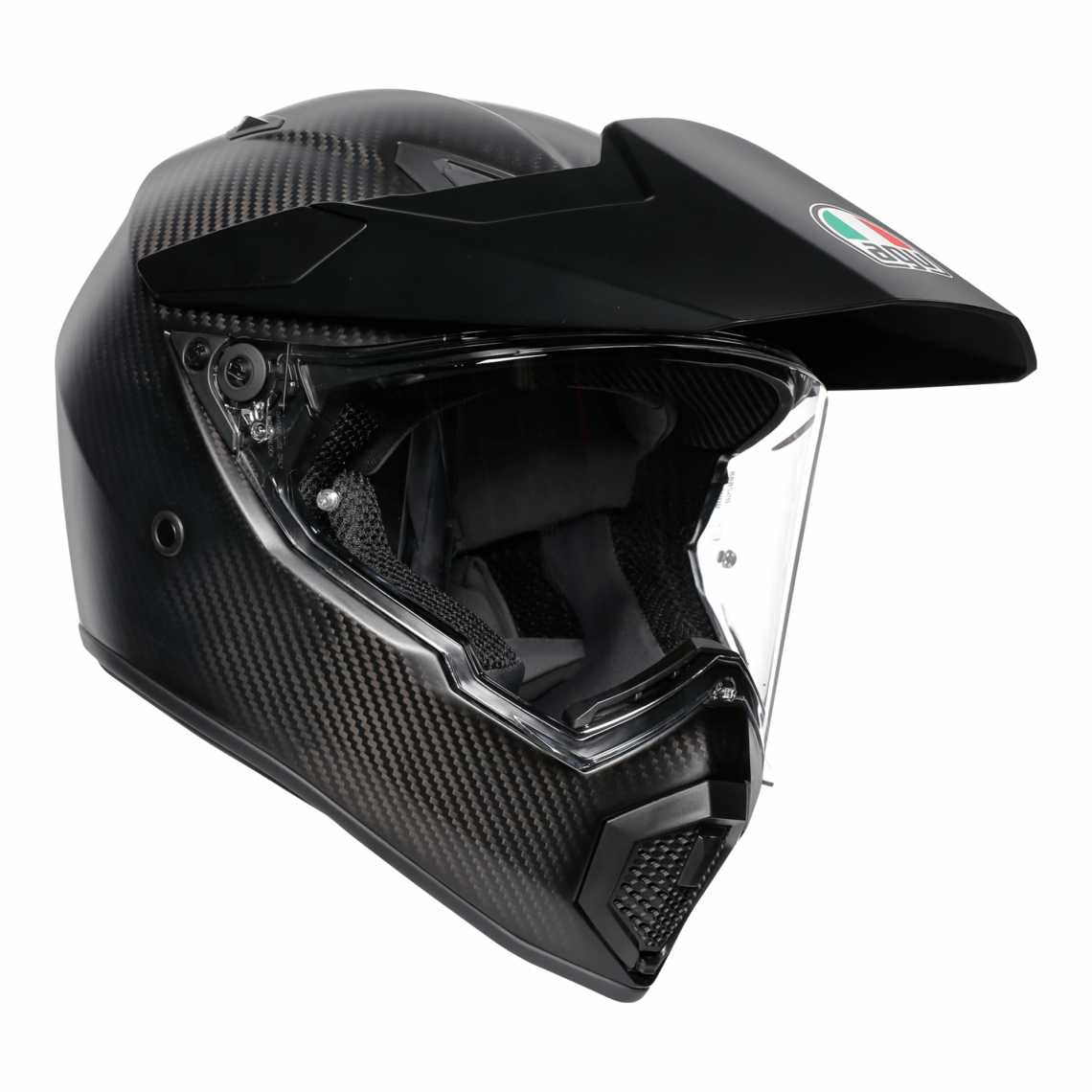 In a line: A superb helmet that performs on and off road.
AGV chose to update its popular off-road focused AX-8 adventure helmet with the AX-9, a version that offers more comfort and touring capability on the road. 
The first thing I noticed about the AX-9 was its prominent peak. Sitting high and proud, it's certainly one of the larger peaks you'll see on an adventure helmet.
When riding at motorway speeds, I had to crane my neck back further than I ever really would before the wind lifted that peak and wrenched my head backwards. However, the peak did have a habit of catching the wind when I made quick glances over my shoulder to change lanes. In terms of positioning, there's minimal adjustment, but it provides good coverage from overhead sunlight.
Overall, the AX-9 proved relatively quiet for an adventure helmet, offered a wide field of vision, and was extremely comfortable.
Why is high-speed performance important in an adventure helmet? Mainly because many of us take them on tour where a lid needs to perform just as well on a French toll road, as it does on mountain twisties, or the military roads of the Alps. AGV was well aware of this and has produced a helmet that performs strongly on and off-road.
As well as using the AX-9 for commuting up and down the M5, I've worn it in the oppressive heat of the Thai jungle, where the superb venting kept my head cool, its removable chin guard air vent proving particularly useful. I've also built up a sweat riding in the AX-9 off-road in Italy, where it felt lightweight on my head, kept me cool, and was overall a joy to wear.
BMW
GS Carbon
– £475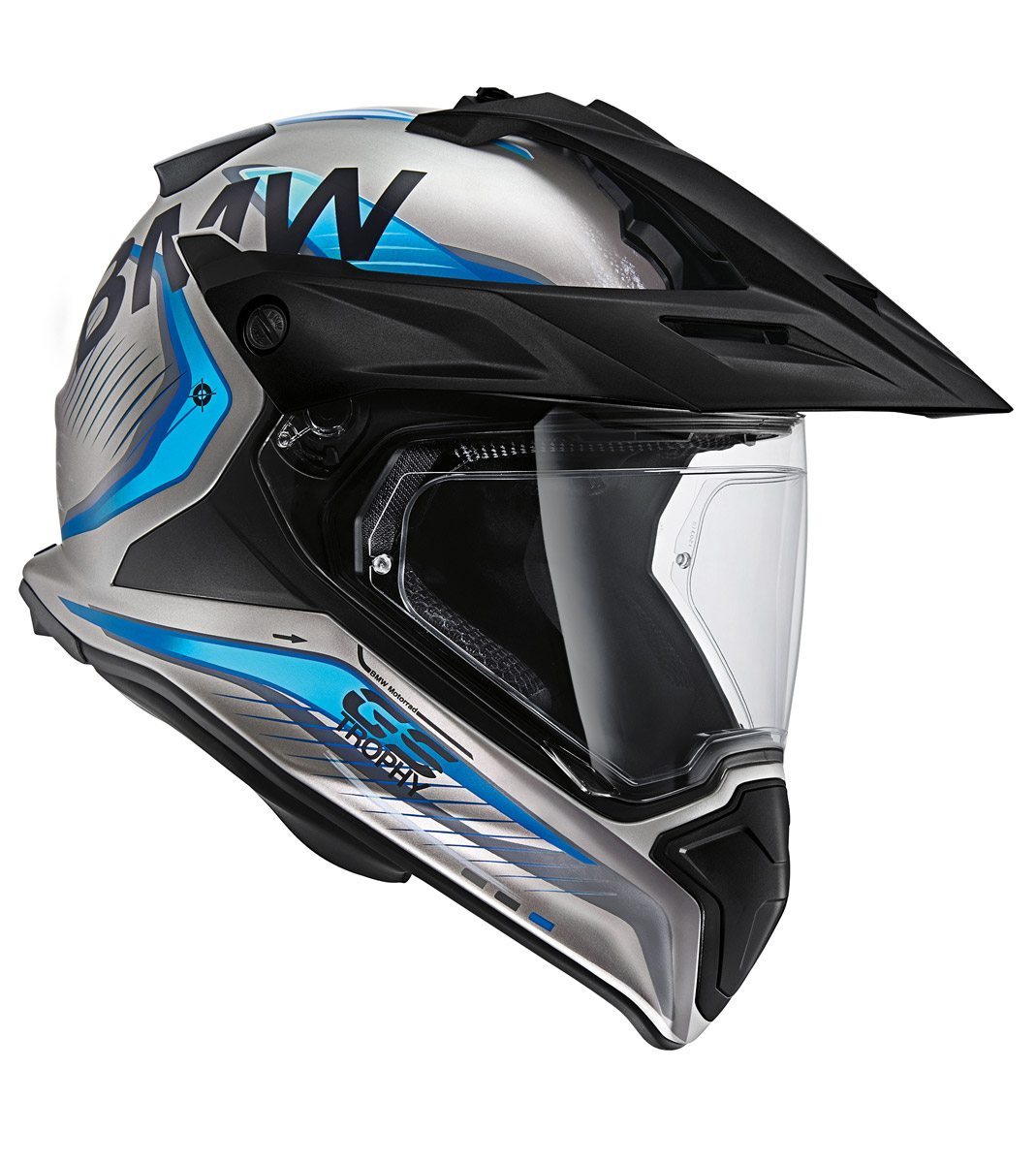 In a line: Lightweight and top quality, an excellent helmet.
With the BMW GS being the bike of choice for many adventure riders, it only makes sense that BMW offers a whole range of kit to complement its machine.
Along with boots, gloves, and a textile suit, the GS Carbon helmet is a great addition for those who want to proudly display their brand loyalty, though the quality of the lid and subtle BMW branding (unless you opt for the colourway to the right) make it a worthwhile choice for those on different machines. Retailing at £475, the GS Carbon is one of the most expensive lids in this test, but it's one of the best performing, too.
The GS Carbon takes a 'less is more' approach to adventure helmets, providing a refreshingly simple set up that foregoes accessories like an internal sun visor in favour of a light weight and faff-free user experience. It's one of the lightest helmets in this review, and this leads to a very comfortable wear all day long (the helmet performed excellently on a recent 17-hour day in the saddle). The field of vision provided is superb, and the visor comes Pinlock ready.
The chin bar is extended more than on most of the other adventure helmets in this review, providing ample ventilation alongside the closable chin vent and a large brow vent. The peak is well positioned and cuts through the air surprisingly well at motorway speeds when you consider its prominence. It will catch the wind while performing shoulder checks, but not too aggressively, and it wasn't enough to put me off wearing the helmet on many motorway miles.
Arai Tour-X4 – £499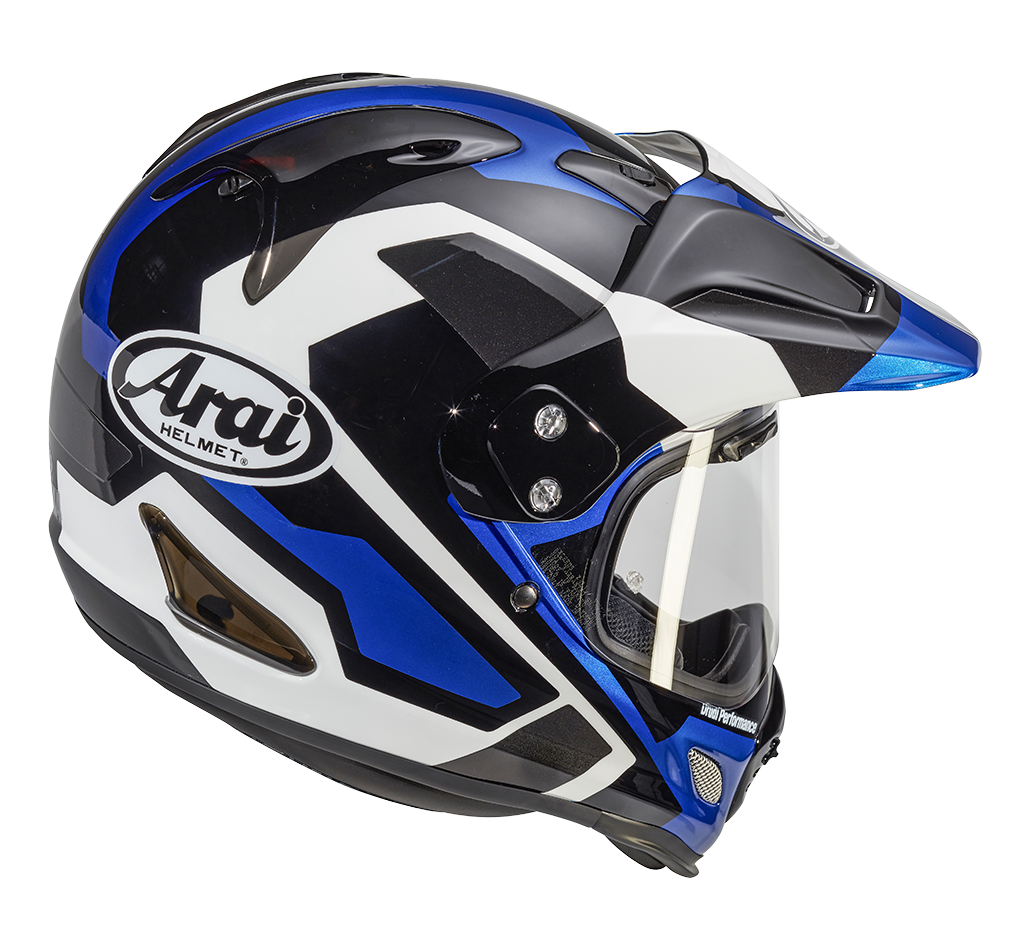 In a line: Typical Arai quality; one of the best adventure helmets on the market.
Perhaps unsurprisingly, the Arai Tour-X4 is amongst the most expensive helmets in this group test. It's a lid that's been seen as the pinnacle of adventure-styled helmets over the years, and for good reason.
As with all Arai helmets, the Tour-X4 doesn't feature an internal sun visor, which can be seen as a frustration, particularly if you're riding through a lot of dark Alpine tunnels where sunglasses will leave you almost blind. But that's where my frustrations with the lid end, as everything else about the Tour-X4 is genuinely a delight. The internal lining is soft and comfortable, the ventilation is superb, the peak is exceptional, and the finish and quality of components is class leading.
In my eyes, the Tour-X4's closest rival in terms of overall quality, comfort and performance is the Shoei Hornet ADV. While the Shoei will be a little easier on the wallet (and it's the helmet I've found myself wearing the most over the past five years), the Arai just about edges it. There's just no denying the build quality of the Tour-X4, it feels solid, it feels well made, it's comfortable all day long, and the thing that sets it apart is its excellently designed peak, which is so aerodynamic that it provides very little resonance or drag, even when performing shoulder checks at motorway speeds.
Put simply, if money is no barrier, the Tour-X4 is a helmet that you'll be proud to own and happy to wear. If money is, then get yourself a piggy bank and save up, you won't be disappointed.
Read our full, in-depth, review of the Arai Tour-X 4 here.
Shoei
Hornet ADV – £449.99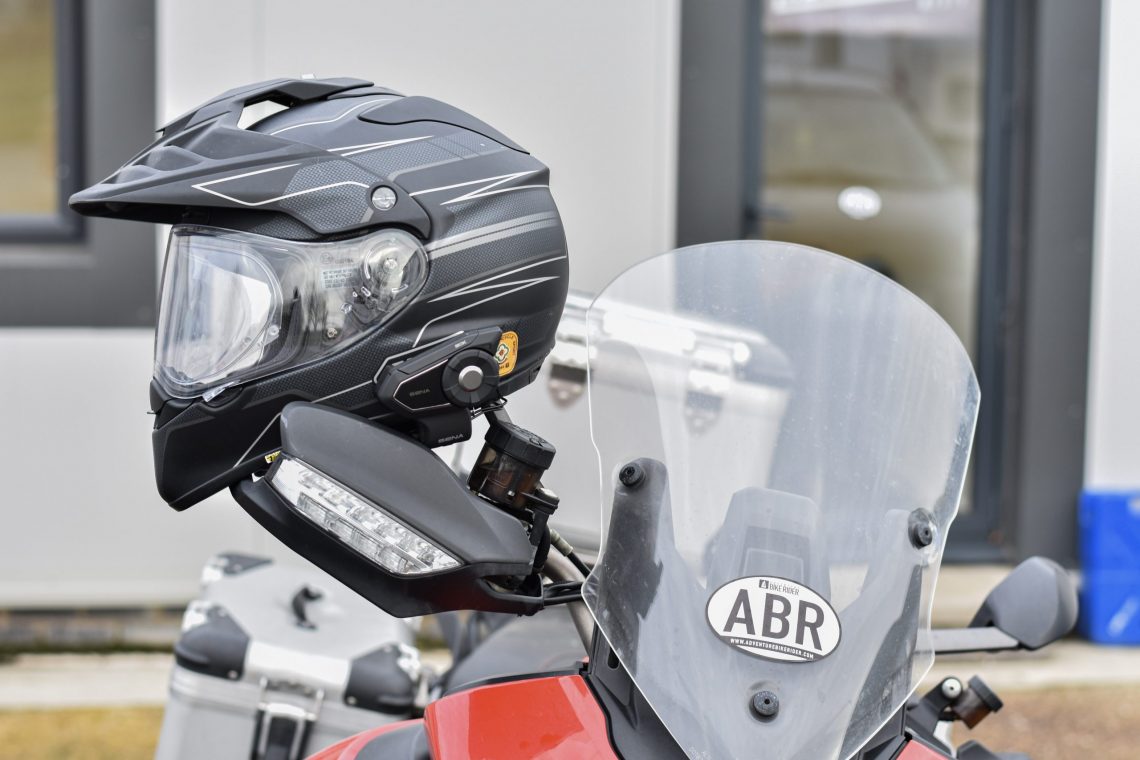 In a line: My go-to adventure-styled helmet. It's excellent.
Inevitably, when performing group tests such as this one, there'll be one or two products that become your favourites and you end up wearing them more than the others. For me, the Shoei Hornet ADV is that. I've fallen for this lid, so much so that it's been my go-to adventure-styled helmet for the past five years. I'm on my second one now. 
The Hornet ADV is Shoei's flagship adventure helmet and, at £449.99 it's placed near the upper end of the price scale, though there's undoubted quality throughout. The Hornet makes use of an organic fibre, multi-composite shell in various layers to provide impact protection, and a multi-density EPS liner for added shock absorption, while the interior is lined with Shoei's 3D Max-Dry liner.
In terms of ventilation, the Hornet excels. The chin vent is effortless to operate and the chin bar is extended enough to help further. Two closable brow vents allow for further air intake, though the switch can be a bit of a fiddle, and an excellent vent located on top of the peak performs well.
The peak on the Hornet is arguably the best in the adventure class, battling it out with the superb Arai Tour-X4 for the title. It's very well designed when it comes to positioning and streamlining and you'll have to travel at some pretty high speeds (read 'illegal') for it to start causing any turbulence. It's also designed to be in-fitting with the rest of the helmet's aesthetics. Perhaps the only downside is that it's not adjustable, though I've never felt the need to move it.
All in all, the Hornet ADV is an excellent helmet. It offers a fantastic field of vision through the visor (which comes with a Pinlock), is supremely comfortable, the peak is up there with the best around, the ventilation is good, and the helmet is relatively quiet for an adventure-styled lid. The lack of a sun visor is a notable omission, though one I can overlook.