Hailing from Portland, Oregan, USA, Icon is a manufacturer of motorcycle gear that turns heads. We've previously been hugely impressed with their Airform helmet but, over the last week, I've been lucky enough to try out the Variant Pro. This helmet is more suited to adventure riders looking to tackle tarmac and rough backcountry trails in equal measure.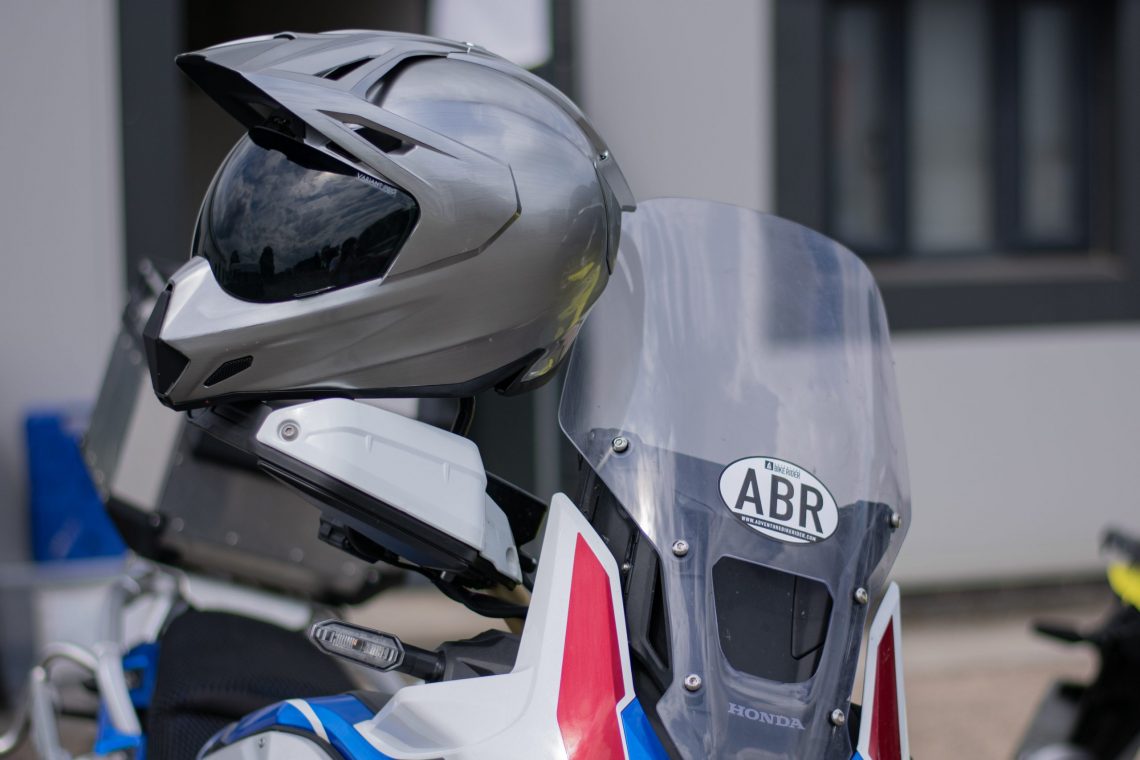 First Impressions
From the moment you open the box you can tell this lid comes from Icon HQ. There are few other manufacturers bold enough to craft that futuristic looking shell, before painting it with the eye-catching, new for 2020 'Quicksilver' colourway.
This isn't the helmet you wear to stand out from the crowd. This is a helmet you wear to make the crowd turn around and stare in amazement. And, you know what, I like that.
Throughout the monotony of lockdown, when my car-less status allowed me to make my essential journeys on my bike, it was a cheap thrill to go out looking like a superhero straight from the Marvel film franchise The Avengers. If I only have five minutes of biking to fill my day then I want to feel at my bad-ass best while doing it, and this helmet is guaranteed to turn the heads of those social-distancing in the queues along my local highstreet.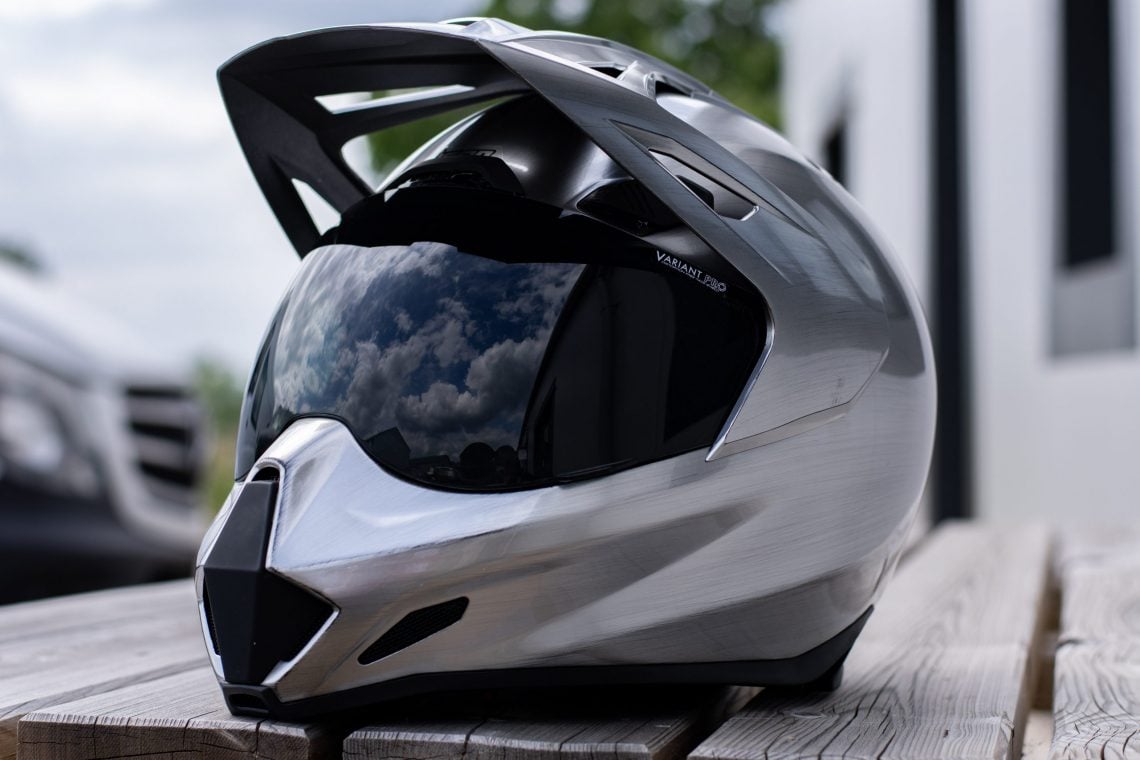 Features
Of course, this helmet does far more than just look good, it hosts a ton of features designed to make your rides as comfortable as they are eye-catching.
As an adventure helmet, ventilation is key, and the Icon Variant Pro provides plenty with eight large, closable vents located across the front of the helmet, both at the chin and above the visor. There are also two exhaust vents to ensure all that cool air flows around your head as you ride.
In practice, these work well, while that extended chin bar offers further ventilation once you pop out the removable wind-guard. This versatility is welcomed and makes the helmet a viable option in both summer and winter conditions.
The peak is large, effective at blocking out the sun and incredibly easy to remove, although it must be fitted when riding (without it, the visor won't stay put). You will need to remove the peak to switch out the visor though, which is thankfully another job that requires little effort or time. I did this immediately, replacing the clear visor with the dark-smoke replacement which came in the box – an essential switch to further enhances those killer looks.
On my first ride wearing the Icon Variant Pro, the first thing I noticed was just how wide a field of vision is provided. Both visors are also scratch-resistant and fog-free.
I tend to prefer Pinlock-ready visors (there are no mounting points here), but Icon's fog-free treatment has worked perfectly so far. It even kept my view crystal-clear when I filled my lungs and blew as hard as I could to try and mist it up.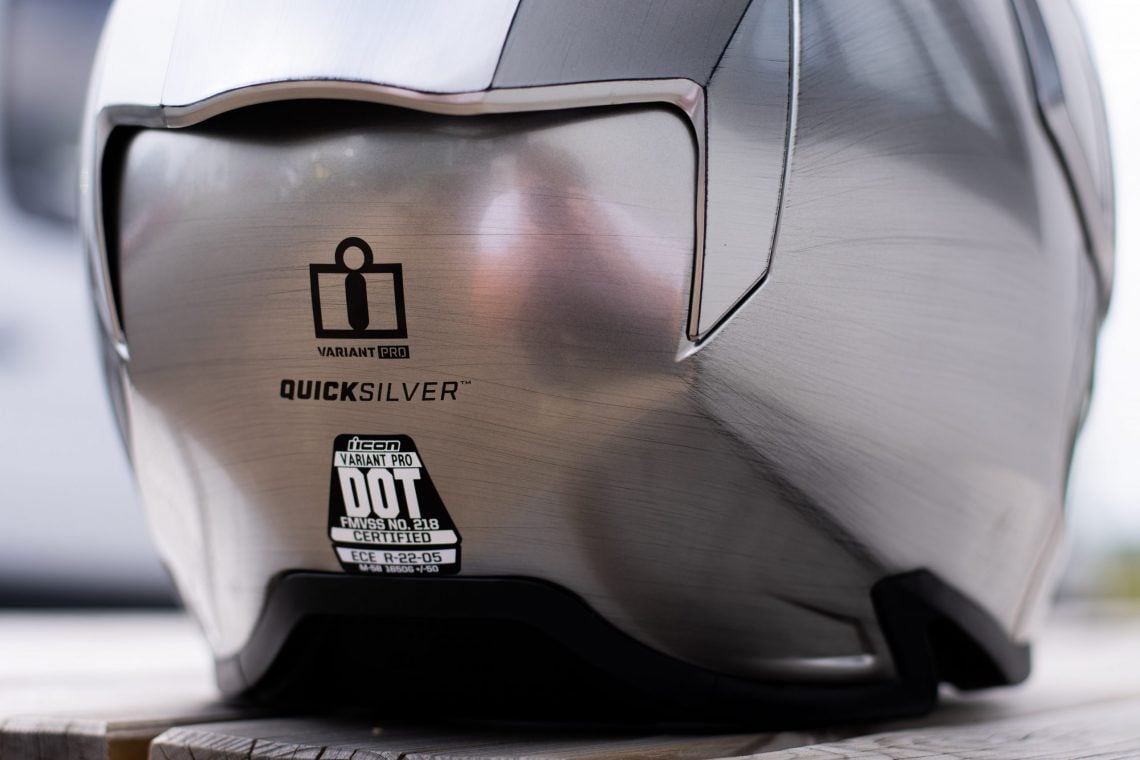 Fit and comfort
Icon offers a range of sizes, from 2XS all the way to 3XL, and the company says that the helmet is designed for those with an intermediate oval head, the most common head shape there is. While we encourage you to try before you buy, as sizing is naturally going to be different for each wearer, I found the fit to be comfortable and secure.
My head was cushioned by the five liner inserts without any pressure points or loose spots, and complementing this snug fit is a double-D ring strap.
I was pretty lucky that the helmet seemed to fit perfectly out of the box, but for those who feel like the fit will need a bit of fine-tuning, you're in luck. Icon also offers a number of removable padding components which will allow you to personalise the fit, offering a possibility of 27 different setups.
This removable padding is made using 'Hydradry', a moisture-wicking fabric that's designed to help prevent sweat buildups while also being comfortable next to skin. These pads are also removable and hand-washable, meaning you don't have to put up with a stinky helmet.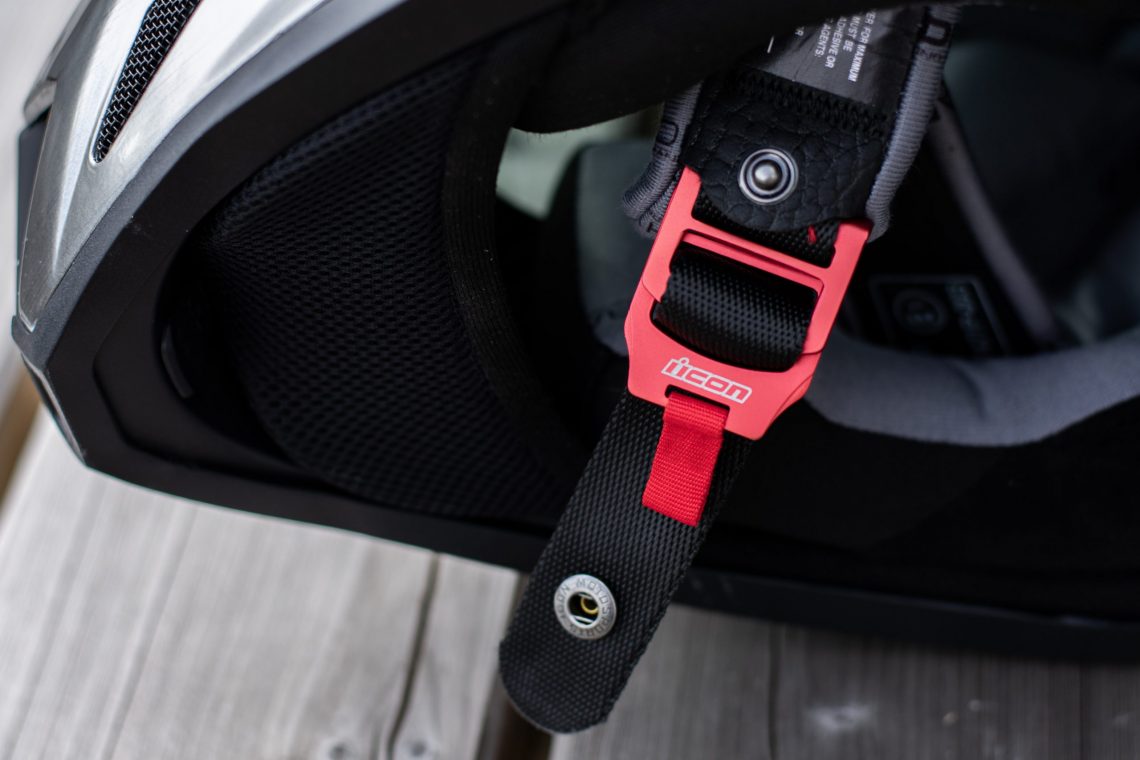 Safety
The helmet consists of a shell made up of a reassuring mix of fibreglass, Dyneema and carbon, with dual-density EPS foam beneath it. This combination should offer an impressive amount of protection, and while I'm thankful that I haven't had to use it yet there's nothing to suggest that it wouldn't. Of course, the Icon Variant Pro has also passed all of the relevant safety tests being DOT and ECE certified.
The whole ensemble weighs in at 1,650g, which is fairly average for an adventure helmet. But, these figures only tell part of the story.
Those sleek lines and the futuristic looks aren't just for style, Icon say they were shaped by numerous hours of research in a wind-tunnel and help to improve the performance at speed. The result of all of this work is a helmet that feels lighter in use than the weight figure would suggest, and is well-balanced and stable at high speeds.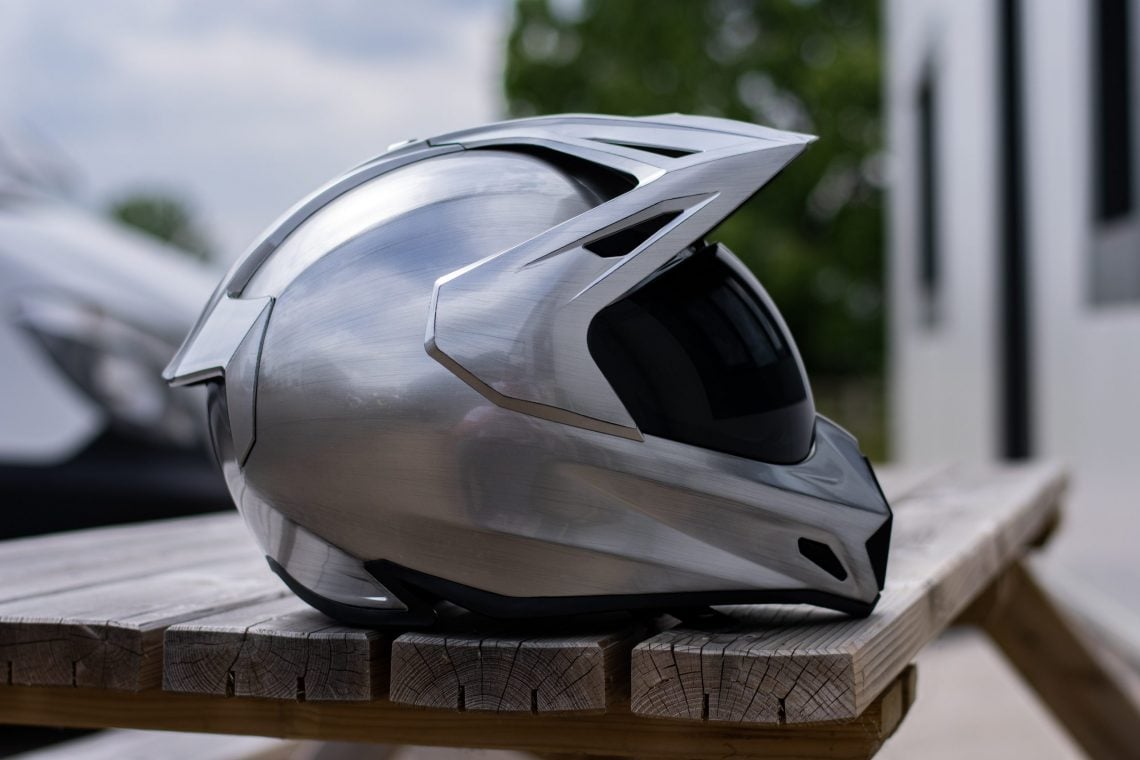 The Icon Variant Pro
Overall, in the Icon Variant Pro you have a stunning, eye-catching helmet that performs just as well as it looks. There hasn't been another bit of kit that I've worn that has attracted so many comments and stares.
Ultimately, isn't that why many of us ride motorcycles? For the feeling of being that little bit different and that little kick when you see people looking on enviously as you roll past. Why else would we rev just that little bit louder as we pass through tunnels or chuckle to ourselves when kids whoop as we accelerate away from the lights in town?
The Variant Pro helps with that, but it's not just a show pony. It's a genuinely good adventure helmet, offering a host of useful features and an intelligent design that is very capable on the road or on the trail.
With prices starting at £265.99 it's also competitively priced; for that money you really are getting a very good lid, as well as a conversation starter next time you park up outside your local biker haunt. Read more about the Variant Pro on Icon's website.