Price: £89.99
www.spadaclothing.co.uk
Over the last few years the Spada Intrepid has established itself as a popular choice for those adventure bikers who are seeking a decent budget helmet. At just £89.99 it's impressively featured, and the great styling make it that bit more attractive to potential buyers.
Starting off with the Intrepid's construction, the helmet has a thermoplastic moulded shell that's bonded to an EPS inner and, as is legally required, it's passed the relevant European safety standards.
The inner lining and cheek pads are removable and washable and the soft material is pleasant against the skin, making the Intrepid comfortable to wear. The fastening strap is of the ratchet variety and it's nicely made, with there being no harsh edges that can cause abrasion on the neck.
One of the key features of an adventure-styled helmet is the peak, and it feels as though the peak on the Spada Intrepid was a bit of an afterthought, and it's not particularly well designed.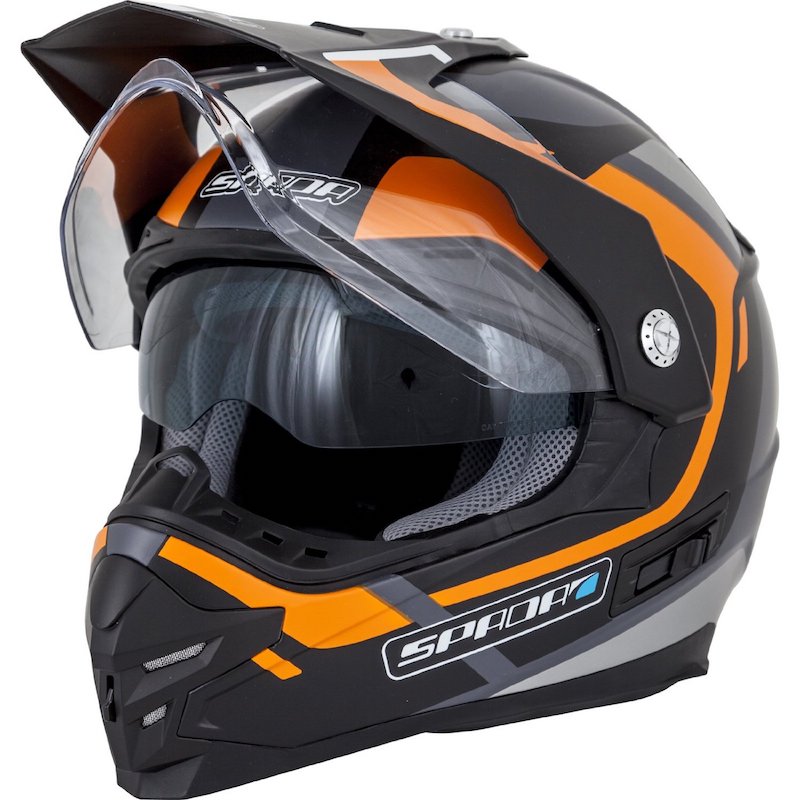 It's adjustable and removable, but regardless of how it's set, it offers very little protection from overhead sunlight (thankfully the helmet comes with a built-in sun visor). The peak also gets caught in the wind all too easily, something that can become tiresome on long motorway rides.
It's also disappointing to note the poor quality of the screws that are used to attach the peak. The metal is far too soft for purpose, and the thread easily gets chewed up when used.
If there's a saving grace for the Intrepid it's the fantastic field of vision that the huge visor offers, and Pinlock mounts come installed (though no Pinlock is included in the box). There's ventilation aplenty on the Intrepid, and the large chin bar will also aide with getting the air circulating on those stuffy summer rides.
Spada Intrepid Helmet Verdict
The Spada Intrepid is a budget motorcycle helmet (and one of the cheapest adventure-styled lids you can find), and so it would be wrong to expect the same level of performance as you'd get from, say the X-Lite X-551. It's comfortable, the internal sun visor works nicely, and style wise it's attractive. That said, the peak is poor and I'd be more inclined to remove it for motorway miles, and the quality of some of the components, such as the screws used to secure the peak, is lacking.