James Oxley and Ollie Rooke round up the latest and greatest biking kit
Merlin Mahala Explorer Jacket and Trousers (Feature image above)
Jacket: £329.99
Trousers: £249.99
You may associate Merlin motorcycle gear with hip-looking folks on café racers sporting wax jackets and well-groomed facial hair, and to some extent, you'd be right.
But while the brand remains ever popular with urban riders, a few weeks ago, the folks from Merlin popped by the ABR offices to give us a sneak peek of their new Explorer collection, which is aimed squarely at adventure bikers.
And a piece of kit that immediately caught my eye was the Mahala jacket and trousers. It's a good-looking textile adventure suit boasting a host of features that make the price tag look very reasonable indeed.
This three-layer jacket is simply yet stylishly designed and comes in fetching black and olive, or black and sand colourways. There is a seven-piece D30 armour set up at the shoulders, elbows, back, and most impressively, the chest, which is something usually found on jackets costing double the price or more. And the trousers feature D30 armour at the hips and knees.
The suit is made from abrasion-resistant Cordura which is treated with a water repellent coating. This combines with a waterproof inner drop liner to keep you dry in the rain.
The Mahala has plenty of handy features suited to life on tour, including three good-sized pockets on the jacket for quick access to essentials, and vents at the front and back to keep you cool when the mercury rises.
And for cold weather rides, there are removable thermal liners in the jacket and trousers, and a removable Cordura neck scarf to prevent drafts. The suit also has adjustment straps to tailor the fit to your body shape, as well as magnetic button closures at the pockets, which are a nice touch and show plenty of thought has gone into the suit's design.
---
Cardo Freecom 4x.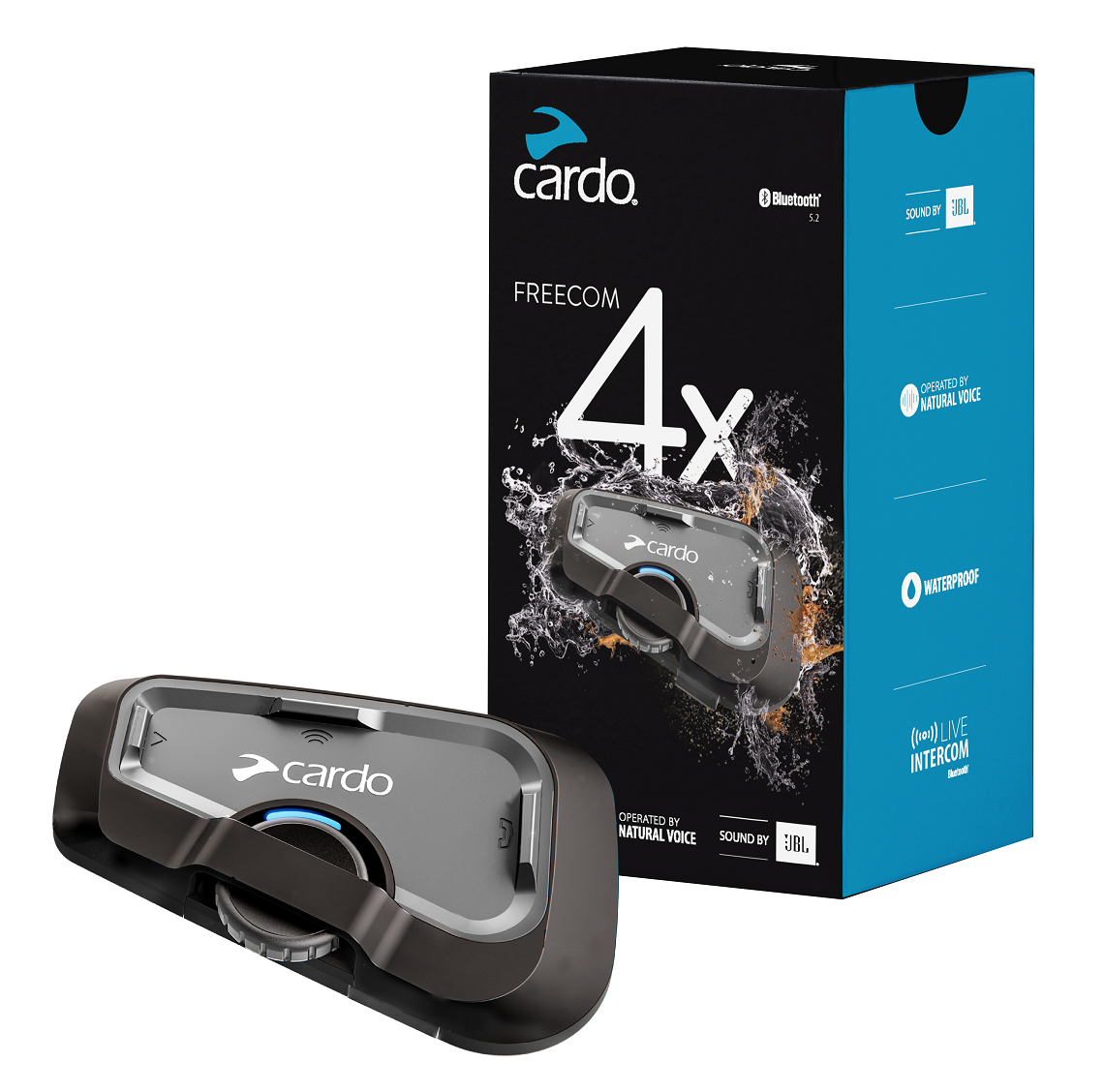 £235
If you're in the market for a new motorcycle intercom, then you'll no doubt come across the terms Bluetooth and Mesh. These are both technologies that allow you to communicate with other riders, but they do it in different ways.
Bluetooth used to rule the roost, but in recent years Mesh has stolen the limelight with its ability to connect to more riders over a much greater distance. It's a cracking piece of technology, but devices that use it tend to be more expensive than those that don't.
So, what if you don't want to connect to umpteen other bikers strung miles apart? What if you simply want to chat to your pillion, a couple of mates, or listen to some music while you ride solo.
Under these circumstances, a Bluetooth-only intercom like Cardo's new Freecom 4x is certainly worth considering.
It will connect with up to four riders over a range of three-quarters of a mile. And, for my riding needs, that's certainly more than enough.
While the Freecom 4x may not feature Mesh technology, it's still a premium piece of kit packed with all the features you'd expect to see in a high-end device. This includes good quality speakers provided by JBL, voice control, universal connectivity to any other Bluetooth headset, and automatic volume control linked to ambient noise.
The Freecom 4x is also waterproof and will stand up to mud and dust from the trails. If you run out of juice, the fast charger will give you two hours' worth of talk time after just 20 minutes on charge.
And all this comes in a petite package, with the Freecom 4x weighing in at just 37g. In fact, it felt so lightweight when attached to my helmet, I forgot it was there. If you're looking for a new intercom, and you don't need the features that Mesh technology brings, then Cardo's latest Bluetooth offering would make a great choice.
---
Ducati Horizon V2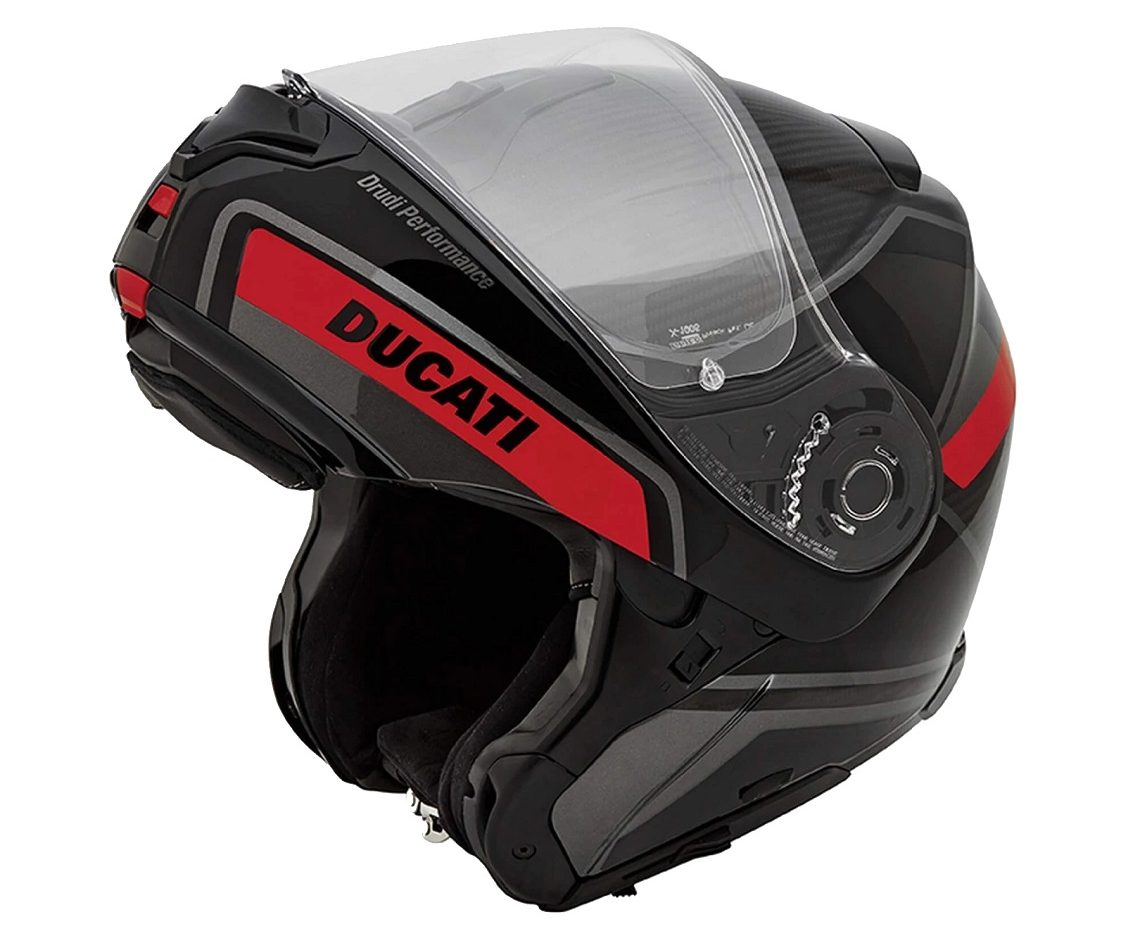 £529
If you're fortunate enough to have a Ducati parked in your garage, then you may well be interested in sporting some riding gear produced by the Italian manufacturer too.
And why wouldn't you? Ducati makes some of the best-looking bikes in the world, and their range of riding gear is also pretty darn stylish too.
The latest addition to the range is the Horizon V2, a helmet made by X-lite for Ducati and developed to meet the needs of touring bikers with their sights set on travelling through Europe and beyond.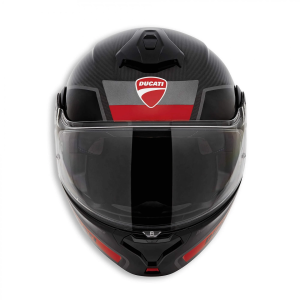 And because it was designed with covering big miles in mind, the helmet is packed with features to enhance your motorcycle touring experience, whether you're slogging along an autobahn or summitting the Stelvio Pass in summer.
First off, the Horizon V2 is a flip-front lid. This will not only help you cool down on hot days in the saddle, but a modular helmet is also incredibly handy when on tour.
The convenience of simply being able to flip up the chin bar at petrol stations, when asking for directions, or simply having a quick cigarette by the side of the road is certainly not to be underestimated.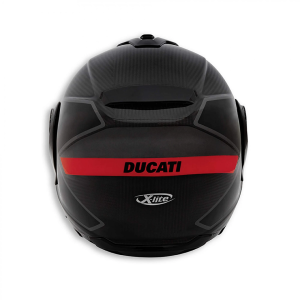 The Horizon V2 has also been designed to integrate the N-com B-902X intercom system (which needs to be bought separately), which is handy if you want to talk to a pillion or listen to music on tour.
The outer shell is made from carbon, aramid, and glass fibres, which sits over an expanded polystyrene inner shell designed to disperse energy in the event you hit your head in an accident.
The design also features an extra-wide visor opening to give you a large field of vision. There are also visor, chimney, and exhaust vents to promote airflow through the helmet.
In terms of styling, Ducati has kept things simple with a black, grey, and carbon design featuring red highlights and a Ducati logo above the visor.
It's a colourway designed to complement the good looks of that Multistrada in your garage. It's a darn stylish combination if you ask me.
---
Desert Fox Folding Fuel Cell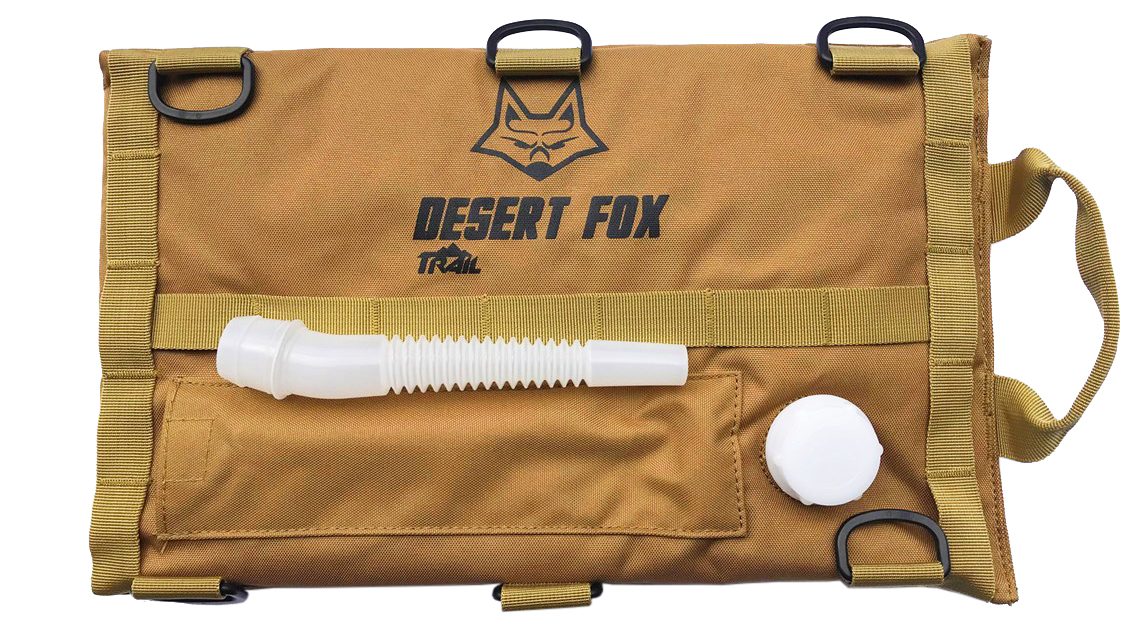 £46-£55
There are few more stressful moments on a motorcycle tour than watching your fuel light flicker on when you're in the middle of nowhere. Do you carry on in the hope there's a petrol station up ahead, or do you limp back to the pumps you passed a few miles back?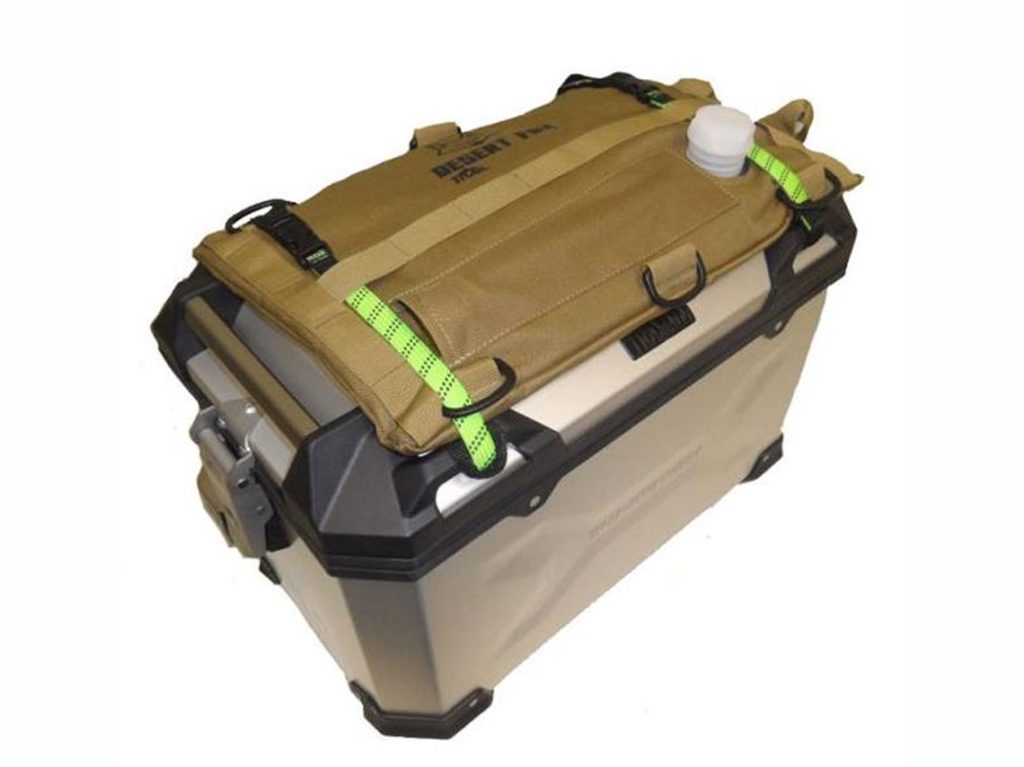 To avoid this conundrum, plenty of overlanders will strap rigid petrol cans to their bikes in the event they run dry on the road. But these can be bulky and take up plenty of space on your bike, so the folks at Desert Fox have come up with another option, the Folding Fuel Cell.
The team behind the brand are motorcycle travellers themselves who develop and test the products they make on the road. The Folding Fuel Cell has proved one of their most popular creations to date.
Coming in three different sizes (3l, 6l, and a whopping 20l) the fuel cell contains a flexible inner fuel bladder protected by a heavy-duty canvas outer that has been designed to withstand the rigours of life on the road.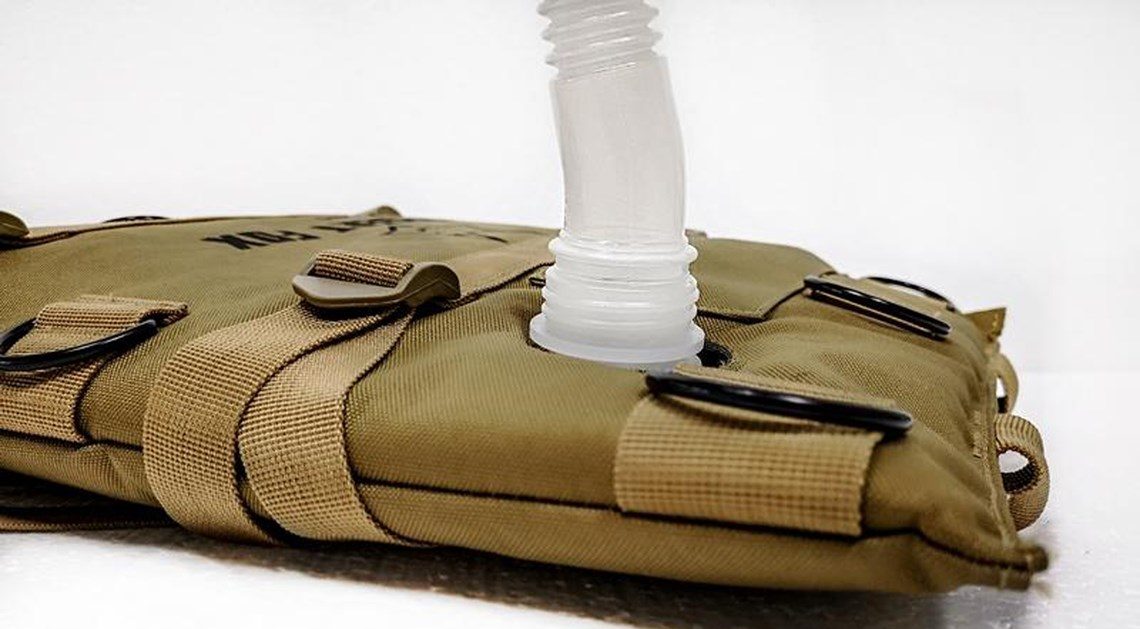 There's a large screw-top cap and a handy spout, so you won't need to mess around with funnels or worry about spilling petrol over yourself by the roadside when you're filling your tank.
When it comes to storage, the cell can be attached to your panniers or motorcycle itself by using rugged D-rings and webbing loops, so you have got easy access to extra fuel in the event of an emergency.
Once you've filled up, the fuel cell can be rolled up or folded away so it'll take up very little space on your bike when it's empty.
So, whether you've got a trip around the world planned, a summer tour through Europe, or you simply enjoy exploring the UK on a bike with a small fuel tank, the Desert Fox Folding Fuel Cell is a simple and hassle-free way of carrying some extra petrol with you on your travels.
---
Peak Design Motorcycle Bar Mount and Everyday Case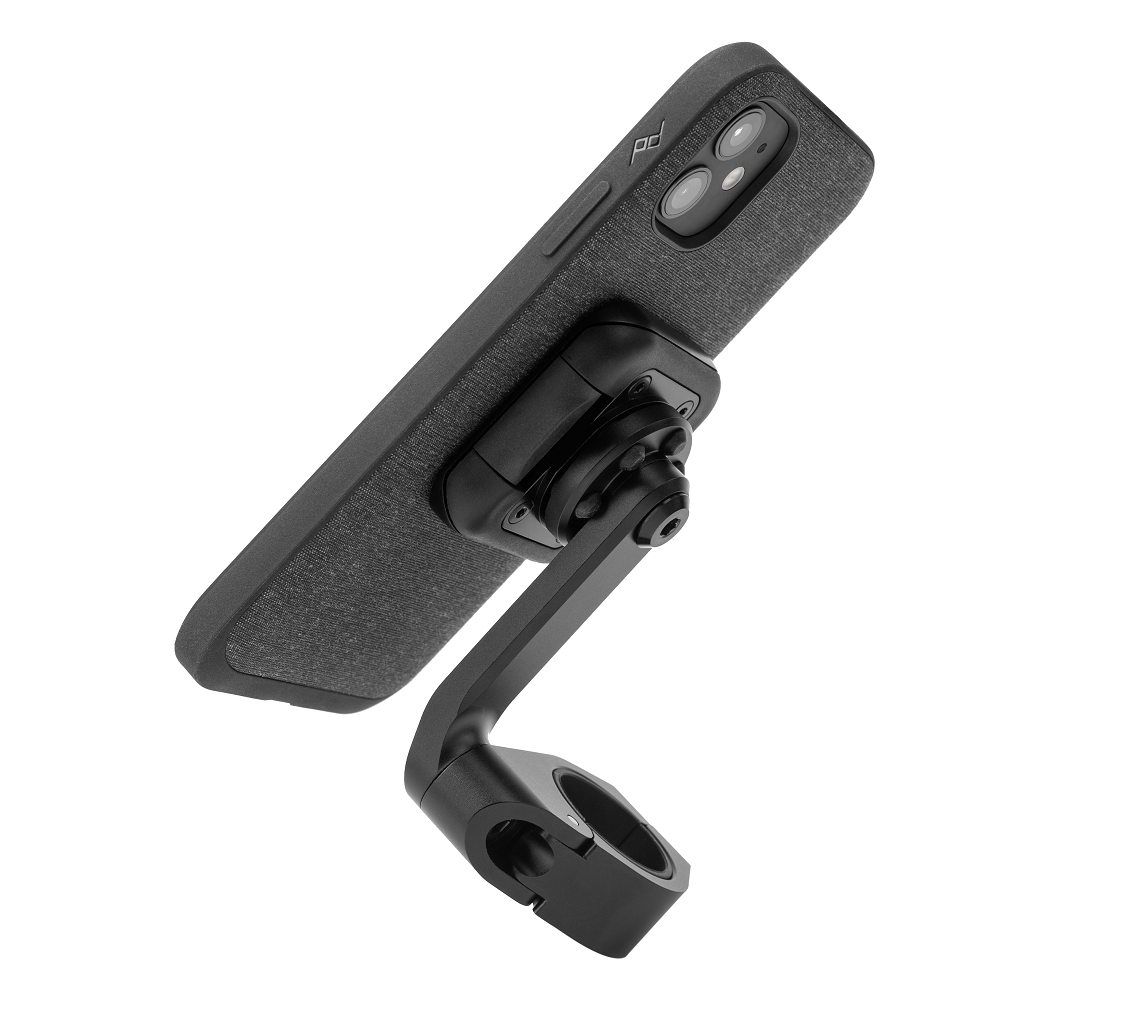 Mount: £66.63
Phone case: From £27.46
When I first started motorcycle touring, I navigated myself around Europe with a handlebar mount, smartphone, and Google Maps. It went well for many months, until one day, while taking a photo, the image on my screen started to wobble uncontrollably.
No, I hadn't been spiked with a psychedelic. Instead, my phone had fallen victim to a phenomenon that had started to affect bikers around the globe. I found out to my cost that strapping a smartphone to a vibrating motorcycle would destroy the camera's sensitive auto-stabiliser, ruining its ability to take a half-decent image ever again.
It spelt the end of a good, and rather expensive, phone, as well as the practice of using it to find my way around. But now there's a solution. Enter California-based accessories manufacturer Peak Design, with its range of phone cases and handlebar mounts.
The range caught my eye for two reasons. Firstly, they're premium pieces of kit that don't look out of place on my bike. Phone mounts can sometimes be large, bulky, and cumbersome to use, which is in direct contrast to the sleek Peak Design units that use simple, but robust attachments to hold my phone in place. And secondly, the team has put a great deal of effort into solving the issue of vibration.
At the back, where the separate phone case snaps onto the mount through a combination of magnets and a physical latch, there sit a number of rubber spacers.
These are designed to absorb any vibrations that travel up through the handlebars before they reach my phone and its camera.
This is an elegant solution to the problem which has allowed me once again to navigate using Google Maps, rather than listening to vague directions through my headset or using a separate SatNav device.