Ollie Rooke puts a selection of insulated mid-layers to the test to help you stay warm in the saddle this spring
If you ride throughout the year in the UK, you're likely familiar with the layering principle as a way of keeping you warm while you ride. It's a simple concept: by wearing multiple layers of clothing that help trap your body heat, you can maintain a stable body temperature in the saddle.
Most of us adopt a three-layer approach. Firstly, there's your base layer which is ideally made from a material that can wick sweat away from your body like Merino wool. Then you have an insulated mid-layer which does the lion's share of keeping you warm. And finally, an outer layer in the form of a motorcycle jacket to help keep you stay dry and protected.
It sounds simple enough, but many of us struggle to nail one key element, the mid-layer. Of course, the majority of three and four-season motorcycle jackets you can buy come with internal thermal liners which can be zipped in and out depending on the conditions. These may help to take the edge off the cold, but the simple polyester insulation they're often made from is no match for a dedicated insulated mid-layer (neither is a woolly jumper from your wardrobe).
There's good reason for this. As bikers, we subject ourselves to tough conditions that are far more brutal than the temperature gauge on your dash would suggest. For example, riding at motorway speeds on a 4C day could see you enduring a wind chill approaching -10C. These are temperatures that a lightweight mid-layer or a thick jumper, just won't be able to protect you against.
A dedicated insulated jacket with the latest insulating technology will offer the best coverage and weather protection for your upper body (some zip-in liners don't even cover the front of your torso or arms). But they also prove their worth away from the saddle. For touring, they're a warm and often stylish option for evenings off the bike or days exploring on foot. So, how do they work?
Get your fill
Insulated mid-layers work by trapping pockets of warm air generated by your body within an insulating fill. There are two types of those fills you'll find, down and synthetic.
Down insulation comes from the fluff that lies underneath the feathers of geese and ducks, and offers a seriously impressive warmth to weight ratio. This means that down jackets are often lightweight and packable, yet are still able to keep you warm in seriously low temperatures (there's a reason high altitude explorers make summit suits out of the stuff).
Goose down is regarded as the gold standard, and duck down is a little more affordable while still offering plenty of warmth. Look out for figures such as fill power (FP), which is a measure of the quality of the down used and how well it lofts (fluffs up) in use (the higher the better).
Down isn't water-resistant though. It collapses and loses the ability to form those crucial air pockets when wet. Some manufacturers have dealt with this by coating down in a durable water repellent coating (DWR) to maintain its loft when damp, so keep an eye out for this if you plan to ride in the rain.
The alternative to down is synthetic insulation.
This is made from polyester and its fibres mimic down loft to trap warm air. The negative to synthetic options is the fact they don't compress as well as down, so they aren't as packable. They also require more insulation to provide the same amount of warmth. On the upside, they are often cheaper and water-resistant.
Puffed Up
Another important consideration when buying an insulated mid-layer is comfort and fit. Since you'll be wearing yours below your motorcycle jacket, it should fit snugly underneath. Big puffer jackets from a High Street shop may be cosy, but try wearing one under your bike jacket.
Other features we like to see include a tall collar to protect your neck from the wind, a baffle running behind the main zipper to cut out cold spots, and a soft chin guard to stop a zip from rubbing during shoulder checks. Elasticated cuffs and an adjustable hem are also good features to help trap warm air in and keep the cold out.
Finally, it's worth bearing in mind how a mid-layer will look off the bike. Sure, they're technical pieces of gear designed to keep you warm, but I also wear mine around camp or while walking to dinner while on tour. This saves me wasting precious pannier space on another casual jacket.
In this group test, we've cast our net a little further afield than usual by accepting submissions from the outdoor industry as well as motorcycle gear manufacturers. After all, if a mid-layer can survive a blowing gale on the side of Ben Nevis, it's likely to survive a blustery winter ride too. So, without further ado, let's check them out.
---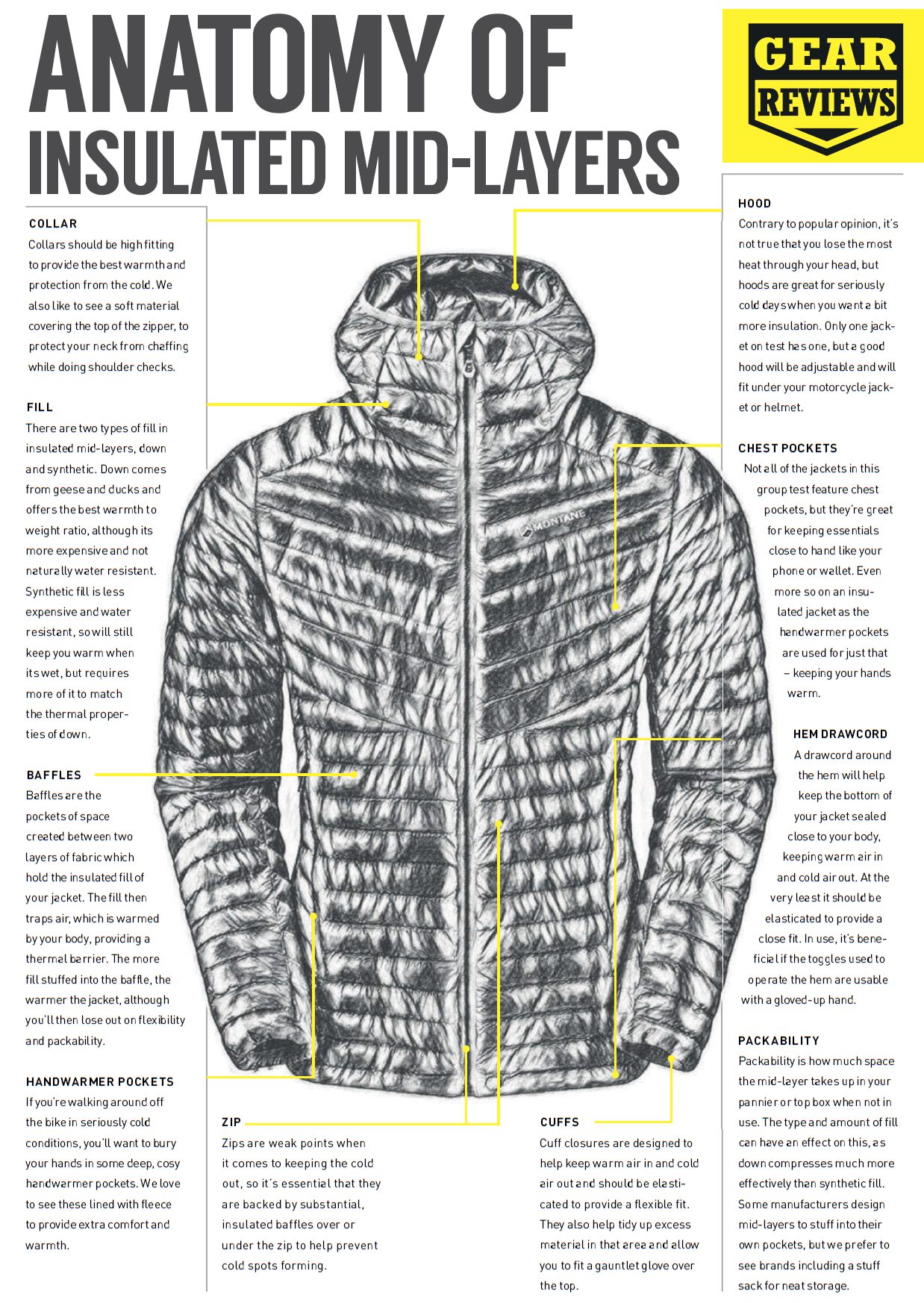 ---
HALVARSSONS ALFTA
£64 | www.halvarssonsmc.com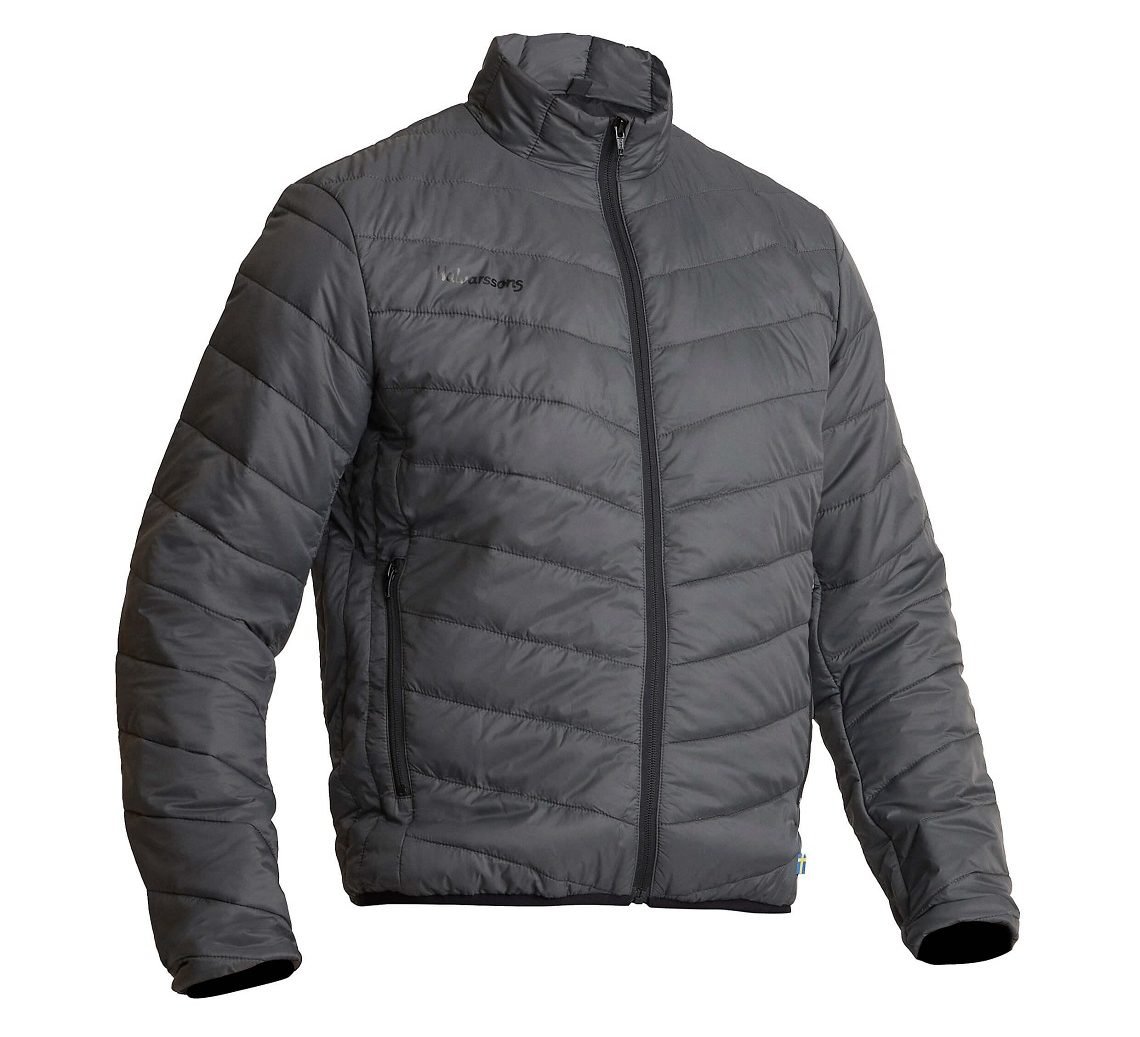 If you're looking for a gear manufacturer that knows just how tough bad weather can make life in the saddle, then a brand from Scandinavia would seem like a safe choice. Enter Swedish outfit Halvarssons and its submission to the test, the bargain-priced Alfta jacket.
Halvarssons has a reputation for producing premium gear so it was a surprise to find that, at £64, the Alfta is the least expensive on test, and about a quarter of the price of the priciest jacket we looked at (from Rab). So, is it a bargain buy, or are you better off stumping up a little more cash?
First impressions are promising. The Alfta is lightweight and packable, ideal for cramming into a loaded pannier, and the outer shell is delightfully soft to the touch. I particularly like the tall collar which kept the wind from buffeting my neck, and the elasticated cuffs and hem that help to tighten up the fit.
Polyester insulation can be found throughout the jacket, ensuring full coverage all the way to your wrists. However, it's not as effective as other synthetic fills like Primaloft which is found in the other synthetic jackets on test. The Alfta did leave me feeling chilly on colder days which means it's better suited to spring/early autumn rides, rather than the depths of a UK winter.
When worn, a few slight niggles do appear. The inner doesn't feel as soft to touch as the other mid-layers on test, and the jacket rode up and exposed my lower back in the saddle.
There's also an oversized tag at the neck that rubs and slightly impedes packability. However, these are niggles that can easily be forgiven when you consider that wallet-friendly price tag.
If your budget is tight, it's a good choice to stuff into your panniers and forget about, safe in the knowledge that you can quickly slip it on for a little extra warmth when the mercury drops or the wind picks up.
ABR VERDICT – 7/10
In a line: A decent mid-layer at an affordable price.
---
KEELA BELAY PRO
£99.95 | www.keelaoutdoors.com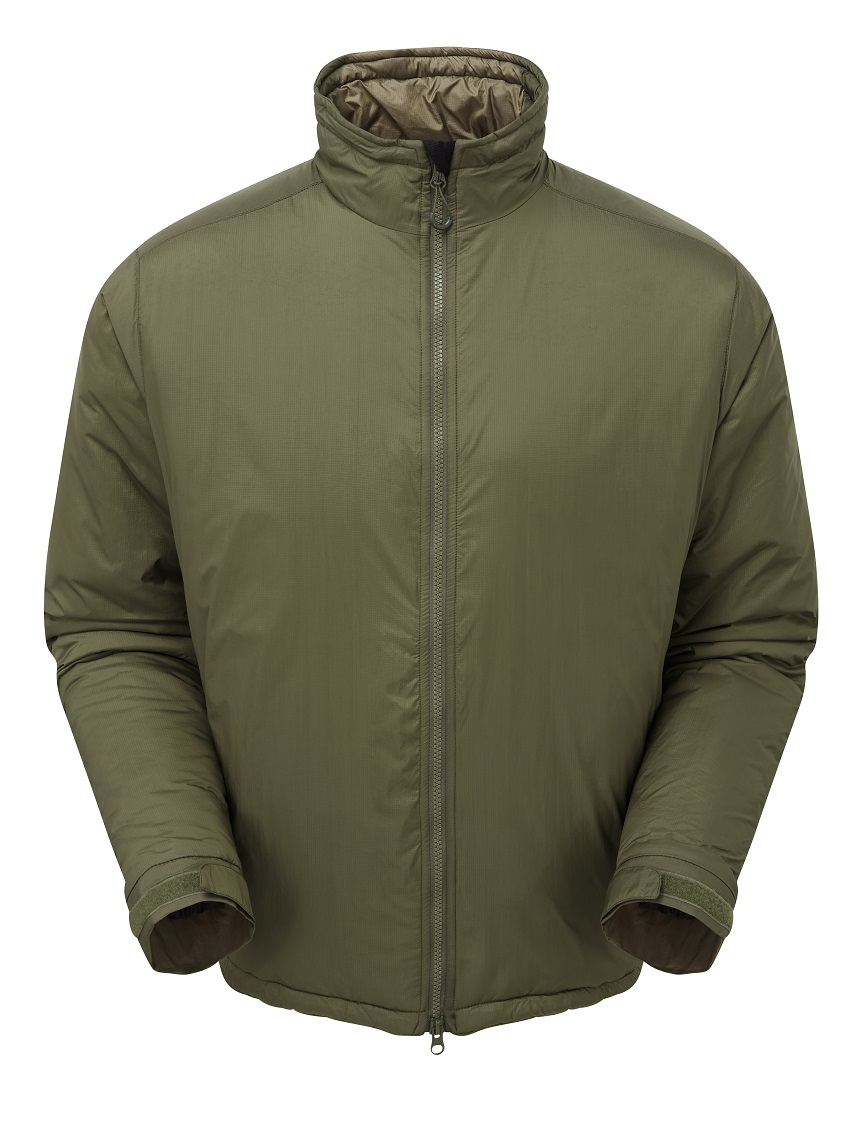 For this group test, we've extended our gaze beyond the world of motorcycling towards the outdoor industry. After all, if a jacket can survive a rough storm on the side of a mountain, it should be well suited to life in the saddle. One such manufacturer is Keela, an outdoor brand based in Scotland that submitted its Belay Pro jacket for review.
While it's not the most stylish jacket on test, with a lumpy, plain look, it's clear the Belay Pro is built to offer a serious thermal punch. Keela uses plenty of synthetic PrimaLoft Gold Insulation throughout which helped keep me warm during some seriously chilly morning commutes. PrimaLoft is also water-repellent, so the Belay Pro still provides a thermal barrier even if it gets damp.
All that insulation means it is bulky though. Wearing the Keela is like being wrapped in a sleeping bag and, while it's delightfully soft and cosy to wear underneath my motorcycle jacket on bitterly cold days, I did feel like the Michelin man while doing so.
With that in mind, I'd advise trying before you buy and maybe going a size down to find one that fits under your bike jacket. This bulk does also mean that the Belay Pro packs to about the size of a rugby ball. In fact, it was the largest pack size on test which is something to consider if you're looking for a jacket to stash away in a small space in a pannier or even in your map pouch at the back of your riding jacket.
Other features on the Belay Pro include fleece-lined handwarmer pockets, a chest pocket, a tall collar designed to keep the wind out, and drawstring adjustments at the hem and collar which provide a seal to stop those bitter winter winds getting inside.
I also loved the inclusion of hook and loop fasteners to fine-tune the fit at the wrists, which is something none of the other jackets had that I found very useful during cold winter riding days.
ABR VERDICT – 7/10
In a line: Like wrapping yourself in a cosy sleeping bag, but bulkier than the other jackets on test.
---
BERGHAUS SERAL

(Best Budget Buy)
£120 | www.berghaus.com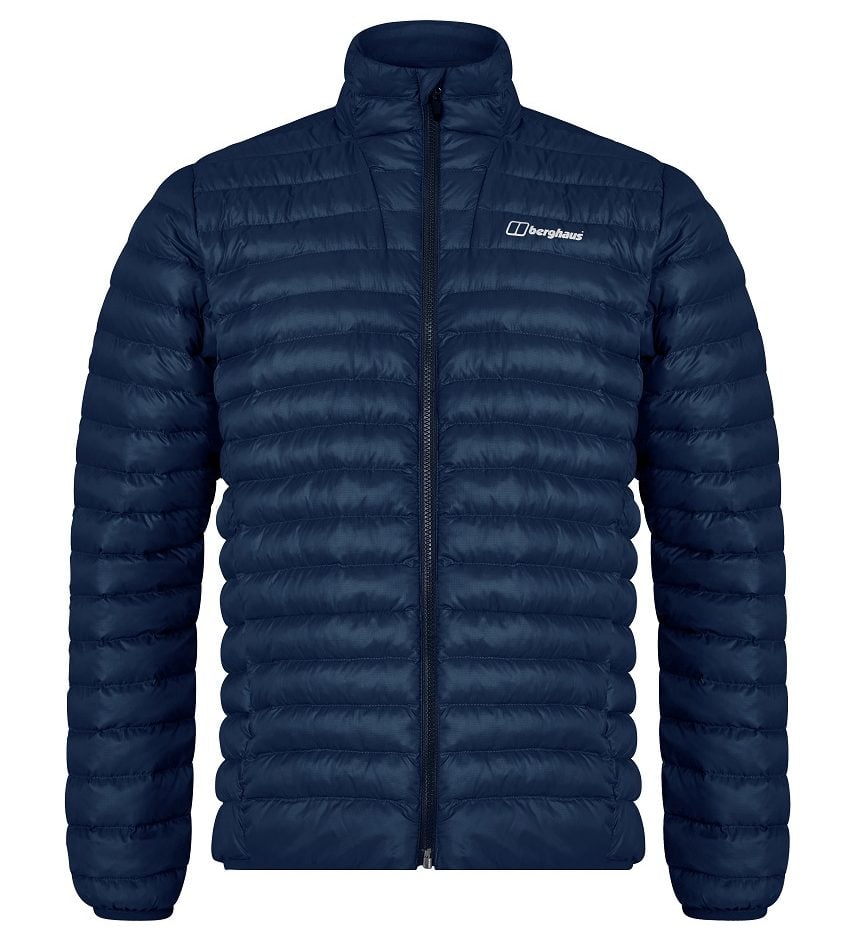 With almost 60 years of experience in the world of outdoor clothing, Berghaus has grown from humble beginnings in a small store in the centre of Newcastle to one of the world's most recognisable outdoor brands.
But how would that experience translate to the world of motorcycling? I was excited to find out with its submission to this group test, the Seral jacket.
Immediately I was impressed. The Seral is a stylish insulated jacket with well-defined horizontal baffles and a close fit that makes it comfortable to wear in and out of the saddle. The inner felt soft against my skin, as did the two handwarmer pockets which are fleece-lined for warmth and comfort. There was also a tall collar to keep the wind out, and it was good to see the zipper was protected by a soft chin guard to stop any chaffing.
The Seral uses Berghaus' own brand synthetic Hydroloft Polyball insulation throughout the jacket. The filling is water-resistant and designed to maintain its structure despite repeated packing and unpacking, which is handy if you're stuffing it in and out of panniers regularly.
That insulation is also effective, even in the type of bitter cold that'd usually have me turning to a heated riding jacket.
This did mean I found myself very warm when walking around off the bike, and it was a little bulkier than the equivalent down jacket. This is you're in the market for a stashable mid-layer to take touring, although it still packs to about the size of a loaf of bread.
At £120, the Seral sits at the lower end of this test's price range, and that makes it a seriously good offering. It did an excellent job of keeping me warm, looks good out of the saddle, and despite being a little larger than some of the other jackets on test, it was very comfortable to wear.
ABR VERDICT – 9/10
In a line: Ticks every box for serious winter riding at a reasonable price.
---
MOSKO MOTO JACKALOFT INSULATED SHIRT-JACKET
£132.45 | www.moskomoto.eu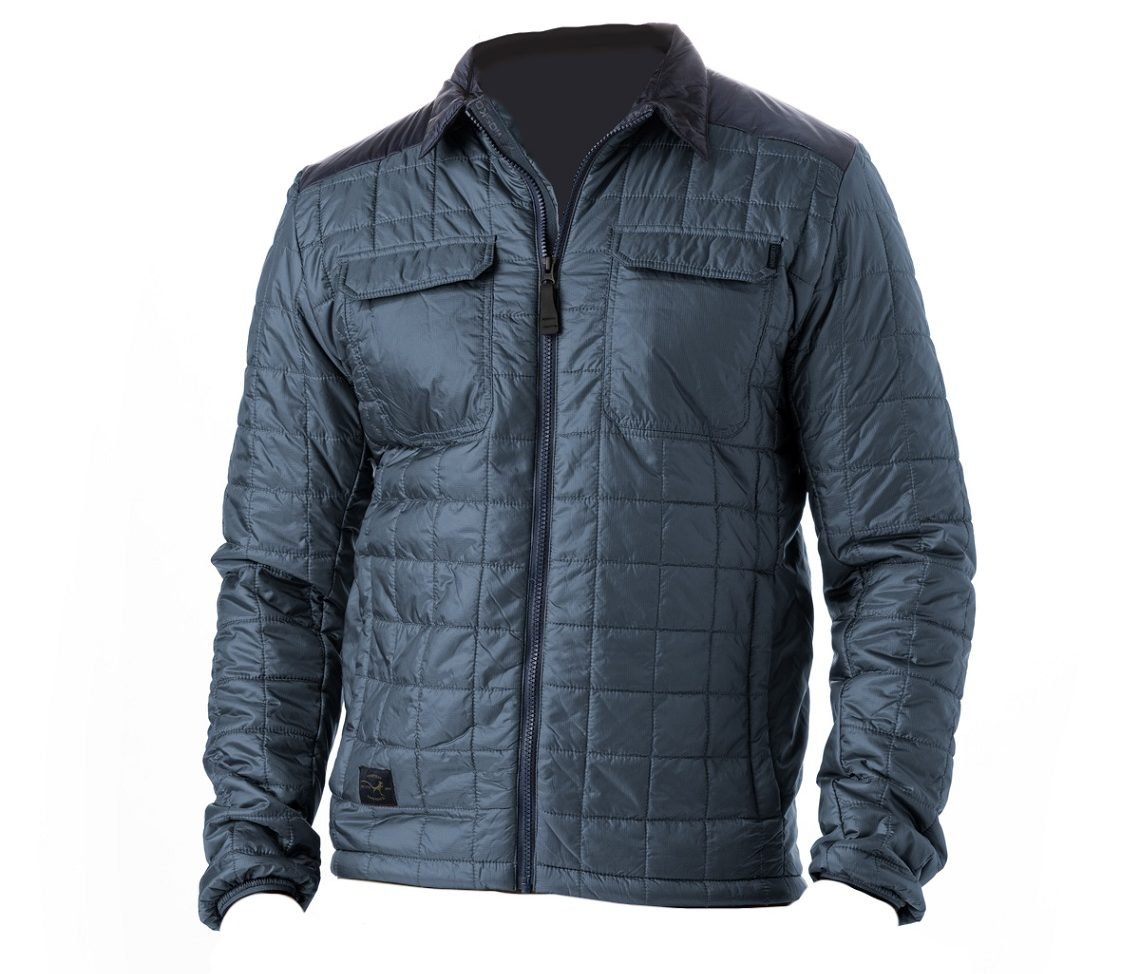 American company Mosko Moto has a reputation for producing rugged gear for adventure bikers that looks just about as good as it performs. From the outset, the Jackaloft continues this trend.
For starters, it's the best-looking jacket on test with its fold-down collar and two-tone shoulder patches which give it a lumberjack shirt-style that hides its true purpose as a piece of technical gear.
But the Jackaloft isn't simply a show pony. It's also designed to excel in the saddle. The inner and outer are delightfully soft, and I've enjoyed wearing the jacket for days at a time, while two handwarmer pockets and two chest pockets offer plenty of stash space.
In comparison to some of the outdoor jackets on test, Mosko Moto's biker-led focus is also evident when it comes to fit and insulation. The Jackaloft is fully insulated with synthetic PrimaLoft Gold insulation, the same found in the toasty Keela Belay Pro on test. However, unlike that jacket, Mosko Moto has kept the fit tailored to reduce bulk and allow for flexibility in the saddle, even when it's worn under a motorcycle jacket and armour.
This does mean it's chillier than the Keela, but it makes up for that by being lighter and packing down smaller (it easily stuffs into its own pocket). So, while it may not be suited to riding in the depths of winter, it's perfect for summer touring, spring and autumn rides.
The stylish shirt-style collar does lack the wind resistance that others on test offer, and there's no soft covering at the top of the zip to stop skin rub. However, these are two minor issues on what is an otherwise superb piece of kit, which also comes in at a price that's kind on the wallet. Staying warm has never looked so cool.
ABR VERDICT – 8/10
In a line: Great looks and comfort from adventure biking clothing experts.
---
HELLY HANSEN LIFA LOFT
£160 | www.hellyhansen.com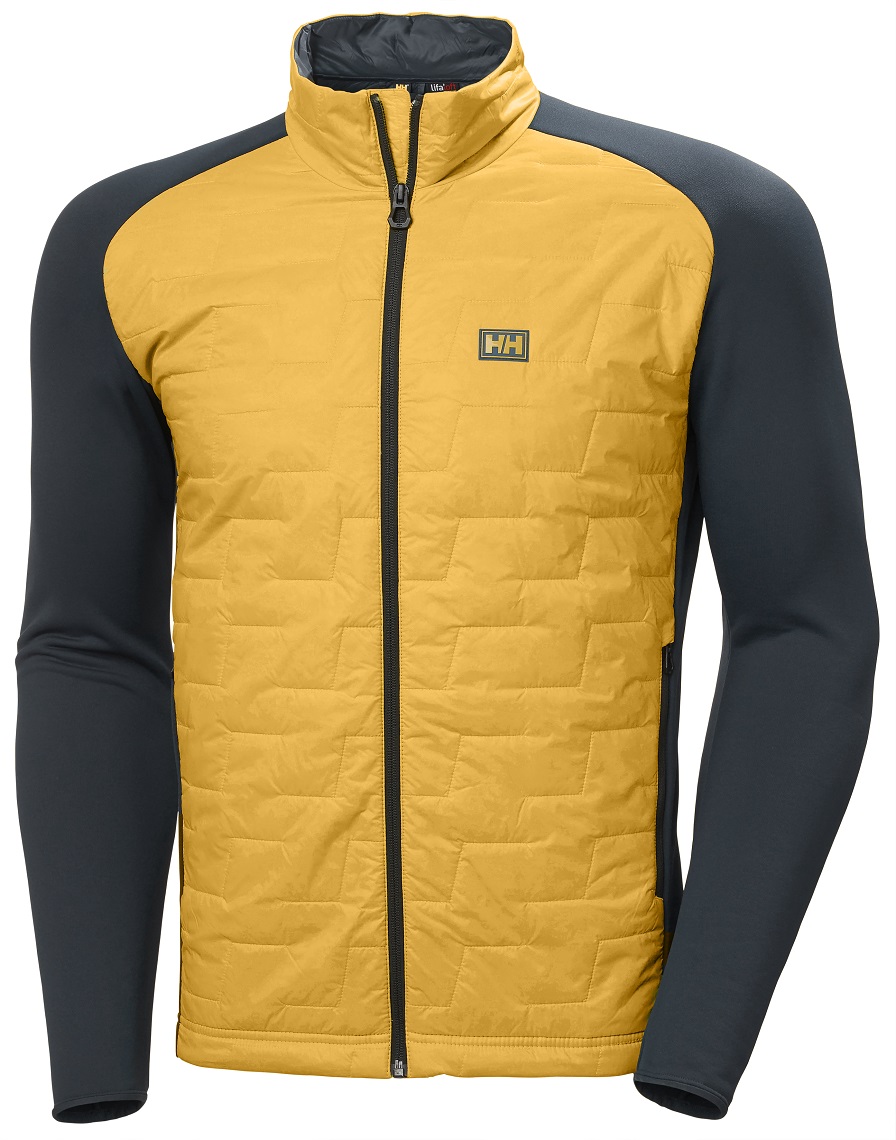 There are few companies around with more experience in battling the elements than Helly Hansen. The Norwegian brand started life in 1877 when sea captain Helly Juell Hansen decided to soak his clothing in linseed oil to help protect himself from harsh ocean storms.
In recent years, the company's gear has proved popular with skiers, who value warmth and flexibility above all else. It's an approach that is instantly visible in Helly Hansen's entry to this test, the Lifa Loft, which is markedly different to every other product on test.
While the other brands have gone for full insulation coverage, Helly Hansen has taken a hybrid approach. The torso is made from its own-brand synthetic insulation (LifLoft), but the sleeves and side panels are made with a soft fleece material instead.
This approach has its benefits. The trunk of my body is still protected by warm insulation, while the fleece sleeves allow for excellent flexibility and comfort in the saddle. Mixing the two also improves packability by reducing bulk and weight.
In fact, the Lifa Loft packs down to the size of a small water bottle. There's also plenty of storage, including two fleece-lined handwarmer pockets and two vast internal stash pockets, while the hem is elasticated to fine-tune the slim fit.
Helly Hansen's lightweight approach does come with a trade-off though. It feels a little chillier than the other jackets in this group test and, as such, it's better suited to summer tours or rides during late spring and early autumn. I did feel cold in the saddle while testing it on a cold, crisp winter's day.
With this in mind, I see the Lifa Loft as the perfect option for summer tours of the Alps or the Pyrenees, when I find myself needing an extra layer amid the cold air at the top of high-altitude mountain passes.
ABR VERDICT – 7/10
In a line: Lightweight and comfortable. Ideal as a grab-and-go option during the warmer months.
---
REV'IT! SOLAR 2
£169.99 | www.revitsport.com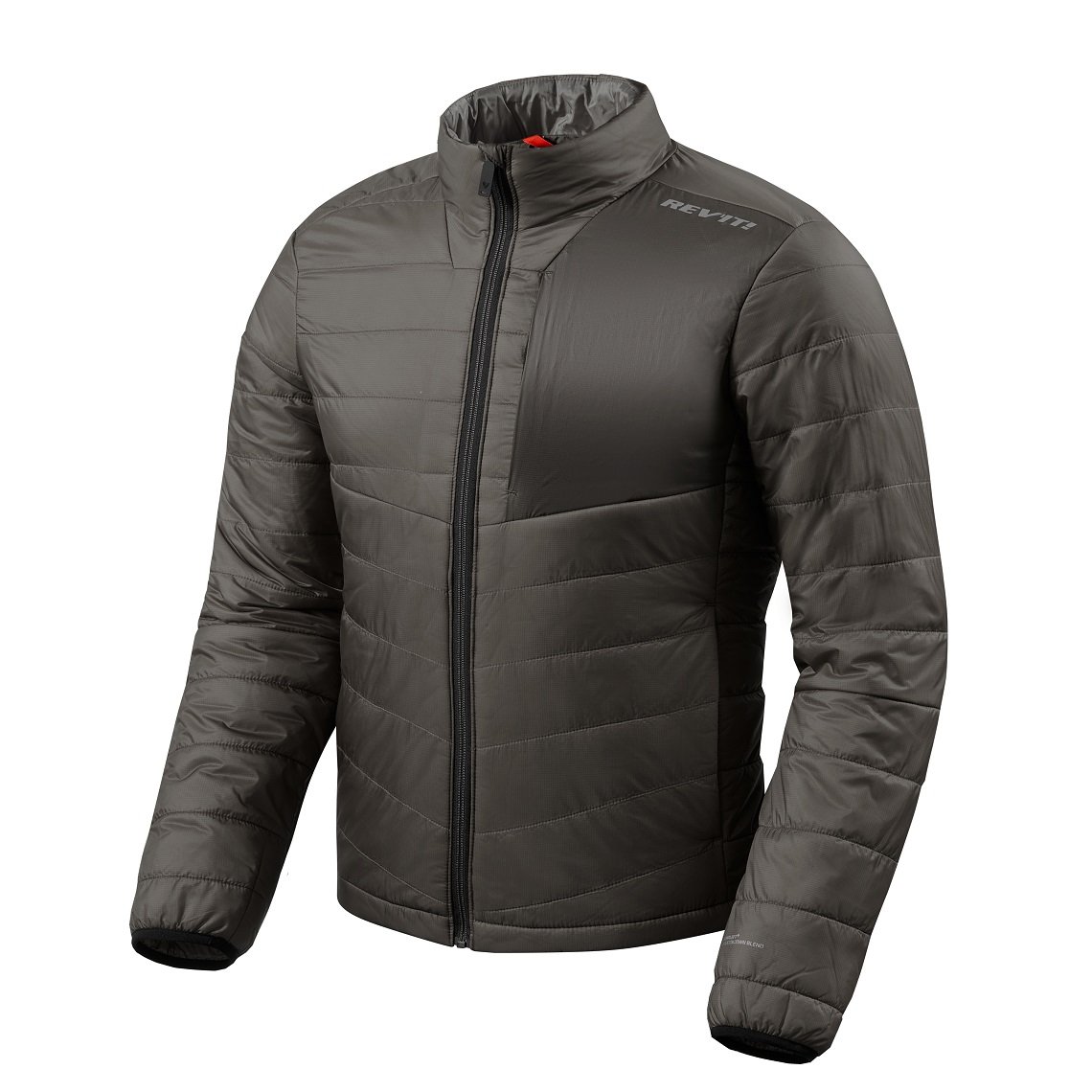 Dutch manufacturer REV'IT! has consistently performed well in ABR group tests over the years, offering premium quality, strong performance, and plenty of style – the biker's holy trinity, if you will.
So, when I slipped on its submission to this group test, the Solar 2 jacket, I was excited to see what the team from the Netherlands had delivered this time around.
Immediately, REV'IT!'s tell-tale quality shines through. The Solar 2 is delightfully soft inside and out, with a close fit that's perfectly suited for life underneath a motorcycle jacket.
I'm particularly fond of the little features that show REV'IT! has designed it with bikers in mind, like the elasticated cuffs, a windbreaker behind the main zipper, and a zip cover to prevent rubbing against my chin during shoulder checks.
The Dutch brand uses Primaloft Gold insulation throughout, which can be found in other jackets further down the price range. However, it feels a little more substantial (and therefore warmer) than the likes of the Mosko Moto or Helly Hansen jackets, while still packing down to a small size in its own pocket. While I'd opt for something a little thicker on the coldest of winter days, it'd suit 90% of riding during the autumn and spring.
There's also ample storage, including two handwarmer pockets, internal stash pockets, and a chest pocket for my phone. It slightly falls short of the competition in the looks department though, with blocky Joan Collins-esque shoulder pads that have attracted the odd cheeky comment in the office. But, trust me, I don't mind them one jot when I'm cosy on my ride home.
ABR VERDICT – 8/10
In a line: A high-performing synthetic mid-layer with ample pockets.
---
MONTANE FEATHERLITE DOWN MICRO JACKET

(ABR Recommends)
£170 | www.montane.com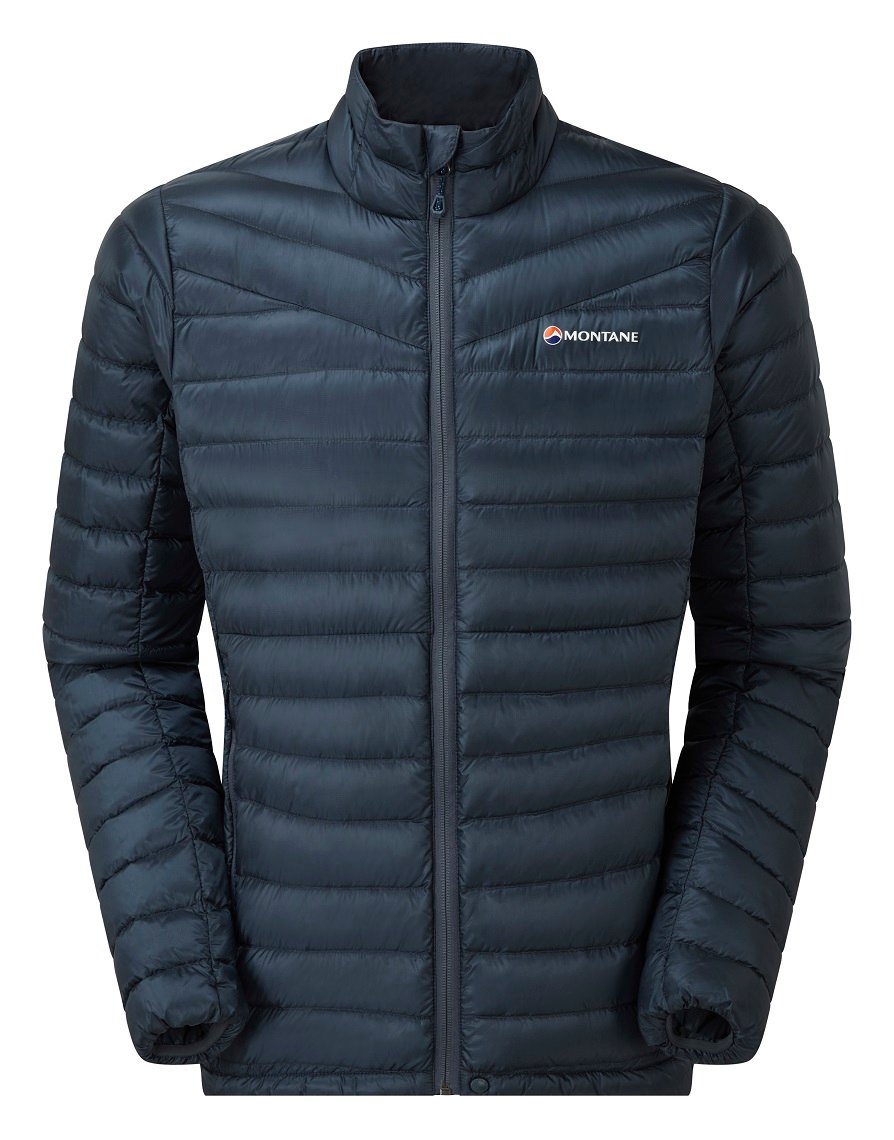 Now we enter the realm of down fill mid-layers, rather than synthetic, starting with the Montane Featherlite. The British brand first introduced the popular Featherlite range to the outdoor industry in 1999, and the latest version, the Featherlite Micro Jacket, is its submission to this group test.
Despite the impressive 750FP duck down fill, which is typically loftier (fluffier) than synthetic equivalents, Montane has managed to keep bulk to a minimum. The Featherlite fits underneath my jacket without impeding flexibility in the slightest, and it packs easily into its stuff sack, which is the size of a small loaf of bread.
The fit is snug and the textile is delightfully soft, while the outer shell has been treated with a durable water repellent (DWR) coating to add both wind and rain resistance. The responsibly sourced down fill has also been treated for water resistance.
This is a nice touch, as down without treatment loses its impressive thermal properties when it gets wet. I wouldn't want to get it soaking wet, but it'll withstand a light drizzle.
And boy, does it keep you warm. There's a reason down has been used for decades in the outdoor industry, and the Featherlite offers a seriously impressive warmth to weight ratio that'll keep you comfortable long into the winter months.
Other impressive features include the zipper's wind-resistant backing, an elasticated hem and cuffs, a chin guard, two handwarmer pockets, and a chest pocket. I'd prefer a taller collar to keep the wind out, but that's about the only improvement I'd suggest. Hide Montane's logo and you'd think this jacket came from a motorcycle gear manufacturer like Klim or REV'IT!, which is high praise indeed.
ABR VERDICT – 9/10
In a line: Montane doesn't market this top-notch jacket at bikers, but it should.
---
BELSTAFF LONG WAY UP
£195 | www.belstaff.com/uk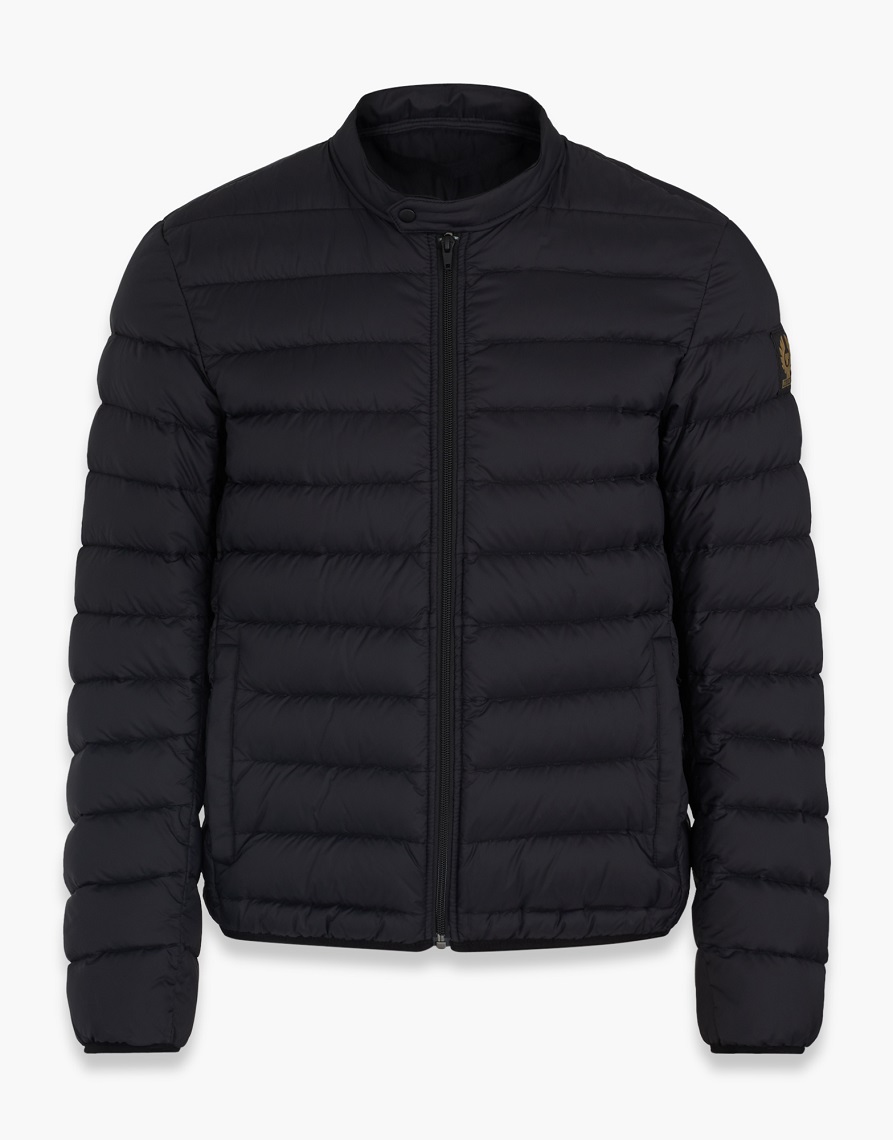 When Charley Boorman and Ewan McGregor set off on a ride from Patagonia to Los Angeles on the Long Way Up, the duo battled some pretty tough conditions along the way. No wonder they turned to renowned British brand Belstaff to get kitted out in some purpose-built gear, including the Long Way Up insulated jacket, its submission to this test.
Patagonia it may not be, but a brisk winter ride in the Midlands is an ideal proving ground for the Belstaff, and it quickly impressed. The British outfit has opted for 700FP duck down fill and it soon became clear why down remains the gold standard. The Belstaff is seriously warm, matching the performance of toasty jackets from Berghaus and Keela, but these were noticeably bulkier.
Despite its warmth, the Belstaff is certainly lightweight enough to wear comfortably underneath a motorcycle jacket and it packs down neatly into its stuff sack Duck down doesn't offer the water-resistance of the synthetic competition though, and Belstaff hasn't treated it for water resistance.
This means if it gets wet, the thermal properties will be noticeably reduced. With this in mind, I'd recommend making sure your bike jacket is waterproof if you leave home and it's raining.
As a global lifestyle brand, I reckon Belstaff had one eye on style when designing the Long Way Up jacket. This means that it looks smart away from the bike and is perfect for wearing to the pub or even around a casual office.
But the features that contribute to this look, such as the low collar and high hem, are noticeable in the saddle, where there's no neck protection to stave off windchill and the jacket tends to ride up above my trousers. It's also worth noting that the sizing is on the small side and the fit is slim, so you'll want to go up one size when ordering.
ABR VERDICT – 8/10
In a line: Great warmth to weight ratio and a smart look.
---
KLIM MAVERICK

(ABR Recommends)
£230 | www.klim.com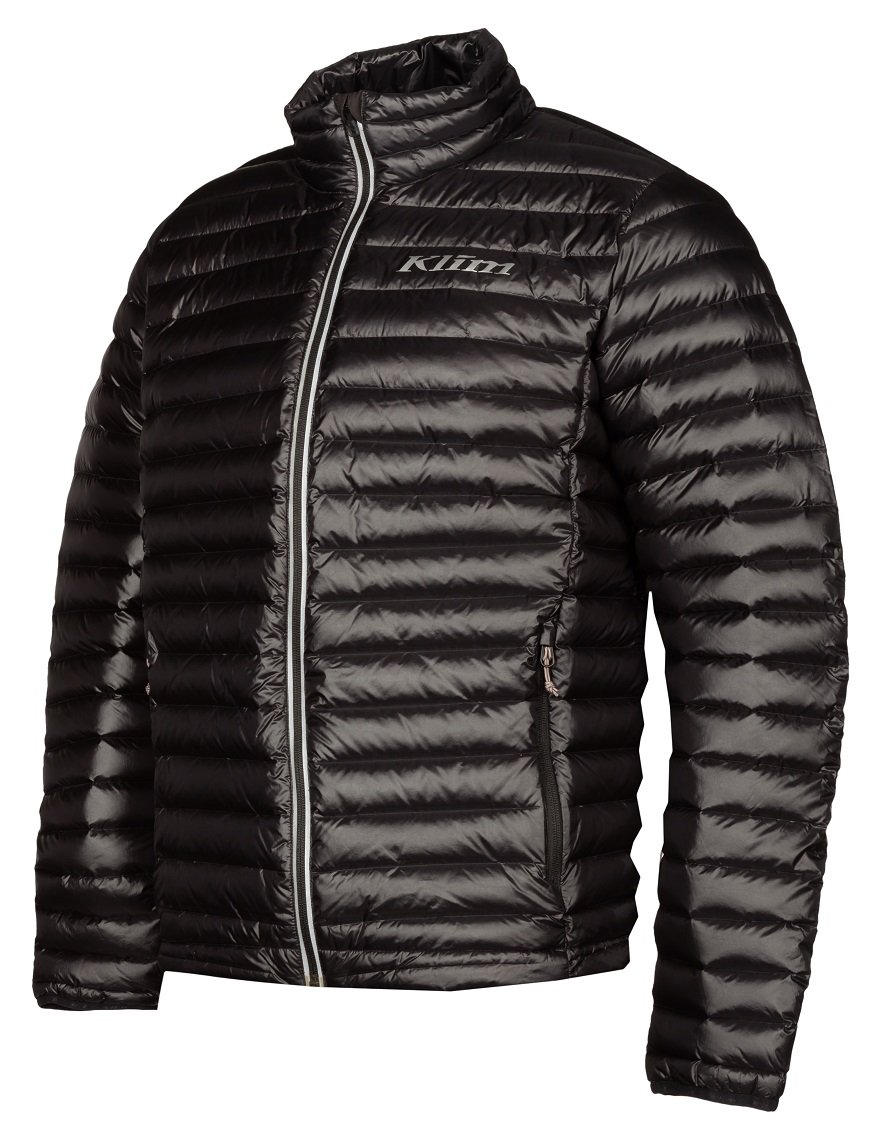 Moving higher up the price range we have an entry from Klim. The American gear manufacturer has built a reputation for producing premium, top-notch gear, but it comes at a price. Its submission to this test, the Maverick, is no different at £230. So, is it a case of getting what you pay for?
In a word: Yes. From the moment I slipped on the Maverick, it simply oozes quality. Klim is one of only two motorcycle brands on test to use down in a mid-layer (the other being Belstaff), opting for a premium 800FP goose down fill.
This means the Maverick absolutely nails the warmth to weight ratio. It's lightweight and fits perfectly under my jacket, while also packing a serious thermal punch that proved useful on bitterly cold winter days.
This lack of bulk also makes the jacket very packable. It stuffs down to the size of a brick in its own pocket which is perfect for stashing in a tank bag or pannier. It's also very comfortable to wear. The inner is delightfully soft, there's a fleece-lined chin guard, a high collar to protect your neck, two handwarmer pockets, and soft elasticated cuffs that make it a pleasure to wear.
The outer is made of a 20D nylon fabric which provides wind resistance, and it's also been treated with a DWR coating to provide some water resistance. As with all down jackets, I wouldn't take it out in a deluge but it handled light rain showers just fine.
The shiny finish to the jacket may not be for everyone, but ABR editor James has been wearing the Maverick daily of late, and he says he likes the styling because it looks 'cool and flashy' (he won't be writing for Vogue anytime soon).
Overall, Klim has nailed the Maverick. It'll set you back a pretty penny, but if you have the money, you won't find many better mid-layers on the market.
ABR VERDICT – 9/10
In a line: Premium quality and top performance, just what we expect from Klim.
---
RAB INFINITY MICROLIGHT
£240 | www.rab.equipment/uk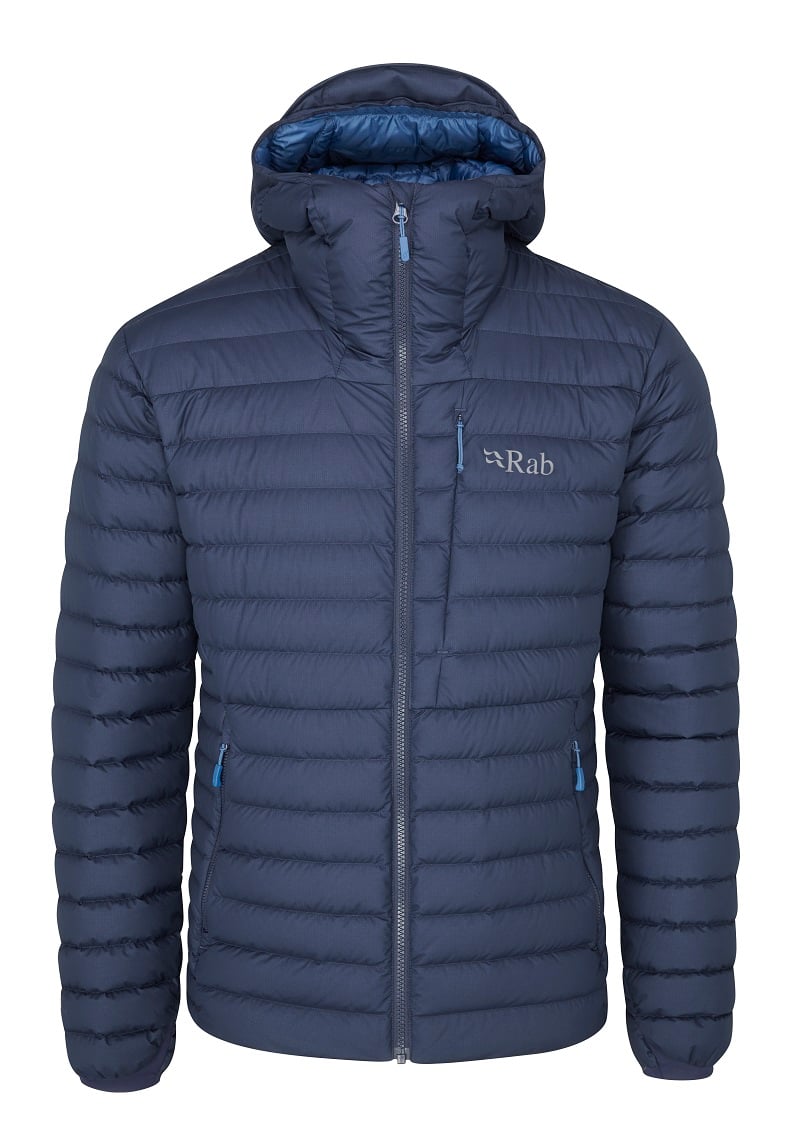 British outdoor company Rab began life in the small attic of a terraced house in Sheffield in 1981, where founder Rab Carrington handstitched his first sleeping bag.
In the 40 years since, it's grown to a world-renowned brand, producing top-quality clothing for adventurers around the globe. With its entry to this test, the Infinity Microlight, I couldn't wait to see how that experience translated to the world of biking.
The first thing you'll notice is that the Microlight is the only insulated jacket on test to have a hood. Now, that may seem at odds with life under a motorcycle jacket but ABR's managing editor Bryn swore by wearing a hood under his helmet when riding through -8C weather one winter, so don't write it off.
The peak of the hood is also wire-lined, which means it can also be folded away underneath my bike jacket to avoid any flapping fabric while I ride along.
It's on cold-weather rides that the Infinity Microlight excels thanks to a 700FP recycled goose and duck down fill, which has been treated for water resistance, while the outer shell uses Gore-Tex to help keep the wind out.
All that warmth brings bulk, which means the Rab has a larger pack size than some of the other down jackets on test (about the size of a large loaf of bread). However, it's worth it if you plan on cold adventures in and out of the saddle, as the Rab is seriously capable.
The high collar keeps the wind out, and the zip is protected by a soft fleece lining to avoid chaffing. There's an adjustable hem and elasticated cuffs too, as well as two hand-warmer pockets and a chest pocket.
This is the most expensive jacket on test but it offers the warmth, versatility, and looks to justify that price tag.
ABR VERDICT – 8/10
In a line: A great hiking jacket that works well as a motorcycle mid-layer too.
---
And Finally…
ABR SOFTSHELL
£85 | www.adventurebikerider.com/abrsoftshell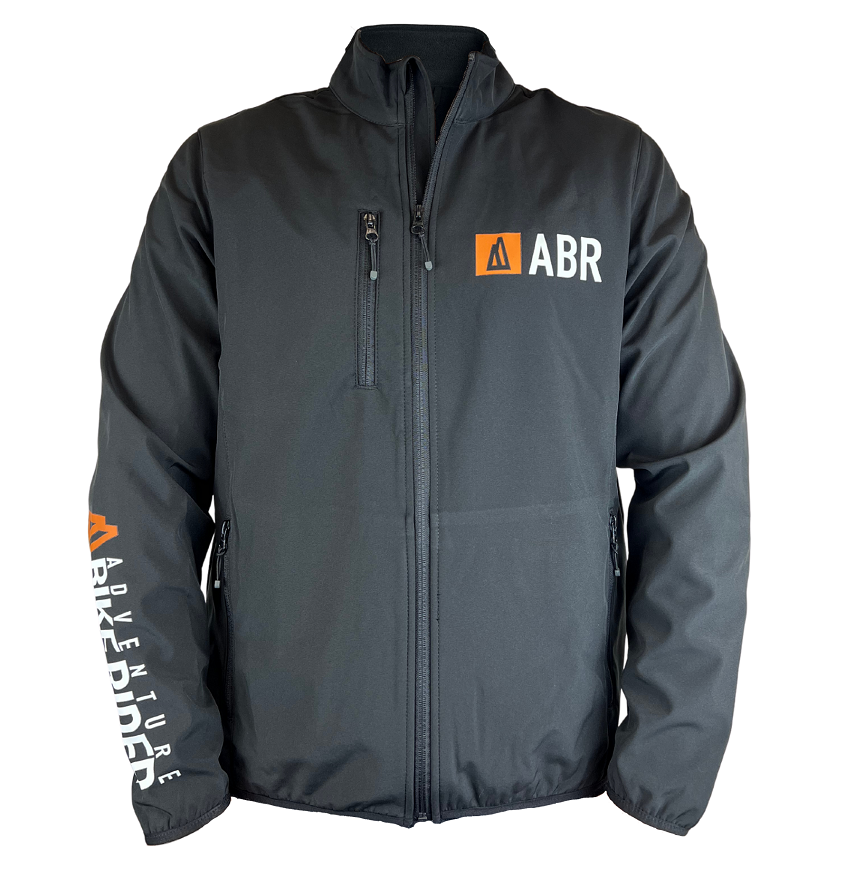 We couldn't have a group test of mid-layers without mentioning our very own ABR Softshell.
OK, it doesn't fit in with the main theme of this test as it's not an insulated mid-layer, but if you're looking for a lightweight yet warm windproof layer that'll sit comfortably under your motorcycle jacket, check this out.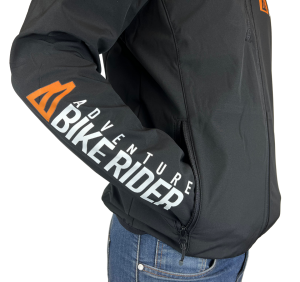 If you're not familiar with softshell fabric, think of it as a harder wearing alternative to your standard fleece. It's a water-resistant, breathable material with a small amount of stretch that makes it very comfortable and unrestrictive to wear. Windproof by nature, the material will take the biting chill out of the weather and acts as a brilliant barrier to oncoming air when you're sat on a bike.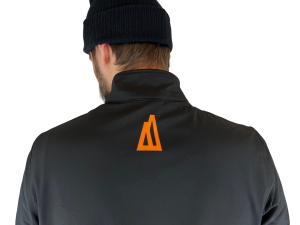 We've worn softshells extensively on hikes, mountain climbs, and rides all around the world, and have come to love the material's versatility and suitability as both an outer layer and a mid-layer depending on the weather conditions you're in. And that's why we decided to introduce the ABR Softshell into our clothing range.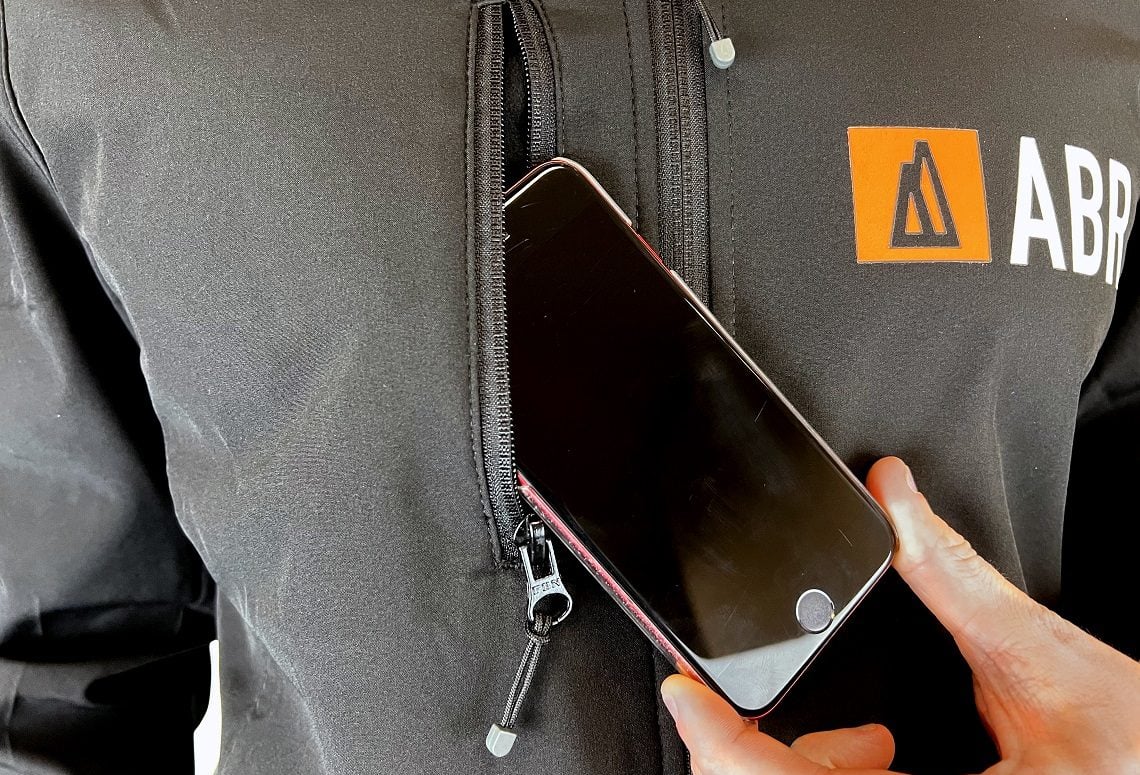 It's the most technical item in the ABR catalogue and is ready to be used as either an outer jacket when you're off the bike or a mid-layer when you're riding. As a mid-layer, it sits snugly beneath a motorcycle jacket, offering an unrestrictive fit that's a pleasure to wear.
For spring, summer and autumn riding in the UK, the windproof fabric, which is backed by a soft microfleece, will be warm enough to keep the chill off you. The collar rises high up the neck to extend the protection, and the cuffs and hem are elasticated to help keep warm air in.
In terms of storage, you'll get two zipped handwarmer pockets (which are lined with a microfleece) and a zipped chest pocket. The ABR branding on the sleeve, chest, and nape of the neck complete the eye-catching design of this great-looking jacket and let everyone know that you're proud to ride an adventure bike.
So, if you're looking for a mid-layer that'll look just as good when worn as an outer layer and that'll provide enough warmth for spring and chilly summer rides, the ABR Softshell is well worth considering. It's what we wear.