After spending a year living with the Yamaha Tracer 9 GT, James Oxley gives the bike the ABR verdict
Whenever I think back to a motorcycle I've enjoyed riding, there's usually one thing that sticks in my mind above all others, and that involves the sound a bike makes.
For example, if I think about the latest model Honda Africa Twin, my mind immediately conjures the throaty roar of the exhaust under heavy acceleration. Or if I'm daydreaming about BMW's R 1250 GS, I can almost hear the way it barks eagerly into life when you hit the ignition switch.
So, when I sat down to sum up my thoughts about spending a year riding Yamaha's sports tourer, the Tracer 9 GT, it was no surprise that the first thing that popped into my head was the sound it emits. And by sound, I mean the glorious high-pitched howl that the 890cc triple engine produces under acceleration, like a spaceship hitting warp drive.
But aside from enjoying hearing the Tracer 9 GT scream for joy, how did it perform overall during the past year? Let's find out by giving Yamaha's sports tourer the ABR Verdict.
As a commuter
It seems apt to begin by assessing the Tracer 9 GT's commuting credentials because that's exactly what I've been doing on it daily for the past couple of months during a 60-mile round trip on busy A-roads and country lanes. And, because I'm not a morning person, I'm usually in a rush to get to work on time.
Under these circumstances, the Yamaha proved an excellent choice for three main reasons. Firstly, the vision from the upright riding position provided a commanding view of the traffic carnage unfolding ahead, especially when filtering through lines of slow-moving traffic.
Secondly, the ultra-smooth throttle response has made riding at slows speed a controlled and relaxing experience. And thirdly, give that throttle a twist and a burst of power from the 890cc engine is only a split-second away for a quick overtake.
Seriously, the Tracer 9 GT is rapid and there's certainly no need to plan overtakes far in advance. I've also found the bike's cornering lights a handy safety feature on dark winter rides home from the office.
As a weekend tourer
While the Yamaha has proven a capable commuter, it excelled as a weekend tourer. The bike was designed with sweeping bends and hairpin turns in mind, and if you're looking for a motorcycle to spirit you away for some weekend fun, I'd highly recommend test riding the Tracer 9 GT.
But what makes it so good? Well, as a sports tourer, the bike has been in its element in the twisty roads of the Cotswolds, mid-Wales, Cornwall, and everywhere else it's been ridden over the past year.
Because the bike doesn't have any off-road pretensions, Yamaha has been able to furnish it with road-friendly 17" wheels front and rear which help sharpen the handling. Combine this with agile and predictable steering, along with bursts of acceleration from that super smooth engine, and you've a recipe for weekend thrills. And a raft of technology that comes as standard, including an excellent quick shifter which snicks up and down the gears crisply, lean-sensitive rider aids, and a choice of rider modes, makes spirited rides even more fun.
As an off-roader
The Tracer 9 GT is a sports tourer without any off-road pretensions. At 220kg, it also isn't a light bike which, combined with those small wheels, means I wouldn't want to venture further from the tarmac than a light gravel road. And, even then I'd be taking it very easy.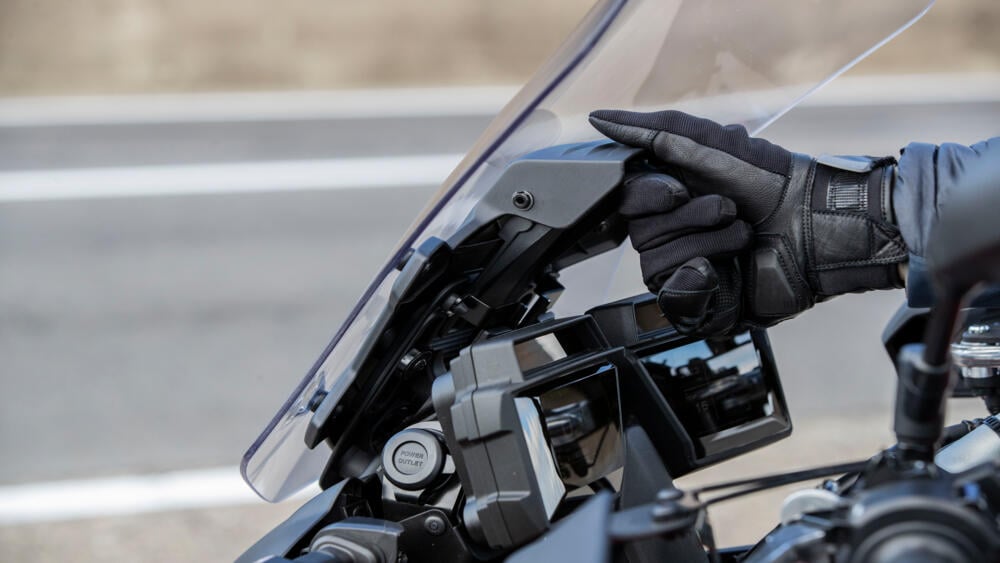 As a continental road tourer
The Yamaha has a lot going for it as a long-distance touring bike. The 117bhp engine cruises effortlessly at motorways speeds with hardly any vibration felt through the bars or pegs to cause fatigue. The comfortable ride is enhanced by the bike's semi-active KYB suspension that smooths out the lumps and bumps of the road wonderfully, so all you need to do is switch on the cruise control (included) and eat up the miles.
There's also plenty of weather protection from the large and adjustable screen, and the Tracer feels supremely planted and stable at high speeds. Load up the quick-release Yamaha luggage (standard), switch on the heated grips (with a whopping 10 settings) and you're ready for adventure.
However, the bike is very much a sports tourer rather than an adventure tourer, and that's most noticeable in the leg bend angle that, as a 6'-tall rider, was rather acute.
It was fine for a couple of hours but during long days in the saddle, I found myself stretching my legs regularly.
And then there is the fact the Tracer 9 GT is a chain-driven bike, which some touring bikers will baulk at due to the maintenance requirements over a shaft-drive machine.
As an RTW Overlander
The attributes that make the Tracer 9 GT a good touring bike also translate into its RTW credentials, and if you were to stick to hard surfaces, there's no reason the Yamaha can't spirit you around the globe.
Although, if you've got your heart set on taking a Yamaha around the world, the Japanese manufacturer has just released an adventure bike ideally suited to the task in the Ténéré 700 World Raid.
As a pillion carrier
My wife has become something of a connoisseur of pillion perches over the years, and she had no complaints with the comfortable seat, good-sized grab rails, and sensibly positioned footpegs on the Tracer 9 GT.
From a rider's perspective, the engine and suspension made no qualms of carrying the extra weight of a passenger and luggage during our weekends away, whether we were cruising along the M40 motorway or negotiating the busy streets of central Oxford.
Conclusion
Yamaha motorcycles have a reputation for providing good value for money, and the Tracer 9 GT continues that trend. It's a strong-performing machine packed with technology that delivers an engaging ride for a very competitive £12,202. If you're looking for a road-focused sports tourer for weekend fun and summer tours, then the Tracer 9 GT would do a great job.