As things go, 2016 was a good year for adventure bike riders. We saw the revival of the iconic Honda Africa Twin, Ducati launched the impressive Multistrada Enduro, and Triumph pushed technological boundaries with the battleship-esque 1200 Explorer.
While 2016 was dominated by the large capacity machines, it appears that 2017 is set to be the year of the small capacity adventure bike, with most manufacturers revealing a model around the 200-400cc range. 
I've no doubt that this is in response to demand from the emerging markets in Asia, but whether this category will prove fruitful in the UK is yet to be seen. Either way, there are some great looking bikes set to be launched in 2017, here are 10 that we're really looking forward to seeing.
BMW G310GS
As 2017 appears to be the year of the small capacity adventure bike, this mini GS from BMW looks to be just the ticket if you're looking for that GS style, but either don't need, or can't handle the intimidating and heavy bulk of the 1200.
By the sounds of it, it's expected to be launched in August 2017, and is going to be using the same 313cc reverse-single-cylinder engine that's found in the G310R. With this in mind, the G310GS will be A2 compliant and will allow new riders under 24-years-old to get into the adventure scene right off the bat.
Off-road performance isn't something that's been mentioned by BMW, with the G310GS looking like it'll be more than happy to be kept on the tarmac for the entirety of its life.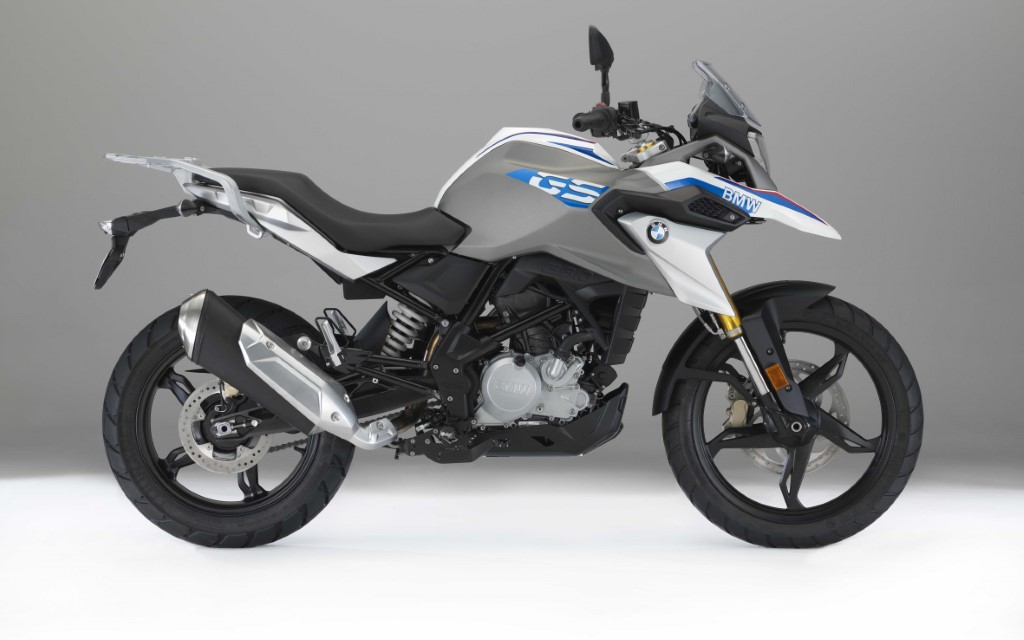 Ducati Multistrada 950
The Multistrada 1200 and 1200 Enduro are two bikes that have managed to work their way into the hearts of everyone who works at ABR magazine. Italian style combined with blistering on road performance (and off-road in the case of the Enduro) meant that Ducati was on to a winner, but the intimidating size, power and price tag was no doubt off-putting to some.
So, in an effort to provide riders with a more accessible and affordable version of the Multistrada, Ducati has decided to release the Multistrada 950. Alun Davies was in Fuerteventura at the start of December for the launch of the Italian brand's new adventure machine, and you can read his full review on page 106 of this issue.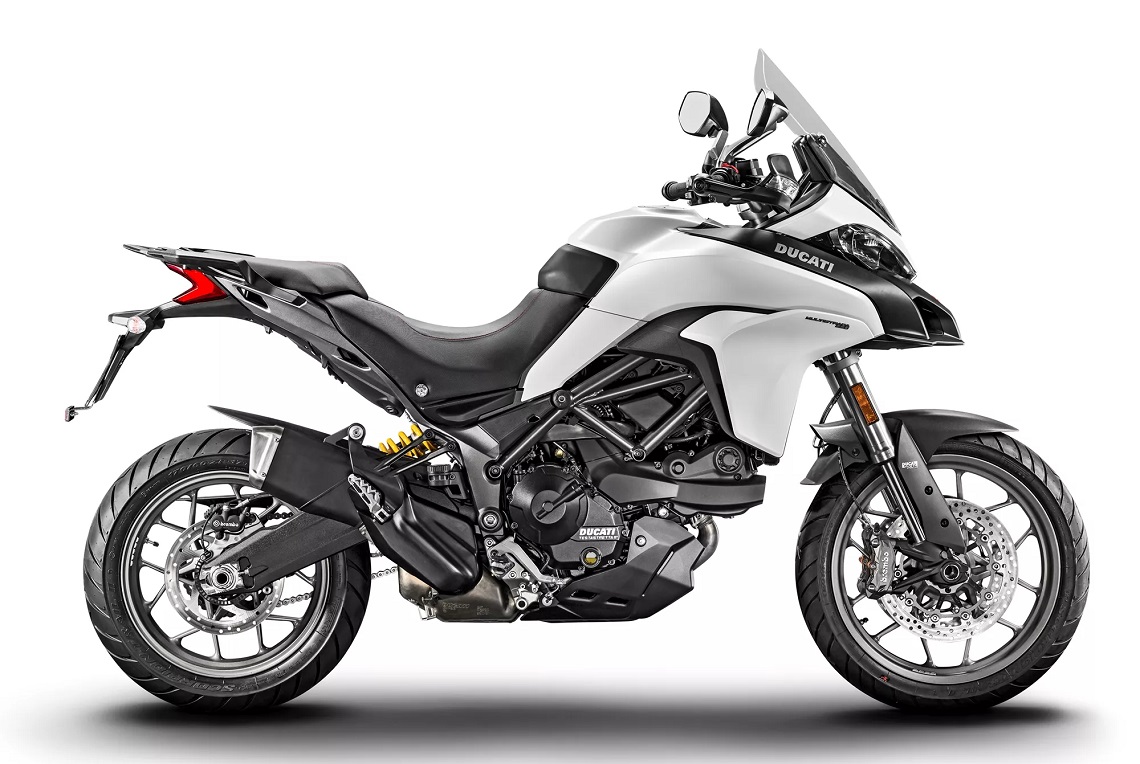 Honda CRF250 Rally
The Honda CRF250 Rally could be the answer to all of your small capacity adventuring needs. The bulk of the bike is identical to the much-loved CRF250L, but the Rally features some updated modifications for improved off-road performance, including longer travel suspension, enhanced ground clearance, and to make it a more viable on-road adventure bike, a larger 10.1-litre fuel tank, which Honda claims will offer a range over 200 miles.
Aside from the mechanics, the CRF250 Rally takes styling inspiration from the CRF450 Rally Dakar racer, and it has been the subject of much adoration from riders, with the model on show at November's Motorcycle Live receiving a lot of love.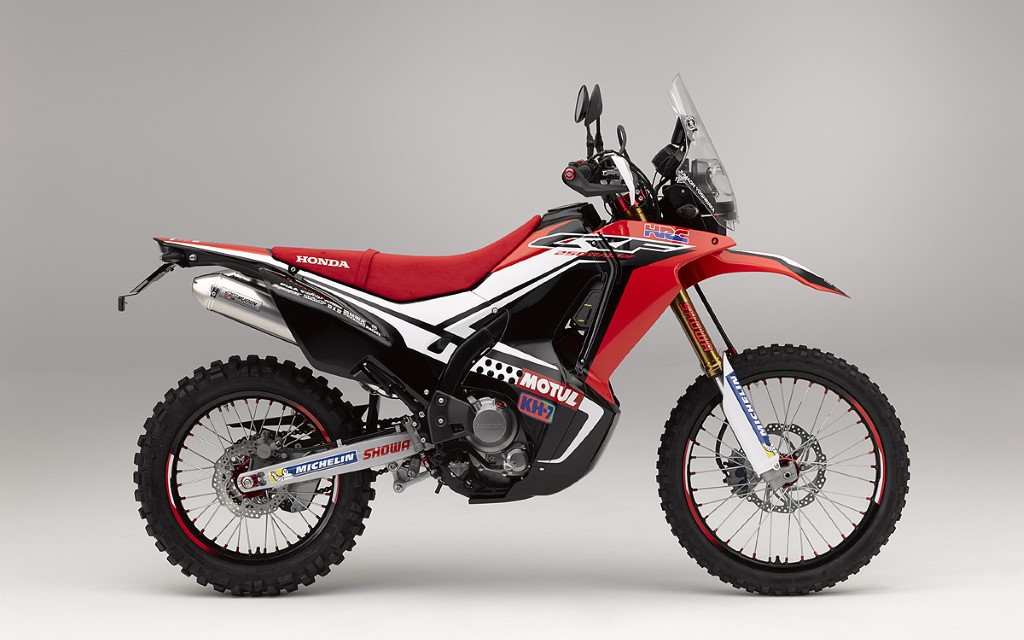 Suzuki V-Strom 250
In fitting with the other manufacturers revealing small capacity adventure bikes, Suzuki showcased the V-Strom 250 at the tail end of 2016. Based on the Inazuma 250, the V-Strom 250 will be powered by a 248cc four-stroke liquid-cooled SOHC parallel-twin, which will offer 24.7bhp, again making this a realistic choice for new riders.
Suzuki claims that the economical V-Strom will be able to offer a fuel range in excess of 300 miles, and this makes it a very tempting proposition for long-distance touring on a budget. The V-Strom 650 has been a big hit in the adventure motorcycling community, but the 1000 hasn't quite managed to hit the same highs and it'll be interesting to see how the 250 is received.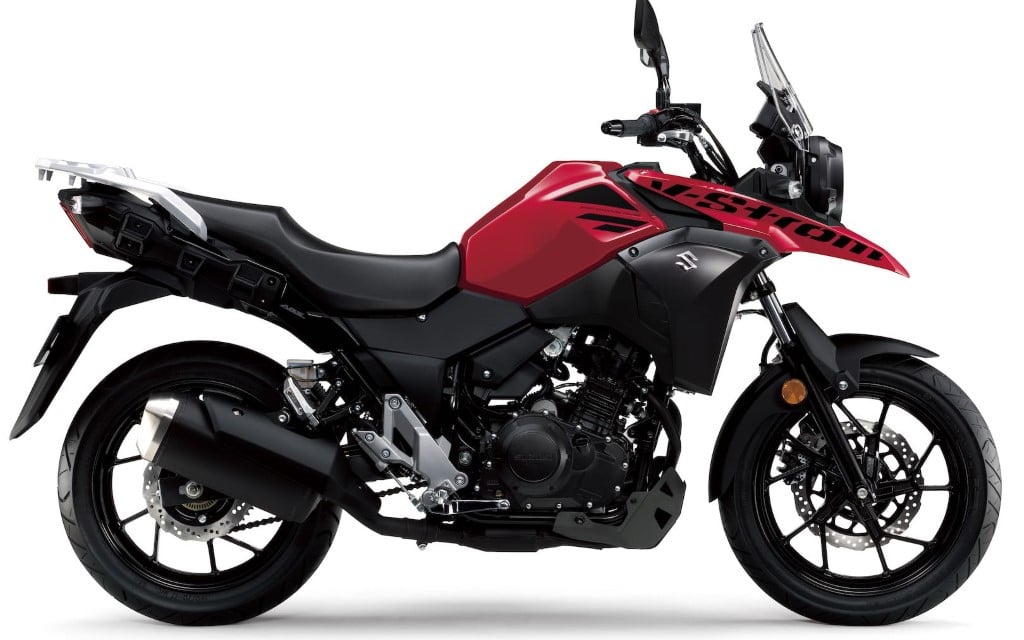 Kawasaki Versys X-300
It'd be fair to say that Kawasaki's Versys range of adventure motorcycles hasn't exactly taken the world by storm, but every time I've sat in the saddle of either the 650 or 1000 I've found it to be a pleasurable bike to ride for long distances when you stick to the tarmac.
For 2017, Kawasaki is looking to expand the range by introducing the Versys X-300, and like the other small capacity adventure bikes that are being touted around, it looks to be a nice little bike to get you started.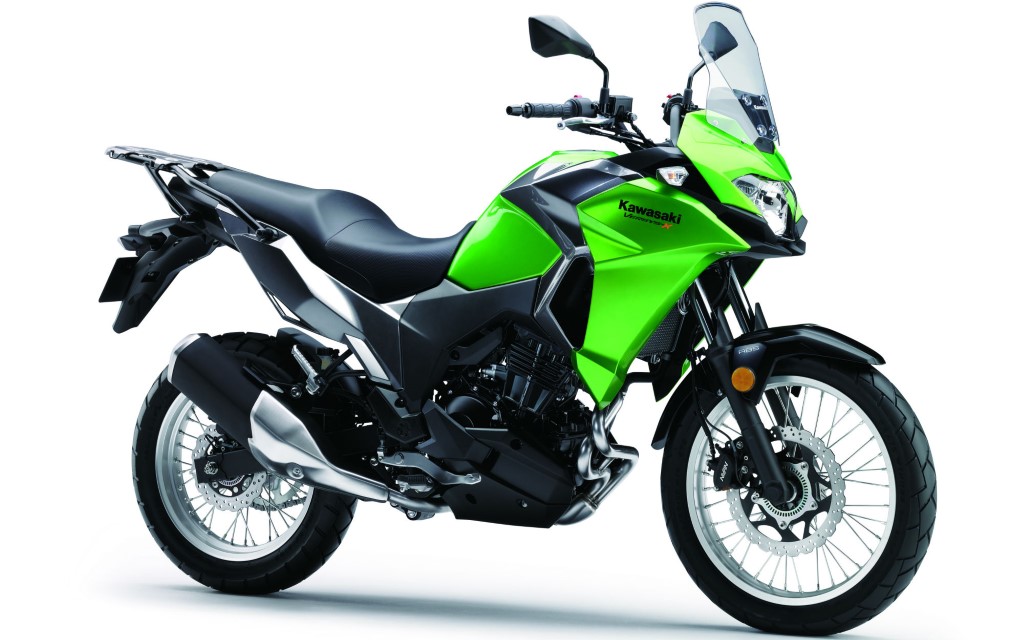 Honda X-ADV
I don't quite know what to make of this one, but one thing's for sure, Honda has certainly got our attention with this quirky adventure bike scooter cross over. The Japanese manufacturer said that the X-ADV combines the spirit of adventure with all-round performance, premium specifications, practicality and comfort for urban commuting and weekend escapes, and if this 745cc, 238kg bike can offer that then we're excited to get our hands on one.
The bike couples 17-inch front and 15-inch rear wheels with dual-purpose tyres, USD front forks, preload-adjustable rear shock, and a handy 21-litres of under-seat storage to offer what might just be the most creative bike of 2017.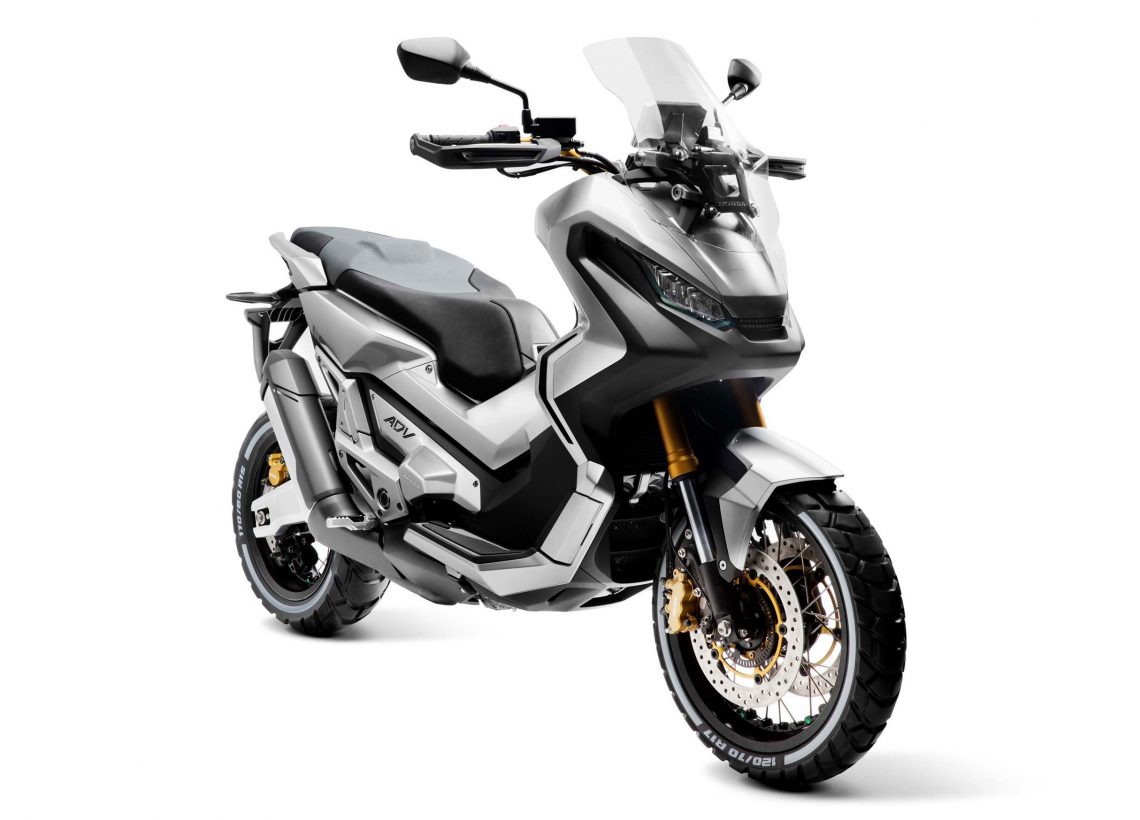 KTM 1090 Adventure & 1290 Adventure R/S
KTM announced at Intermot that it was completely revamping its adventure range by getting rid of both variations of the 1190, as well as the 1050, and introducing two new 1090 Adventure models and three 1290 Super Adventure variants. It's exciting news from the boys from Austria, and after getting to see the bikes in the flesh at Motorcycle Live, the new metal looks pretty special indeed.
The 1290 Super Adventure remains almost as it was (but with Euro4 compliance) while the 1290 Super Adventure R looks set to fill the shoes of the 1190 Adventure R, being off-road focused, and the 1290 Super Adventure S offers a more refined on-road experience. The 1090 Adventure and its R variant will follow a similar setup.
We'll be getting our hands on these exciting new bikes at the start of 2017, so look out for our reviews over the next few issues of ABR.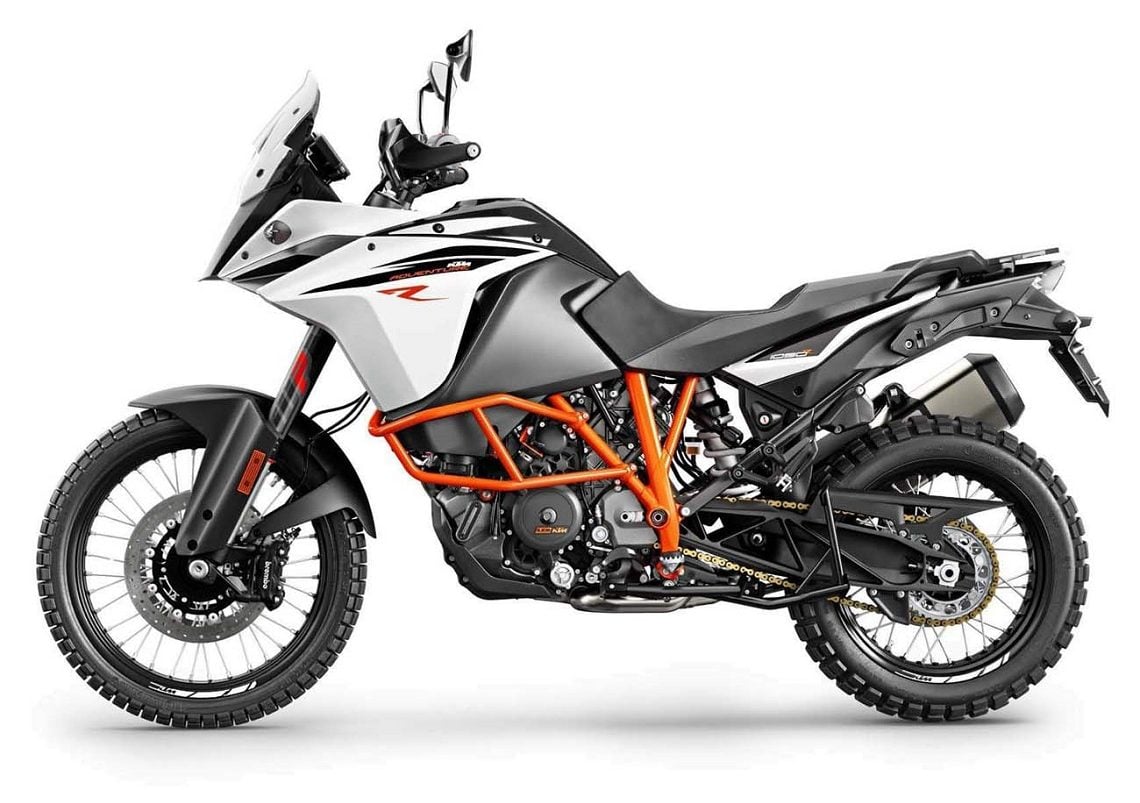 V-Strom 1000XT
The relaunch of the V-Strom 1000 didn't exactly set the world alight. The stock bike was good, but at the price point it was originally pitched at it didn't offer anything that would make you want to choose it over similarly priced rivals, but with the XT version of the V-Strom 1000 set to be released in 2017, that could be about to change.
Suzuki has made a number of adjustments to its large displacement adventure bike, with the company hoping that these deliver more convenience, comfort and style.
Like we saw with the XT variant of the V-Strom 650 last year, the 1000XT has an all-new adventure beak, handguards and bash plate, and a newly shaped screen, which is height and angle adjustable, adds extra protection to the elements. Tubeless wire-spoked wheels will also feature, hinting that the XT is a more off-road-ready bike than the standard 1000.
Benelli TRK 502 Twin Adventure
We've been waiting for the Benelli TRK 502 for quite some time now, with release dates seemingly being delayed and delayed, but by the looks of things, 2017 will be the year that the Italian manufacturer finally launches its 500cc adventure bike to the masses. The bike features a traditional Benelli steel trellis frame and a twin-cylinder four-stroke liquid-cooled engine that pumps out an A2-friendly 47bhp.
A 20-litre fuel tank looks set to offer reasonable range, while you can also expect a 17in wheel at the front and back as standard, with an offroad version featuring a 19in front for those wishing to venture off the beaten track. The TRK 502 has taken styling cues from just about every adventure bike out there, but one thing's for sure, it looks bloody lovely and we're hoping the performance is as impressive as its aesthetics.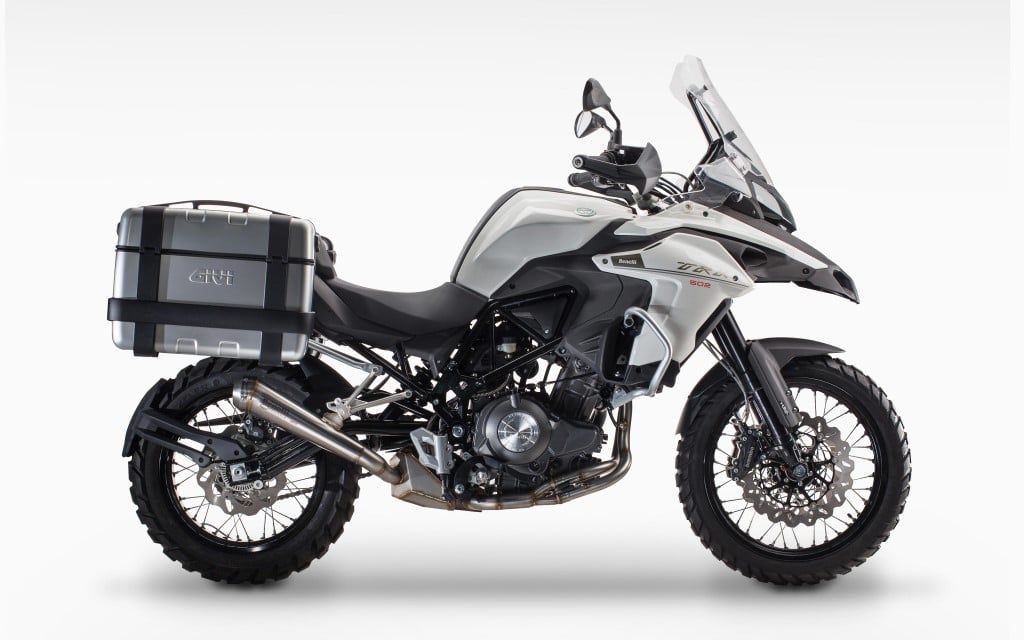 Royal Enfield Himalayan
Another bike that's been teased for a few years now looks finally set for its UK release in 2017. The eagerly anticipated Himalayan was on show at Motorcycle Live in November 2016, and we've been told to expect a UK launch around June of this year. The styling of the Himalayan is like that of no other adventure bike on the market, it's almost a cross between beefed up dual sport and bare naked classic Enfield, and it's a design that I can see being a bit like Marmite.
Ruggedness and simplicity seem to be the aim of the game here, with Enfield apparently building the machine to allow anyone, regardless of their skill level, to conquer the Himalayas. A seat height of 787mm should satisfy most riders, while an all-new, air-cooled, 410cc single-cylinder UCE engine sits in an all-new frame that shares no single part with the Royal Enfields that have come before it. Could this be the lightweight adventure bike that overlanders have been asking for?