Ian Neubauer heads off in search of one of Colombia's most notorious roads
This story is so messed up I don't even know where to begin. How about the part when I was flying down an unlit highway at night, inexplicably lost the 'right of way' and came within a whisker of getting T-boned by an oncoming truck? Or the part when my top box came open while I was riding and I lost most of my clothes, toiletries and toolkit – more than £1,000 worth of stuff? Or should I start at the part where Jack and I stepped out for a nightcap to discuss the final leg of our ride to the Amazon? Why not? It's as good a place as any.
We were in Cali. Not Cali as in California, but the Colombian city of Cali, birthplace of the Rodriguez brothers, narco-traffickers who monopolised the world's cocaine supply in the 1990s and ran their business, the Cali Cartel, like a Fortune 500 company. One-time billionaires, the cartel's founders are now all dead or in jail.

But Cali is still Cali, a hotbed of salsa and fornication, and it doesn't take long for trouble to find us. It's 6 am and we stumble out of a mansion on a ridge overlooking the city – the scene of a mad pool party we ended up at last night.
We've got no idea how to get to our hotel apart from walk and, from the look of things, that will take us all day. Jack is trying to get a signal on his phone to book an Uber while I'm trying to light the end of a Cuban cigar when, out of nowhere, a 4×4 pulls up and the driver lets us in. Unbelievably, it's the father of the girls we met at a bar last night who randomly invited us up here to party.
Colombians are just cool like that. The old man drives us all the way back to the city while entertaining us with stories about Cali's bad old days. "Think this town is fun?" he asks. "You should've seen it when the Rodriguez brothers were in charge," he says. "The party never stopped." The next thing I am aware of is Jack banging on my door and yelling at me to get out of bed.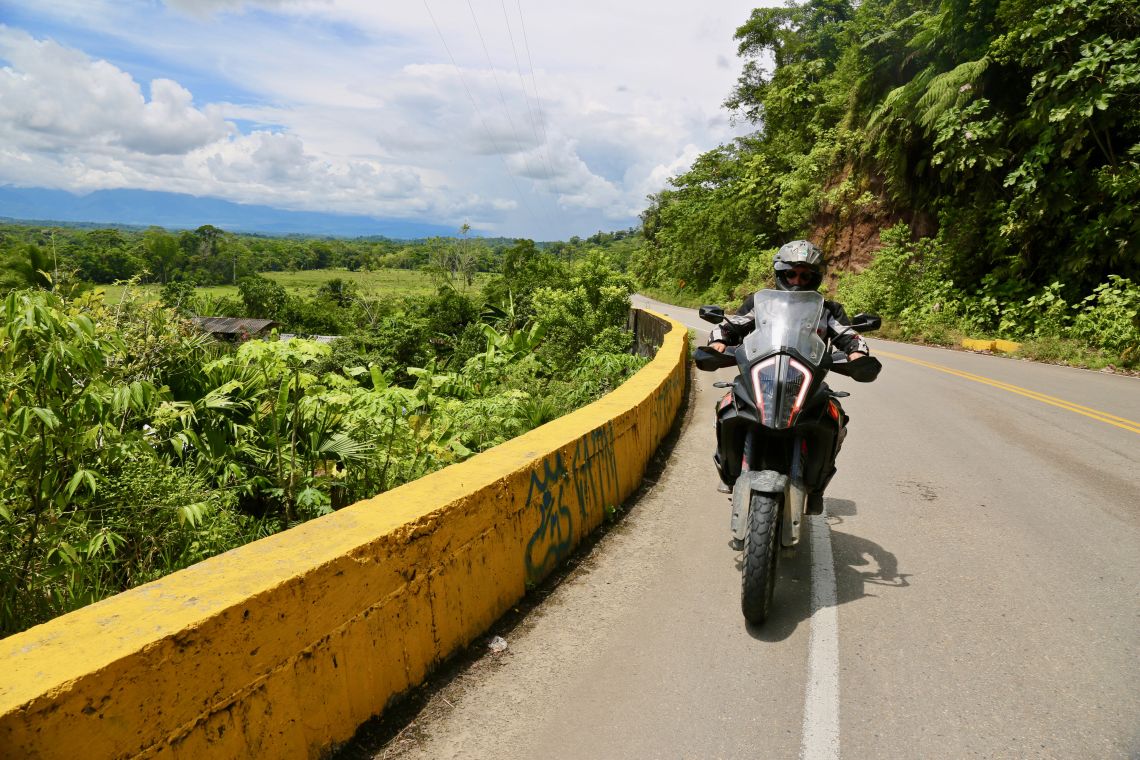 I look at my watch: 12:00pm. Shit. I must have passed out after the old man dropped us off at our hotel. I toss on my gear and waddle down to the car park with my top case. I'm on a straight-out-of-the-showroom 2018 KTM 1290 Super Adventure S. Jack, a mate from home who married a Colombian girl and now lives here, is riding the Super Adventure's early predecessor, a 2005 KTM 950 Adventure he bought in the city of Medellin, where we started our ride two weeks ago.
Originally, we'd planned to spend only one night in Cali so Jack could get his bike, which had been giving him all sorts of grief, fixed at a genuine KTM workshop. But one day turned into four as we waited and waited for an accelerator cable to arrive. And that was after losing two days in Medellin while waiting for an oil filter cover to arrive.
We also lost another day when Jack's battery died on the road and another while a roadside mechanic dealt with a nagging overheating problem. But now, after having the bike checked from top to bottom by the experts, we were sure the mechanical dramas were over. It was wishful thinking.
We hadn't even cleared the city limits when Jack's bike began overheating and pissing coolant. There were no two ways about it, it had to go back to the shop. Jack throws a leg over and I'm about to follow suit when I see a sugarcane juice stand under a big old tree. It's 30-plus degrees and I'm sweating, so I say to Jack, "You go get it fixed; it's probably just a split hose. I'm going to chill under that tree. Meet me back here when you're done."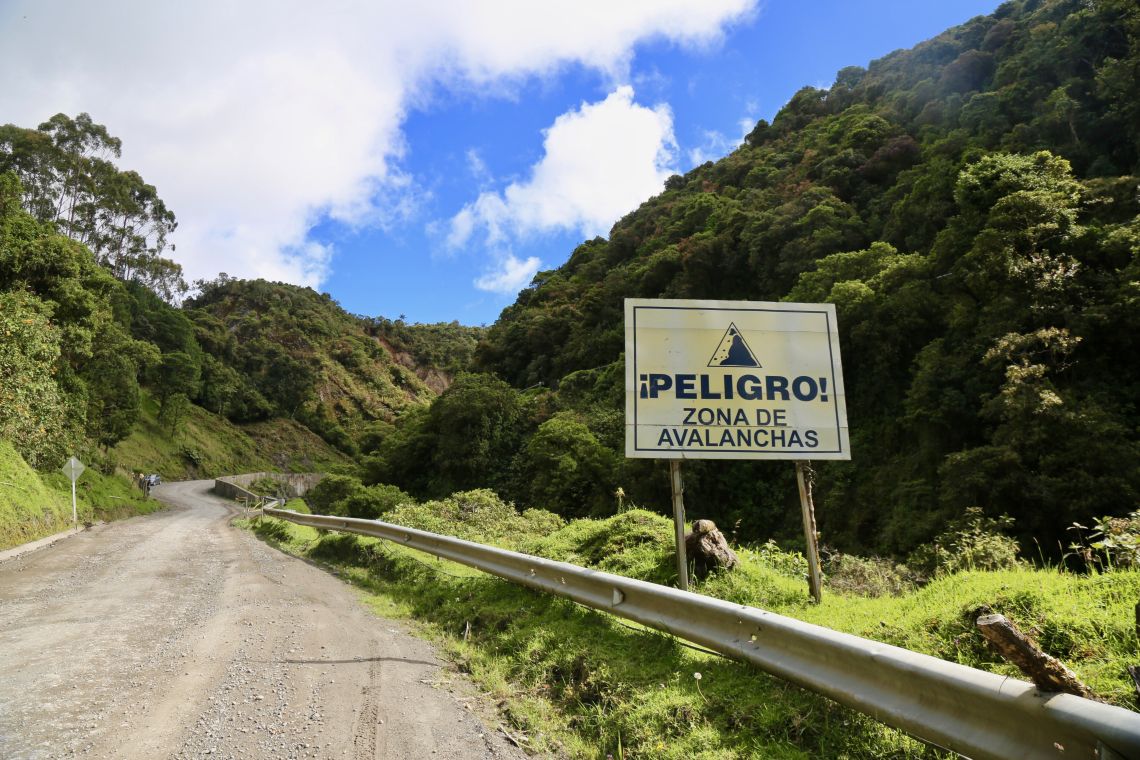 Half an hour later I receive a text. It's Jack, and he's got bad news: "You're not going to believe this. The fan is broken. They have to order a new one. It's normally a three-day wait, but tomorrow is a public holiday, so it'll be four days. F**K! I'll have to stay here in Cali and join you on the road whenever I can." And so I ride off alone.
The Amazon is only 370 miles to the south as the crow flies. But to get there I'll have to cross the Andes mountains and get past El Trampolin de la Muerte (The Trampoline of Death) the most dangerous road in all of Colombia.
PAN-AM
Whatever guilt I feel for leaving Jack behind is quickly overshadowed by the epicness of Colombia's landscape. I'm on the Pan-American Highway, a route that spans 19,000 miles from Alaska to Patagonia in southern Chile, and this section has some of its best scenery.
The two-lane encounter curls around the sheer edges of canyons, bridges, raging rivers and punches through mountain passes concealed in clouds. It's road riding nirvana but with one deadly catch: Colombian drivers.
They're psychotic at the best of times, but put them behind the wheel of a heavy vehicle on a highway and they go full Mad Max. Over the next few days, I lose count of how many times I have to swerve into the gutter to avoid being mowed down by buses and trucks that come flying around blind corners or swerve into my lane to avoid potholes. I ride on until dusk, calling it quits in a little town called Rosas.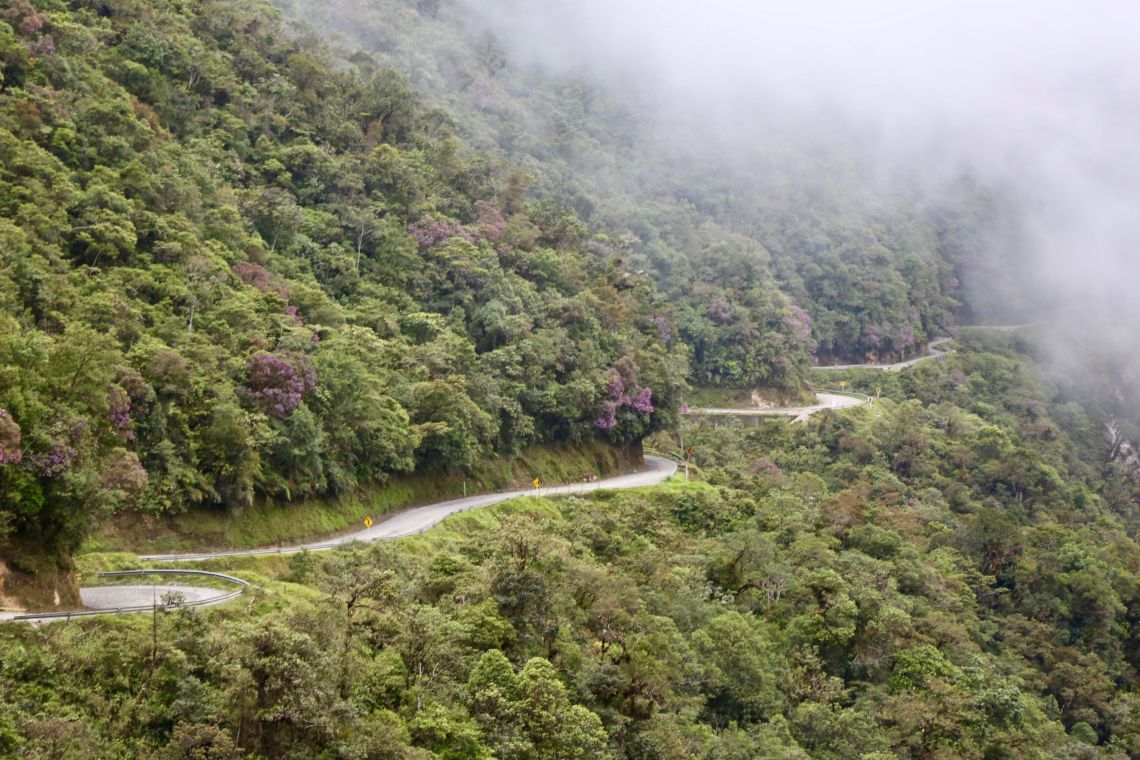 After parking in the town square, I ask a few locals about where I can stay, while they ask me about my bike. How big's the engine? How fast does it go? What's it cost? From giddy teenagers to hillbilly farmers, to cashed-up BMW GS riders, everyone is bedazzled by the Super Adventure S.
I mean, how many bikes have LED daytime running lights that look like downturned devils' horns, or a bloody flatscreen where the instrument panel normally fits? And instead of a key, it has a radio-activated transponder. Welcome to the world of keyless ignition. One day soon, every motorbike will have this new security feature.
The next morning I take a stroll through Rosas' colourful little market and buy some cornbread and coffee before hitting the road. The further south I ride, the more epic the landscape becomes, with mountains piling up on the horizon like stacks of faint blue pancakes.
Then, as the Pan-American pokes through yet another high-altitude pass and into yet another gargantuan valley, I see Galeras, a towering 4,276m-tall volcano, the most active in Colombia, and below it, sprawling like white coral in a giant green basin, the city of Pasto.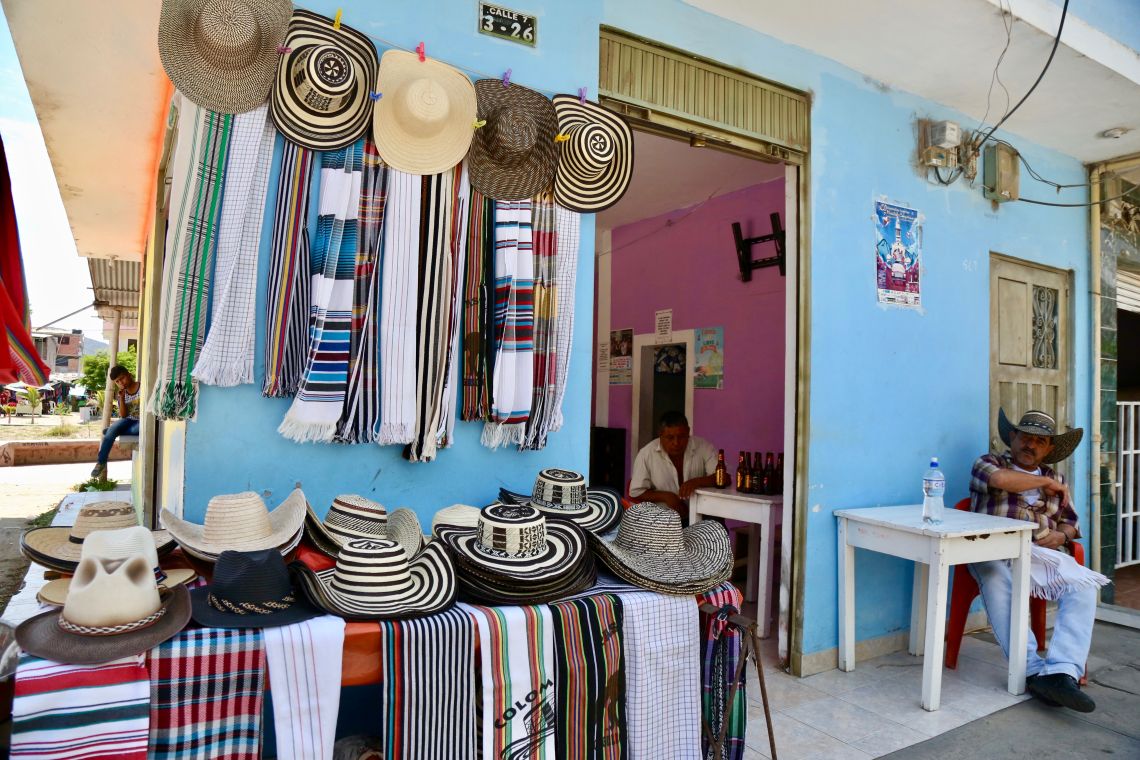 The Trampoline of Death and the Amazon are west of here. But for now, I'm detouring 50 miles south to Ipiales, the last stop before the Ecuadorian border, to see Las Lajas Sanctuary, a famous 100-year-old basilica chapel that bridges a canyon. The final section of the Pan-American before it enters Ecuador is the most awesome yet, clinging to the sheer wall of an insanely deep canyon where brutal rock formations reach for the sky.
At one especially steep switchback, I look down and nearly suffer vertigo as I see a waterfall tumbling hundreds of metres into a river below. If this road was in Australia, they would market the shit out of it and turn it into a world-famous touring route. But in Colombia, it's just one of thousands of mind-shatteringly scenic roads that no one much talks about.
Add a bunch of colourful colonial towns cut straight out of a Western, cheap food and accommodation, a network of sealed mountain roads intersected by a web of gravel tracks and trails, and you'll come to understand why after 20 years of riding motorbikes around the world, I now rate Colombia as the best of the best.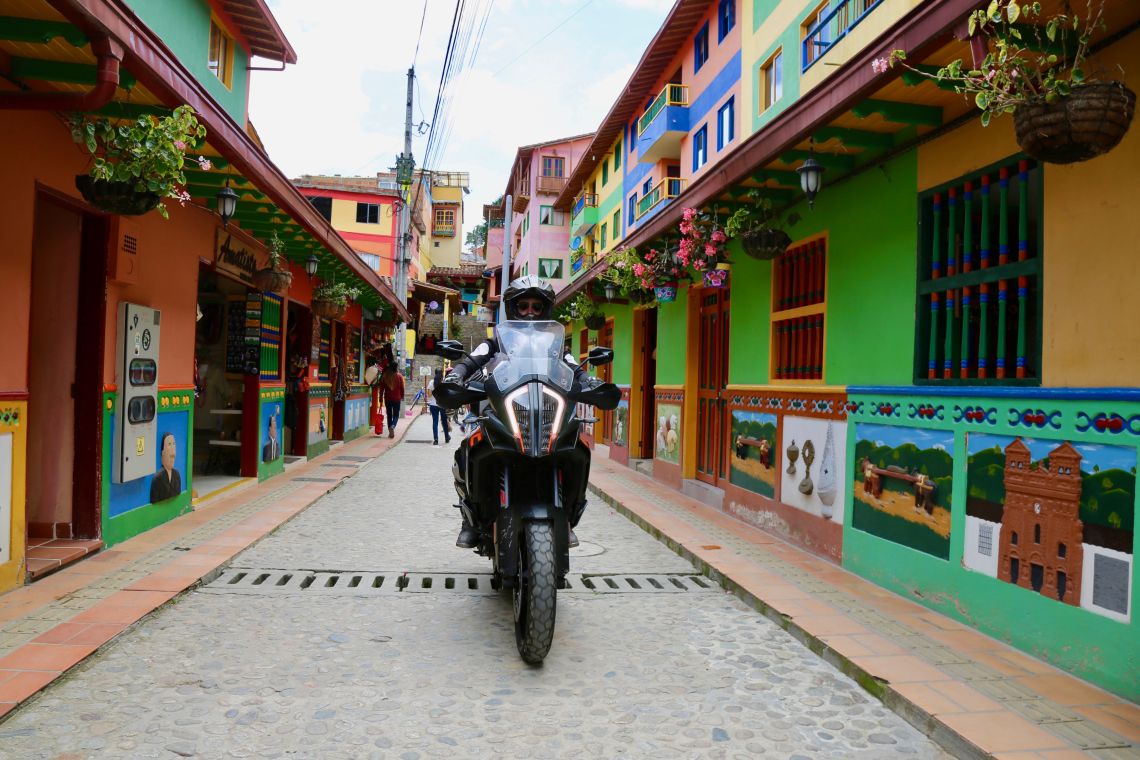 The roads never end, though they do get interrupted at times by ugly little cities. Ipiales is as ugly as they get. Soon after arriving, I find myself stuck in thick traffic on an unlit city street at night – a sitting duck for anyone who wants to rob me.
Colombia is nowhere as near as dangerous as it was during the Cali Cartel's bad old days, but according to the World Economic Forum's Travel and Tourism Competitiveness Report, it's still the world's riskiest country on the planet for travel, even more so than Yemen.
While checking into a hotel, the receptionist warns me not to go outside after 9 pm because the city centre gets overrun by junkies and drunks. I see dozens of them from my balcony, moaning like zombies, rattling shop doors and breaking beer bottles in the street. And it's not just here in Ipiales. In Cali, Medellin and cities all over the country, Colombian city centres become no-go zones after dark.
The following morning, while passing money to a shopkeeper through a rattly iron gate that would make a good prop for a Games of Thrones episode, I ask her why people in Colombia tolerate so much crime. "We don't like it, but what can we do? There's too much corruption in Colombia. The police and the criminals," she says, rubbing her two index fingers together, "they're the same."
The Amazon
The Las Lajas Sanctuary is mind-blowing. Rising like a phoenix from the base of the canyon and connected to an opposing canyon wall by a stone bridge, it looks like something out of a Disney cartoon. But, being a Sunday, it's packed to the rafters with churchgoers, so I don't hang around for very long.
The sprint back to Pasto is even more fun the second time around. Sunlight hits the mist pouring off hills and peaks, and it looks like white fire; the scenery is bloody beautiful. I never want this road to end, but when it does at Pasto and I veer west towards the Amazon, I see something even more beautiful: Colombia's famous 'cloud forest' – rainforest with persistent low-level clouds.
Riding through it is like riding through the sky, an alien world of fluffy white clouds that become thicker and denser and wetter until the road punches a hole through at 3,261m on a high mountain pass. The clouds part instantaneously to reveal the Valley of Villagarzon, an alpine plain edged by a wave-shaped mountain range hewed from solid stone by a reseeding glacier millions of years ago.
I grab a late lunch in the village of San Francisco, a hearty meal of bean soup, beef, rice, potatoes, smashed avocado and salad, energy I'll need to take on the Trampoline of Death. Also known as Adios Mi Vida (Goodbye My Life), this narrow dirt road was built in the 1930s to transport troops through the mountains of southern Colombia. From San Francisco, it drops like a bomb from 2,780m above sea level to 600m at Mocoa, on the edge of the Amazon, with more than 100 hairpin turns regularly concealed in fog.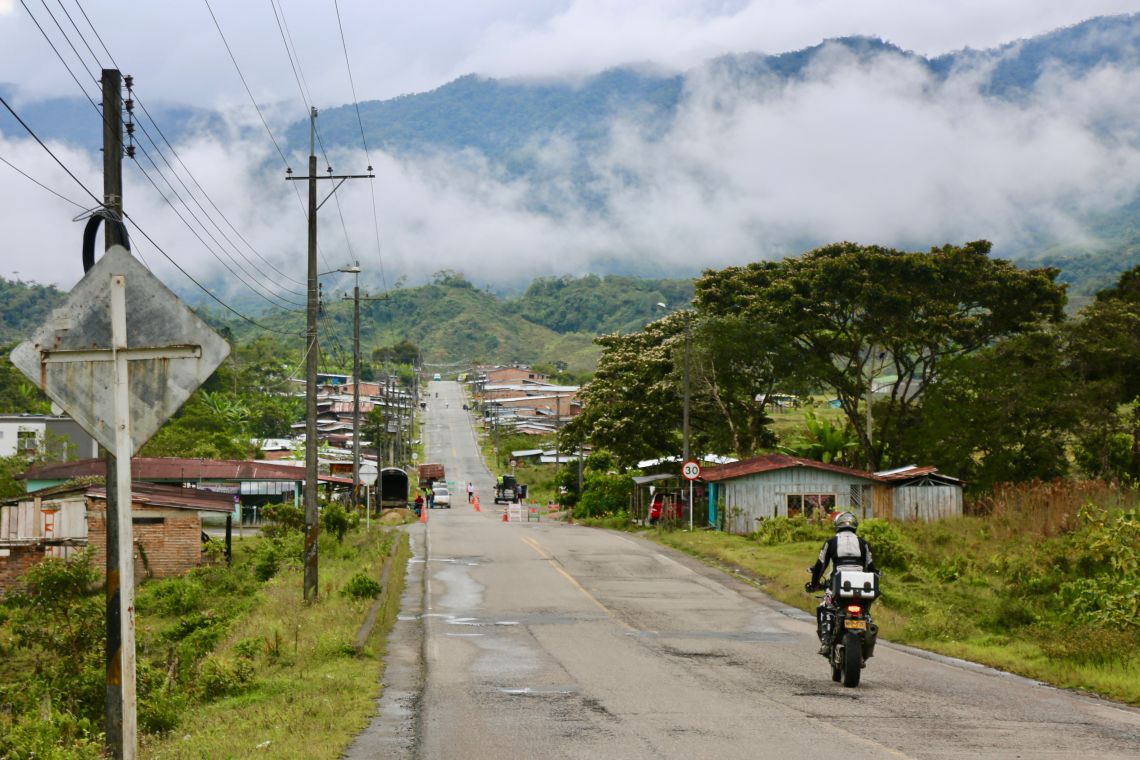 The addition of guardrails in the 1990s and the Trampoline's widening to two lanes in some parts has mitigated the annual death toll, though deadly landslides persist. In 1989, about 300 locals died in a terrible collapse near San Fransisco. In 2011, landslides killed 500 people in the area.
A billboard at the start of the Trampoline reading 'Zona de Avalanches' requires no translation. So, I take it easy at first, creeping down one-lane sections that hug sheer granite cliffs and pussy-footing around corners where yellow tape warns me the road is crumbling into the abyss. But with the sun out and 160bhp between my legs, the Trampoline of Death turns into a Trampoline of Fun.
Soon I find myself scampering up rock gardens, gobbling up corners and splashing through washouts made by little waterfalls that tumble right onto the road. The next day, I wake up in a hotel room in Mocoa and step out onto a balcony. It's only 7 am but it's already hot as hell.
The air is quite different here: thick and musky. I'm so close to the Amazon I can smell it. I waste no time throwing on my gear and smashing out the final 60 miles of road to Puerto Asis, a major Amazonian town on the Guamués River. But as things turn out, riding through the Amazon isn't much fun.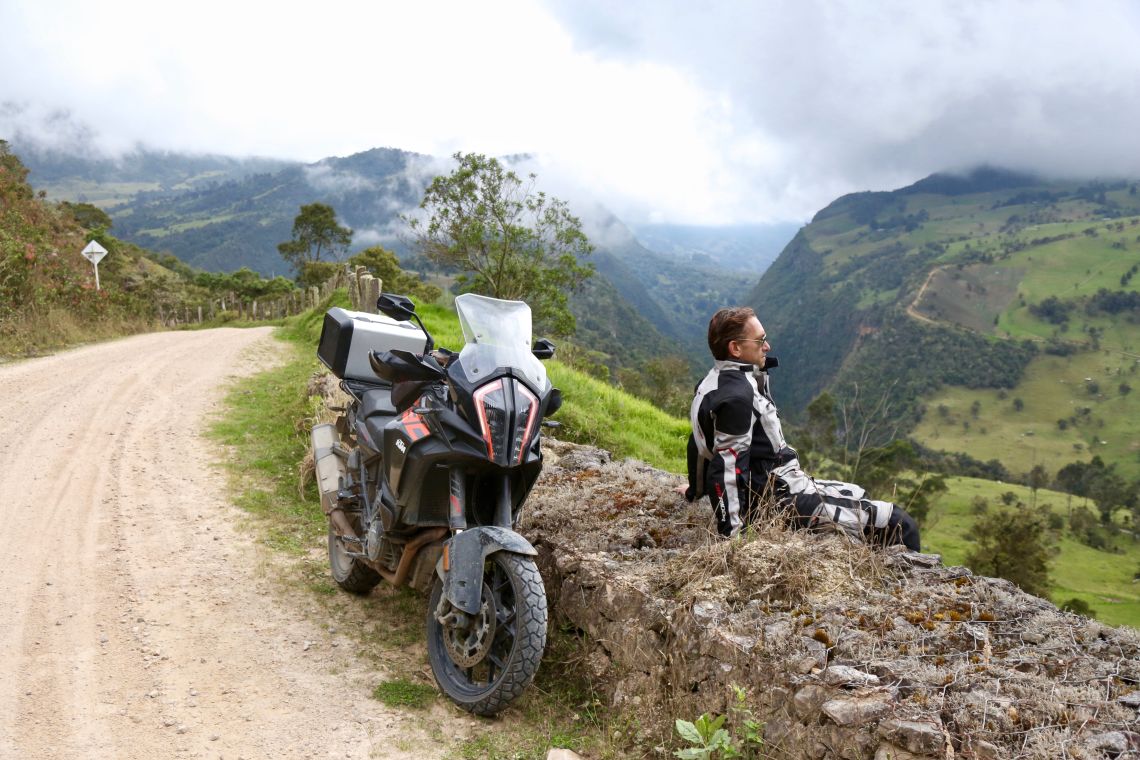 The road is dead straight. It's not lined with giant ferns and ancient hardwood species as I'd imagined, but with farms, run-down houses and crappy stores. And it's so damn hot I have trouble breathing in my helmet.
As for Puerto Asis, it's basically the ass end of the world: a bunch of sizzling-hot concrete streets lined with wooden homes that are only half-built because it's so bloody hot nobody can be bothered to finish anything around here. The riverfront is even worse. The concrete streets are replaced by mud.
In place of the renovated colonial hotel with creaking ceiling fans and cold beer on tap that I'd imagined is a smelly old bar buzzing with flies. Three locals sit around a table full of empty beer bottles. One is snoring. The other two look like they are melting.
Behind them, on a muddy bank, sits a row of shitty wooden boats waiting to take passengers to the next malaria-infested swamp-hole downriver. And you know what else I learned about the Amazon on this trip? There's bugger all to do here! My KTM hasn't even cooled down when I throw a leg over and tear out of Dodge.