If you're getting into motorcycling, or you fancy a change of pace, a 125cc bike might be just the ticket. Bryn Davies checks out the Sinnis 125 Terrain…
Over the last few months, my girlfriend has been feeling particularly inspired to start motorcycling. No longer content with just sitting on the back of the bike while I have all the fun, she's decided that it's time to pass her bike test. She's completed her CBT and is currently in the process of learning the finer details of how to tick the boxes on the invigilator's scoresheet. Of course, she's also leaving puddles on showroom floors as she drools over the bikes on offer, taking a particular shine to the Suzuki V-Strom 650.
As she's 5'8' and struggles to handle the weight of most adventure bikes, she's looking for a bike that's not too tall and not too heavy, and conscious of looking out of place parked next to my ride, she's pretty sure it has to be an adventure bike. So, on the face of it, the V-Strom looks like a solid choice, but I'm starting to think I should suggest the Sinnis 125 Terrain as a first bike instead.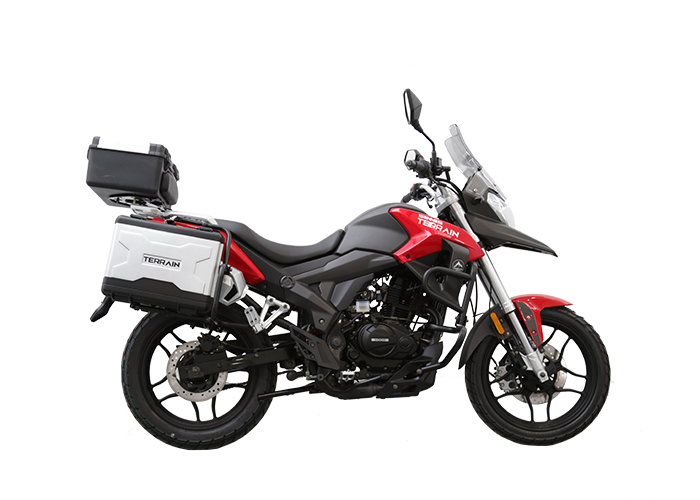 This mini adventure motorcycle, which has a 125cc engine and the styling of bigger bikes, is imported to the UK solely by Sinnis, from Chinese manufacturer Jinan Qingqi. I know, I know, as soon as the words Chinese and motorcycle are heard together, the instant association is with poor quality machines that'll fall apart before you've even ridden them out of the dealership. Consider, though, that Jinan Qingqi is one of the more reputable manufacturers from the country, making parts for both Suzuki and Peugeot, and the Terrain starts to look like a more attractive proposition for those who are either riding on a CBT licence, or are happy to pootle along slowly and in comfort.
Looking at the Sinnis 125 Terrain, you'd be forgiven for thinking it had a larger capacity than the 125cc that's on offer, with it measuring up fairly close to the Kawasaki Versys-X 300 that we've got on loan at the moment in terms of size. It has all the typical adventure-style add-ons as well, including crash bars, a taller screen, full luggage set, a bash plate, and it's even got an adventure beak on it. So far so good. But how does it fare in real-world use, and is it worthy of a space in your garage?
Sinnis 125 Terrain ride quality
OK, there's no point trying to pretend the Terrain is something it's not. It's a 125cc motorcycle, so the power on offer isn't going to provide much in terms of thrills, but if you shift your mind-set to one where speed isn't everything, then it's a lovely ride. The power delivery is smooth and the seating position is surprisingly comfortable given the small stature of the bike (though the seat is a little on the hard side).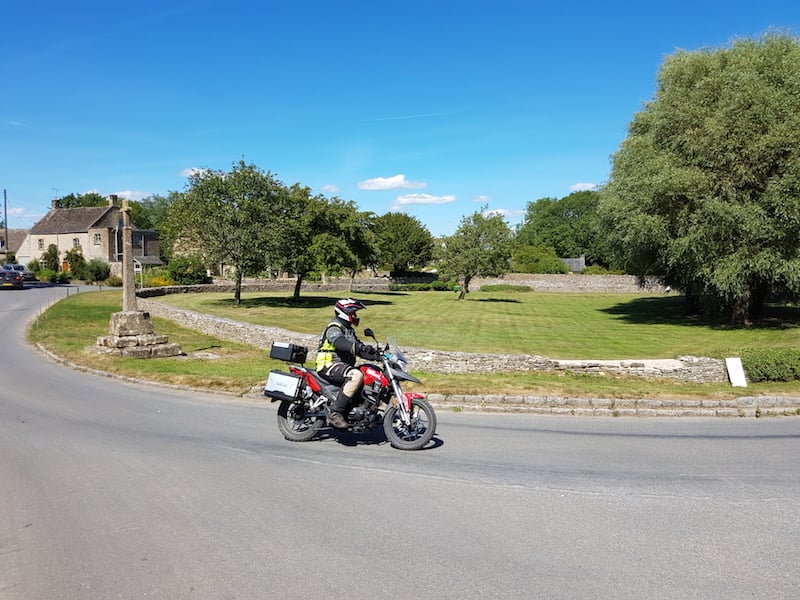 It's fairly nippy off the mark up to about 30mph, but then acceleration starts to slow until you reach a top speed of about 57-60mph (if you're on a flat road). As with most 125cc motorcycles, you can forget about overtaking anything faster than a tractor, and you'll have to work the gears when tackling steep inclines. I weigh 17.5st, and on the steepest hills of the Cotswolds, the Terrain pulled me up, but I felt sorry for it.
The low seat height of 800mm means most will be able to plant both feet on the floor with no trouble (I certainly could, being 6'2'), and even if you're forced to tiptoe, the lightweight means it's not as daunting a proposition as trying to walk a KTM 1090 with a seat height of 890mm around the car park.
One niggle I found, was that the front and back brakes are linked – something that I'm told is a legal requirement now for bikes without ABS. Whoever came up with this rule has clearly never ridden a motorcycle before, and in practice, it requires you to change your riding style. Effectively, if you touch the back brake the front one engages sharply (and vice-versa) and, in my eyes, almost dangerously, until you get the hang of it. That said, the stopping power on offer is certainly effective, and better than I have found on the other 125s I've ridden, and you can get the brakes unlinked if you're naughty.
Sinnis 125 Terrain weight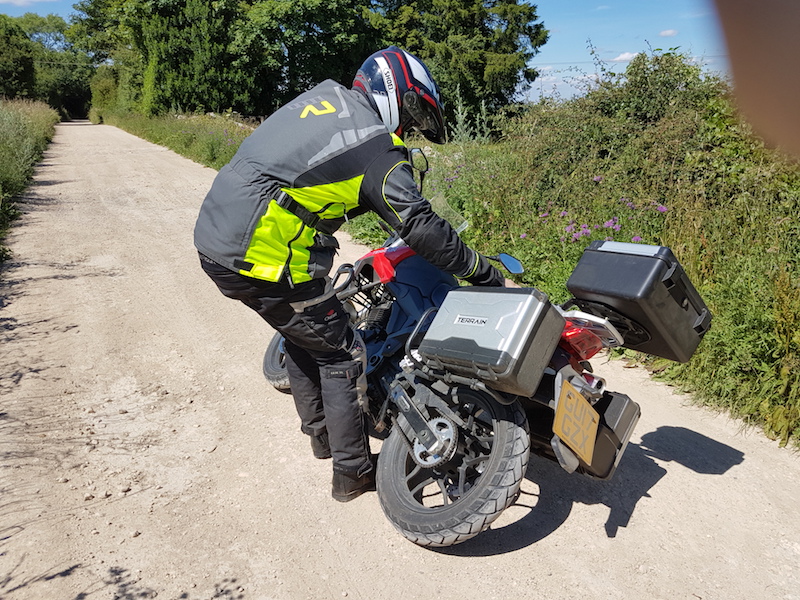 In my eyes, one of the main selling points of the 125 Terrain, for any rider, is the low weight of the machine. At 150kg it's a doddle to pick up if you drop it, making it a great choice for those who aren't too confident on the green lanes and worry about not having the strength to right their bike after they've dumped it. This also means that it's dead easy to handle on the trails, and I was able to physically lift the front wheel out of deep ruts and over obstacles with relative ease.
This low weight also makes it ideal for flicking in and out of traffic when riding to work, and manoeuvring around car parks and other tight places is about as easy as it comes.
The finish of the bike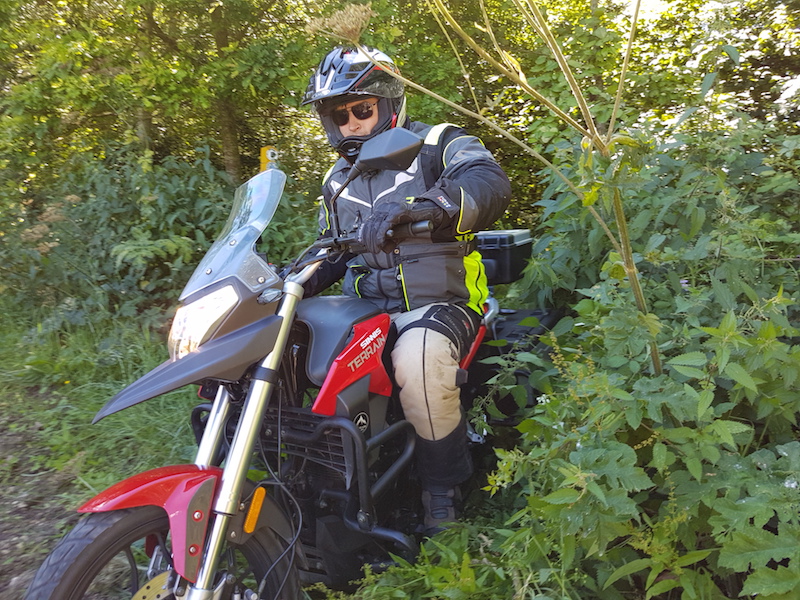 Chinese bikes have a less than glowing reputation when it comes to build quality and reliability, and while I can't comment on the reliability of the Terrain, I was pleasantly surprised by the overall quality of the bike. Everything's neat, tidy and well finished, and there are a number of nice touches throughout, including a well-placed USB charging port, nicely positioned crash bars that do a great job of protecting the engine, bodywork and panniers if you drop it, and a screen that does a decent job of deflecting wind at the speeds you're capable of travelling at on the Terrain.
The headlights are a bit of a let-down, however, and I wouldn't like to be riding this in the dead of night – it would certainly benefit from some additional LED spotlights, which would mount nicely onto the crash bars.
Sinnis 125 Terrain luggage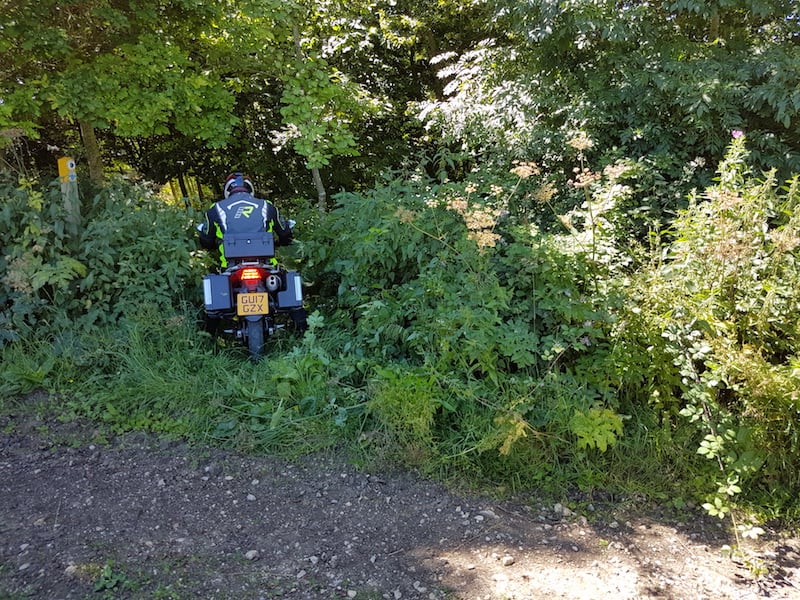 I'm not going to beat around the bush here. While the rest of the bike impresses with its design and build quality, the luggage on the Terrain is a bit shoddy. The panniers are more like sandwich boxes (both in design and space on offer), and the top box isn't much better. The top box and right-hand pannier offer 24-litres of storage, while the left presents you with 18.5-litres of room, so don't expect to be able to fit your helmet in any of them. They also feel decidedly budget in their quality, and the security provided by the latch offers no peace of mind when leaving kit on your bike.
That said, if you're riding to and from work, popping to the shops for milk, or going on an overnight trip, you'll get the essentials in.
Conclusion
Despite thinking that there was no way I was going to enjoy riding a 125cc motorcycle after passing my test, the 125 Terrain surprised me. The slow-going nature lets you chill out and enjoy the area you're riding through in a way that 1000cc bikes just don't (there's always too much temptation in that throttle hand!), and the lightweight nature of the machine meant green laning was an absolute joy.
So, who's going to want to buy a Terrain 125? Well, obviously there's the guys and girls who are riding on a CBT licence, which limits them to machines with a 125cc engine. But beyond those, it's open to debate. Having spent the best part of two months thinking about it, I would say this: the Sinnis 125 Terrain isn't a bike for someone who rides for the thrill of it, it's also not going to be the best for someone who is carrying a pillion regularly.
But if you're looking for something to make the commute to work a bit more interesting, or a lightweight, affordable machine that'll allow you to tackle the gentler green lanes in comfort and with ease, it's worth a look. It'll also suit the ageing rider who wants that adventure style, but is now having a hard time throwing a leg over the sky-high seats of typical adventure bikes. Put simply, if you're beyond, or before, the high-thrill bikes, the Terrain 125 is a perfectly adequate machine.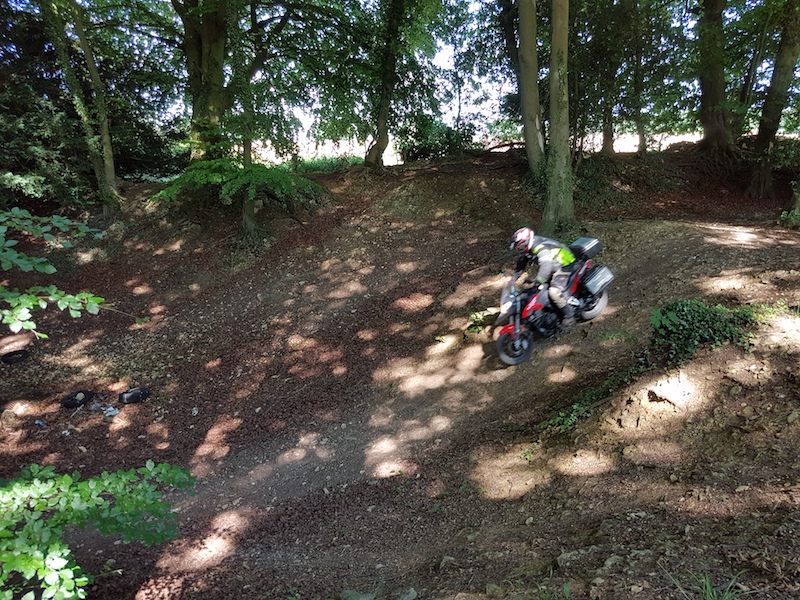 ABR Verdict of the Sinnis 125 Terrain
As a commuter
If you live in the city or have a short commute, the Sinnis 125 Terrain will shine if tasked with ferrying you to and from work. Great fuel economy will mean you're spending less of your wages on petrol, and the nimble manoeuvrability and narrow profile will have you filtering with ease.
As a weekend tourer 
There's no reason why the Terrain couldn't be a weekend tourer, but you wouldn't be able to cover as much ground on your trip, and motorway rides aren't too enjoyable (then again, when are they ever?), so you'd have to keep your ride close to home. The panniers and top box provide enough storage space for a clean pair of undies and some evening clothes, but not much more.
As an off-roader 
The bike wasn't designed with hard off-roading in mind, but if you've got the desire to tackle some rough terrain and you're not bothered about looking pretty, it'll find a way through thanks to its light weight. Tyre sizes limit tyre choice though, and low ground clearance means you'll have to be careful about whacking the underside of the bike on particularly gnarly routes.
As a continental road tourer 
Realistically speaking, nope. Long motorway miles would get tiresome quickly, and the lack of power would mean you'll be getting overtaken by Lycra-clad cyclists on the mountain passes.
As a RTW overlander
If you've got the time, then the Terrain would take you around the world. I can't comment on the reliability of the bike, however.
As a pillion carrier 
Just no. It's lacking power and a comfortable enough perch to be a two-up machine, but that's not what the bike was designed for.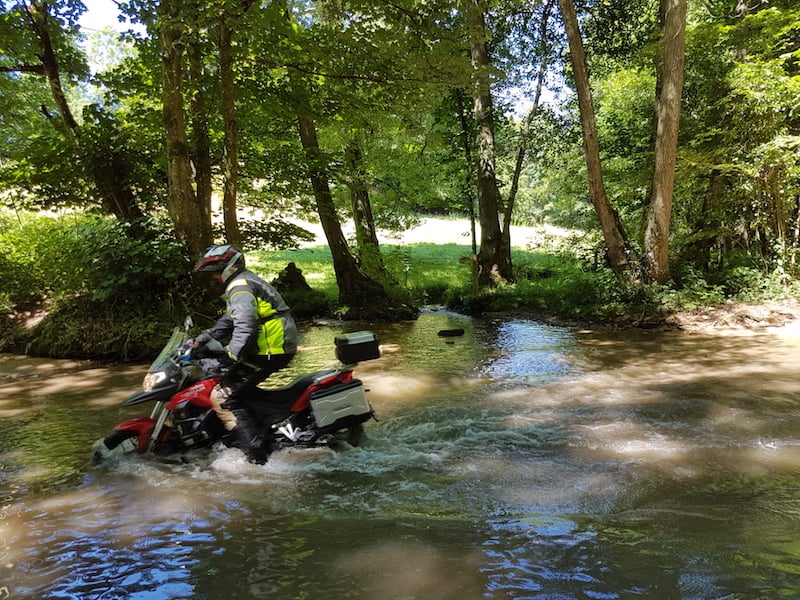 Sinnis 125 Terrain Specs at a glance:
Price: £2,400
Engine: 124cc
Power: 11bhp
Seat Height: 800mm
Fuel capacity: 14-litres
Weight: 150kg (dry)