Ok, so you've come to the conclusion that you need a smaller, lighter, more manageable, economical and less threatening adventure bike. Rapid speed and arm ripping power are not on your wish list and a pillion is not going to be a fixture. You've been out test riding the latest breed of small cc adventure bikes and you've decided that the Kawasaki Versys-X 300 at £5,149 is your new best friend (or if you still need a bit more convincing, check out our full review of the bike). What next?
Now, here's the thing. Buying an adventure bike is just the start of the journey, what follows next is a compulsion to fix or bolt something onto any available anchor point and only then, maybe, consider where to go on your first adventure. I jest, of course, you need to buy all the riding gear and camping equipment first and that'll take you at least another couple of months.
I've been enjoying the more relaxed nature of riding the Versys-X 300 over the past couple of months. Sure, it has its limitations but I'd be more than happy setting off on a slow-paced tour on the Kawasaki, so with that in mind I thought I'd check out the available accessories which make life on the move more comfortable.

Let's kick off with luggage. Kawasaki does not recommend fitting both panniers and a top box to the 300, so it's an either/or as far as they are concerned. You know, I'd be tempted to go old school here and chose the top box over the panniers and strap any additional luggage in a waterproof bag on the pillion.
For those who'd prefer panniers, the company offers twin 17-litre plastic boxes at a cost of £403.95. The 30-litre top box costs £58.95 and there's an optional colour-coordinated cover to match the bike at £56.95.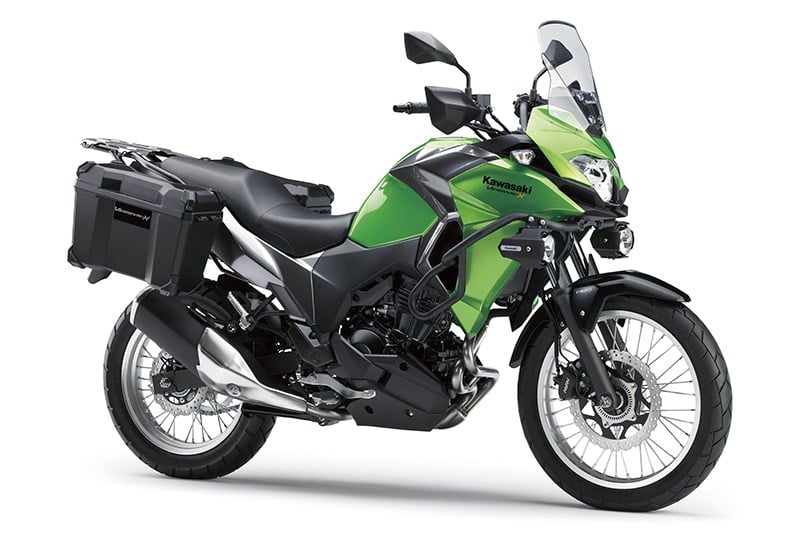 In my opinion, the following two 'accessories' should not be optional on any adventure bike as they are essentials and should come as standard – a centre stand and handguards. But they don't, and cost £221.95 for the centre stand and £86.95 for the handguards.
A 12v DC socket for charging gear is an extra £62.95 and it'll kick out 30w, which drops down to 15w should you decide to attach the optional fog lamps (£300.95) and run with them on. If you do choose to mount the lamps, then you're going to need to fit the optional engine protection bars (£157.95) which double up as mounting points for them.
So, the grand total of a Kawasaki Versys-X 300 kitted out for touring and fitted with a top box rather than panniers and the above accessories, comes to £6,095.65 which is starting to look like a lot of money for a 300cc motorcycle fit for touring purpose.
On the plus side, your money buys you a very solid, well-made machine and no matter which brand you choose you'll find the above 'accessories' are optional extras in this day and age. That's just the way it is.
Kawasaki Versys-X 300 specs at a glance
Price: From £5,149
Engine: 300cc four-stroke parallel twin
Power: 39hp
Torque: [email protected]
Gearbox: Six-speed
Weight: 173kg (kerb)
Fuel capacity: 17 litres
Seat Height: 845mm