The latest and greatest biking kit.
Rukka Navigator GTX
Jacket – £999.99
Trousers – £799.99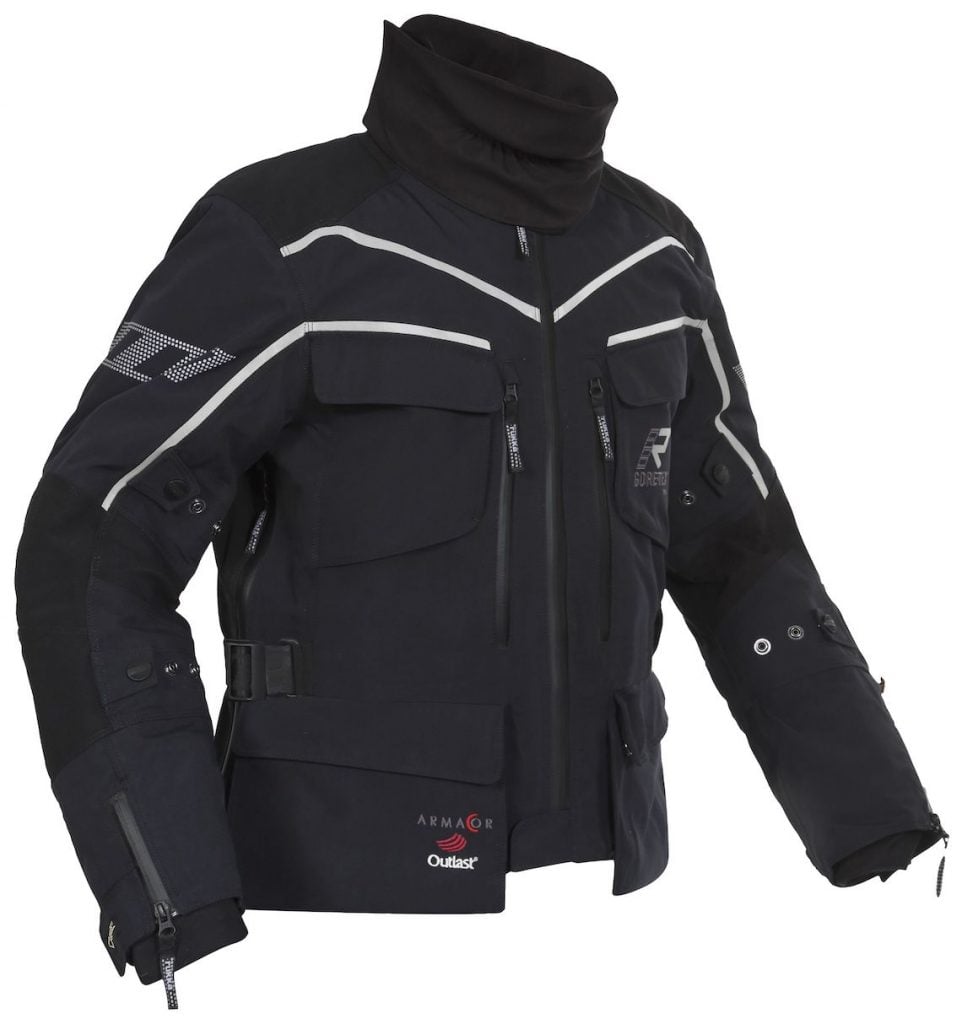 If there is one brand that has become synonymous with top quality, premium priced textiles, it's Rukka. The Finnish company has an astounding ability to produce high-end motorcycle gear that seems to get rave reviews wherever it's worn, and for this issue of the magazine I've been wearing the Navigator GTX jacket and trousers.
Now, I know what you're thinking. £1,800 for a textile suit is just pure bonkers, but hear me out. Having worn a wide array of motorcycle jackets and trousers over the past five years, I've yet to slip into something that feels as well made or protective as the Navigator suit.
With a combination of Gore-Tex Pro, 500 denier Cordura and tried and tested Armacor reinforcements on the shoulders, elbows, hips and knees, the Navigator suit is a seriously protective piece of kit – both in terms of weather protection and keeping you safe if you have an off. To further wrap you in cotton wool, top-quality D30 Air limb protectors are used, as well as a full back protector, and these are both comfortable and reassuring.
The styling of the suit is distinctly Rukka, with the company's trademark 'R' displayed in a large reflective pattern on the rear, and as soon as you pick it up you know this is a serious piece of kit. Weighty is a word I'd use to describe both the jacket and trousers, but it's a weight that's reassuring more than off-putting.
Slipping the suit on, for me, the fit was perfect. It hugs the body in the right way, keeping the armour in place, and is cut in such a way that it's spot on for sitting on an upright adventure bike. The long torso on the jacket is a big plus in my eyes, offering a great amount of weather protection, while the bracers on the trousers are always welcome.
I wore the Navigator on a wintery trip to Scotland, where temperatures rarely got above 0, and despite being in the saddle for 10-11 hours a day, I was never too cold or uncomfortable to carry on. This was partly thanks to the thick outer, but also the inclusion of an Outlast lining, which really helps keep the chill at bay.
A lovely inclusion is the Gore-Tex storm collar that helps keep wind and rain off your neck, and on the flip side, when you're riding in warmer climes, effective ventilation helps keep you cool.
There's no getting away from the fact that the Navigator is a pricey piece of kit, but if you're after a seriously protective, comfortable and well made touring suit, this is it, and it comes with a six year warranty to give that extra peace of mind.
Bitubo
VKE/VKU Front and Rear shock absorber BMW R1200GS – £586.67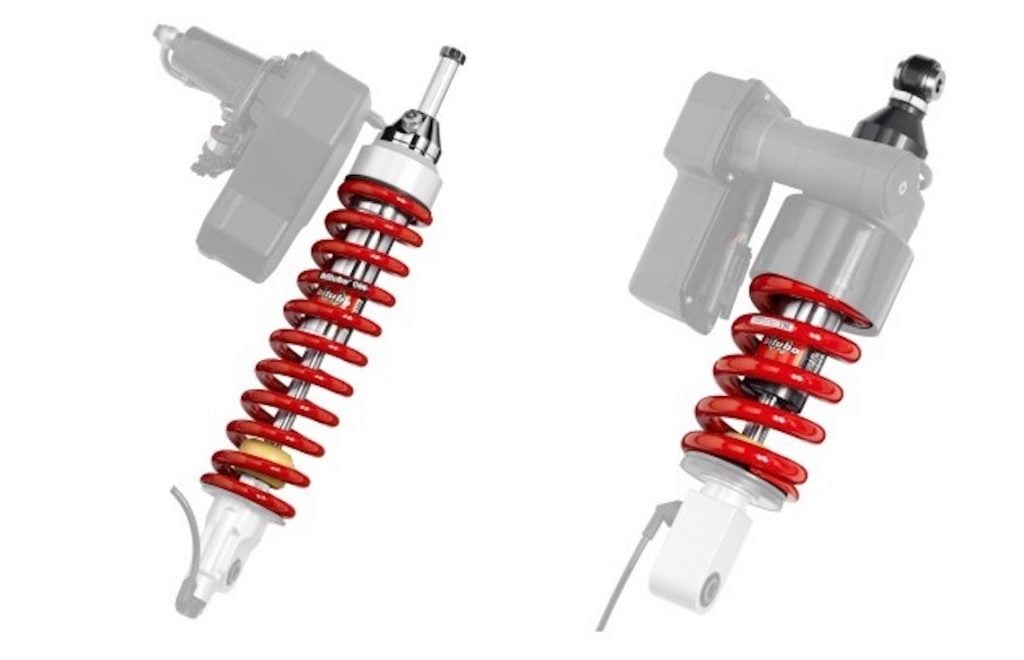 With a track record of producing high-end and high-performance suspension units since 1963, Bitubo Suspension knows a thing or two when it comes to creating shock absorbers.
In years gone by the company has focused primarily on race and street units, but now it's put its expertise into creating a high-grade system for the BMW R1200GS and GSA that will provide performance both on and off-road.
Offering full adjustment for rebound and preload, the Bitubo VKE/VKU absorbers are available with a standard spring, or a superior quality Bitubo spring for a better ride. The cool thing about these is that each unit is individually designed to cater for the rider's weight and typical riding conditions, and while it might seem like a pricey investment, it's worth checking out.
Foldy Funz
£5.49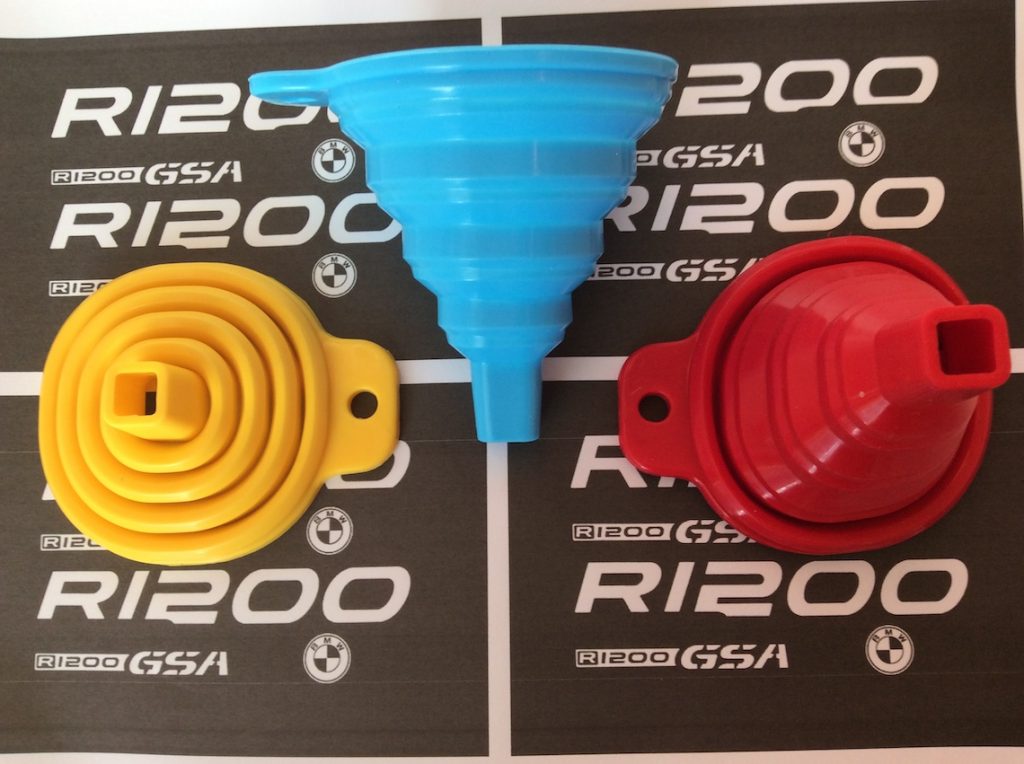 These neat little collapsible funnels are a great, cheap accessory to carry on you when you go on your next tour. They're designed to be compact and tough and to make any fluid transfer clean, safe and easy.
The small nozzle means that it'll fit in just about any filler hole, making it far easier to top up your brake fluid, coolant, shaft drive oil and even fuel. To make sure you're representing, the funnels are also available in colours to match every major motorcycle manufacturer.
The company is still in its infancy, so if you're interested in getting your hands on one of these nifty funnels, email Ian at the address above.
Klim Krios
£375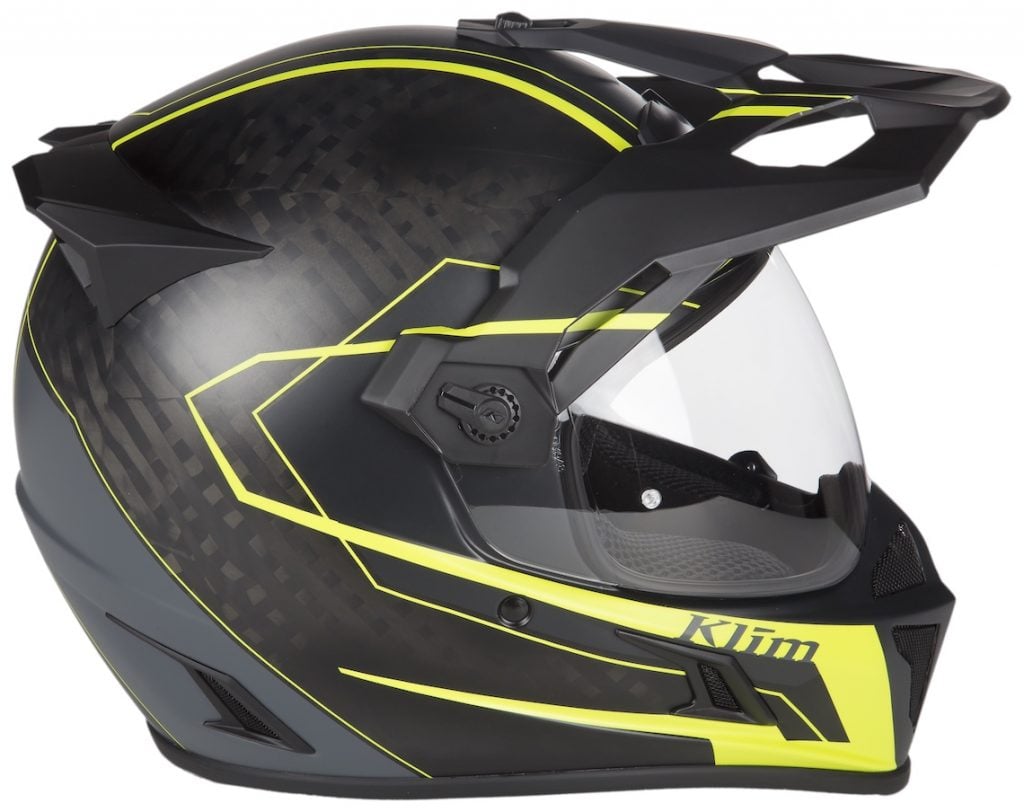 At Motorcycle Live, way back in November of 2016, we were introduced to the Klim Krios, the American manufacturer's first forray into the world of adventure helmets. If Klim can replicate the quality and success that its textile clothing range has brought, then the company could be on to a winner.
With a high performance carbon-fibre shell, Klim boldly claims that, at 1,475g, the Krios is the lightest adventure helmet ever created. While we can't substantiate that claim, we can confirm that it's very, very light, and this makes for a comfortable experience when you're wearing it all day on the trails.
One thing that impressed was the ventilation on the Krios, it doesn't seem overly flashy at first, but when working my bike hard off-road I found it to be well designed in terms of keeping me cool.
The Krios has been designed to be a modular helmet, meaning you can choose to wear it in one of four ways using a combination on visor, goggles (not included) and peak.
In testing, all four 'modes' worked well, and I was impressed with how little turbulence the peak created at higher speeds. As you would expect when you buy a helmet of this price, it comes Pinlock ready (and one's included in the box).
LS2 MX436
Pioneer – £144.60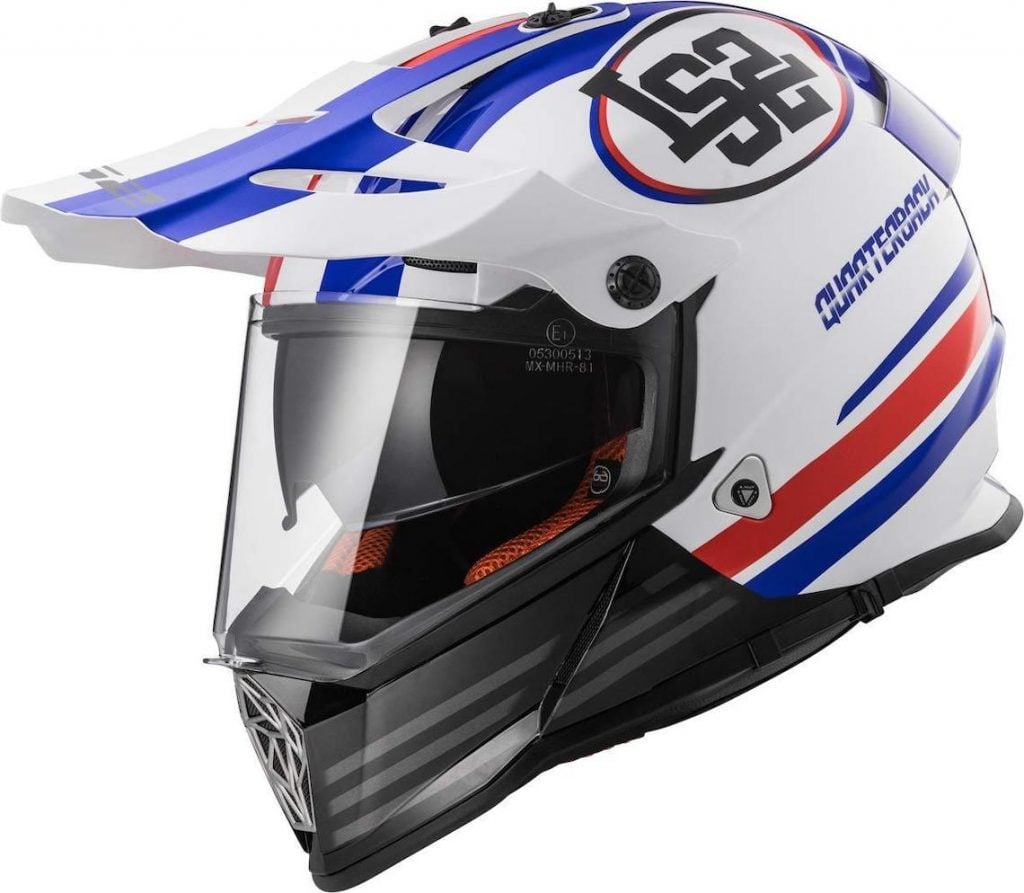 Back in Issue 35 of Adventure Bike Rider magazine we tested the LS2 MX436 Pioneer in our helmets under £200 group test. Remarkably, priced at £99 back then, the Pioneer scored 9/10 and was awarded our 'ABR Rec- ommended' badge of honour.
Following on from this, the popularity of the Pioneer exploded, with riders loving the combination of comfort, styling and protection and an almost unbelievable price tag. Going in to 2017, LS2 has decided to up the price slightly, while also introducing two new colourways, the Element and the Quaterback.
In keeping with the syle of the helmet, these two new designs maintain the brilliant looks and aggressive angles, and I opted to try the Quaterback as it was just so different. As the name might suggest, it's designed to look a bit like an American football helmet, and the red white and blue colour pattern takes obvious inspiration from the Star-Spangled Banner.
The Element is a bit more understated, with a beautiful gunmetal grey and black being sliced in two by a striking neon orange detail. Both of the new designs are fetching, and the quality of the helmet remains, so if you're looking for an affordable, stylish and well-made adventure helmet, look no further.
Healthy Back Bag
Great Outdoors Tech – £65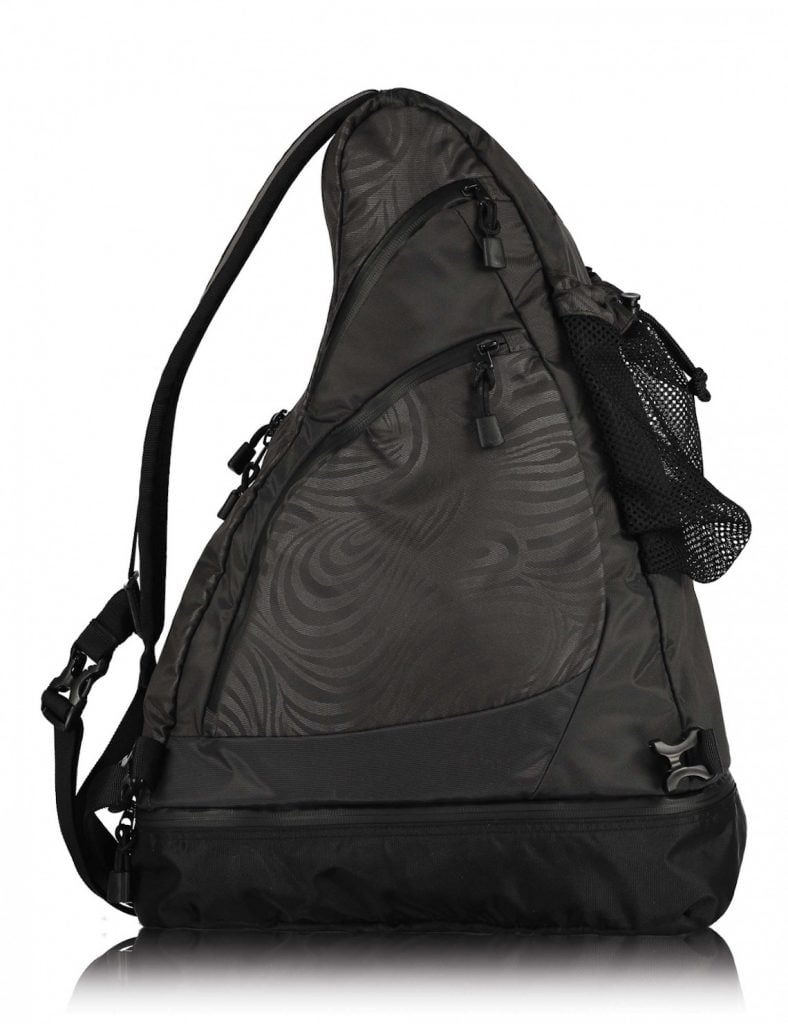 In most instances I'd tend to advise against wearing a rucksack when in the saddle, especially when travelling over long distances. But occasionally they can be worthy of a place on your kit list, especially if you're going to be touring in an area that's just so beautiful that your camera is going to need to be close to hand.
In the past I've always used a tank bag for this reason, but recently I've taken to wearing the Healthy Back Bag Great Outdoors Tech bag to carry the kit that I need quick access to.
It's a single strap rucksack that's been developed to offer maximum comfort and efficient organisation, and as you can swivel it round while you're wearing it to gain access, it's perfect for carrying camera equipment and your wallet if you're riding through tolls.
This bag, in particular, makes use of abrasion and weather-resistant outer to protect your valuables, water-resistant zips, 10 pockets and an external mesh pouch that's ideal for carrying wet or damp gear in. Of course, it's also perfect for those times when you fancy a coffee or a walk around town and you don't want to leave your valuables on your bike.