Ian Neubauer heads to Argentina to ride one of the world's most scenic stretches of tarmac, National Route 40
Trying to cross an international border on a motorbike can be a stressful affair. There's a voluminous amount of paperwork one needs to have in order and zero tolerance for errors. One misplaced, incorrectly stamped or misdated document is all it takes to get rejected. But in South America, where corruption is rife, all the paperwork in the world won't necessarily give you a green light unless palms are greased first.
So you can appreciate my trepidation as I leave squeaky clean Chile, one of the least corrupt countries in the world, and approach Argentina – a country where "payoffs, kickbacks and government corruption are considered part of everyday life," according to the New York Times.
But I've got a secret weapon. My mother is Argentinian and I have a good grip on the Spanish language. As I present my paperwork at Paso Rodolfo Roballos, a remote border crossing 1,400 miles south-west of Buenos Aires, I make small talk with border officials about how I'm returning to my mother's land, about how beautiful the scenery is, about motorbikes, the weather… anything to prove my Latin credentials.
Whether or not the chit-chat has any impact is impossible to say. But after a final cursory glance at my passport, the man who holds my fate in his hands stamps my passport and wishes me a safe voyage before adding, as an afterthought, to take care in the wind.
The Muppet Show
What wind? I ask myself as I get back on my bike and charge like Che Guevara onto a mustard-coloured plateau punctuated by sheer-edged table-top mountains. The scene would make a suitable backdrop for a Roadrunner cartoon if not for the glaciated ring of mountains and surrounding the lowlands – an imposing amphitheatre of stone and ice. It's a world of perpetual beauty and perfect solitude with no other human in sight, but at the same time buzzing with the craziest bunch of muppet-like creatures one could possibly imagine.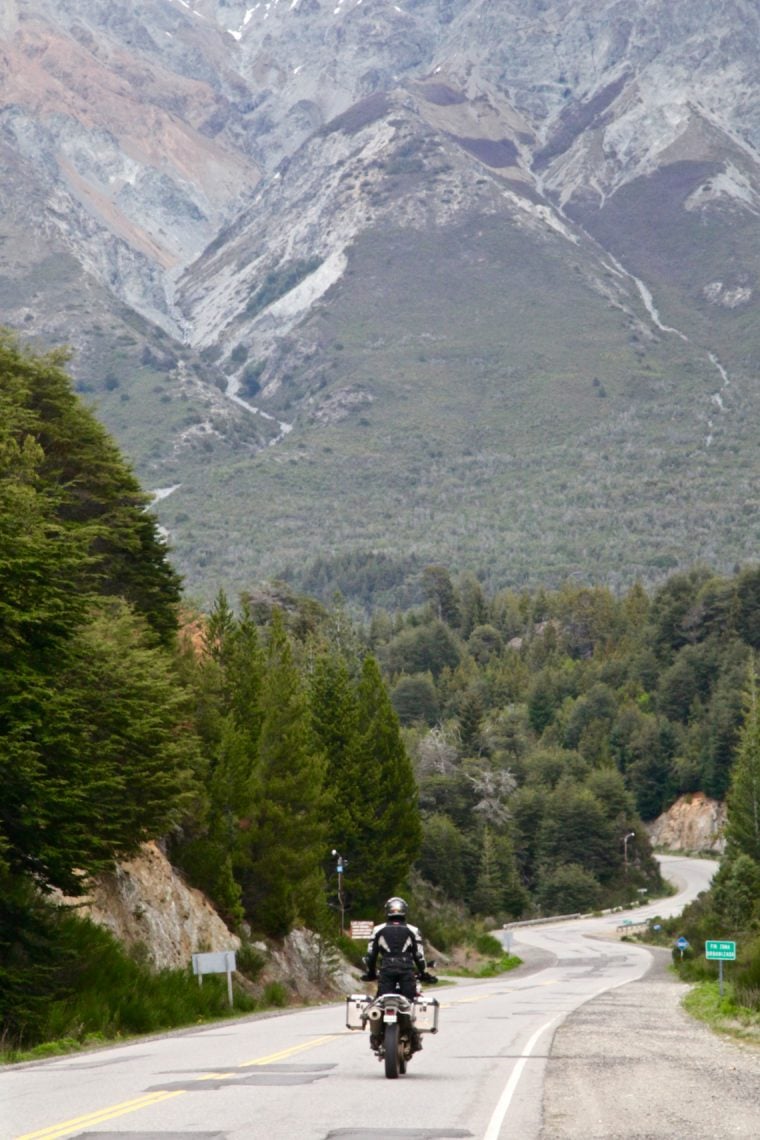 Herds of skittish guanacos (a six-foot-tall cousin of the alpaca with a kangaroo-like face that is in fact a member of the camelid family), rheas (tall flightless birds related to the emu that spread their wings like sails to reach running speeds of up to 40mph), dwarf armadillos that dash across the rock-strewn trail in a mad-capped game of chicken, Andean condors that hover above in slow concentric circles, and a pair of pink flamingoes that take off in tandem from a mirror-coloured lake as I pass, and fly off in a slow, long, graceful arch.
Onwards I ride through this desert wonderland, passing a sign for Patagonia National Park that the Google machine later tells me doesn't exist – until the trail comes to an end at a T-section joining an immaculate two-lane highway edged by 'pampa' – a vast, semi-arid plain that extends all the way across central Argentina to the Atlantic coast in the west.
Then I feel it. I hear it. I see it too, the thing the border officer had warned me about: wind that strikes in savage gusts that literally pushes the 400kg bulk of my fully-loaded motorcycle across the highway as though it were a paper sail.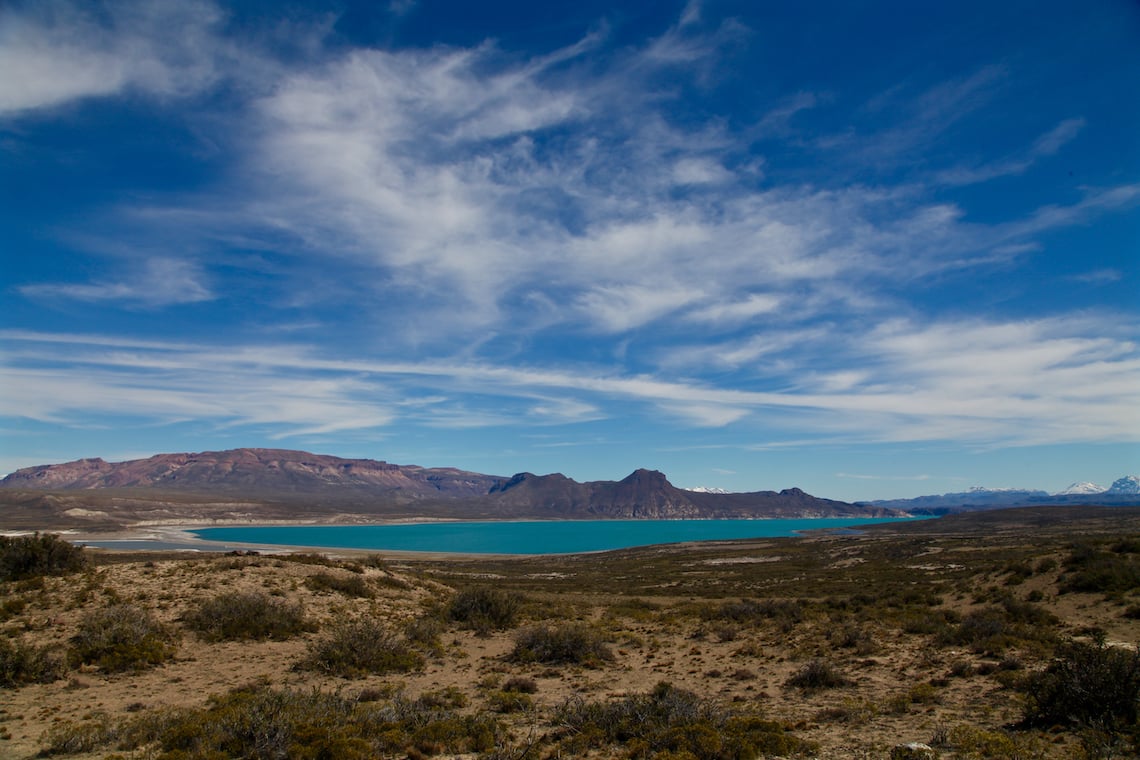 But I've got an even bigger problem to deal with. My trip computer says I've covered 186 miles of dirt roads since I last filled the tank, and the first road sign I pass on the highway says I have another 65 miles to reach Perito Moreno, the next town. So I attempt to maintain a steady 55mph – the most fuel-efficient speed for a mid-size tourer like the BMW F800GS. But the wind has other designs, forcing me to come to a dead stop time and time again lest I'm swept into the kill zone of oncoming buses and trucks.
When I finally pitter-patter into a service station at Perito Moreno, the fuel warning light has been winking menacingly at me for a nail-biting 15 minutes. "Fill her up," I ask the attendant, who tells me he's never put so much fuel into a motorcycle. Yet he shakes his head when I ask about the speed limit, as though such mundane matters have no place in Argentina.
Pampa
Twenty clicks north of Perito Moreno I hit Ruta 40. Stretching 3,230 miles from Rio Gallegos on the southern tip of the continent, all the way to the Bolivian border up north. It's one of the longest roads in the world, an iconic touring route on par with the Stuart Highway and North America's Route 66 that crosses 20 national parks, 18 major rivers and 27 passes along the Andes Mountain Range.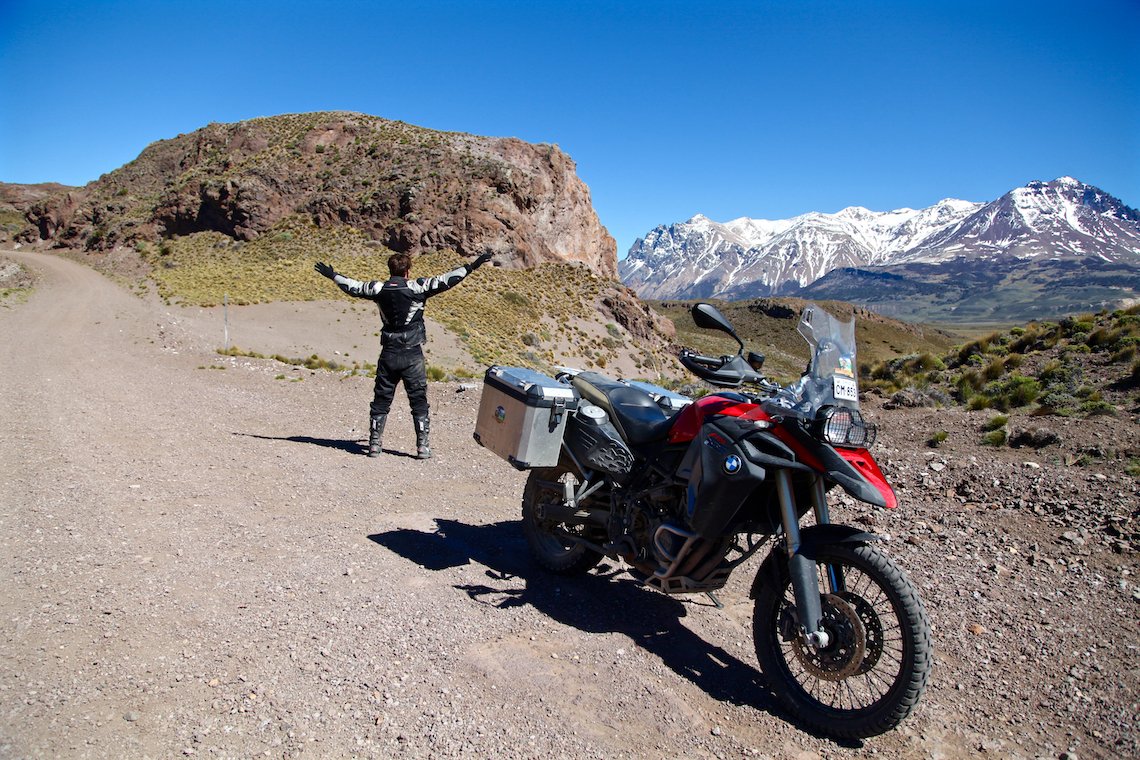 But as Ruta 40 crosses this part of Argentina, it is, for the most part, one long flat boring road. Tackling it on a motorcycle is about as much fun as watching Seth MacFarlane host the Oscars. The best way to deal with it, I quickly gather, is, as the attendant intoned, as quickly as possible.
Now, I'm not one to speed on the road – or boast about doing so. And I've never hit another vehicle nor had a serious off because I ride, with all due respect to our female readers, like a girl, though my best mate Gaz reckons I ride more like a grandmother. But on Ruta 40, I hit speeds that would have me locked up in Australia and appear on the evening news as a public menace who should be banned from driving for life.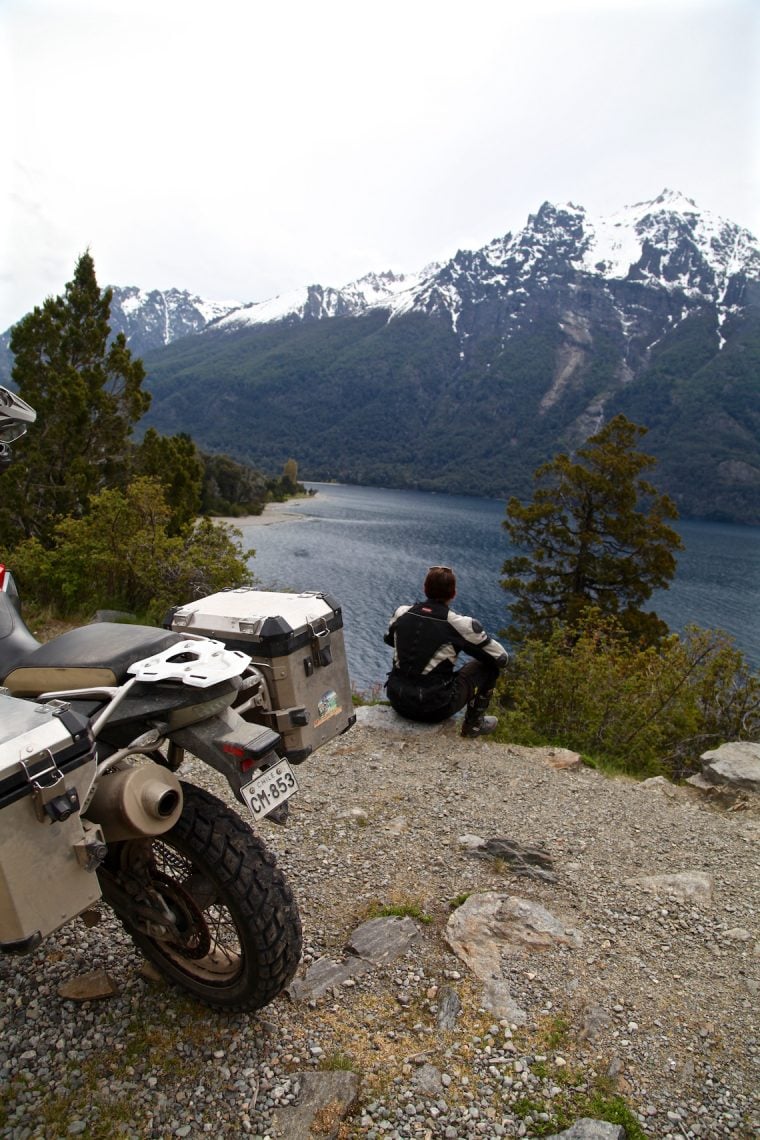 Yet I still feel I'm riding at a safe velocity for the very simple reason that there's absolutely nothing behind me and nothing in front of me but one long stretch of asphalt that stretches infinitely to the horizon.
At 7 pm, about an hour before dusk, I hit a T-section where a sign indicates that the next town with a service station is 40 miles to the south – the opposite direction I'm heading. That means I'll have to add 80 miles of dreaded pampa to my retinue just to get back to where I am now, which I want like Liam Fox wants to turn down a second helping of dessert.
So I flag down a passing motorist who tells me there's a village called Facundo that lies at the end of a dusty road at a turnoff about six miles up the road.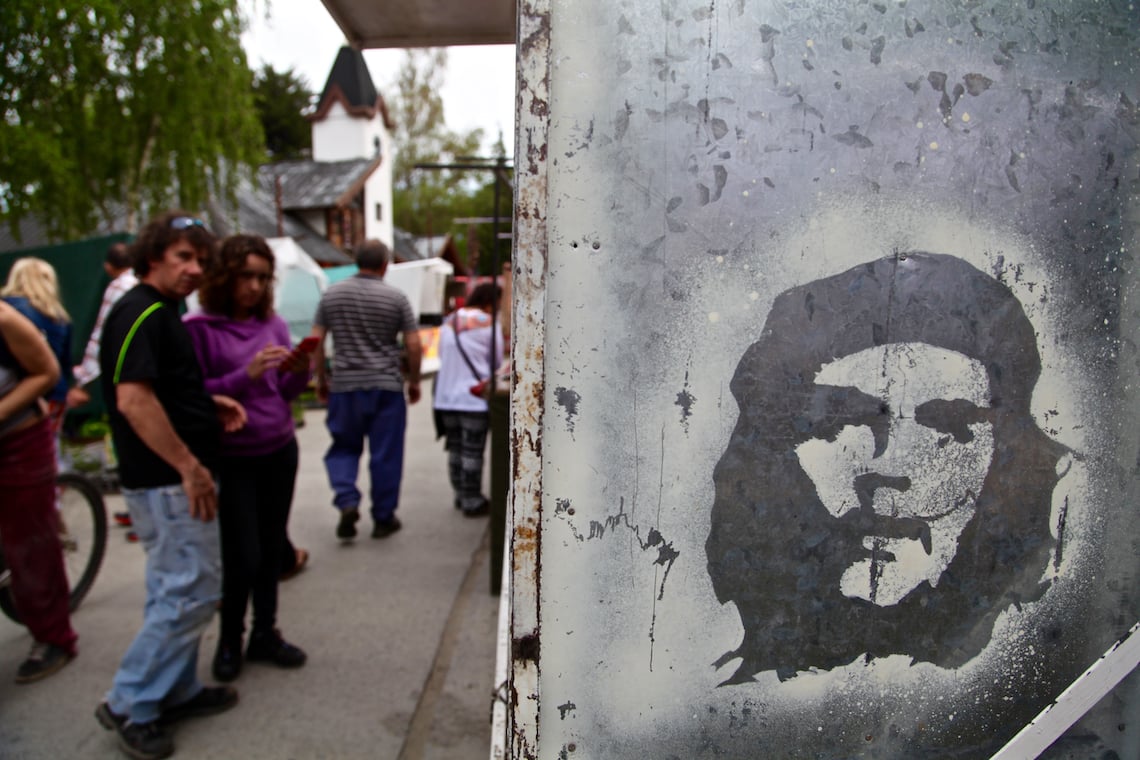 Facundo is a little slice of Redneck-ville in the heart of South America – a shabby, destitute windblown place where morbidly obese women peer suspiciously from doorways and children ride their bicycles around in circles on the road waiting for something, for anything, to happen.
But they're friendly enough folk and after making a few enquiries I find a clean bed to sleep in and a butcher shop/dining room where the butcher's wife serves me a schnitzel the size of a wheel hub with a big dollop of mash potatoes for the equivalent of £5. But what I don't find is fuel, the precious elixir that made Max Rockatansky so mad.
More Bloody Pampa
The next morning I ride more conservatively, dialling it back to 55mph to preserve fuel given I have 100 miles of road to cover until I reach the next service station at Gobernador Costa. About 30 miles after takeoff I pass a homestead with a little museum and store where I convince the owner to sell me two litres of fuel – a get-out-of-jail-free card in situ.
I ride off like a bat out of hell, crouching tiger-like over the petrol tank and growing giddy with anticipation whenever I approach the most insignificant curve or crest on the road before returning to a state of monotonous, ear-splitting forward motion where the only thing to look at are shimmering mirages that appear and disappear on the road.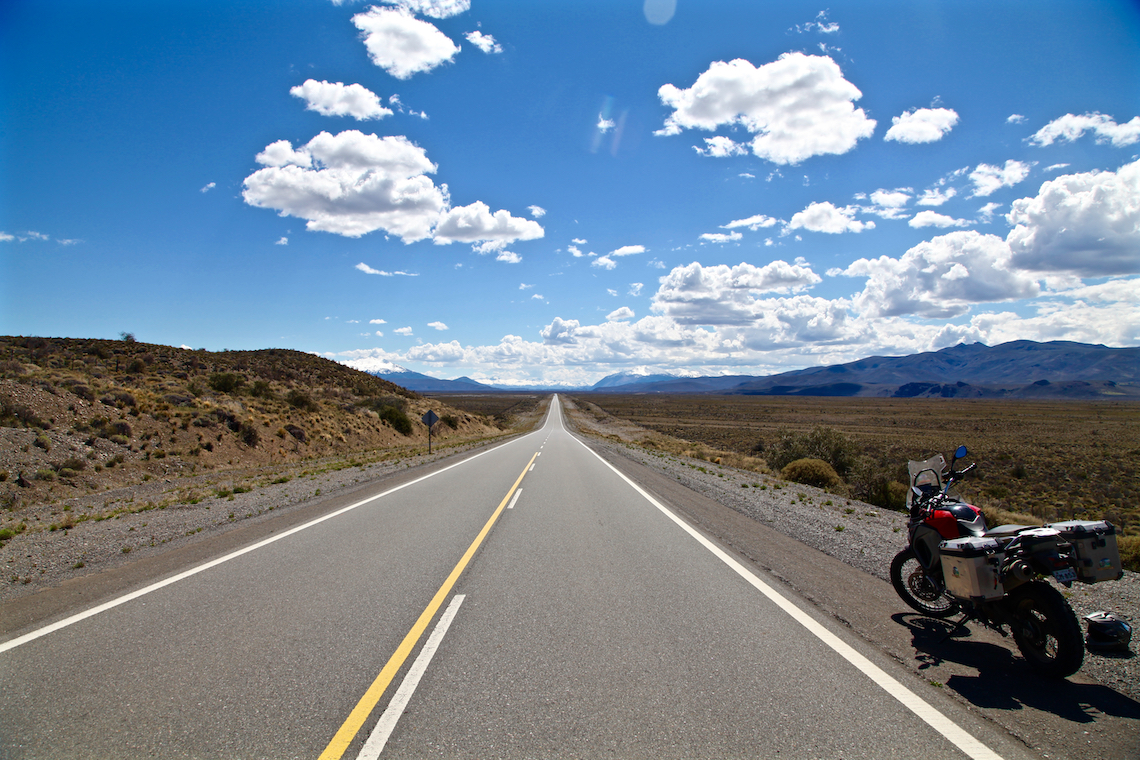 The only time things get vaguely interesting is when I hit a half-hour-long gravel detour where the highway, which has become a quagmire of potholes, is being re-sealed. But riding at a constant lean to counter the wind on asphalt as I've been all morning is one thing. Doing it on freshly sprinkled, slippery-as-Nigel-Farrage gravel is another thing altogether, and I hate every second of it.
When I post a photo of the dead-straight nothingness on Facebook, I receive the following comment from Asaf Summers, an Israeli motorbike adventure journalist I befriended in Chile: "When I did Route 40 there was no asphalt, just lots of loose stones and 50-70 mph winds.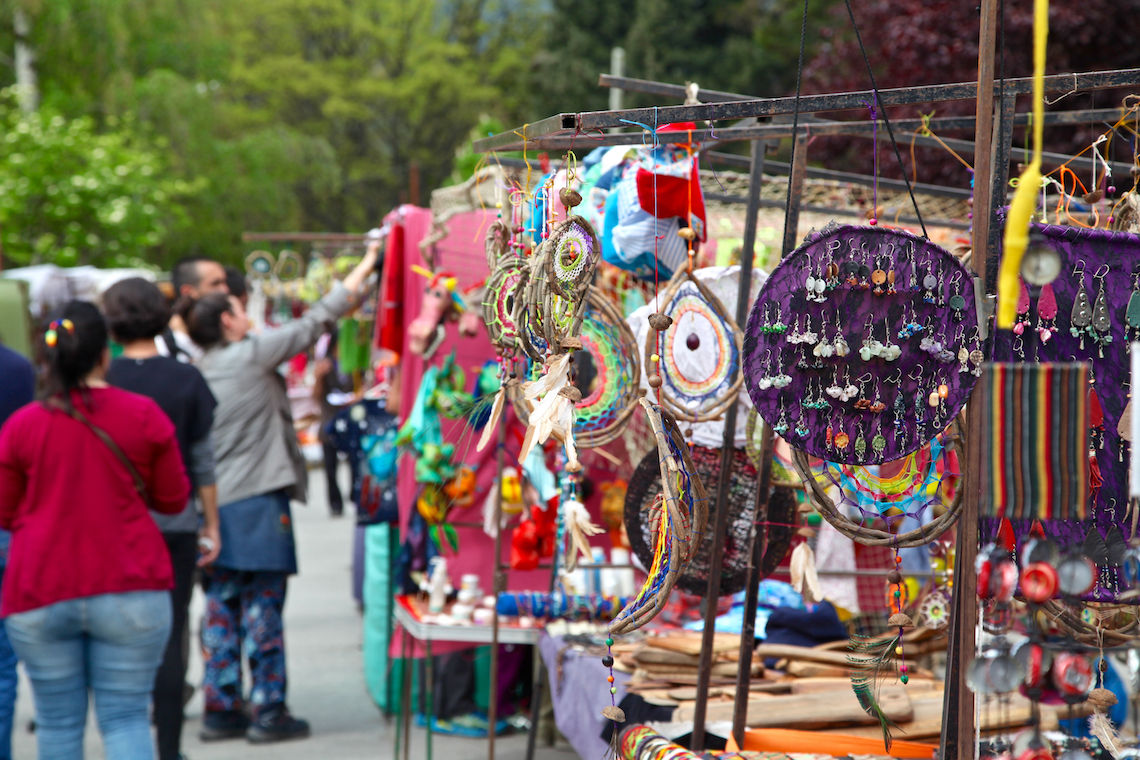 Imagine riding at a 45-degree lean for a week. Several times I lost traction on the gravel and slid across the road into the ditch. Then had to unpack my panniers to get the bike out. It was the hardest ride of my life."
After rejoining the asphalt and filling up on fuel at the next town I encounter a new problem – the onset of micro-sleep. I make an executive decision to pull over the moment I find a bit of shade, but that's just wishful thinking in this section of the pampa where only tumbleweeds grow.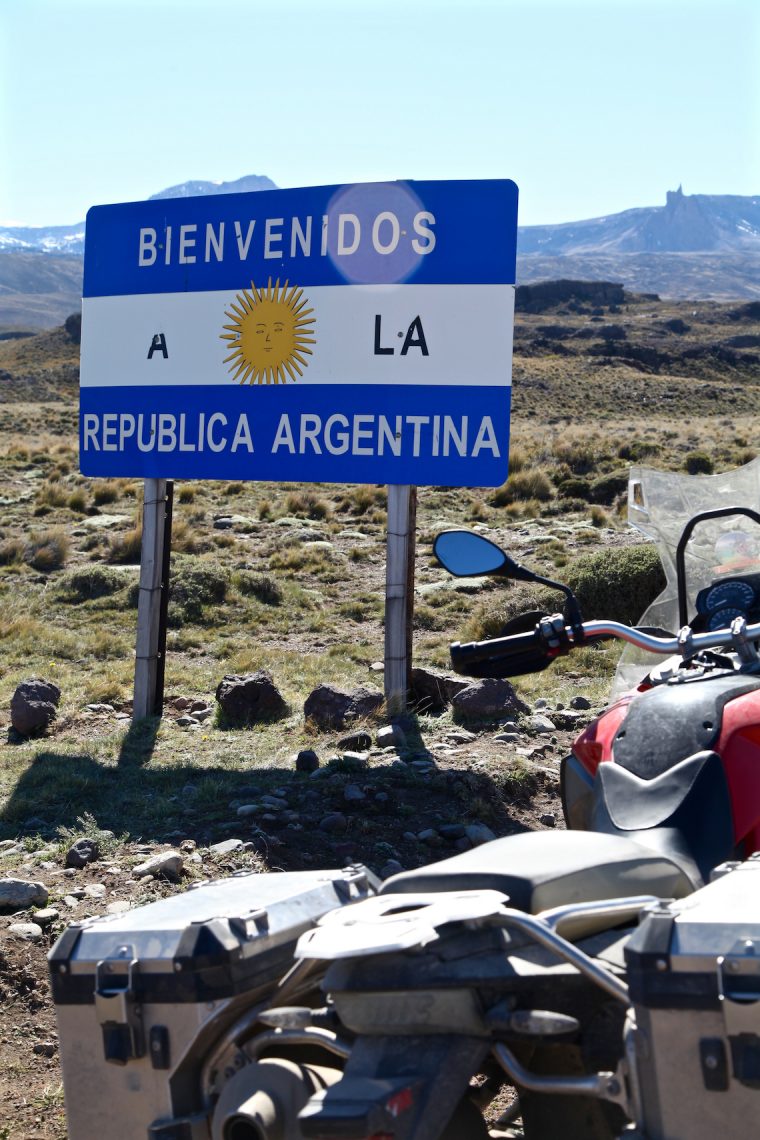 So I ride on for another half an hour until I can bear it no more and come to a stop on the side of the baking-hot road. This is not a play on words. The asphalt on the road's shoulder is so hot it sticks like old chewing gum to the soles of my shoes. And when I take off my jacket and lay down for a kip on the sand, I feel my face sizzling despite the sunscreen I'd applied earlier in the morning.
Thinking fresh, I use my gloves to create a mask, with one covering my forehead and eyes and the other covering my mouth and cheeks. It does the trick and within seconds I fall asleep. But a minute or two later I wake up with a jolt when a passing truckie blows his air horn at me. I pick myself up, feeling surprisingly refreshed, ready to resume this battle of the wits with the most mind-numbing road on the planet.
The Blue Vibe
After six hours of nauseous motion, I clock the faint outline of mountains in the far distance as Ruta 40 starts verging west from the pampa into the Andes Mountains range. Half an hour later I find myself riding along a delicious twisty-turny road that carves its way around the base of steep forested slopes that fade into snowfields and jagged snow-capped peaks.
I pass lakes that are green and blue and a dozen different shades between, sheer-sided ravines sluiced by raging rivers and waterfalls that literally touch the road. And then, in a sign the nightmare has truly come to an end, I ride through a cloud of pink pollen much like a war hero returning home.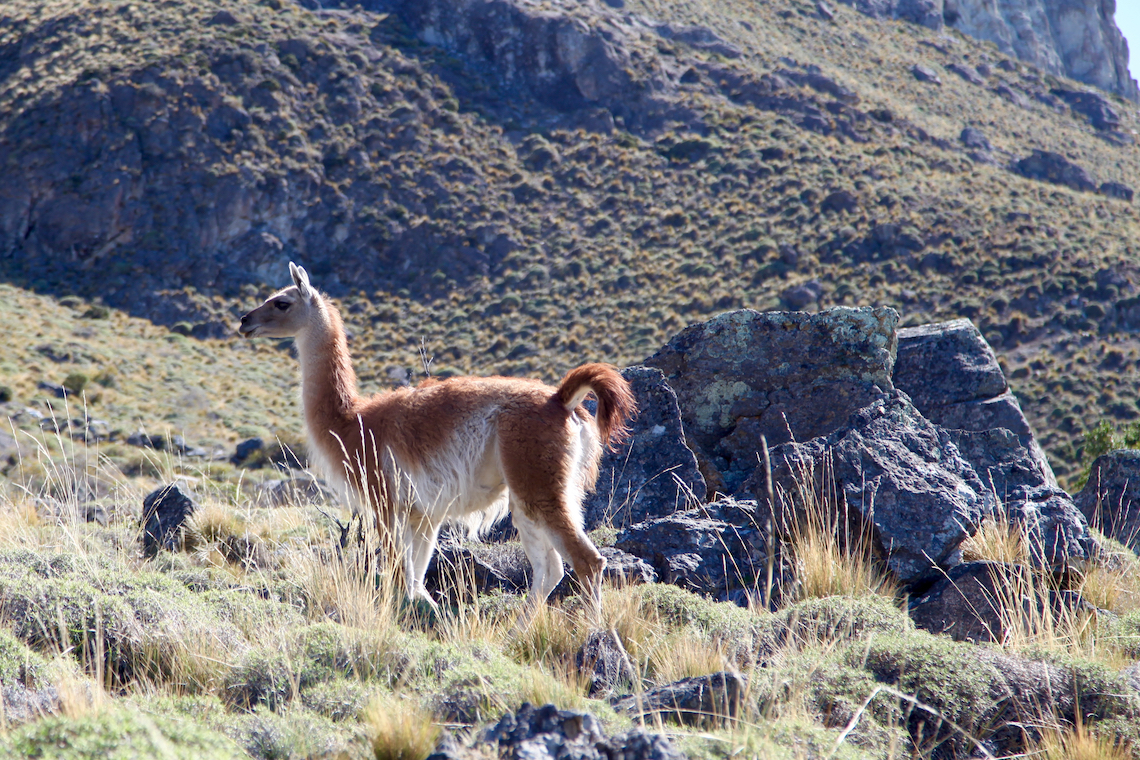 My destination is Lago Puelo, a picturesque little town set on the edge of a glacial lake and national park of the same name. Now, do you remember Asaf Summers, the Israeli motorbike journalist I mentioned earlier on? Well, when Asaf wrote to me, he also suggested I check out a camping site and hostel in Lago Puelo called La Onda Azul (The Blue Vibe).
Set on a gentle bend of the Puelo River under a mountain riddled with waterfalls, La Onda Azul is cut straight out of a Milka commercial: velvety green, peaceful with not a single blade of grass out of place – a little slice of heaven after the highway from hell.
The owner, Yoav Pollac, an Argentinean-Israeli, greets me in the driveway. Before I even get a chance to take off my helmet he tells me they're closed and that they won't open until the official start of the summer a week or so from now. But when I do take off my helmet and he sees the sheer look the long, lonesome road of exhaustion on my face, he offers me a cold drink, which I gratefully accept.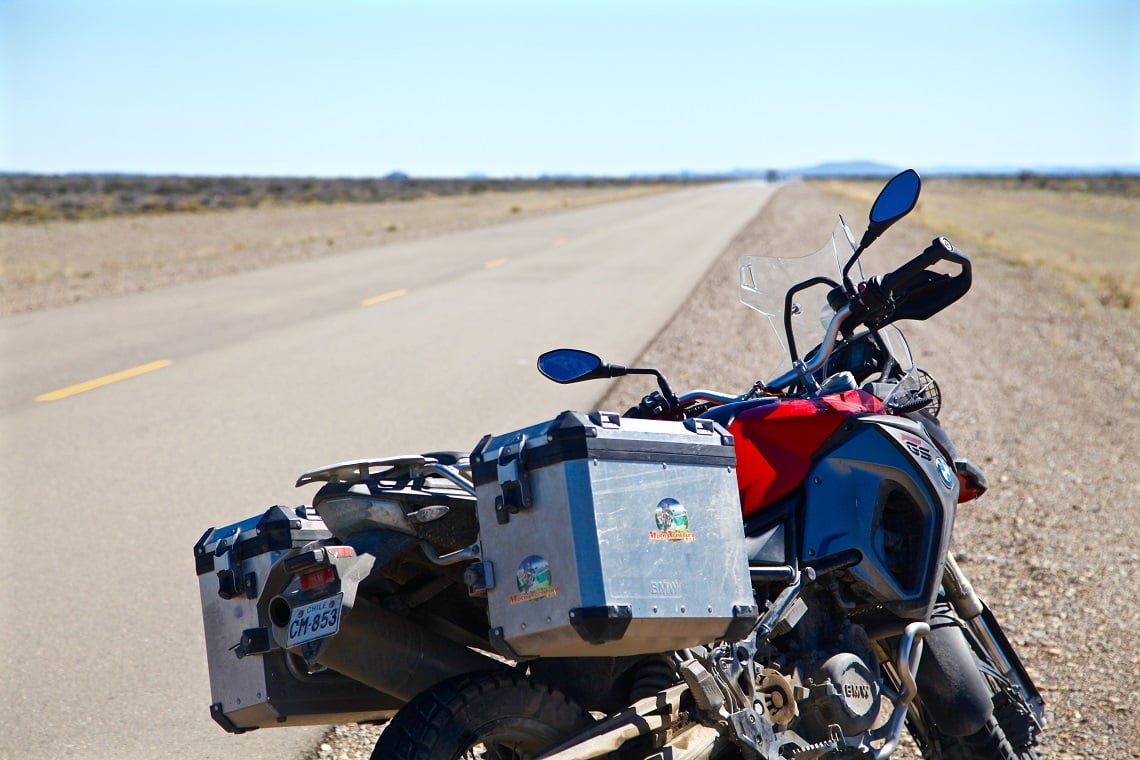 That cold drink turns out to be an ice-cold beer. Not just any old beer, but a toothsome artesian lager brewed by my host in a little distillery he assembled in his office. And as things turn out, Yoav and I have a lot in common. We both have Argentinian mums and we both like home-brewed beer. OK, well, we don't have that much in common, but it's all it takes for a friendship to bloom. Three or four beers later, he invites me to stay for the night.
Three days pass before I leave La Onda Azul. Three glorious, sunny, soul-invigorating days I spend swimming in the river, talking bullshit with Yoav, drinking his beer and checking out the hippy market in the neighbouring village of El BÓlson. Three days of rest to recover from two days riding – that's how difficult Ruta 40 is.
And I have a sinking feeling it's going to get a lot worse as I continue north and reach the high-altitude pampa at 5,000m above sea level. But like Buddha said: "There are only two mistakes one can make along the road: not start- ing, and not going all the way."
---
The Bike
2015 BMW R 800 GS Adventure
I've ridden various versions of BMW's F800GS series over the years. But what struck me about the 2015 Adventure model was the bloody size of the thing. With a seat height of 890mm, my feet could barely touch the ground – and I'm 5'8 tall. Yet whatever apprehension I had flew over the enlarged windscreen the moment I hit the gravel and clicked the bike into enduro mode.
The effect was comparable to locking the hubs on a 4WD: more traction, more braking power and more acceleration when I needed it most. The 24-litre petrol tank proved a lifesaver between long stretches on Ruta 40, while the bench seat couldn't be any more comfortable.
Even after 12 hours on the road, I had no riding aches or pains. What didn't I like about this bike? The base of the kickstand is too small and woefully inadequate for off-roading. It frustrated the hell out of me every time I parked on soft or uneven surfaces.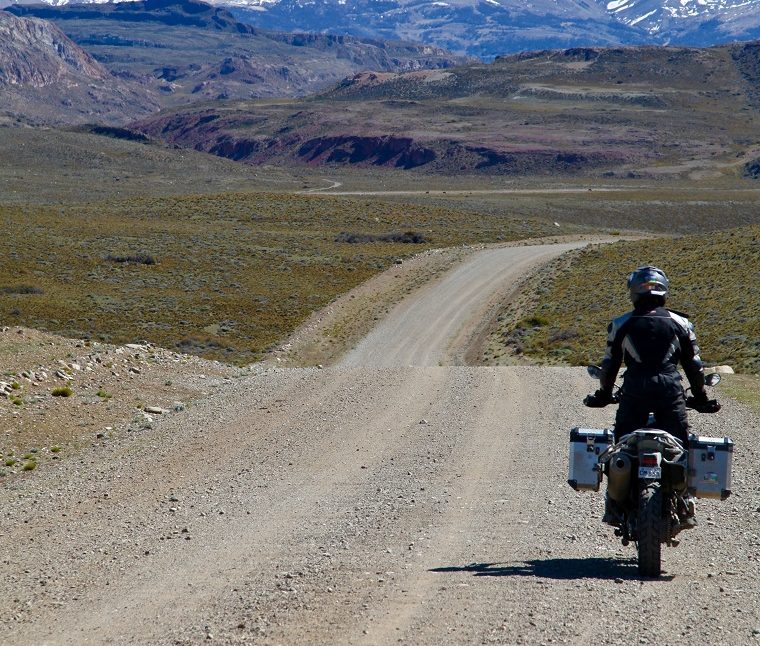 ---
Want to ride Ruta 40? Here's how you can…
I didn't rent my Beemer in Argentina. I rented it in the city of Osorno in neighbouring Chile, from a BMW Motorrad dealer, tour company and hire shop called MotoAventura.
Why? Two reasons.
First, because Osorno lies near the top end of Chile's Austral Highway, one of the most scenic roads in the world, and I began with a north-to-south ride along the Austral before crossing over to Argentina to take on Ruta 40.
Combined, these two radically different but equally fascinating routes made for the ultimate South American motorcycle adventure.
To do it yourself, contact Sonia at www.motoaventura.cl
If you'd rather ride your own bike along Ruta 40, then, at current prices, Moto Freight offers air freight from London to either Santiago or Buenos Aires for a BMW R1200GS-size motorcycle, at prices starting from £1,450.
Visit www.motofreight.com for more infomation.