Alun Davies nips over to sunny Spain to check out the new 2017 Retro Machine
Bear with me for a short while… This is going to be instructive to all you Himalayan and polar explorers out there.
As I predicted, the first 40 minutes of the new 2017 Triumph Street Scrambler launch was spent focusing on glomus apparatus functions rather than the splendid features of the new bike and the wonderful Spanish countryside.
Glomus apparatus, for all you non-dermatologists out there, is a bodily feature we all possess, namely an arteriovenous shunt found in our fingers and toes. In pie and a pint speak, it's the mechanism by which the body shuts down blood supply to the extremities in favour of preserving core vital organs. It does this by opening up a series of shortcuts between arteries and veins in your fingers and toes.
If they stay open long enough then you get numb fingers followed by frostnip, then frostbite and eventually a spot of amputation. Anyway, that's the long way of saying my fingers were numb and bloody freezing to the point of pain.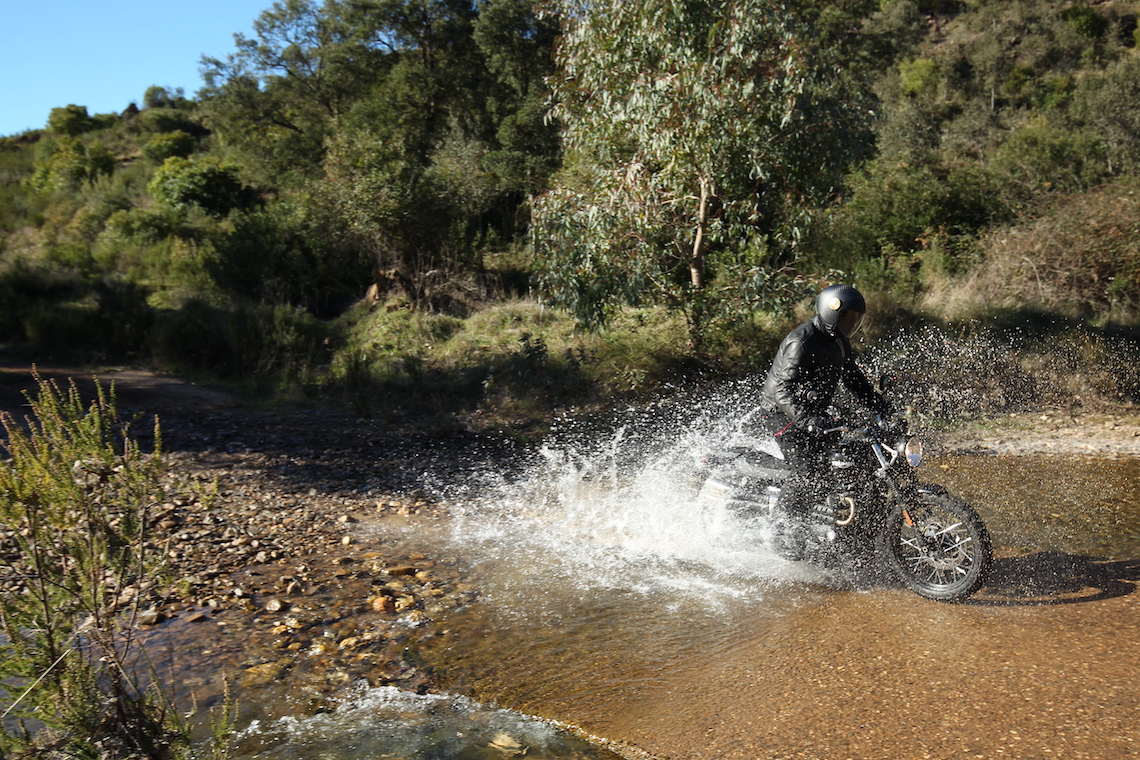 You see, Spain had been invaded by the Beast from the East, a large block of frigid air that had drifted down from Siberia and set up camp in the Iberian Peninsula. This same meteorological feature had also dumped record snowfalls on Mediterranean islands and (as I type) is the cause of a panic-stricken run on iceberg lettuce in Tesco stores in the UK.
Anyway, back to our ride departure point of Seville, which with January mean temperatures of 18c is noted as being the warmest city on Continental Europe. On the day of the test ride, it was below zero, and as the scrambler came with no handguards or heated grips and we were riding at 80mph on motorways, it was looking like amputation would be a pre-lunch activity.
It was so cold at our first photography stop I was starting to think I'd rather lose a kidney and still be able to roll a cigarette. Numb fingers and fag rolling are a complex mix and one that leads to frustration and spilt tobacco rather than nicotine intake, so, with nothing else to do, I thought it best to check out the Scrambler.
If beauty is a concept triggered by a gentle trickle of neural activity, then the thing between my ears was on full flood alert when it came to the old school looks of the Triumph. I have to say that right now, a retro 'scrambler' is the style of motorcycle most likely to get the Davies wallet to creak open. Not to replace my adventure bike of course but to, er… I don't really know, there is no practical reason. I just love the look, feel and simplicity and I just want one. No, I desire one.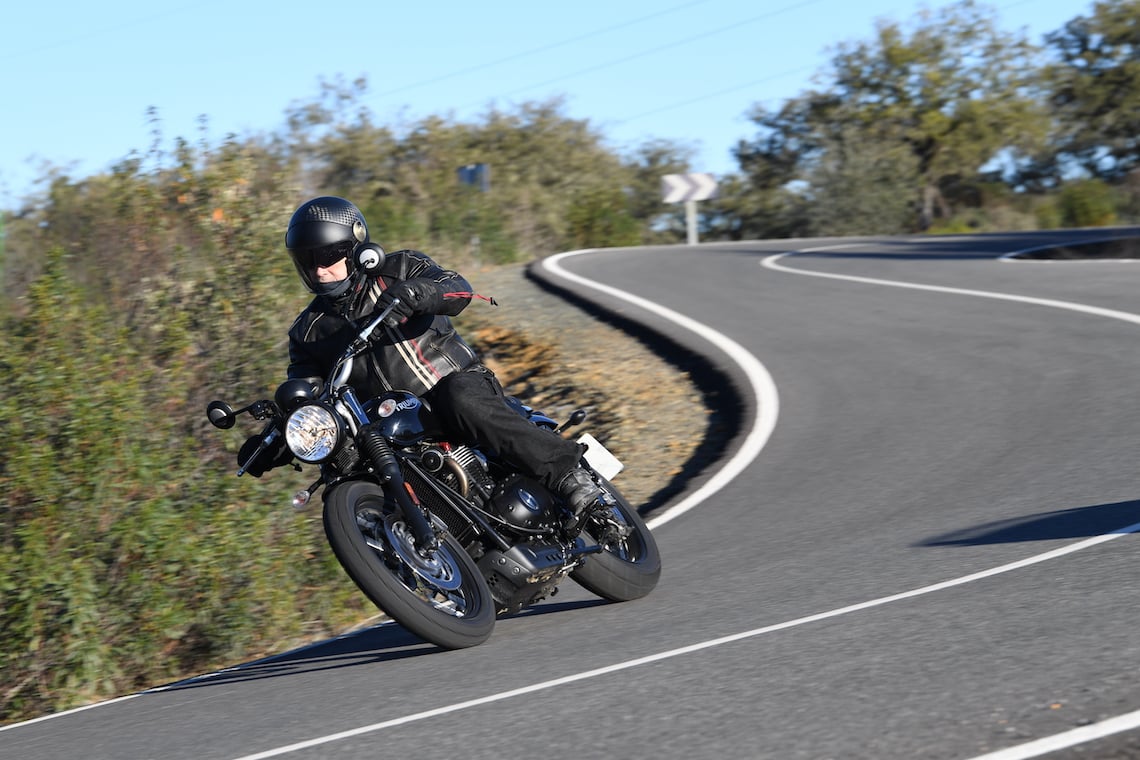 I guess a big part of the appeal, for this rider of a certain age, is that the Scrambler oozes nostalgia from the era when I first realised I was hooked on motorcycles. The Triumph design team has also worked wonders in keeping the retro look to the fore whilst building in modern functions and features.
And then there's stylish, sculptured cooling fins on old-style twin cylinders rather than a slab of squared-off metal hidden behind moulded plastic. And the catalytic converter, which tends to be an unsightly afterthought on modern machines, is expertly hidden out of view behind the exhaust heat deflector plate. It's concealed so well you could be forgiven for thinking the bike was sticking two fingers up at EU directives rather than being fully Euro 4 compliant.
Before moving on to far less important things, such as how well does it perform on and off-road, I'll also point out that it's not just yours truly who considers the Triumph a bit of a looker. The Scrambler is the most in-demand Triumph prop for TV, film and gaming, and apparently, Triumph does not pay for product placement either.
The original Hinkley scrambler made its debut in 2006, way before the current hipster scene kicked in. Speaking of which, if marketing departments and media trends are to be believed, this is a bike hipsters are going to buy in their thousands. Meanwhile, in the world that I ride through, I've yet to see anyone aged under 40 sporting a custom beard, a combed back quiff and a lumberjack shirt on any motorcycle – I am, of course, choosing to ignore the badlands of Shoreditch.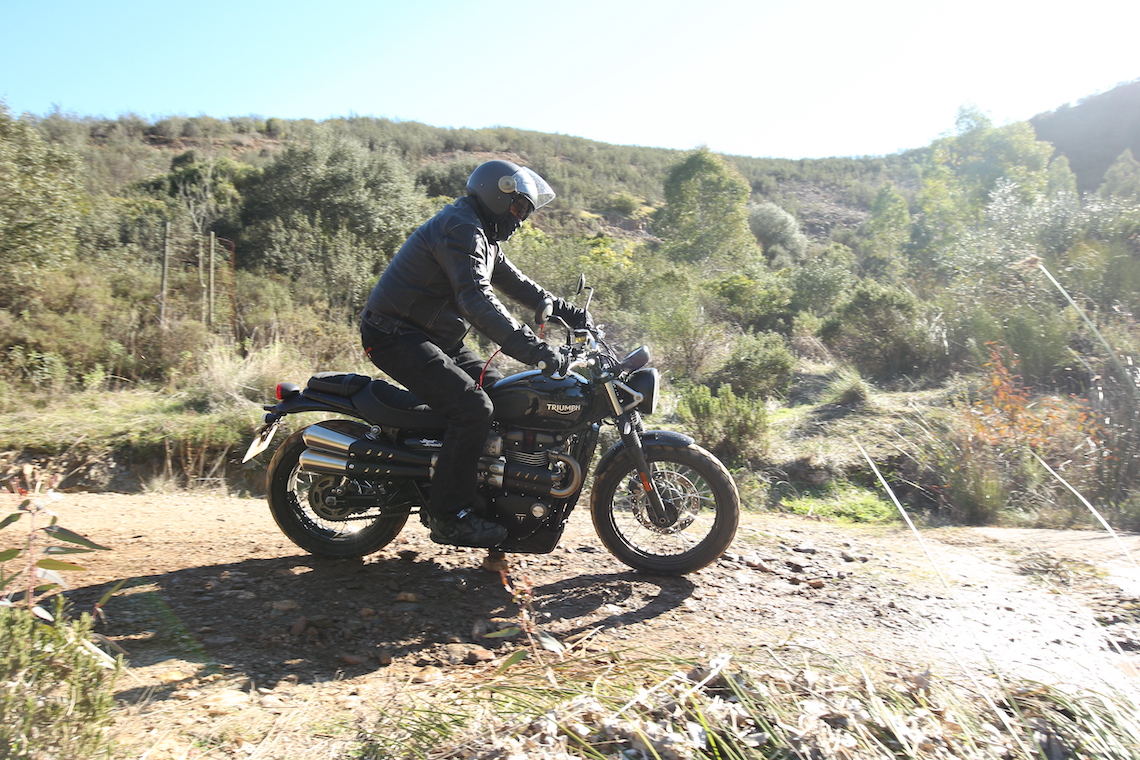 The Scrambler has been under the knife three times over the past 10 years with updates appearing in 2008, 2010 and 2012. The 2017 version is not what you'd call an update but a complete rebuild featuring an all new engine, chassis, electrics, handlebars, seat, wheels and then some. Even so, and despite all those changes, the bike still retains the looks and character I've been gushing over in the paragraphs above.
At first point of contact, if someone had told me the Scrambler was a 500cc then I'd not have questioned them. It is, in fact, a 900cc though it has the appearance of a smaller capacity machine.
If the act of throwing a leg over a lofty adventure bike is one step removed from a chiropractor's waiting room, it's not so with the Scrambler, which is a stress-free task for the ageing, less supple groin. The dual section seat tops out at a forgiving 790mm which also means most riders will be able to plant both feet firmly on the ground. Sticking with seats for a moment, nostalgia kicked in big time when I spied the alternative to the pillion pad – a small aluminium rack.
It brought back memories of how I used to travel back in the 70s when panniers were the exception rather than the rule. I immediately had an urge to bung an Adidas kit bag to the rack and set out to change the world, start a vinyl record collection and write a love poem for Sally James. Oh, how I regret dumping my original vinyl collection during a house move in the 90's not to mention the desolation of Saturday mornings without Tiswas.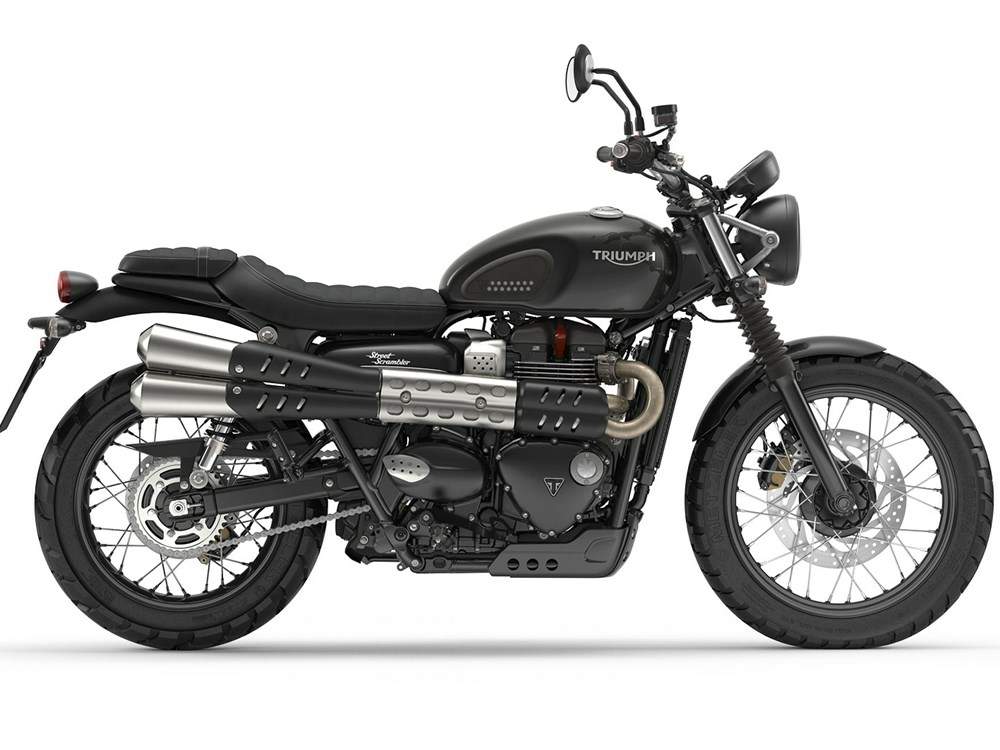 Mind you, this back seat adaptability is not all a bed of roses as the pillion pad is undoubtedly divorce material.
For my 6ft 2in frame the ergonomics are pretty good straight out of the crate. The hands, arse, feet triangle offers an upright stance and is comfy enough. It's not as open as I'd like, or what I'm used too, and over time it began to feel more cramped. I'd definitely add a set of bar risers before leaving the showroom.
There's nothing much to distract up front other than a single analogue speedo with a small digital display built-in. Should you have a mind to flick through the controls, there's switchable ABS and traction control, plus a trip computer, however, I found it refreshing to ride without having cause to deeply consider if anything needed fine-tuning before the next chicane.
I'd forgotten just how knackering it is to ride a naked bike. Later in the morning as the temperatures crept up to bearable, I was seriously enjoying the clean air that a fairing deprives, but also realising how quickly I was starting to tire. Travel any great distance at a fast pace and, if you're anything like me, you'll be tucked up with a Horlicks before the watershed.
The 900cc twin is a beauty of an engine with the torque and power all where you're most likely to get best value from – low and mid-range. I think the technical term is 'stonking'. The ride by wire fuelling is also peachy (another tech term), being smooth and responsive, and whilst this is not what you'd call a fast bike it shifts along superbly within legal speed limits and tends to run out of puff at around 100mph – as do I on a naked machine.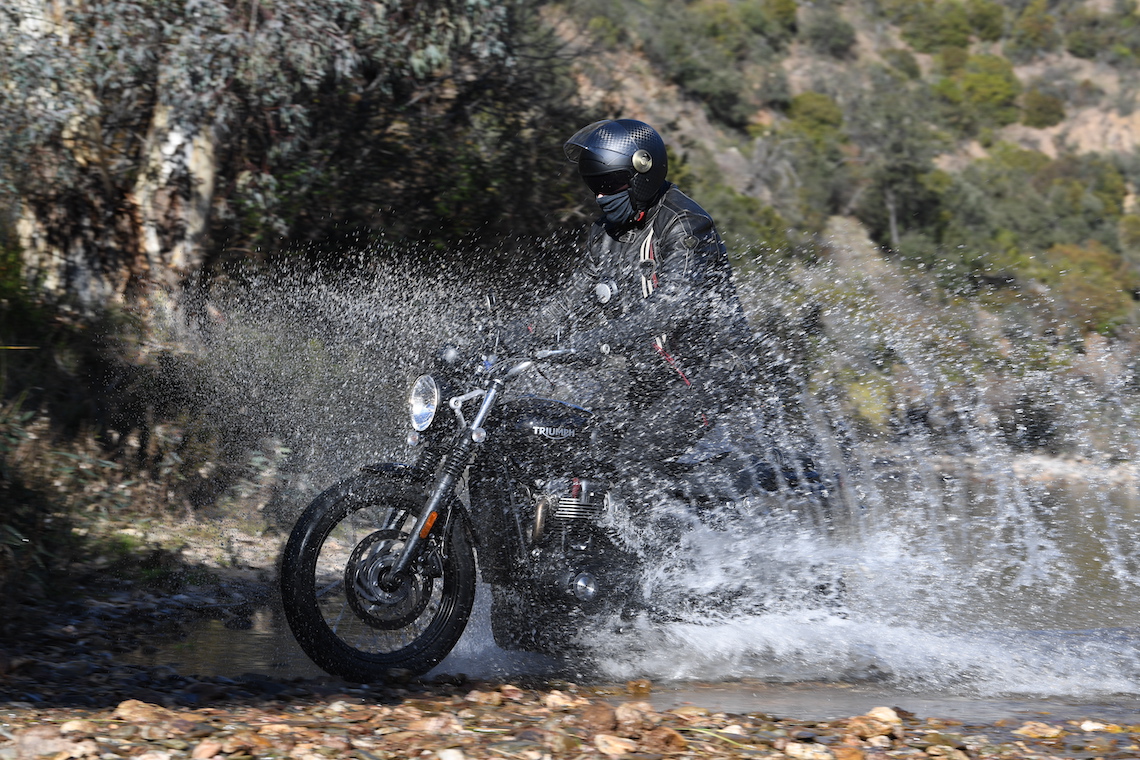 The bike sounds almost as good as it looks and the torque-assist clutch makes for easy, lightweight gear changes, the gearbox is slick and the suspension adequate. With all the above added together, what you get is a bike which is manageable, simple to ride, a great deal of fun and surprisingly nimble and competent in the twisties.
To give you an idea of just how perky this bike is there's not many occasions where I end up scraping pegs these days, and when I do so it's a mix of surprise and delight. With the Scrambler, peg scraping became a regular activity and it's not a particularly low bike either, but then again I'm not particularly lightweight. Even so, this bike will hustle on twisty roads at a pace fast enough to keep you up with the sports bike boys.
As the bike comes with the 'Scrambler' moniker Triumph thought it appropriate that we spent a little time off-road – 'little time' being the key words here. It's a shame really as we spent no more than 10 minutes riding on a gravel trail and just as I was starting to get used to the bike's off-road ability the ride was over.
What I would say is this; whilst the 'Scrambler' is no serious off-road machine, the low centre of gravity and seat, coupled with smooth power and torque make this bike a lot easier to ride and manage in mild off-road conditions than say a larger, heavier and taller adventure bike. Let's put it this way, I'd have no hesitation taking the scrambler on almost all UK green lanes or the desert pistes of Morocco.
However, one off-road riding issue is that when standing up on the scrambler the riders right leg is forced out at an odd angle by the high sided exhaust. This tends to unbalance the bike, and I couldn't help but notice the discomfort of the rider in front as he tried to stabilise the machine and get comfy in the standing position.
So, just who is going to buy a bike like this? The Scrambler is not fast, it's not got the best handling, it's not pillion friendly, there are more economical machines, it's hardly made for touring, it's not particularly comfy and there is no protection from the elements.
However, and this is a huge however, if I bought this bike and it didn't start for three years I'd still be happy popping over to the garage a couple of times a day just to talk to it and stroke various bits and pieces. This bike is a stunning looking machine and the 'scrambler' style appeals to me more than any other. It's also just great fun to ride.
This bike will be bought and loved by riders who remember when every town and village had a hardware shop on the high street, when a K-Tell record collection was all you could afford and when 'would sir like something for the weekend?' was the parting shot euphemism from every barbershop in town. This is riding like we used to know it, without all the old school oil dumping pain.
---
ABR Verdict
As a commuter
Great upright visibility and low seat height made for a spot on urban commuter. Would need a few mods (handguards/heated grips) before I'd consider a long-distance trip to work in anything other than good weather.
As a weekend tourer
The perfect weekend tourer comes with luggage options, long-distance comfort and protection. The Scrambler is left wanting in all departments. The obvious exception is for balmy summer days and for those who spend weekends waxing their moustache in Shoreditch.
As an off-roader
If you just read spec sheets then it's a no-hoper. However, I guarantee that the low seat height, balance and smooth, torquey engine would better suit most novice trail riders than the tiptoe high perch of an adventure bike. Mind you, I'm talking easy off-road trails taken at slow pace. This is no enduro.
As a continental road tourer
Not the first bike that springs to mind for continental touring. The lack of protection makes high miles in the saddle a tiring and exposed experience. However, if your idea of European travel involves short days in summer conditions… Why not?
As an RTD Overlander
The lack of luggage options aside, the scrambler would make a fine RTW machine – that said, packing light is a virtue learnt from experience. It would also take you to places where you'd probably not go on a tall, heavy adventure bike.
As a pillion carrier
The standard 'pillion pad' would form the basis of a bitter divorce petition though the optional 'bench' seat looks as if it would be OK for shorter rides. This is a 'me' bike rather than 'our' bike.