The latest and greatest biking kit.
Scala Rider Packtalk Duo
£549.99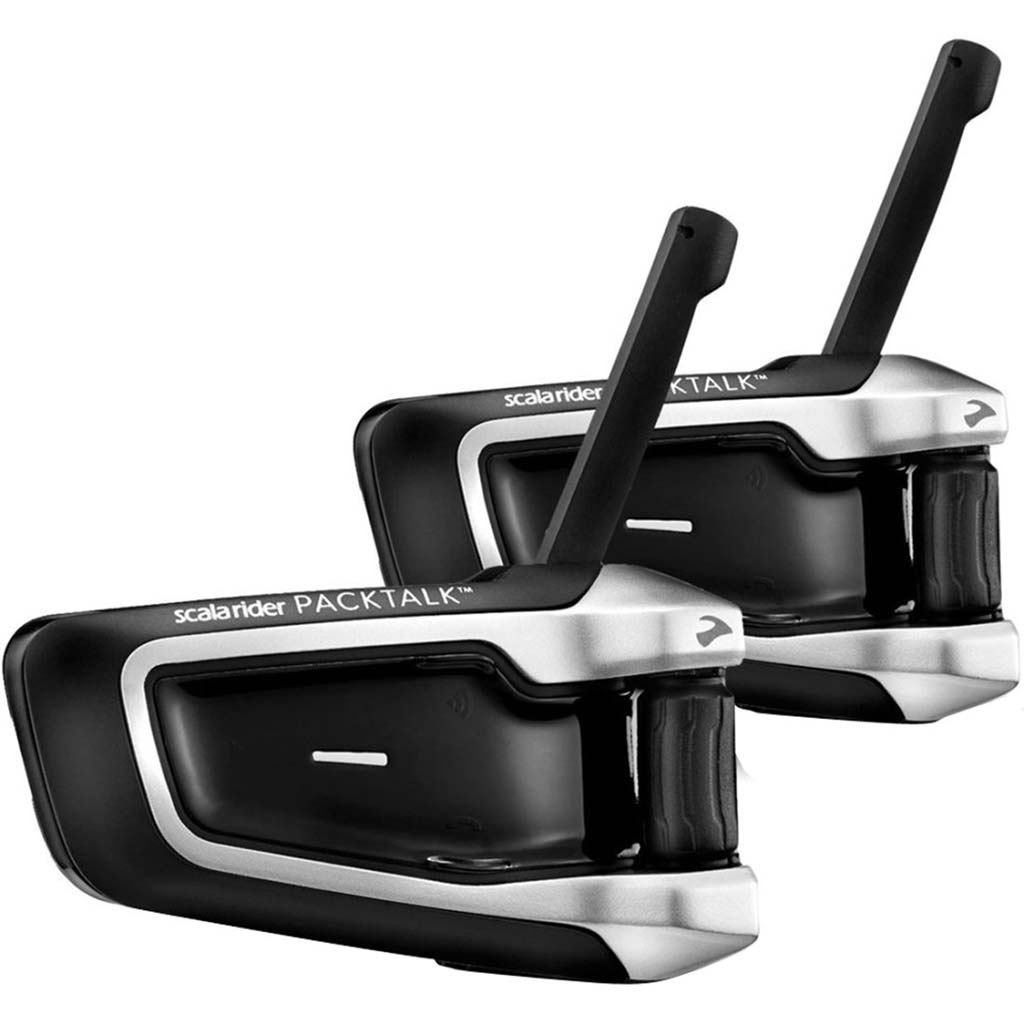 For a lot of us, getting on the bike is a chance to unwind and escape from the real world without any distractions from partners, kids or work commitments, but sometimes it's nice to be able to talk or listen to music as you do battle with the twisty Alpine roads. And that's where the Scala Rider Packtalk comes in.
Billed as one of the most sophisticated motorcycle comms units on the market, the device combines DMC (Dynamic Meshwork Communication) and Bluetooth technologies to allow large groups of riders to maintain constant connectivity, with each user able to leave and re-join the group chat without compromising the conversation.
The device has a simple flat plate roller-wheel control mechanism, which makes it super easy to operate with gloved up hands, and with a one-mile range for bike-to-bike communication, which can be extended to as far as five miles with four riders, it's a perfect solution for those looking to communicate while on a rideout.
Calls switch automatically to your phone when out of range, and other features include a private one-to-one chat which allows you to have a conversation which other group members can't listen in on (sneaky), as well as four-way conferencing.
Not only can you communicate effortlessly and seamlessly, but you can also listen to music or the radio (which is built into the device) and listen to route instructions when it's paired to your SatNav.
It's compatible with most Apple and Android phones and has its own, brilliantly designed app which makes controlling and setting up the device a stress-free job. On a full charge of battery, it'll offer 13 hours of talk time or a whole week on standby.
With the Packtalk Duo, you get two of the devices, making it a fantastic choice for partners who ride, and at £549.99, you'll be saving yourself over £100 than if you were to buy them separately (£329.95 for a single unit).
Saxx Vibe Boxers
£19

When it comes to staying comfortable in the saddle, layering your clothes correctly is key.
Technical base layers, both on the upper and lower body, will help to keep you warm and dry by wicking moisture away from the body, and while these two garments are seen as staples in the adventure motorcyclist's wardrobe, I'll usually get dressed by first slipping on my 'normal' cotton boxers.
But really, if I want to be as comfortable as possible, I'd be wearing performance underwear that's comfortable, is able to wick sweat away, and will dry quickly if it gets wet.
That's where the Saxx Vibe Boxers come in. Made from a blend of viscose and spandex, these pants are super soft to the touch and feel great when worn, they do a brilliant job of wicking moisture away from the skin, and the overall comfort is a joy.
For staying comfortable in the saddle, these are spot on.
AlcoSense Pro Fuel Cell Breathalyzer
£149.99

You wouldn't jump on the bike after having a few pints in the pub (at least, I hope you wouldn't), but a lot of us wouldn't think twice about setting off in the morning after a heavy night. I've done it before, and I'm sure many others have as well, but despite it being a few hours after the event, there's every chance that you could still be over the drink-drive limit.
Now, I'm sure I don't have to drill home why you shouldn't get on the bike if you're over the limit, but if your intentions are good, how do you know when you're safe to ride again? You could go by feeling, but that's wildly inaccurate – to be sure you need to be able to measure your blood alcohol level, and that's where the AlcoSense Pro comes in.
Marketed as the most advanced breathalyzer on the market, The AlcoSense Pro is a seriously specced up piece of kit, and for £149.99 you'd hope that to be the case. Not only will it give you a super accurate blood alcohol reading, but you can select any country in the world from the onboard menu to see if you're over the limit for where you're riding (perfect for touring).
If you are over the limit, the device will tell you how long you'll have to wait 'till you're sober again (at which point, test your breath again to be sure), and then off you go. If you like to have a drink after a day of riding, it's the perfect companion to keep in your tank bag, and AlcoSense will recalibrate the device for you every year free of charge.
Bell MX-9 Adventure MIPS
£189.99

Back in 2015 I reviewed the original Bell MX-9 Adventure helmet, which was new for that year, and found it to be an adequate offering in the budget helmet market (the original version retailed at £149.99). This year, the company has updated the MX-9 to make use of MIPS (multi-directional impact protection system) technology in an attempt to ramp up the safety on offer.
For the most part, the helmet is the same as it was originally in 2015, and as we discovered then, it's one beautiful looking lid, especially in the white, black and red colourway that we were testing. If that's not your style, then you're sure to find one you like from the nine variations available.
Ventilation is still provided by a large, closable chin vent, two brow vents (which you can't close) and an exhaust vent. In summer this combination works excellently, but it'll get chilly when the temperatures drop in winter.
While the peak still catches the wind a lot at 70mph and you'll want to remove it if you're doing long motorway miles, Bell seems to have remedied the fact that the visor comes loose when the peak is removed – a welcome upgrade. Comfort is excellent, with the inner lining being nice and soft against the skin, though the permanently open brow vents contribute to a lot of wind noise.
By far the biggest upgrade to the MX-9, however, is the MIPS technology. This is essentially a slip-pane system between the inner lining and the impact layer of the helmet which aims to reduce the effects of rotational forces on the brain by decoupling the head from the helmet.
By doing this, the helmet can offer a further level of protection against concussions, nerve fibre injury and brain bleeding, and that can only be a good thing.
Biketek Boot Wash Stand
£25.99

There's nothing fun about washing your boots after a long day on the green lanes. It's a fiddly mess at the best of times, and I always end up accidentally filling them up with water.
Recently, however, I've been using the BikeTek Boot Wash Stand, a nifty little metal rack that's designed to stand your boots securely upside down so that you can go to town on them with a pressure washer without having to worry about filling them with water.
Once sparkling clean, the stand is also the perfect spot to leave them to dry and air, ensuring complete, thorough drying which will help prevent bacteria and bad smells from building up. At £25.99 it's a nice, affordable addition to the garage.
Motorcycle Live Tickets
From 19.50 per adult (children 11-16 – £1 and Senior 65+ £15)

While bikes around the country are being wheeled into their garages and packed away 'till next spring, for me November is one of the most exciting times in the biking calendar.
Throughout this month, most of the bike manufacturers announce details of their 2018 models, and we'll be able to see them in the flesh at Motorcycle Live! Held every year at Birmingham's NEC, Motorcycle Live is the UK's biggest motorcycle exhibition.
This year it's going to be taking place between 18-26 November, and there'll be the chance to see all of the latest metal from the major bike manufacturers, the latest and greatest gear, and more chances than ever to test ride bikes while at the show. The popular Experience Adventure off-road course is also returning for 2017, so make sure you check it out.
To make this year's show a better experience for visitors, a brand new Motorcycle Live app has been launched. Available on Apple and Android devices, the app will provide you with real-time notifications based on your location within the Motorcycle Live halls.
With so much going on, it's the perfect way to ensure you don't miss out on rider signings, interviews, special offers, catering discounts, traffic updates and other news. Simply search 'Motorcycle Live' in the app store of Google Play store to find the app.