Is the Honda X-ADV a scooter, or is it a motorcycle? This, perhaps, has been the only thing on my mind since the launch of the new Honda X-ADV over in Sardinia earlier this year. Just to let you know how this perturbing question has taken over all aspects of my life, I've overlooked two of the kids' birthdays, I've forgotten I have other offspring, and our wedding anniversary passed in a haze of 'to scoot or not to scoot' – we are based in Stratford upon Avon, after all.
Anyway, I have a chance of a little redemption next week as the perfumed half of the living room has agreed to a long weekend of biking, or should I say scootering. We're taking the X-ADV.
>>> Read our full review on the Honda X-ADV here

And that's a shame, as I was hoping to have done so before writing this piece so I could comment on its performance with a pillion on board and just how happy that riding partner is at the end of a long day on the saddle. I'll report back on that.
In the meantime, I'd like to point out she's more than happy with the discovery of an under-seat storage area and the 'cute' light that comes on when you open it. Maybe the clue is in the use of 'cute', as I don't think I've ever heard that word used in a conversation that's included the word 'motorcycle'. So, for now, I'm edging towards… It's a scooter.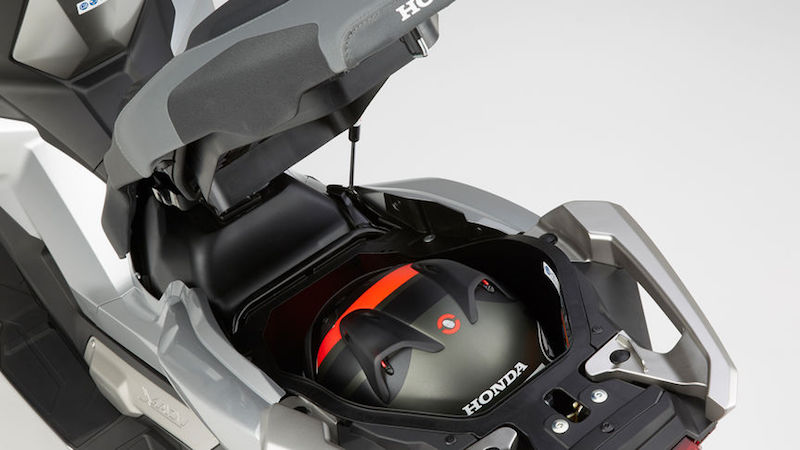 What I've been impressed with, is the day-to-day convenience of the X-ADV when used as a commuter, for nipping down the newsagents on a Sunday, and for bopping over the other side of town to the gym.
On a psychological level, I don't feel as though I must dress up in all the paraphernalia when riding the Honda which, on the one hand, I like as it cuts out loads of faffing, but on the other hand, leaves me exposed to adding to my extensive collection of gravel rash. I can live with that.
On a practical level, the X-ADV has been superb. With just a top box and the built-in storage, I'm able to park up and pop my helmet under the seat whilst not having to worry about there being enough room to stash stuff I didn't know I was going to buy. Ditto when riding to the gym with a kit bag and getting a text to say, 'could you pick up X Y and Z on your way home?'
In addition to learning to live without panniers, on the couple of occasions I've rode to work in the rain, the protection has been superb with not even a drop of wet appearing on my shoes or jeans.
Over the next month I'm intending to check out the X-ADV on a few of the local green lanes, and maybe even head over to Wales for something a little more challenging. I wonder if I can fit a shovel, tow rope and winch under the seat.
Honda X-ADV specs at a glance:
Price: £9,599
Engine: 745cc parallel-twin
Power: 54hp @ 6,250rpm
Torque: 50.14ftlb @ 4,750rpm
Gearbox: 6-speed auto
Suspension: 41mm upside down forks
Brakes: ABS
Wheel/tyres:
Front: 120/70 17
Rear: 160/60 15
Weight: 238kg kerb
Seat height: 820mm
Ground clearance: 162mm
Fuel capacity: 13.1-litres
MPG:  77 (claimed)