GOING SOFT
Big softie Paul Jennison checks out the latest luggage options for fabric pannier fans
A good few years ago, I was hurtling across the Netherlands in horizontal driving rain on my beloved ZX9 with my sporty throw-over soft luggage on the back, held in place by my pillion. When we eventually arrived at the hotel, soaking wet through, we squelched up to our room and unloaded the equally soaking-wet contents of our luggage. A great way to start a weekend! It was about then that I started thinking hard luggage was probably a better option, but I wouldn't be seen dead with solid panniers on a sports bike. Fast forward a few years and the adventure bike bug had bitten hard. My choice of luggage is definitely hard cases, because they're waterproof, and more importantly, they look the part.
But taking the blinkers off for a minute, there are still some advantages to using soft luggage, besides the fact that not everybody likes the bulky metal pannier systems that adorn the majority of adventure-style motorcycles. Add to that their weight and a lot of adventurer riders are put off even considering boxes as a means of transporting their gear around the world. Yes, they are more secure and generally watertight, which helps keep your belongings safe and dry, but hard luggage can be a bit onerous if you want to travel off piste and explore the more remote spots. Cases also damage easily when the machine inevitably goes down on a rocky track and then you could find yourself spending the next few hours seeking a panel beater and welder before you continue.
In contrast to this, lighter soft bags are fairly easy to remove and carry; they'll also cope admirably in the event of a fall. Sure, they are more vulnerable to the opportunistic thief, who may be looking to relieve you of your belongings, but for travelling light and being more agile on the trails then soft luggage is a good alternative to metal boxes.

Most of these soft luggage options are waterproof and quite sturdy in design with robust fasteners to keep everything secure and in place. However, very few can withstand a fall and come out unscathed or prevent a sharp blade from penetrating the fabric when the local tea-leaf chances his arm. But they can be easily repaired with a little knowhow and a needle and thread.
Some things to remember about soft luggage:
Anything sharp stored inside a soft bag can wear through the outer.
Fragile items, like cameras or even a stove, are more vulnerable, even if they're wrapped up in among your belongings.
Soft luggage will fade and wear out quicker than its rigid counterparts, so may need replacing a lot sooner. These things have to be considered when making that all-important decision: soft or hard luggage? For most, it will come down to the type of trip you're going on and personal preference.
Features we like
Mounting frame A decent framework on which to mount the bags has to be your first consideration. Straps and bungees have their place, but if you want to access a bit of kit without undoing all the bindings, then it's better to have the bags fastened to a frame. A good solid frame will help spread the weight of the bags and take the strain off the rear sub-frame.
Secure fasteners The bags need to be held in position, so they can't slip into the moving parts of the bike, like the wheels or chain. Strong clamps and buckles will stop the bags from moving about on the framework and also help keep them away from hot exhausts, which will make short work of burning through the fabric and the stuff inside. We also like the additional cross-seat straps that secure the panniers together. That said, they should ideally be relatively easy to release without the need for tools.
Waterproof fabrics This is a no-brainer really. The outer fabric needs to be water resistant at the very least, and if it is waterproof, make sure that the seams are taped or welded. It's also wise to keep your kit inside an additional waterproof bag, too. This may be a minor consideration when you're in the Sahara with not a rain drop in sight, but there's nothing worse than soggy clothes and a wet-through sleeping bag.
Water-resistant zips Your luggage could be made from the most weatherproof fabric there is, but if the zips aren't up to the job then your stuff's going to get wet. Look for water-resistant zips or those that at least have a weatherproof flap either over the top or underneath, to prevent water getting through.
External pockets It's always good to have a couple of outer receptacles in which to store small items such as tools that may be needed in a hurry. Having to rummage through the main compartment for a tiny bit of gear can be a right pain. Even a bottle-holder on the outside of the luggage for water or fuel can be useful.
Tips on packing
For better handling and manoeuvrability either on-or off-road, the bike's centre of gravity should be kept as low as possible. Most bike manufacturers recognise this simple law of physics and build them accordingly. So if you're going to add to the weight with a luggage system of any kind, then bear in mind that you should follow that trend.
The same advice goes for packing. Heavier items should be at the bottom of your pannier and towards the front of the case nearer to the bike's main weight, the engine. Then lighter items can go on top. You'll be surprised how much stuff is unnecessary, so take your time and work out what you actually need and any stuff you're unsure about, leave behind.
Oxford RT30 Panniers SRP £69.99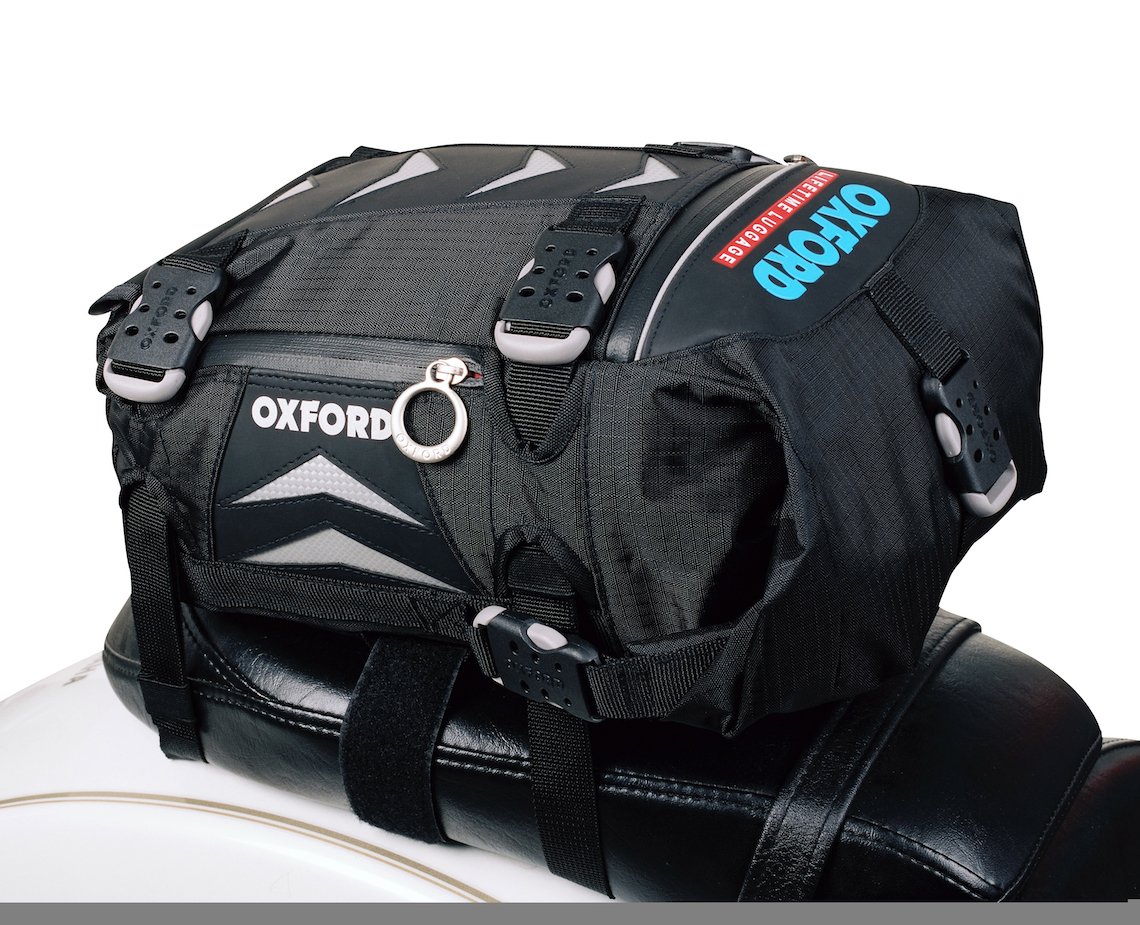 If you're considering your first long trip this summer, the soft-pannier option could well be the way you want to go. If so, it's possible you won't want to shell out mega bucks in case you decide hard luggage is your future. There's also the possibility that less money spent on gear means more moolah to fund your adventure. If so, then the Oxford RT luggage range is a good place to start looking.
Although I'd recommend a frame to support panniers, these throw-overs can be used without one by fixing them directly to the footrest hangers. They can also be used as a tail pack by strapping one pannier to the seat (see pic, above), which could come in handy for daily use on your commute.
The roll-top bags are made from 420D (denier) ripstop nylon, which is robust and waterproof, however, the seams are folded and then stitched so may be a bit susceptible to leaking. Oxford must know this too, because there's a waterproof liner inside the bags and this does have taped seams. The back of the bags have an abrasion-resistant pad, which will protect the bags and your paintwork. There are Velcro straps, which will join across the bike seat, and a further strap to fasten around the rack. There are also additional D-ring straps, which can be affixed to each corner of the bags and tied where you decide.
Externally the bags have two small side pockets and one large one with water-resistant zips to store handy items. They also have compression straps, to hold the 30-litre capacity contents securely.
In a Line: Decent entry-level luggage for a first-time tour
ABR Rating 6/10
Ortlieb Motorcycle Saddlebags SRP £166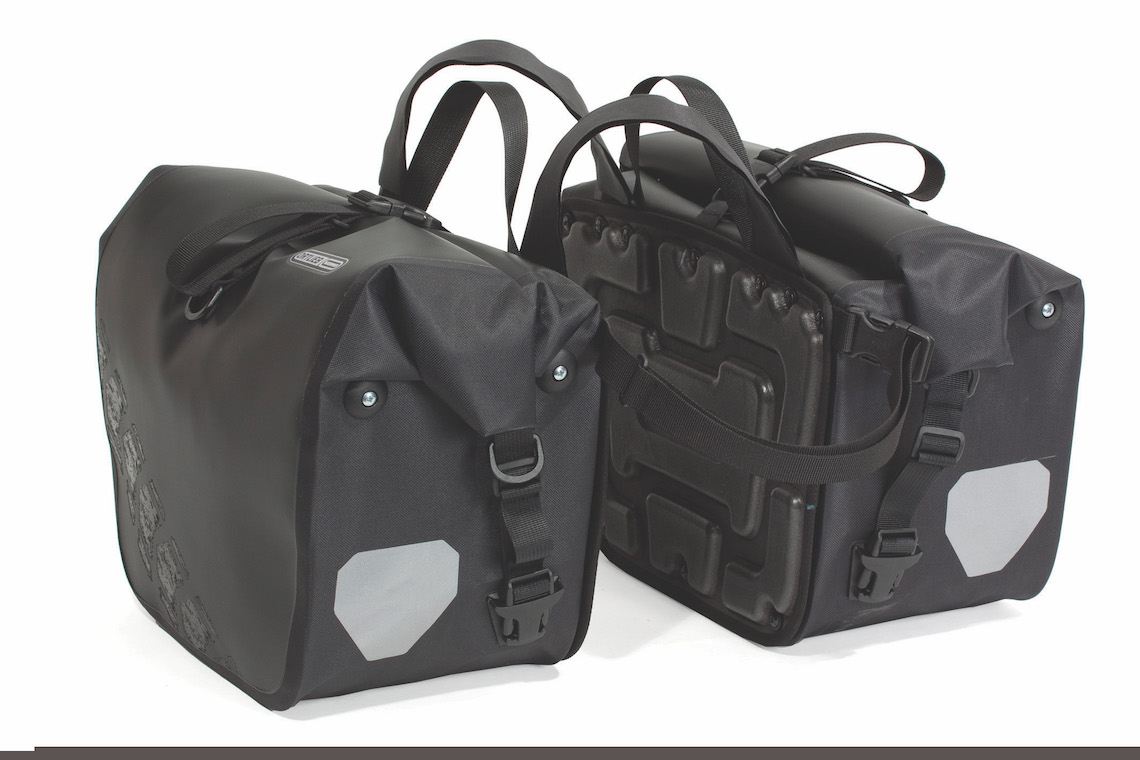 I have a couple of Ortlieb roll bags, which I strap across the back seat when going on trips. All my camping kit goes in them and I can happily state they have never let so much as a drop of water through. So if you want a pair of throw-overs that are going to be waterproof and easy to use then Ortlieb's redesigned saddlebags may be the answer.
As these are throw-overs they don't require a rack. They have two straps that go over the pillion seat and two side straps that can either be clipped bag-to-bag or fed around the framework to secure them to the bike. That said, I'd prefer to support the weight with a rack myself.
The bags are roll-tops made from heavy duty vinyl with welded seams to prevent any ingress of water. The roll top on each bag clips down at each end as well as having a central compression strap to stop it unrolling in the middle when fully loaded; the combined capacity of these bags is 52 litres. The bags have a reinforced back panel, to protect them from abrasions from a frame and to protect your paintwork. Both bags also have internal zipped pockets for small items like documents as well as some small organiser compartments.
If you want simplicity in your saddle-bags but demand that they are waterproof and robust with good carrying capacity then the Ortlieb's are a good purchase.
In a Line: Simple, robust and very waterproof; a good place to start
ABR Rating 7/10
Wolfman Expedition Dry Panniers SRP £167.50 (pair)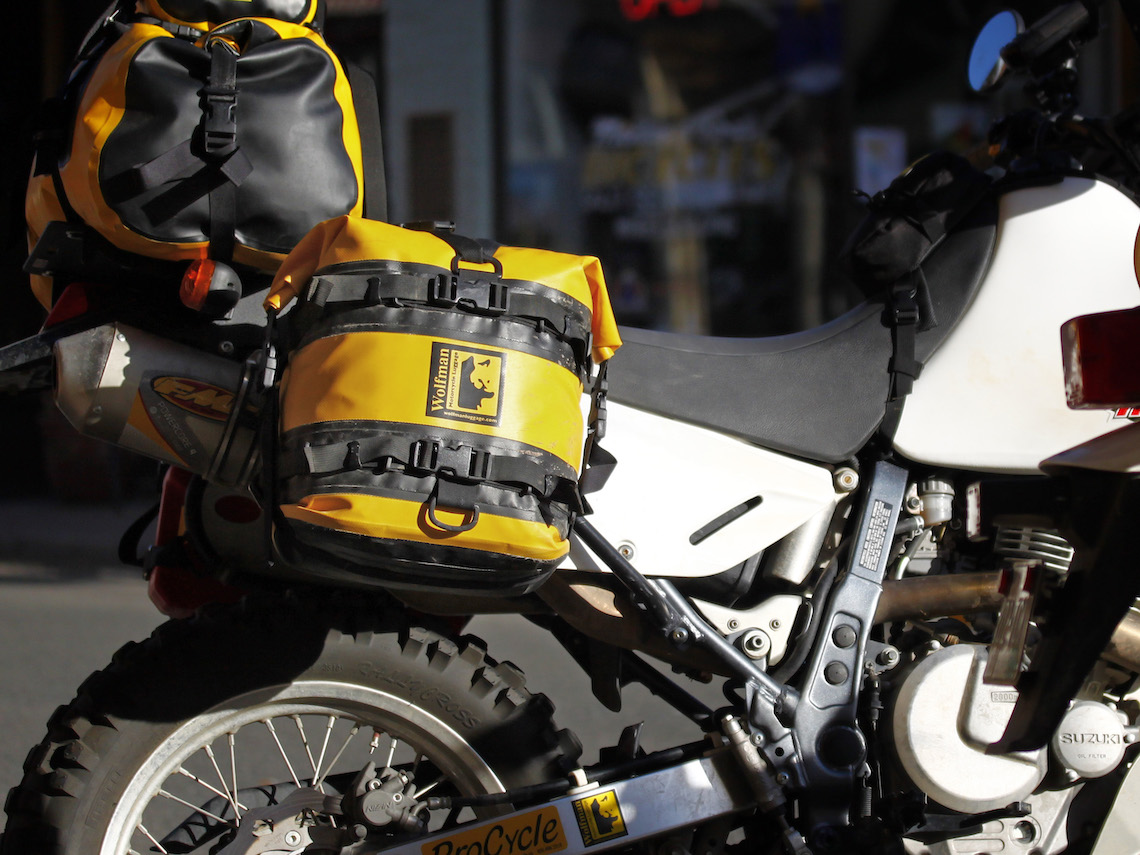 Wolfman is a well-known company that makes soft luggage systems for adventure motorcycles and the Expedition Dry panniers are very popular bags in its range. At 19 litres each under normal use, they're not the biggest in terms of capacity, but the extra-tall opening can adjust to add two or more litres to each bag. They also secure well to a frame and can be removed reasonably quickly. If the capacity on these is still not enough, have a look at the company's Rocky Mountain bags, which come in at 32 litres each.
Wolfman makes its own rack for the bags to clip onto, but there are eight (four per bag) D-ring straps included that can be used to fastened these bags to a multitude of other racks and will essentially do the same job. For extra security there are straps that cross over the back seat and clip together, however, the clips are quite bulky and if you're planning to carry a pillion, they might find them uncomfortable to sit on.
The bags are made from heavyweight vinyl and all the seams are welded to ensure they are water tight. As mentioned above they have a roll-top opening, which is held down by clips each side as well as a central strap to stop it unravelling. Each bag has two lateral adjusting compression straps, which combine with the mounting buckles to ensure a strong fixing and help hold the load tight.
Inside the bags there are removable stiffeners, which help keep the contents evenly compressed while also protecting the bags from perforation from any sharp objects inside.
In a Line: Strong and waterproof, but on the small side
ABR Rating 8/10
Giantloop Great Basin 2 Saddlebag SRP £292.95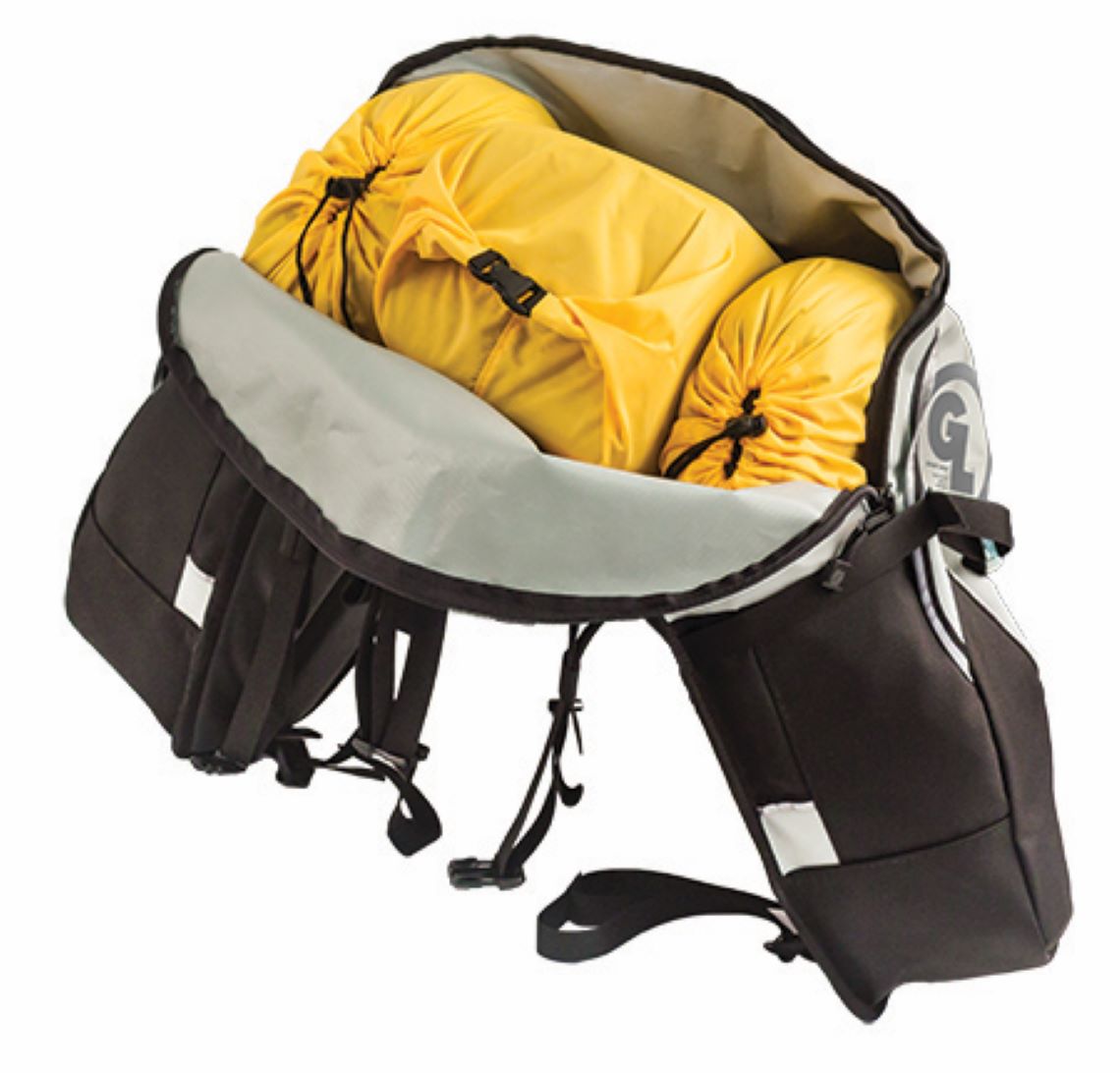 Giantloop's popular Great Basin bag has been updated for 2013 and called the Great Basin 2 – catchy. The main difference is that it now has an extra 10 litres of storage taking it up to 60 litres. It can be used on any bike with pillion capability as that's where it sits and is secured via two straps that fasten onto the pillion footrest hangers.
The Great Basin 2 is used predominately by dirt-bike riders who are travelling light and compact, but it will suit any bike that fits the above criteria. Made from heavy duty vinyl, it's water resistant and tough. It has a big YKK zip closure, which is covered by a storm flap to help keep water at bay. Although there are pods and dry bags sold separately for the Basin, you can use what you like to stow your gear inside; I'd recommend that you do use something that's waterproof though.
There are compression straps on the outside, which will help keep your load stable and these don't impede the bag's opening if you want to get at readily available items inside. If you want to lock the bag to your bike for added security there's now a loop that will facilitate this.
Giantloop has also included a small heat shield that can be attached to your exhaust to prevent it from burning the bag.
The Great Basin 2 is the largest bag Giantloop does, but the company has a range of smaller ones which may suit your needs. The Coyote (30 litres) and the Mojave (15 litres) might be better suited for shorter trips.
In a Line: A good bag for travelling light
ABR Rating 6/10
Adventure-Spec Magadan Panniers SRP £350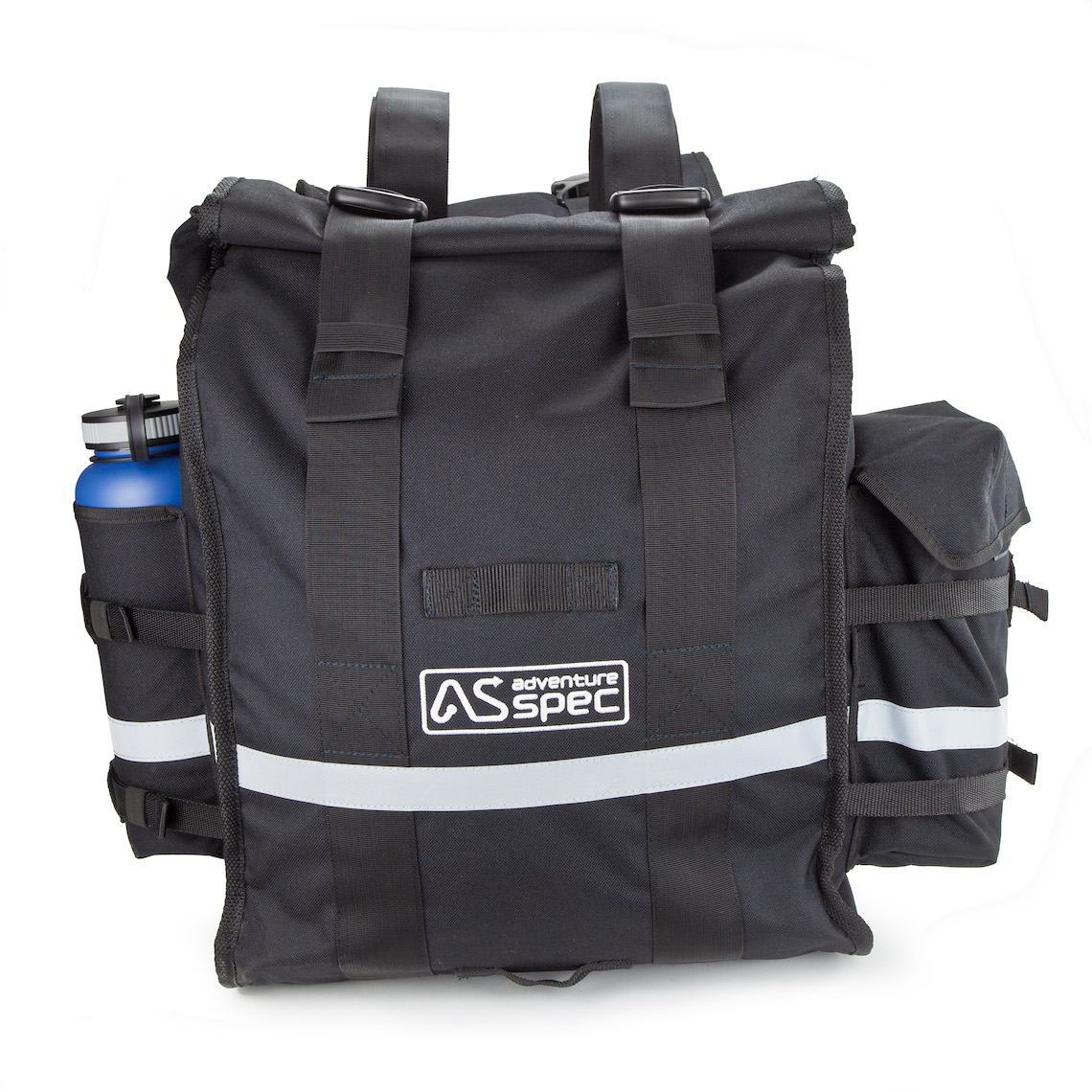 When it comes to travelling across extreme terrains then ABR and Siberia expert Walter Colebatch knows more than most about the sort of soft luggage that's up to the task. That's why these Magadans are so good, because Walter developed them in conjunction with Adventure-Spec to fulfil his needs when travelling, taking into account security, weatherproofing and abrasion resistance.
The Magadans have been designed for use with a frame, firstly to support the weight and secondly for extra security, which I'll come to. The outer is made from a very strong 1000 denier Cordura, which is extremely abrasion resistant. Behind that is a Kevlar/Twaron fabric, which not only helps prevent friction damage but more importantly makes the bags slash-proof, to prevent the opportunist from making off with your goodies.
The roll-top design mean the capacity can vary from 24 to 32 litres. There are also removable stiffening panels to help the bags keep their shape. They are water resistant and come with a taped-seamed dry-bag liner, which can be removed from the panniers on its own without taking the bags off the bike.
The bags have two Velcro straps that go over the rear seat and can then be strapped to the frames using your own straps for which there are horizontal hoops to accommodate them. I mentioned the extra security aspect and this comes in the form of additional vertical loops for a Pacsafe cable to be threaded through and locked to prevent theft, although the cable isn't supplied.
There are four external pockets on the outside for fuel/water containers.
In a Line: Designed by a seasoned traveller for his and your adventures; seriously recommended
ABR Rating 9/10
Giantloop Siskiyou Panniers SRP £475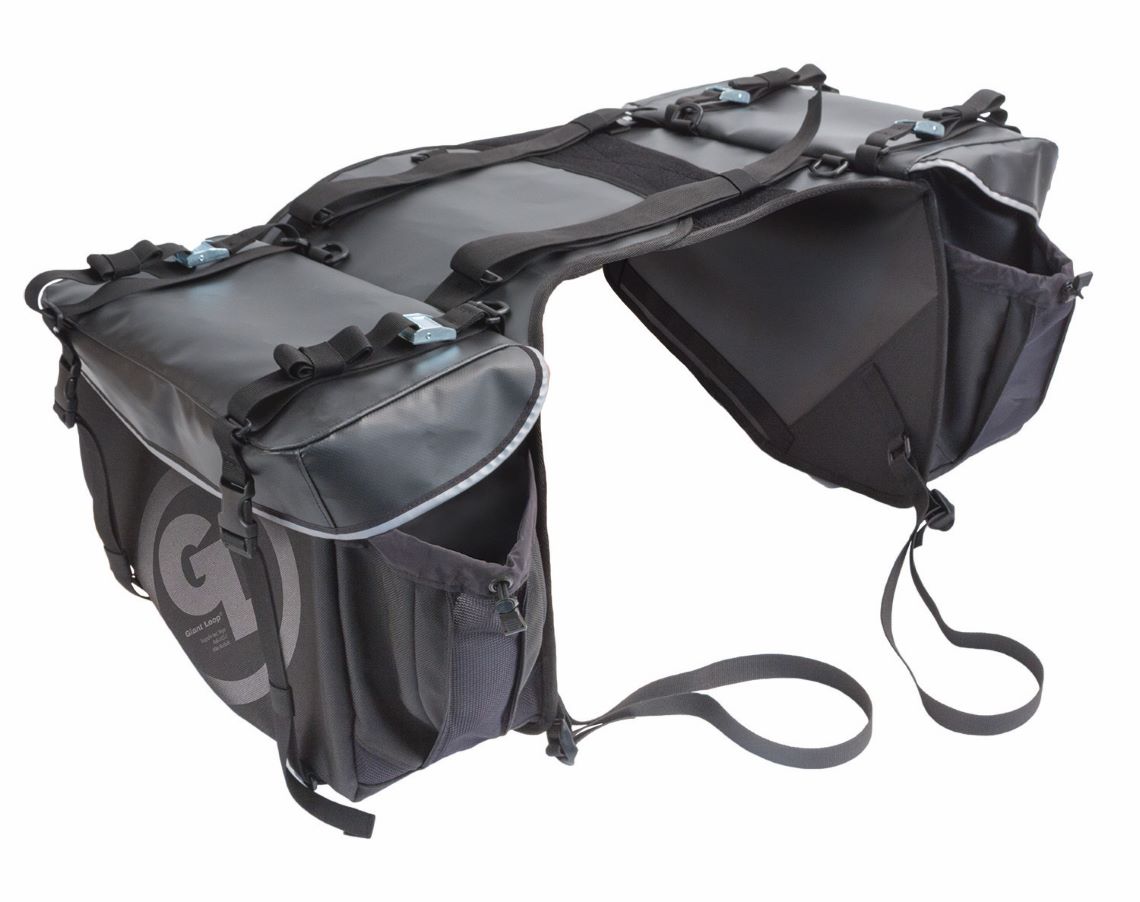 The Siskiyou Panniers are quite a new product from Giantloop, a company better known for its horseshoe-shaped bags, popular among dirt-bike riders (see Giantloop Great Basin 2 review), but this is the company's more traditional throw-over pannier system, marketed as a 'round the world contender'.
These bags have been designed for use without a rack, but you should know my views on that by now. They can be secured to the pillion footrest hangers with a strap at the front of each bag and there is a very large Velcro pad which joins the bags together over the rear seat. There are also additional tie-down eyes for added security or for attaching more luggage.
The bags themselves are made from a heavy duty vinyl-coated fabric and each boasts a capacity of 35 litres. The cut is similar to sports bike throw-overs, which is useful if your bike's exhaust is upswept. The bags have a zipped lid with a storm flap and fastening straps, but they are by no means waterproof because they come with a clip-in and zipped waterproof liner bag. Inside the lids there are zipped mesh compartments for stowing small items of kit.
On the front of each bag there is a two-litre stash pocket with a drawstring closure. These are ideal for water or fuel containers.
Overall the Siskiyous are well-made with good features, but it's a shame they're not waterproof.
In a Line: Pricey panniers, considering they're not waterproof
ABR Rating 8/10
Kriega Overlander 60 SRP £489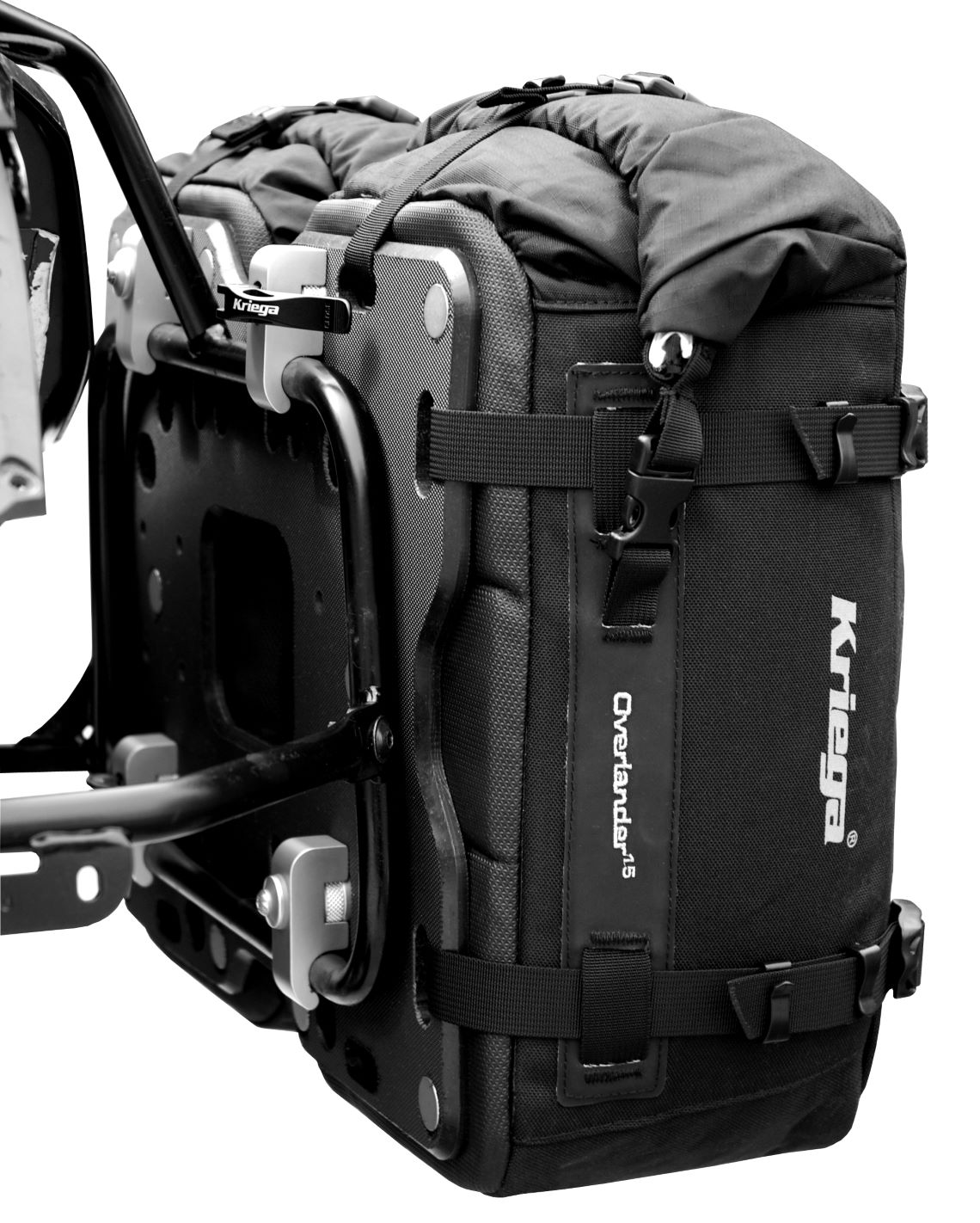 I've used quite a few Kriega items over the years from waist packs to the company's popular US series bags. Its products have always proven to be flexible and robust, but more importantly, waterproof. The bags always have a liner, which is fixed into place with Velcro to ensure that no water enters the inside.
The Overlander is a variation of the US bags system that uses four 15-litre packs that are attached to a platform, which in turn mounts onto an 18mm tubular frame.
The platform is made from very heavy duty CDPE, which is a solid plastic resin. These platforms are held onto the frame by cam levers, which ensure that they stay securely fastened. The four individual bags are secured by means of stainless steel fasteners (five on each bag) which attach through the bags' outer; integrity of the bags is maintained by the waterproof liner. If I have one criticism of the fixing system it's that the bag fastening holes didn't line up with their corresponding points on the platform. However, once the bags were on they performed as well as any Kriega bag I've used before.
There is an option to replace one of the packs with two Rotopax one-gallon fuel and/or water containers. These have a separate mounting system for the platform, but it's a good option if you're planning to be out in the wilds.
The system is easy enough to remove, but it's a bit bulky to have to carry around and there is no way of securing the bags.
In a Line: A flexible, waterproof system, but a bit fiddly to fit
ABR Rating 7/10