Before I passed my big boy bike test and was riding on a CBT licence, I had dreams of owning a learner-friendly adventure bike, but the only few that caught my eye were the Derbi Terra Adventure 125 and the Honda Varadero 125. Both were way out of my price range (if I wanted one that wouldn't fall apart underneath me), and so I eventually went without until I passed my test some months later. Today, however, if I was riding on a CBT licence, which restricts riders to bikes with a 125cc engine, there's a bloody brilliant little bike that's both affordable (£2,400) and stylishly adventurous – the Sinnis 125 Terrain.
Over the past few months we've had the plucky Chinese-built adventure bike on loan, and will be giving you a full review shortly, but here are my initial thoughts.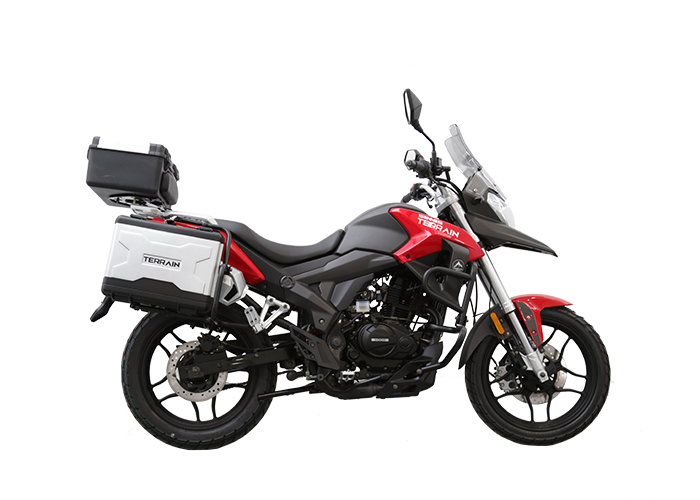 The bike was released earlier in 2017 and, on first glance, it's an attractive looking machine. Considering the less than glowing reputation that Chinese bikes have earned over the past few years, I was surprised by how solid the Terrain felt underneath me. The only thing that does look a bit 'budget' is the panniers and top box. These, while adequate to ferry basics and essentials around, are more like sandwich boxes and look far too easy to break into.
Riding the Sinnis 125 Terrain was a very pleasant experience. OK, the 11bhp engine pootles along more like a lazy donkey than a thoroughbred stallion, and with my 18st of weight it starts to struggle up hills, but as soon as I got it into my head that speed isn't everything, I actually started to enjoy the slower-paced nature.
I began noticing things that I would usually have blitzed past, without the power to overtake cars there's no frustration at the one in front doing a few miles under the speed limit, and when it comes to fuel economy your wallet will stay in your pocket for a long time. A 170-mile on and off-road route used just over half of the 14-litre tank.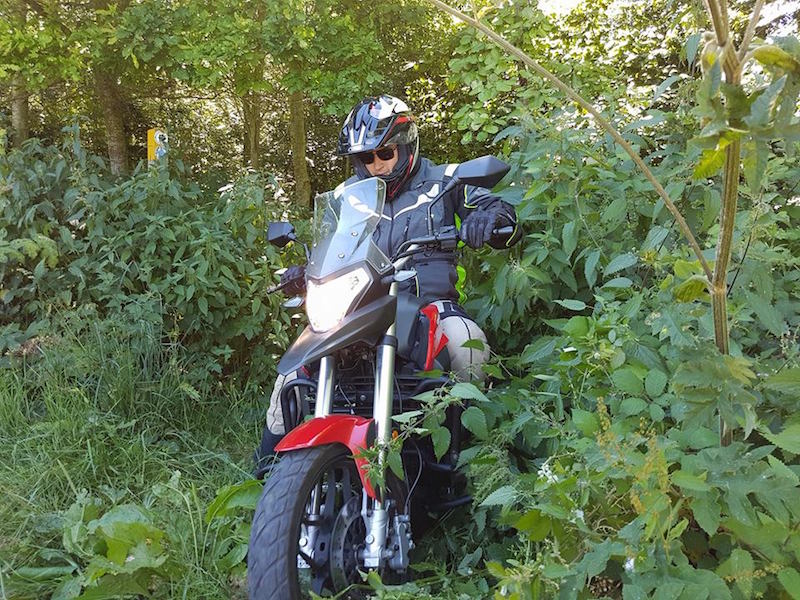 Off-road the bike is incredibly fun to ride. Gone is the apprehension and guesswork of whether you'll be able to touch the floor and, if you drop it, the well-placed crash bars do a great job of protecting both the tank and the pannier, and at little over 150kg it's a doddle to pick up when compared to, say, a GS.
It's not the most accomplished off-road machine though, with the suspension occasionally bottoming out and the 17in wheels limiting tyre choice to mainly road-biased rubber, but if you've got the will, the Sinnis will find the way.
And it's not just learners who will enjoy this machine. The ageing biker who finds it a struggle to throw a leg over a super-tall adventure bike will relish in the savings on chiropractor bills, while those of a shorter stature will have no troubles at all mounting the steed (seat height of 800mm) and placing two feet down firmly.
Sinnis 125 Terrain Specs at a glance:
Price: £2,400
Engine: 124cc
Power: 11bhp
Seat Height: 800mm
Fuel capacity: 14-litres
Weight: 150kg (dry)