Alun Davies hobnobs with the stars as he rides from Barcelona to Andorra and back on the new small capacity BMW G310 GS adventure bike…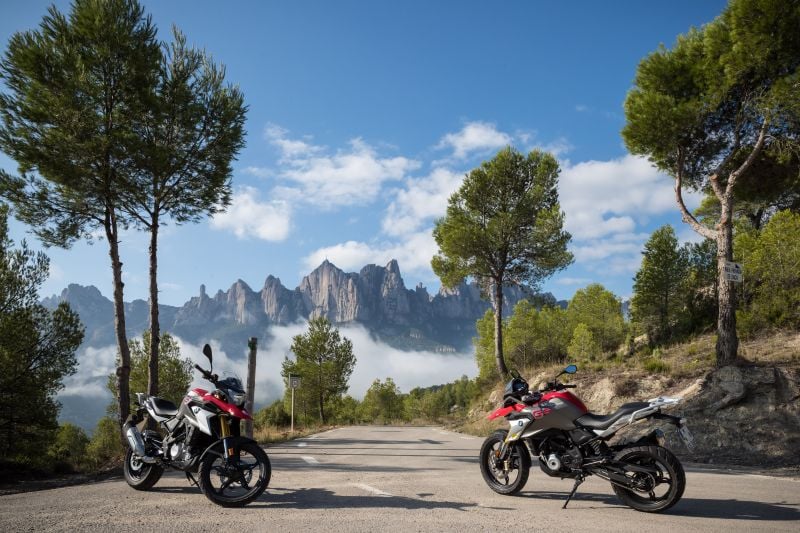 The Hotel Arts Barcelona is an impressive structure. Situated a mere chorizo throw from both a beach and a lavish marina, the views from the topmost five floors of this luxurious 40 story hotel are said to be the most spectacular, extensive and expensive in the vibrant Catalan capital.

Having checked into my room on the more proletariat 22nd floor, I cast a quick eye over the flotilla of extravagance gently undulating in the clear blue Mediterranean below and turned to more pressing matters. Namely, where was the nearest place I could satisfy my craving for nicotine.
As it happened, that would be on the veranda of the second-floor café, overlooking a large swimming pool and a huge copper coloured, fish-shaped colossus of modern art which had been commissioned for the 1992 Summer Olympics and designed by the renowned architect Frank O Gehry.
As I surveyed the surrealist scene I noticed, on a more practical note, that only one table had an ashtray and that there was a half-smoked, smouldering Cuban cigar resting on the lip. Alongside the table stood the contented smoker, the only other person on the veranda.
He had his back towards me, with his head bowed forward and broad shoulders slightly hunched, he appeared to be busy texting on his phone. I was just about to ask him what the views were like from the Presidential suite when I thought better of interrupting The Terminator. Was Arnold Schwarzenegger here to test out the new BMW G310 GS?
Arnie was in town to attend the Arnold Classic, the most important event in the sport of bodybuilding and, having dowsed my Amber Leaf roll up next to his cigar, I was content with having experienced a synchronised, single-ashtray, tab-stubbing connection that only a smoker will appreciate.
I, on the other hand, was in Barcelona to attend the launch of the new G310 GS, BMW's entry into the small capacity adventure bike market.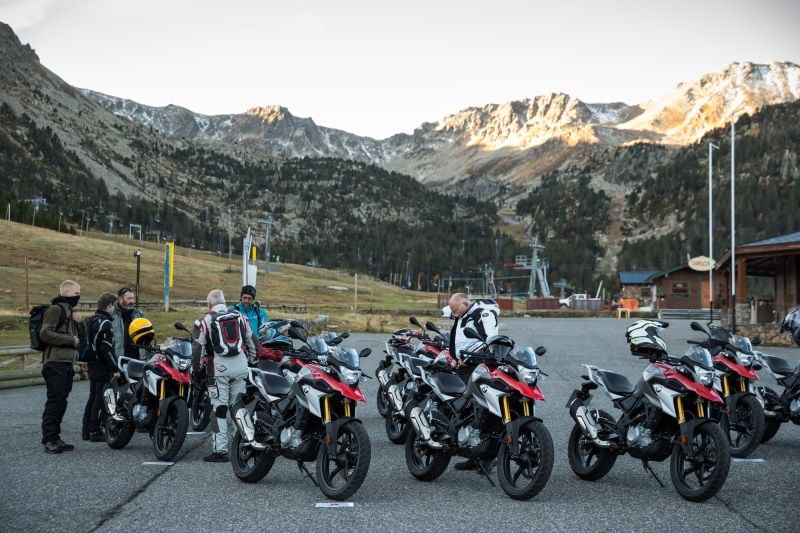 The event was a new way of working for the German company who, rather than send everyone out on a manic blast around some twisty mountain roads, decided to split the launch into a series of themes.
The news journalists had already been sent off on a short day-ride where tradition would dictate screwing the bollocks off the bike followed by a brutal, blood soaked fight to file the first tweet and online copy. Meanwhile, the more thoughtful, intellectual and emotionally troubled 'writers' would be sent on a 400-mile round trip to Andorra where they could ease their troubled minds in spiritual mountain locations and return to ponder over tortured prose following a Bavarian two-wheel theme.
Ryanair flight cancellations and the imminent demise of Monarch had meant that I'd travelled to Barcelona a day earlier than necessary. With our ride out to Andorra scheduled to kick off the following morning, I contented myself during the day with rolling cigarettes on the sunny veranda whilst becoming aware of an exciting buzz building in the hotel and an oversupply of luvvie types hanging out in reception. With the independence vote in Catalonia due in three days I filed my casual observations under that tab.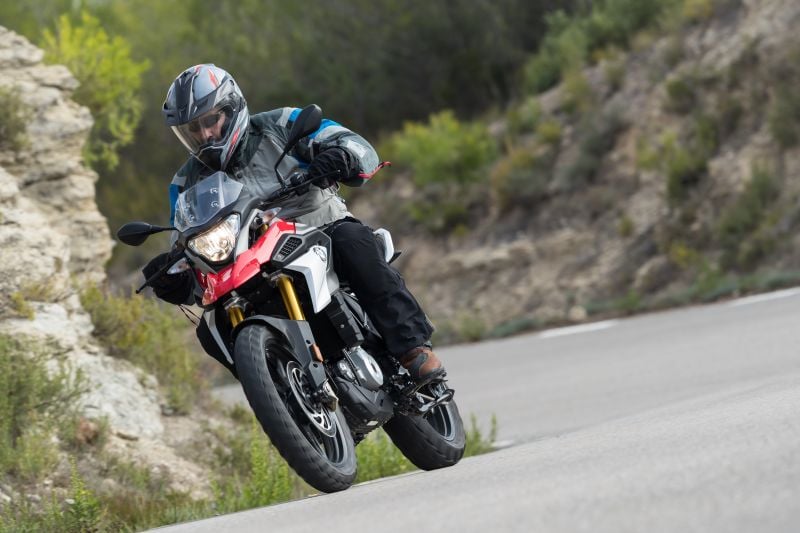 Following breakfast with Arnie, the next morning we were introduced to the new BMW G310 GS, of which there is no doubting the visual connection to a GS ancestry. It's a cleverly designed bike that's neither too small for a 6'2 rider, nor too big to be at odds with its smaller capacity. In other words, I'd say BMW have the size and styling spot on.
On closer inspection, it also appeared to be a very well-constructed and engineered with special mention reserved for the quality of the lavish textures and finish, which mimic those found on larger GSs. In the case of the 310, this close-up scrutiny took on more significance than usual, as the baby GS is the first example of an adventure bike that's been designed in Bavaria but manufactured in India.
Speaking of which, this is very much a bike that has been made for the aspirational rider in the developing world, where the sales potential for a small capacity premium brand adventure bike is enormous. I distinctly got the impression that if BMW achieve sales success in Europe, then that would be viewed as a welcome bonus.
The big questions for me, and I'd guess for a fair percentage of readers, were 'who in the UK is going to buy the BMW G310 GS, and why would they choose a small capacity, low powered adventure motorcycle?' The knee jerk answer has always been… it's a step-up bike for 'youngsters'. But then I'm not so sure.
Have motorcycle matters changed that much since I was a lad? In some ways, the answer is yes, and I'm thinking especially of how complex and drawn out the licence process has become. However, having passed a full bike test I'd guess the right of passage is probably the same as it always has been, and that's to blow your dosh on the biggest, fastest machine you can afford and scare the bejesus out of yourself. I could be wrong, but I'd be more than surprised if the younger riders of today see it differently.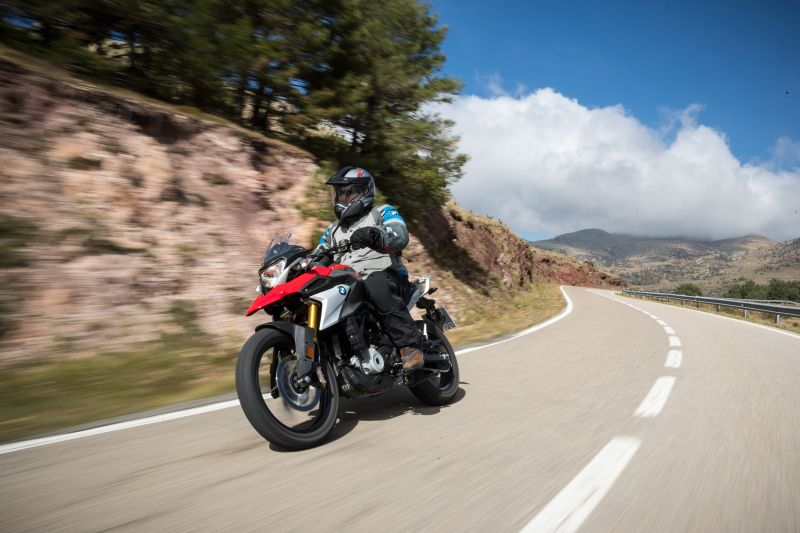 Having recently spent some time aboard the rock-hard saddle of the Kawasaki Versys-X 300, throwing a leg over the 310 felt like mounting a featherbed throne. Whilst the Kwaka is overly firm, the BMW is very comfy.
Speaking as someone who's 6'2, I found the ergonomics okay, but the bike would benefit from the bars being a little more forward and higher, and whilst the legroom is adequate, a touch less knee bend would have been perfect.
Shorter riders should find the stance spot on, not one of my riding companions, including a couple below 5'6, had trouble placing their feet on the floor. Which all means walking pace stability and manoeuvrability is exceptionally good when measured against the taller and heavier large capacity adventure machines.
Upfront, there's a small dash which displays all the useful info (speed, revs, odo, trips, fuel, range, fuel consumption, engine temp), but it's not easily readable in strong sunlight. The bars are wide, but thinner than those found on the company's larger machines (I like thick bars), and there aren't a lot of hand controls to worry over.
In comparison to what I'm used to riding, this is a low-tech bike with just a prominent ABS button to remind the rider that the things that matters are there. The ABS can be switched off when riding, which is a nice touch.
There's not a lot of front screen, and whilst I didn't suffer from any buffeting, my helmet felt like it was being ripped off by a pumped-up Arnie at speeds above 65mph, with air deflected smack bang on the underside of the peak. Not ideal but a slight crouch was all it took to rectify matters.
Setting off through the congested streets of Barcelona, the BMW G310 GS felt fleet of foot and is probably the most manoeuvrable adult-sized adventure bike on the market. Weighing in at 169.5kg (fully fuelled), with a slim profile, great upright visibility, a perky engine and foot down stability, the 310 makes for a very impressive commuter. Buzzing in and out of the traffic was a breeze, and whilst the performance is not going to wow any rider, there was enough power to tame the mean, urban streets of one of Europe's busiest conurbations.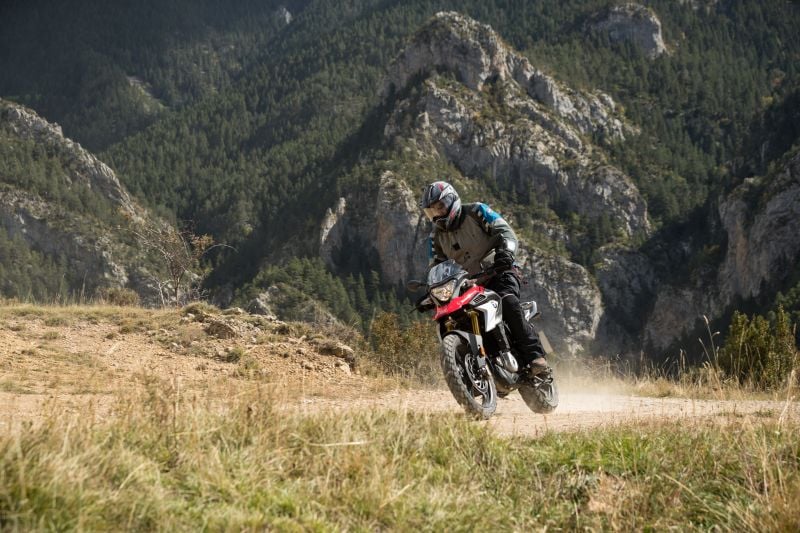 Next up was the serpentine mountain roads leading too and around the majestic, jagged skyline of Montserrat and a different sort of challenge for the 310. The last time I was in these parts I was aboard another BMW, the ballistic adventure sports S1000XR, and I recall arriving home thinking that I'd not had the chance to get out of third gear. Taken at speed, these mountain roads are a spectacular challenge for any rider where if you find you're on a straight then you're probably in a car park.
Looking back through my notes, the term 'bloody great fun' is the one that stands out the most. It's not often you get the chance to ride flat out on a bike these days and arrive home to tell the tale. The power and speed don't allow for those niceties. But, with a small capacity machine, the opportunity is there to have a full-on throttle experience and use every last breath of power on offer.
As I've said above, the 310 is not going to wow a rider with raw power, but the riding experience, should you choose, can be just as engaging as on a larger capacity machine. Mind you, you'll have to work the gears (there's a sweet spot around 6-7000rpm), and you're going to need to ride very smoothly to allow for the smaller bikes limitations.
You're going to need to plan overtakes as opposed to the just blink and you've done it performance found on larger, more powerful adventure bikes. However, the 310 definitely offered more poke than I thought it would, especially when compared to, say, the Versys-X 300 and CRF 250.
The front brake was adequate, though it comes with a noticeable front-end dive. As I said, smooth is the name of the game here. I found myself hardly using the rear brake, such was the lack of feel and bite, but overall, I reckon the stopping power was in keeping with the capacity and nature of the machine.
The suspension is on the soft side, which means a comfortable ride that soaks up the undulations, but once again, if you're blasting around twisty roads you're going to have to keep things smooth. Do so, and the 310 handles very well on tarmac.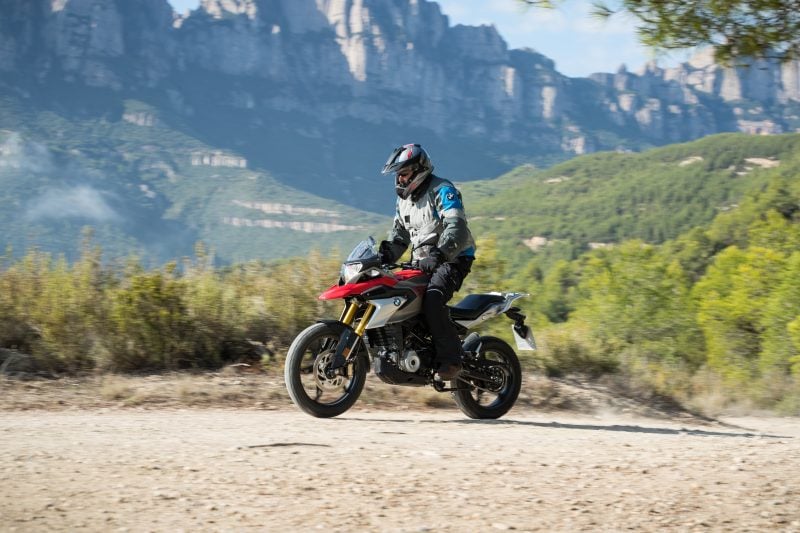 The ride from Montserrat to Andorra took us through the undulating foothills of the Pyrenees and then into the high country, where the views and roads just got even better. It was here that we had a short off-road section where we could check out the dual sport ability of the 310.
From the very first raised hump the limitations of the suspension (or my need to lose weight) were exposed when the bike bottomed out. Even at relatively slow speeds on small whoops, I found the bike hitting the limits of the suspension far too easily. But then this is no purpose-built off-road bike.
The spec sheet tells you (for example, cast aluminium wheels) that the BMW G310 GS is no dual sports bike, but even so I reckon that its low weight, slow speed manoeuvrability and all-round nimbleness would see the average adventure bike rider venturing further down a gnarly trail than they would on a heavier, bulkier and more intimidating machine. If you want to tootle and paddle your way down green lanes, then this bike will do it (as will all bikes to an extent) but it's most definitely one for riding slow.
After overnighting in Andorra and brushing a touch of early season ice off the saddle, it was back to Barcelona and the opportunity to ride the 310 on a long stretch of motorway. First off, this is a 310cc single-cylinder, and that means long-distance motorway trips at 70mph are going to be tiring.
The bike sits comfortable between 50 and 60mph where vibration is kept to a minimum and you can enjoy the ride. Go above 60mph and the vibes are noticeable and, in my case, the wind blast uncomfortable. Tucked down behind the small screen on a flat road with the throttle pegged, I saw 88mph on the dash but as soon as I hit an incline the lack of ccs contributed to a noticeable slowdown. But then top speed figures on a small-capacity bike are more academic than serious, practical considerations.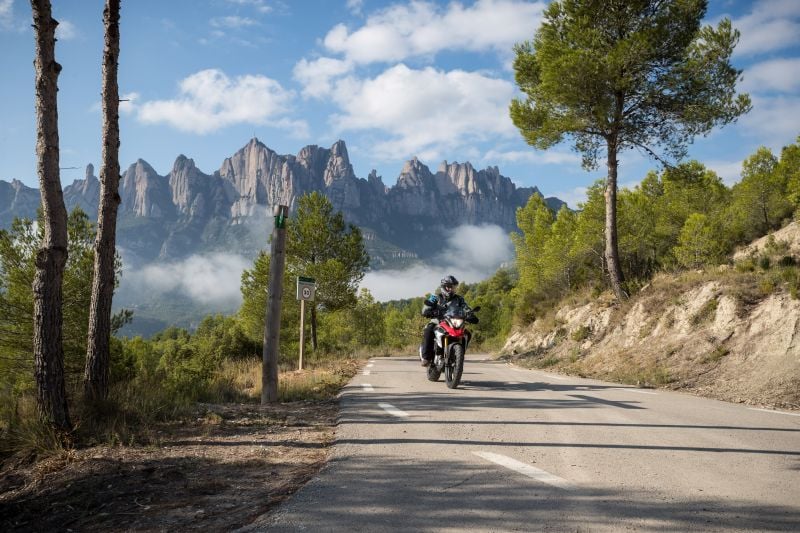 There are mighty pillion grab handles on the 310 which I reckon are more of a nod to expected use in the developing world rather than tempting a pillion to tour Europe. Let's put it this way, If I regularly carried a pillion, then the 310 would not come into consideration.
One of the reasons for looking at a smaller machine could be costs, both upfront and running. The cash price of £5,100 is not bargain basement but then it's a premium brand and on first impressions, it is very well put together.
Petrol consumption was quoted as 85mpg. However, I did not achieve that on the trip to Andorra (I reckon more like low 60s), and there was a huge disparity in consumption in our five-member group. At a petrol stop just before re-entering Barcelona my bike was showing 15 miles left in the tank whilst another rider had just over 100 miles. That's a strange one, as we rode exactly the same roads at the same speeds.
If you're considering the BMW G310 GS as a potential touring machine, then there are also a couple of other considerations you'll need to take into account. First off, BMW are not making panniers for this bike, though I'm sure there'll be aftermarket products in the future. Secondly, the bike comes with a 330W alternator which means you'll not be able to hook up all the gadgets you may like too.
BMW G310 GS conclusion
Unless I'm hugely mistaken, there's yet to be a proven market in the UK for a small-capacity adventure bike. Sure, Honda sell quite a few CRF250s, but these are mostly bought for their off-road ability rather than touring capabilities. Will the 310 be the bike that changes buying habits?
I can see this bike appealing to those who want a smaller, shorter, less intimidating machine, and maybe even as a second bike for the GS1200 owner who wants something more manageable for commuting. Whatever the reason, if you're looking for a small capacity adventure styled motorcycle, the BMW G310GS is my current pick of the crop.
P.S. When we arrived back at the Arts Hotel in Barcelona, I found out the reason for all the luvvies booking in. The Rolling Stones were in residence and the after-show party was in full swing in the bar. Satisfaction all round.
ABR Verdict on the BMW G310 GS
As A Commuter
If I lived in London or any other big city, the BMW G310 GS would make an ideal commuter.
As A Weekend Tourer
It's horses for courses, and if your idea of a weekend tour is taking in the views sat between 50 and 60mph then the small GS will do the job. Current luggage restrictions might not suit everyone.

As An Off-Roader
If you want a small capacity dual-purpose bike check out the Honda CRF250. If you want a small capacity adventure bike where, if tempted, you could tentatively take on a dirt road, check out the BMW G310 GS.

As A Continental Road Tourer
If your idea of long-distance touring includes big mileage days taken at speed, turn the page. If time, power and speed are low down the tick list, then why not. As mentioned, the current luggage restrictions might not suit all.

As An RTW Overlander
When the going gets tough, the BMW G310 GS will be a lot more manageable than the heavier, larger capacity adventure bikes. If you're not in any rush, the small GS has the potential to become a low-cost RTW machine.
BMW G310 GS 2017 quick spec
Price: £5100
Capacity: 313cc
Bore x Stroke: 80×62.1mm
Engine: Single cylinder, Reversed orientation, liquid-cooled DOHC
Power: 34hp (25kW) @ 9,500rpm
Torque: 21 lb-ft (28Nm) @ 7,500rpm
Average fuel consumption: 85mpg (Estimated)
Tank size: 11 litres
Tank range: 206 miles (Estimated)
Tech: ABS
Front suspension: 41mm upside down forks
Rear suspension: Monoshock, preload adjustable
Front brake: 1 x 300mm disc, four-piston radially-mounted caliper
Rear brake: 240mm disc, two-piston caliper
Front tyre: 110/80 R19 Metzeler Tourance
Rear tyre: 150/70 R17 Metzeler Tourance
Wheelbase: 1420mm
Seat height: 835mm
Kerb weight: 169.5kg