For casual weekend riding, there's often no need to wear your textiles, and jeans will be both more comfortable and stylish. Bryn Davies puts 14 of the best motorcycling jeans on the market to the test.
On the past few occasions when I've ridden over to Europe, I have considered myself to be part of an open rebellion. Not in the political sense, but in the fashion sense. You see, for trips when I'm going to be riding on road, and I know the weather's going to be mostly warm and favourable, I'm far happier to wear a pair of motorcycle jeans with a backup pair of lightweight waterproof trousers waiting in my top box for the inevitable rain shower.
Closer to home and I find myself feeling liberated as I ride into town in a trendy pair of denims, rather than a sweaty, dirty pair of textiles. It makes joining friends and family for meals in restaurants or bars, or simply stopping for a coffee, a far more comfortable and civilised affair. For the commuter, there's also the positives of not having to change out of your trousers if you work in a more casual office.
So, what makes a good pair of motorcycle jeans? It's quite simple really. All considerations when deciding upon a pair of denims will boil down to three categories, each as important as the other. They are protection, styling, and comfort. Jeans must provide a suitable level of impact and abrasion resistance if you're unfortunate enough to take a spill.
They must look good – let's be honest, if you want to enjoy wearing them they've got to be stylish, and if they're not they'll probably be forever resigned to your wardrobe. Finally, they must be comfortable. One of the best reasons for wearing jeans is the superior comfort in most situations, especially warmer weather, so a good pair will excel here.
---
Protection
Like any motorcycle specific clothing, protection is of utmost importance. I don't need to remind you what can potentially happen if you come off your bike, but if you value your life and limbs, you'll wear gear that's as protective as possible. Motorcycle jeans offer two forms of protection: impact and abrasion resistance. Impact resistance will be provided by armour inserts, on the knees or hips.
We prefer armour in both places, though in reality, many people will choose to ride with just the knees plated up. This armour should be CE-approved so that you can be sure of its effectiveness in the event of an impact. It should also be comfortable when worn – many armour manufacturers have mastered the art of creating flexible armour that's comfortable and absorbs impact equally as well, if not better, than its more rigid, stiff counterpart.
Abrasion resistance is the other form of protection that motorcycle jeans will provide. This is typically provided by the inclusion of a special lining, usually made from a para-aramid material. Some jeans in this review have opted for something a little different, and you'll see that the outer denim has been made from a cotton and Cordura blend. Cordura is very strong and has a high abrasion resistance, but it has a lower melting point than para-aramid at 250C and can often melt away in high-speed slides.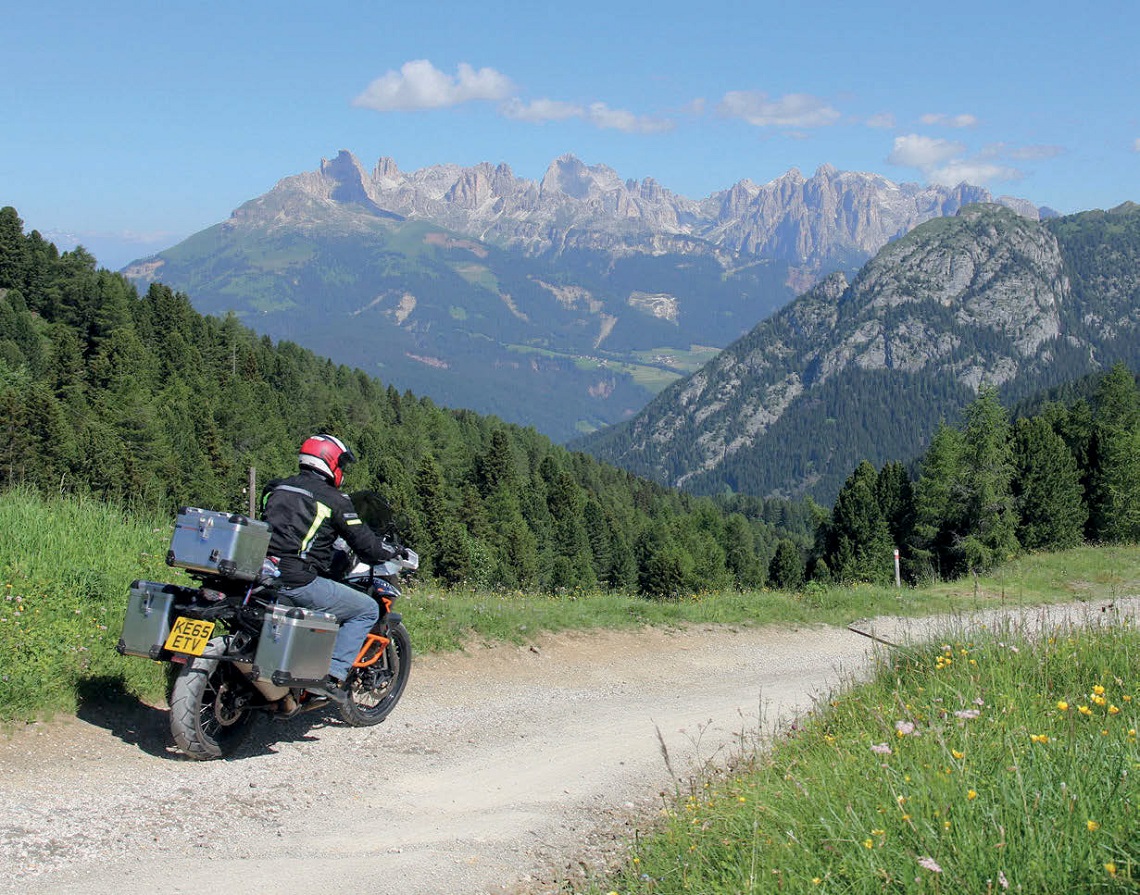 There's more about Kevlar and para-aramids below, but motorcycle jeans will either come fully-lined or part-lined. In part-lined jeans, abrasion-resistant materials will be placed on areas that are most likely to be in contact with the tarmac in case of an off (bum, hips and knees).
This allows the jeans to have a light weight, be more comfortable in the saddle and also be cooler in warm weather, but they don't provide as much protection as fully-lined jeans. Fully-lined jeans can get stuffy in summer, they tend to be bulkier, and they're heavier, but if you're after top protection you'll be willing to sacrifice creature comforts for safety.
In this review, we're looking at 14 pairs of motorcycle jeans from across the price range, including both part-lined and fully-lined products. You'll see that there's some very good value for money to be had at the lower end of the scale (the Hood K7 jeans continue to impress), while the top dollar signings will have the edge when it comes to looks and styling.
---
What is Kevlar?
American research chemists Stephanie Kwolek and Herbert Blades created this special material in 1965 for the DuPont Company. Kevlar is a para-aramid synthetic fibre, meaning it's made of many aramid (super-strong) fibres, which are woven together to give it its incredible strength. It has been used in many applications, from bicycle tyres to bullet-proof vests, because of its excellent strength and heat-resistant properties. In fact, Kevlar is so tough, pound-for-pound it's stronger than steel.
When it comes to its application in motorcycle clothing, Kevlar's excellent abrasion resistant properties coupled with its high heat resistance (it has a melting point of around 500C), mean that in high friction situations (like sliding down the road after a motorcycle accident) it stands up well.
The outer of your riding trousers, in this review's case, the denim, will disappear within a second or so of rubbing against the tarmac, but, unless you're dragged for a seriously long time on the exact same spot of your jeans, the Kevlar lining should still be there when you come to a halt – protecting your skin.
Now, this is where it can get confusing. Kevlar is simply a brand name of DuPont's para-aramid fibre, but it's become synonymous with the material, much like Hoover did with vacuum cleaners. Brands wishing to use DuPont Kevlar have to pay a substantial fee for the pleasure, and many companies won't do this. Instead, you'll see many names for different para-aramids on motorcycle jean swing tags, but (if quality is upheld) it'll do the same job as Kevlar.
---
New laws for 2018
In 2016, it was decided by European Parliament that all gear that's intended for use on a motorcycle should be categorised as personal protective equipment (PPE), and as such it will have to meet certain safety requirements.
From April of 2018, all gear will have to be CE-approved, providing a certain level of protection against abrasion and impact, and must have labels confirming that the product meets the standards and what level of protection is on offer.
While these laws will certainly affect manufacturers, there's no obligation by riders to ensure that their gear meets the standards, meaning that it won't be illegal for you to wear your old bike kit.
---
Furygan Jean 01 TRS
£119.99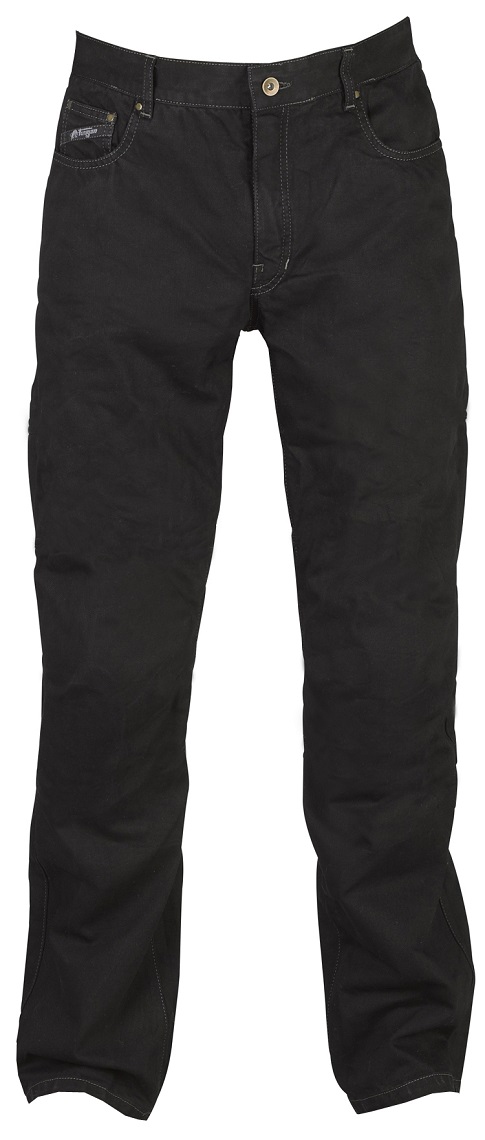 At just £119.99, the Jean 01 is the cheapest product we have in this group test, and they're not half bad if you're looking for some affordable and stylish jeans. They come with CE-approved D30 knee armour and they're part-lined with aramid fibre reinforcements to help protect you in the event of an off.
Style-wise, the Jean 01s are about as close as you'll get to 'normal' looking jeans. They're well designed, look great and will not seem out of place on the high street, especially in the black denim that I was using. They're comfortable to boot, and the adjustable and soft D30 armour doesn't impede this important aspect.
In terms of protection, as said, armour on the knees is included, and while hip armour doesn't come as standard, there are internal pockets that will accommodate hip protection.
I'm more of a fan of fully-lined motorcycle jeans, but the aramid fibre reinforcements on the Jean 01 are well placed in crucial areas (bum, knees, hips) and this goes a long way to improving the comfort of these jeans, particularly in warm weather. Triple and quadruple stitching has been used on high impact areas to help prevent them from bursting when you're sliding down the road.
If you're after a good-looking pair of motorcycle jeans and you don't quite have the budget to splash out, then it's worth considering these. They look great in casual settings and they're comfortable. If they were fully lined they'd be perfect, but at this price, a full aramid lining is usually out of the question, unless you look at the Hood K7.
IN A LINE: Super stylish riding jeans.

---
Lindstrands Blaze Pants
£129

Here at ABR, we're huge fans of the Swedish brand Lindstrands. The guys consistently make quality gear at very reasonable prices, and the passion behind the brand is clear to see if you ever get the chance to meet them (they'll be at Motorcycle Live this November). For this test, we've been using the company's Blaze Pants, a pair of part-lined motorcycle jeans that make use of Hi-Art reinforcements to provide abrasion resistance.
The decision to go for Hi-Art as opposed to the universally recognised and desired Kevlar is a brave one that pays off. Hi-Art (which stands for High Abrasion Resistant Textile) provides abrasion resistance results that are on par with Kevlar and when that's coupled with the fabric's ability to dissipate friction-induced heat more effectively, these offer great protection if you end up tarmac surfing.
The only potential downside is that the jeans aren't fully lined, though the Hi-Art does cover main abrasion points (hips, knees and bum) substantially, and offers more coverage than a lot of the other part-lined offerings on the market.
It's also worth noting that this material is far softer and more comfortable against the skin than Kevlar or other aramid fibres, and when combined with the soft mesh lining that's seen in the Blaze Pants, you can be sure that these are supremely comfortable to wear. Knee and hip armour isn't offered as standard, but the provisions to securely attach them are, and Lindstrands offers a full set of trouser armour certified to CE- level 2 for an additional £29.
Style-wise, Gok Wan would triumphantly claim that these are bang on trend, offering trendy jean styling with a comfortable, not-too-tight fit that'll allow you to swing a leg over the saddle with ease.
IN A LINE: Supremely comfortable jeans.

---
Hood Jeans K7
£122.99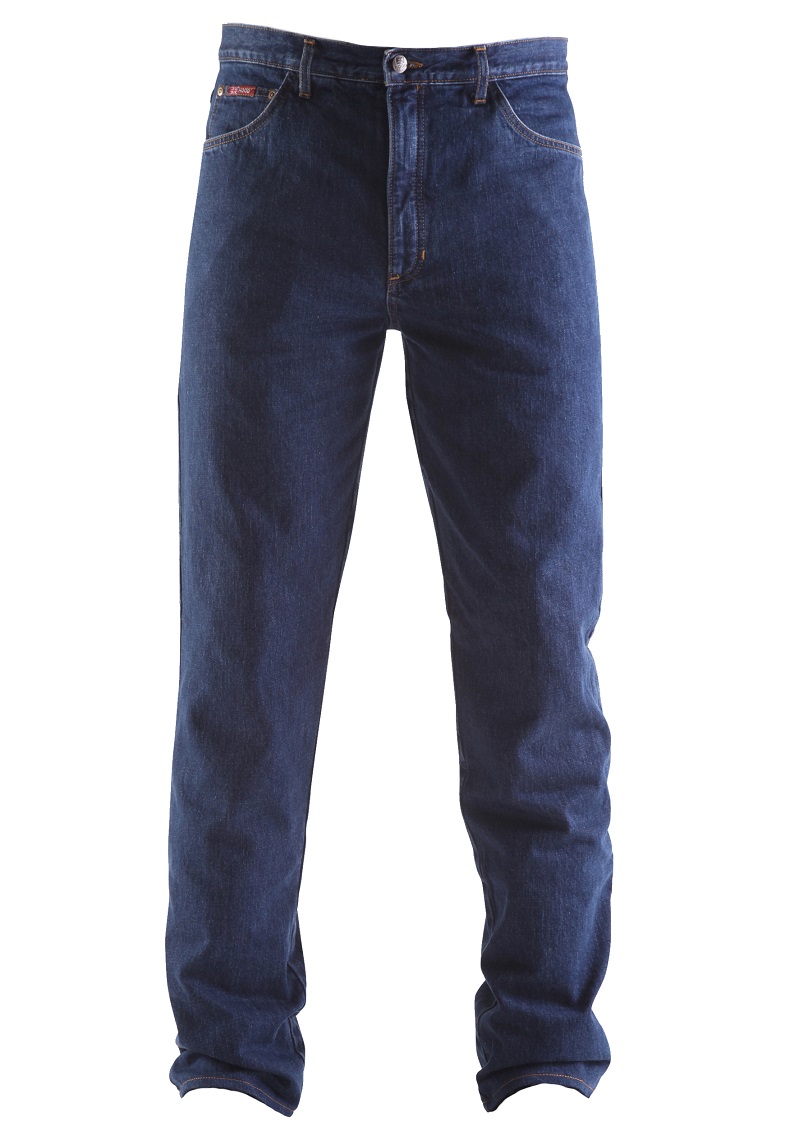 The Hood K7 are a real classic in the world of motorcycle jeans. They've been in the company's range for nearly 20 years, but have seen refreshes and updates along their lifetime. Most recently, Hood introduced its new K-tech Para-aramid lining, a knitted para-aramid fibre lining that offers far more comfort than the old woven lining that was previously used. Looking ahead, and in 2018 Hood will be updating the K7s again so that they conform with new motorcycle clothing legislation that's being introduced.
Abrasion resistance in the K7s comes from the K-tech lining which runs from the waist all the way down to the shins, offering full coverage in the event of an off. From a protection point of view, these are superb, and the comfort provided isn't bad either. They fit snugly around the seat and thighs, but not uncomfortably so.
Amazingly, Hood is able to offer these fully-lined jeans for just £122.99, that's only £3 more expensive than the cheapest model in this group test. This price rises by £30 if you want to add the optional CE-approved D30 armour (or £42 for CE-level 2 armour), but even then they represent exceptional value for money.
From a styling point of view, the K7s don't set the world alight when hanging in the wardrobe, but they look a lot better when worn. They're plain, casual looking denims with the only thing giving them away as motorcycle jeans being a slight bulkiness from the K-tech lining.
Styling preferences aside, I really can't fault the K7 jeans. They're incredibly well made, they offer ample protection, they represent superb value for money, and the guys at Hood are a breath of fresh air, offering superb customer service and free UK and worldwide delivery on any orders.
IN A LINE: Superb value for money and great protection on offer.

| | | |
| --- | --- | --- |
| 100% para-aramid lining | Full para-aramid lining | Made in the UK |
---
Spidi J-Strong Jeans
£138.99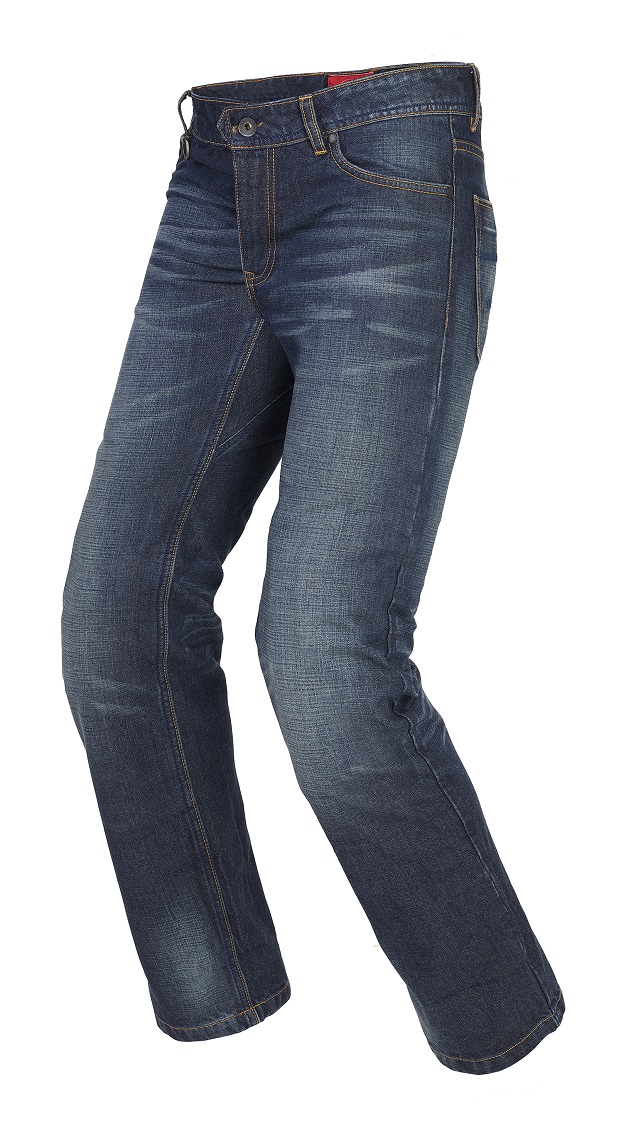 Spidi has been manufacturing motorcycle gear since 1977. Back then, all the company made was leather gloves, which came highly rated, but today the brand has expanded and encompasses all sorts of clothing items, from one-piece leather suits to raincoats and even a nice-looking camping set. For this review, we've been trying out the company's J-Strong Jeans.
The jeans have a plain styling to them, and they appear less like motorcycle jeans and more like standard fashion denims. They have a regular fit but, in true Italian fashion, come up a little small in sizing, so I'd recommend buying the next size up from usual.
Where most of the other jeans in this test make use of aramid linings stitched onto the denim, Spidi has taken a different approach. The jeans are made from a Cordura and cotton blend, with the strong Cordura fabric providing the strength and abrasion-resistant properties. This means that there's no uncomfortable liner inside, and when it comes to feeling like normal, everyday jeans they do a good job.
That being said, while the Cordura and cotton denim is comfortable, light and breezy, when it comes to safety it's not going to provide the levels of tarmac protection than Kevlar and quality aramid fibre liners will. The jeans are comprised of 89% cotton and 11% Cordura, and while this may handle slow speed spills, if you're involved in a high-speed slide, the low melting point of Cordura (254C, as opposed to Kevlar's over 500C) puts it at a disadvantage.
All being said, they will still provide a level of protection in excess of your standard denim jeans, with substantial CE-approved knee armour and the ability to add hip protectors.
IN A LINE: Comfortable and light.

---
Richa Bi-Stretch Jeans
£149.99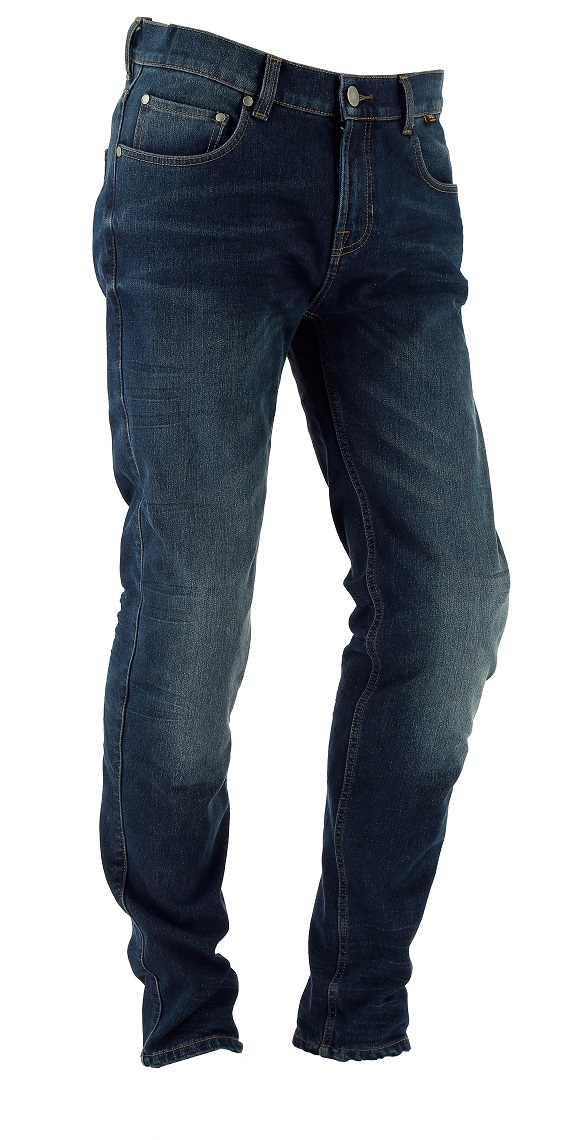 Richa is a company that's been manufacturing motorcycle clothing for over half a century, and with a heritage like that, you'd expect the brand to know a thing or two when it comes to producing quality kit. For this review, we've been trying out the Bi-Stretch Jeans.
These have a classic, straight fit with very simple styling – they're plain, but not in a bad way. As the name suggests, the denim stretches (thanks to elastane in the material), which allows you to get a great fit (even after a heavy lunch) and when sat in the saddle they don't impede your range of movement or cause uncomfortable pinch points. They do seem to come up a bit small in sizing, so it's worth trying these on before you buy them.
CE-approved D30 hip and knee armour comes included, and the knee armour is vertically adjustable so that you can achieve a good fit, and the inclusion of both hip and knee protectors at this price represents very good value for money. To further help from a safety perspective, the jeans have stirrups to prevent them from riding up if you end up sliding down the road. This is a feature that I think is crucial and I can't believe that more manufacturers don't include them.
When it comes to abrasion resistance, like the Spidi J-Strong Jeans, the Bi-Stretch make use of a cotton and Cordura blend to make the denim stronger and more protective, though there's slightly more Cordura in the Richa blend (18% rather than 11%). This, coupled with the full cotton and spandex lining inside, make these very comfortable jeans to wear.
Like the J-Strong Jeans, these will provide a certain amount of protection from abrasion, but high-speed skids would be a concern due to the high friction that would be generated and the relatively low melting point of Cordura.
IN A LINE: Comfortable jeans with some very nice features.

---
Rev'It Philly 2LF
£169.99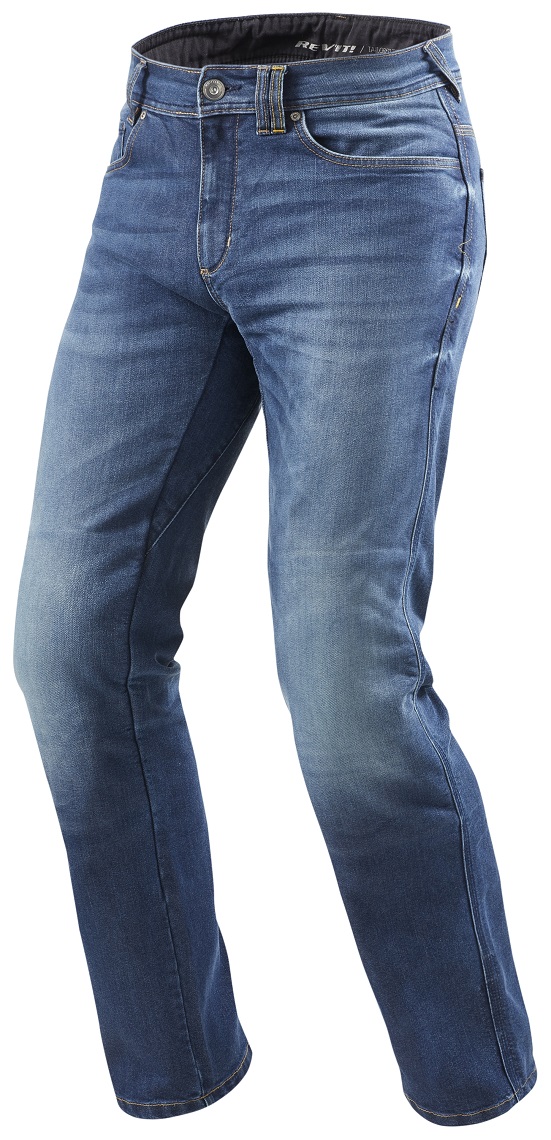 Coming in at a penny shy of £170 we have the Philly 2 jeans – a stylish pair of loose fit jeans from Rev'it which feature a well thought out design to offer a great compromise between style, comfort and protection. The jeans feature armour inserts on the knees, with provisions to add protection on the hips if desired.
When it comes to abrasion resistance, the Philly 2s offer a good mix of technologies to help protect your legs from the tarmac. The denim is interwoven with Cordura to make it much stronger in the event of an off, and highly abrasion-resistant PWR Shield fabric is strategically placed on the seat, hips and thighs down to just beyond the knee.
This hybrid design means that the jeans aren't as uncomfortable or stuffy as fully-lined motorcycle jeans but they don't disappoint from a safety perspective like some part-lined denims do.
One of the most interesting aspects of the Philly 2 is the inclusion of Rev'it Seesmart armour in the knees. This armour is incredibly thin and flexible, even more so than D30, and it feels as though there's no armour in the jeans at all when you're wearing them, adding massively to the Philly's comfort. Amazingly, these knee protectors, which are about half a centimetre thick, are CE-level 1 approved.
Stylistically, the Phillys look just like a normal pair of jeans with a loose fit, and when worn they feel just as comfortable as standard jeans as well. They're well designed and they could definitely pass as 'normal' jeans, especially with the minimalistic armour sitting almost unnoticed at the knees.
IN A LINE: A great pair of motorcycle jeans.

---
Alpinestars Duple
£169.99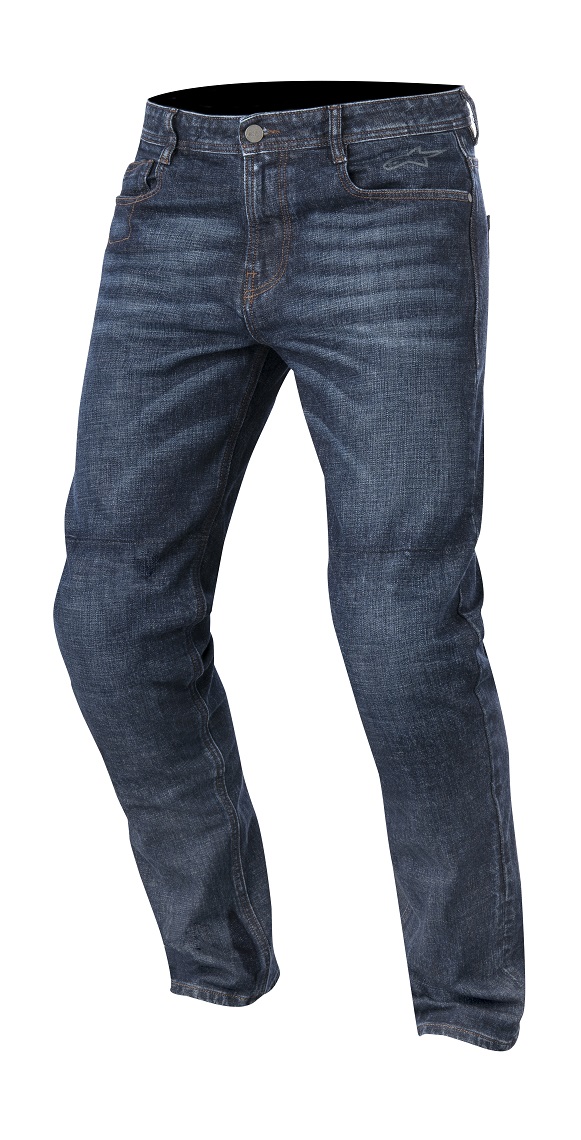 Over the years, Alpinestars has established itself as a household name when it comes to motorcycle clothing, and for this review, we've been trying out the Italian brand's Duple jeans. These jeans feature Kevlar reinforcements in high wear areas, they come with CE-approved knee armour and foam inserts for the hips, and at £169.99, they sit themselves in the middle of the price range.
When it comes to protection on offer the Duple jeans are somewhat lacking compared to products of a similar price. There are DuPont Kevlar reinforcements on the seat and knees, and while it's stitched in to prevent any movement when you're sliding down the road, I would definitely prefer more Kevlar to provide more substantial protection.
Style and comfort-wise, the Duple jeans impress, and I feel as though the looks were the most important consideration when designing these. They look like standard jeans, and the Italian cut provides a nice, close fit that still allows a good range of movement in the knees without feeling restricted. They're also comfortable in warm weather but this is largely down to the lack of Kevlar reinforcements.
All in all, the Alpinestars Duple jeans are a bit of a mixed bag. On the one hand, they're stylish, comfortable and easy to pass off as casual jeans, but on the other hand, there simply isn't enough Kevlar coverage to make these jeans as protective as I would ideally want, though they do come with knee armour as standard.
IN A LINE: Lovely looking jeans, lacking in protection.

---
Roadskin Beast Jeans
£199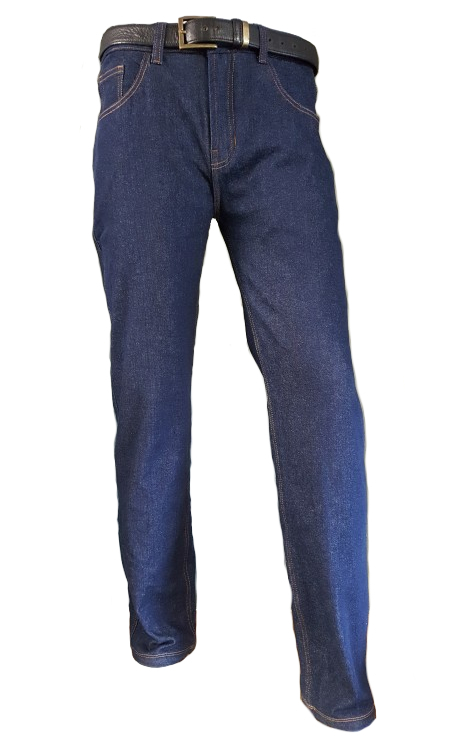 If you've ever been to Motorcycle Live or the MCN Show in London, you'll have probably walked past a stand where you'll have seen a TV showing Adrien, the owner of Roadskin, going at his nads with an angle grinder while wearing pairs of his jeans to demonstrate the abrasion resistance that they provide. If any man is willing to put his crown jewels on the line to prove that, then I'm going to take his word for it.
If, however, you're unlike me and you want to see the cold hard facts, the Beast Jeans, that we've got on review here, managed a huge 15 seconds under abrasion tests before wearing through, achieving results that are in the realms of CE-level 2 certification. Consider that it's very unlikely that you're going to be sliding down the road with the same spot of your jeans rubbing on the tarmac for 15 seconds, then you've got more than enough protection from gravel rash with these.
Couple that strength provided by the full Titanite lining with the new R2 impact protectors at the hips and knees, and the Beast Jeans start to look very good from a protection point of view.
Certified to CE-level 2, the R2 armour was developed by Roadskin to offer maximum protection with top-quality comfort, and as such it's very light, malleable (until it's hit) and it's made from a memory foam material that is supremely comfortable in use.
And it's not just in protection where these jeans excel. In terms of styling, they look great. There's nothing flashy about them, but they do the job of looking like an 'ordinary' pair of denim jeans very well, with the only tell-tale that they're motorcycle jeans being a slight bulk added by the full Titanite lining.
IN A LINE: Super protection in a stylish package.

---
Triumph Raw Riding Jeans
£199.99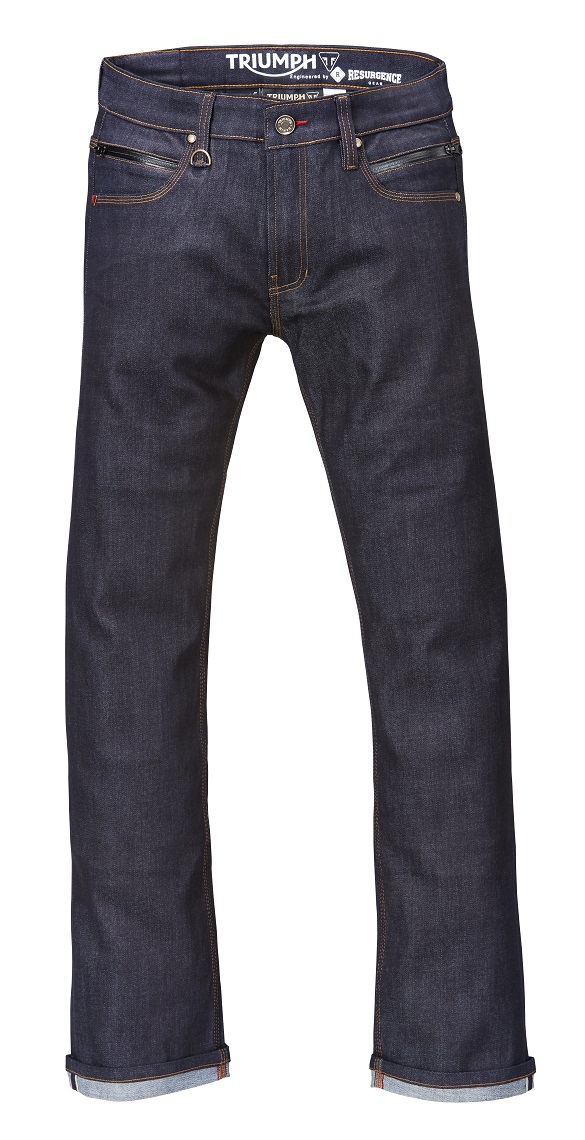 While Triumph may not be the first brand that comes into your mind when you think of motorcycle apparel, I've recently been finding out that the company has a very attractive range of riding gear on offer.
These jeans have been made in collaboration with Resurgence Jeans, a premium Canadian motorcycle jeans manufacturer which develops its own technologies for use in its products, like the Pekev abrasion-resistant fabric that's used in these Raw Riding Jeans.
The Raw Riding Jeans are part lined with Pekev, an aramid fibre that has performed very well in abrasion tests, and while part-lined may sound undesirable at first, the Pekev covers 60% of the Raw jeans, running along the seat, hips and down to the knees.
The crotch is left unlined, which aids in getting a nice, cooling airflow through the jeans, and a delightfully soft mesh lining is found throughout to add comfort and to wick sweat away from the skin. CE-approved D30 armour is provided on the hips and knees.
Styling-wise, the Raw jeans are very nice indeed. Resurgence have a very good track record of making great looking products, and the brand hasn't let Triumph or the customer down with these trousers. All stitching is neat and attractive throughout, and the upturned ankles add a pleasant aesthetic appeal, while the denim is of very good quality.
At £200 there's no denying that these jeans are expensive, and while it's easy to blame that high price tag on the Triumph brand, you can't overlook that these are quality jeans. Some may prefer their trousers to be fully lined for enhanced protection, but if you're searching for a good compromise of comfort and protection, they perform well.
IN A LINE: Very well-made jeans that look the part.

---
Knox Buxton
£199.99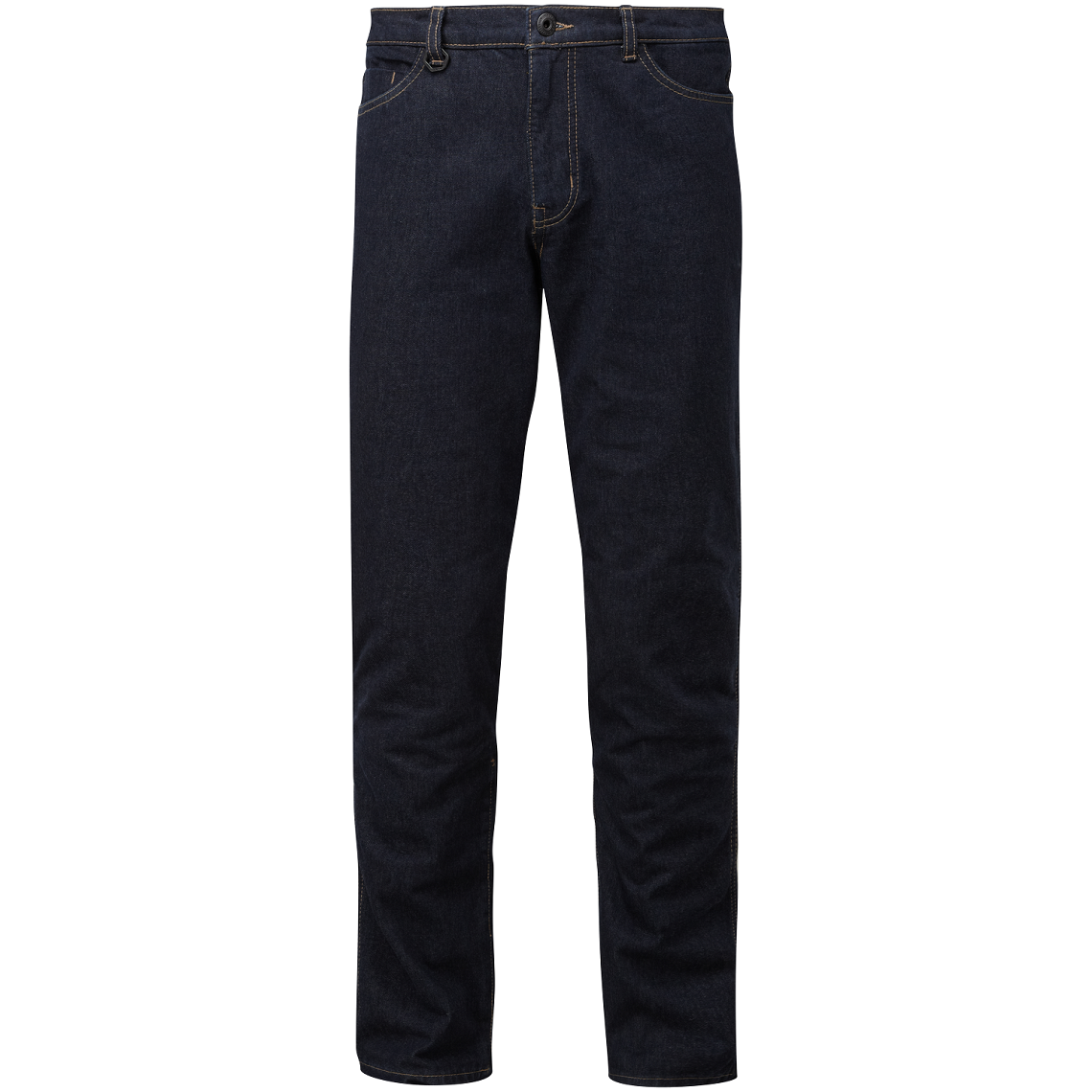 We're big fans of all things Knox here in ABR towers. The Cumbrian company does a fantastic job of manufacturing protective motorcycle gear that looks brilliant and the Buxton jeans are no exception to the rule.
If you're looking for a protective pair of motorcycle jeans then they've certainly got you covered. The denim is made from a mix of cotton and Cordura, which makes them more abrasion resistant on the outside, and where other companies might see this as being enough, Knox has also included a full Spectra lining to add further protection.
Spectra is an ultra-high-molecular-weight polyethylene which, to you and me, means its bloody strong, offering super abrasion resistance and impact strength. The only downside being that the melting point of this material is lower than Kevlar, at 144-152C (Kevlar is about 500C).
Tried and tested Knox CE-approved knee armour is also included as standard along with adjustable pockets so you can position it perfectly, and it's very comfortable in use, providing impact protection without compromising on the pleasure of wearing the jeans. There is also the provision to add hip armour if desired.
Style-wise, as we've come to expect from Knox, the Buxton jeans excel. They're part of the company's Studio Collection, which is a range of superb looking trousers, jackets and mid and base layers, and I'd have no qualms with wearing these as casual jeans when there's not a bike to be seen.
IN A LINE: Knox's styling is spot on with the Buxton jeans.

---
Draggin Rebel Jeans
£219.99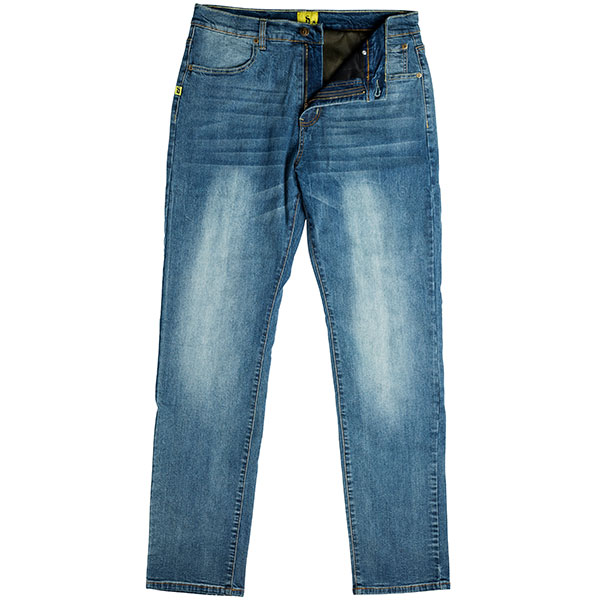 If you're researching motorcycle jeans online, I've no doubt that you'll have come across Draggin Jeans at some point in your search. Since 1997 the Australian company has been manufacturing motorcycle jeans that set the standard for quality, and Grant Mackintosh, the owner of the company, is often so confident in his products' reliability that he's usually seen being dragged around on tarmac while wearing his jeans. It's a ballsy move, but nothing says, 'trust me' more than a guy risking skin grafts to the arse to prove a point.
For this group test, we've been given Draggin's Rebel Jeans, a pair of straight fit jeans which feature a soft denim outer and abrasion-resistant reinforcements on the bum, hips, outer leg and knees. They're part-lined, but the coverage is good throughout.
The Rebel's make use of Draggin's Roomoto lining to provide abrasion resistance. This Roomoto material, which is exclusive to Draggin jeans, is constructed using a mix of DuPont Kevlar and Dyneema, a material that's marketed to be 'the world's strongest fibre'.
This combination makes the Roomoto lining super tough and abrasion-resistant, and the knitted construction (as opposed to woven) makes it comfortable and soft to the touch.
To further add comfort, you'll find a soft mesh lining between the Kevlar and your skin, which helps to wick sweat away. The cut of the jeans is well thought out, and the back rises higher to help prevent any biker's bum.
Armour doesn't come included with the Rebel jeans, which is a bit disappointing when they cost £219.99, but they will accommodate armour with pouches at the hips and knees. Style-wise, you can't go too wrong with these, they look like a very nice pair of stonewashed jeans and only a slight 'puffiness' from the liner gives their true identity away.
IN A LINE: Quality, comfortable jeans

---
PMJ Dallas Jeans
£229.99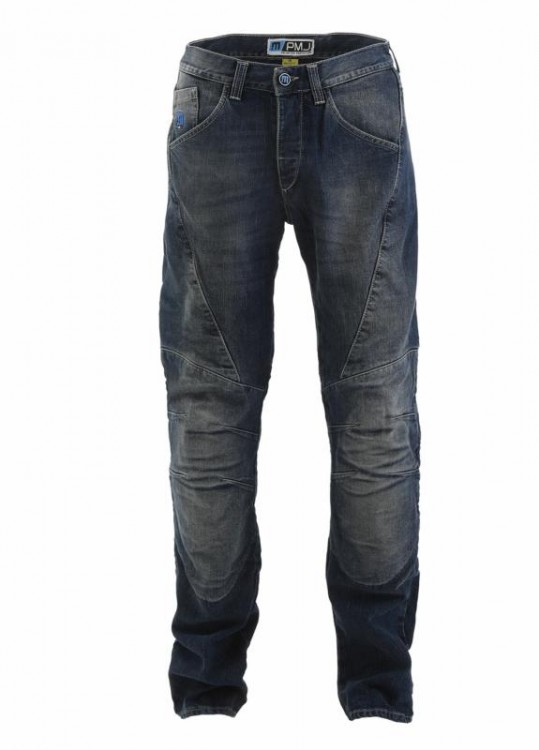 Admittedly, before we were sent these jeans I had never heard of PMJ, but after doing a little bit of research I discovered that the Italian brand has been around for nearly 10 years now. The main ethos of the company appears to be to design and manufacture products that excel in both style and safety, and with the Dallas Jeans, they've made a good first impression on me.
The Dallas Jeans are part-lined motorcycle jeans which have a casual fit (not too loose and not too tight) along with an ergonomic cut, particularly at the knees, to make them comfortable when sat in the saddle. The material responsible for providing abrasion resistance is Twaron, an aramid fibre that's also used in ballistic vests and offers a high level of protection from tarmac with a heat resistance of around 500C – that's comparable to DuPont Kevlar.
The Twaron material is stitched in around the seat, hips, front of the thigh, and all the way down past the knee to the shin. Ideally we like fully-lined for maximum protection, but this setup provides a good amount of cover while also allowing the jeans to be lighter, cooler in hot weather and more comfortable.
A mesh liner is placed between the Twaron and your legs, which further aids in comfort (it's lovely and soft) and moisture management if you start to sweat. Further protection comes from CE-approved Knox knee and hip armour.
OK, at £229.99 these bad boys are expensive, but they use top-quality components throughout, and the end result is a great pair of part-lined motorcycle jeans that are very comfortable indeed.
IN A LINE: Italian design flair combined with quality components.

---
BMW Waterproof Jeans
£250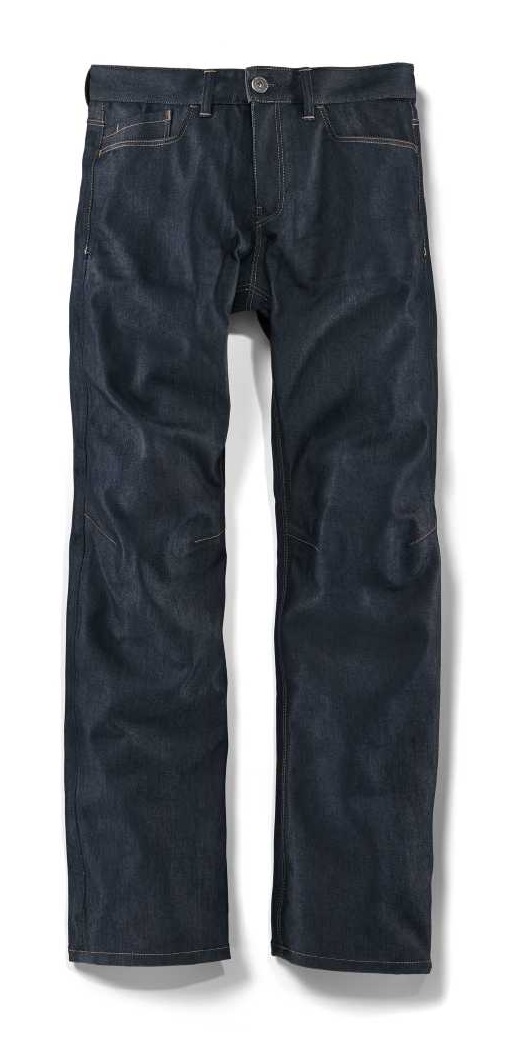 One of the main drawbacks of wearing motorcycle jeans is the lack of weather protection they provide. Yes, they're more comfortable and stylish, but if you're faced with the prospect of riding into a rainstorm you're going to have to grin and bear it. That is, of course, unless you bought the aptly named BMW WaterProof Jeans.
At £250, they're by no means the cheapest, but when you consider that they come with a full waterproof liner in them, you can rest easy in the knowledge that you're not going to get soggy pants if you're caught out. They're also windproof, so they'll help keep any chill-out.
In terms of protection, like the Richa and Spidi Jeans, the BMW WaterProof Jeans make use of a cotton and Cordura blend to provide abrasion resistance. This means that they're very light, they're not as cumbersome as Kevlar-lined trousers, and they're more comfortable to wear.
The downside is that they won't stand up against tarmac as well as other, well-designed aramid lined jeans will. That being said, they come with CE-approved protectors at the hips and knees which is a welcome addition.
I really like the direction that BMW is going in with the WaterProof Jeans. They're the only pair of waterproof denims that I've come across (though there are bound to be others out there), and they'll be ideal for those who continue their commute on two wheels into the winter when the weather becomes more unpredictable.
The waterproof lining does make them a bit more uncomfortable than the others during the summer, as they can get a bit stuffy.
IN A LINE: Innovative and well-designed motorcycle jeans.

---
John Doe Originals
€249 (APPROX. £231)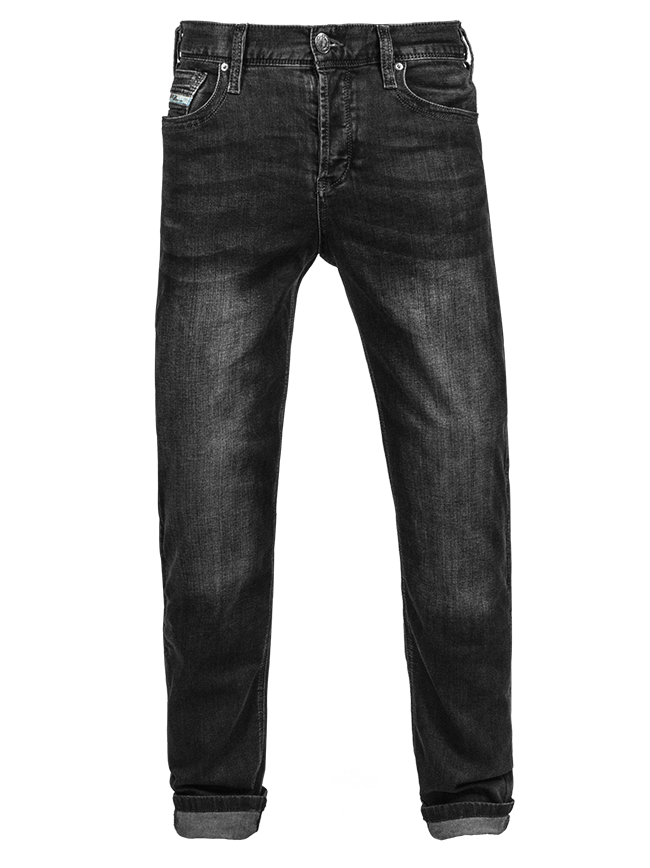 OK, so your eyes might water when you look at the price tag of these jeans, and rightly so, they're bloody expensive, but what you get is a top-quality and superbly designed pair of trousers that look just as good off the bike as they do on it. John Doe is an American brand that's only recently introduced itself to the UK market, but I'm glad they did.
The Originals are a very nice-looking pair of jeans that have a fantastic, comfortable fit that's not too tight or too loose, and they make use of a full DuPont Kevlar lining to offer tried and tested abrasion resistance throughout.
The outer is also treated with a water repellent to keep things rosy if you're caught in a brief shower (anything heavier and you'll need waterproof over trousers) and built-in CE-approved armour is provided on the hips and knees.
I tested these on a recent trip from Denver to LA, wearing them on the 11-hour flight over and through varying weather conditions from heavy rainstorms in Utah to a suffocating 47.5C in Death Valley, and they handled everything I threw at them. The lining is super comfortable against the skin (an 11-hour flight was a breeze) and they are very well designed both stylistically and from a performance point of view.
I did find them a bit hot when running across the airport to catch my flight, though when they were faced with the tarmac-melting temperatures of Death Valley, I didn't find myself thinking that they were too warm then (probably because everything was hot!).
They're very expensive, but they are worth it if you're looking for good-looking jeans that offer top protection.
IN A LINE: Style, comfort and protection. They're expensive but do a great job.

| | | |
| --- | --- | --- |
| DuPont Kevlar | Fully lined and comes with d30 armour | Strong stitching throughout |