At the age of 23, I quit my job working in the glamorous world of IT support, told my landlord to find someone to fill my room, and I set off on a grand tour of Europe. It was the adventure of a lifetime, the kind I'd dreamed about doing since reading Jupiter's Travels and watching Charley and Ewan travel the Long Way Round.
I meandered my way north through Scandinavia, riding some of the best biking roads in the world by day, and finding places to camp by vast freshwater lakes by night, or embracing the hospitality of kindly locals who offered me a bed or a sofa to sleep on. I relished the freedom of the open road where nothing but a shoestring budget limited where my wheels would take me.
After six near-perfect weeks, I made it to Norway's iconic Nordkapp, which is as far north as mainland European roads will take you and a dream destination for many adventure bikers like me. But I have a little confession about those weeks. Not once on that journey (campsites aside) did I travel down a single trail, dirt road, or gravel pass.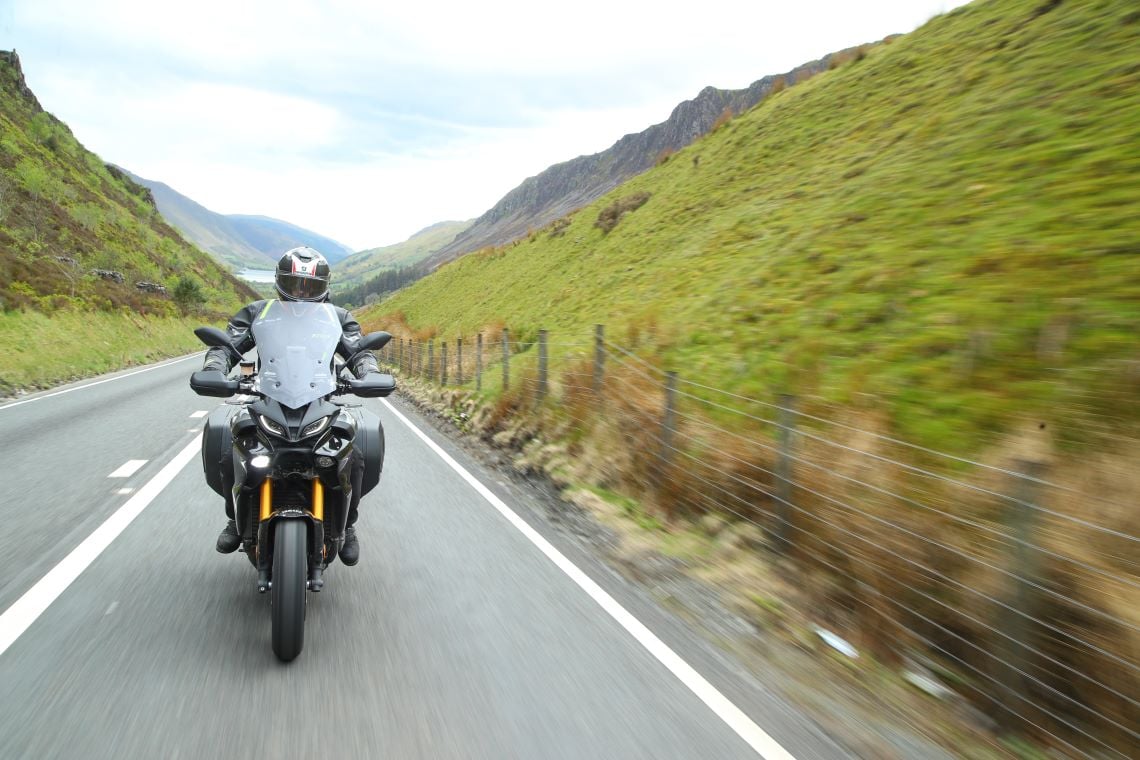 Yes, I was travelling on an adventure bike but not for its off-road ability. Instead, it offered the all-day comfort, weather protection, and pulling power I needed when covering big miles fully loaded day-after-day. And to all those keyboard warriors out there who'll angrily type on Facebook that you must cross a desert or sleep in a ditch to have an adventure, let me tell you this: my trip to Norway was an adventure in every sense of the word, and living proof you don't need to go off road to have one.
Thankfully, this is a philosophy that plenty of motorcycle manufacturers subscribe to as well, and it's the reason I find myself saddling up for a two-day tour of Wales on the new-for-2021 Yamaha Tracer 9 GT. This stylish-looking sports touring machine is clearly designed to appeal to motorcyclists who love to travel far and wide on two wheels in comfort, but who have no inclination to turn off-piste in the process.
Built for the road
It's an approach that's worked, and then some. With the pandemic scuppering any plans for a bike launch abroad, I join a pre-ride meeting on Zoom from my desk the day before. On the call, the team behind the GT explain how Yamaha's sports-touring range now accounts for 21% of its European sales, which is its second largest sector, with only the ultra-successful hypernaked MT range shifting more bikes.
And, out of the models it offers, it has been the specced-up GT variant of the Tracer 900 range which is its ace-in-the-hole, outselling the standard Tracer 9, the less-equipped sibling, by three bikes to one in 2019 alone. But success in the world of bikes doesn't last long, so bringing the Tracer 9 GT up to spec in the face of stiffening competition from the likes of BMW, Triumph, and the rest, was high up on Yamaha's to-do list in 2021.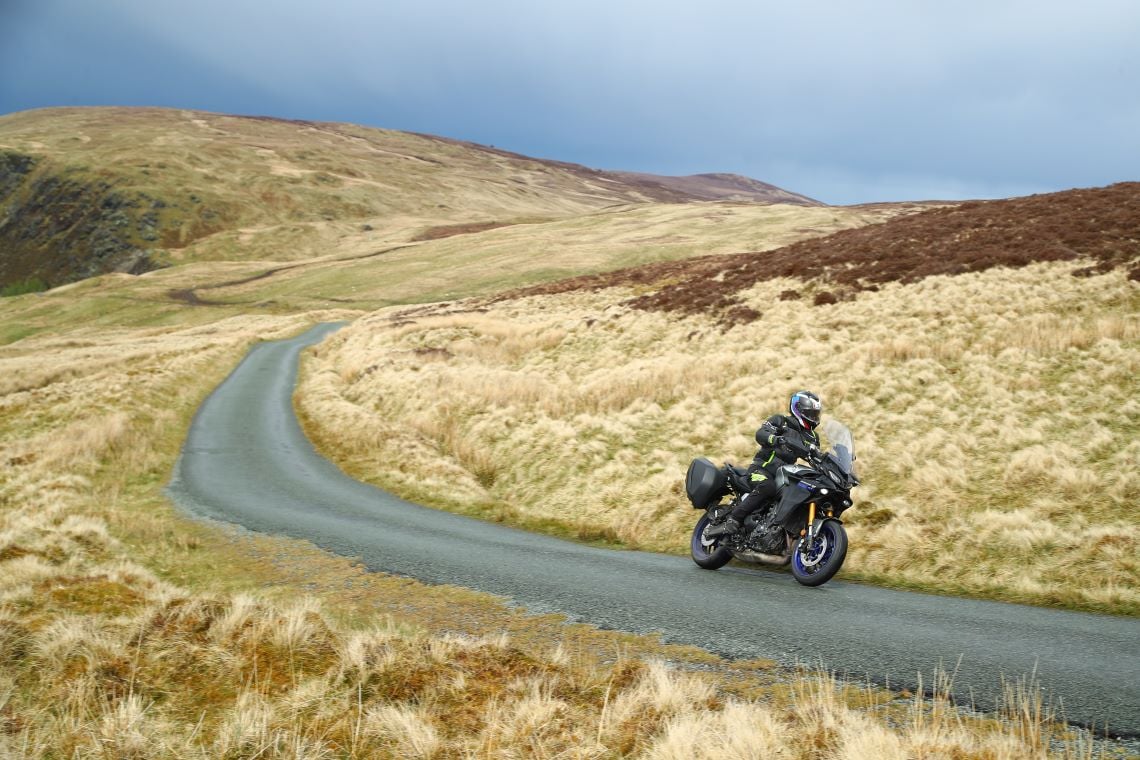 With these stats ringing in my ears, I arrive at the Yamaha dealership in Tamworth ready for two days in the saddle that promise to replicate the type of weekend tours that the Tracer 9 GT is designed to excel in. From Tamworth, our plan is to hastily head west to the twisty mountain passes of Snowdonia National Park in Wales followed by an overnight stay at Nick Sanders' Expedition Centre. We'll then blast around some coastal roads in the morning before cruising back to Tamworth to round off the mini tour.
Spotting my name poking out on a paper tag stuffed under the petrol cap, I set about familiarising myself with my motorcycle for the next two days. And boy, first impressions are good. My bike is clad in the silver, back, and blue Icon Performance paintjob, which is exclusive to the GT, and it positively gleams under the early morning sun.
The unique-looking front end is bound to divide opinion, with a gaping mouth and beady eyes that make me think of the film Predator. It looks a little devilish and ready for action to me, which is no bad thing.
The bike comes equipped with a set of panniers, which come as standard on the GT, and I'm pleased to note that one side case can easily fit my overnight duffel bag with enough room in the other to take my full-face helmet. There's ample space here for short weekend tours away, although the optional top box will be needed if you're camping or travelling with a partner.
Swinging a leg over the saddle is an undemanding experience. The Tracer 9 GT has a relatively low seat height (compared to the leggy adventure bikes I'm used to) of just 810mm, which can be raised to 825mm, and my 6' frame can easily flat foot the floor on both sides with plenty of knee bend.
A cluttered display
A turn of the key lights up the split-screen TFT display which looks like a pair of chunky black spectacles staring back at me. Using two separate screens is not a bad idea but I did find most of the important information, like my speed, fuel level, and gear position ended up being cluttered in the left-hand display, while I hardly looked at the right one. I would have preferred to have seen a more traditional one-piece design instead.
The simple black and white display is also a tad utilitarian compared to the more premium TFT screens you'll find on plenty of bikes these days: think Ceefax rather than the home screen of your iPhone. Navigating through the menus and various settings using the spinning wheel on the right handlebar is also a little longwinded.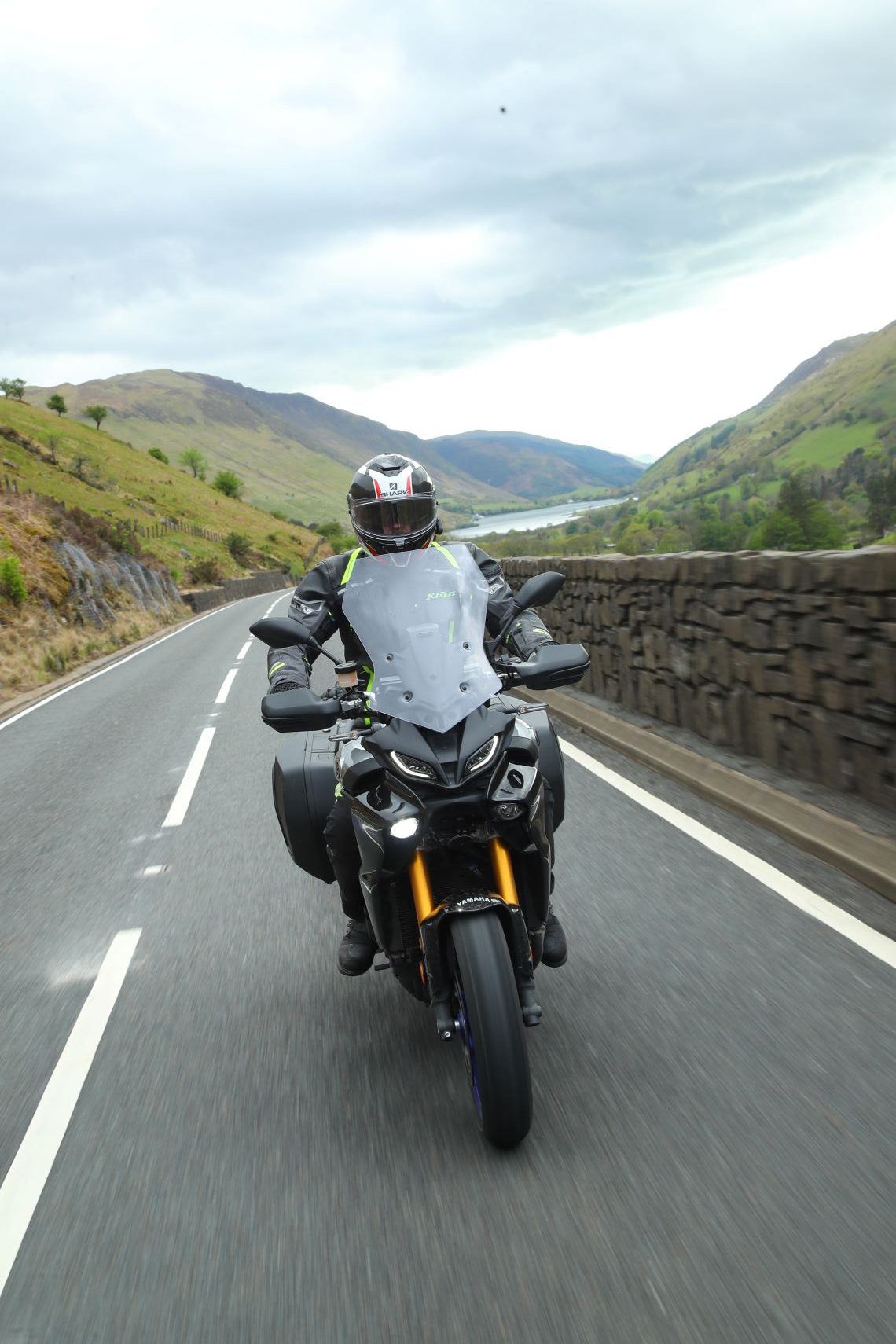 Yamaha has made a name for itself with a no-thrills attitude to technology, in particular with the recent Ténéré 700 and Tracer 7, but this is the highest spec bike in the range, setting you back £12,202, and I'd prefer to see that reflected in a dash that's a tad more pleasing on the eye. However, thoughts of colourful TFTs are quickly pushed to the back of my mind as an eruption of throaty exhausts erupts around me. It's riding time!
As with many tours, ours starts with a hefty dose of highway cruising as we head west to Snowdonia, known for its spectacular mountains and its roads that wiggle their way between the peaks. With better roads and riding on the horizon, I use our stint on a drab section of the A5 to settle into the saddle and get familiar with the bike, and I'm immediately impressed by the riding position.
The Tracer 9 GT's sitting position feels nice and comfortable, keeping my back upright without putting too much weight through my arms, although the knee bend angle is quite acute and I find myself sliding forward into the tank in a slightly sportier stance than you'd find on an adventure bike. However, I am delighted to note that in front of me is a huge touring screen which can be adjusted with one hand through ten positions, keeping wind buffeting to a minimum.
As smooth as James Bond
Our blast on the A5 is also the ideal place to get a flavour for the long-distance touring potential of Yamaha's tweaked-for-2021 triple-cylinder CP3 engine. And it's a doozy. Those three cylinders are as smooth as James Bond walking into a Monte Carlo casino with a glamorous woman on his arm. And James has his best tux on.
As I twist the throttle and the revs rise during some spirited overtakes, the exhaust responds with a glorious howl and I'm rocketed down the road. There's certainly plenty of power available in the 890cc engine (up 43cc this year) which produces 117bhp and boy, do I love that howl.
The updated engine also produces 5.5Nm more torque than the previous model, up to 93Nm, which comes 1,500rpm lower down the rev range. In the saddle, this means the GT provides a relaxed ride at speed which is perfect for long days on tour. The laid-back vibe is enhanced as I put the bike in sixth gear and switch on the cruise control, which comes a standard, as I sit back and relax amid a steady flow of traffic. When I do go to overtake at speed, the Tracer 9 GT accelerates with ease, and I'm reassured to find there's no need to go searching for power in a lower gear.
Of course, while this bike is happy cruising along fast A-roads and motorway, it's far more capable than that, and I'm delighted to feel the GT come alive when we veer off the A5 and ride some sumptuous Welsh twisties. In the bends, the bike feels precise, agile, predictable and an absolute joy to ride. The wide, sweeping handlebars only need a touch of countersteer to get the bike to switch direction and the Bridgestone Battlax T32 tyres grip to the tarmac like gum under a school desk.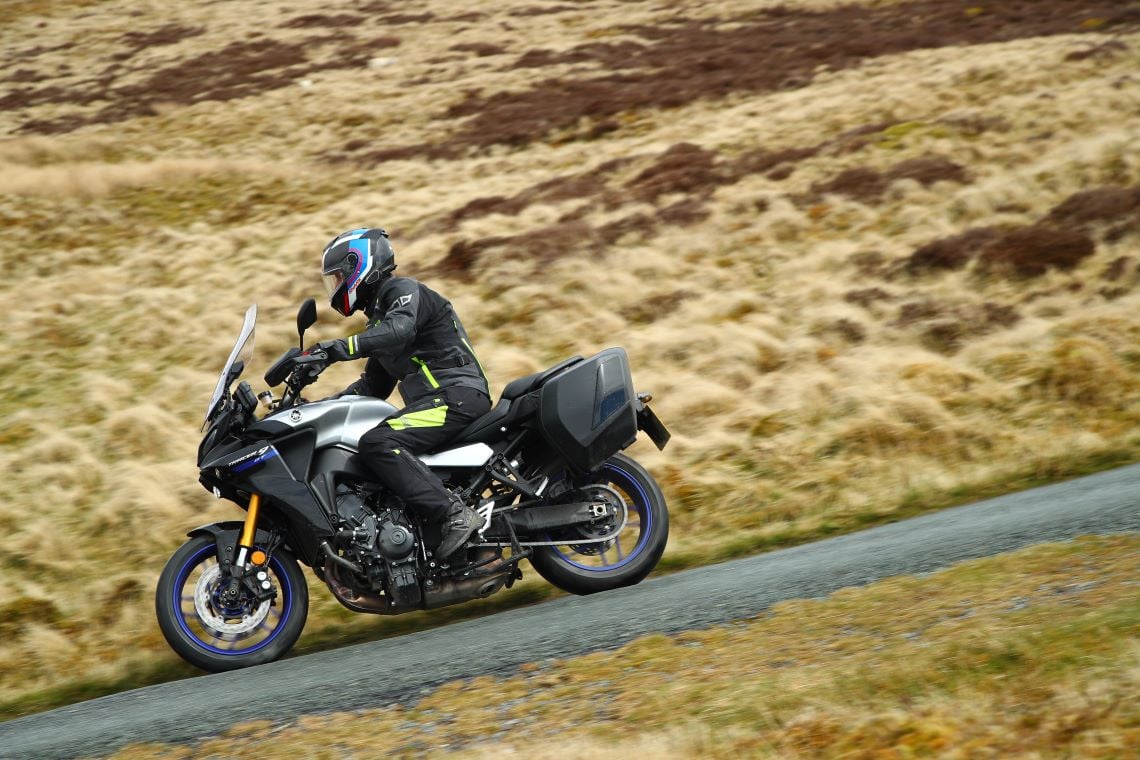 The KYB semi-active suspension offers you the choice of two modes; the firmer A-1 setting (we'll nickname it sport mode) excels as we ride at a more spirited pace, and the more comfortable A-2 mode (we'll call it tour mode) is best suited for cruising. Sadly, these modes can't be changed on the fly, so I switch between them quickly as we stop at traffic lights. While the tour setting provided a magic carpet-like ride on the lumps and bumps of the A5, it feels a little too soft as the bike wallows when pushed hard into corners. Thankfully, the stiffer mode shows off the GT is at its sporty best.
The quickshifter, another snazzy piece of tech that comes as standard, is excellent. I snick my way up and down the gearbox, the digital tachometer regularly changing colour on the display in front of me as I work my right wrist like a schoolboy who's just discovered Penthouse. In the right hands, this bike is no doubt capable of some peg-scraping madness, but even at the steady pace I take through the bends it feels lively, exciting, and a hell of a lot of fun.
I'm not the only one feeling this way either and, as my fellow journalists and I pull into our lunch stop by the magnificent Lake Vyrnwy, there are broad grins all around. Even a heavy rain shower can't dampen the mood as we saddle up after our tea and sandwich break.
A very British tour
While the heavy Welsh rain adds a distinct air of Britishness to our tour, it also gives me a chance to play around with the rest of the technology packed into the GT. The ride-by-wire throttle gives me the option of four different power modes, from the unrestricted power of all 117 horses in Mode 1, to the neutered Mode 4 which is best suited for torrential rain I'm riding through. Happily, the rain eases off and, as we follow the damp road that loops the lake, I bump the bike up to Mode 2 to ever-so-slightly rein in the engine purring away between my legs.
Also helping to keep me safe and upright are traction control, slide control when cornering, and lift control to stop wheelies, all of which can be adjusted or completely turned off, along with cornering ABS. It's a hefty bill of tech for a manufacturer with a reputation for keeping things simple but it's been well-integrated and it doesn't feel intrusive as we ride, even as we make our way up the spectacular Hellfire Pass on slippery, muddy single-track lanes.
The rest of the day continues through stunning scenery on ever-changing tarmac, from narrow single-track mountain passes to sweeping A-roads that plunge through deep valleys, the bike proving the perfect partner for our spirited tour of North Wales. Just as another downpour threatens to spoil our fun, we arrive at Nick Sanders' Expedition Centre, our overnight stop and home of the legendary world-conquering biker himself. It's the perfect place to indulge in a gin or two. Hey, we're on a tour after all.
Into the mountains
It's an early start the next morning which begins with a slap-up breakfast provided by our generous host, before Nick takes us on a shortcut over the hills on route to the coast. We're in the heart of the Mach Loop, a series of valleys used for low-level fighter jet training, and two aircraft scream overhead as we climb a road more suited to adventure bikes than sports-tourers.
It's the type of shortcut you'd expect a RTW-biker like Nick to sniff out in his own back yard. Despite the fact it's a steep, hairpin-strewn single-track road, with a healthy covering of slippery moss, the GT handles it with aplomb. Even weighing in at a substantial 220kg fully fuelled, the bike feels well-balanced and easy to handle at low speeds on the tighter bends, and the smooth throttle response and plenty of torque help pull me up some of the steeper, twistier inclines.
We say our goodbyes to Nick at the Dyfi Distillery, the provider of last night's gin and the reason many of us are nursing heavy heads, and continue on in the direction of the coast. Despite waking up to a gloomy forecast, there's no sign of clouds in the sky and we arrive on the balcony coast roads north of Aberystwyth.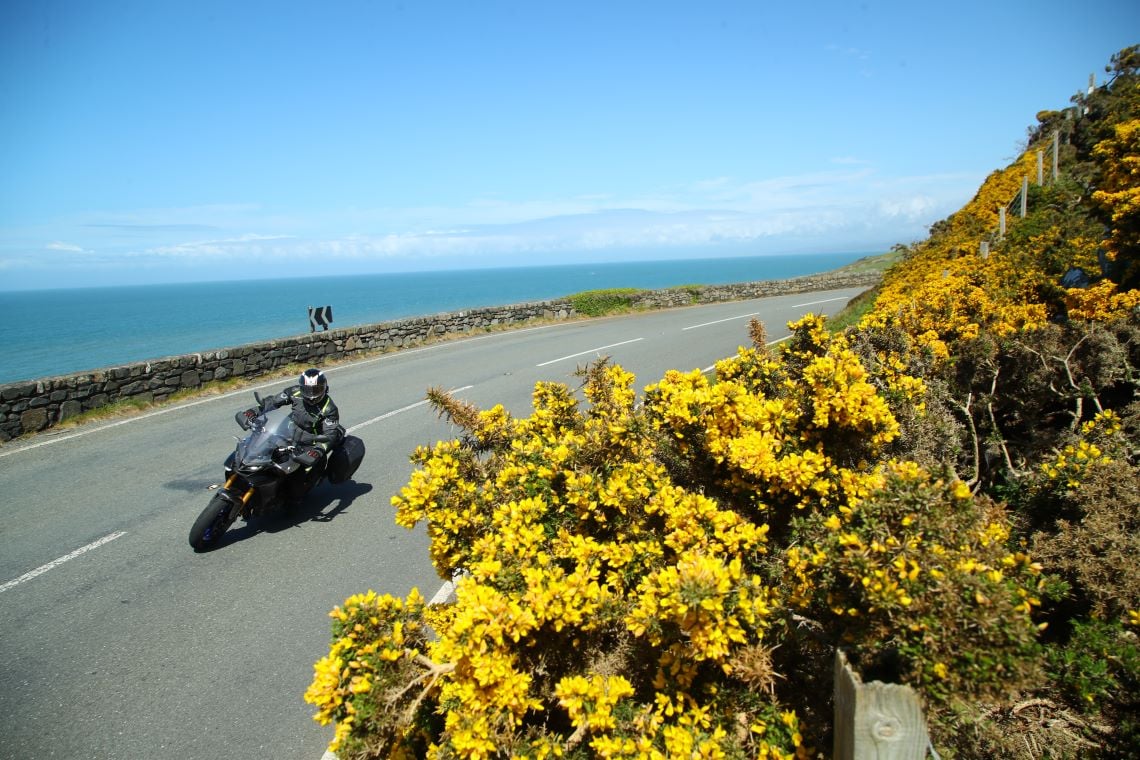 The blind bends in front of me are sandwiched between crashing waves to my right and steep rocky cliffs to my left. Basically, there's nothing but disaster on the cards if I crash, which makes me even gladder to be on a bike as capable and confidence inspiring as the Tracer 9 GT. The Nissin four-pot radial callipers and twin 298mm discs at the front do a great job of hauling everything to a stop when I feel myself carrying a little too much enthusiasm into a corner, and I feel in-sync with the bike as we sweep back and forth, like I'd been riding it for two years rather than two days.
Sadly, the fun ends all too soon as we arrive at the seaside for cake and a cuppa, before reluctantly turning our wheels east to make the three-hour blast back to Tamworth in one fell swoop. While hitting the highway to get home quickly isn't the most glamorous way to end a tour, once again the motorway slog helps to demonstrate the long-range prowess of the Tracer 9 GT. It's a quality enhanced by an 18l fuel tank that will take you a healthy 200-miles between fill ups.
Despite initially noting the acute leg bend when I first hopped into the saddle, there are no complaints from my knees at the end of the ride. However, I do find myself eyeing up the padded touring perch that was fitted to a couple of other bikes on the launch with a touch of jealousy. The firm perch on my Tracer was beginning to get uncomfortable as we approached Tamworth, but it had taken seven hours to get to that point which is pretty damn good.
Final thoughts
After two days touring on the Yamaha Tracer 9 GT, I walked away wishing I was taking it home with me. I had been mightily impressed by a bike that nails what a sports tourer should do by combining comfort over long distances with plenty of thrills when you want to up the pace.
And, while £12,202 isn't an insignificant investment, the GT version I rode came with panniers, a quickshifter, a touring screen, and semi-active suspension as standard, which represents serious bang for your buck. But the question is this. Would I take the Tracer 9 GT on my next adventure to Nordkapp? Yes, in a heartbeat.
Oh, and that reminds me, I never did tell you how that dream European tour ended. Sadly, the answer is rather abruptly. A few weeks after leaving Norway, I made it to Latvia and decided to follow a gravel trail. Sadly, I crashed after hitting a deep patch of sand and needed emergency surgery on two broken bones in my leg. Perhaps sticking to tarmac isn't such a bad idea after all.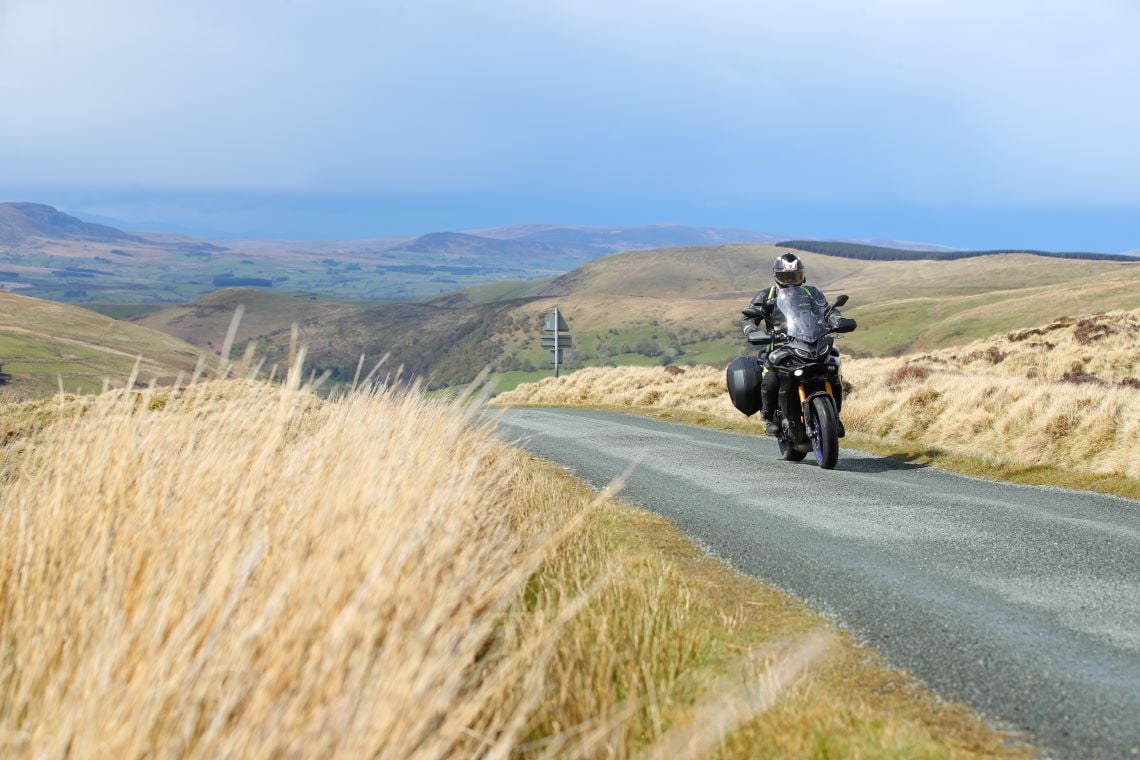 Specs at a glance
Price: £12,202
Engine: 890cc, three-cylinder, liquid cooled, four stroke
Power: 117bhp
Torque: 93Nm at 7,000rpm
Suspension: Front; KYB 39mm telescopic fork, 130mm travel, semi-active. Rear; KYB shock 137mm travel, adjustable preload and semi-active
Brakes: Front; Nissin radial master cylinder, 2 298mm hydraulic discs with cornering ABS. Rear; 245mm rear disc with cornering ABS
Weight: 220kg (wet)
Tank capacity: 18l
Seat height: 810-825mm
ABR Verdict – Yamaha Tracer 9 GT
As a commuter
A blend of power, easy handling, and a slim profile make the Yamaha Tracer 9 GT well-suited to a daily commute, particularly if it involves faster riding on motorways and A-roads. Regular city centre riders may want something a little smaller and nimbler to carve through queues of traffic, but take the luggage off and the Tracer will do the job without fuss.
As a weekend tourer
Absolutely! Over the course of two days the Tracer proved itself on motorway blasts, flowing bends, and tight mountain passes. It's a supremely capable and comfortable bike to ride, as well as being a hell of a lot of fun. Load up those 30l panniers and see where the road takes you.
As an off roader
While Tracer will handle the odd gravel track or dirt road, it is clearly at home on paved roads, so stick to them. If you have ambitions of riding off road, there are plenty of better equipped bikes around, like Yamaha's Ténéré 700 for instance.
As a continental road tourer
Oh yes. With cruise control, an ample touring screen, plenty of luggage, and a wonderfully smooth triple engine propelling you along, the long toll road slog to the Alps will be a dream, and all thoughts of the firm saddle will be put to one side when you finally hit those magnificent passes.
As an RTW overlander
As our host for the night Nick Sanders proved, you can go around the world on damn near any bike (he did it on an R1). As long as you stick as closely to paved roads as you can, the Tracer 9 GT will do it too, although it wouldn't be my choice if I was riding the globe.
As a pillion carrier
Large grab rails, plenty of room at the back, and a padded backrest on the optional top box combine to make this a pillion-friendly bike. One of my fellow journalists actually brought his wife along for the trip and the verdict from her perch was a big double thumbs up.