As host of The Motorbike Show and World's Greatest Motorcycle Rides, Henry Cole is one of the most recognisable faces in British biking. Ollie Rooke caught up with the star to talk bikes and a return to Route 66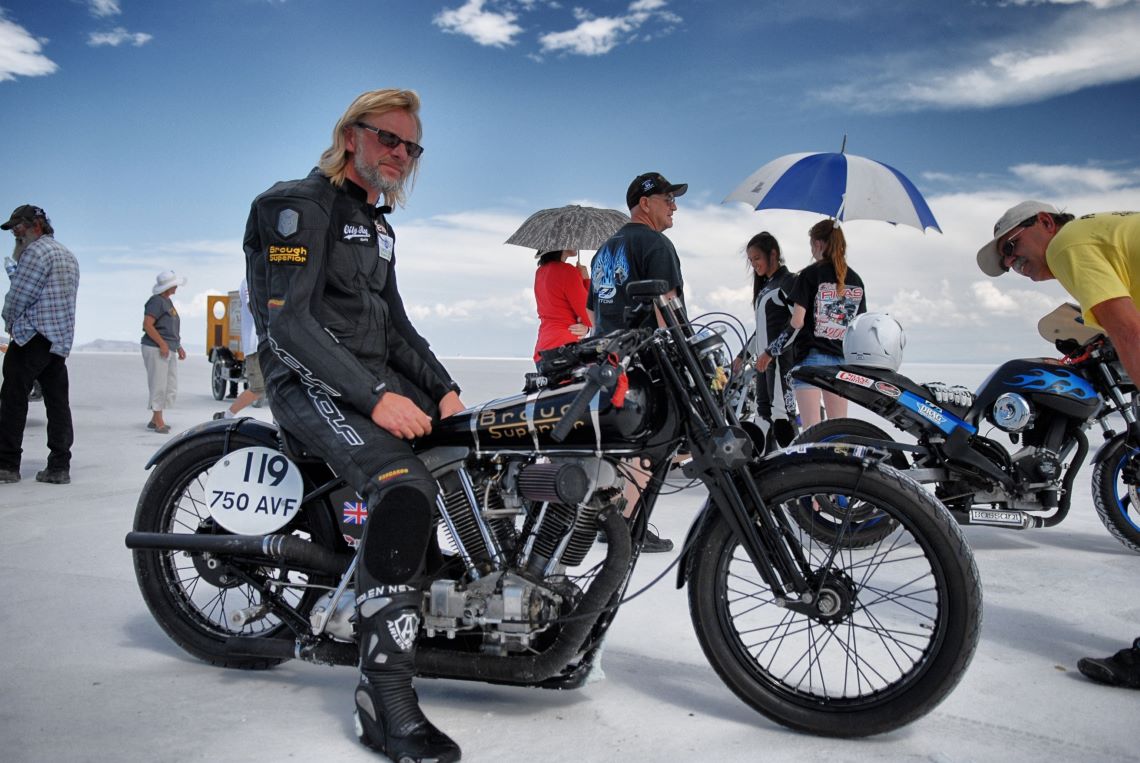 ABR: Henry, you're one of the UK's most recognisable bikers on TV and the host of a range of shows about all things two-wheeled, but how would you describe your job?
Henry Cole: I don't have a job, I have a passion. I'm just fortunate that I can earn money from that passion. There are probably about five days a year that I feel like I'm working, the rest of the time I'm just having a laugh really.
I feel so privileged that I can do what I do. I would be doing this whether I'm being paid or not, but I do have to do a job to earn some money, obviously.
ABR: Where did that passion begin for you?
HC: The passion for motorcycling came at the age of eight. I grew up in quite a posh household and I was supposed to go into the army, then into the City. But that all went wrong early doors. I had this great-uncle called Uncle Dick Redbeard who was a Gladstone (Henry is related to former British Prime Minister Willian Gladstone – Ed).
The Gladstone family is on my mother's side, and he was completely raving. When we went to visit him at this rambling house up in Liverpool, he came out into the garden where I was playing and said, 'Henry, do you want to see my shed?' In this shed there were God-knows how many British bikes.
The smell of them, the whole mysticism of them to me at that age, and just the look of them, everything was amazing to me. After that I spent my life heading down to the village shop on my Grifter bicycle where I'd buy biker magazines and read them avidly.
I was in corduroy trousers with a side parting and a tweed jacket, and I saw these people who were greasy with long hair and smelt a bit. And that's who I wanted to be. It was the alternative existence I wanted. That's how it started.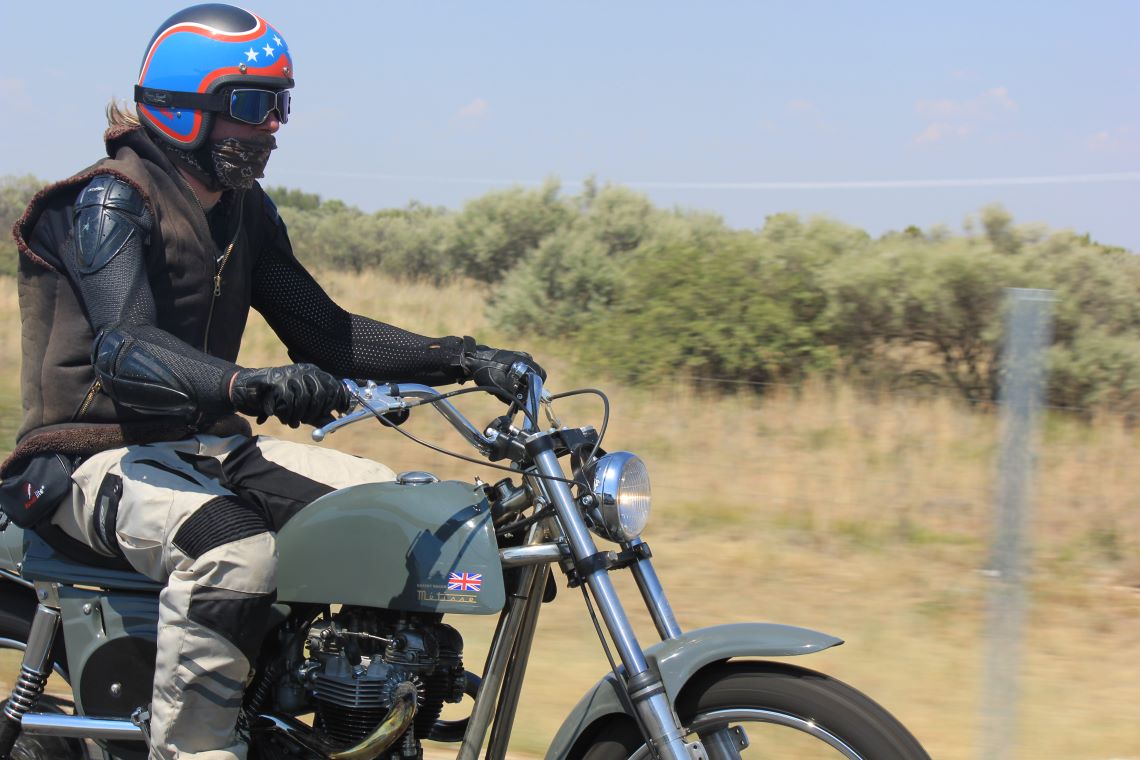 ABR: So, when did you first sling your leg over a proper bike?
HC: The first time I rode a motorbike was a 250cc Honda single-cylinder in my mate's shed. He said, 'you're into your bikes aren't you, why not take this out?' And I said, 'sure, no problem,' even though I'd never ridden one in my life.
I pushed it out in neutral, got it started somehow, and my mate said, 'Oh I think you pull that lever in and push down with that pedal.' I said, 'course you do,' released the clutch, and went straight into a hedge. That was the start of my biking career.
ABR: It didn't put you off though, what is it that has kept you in the saddle all these years?
HC: When I started riding properly, I realised it was just as good in reality as it was in theory. Motorcycling to me means a few things. One is individuality. Two is rebellion. It's still to this day, no matter how small that flame may be burning inside you. And three, it's genuinely about freedom.
Why is it that you can get onto a motorbike with a sleeping bag, a few clothes, and a credit card, and feel as if you could go around the world? It's something deep down within. In a car you're a spectator, but on a motorbike you're part of that environment you're riding through.
You are looking after your needs rather than your wants, and if you look after your needs then you have contentment. That's me on a bike. I also love that biking is classless and the route to entry is minimal. You can still buy bikes for dirt cheap and ride to Monaco on it. You can't do that with cars. That's freedom.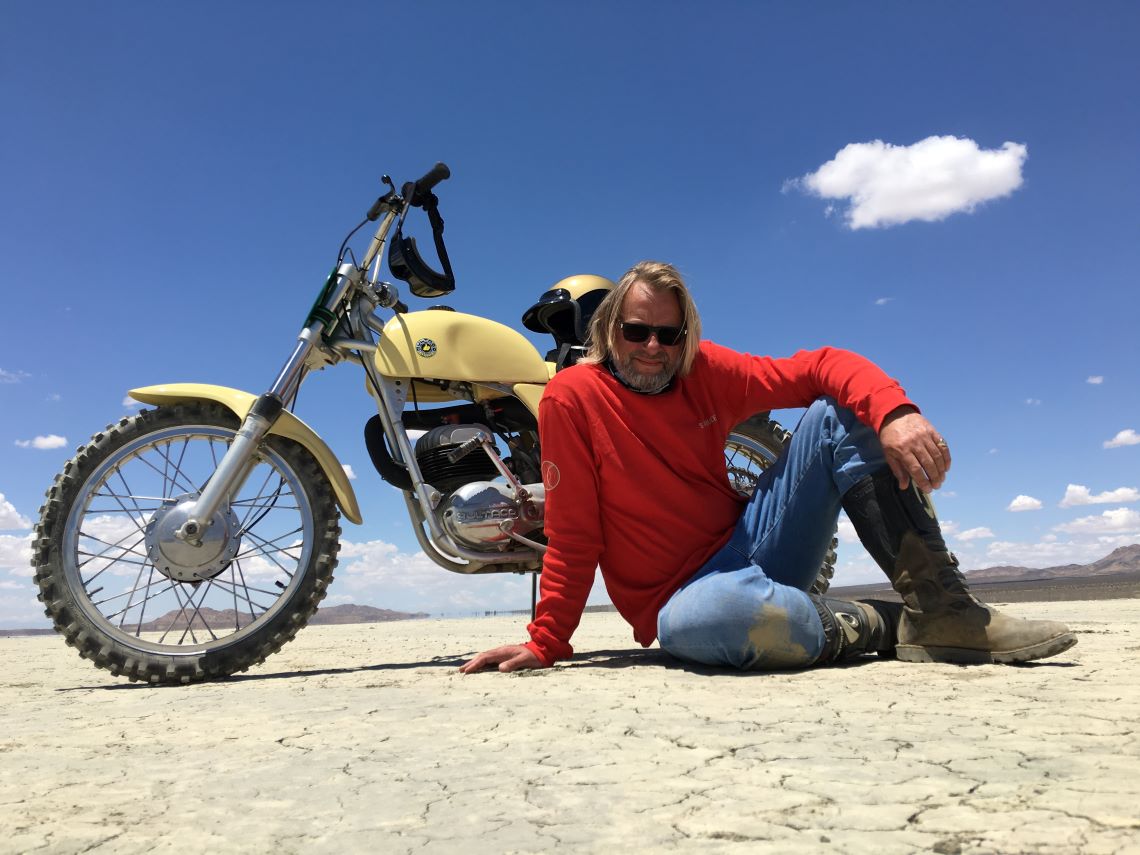 ABR: How did you go about getting that passion represented on the TV?
HC: I made a movie in 1995 called Mad Dogs and Englishmen that bombed. It was a total disaster. I was with the head of Channel 5 around that time having lunch and he said to me, 'well you're screwed, aren't you?' I had 20 staff and nothing to do.
I told him I wanted to do a show called Stars and Cars, but I wanted to present it. He was keen on the show but not on me presenting, and at the end of the lunch I offered to make a Christmas Special for free, and if it rated, I'd get a series. It ran for five years. But all I wanted to do was motorcycles.
After plenty of negotiations and a few more shows about cars, I eventually got the greenlight to go to America, buy a Harley in Chicago, and ride it to LA, making a seven-part series about riding Route 66. That instigated World's Greatest Motorcycle Rides, which we've now done 23 series of.
It came about out of duress, out of a total flop of a movie. I became a biker way before my career in TV, but I never thought for one moment I could marry motorcycling and television.
ABR: Why do you think your shows have proved such a success?
HC: Firstly, I don't have an ego. I really do believe I'm an alright bloke. The only difference between me and other bikers is how much drivel I can talk. I don't write scripts for my shows, I just say what I see.
My team and I aren't trying to be anything or do anything. We're just passionate about bikes, freedom, adventure, being individuals, and we're passionate about promoting those ideologies to the converted and unconverted. I'm not trying to be controversial, cool, or trendy, I'm just an old geezer with no teeth who loves a chat. I love sheds, I love bikes, that's it.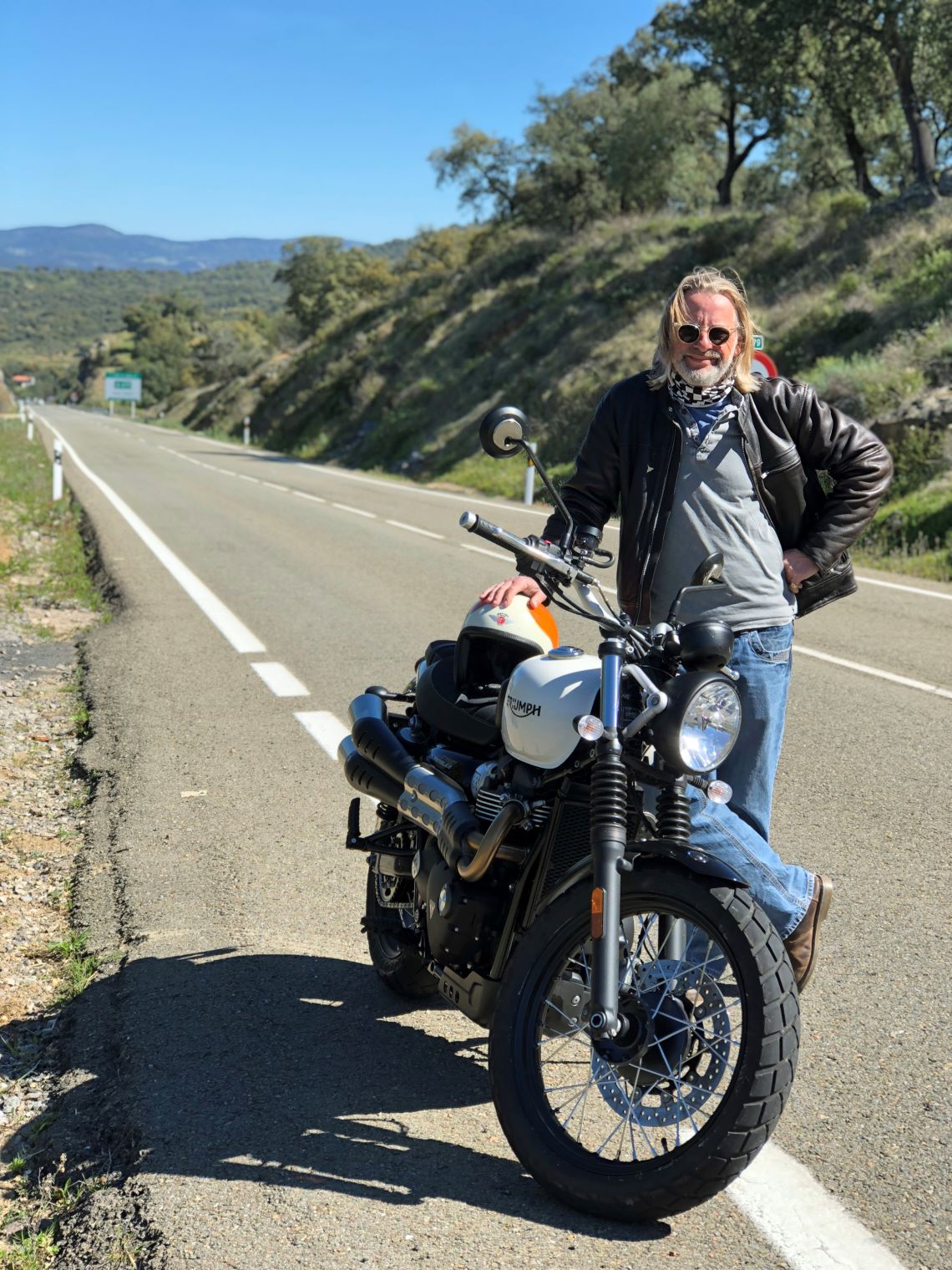 ABR: You've mentioned that you're passionate about adventure. What does it mean to you?
HC: If you have a 50cc moped and decide to make a 20-mile journey to your favourite garage, that's an adventure. People don't put things into context. Few of us have the time or inclination to ride around the world. Some of us have kids and everything else stopping that.
Every motorcycle ride can be an adventure. I think to believe that it isn't is demeaning to motorcycling in general. The road surface doesn't matter either. I've done a lot of 'adventure riding' while standing up through South Africa. But, for me, I prefer the blacktop. I've grown up on it, I know it.
Gravel and dirt still make me a bit nervous, even after thousands of miles in Australia, South Africa, wherever. I'll leave that proper off-road stuff to the Charley Boormans of the world. In a few months' time I'll be back in America riding Route 66 on a monster chopper, and I can't bloody wait to be really uncomfortable 15 miles out of Chicago and think, I've got 3,000 more miles of this.
That for me is an adventure.
ABR: You've shot quite a few shows out in the States. Is that your favourite place to ride in the world?
HC: The best place to ride a motorcycle in the world is New Zealand, hands down. There's no reason not to ride in New Zealand. There are no straight roads, the bends are predictable, and there's no one on them. Same landmass as the UK, but there's no one there.
The landscape is like Scotland on acid. Every single village you go into there's a café with cake. The people are absolutely wondrous. And everywhere you go there are things to do and see that you won't have tried before. New Zealand has everything, if I could live there I would. The best biking ever.
For off-road riding, South Africa is the way forward. I've ridden from Johannesburg to Cape Town through the Kalahari Desert, and it's quite an amazing adventure. There's that element of danger.
ABR: We'll add them to the bucket list. Are there any places you've been to that haven't lived up to your expectations?
HC: Don't go to Russia. I mean, I say that. If you're up for the ultimate adventure, go to Russia. But if you're just looking for great riding, then don't. I spent three weeks there and I never saw anything besides trees. I felt like I rode through a forest for three weeks.
The food was rubbish, the people were grumpy, and the roads were utterly dreadful. There's a great biker culture mind you. I rode with the Black Bear Motorcycle Club. They're lunatics, completely crazy. Very lovely people though. You just don't want to get on the wrong side of them.
I also didn't enjoy riding from Perth to Darwin. On the plane travelling out there I was looking out the window at just red earth and one single, straight white line. I'd been looking at that line for five hours, and when we landed, I realised it was the road, and I had to ride it back. It took me four weeks. You have to ride in the day. If you ride at night you'll be killed.
Kangaroos, wombats, emus, camels, anything, they all come out into the road when it's dark. So, you're riding a dead straight road, 42C heat, for eight hours. There are moments I just thought, sod this. But even after rubbish days I always wake up thinking that there's nothing more I want to do than get back on my bike.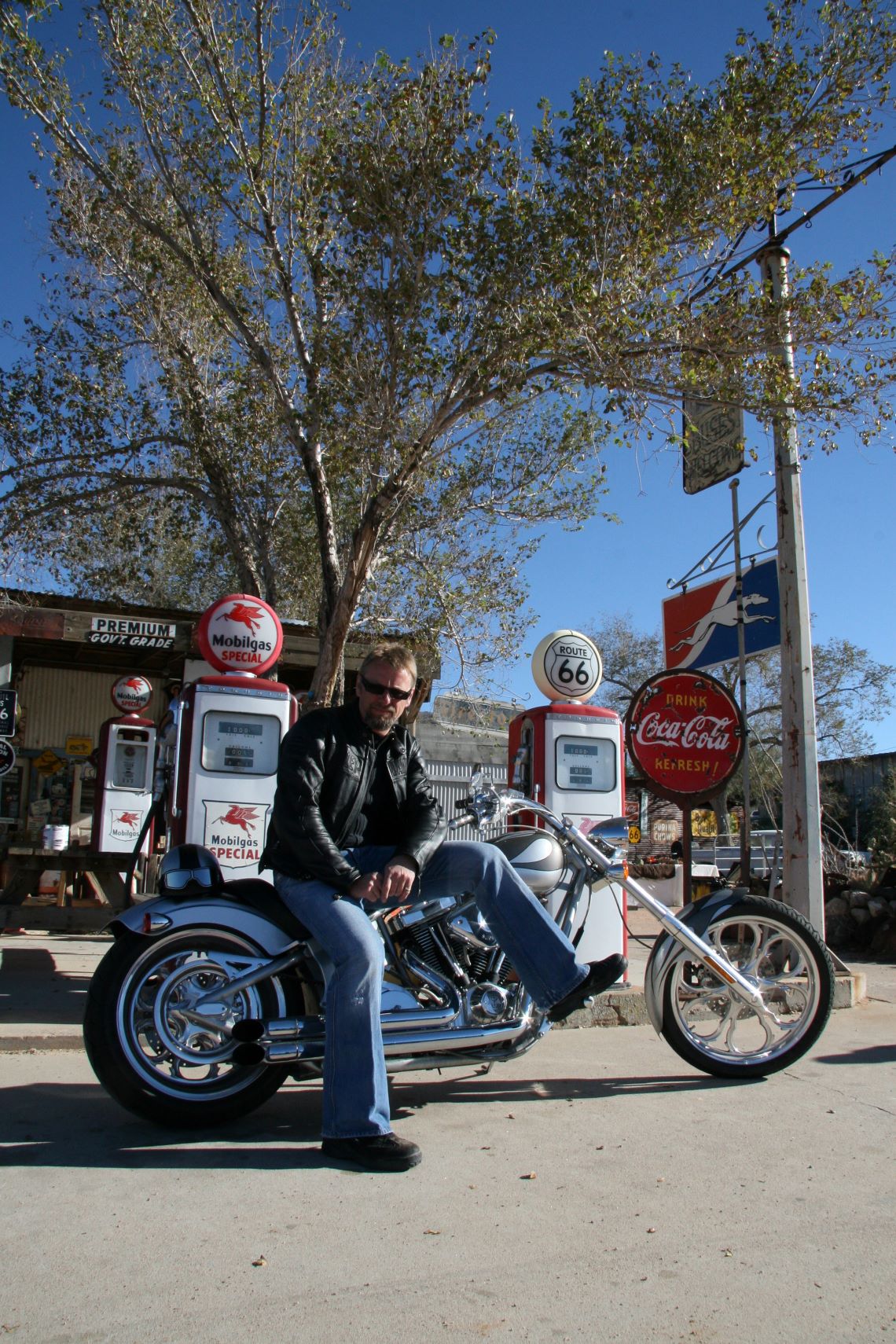 ABR: Motorcycling has a habit of doing that to you. Are there any moments from your travels that stand-out above all others?
HC: The most memorable was breaking the world land speed record for a pre-1955, 750cc motorcycle on the Bonneville Salt Flats. Getting a tank slapper at over 100mph on salt, on a 1927 Brought Superior, and thinking, I can't drop this. And actually, somehow coming out of it and setting the record, that was great.
That moment had everything. The privilege of being there, the fear of attempting it, the excitement of a possible record. Everything conspired to create a memory I'll never, ever forget. But all of the moments we have out on our bikes are special.
An older biker in America once said to me that loneliness brings solitude, solitude brings serenity. And he was right. If you're sitting in the Arizona desert by the side of the road, up against some wall in the shade with a fag on the go and a coffee, with your bike right next to you, with your rolled-up sleeping bag, you're in paradise. Life doesn't get better than that.
ABR: Does travelling with a film crew change your road trip experience or do you still get to immerse yourself in that pleasure of travelling by bike?
HC: Every day filming is a deadline and there is that pressure, but my journeys have always been about the people I meet on the road, without question. I've done 17 rides in America, and I've never met a bad person out there. That's what it's all about. I even spent 10 days with the Los Angeles Hells Angels.
When you're part of a world-wide community of kindred spirits, you can always call on other bikers in countries to help you. And I've never had anyone not answer that call for me. You have that serenity of solitude, but you know you'll get talking with someone when you pull into a petrol station if you want to. Filming doesn't change that.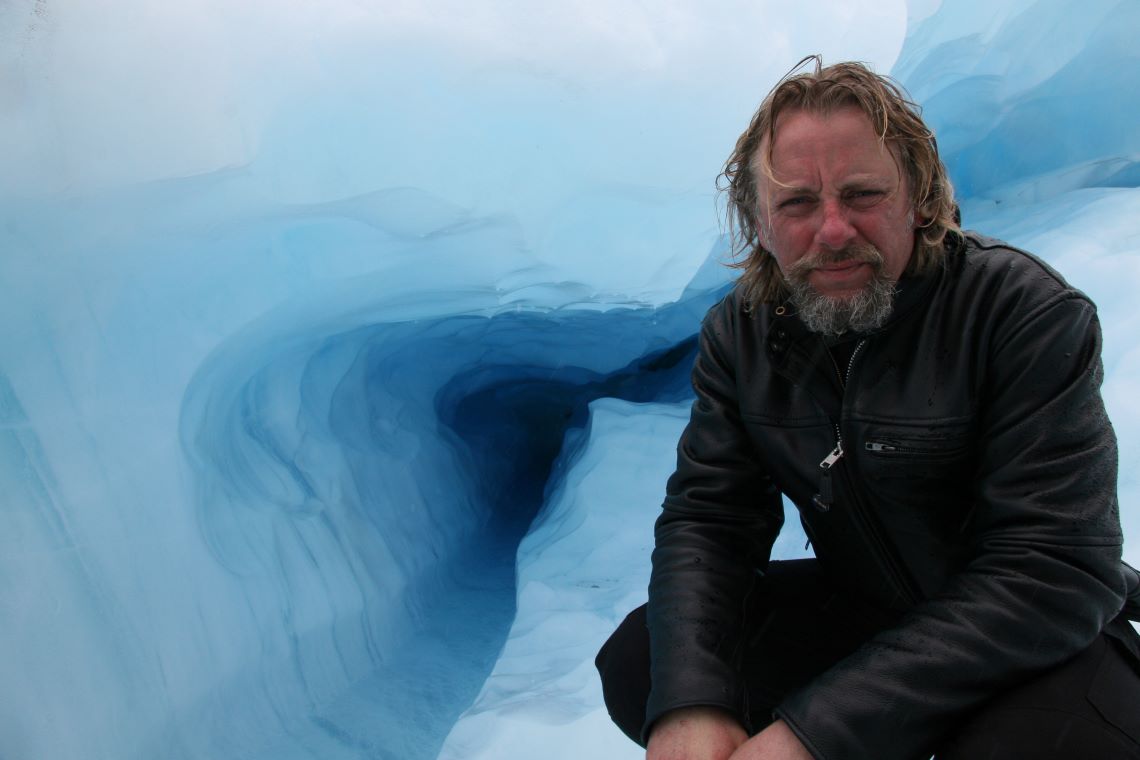 ABR: So, what can we expect to see from you in the near future?
HC: For bikers we've got Shed and Buried on Quest. We've got another series of Junk and Disorderly, two one-hour specials riding Route 66 for ITV4 which I'm filming next May, and A History of Black Bikers shot out in L.A for ITV too. What a story that is.
I'm also writing another book about riding Route 66 but focussing on the male menopause. It's about us blokes getting to a certain age when we can't pick things up anymore, when our kids beat us at football, and we think, Jesus, what's happened to my life?
Often that culminates in a trip across Route 66, so I just want to explore that male inadequacy we feel when we get a bit older, set against the backdrop of riding Route 66 on a motorcycle. It should be out by next Christmas.
Quick fire questions to Henry Cole:
ABR: Where's the one place you've always wanted to ride but haven't yet?
HC: Argentina, Ruta 40. I will at some point in my life.
ABR: Where's your favourite place to ride here in the UK?
HC: The Lake District is amazing, but my favourite road is my local road from Burford to Bibury. It's 12-miles of hilarity.
ABR: What do you miss the most while you're on the road?
HC: My dog, Jellybean. A Norwich terrier, which is basically a rough-haired Jack Russell.
ABR: Hotel or a tent?
HC: Hotel, no way tent. Don't like tents. I need to shower every day, and I don't want to poo with a view.